Are you tired of chasing leads and struggling to expand your client base? It's time to tap into the immense potential of LinkedIn. The good news is that there are many useful features on LinkedIn to connect with potential clients and grow your business.
But how do you navigate this vast digital landscape to stand out from the crowd and get clients from LinkedIn? And how to use LinkedIn for lead generation? Fret not because this guide will walk you through proven strategies, insider tips, and actionable techniques to help you harness the full potential of LinkedIn and turn it into a client-generating machine.
From optimizing your LinkedIn profile to leveraging advanced search techniques, we'll tell you everything you want to know to get clients from LinkedIn.
But we won't stop there. We'll also delve into how to get your first clients on LinkedIn, providing you with the essential steps to kickstart your client acquisition journey. Plus, we'll reveal powerful strategies and tips on using LinkedIn to attract more clients, engage with your target audience, and position yourself as an industry authority.
How to Get Your First Clients From LinkedIn
Getting your first clients on LinkedIn is an exciting milestone that can kickstart your client acquisition journey. In this section, we'll guide you through essential steps to attract clients with LinkedIn, scale your business, and supercharge your sales.
So, let's tap into the limitless potential of the different strategies to get clients from LinkedIn.
1. Optimize Your LinkedIn Profile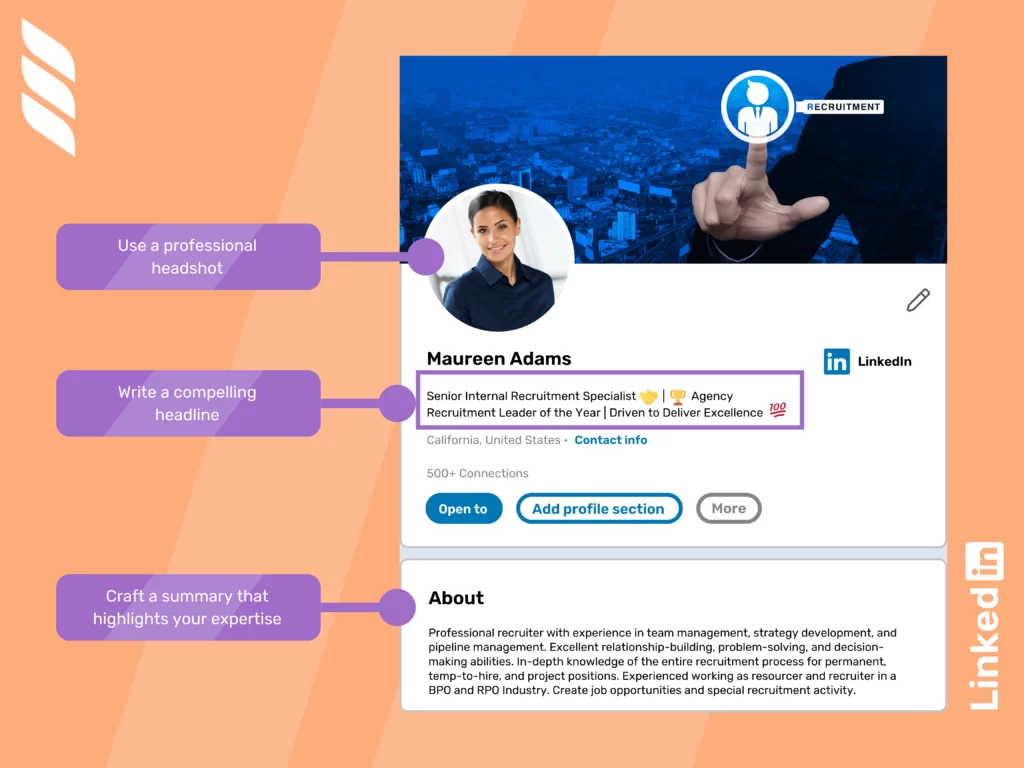 First things first, it is crucial to improve your profile on LinkedIn. Remember, first impressions matter, and your LinkedIn profile is an opportunity to make a great first impression.
Make sure your profile stands out and leaves a lasting impression on potential clients. It is a good idea to use a professional headshot, write a compelling headline, and craft a summary that highlights your expertise and the value you bring to clients.
Plus, you can use SEO for LinkedIn strategies to optimize your profile and content with relevant keywords to improve your visibility in both LinkedIn and external search engines.
Discover the exact keywords your target audience uses when looking for your products or services through keyword research. Next, incorporate these keywords strategically in your profile, posts, and articles to increase your chances of being discovered by potential clients.
2. Build a Strong Network
LinkedIn is all about connections, so start by building a strong network of professionals in your industry. As a newly self-employed professional, consider connecting with colleagues, clients, industry leaders, and influencers who can help expand your reach.
Personalize your connection requests and engage with your network by liking, commenting, and sharing their content. The more active you are, the more visibility you'll gain on the platform.
Read more about how the self-employed are using LinkedIn.
3. Engage in LinkedIn Groups
LinkedIn Groups provide a fantastic opportunity to engage with like-minded professionals and potential clients. So, join groups relevant to your industry or target audience and participate in discussions. Plus, share your expertise, answer questions, and provide valuable insights. This will help position you as an authority in your field and attract potential clients seeking your expertise.
4. Publish Thoughtful Content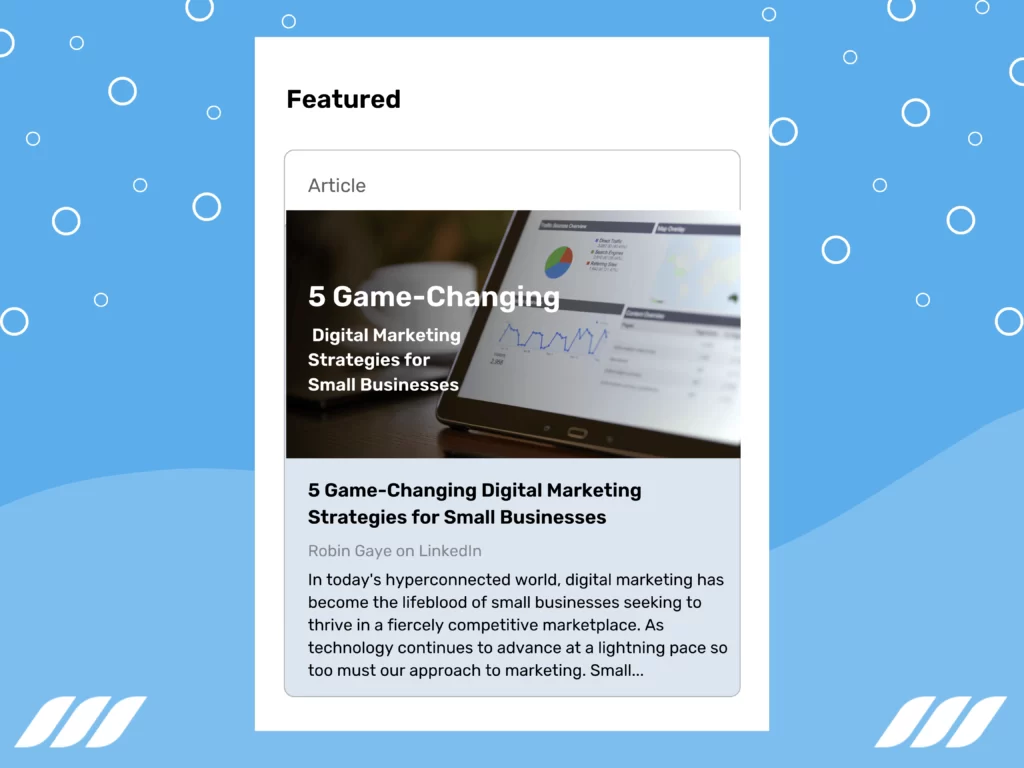 LinkedIn's publishing feature, known as LinkedIn Articles, allows you to showcase your knowledge and expertise to your audience. Write articles that address the pain points and challenges your target audience faces.
You can also offer practical tips, insights, and actionable advice demonstrating your industry knowledge and problem-solving abilities. And don't forget to engage with readers in the comments section to foster meaningful conversations and build relationships.
Example: Let's say you're a marketing professional specializing in digital marketing strategies. Instead of just sharing generic marketing tips, you decide to publish a detailed article titled "5 Game-Changing Digital Marketing Strategies for Small Businesses." In this article, you provide in-depth explanations, real-world examples, and actionable steps for small business owners to implement these strategies effectively.
5. Leverage LinkedIn Company Pages and Showcase Pages
If you have a business or marketing agency, you can create a LinkedIn Company Page to showcase your brand, products, and services. It is essential to regularly update your page with engaging content, company updates, and client success stories.
That's not all. You can also create a LinkedIn Showcase Page or Product Page to highlight specific products or services you offer, allowing you to target different client segments more effectively. These pages provide a more focused and tailored experience for your target audience.
Here's how to make the most of your LinkedIn product page:
Identify Key Areas of Focus: Determine which products, services, or initiatives you want to highlight through Showcase Pages. Consider your target audience's specific needs and interests and create dedicated pages for each focus area.
Tailor Content and Messaging: Customize the content and messaging on each Showcase Page to align with the specific product or service being showcased. Highlight unique features, benefits, success stories, and customer testimonials to engage your audience and build credibility.
Promote Showcases: Cross-promote your Showcase Pages through your Company Page, other social media channels, and email newsletters. Encourage followers to follow the relevant Showcase Pages to receive specialized content and updates.
Monitor and Engage: Regularly monitor the engagement and interaction on your Showcase Pages. Respond to comments, address inquiries, and use analytics to measure the success and impact of each Showcase Page.
Read also: Why LinkedIn Is Perfect for B2B Marketing?
6. Harness the Power of LinkedIn Search
LinkedIn's search feature is a treasure trove for finding potential clients. Use specific keywords, job titles, industry filters, and location filters to narrow your search and identify prospects that match your ideal client profile. And take advantage of Boolean operators on LinkedIn to refine your search even further. Save relevant searches and set up notifications to receive updates on new prospects.
Here's an example of how you can use advanced LinkedIn search:
Use the "Keywords" field to enter relevant terms like "healthcare," "medical," or specific job titles like "CEO," "CFO," or "Director of Operations" within the healthcare sector.
Refine your search by selecting specific location filters, such as targeting prospects within a certain city, region, or country.
Utilize the "Relationship" filter to focus on 2nd-degree connections, as they are more likely to be receptive to your outreach.
Further narrow your search by using additional filters such as industry, company size, or years of experience.
Once you have your refined search results, review the profiles of potential leads to assess their suitability for your offerings and tailor your messaging accordingly.
Or let's say you provide web development services and want to find potential clients in either the e-commerce or technology industry. You can use the OR operator to broaden your search. For example, you can search for "web development" AND ("e-commerce" OR "technology") to find profiles that mention either "e-commerce" or "technology" along with "web development."
7. Tap Into LinkedIn Sales Navigator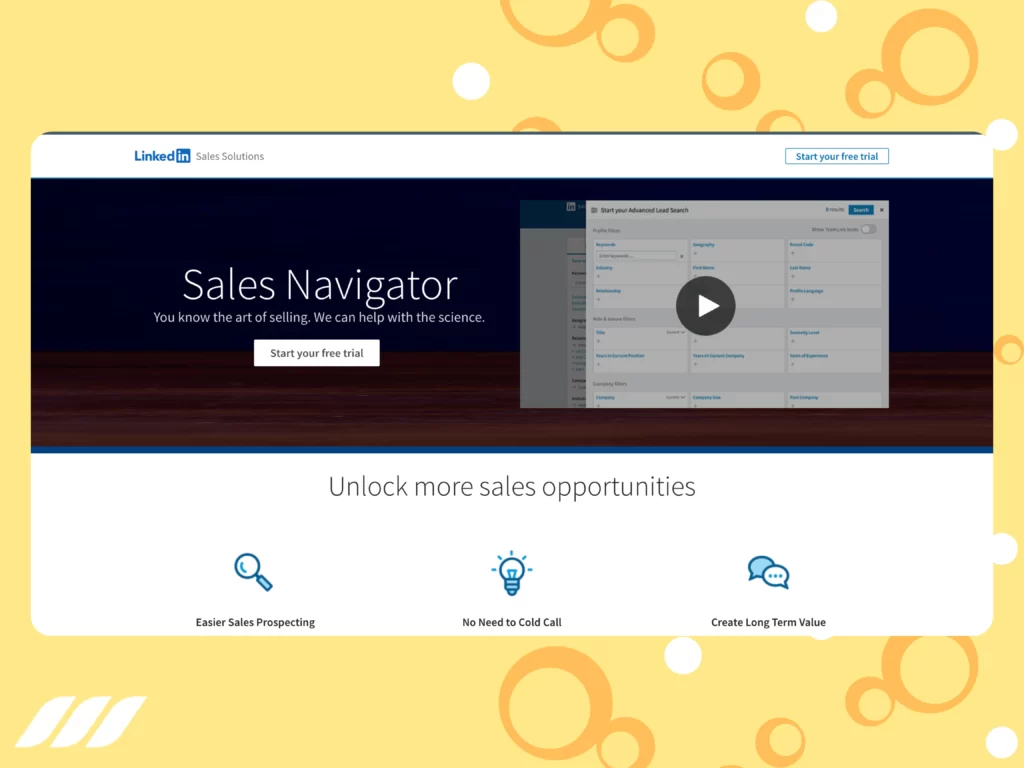 LinkedIn Sales Navigator is a powerful tool to supercharge your lead generation efforts and find new clients on LinkedIn. It provides advanced search filters, lead recommendations, and the ability to save leads and track their activity.
Sales Navigator also offers InMail, which allows you to send direct messages to prospects even if you're not connected. This targeted approach can significantly improve your chances of getting a response from potential clients.
Here's how to use LinkedIn Sales Navigator:
Advanced Search Filters: Sales Navigator offers robust search filters that allow you to refine your search and target specific criteria such as industry, job title, location, and more. This can help you find highly relevant prospects more likely to convert into clients.
Lead Recommendations: Sales Navigator provides recommendations based on your saved leads, existing connections, and profile data. These lead recommendations help you discover new potential clients and expand your network effectively.
Saved Leads and Tags: You can save leads within Sales Navigator and organize them with tags, making it easy to manage and track your prospects. This feature allows you to stay organized and prioritize your outreach efforts.
InMail Messaging: One of the standout features of Sales Navigator is InMail, which allows you to send direct messages to prospects even if you're not connected. InMail messages have a higher chance to be seen and responded to than regular connection requests, making it an effective way to engage with potential clients.
Sales Navigator Insights: Sales Navigator provides valuable insights and analytics on your prospects, allowing you to gain a deeper understanding of their activity, interests, and engagement with your content. This data helps you tailor your approach and messaging to resonate with your target audience.
Team Collaboration: LinkedIn Sales Navigator offers team collaboration features, allowing multiple team members to access and work on the same Sales Navigator account. This facilitates coordination, collaboration, and seamless communication within your sales or marketing teams.
8. Leverage Your Existing Network
To start with, you can tap into your existing network to find new customers on LinkedIn. For example, you can reach out to former colleagues, clients, friends, and family who might be interested in your products or services. In doing so, be sure to personalize your messages and explain how you can add value to their business. This initial support can lead to referrals and recommendations, helping you expand your client base further.
9. Engage in Conversations
It's no secret that engagement is key to building relationships on LinkedIn. As such, it is vital to be proactive and engage in conversations on posts, articles, and groups. You can also offer insights, share experiences, and ask thought-provoking questions. By participating in conversations, you increase your visibility and attract the attention of potential clients who might be interested in your product, service, or solution.
10. Request Recommendations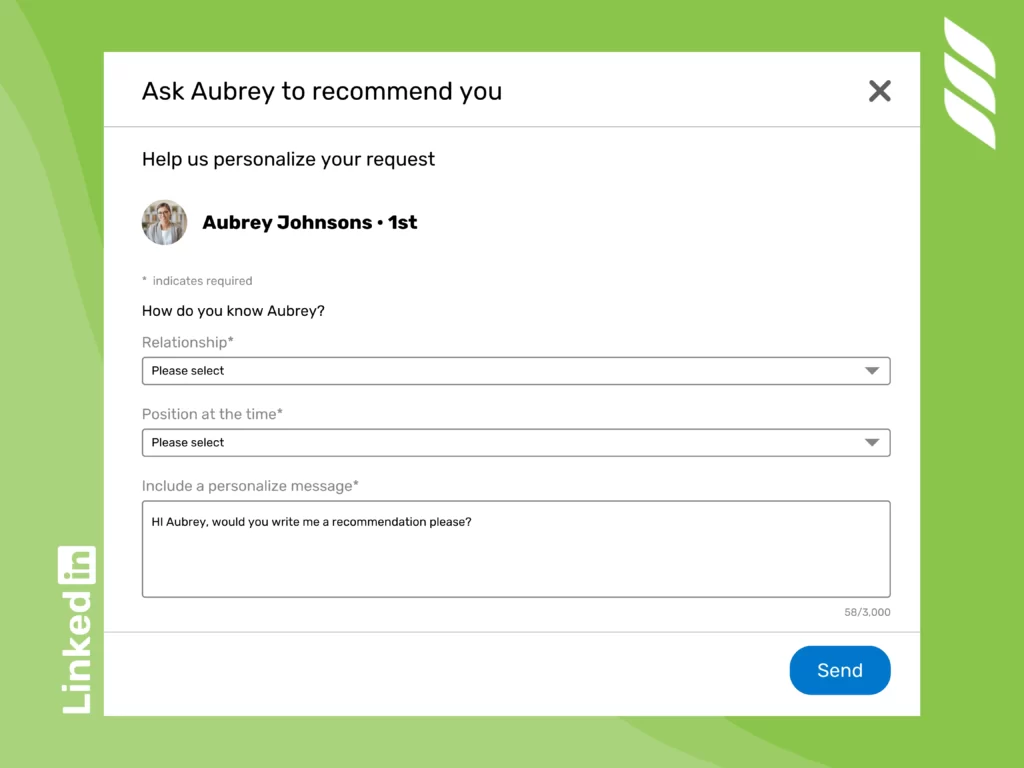 LinkedIn recommendations are social proof that can boost your credibility and attract potential clients. Consider asking satisfied clients or colleagues to leave recommendations on your LinkedIn profile. You can highlight specific projects or achievements you worked on together and express gratitude for their support. These recommendations will act as testimonials that can sway potential clients in your favor.
Here's how you can request LinkedIn recommendations from your connections:
Identify the Right Connections: Start by identifying connections who are familiar with your work, skills, and professional accomplishments. Choose connections that can provide meaningful and relevant recommendations that align with your target audience's needs.
Personalize Your Request: Avoid generic and impersonal requests. Instead, take the time to craft personalized messages for each connection. Mention specific projects, collaborations, or experiences you had together to jog their memory and make the request more personal.
Highlight the Relationship: Remind your connection of how you know each other and the nature of your professional relationship. Whether you worked together on a project, collaborated in a team, or have a long-standing professional association, provide context to jog their memory and strengthen the credibility of the recommendation.
Be Clear and Specific: Clearly articulate what you want them to include in the recommendation. Are there particular skills, qualities, or achievements you want them to highlight? Provide guidance on the specific areas you would like them to focus on, ensuring the recommendation aligns with your professional goals and target audience's expectations.
Express Gratitude and Offer Assistance: Show your appreciation for their time and effort in providing the recommendation. Express gratitude for their support and mention that you are happy to reciprocate if they ever need a recommendation or assistance in the future.
Follow-Up: If you haven't received a response within a reasonable timeframe, sending a gentle follow-up message is acceptable as a reminder. However, be mindful not to pester or pressure your connections, as they may have other commitments or may need more time to craft a thoughtful recommendation.
11. Offer Free Value
One effective way to get your foot in the door and win over potential clients is by offering free value upfront. For example, you may want to share useful resources, create informative guides or e-books, or host webinars or workshops that address your target audience's pain points. By demonstrating your expertise and generosity, you build trust and establish yourself as a go-to resource in your industry.
12. Collaborate With Influencers
Identify influential individuals in your industry who have a significant following on LinkedIn. Then, contact them with collaboration ideas such as guest posts, joint webinars, or co-creating content. This collaboration will promote you to their audience, allowing you to tap into a broader network and potentially gain new clients.
13. Use LinkedIn Automation and Lead Generation Tools
Automation is a game-changer when it comes to maximizing your efficiency and productivity on LinkedIn. The best LinkedIn automation tools can help streamline your lead generation efforts, allowing you to save time and focus on building relationships with potential clients.
But remember that not all LinkedIn automation and LinkedIn lead generation tools are made equal. As such, make sure to choose high-quality software that is safe for your LinkedIn account and boosts your client-acquisition efficiency on the professional networking platform.
Dripify is a powerful sales automation software designed specifically for email and LinkedIn. It offers a range of features, such as automated connection requests, personalized bulk messaging, and follow-up sequences. Plus, Dripify allows you to create effective drip campaigns and build sales funnels by using many different LinkedIn actions.
Interested in learning more about Dripify? Get detailed information about Dripify in the following articles:
How to Attract More Clients With LinkedIn
Landing your first client on LinkedIn is your first step toward a long journey of success on the platform. In fact, attracting more clients is the ultimate goal of any LinkedIn strategy, and in this section, we'll equip you with the tools and techniques to make it happen.
So, get ready to take your LinkedIn presence to the next level and attract a steady stream of clients to fuel your business growth.
Optimize Your LinkedIn SSI
LinkedIn's Social Selling Index (SSI) measures your effectiveness in leveraging LinkedIn to find, engage, and build relationships with potential clients. So, focus on improving your LinkedIn SSI score by regularly sharing relevant content, engaging with your network, building connections, and establishing your professional brand. A higher SSI score can increase your visibility and attract more clients.
Drive Traffic to Your Website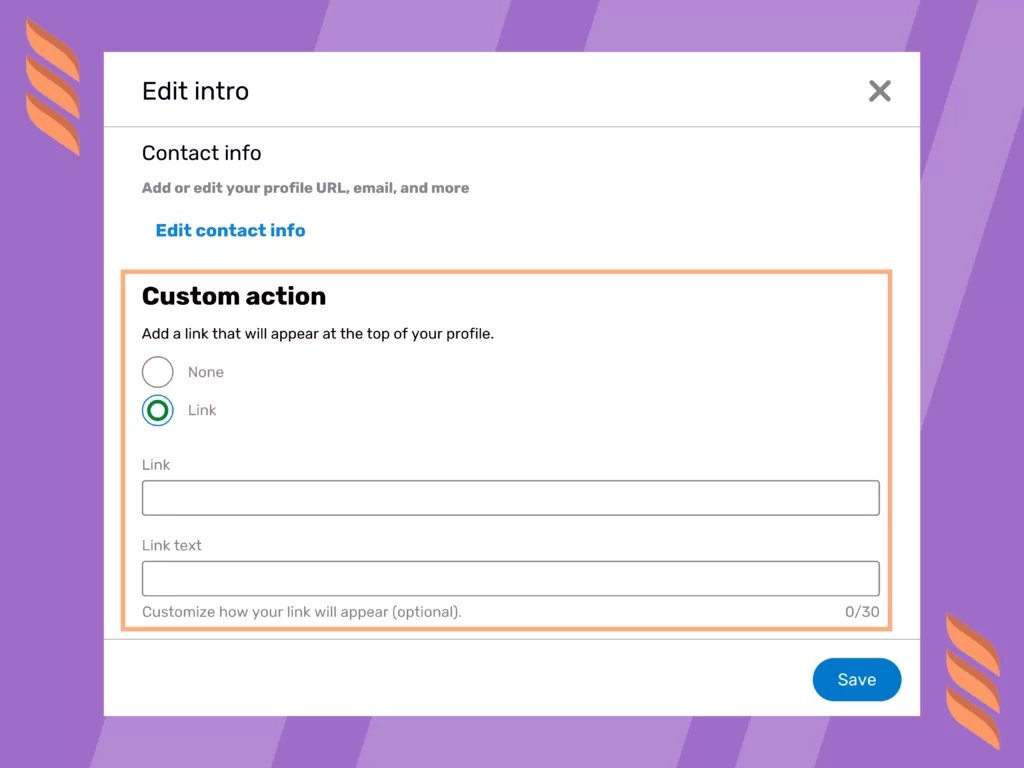 Did you know that you can drive traffic from LinkedIn to your website? Yes, LinkedIn is not just a platform to connect; it's also an avenue to drive traffic to your website. Make sure your LinkedIn profile includes a link to your website or landing page.
Also, don't forget to share blog posts or other valuable content from your website as LinkedIn updates. Additionally, consider using LinkedIn advertising options to promote your website or specific offerings directly to your target audience.
Harness LinkedIn X-Ray Search
LinkedIn X-Ray Search is an advanced search technique that allows you to search for LinkedIn profiles with the help of search engines like Google. Combining specific search operators with the site:linkedin.com domain allows you to uncover hidden profiles or access additional search capabilities not available directly on LinkedIn. This technique can help you discover potential clients who might be outside your immediate network.
Read also: How to Find eCommerce Clients on LinkedIn
Conclusion
LinkedIn is an undisputed goldmine for finding and attracting new clients. But to be successful on the platform, remember to provide value, be authentic, and establish meaningful relationships with your connections. With persistence and a strategic approach, LinkedIn can become your go-to platform for client acquisition. So, get started today, put these tips into action, and watch your client base grow with the power of LinkedIn.
And if you want to supercharge your LinkedIn lead-generation efforts, check out Dripify – a powerful sales automation tool designed specifically for businesses, recruiters, marketing agencies, and sales teams. It provides advanced features, analytics, and automation to streamline your LinkedIn prospecting and maximize your chances of success.
With Dripify, you can take your client acquisition game to the next level. So, why wait? Embrace the potential of LinkedIn and let Dripify be your secret weapon for LinkedIn lead generation success! Try Dripify's free trial now!