It's no secret that content marketing is the future of digital marketing. More and more businesses are now focusing on creating content that attracts and retains their target audiences instead of taking the direct sales approach.
The LinkedIn article is a powerful marketing feature for all sorts of companies, especially businesses in the B2B sector. You can use LinkedIn articles to reach, engage, and convert more of your leads and prospects.
But is posting articles on LinkedIn really worth it? What are the benefits of writing articles for LinkedIn? And how to write articles on LinkedIn?
In this comprehensive guide, we will explain everything you want to know about LinkedIn articles. So stick around to learn how publishing articles on LinkedIn works!
What Is a LinkedIn Article?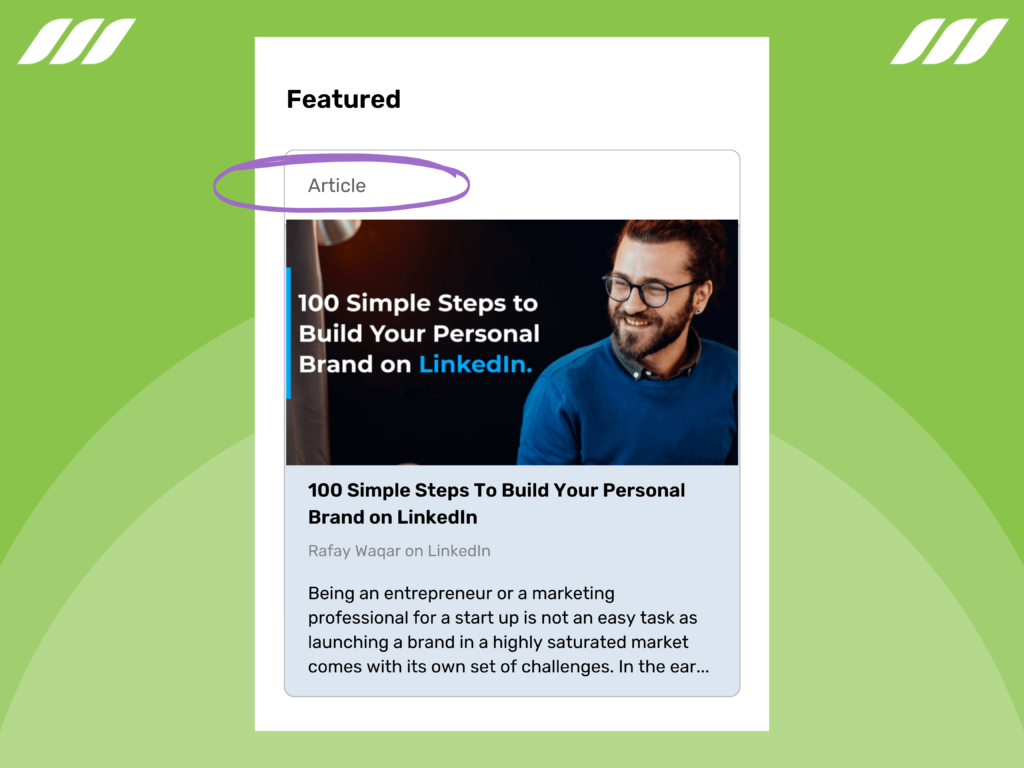 A LinkedIn article is just as it sounds; a piece of written article, like a blog post you can share on your LinkedIn profile. These articles can be about any topic related to your industry or area of expertise.
This feature allows you to share your thoughts and ideas with a large audience of professionals. Since articles are easy to share and can be read without leaving the LinkedIn platform, they're an ideal way to reach out to new people and grow your LinkedIn connections.
If you're unsure what to write about, consider this: what questions do people in your industry often ask you? What topics do you wish more people knew about? Answering these questions in your article can help educate others about your industry while establishing you as an expert in your field.
Not to mention, if people enjoy reading your article, they're more likely to visit your profile and check out your other content. When writing your article, ensure it's well-written and informative, and focus on providing value to the reader by teaching them something new.
Where to Find LinkedIn Articles?
Here are some routes you can take to find LinkedIn articles:
1. Use the LinkedIn Search Bar
The easiest way to find relevant articles on LinkedIn is to use the search bar at the top of the page. It allows you to search for articles by keyword, title, or author.
For example, if you're interested in reading articles about content marketing, you may want to search for "content marketing strategy" or "content marketing trends." Alternatively, you could search for a specific author, such as "Joe Pulizzi" or "Jay Baer."
2. Follow Your Niche Influencers
You can also find relevant articles on LinkedIn by following specific LinkedIn Influencers who regularly share interesting and useful content. Head to the Influencers section of LinkedIn (found under Interests in the top navigation bar) and type in a topic or name of someone you want to follow.
LinkedIn will display a list of influencers or publications. Simply hit the Follow next button to see details of each person or publication. Once you start following an Influencer, their articles will appear in your homepage feed, so you'll never miss a new post.
3. Check out the "Articles" section
Go to the "Articles" section under the "More" tab at the top of your LinkedIn feed, and then select "Articles" from the drop-down menu. This will take you to a page with many articles on various topics, both from LinkedIn Pulse and other sources.
Plus, you can use the search bar on this page to find specific articles. When LinkedIn Pulse was active, reading and publishing articles on LinkedIn was more straightforward. After it was discontinued, however, you have to enter keywords or hashtags in the search bar and narrow it down until you find what you're looking for.
4. Follow Relevant Hashtags
Finding and publishing articles is super easy if you know how to use LinkedIn hashtags. Type in the hashtag you're interested in in the search bar and click "follow." Once you follow a hashtag, articles containing that keyword will appear in your feed.
LinkedIn Articles vs. LinkedIn Posts: What Is the Difference?
When sharing your thoughts and ideas on LinkedIn, you have two main options: writing a LinkedIn article or creating a LinkedIn post. But what is the difference between these two formats, and which is right for you? Keep reading to find out.
LinkedIn Articles
LinkedIn articles are long-form written pieces that allow you to share your expertise with a wide audience. These articles can be as long as you want, making them ideal for in-depth analysis or case studies.
LinkedIn articles are known for their vast reach and higher engagement rates. That said, writing a LinkedIn article requires more expertise and is time-consuming. A LinkedIn Post may be a better option if you're not comfortable writing at length or don't have the time to invest in a longer piece.
Related article: Copywriting Guide: 13 Tips to Become a Copywriter
LinkedIn Posts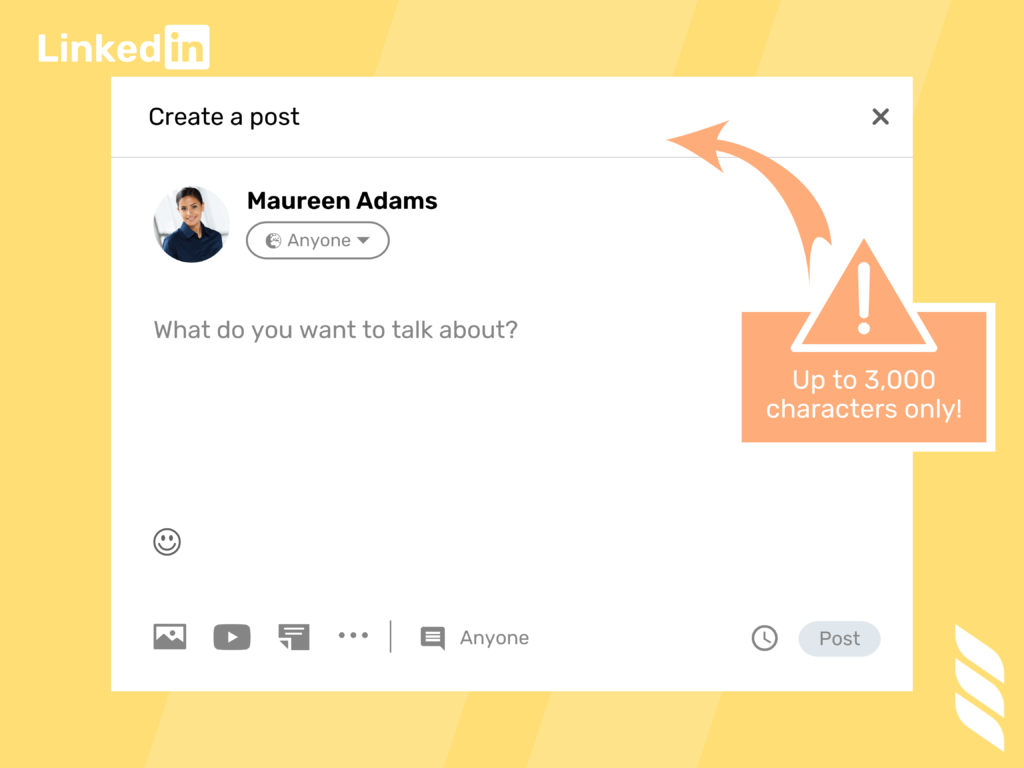 LinkedIn posts are shorter updates having a limit of 3,000 characters. They're similar to Facebook updates or tweets in that they're quick and easy to read. And because they stay on your profile page, only your first-degree connections will see these updates in their feeds.
Since LinkedIn posts have a character limit, they're mostly packed with valuable information. You can tell at a glance what a particular post might be about and choose to scroll away or read further.
LinkedIn posts are more popular since they're less time-consuming than articles. But also remember that these posts are not the best option to build thought leadership because of their limited reach.
LinkedIn Articles Pros and Cons
You might be wondering whether you should start writing LinkedIn articles. On the bright side, they provide a great way to build your brand and establish yourself as an expert in your field.
But on the flip side, publishing articles on LinkedIn and tracking their metrics can be time-consuming, and there's no guarantee that anyone will read them.
So, what's the verdict? Let's explore the pros and cons of LinkedIn articles so that you can make an informed decision:
The Pros of LinkedIn Articles
1. Build Your Brand
So, you want to be recognized as an expert in your field? Well, writing LinkedIn articles just may be a great way to go about it. Every time you publish an article, your name and photo will appear on the article itself, as well as in the feed of any LinkedIn users who follow you.
People who enjoy your article may share it with their networks, further increasing your exposure. Over time, this can help you build a strong personal brand that will open opportunities for you professionally and personally.
2. Share Your Expertise
LinkedIn articles provide an excellent platform for sharing your knowledge with your target audience. If you're passionate about your work, this is a great way to share that passion with others who may not have had the opportunity to experience it firsthand.
In addition, you can use LinkedIn articles to share your thoughts on current events or offer behind-the-scenes looks at what it's like to work in your field. No matter what you choose to write about, there's sure to be someone out there who will appreciate your thoughts and ideas.
3. They're Relatively Easy to Produce
Compared with other forms of content like blog posts or videos, LinkedIn articles are relatively quick and easy to produce. While it's true that some topics may take longer to write about than others, you should be able to complete the first draft of most articles in an hour or two.
The Cons of LinkedIn Articles
1. There's No Guarantee Anyone Will Read Them
While this isn't limited to LinkedIn articles, it feels more so because of the time and research involved. That's because the algorithm that decides which articles appear in users' feeds is based primarily on engagement rates — meaning that if people aren't commenting on or sharing your articles, they're less likely to appear in front of potential readers.
2. Articles Take Time Away From Other Marketing Efforts
Writing LinkedIn articles can be time-consuming, especially when you write them from scratch. If you're already struggling to find enough hours in the day to complete all of your other marketing tasks, adding yet another item to your plate may not be the best use of your time.
In addition, if you're not careful, it's easy to get caught up in the creative process and spend more time than necessary perfecting each article — which can further cut into time spent on other tasks.
LinkedIn Posts Pros and Cons
Let's take a look at the pros and cons of LinkedIn posts.
The Pros of LinkedIn Posts
LinkedIn posts can help you raise awareness about your brand. If you post interesting and engaging content regularly, you'll build a strong brand on the platform pretty quickly.
LinkedIn posts can also be a great way to drive traffic to your website or blog. If you include links in your posts, people can visit your site and learn more about your work.
Posts allow you to demonstrate your expertise and build trust with your lead and potential customers. If you provide valuable information that helps people in their professional lives, they'll start to see you as an authority in your field.
The Cons of LinkedIn Posts
It can be time-consuming to come up with quality content daily.
Only your first-degree connections will see your posts in their news feeds.
Some people prefer not to mix their personal and professional lives online. If this is the case for potential customers or clients, they may decide not to do business with you because they don't appreciate seeing your posts in their feeds.
Where to Find Articles to Share on LinkedIn?
So, where can you find the best articles you can share on LinkedIn? Here are five of our favorite sources: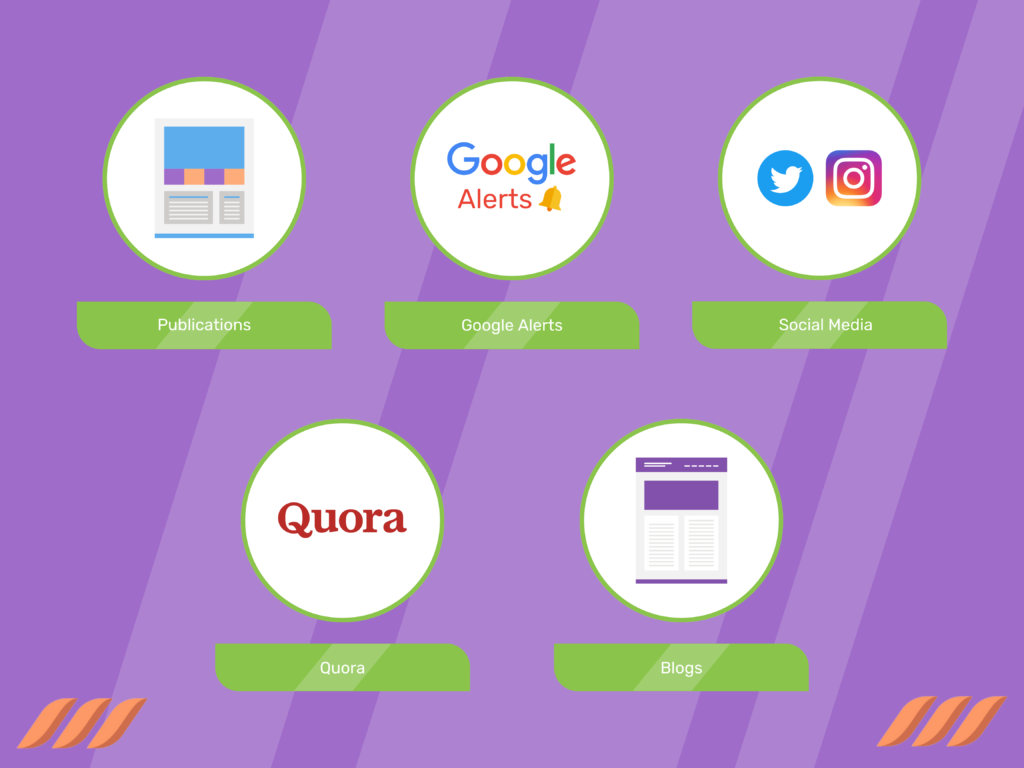 1. Industry Publications
Keep up with the latest news in your field by subscribing to a few industry-specific publications. For example, if you work in marketing, try subscribing to Adweek or MarketingProfs. Whenever a new article is published, share it on LinkedIn with a brief caption.
2. Google Alerts
Google Alerts is a free service that lets you receive real-time updates whenever a new article is published on your chosen topics. Simply create an account and set up alerts for your preferred topics. You can specify how often you want to receive updates and what type of results you want (e.g., news, blogs, etc.).
3. Social Media
Follow relevant hashtags on social media sites like Twitter and Instagram. For example, if you want to stay up-to-date on all things digital marketing, follow hashtags like #digitalmarketing or #contentmarketing.
4. Quora
Quora is an online platform where people can ask and answer questions on any topic imaginable. Often, users will pose questions that can be answered with links to helpful articles. For example, if you search for "SEO" on Quora, you'll find tons of questions related to the topic with links to helpful resources.
5. Blogs
There might already be dozens, if not hundreds, of blogs relevant to your industry that regularly publish high-quality content. Subscribe to a few of your favorites so you never miss an article.
Are LinkedIn Articles the Same as LinkedIn Pulse?
LinkedIn articles are only available to a select group of users. At the same time, anyone can publish an article on LinkedIn Pulse.
Both platforms allow users to share articles they have written, but LinkedIn articles have a more exclusive feel since not everyone can post there. Another key difference is that LinkedIn articles allow users to add images and videos, a feature that is unavailable on LinkedIn Pulse.
Ultimately, both features serve the same purpose: to provide a space for users to share their thoughts and ideas with the LinkedIn community.
LinkedIn Articles Writing Tips
Here are five tips to help you write better articles on LinkedIn:
Keep it short and sweet. With people's attention spans getting shorter and shorter, it's essential to make your point quickly and then move on. Try to keep your articles under 700 words if possible.
Write in a clear, concise style. LinkedIn users are busy, so they don't have time to wade through long, rambling sentences or dense paragraphs. Get to the point, and then get out.
Use strong headlines. Your headline will ultimately determine whether or not someone clicks on your article, so make sure it's attention-grabbing and informative.
Include images. People are more likely to read an article if it includes an image, so try to include at least one relevant photo with each piece you write.
Be thoughtful about your tagging strategy. Tagging other users in your articles is a great way to get more eyes on your content, but be strategic about who you tag. Don't just tag random people hoping they'll see it; tag people who are likely to be interested in what you have to say.
LinkedIn Articles Publishing Tips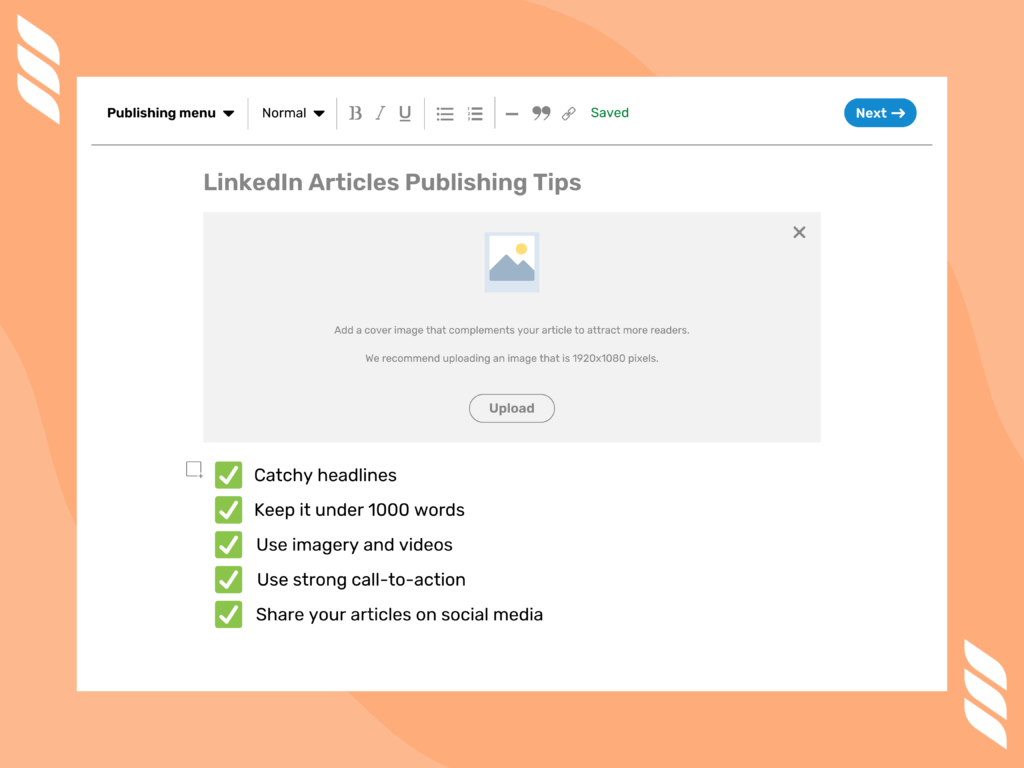 If you want people to engage with your LinkedIn article, follow these best practices:
Write catchy headlines that accurately reflect the content of your article.
Keep your articles under 1,000 words for easy reading.
Use imagery and videos to break up your text and add visual interest.
Use strong calls to action at the end of your articles to encourage reader engagement.
Share your articles on social media and other online platforms for maximum reach.
Follow these tips, and you'll be well on publishing successful LinkedIn articles to help you achieve your business goals!
LinkedIn Articles Promoting Tips
If you want people to engage with your content, follow these LinkedIn articles best practices:
Publish high-quality, relevant content – not only will this help ensure that people read your articles, but it will also help build your credibility as an industry thought leader.
Leverage LinkedIn's publishing platform because it has a powerful algorithm to draw your target audience to your articles.
Optimize your article for SEO – Like any other type of content, optimizing your LinkedIn articles for SEO is important. That means including relevant keywords throughout the article and utilizing the tags feature when publishing.
Share your articles on social media, as platforms like Twitter, Facebook, and Google+ will help increase your articles' reach.
Try to get featured in a relevant LinkedIn group. This can help increase your visibility and get your articles in front of a whole new audience.
Conclusion
So is writing LinkedIn articles right for you? It depends! If you want to build your brand and establish yourself as an expert in your field, publishing regular articles could help you achieve those goals.
But you must have real expertise in your field to build your brand with LinkedIn articles. Plus, remember that writing articles and publishing them on LinkedIn is a time-consuming task.