Content marketing is a powerful way to draw leads and convert them into customers. From web copy to blogs and everything in between, you have multiple options to grow your business with the help of written content. But did you know that you can publish entire articles to LinkedIn through LinkedIn Pulse?
LinkedIn Pulse presents a huge opportunity for marketers and businesses to reach their target audiences and leads by publishing articles directly to the social media platform. It is an invaluable publishing feature to increase your brand's visibility, connect you with audiences, and share your insights and ideas with your niche or industry.
What's more? LinkedIn Pulse can take your content strategy up a notch and establish you as an authority among the LinkedIn community. But it can also be daunting if you're unsure how LinkedIn Pulse works.
This comprehensive guide will show you how to use LinkedIn Pulse to get the most out of your LinkedIn marketing efforts. We'll cover everything, from boosting your results on LinkedIn Pulse to what makes this feature so worthwhile.
Read on to learn how to leverage the power of LinkedIn Pulse!
What Is LinkedIn Pulse?
LinkedIn Pulse is a feature that allows users to publish complete articles on LinkedIn. But it is different from other publishing platforms because it uses an algorithm to personalize the content displayed to each user. This means you are more likely to see articles relevant to your interests and industry. In addition, LinkedIn Pulse lets you track who has read your article and how much time they spend reading it. You can use this data to tweak your content marketing strategies.
Let's say you're a sales manager looking for new ways to increase revenue. You could search for articles on LinkedIn Pulse discussing various sales strategies and get interesting ideas for your own business.
You may also want to use LinkedIn Pulse to build your brand by sharing your articles and insights. By establishing yourself as an expert in your niche or industry, you can attract more leads or potential employers to your profile.
What Happened to the Old LinkedIn Pulse?
If you used LinkedIn a few years ago, you might remember a feature called LinkedIn Pulse. LinkedIn Pulse was a news aggregator that displayed articles from various sources, organized by topic. This savvy feature helped users keep up with the latest industry news and trends.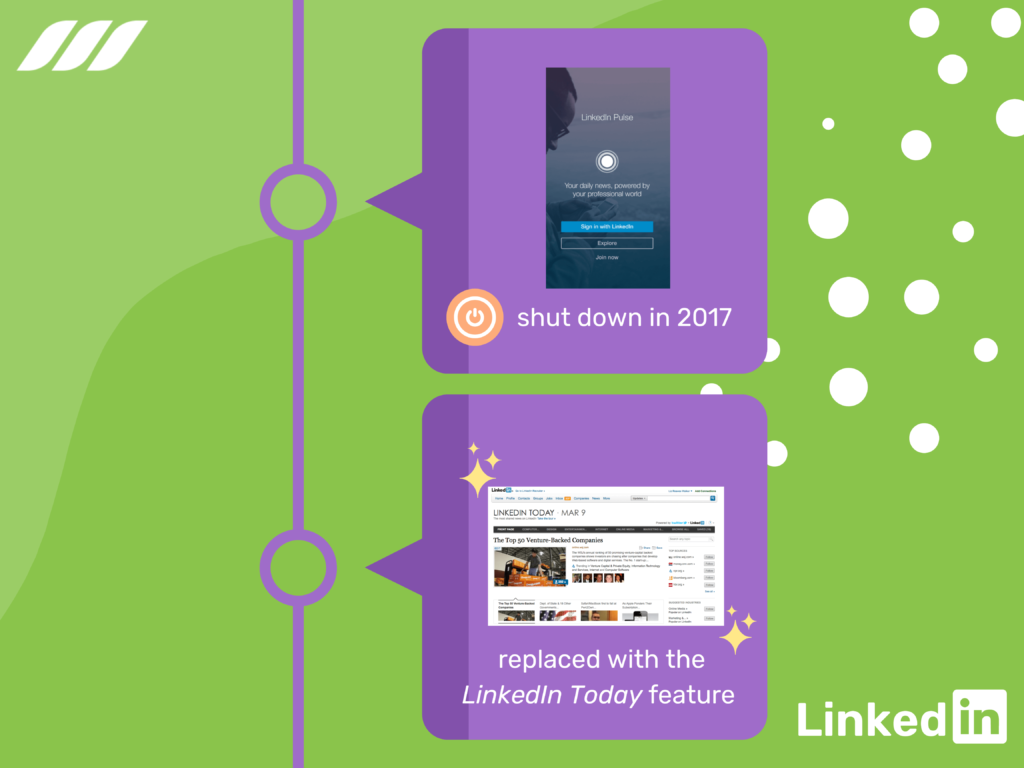 However, this service was shut down in 2017 and replaced with the LinkedIn Today feature. LinkedIn Today curates articles from various sources and allows users to customize their news feed based on their interests. The new platform also includes features that allow users to save articles for later, share content with other LinkedIn members, and leave comments on articles.
While the old LinkedIn Pulse did not have these features, it did allow users to follow other members and see their updates in their news feed. In addition, the old platform had a more robust search function that made finding articles on specific topics easier.
Overall, the new LinkedIn Today is a more comprehensive and user-friendly platform that provides a better user experience. The company has yet to give a clear explanation for why it decided to discontinue the old LinkedIn Pulse, but it is likely because it could not compete with other news aggregators such as Google News and Apple News.
Reasons Why You Should Use LinkedIn Pulse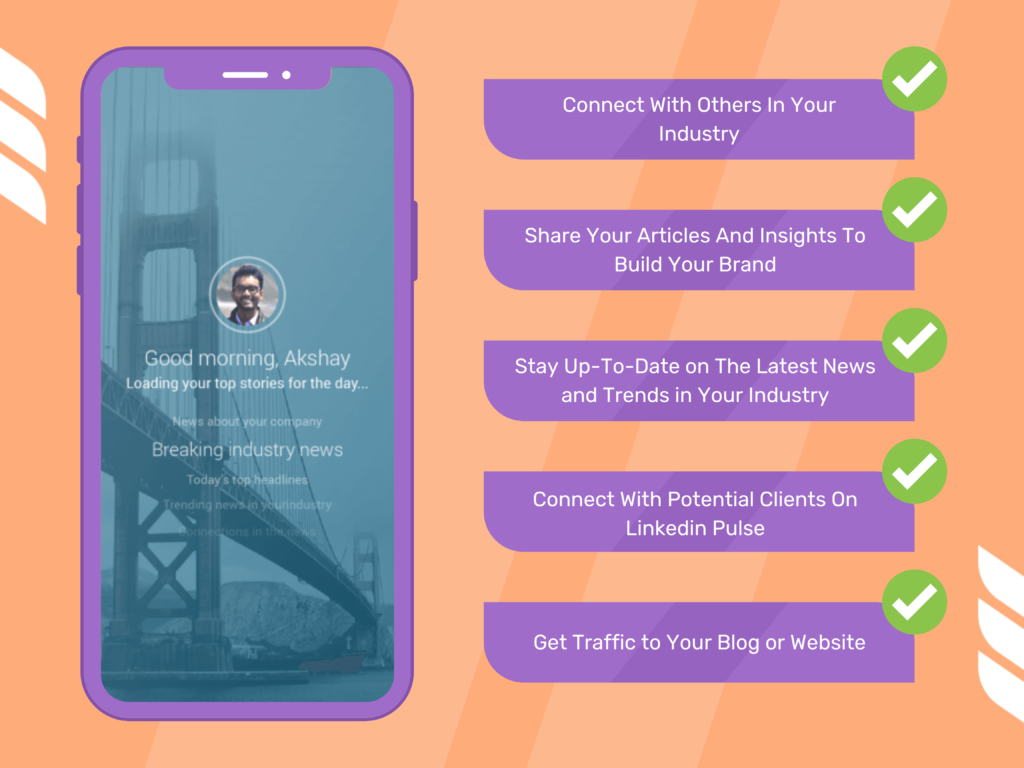 Are you using the Pulse feature to drive traffic from LinkedIn to the website yet? If not, you're missing out on a major opportunity to reach out to your target market and build relationships with potential clients.
Here are the top reasons why you should publish on LinkedIn Pulse:
1. Connect With Others In Your Industry
As a business professional, staying up to date on the latest news and developments in your industry is important. One way to do this is by reading articles on LinkedIn Pulse, which allows you to curate and share articles on various topics. You can follow specific channels relevant to your industry or search with specific keywords to find articles that interest you.
The best part? Reading articles on LinkedIn Pulse is also a great way to connect with others in your industry. By commenting on and sharing articles, you can start conversations and build relationships with other professionals. Plus, LinkedIn Pulse helps you connect with the author of an article – simply click on their name to view their profile and see if you have any mutual connections.
2. Share Your Articles And Insights To Build Your Brand
When you publish an article on LinkedIn Pulse, the algorithm shows it to your connections. This means your articles get exposure to a wider audience, and people interested in what you have to say are more likely to read your content. In addition, LinkedIn Pulse allows you to add a bio and headshot, so people can learn more about you and what you do.
Here's what one user wrote about LinkedIn Pulse:
"I started writing for LinkedIn Pulse about two years ago while working as a financial industry consultant. At first, I was looking for a way to share my knowledge and build my brand. But I quickly realized that LinkedIn Pulse could be so much more than that. Through my articles, I could connect with like-minded professionals worldwide and start meaningful conversations about the topics that mattered to me.
I also gained valuable insights into the latest trends in my industry, which helped me to stay ahead of the curve. And perhaps most importantly, I was able to establish myself as a thought leader in my field. Thanks to LinkedIn Pulse, I have a thriving consulting business with clients worldwide."
As evidenced by this example, if you want to build your professional brand, it's time to start publishing on LinkedIn Pulse and grow your business.
3. Stay Up-To-Date on The Latest News and Trends in Your Industry
LinkedIn Pulse is a great way to get insights into industry news and trends. You can see what others in your industry are talking about or sharing. It also allows you to follow specific topics that you're interested in.
For example, if you're a marketing professional, you can follow the marketing topic on LinkedIn Pulse to access the latest articles and discussions from other marketing professionals. This way, you can stay on top of the latest trends in your industry and connect with other professionals who share your interests.
Here's what another LinkedIn Pulse user says about this feature:
"When I first joined LinkedIn, I was fresh out of college and eager to make connections in my industry. I had no idea how powerful the platform would be. Not only did it help me to grow my network, but it also allowed me to stay up-to-date with industry news and trends.
LinkedIn Pulse was a particularly valuable tool for me. Every day, it would send me a list of articles relevant to my interests. I could read them at my leisure, and they helped me to keep my finger on the Pulse of the industry. Even now, years later, I still find myself going to LinkedIn Pulse for news and insights."
So, if you also want to leverage the power of this insightful, invaluable resource, you should contribute via LinkedIn Pulse.
4. Connect With Potential Clients On Linkedin Pulse
As a business professional, you want to connect with people who need your products or services. LinkedIn Pulse provides a great opportunity to reach out to your target audience and establish yourself as an expert in your field.
When you publish engaging, well-written articles on LinkedIn Pulse, people in your network will see that you're knowledgeable and trustworthy. They're more likely to reach out to you if they need the products or services you offer. In other words, LinkedIn Pulse can help you turn casual connections into real business opportunities.
5. Get Traffic to Your Blog or Website
And finally, LinkedIn Pulse is a great way to increase traffic to your website. By backlinking your LinkedIn Pulse articles to your website, you can boost your website traffic considerably. Plus, you get targeted traffic since only people interested in your content will visit your site, and this means a higher conversion rate.
Say you're a web designer who writes articles about web design tips. If someone reads and likes one of your articles, they're likely to visit your website to learn more about your work. This way, you can get more website traffic, eventually getting better ROI.
You can also drive traffic from LinkedIn Pulse to your website by keeping your content insightful, relevant, and easy to share. Also, add LinkedIn Pulse to the list if you already share your long-form content across social media channels for better visibility.
How Does LinkedIn Pulse Work?
LinkedIn Pulse helps you stay up-to-date on current affairs in your industry, learn about new products and services, and connect with potential employers or business partners. But how does it work, you ask?
When you sign up for LinkedIn Pulse, you create a profile with your name, photo, and contact information. You can also add a brief bio and list your current position and skills. Once your profile is complete, you can start reading articles and blog posts from other LinkedIn members. You may also want to "like" or "share" articles that you find interesting.
When you like or share an article, it will be added to your profile so that other LinkedIn members can see what you're reading. In addition, LinkedIn Pulse will send you notifications about newly published articles that match your interests. You can also set up weekly or daily email digests of new articles so that you never miss a beat.
Plus, you'll find articles and publications shared by people right in your news feed. So instead of going to Pulse and scouring through hundreds of articles, you get updates about your 'followed' and 'liked' people through your feed aggregate. And when you click the links they share to LinkedIn publications, you'll see them as if you were reading a blog.
Ways to Make Use of LinkedIn Pulse
As we explained above, LinkedIn Pulse gives you enough freedom to test different kinds of content and go beyond the character limit you face in LinkedIn posts. If you're regularly posting on your website, there's no reason not to get featured on LinkedIn Pulse.
Since posting on LinkedIn Pulse is not much different from sharing regular posts, here are some ways to make the most out of this feature:
Share your original content and ideas
Connect with other professionals in your industry
Research and learn about new trends in your industry
Find new job opportunities
Promote your personal brand and build your online presence
Share links to your website articles and drive more traffic
Share your research, insights, and data with the world
Post regular updates about your projects or ongoing industry developments
How to Boost Your Results on LinkedIn Pulse?
Now that we know how to use LinkedIn Pulse and its benefits, let's enlist some tips you can follow to get the best results with this feature. If you're regularly using that "write article" button on your LinkedIn profile but aren't seeing much difference in your reach, follow these methods to boost your reach:
1. Use Relevant Images
Content is king. No doubt! But many people don't realize that how they present that content can be just as important as the quality of the article itself. Images make a huge difference in LinkedIn Pulse articles.
For example, say you're writing an article about the benefits of social media marketing. Including an image of someone using social media in an unexpected way will help your article stand out. It will also show that social media can be used for more than just posting casual updates.
Generally, articles with images tend to get more attention and reads than those without. So if you want to boost your results on LinkedIn Pulse, add compelling visuals in your articles.
2. Write a Striking Heading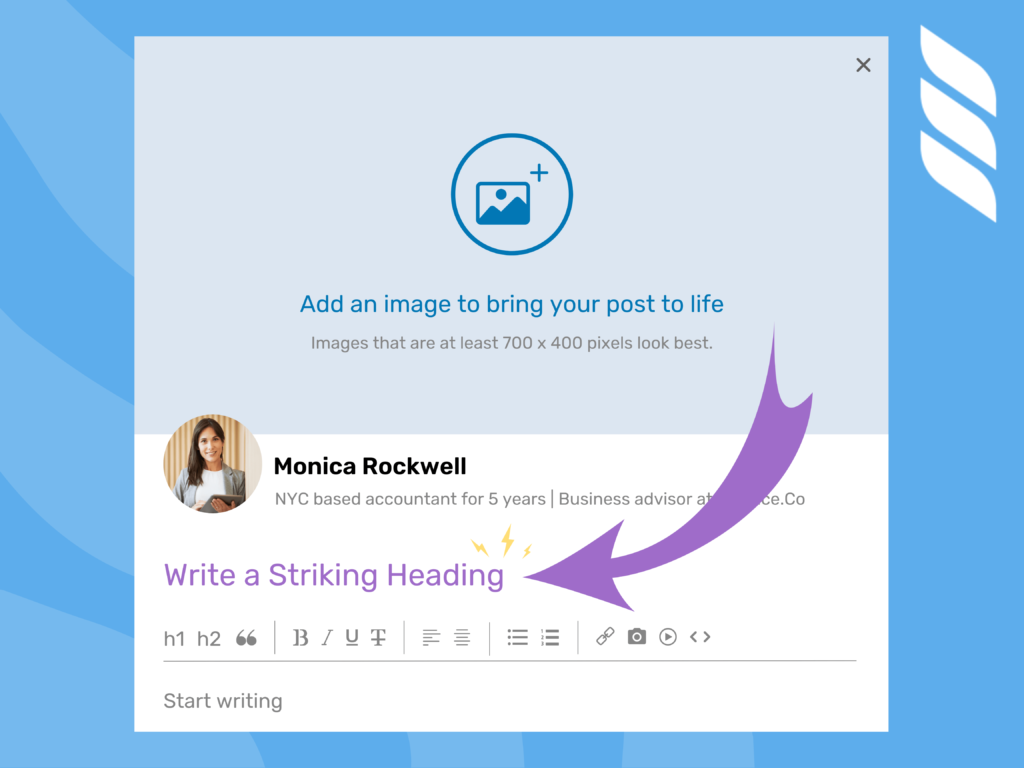 Your headline is usually the first thing people will see when they come across your article on LinkedIn Pulse. That makes it one of the most important elements of your content, and it helps determine whether people click through to read your piece or move on to something else.
So, how can you make sure your headlines are effective? The best way is to think like a copywriter. A good headline should be attention-grabbing and make a promise to the reader about what they can expect from the article. It should also be relevant to the subject and content of your article.
Let's say you've written an article about ways to improve your productivity at work. A catchy headline for this article might be "10 Ways to Work Smarter, Not Harder." This headline immediately tells the reader what the article is about and promises to provide valuable information to help them in their career. It's also short and to the point – two essential characteristics of an effective headline.
With a bit of thought and creativity, you can create headlines that will grab attention and get more clicks.
3. Add Hashtags
Hashtags are a great way to make your LinkedIn articles more discoverable. By adding relevant hashtags to your articles, you can ensure that they appear in search results for those topics.
If someone searches for a relevant topic, the hashtags will help show your article in the search results. For example, let's say you wrote an article about marketing tips for small businesses. You could add the following hashtags to the article: #marketingtips #smallbusinesses #businessgrowth.
By adding these hashtags, your article is more likely to appear in search results when people seek information on small business marketing tips. As a result, you'll get more clicks on your article. And more clicks also mean more traffic to your website or blog!
4. Add Article Links to Your LinkedIn Posts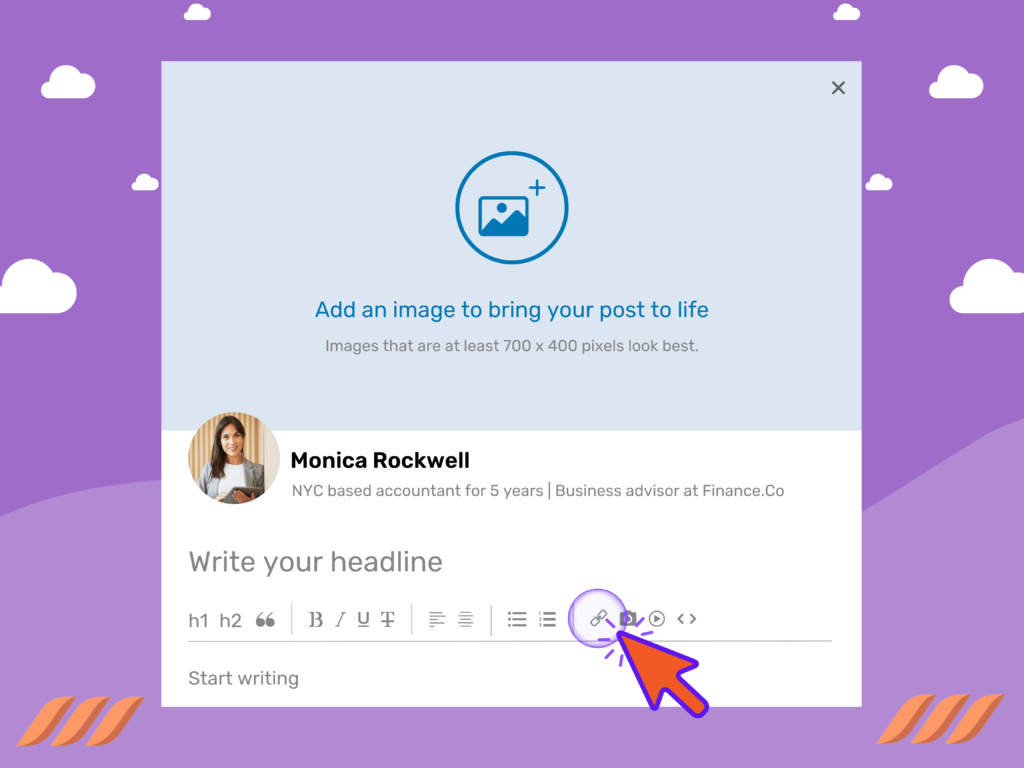 It is also a good idea to add links to your LinkedIn Pulse articles in your usual LinkedIn posts. This way, if someone is interested in reading more, they can click through to your articles.
Say you've published a great article on LinkedIn Pulse about time management tips for busy professionals. In your next LinkedIn post, you may want to include a link to the article and a brief description of what it contains. Then, encourage your connections to click through if they're interested in learning more. By doing this, you'll increase the reach of your articles and get more people engaged with your content.
5. Share Your LinkedIn Articles to Other Social Media Platforms
You want your LinkedIn articles to be seen by as many people as possible. After all, the more people read your articles, the more opportunities you have to network and build your reputation.
One intelligent way to boost your articles is to share their links on your other social media accounts. This way, you show your articles to a whole new audience, which can help you build a following on other social platforms as well as on LinkedIn.
Let's say you're a financial planner who wrote an article on the best way to save for retirement. By sharing the link on Twitter, you can reach a whole new audience of leads who may not have otherwise found your work. So to increase the reach of your LinkedIn articles, don't forget to promote them on your other social media channels.
LinkedIn Pulse vs. Website Blog
As a business owner, you know that having an active presence on social media is essential to finding leads, reaching your customers, and growing your brand. But with so many platforms to choose from, it can be difficult to know where to start.
LinkedIn Pulse and your website blog are excellent options for sharing your company's story and promoting your products or services. But, what's the difference between a website blog and LinkedIn Pulse?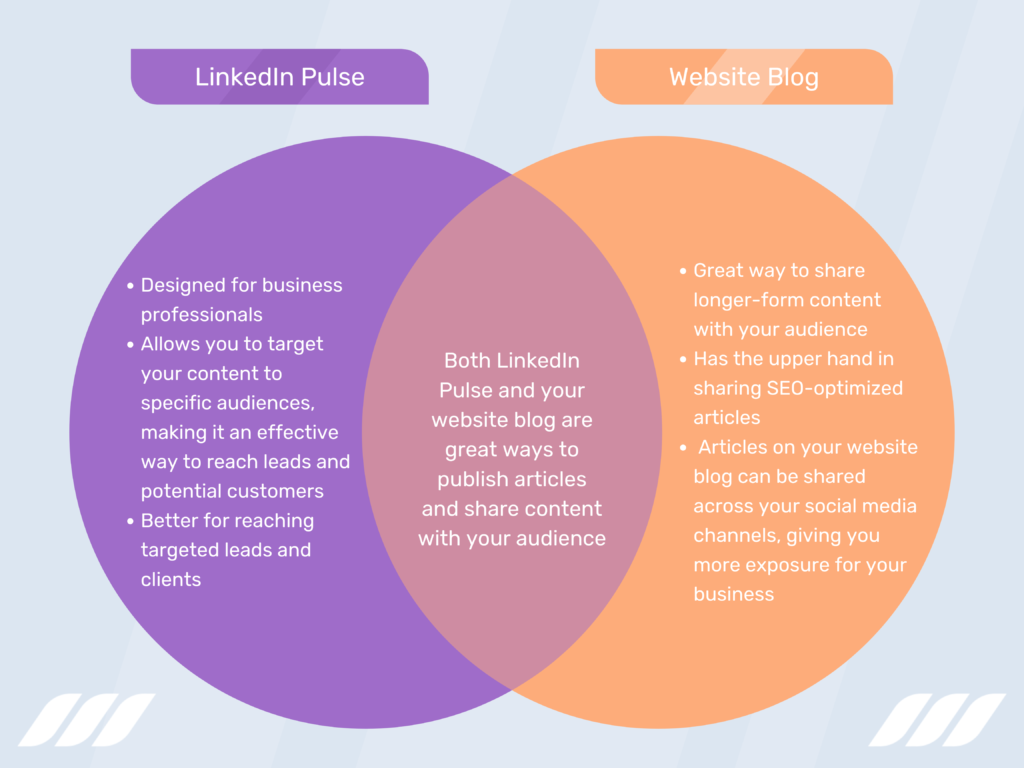 LinkedIn Pulse is a feature by LinkedIn specifically designed for business professionals. With LinkedIn Pulse, you can share articles, infographics, and other content that members of the LinkedIn community will see. Moreover, LinkedIn Pulse allows you to target your content to specific audiences, making it an effective way to reach leads and potential customers.
On the other hand, your website blog is a great way to share longer-form content with your audience. Articles on your website blog can be SEO optimized, making them more likely to appear in search engine results. Additionally, articles on your website blog can be shared across your social media channels, giving you more exposure for your business.
Overall, both LinkedIn Pulse and your website blog are great ways to publish articles and share content with your audience. LinkedIn Pulse is better for reaching targeted leads and clients, while your website blog has the upper hand in sharing SEO-optimized articles. It is also a good idea to share the articles from your website blog on LinkedIn. This way, you can increase traffic to your website.
Conclusion
LinkedIn Pulse is the ideal platform to start with if you're striving to improve your visibility and build your professional brand and authority. And since LinkedIn is primarily used by professionals, you can ensure that your content will be well-received and read by people interested in what you have to say.
Moreover, LinkedIn Pulse provides you with an effortless way to get your name and articles out there – which can help you attract new clients and business opportunities. So if you're not already using LinkedIn Pulse, we urge you to start today.
By publishing articles on LinkedIn Pulse, you can also drive traffic to your website and generate leads for your business. And thanks to LinkedIn's massive reach, you can be sure that a large audience will see your articles. If you're already active on the platform, keep contributing quality content to build your professional brand and grow your business. And if you're wondering about the best LinkedIn Pulse alternative, consider using Feedly. Other options include Flipboard, Inoreader, and QuiteRSS.