LinkedIn is the go-to platform for businesses to create brand awareness, generate leads, and grow sales. And that makes sense, considering:
LinkedIn is perceived 3 times more trustworthy than other social media networks
80% of B2B leads come from LinkedIn
LinkedIn generates 3x more conversions compared to Twitter and Facebook
Similarly, it is the number one social media platform for professional networking and career growth. For example, 87% of people use LinkedIn for recruitment drives. This means it is the best platform to land your dream job.
But given that there are 900+ million active users and 70+ million companies on the platform, the competition to get noticed can become tough. As such, professionals, as well as companies, need to optimize their profile pages. Doing so can help you cut through the noise and get noticed.
That takes us to LinkedIn SEO. But what exactly is LinkedIn SEO optimization?
This guide will walk you through everything you want to know about LinkedIn SEO. We'll also discuss how to optimize a profile to increase its visibility.
What Is SEO in LinkedIn?
LinkedIn SEO means crafting your profile in a way that improves its ranking in search results. The higher your profile ranking in search results, the more people will discover and see it. Plus, it ensures your profile is visible specifically to your target audience.
Like any social media platform, LinkedIn uses an algorithm to determine what content to display against a particular search term. When a profile meets the algorithm's requirements, it gets ranked higher in search results and draws more attention.
Is SEO on LinkedIn the Same as Website SEO?
There're many similarities and some differences between LinkedIn SEO and website SEO. It is essential to understand both aspects to craft a better SEO strategy.
When people look up something on google, they are likely to use long-tail keywords. But, LinkedIn audiences use short-tail keywords to discover the profiles or content they want to find. For instance, "best marketing solutions in NYC" on google equates to "marketing services" on LinkedIn.
But overall, LinkedIn SEO is not quite measurable as website SEO. This means there isn't any single course of action to make your LinkedIn profile SEO-friendly. The only foolproof SEO strategy is to find the right keywords and use them effectively in different sections of your profile.
LinkedIn Profile Optimization Tips
Your LinkedIn profile is more than a resume. A well-optimized profile can attract high-volume, targeted traffic and help you achieve your desired results.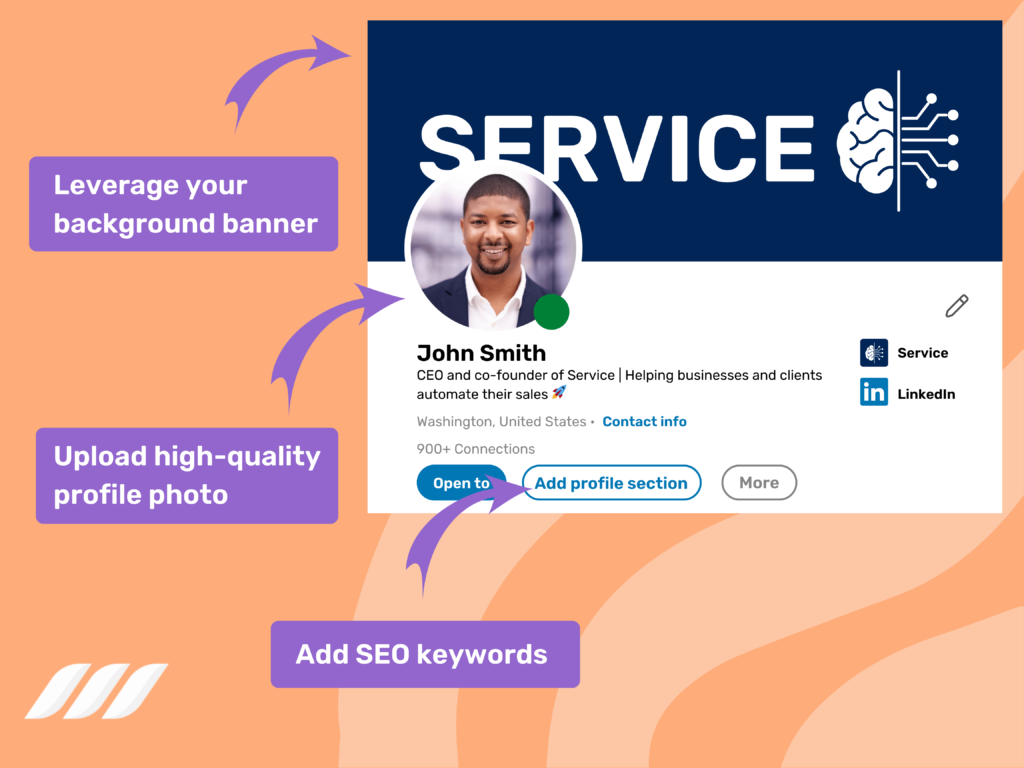 Here are 10 ways to do LinkedIn profile SEO optimization:
Upload a high-quality profile photo
The profile picture must be crisp and clear, not pixelated.
Your face should take up around 60% of the picture frame.
Choose a simple background–one that enhances your body.
Leverage your background banner
Upload an attractive background photo
Make sure the image relates to your industry or profession
Use only high-quality photos
Add SEO keywords
You'll have little chance of ranking higher in LinkedIn search without placing relevant keywords in different sections of your profile. It is good to use the LinkedIn toolbar to find highly-searched, relevant keywords with low competition. You can then place keywords naturally throughout your profile without keyword stuffing.
Some areas to add keywords include the following:
Create backlinks
Another way you could give your profile a boost is by backlinking your blog posts to your LinkedIn profile. This is especially effective if your blog has a high domain authority. Not only does this technique improve your profile's google ranking, but it is also effective in boosting your LinkedIn performance.
Related article: How to Get Backlinks on LinkedIn
Create a profile funnel
Use photos and headlines to give information about your profession or brand
The summary section should convey USPs and tell how the pain points of your target audience are addressed
Upload short and engaging videos to the "Media" section
Include call-to-actions that advise visitors how to contact you.
Publish content relevant to your niche
Did you know that publishing LinkedIn articles and posts is also an excellent SEO strategy? Content draws immediate viewerships and helps rank your profile higher in the LinkedIn search engine.
But it is crucial to post high-quality content relevant to your industry or profession. Plus, try to make your content informative, helpful, and insightful. For example, you can post case studies, industry news, listicles, how-to guides, quick tips, and videos on your LinkedIn profile.
Get recommendations and skill endorsements
Recommendations and skill endorsements add an extra dose of credibility to your profile. On the other hand, a LinkedIn recommendation is a written statement by your clients or co-workers about your work. LinkedIn endorsement is a validation of a listed skill on your profile.
It is a good idea to write recommendations and endorse your connections. This way, they will return the favor by leaving recommendations and endorsements on your profile.
Participate in groups
LinkedIn groups provide a great way to connect with like-minded individuals and businesses. You can boost your profile visibility by staying active in LinkedIn groups. Besides, when you provide insight on relevant topics, your brand authority increases, and you are thought of as the market leader.
Build smart connections
While it is essential to expand your network, making relevant connections matters the most. As such, you should try to connect with professionals or businesses in your industry, so your odds of showing up in search results can get a boost.
Use hashtags
Using a hashtags in your post helps you reach out to people outside your network. In other words, if someone is following that hashtag, your post would probably appear in their news feed. If you're unsure what hashtags to use, simply select LinkedIn suggested hashtags for your post.
Here're a few more tips to optimize your LinkedIn profile:
Add a tagline about your work
Include your website URL and link to other social media pages
Encourage a quick response by including a call-to-action in your profile as well as your content
How to Optimize LinkedIn Profile for SEO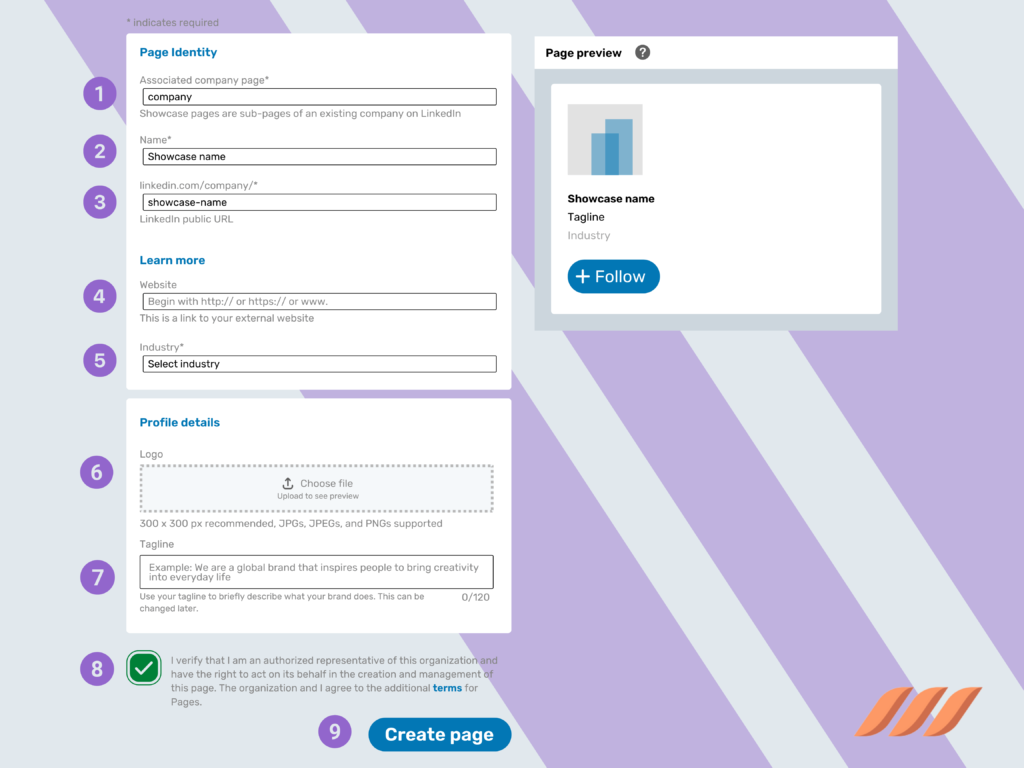 When people look for products and services, they take to Google or, for more specific results, LinkedIn. Once a user enters a search term, the algorithm compares it with keywords and phrases found on different pages to display the most relevant results.
Optimizing your LinkedIn profile for SEO means you want to increase your search engine optimization performance. But how do you go about this? The first step is keyword research!
Keyword research is the process of discovering keywords that your target audience uses to search LinkedIn for your products or service. It could also be the phrases recruiters type in LinkedIn to find suitable candidates.
Second, you have to place the highly searched keywords in the right sections of your profile. But remember to maintain a decent keyword density and ensure a natural keyword flow within the content.
Let's see how keyword optimization can be done under different sections of your profile:
Your Name – Add a title after your name, especially if it's a frequently searched term. Example: Peter Woods, Copywriter.
Headline – Place keywords in a three parts formula: who + problems/solutions + benefits.
About Section – Your location and industry or niche are the two significant components in terms of search results. Make sure to keep your location updated and mention your niche or industry.
Featured Section – Add the relevant keywords in the media titles and description fields.
Experience and Education – Add keywords specific to your job roles and qualifications.
Licenses and Certifications – If you have acquired a certificate or a license in demand, showcase it under the Licenses and Certifications section.
Skills – There might be multiple search terms for any particular skill. While mentioning a skill, use words that have the highest search volumes.
Recommendation – Instead of asking others to write a new recommendation, convince them to validate a pre-written draft. This would save their time and allow you to add keywords in the text body.
Accomplishments – This is yet another section on your profile to place keywords. If appropriate, you'll have a chance to add keywords in the description of your publications, patents, courses, projects, honors and awards, test scores, and languages.
How to Optimize LinkedIn Company Page for SEO
Creating a company page on LinkedIn helps you develop credibility in the industry, expand networking opportunities, and generate leads. But how do you get it to appear in search engine results?
Let's have a look at 10 promising ways you can optimize LinkedIn business page for SEO:
Upload a high-quality profile photo and background picture that showcase your brand. Get creative here but ensure you don't stray from the theme and purpose of your business.
Put special attention on the summary and overview sections. Use relevant keywords in the summary section and keep it concise.
Use LinkedIn analytics to determine the content your target audience is interested in. Then, tailor that data to create interesting and valuable content for your audience.
Take advantage of every new feature LinkedIn releases to stay ahead in the competition. For instance, using LinkedIn live to stream live videos brings in 24x more comments than in-feed videos.
Keep the audiences engaged using LinkedIn stories, LinkedIn polls, and community-builders, such as LinkedIn events. 
Join groups to build a community. Participating in discussions and sharing insights related to your industry helps get popularity and build brand authority.
Let's say you have a tremendous following on Twitter or Instagram. You could leverage it by sharing links to your LinkedIn page and targeted drive traffic.
Expand your network; tag relevant people in your posts; ask colleagues to like, comment, or share your content; share content similar businesses publish.
Consider using sponsored content if you intend to show your content to specific audiences. Running a campaign manager will help you create ad campaigns and boost your posts.
Get twice the engagement as text-only posts by sharing images and videos.
How You Can Benefit from LinkedIn SEO
Building a LinkedIn profile and optimizing its search-engine performance requires research, effective implementation, and staying active. Is it worth it? To what extent does it pay off? Let's take a look!
Optimizing your LinkedIn profile for SEO has 4 key benefits:
More Leads
LinkedIn is 277% more effective than Twitter and Facebook for creating leads.
Lead generation plays a pivotal role in creating conversions. And that is the reason it is an integral part of any marketing and sales funnel. The more traffic you get on your profile, the higher your chances of expanding your network and generating leads.
Brand Awareness
A well-optimized LinkedIn profile serves as your brand personality. It tells people what you do, how you do it differently, and what measures you take in solving problems. This creates brand awareness and helps you make your mark in the industry.
Relationship and Trust
A well-optimized LinkedIn profile shows up in search engine results more often. This makes you look more reliable, credible and trusted. Plus, it helps present you as an industry authority, translating into more networking and business opportunities down the line.
Career Opportunities
LinkedIn is the undisputed king when it comes to modern recruitment solutions. As such, you should set up a complete profile and optimize it so recruiters can discover you. And once you land a job, a properly optimized profile will help you explore more career opportunities.
Conclusion
LinkedIn SEO optimization is crucial for professionals and businesses alike to stand out in a crowded platform with millions of active users and companies. By leveraging LinkedIn SEO techniques, you can improve your visibility and increase your chances of getting noticed by potential clients, employers, or partners. So, take the necessary steps to optimize your LinkedIn profile and make the most out of this powerful platform.