Profile legitimacy is a serious concern for recruiters, job seekers, and B2B sales professionals on LinkedIn. Every other person can put up a plethora of accomplishments on their LinkedIn profiles, presenting themselves as the best in the industry. But the question is: who is pretending to be an expert and who really is an expert?
You could add credibility to your profile by asking for a recommendation on LinkedIn. LinkedIn recommendations are written statements that serve as social proof for someone's skills and abilities.
Another option to gain the trust of your connections is through LinkedIn skills and endorsements. Remember that LinkedIn recommendations and LinkedIn endorsements are two different things.
By using Dripify automation tool you can create a drip campaign with a variety of automated actions including LinkedIn endorsements to boost your profile by doing auto endorsements on LinkedIn.
While writing recommendations could be tedious, endorsements are a quicker alternative that can be rendered in just a few clicks.
Read on to find out how to endorse someone on LinkedIn or get endorsements and what does it mean when someone endorses you on LinkedIn.
What Is Endorsement in LinkedIn?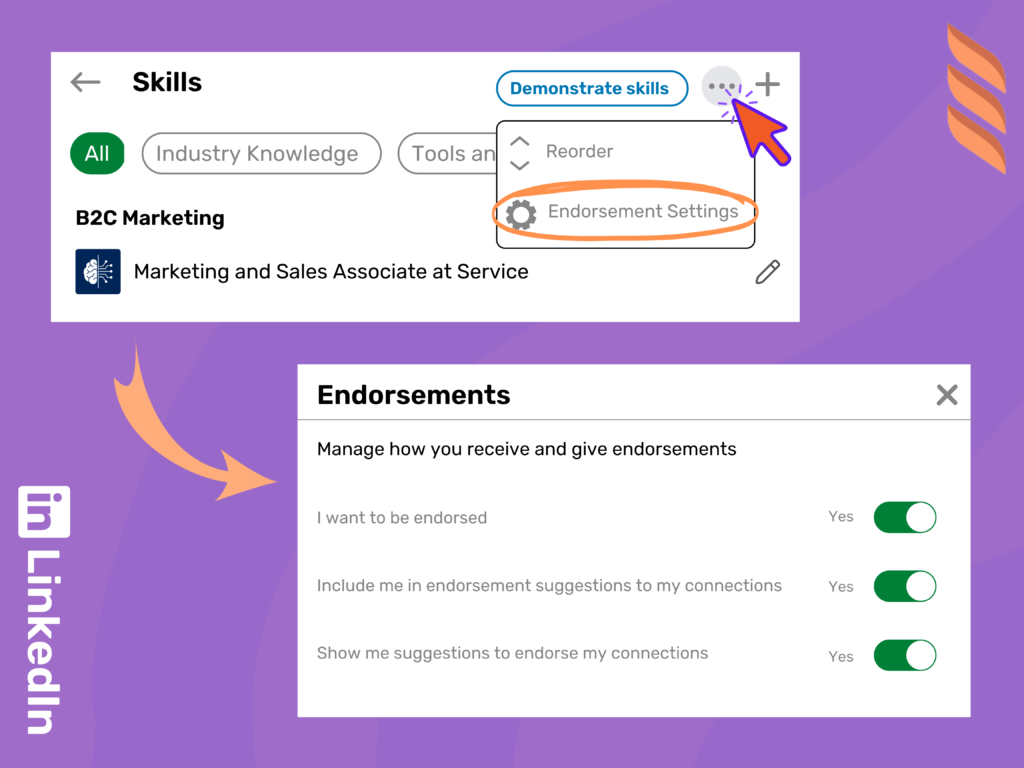 When you endorse someone on LinkedIn, it means you vouch for their skills and expertise. In other words, a LinkedIn endorsement is validation or recognition that you receive on your mentioned skills by a 1st-degree connection.
But are LinkedIn endorsements worth it?
Absolutely!
For one, they provide an excellent way for LinkedIn users to connect with you. Further, it can reinforce and foster your professional image in the industry. This could open many doors of business, career, or lead generation opportunities for you.
Second, LinkedIn endorsements add credibility to your profile. When recruiters or your target audience visit your profile, they get an extra dose of confidence if they see you've been endorsed for your skills.
Not to mention, LinkedIn's algorithm favors profiles having endorsements. When recruiters or potential clients look for skills relevant to you, your profile will preferentially show up to them over candidates without endorsements.
With that said, not every endorsement you receive could necessarily be a positive contribution. For this reason, LinkedIn allows you to manage endorsements through your profile settings. This way, you could hide unwanted endorsements, place restrictions on their frequency, or turn off notifications every time someone endorses your skill.
Endorse Someone on LinkedIn [Steps]
So, how do I endorse someone on LinkedIn, you ask!
Before answering your question, let's tell you why you should endorse people on LinkedIn.
The Norm of Reciprocity.
In simple terms, when we do someone a favor, they feel an urge to return the favor. That means the more endorsements you leave on profiles, the more likely your chances of getting endorsements for your skills.
That takes us to another question: who should you endorse on LinkedIn?
The answer is simple. You can endorse anyone you've worked with or are currently working with, provided you're sure about their skillset. Besides, you could also endorse someone you've had a business relationship with, and you're satisfied with their work.
Now, let's look at how to endorse skills on LinkedIn in three easy steps.
Step 1: Visit the profile of the person you want to endorse, and scroll down to Skills & Endorsements. You'll see a plus sign (+) alongside every listed skill.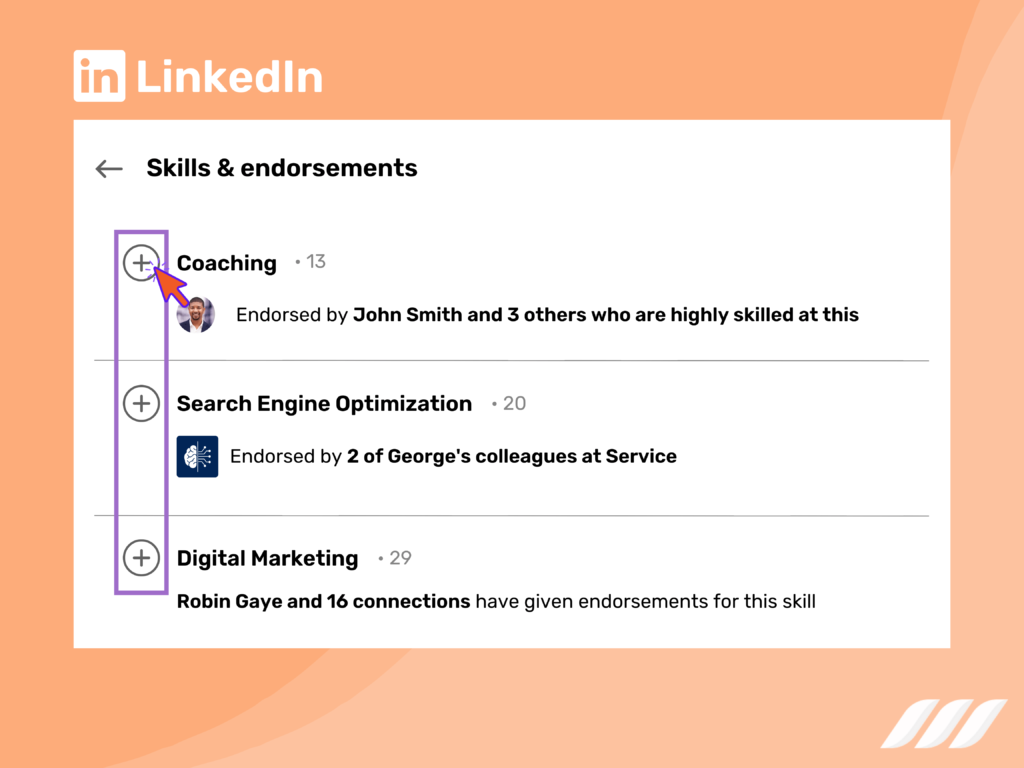 Step 2: Click the plus sign alongside the skill you'd like to endorse the user for. A form will pop out. It would ask you to rate the person and mention how you know about their skills.
Step 3: Fill out the form, click Submit, and you're good to go!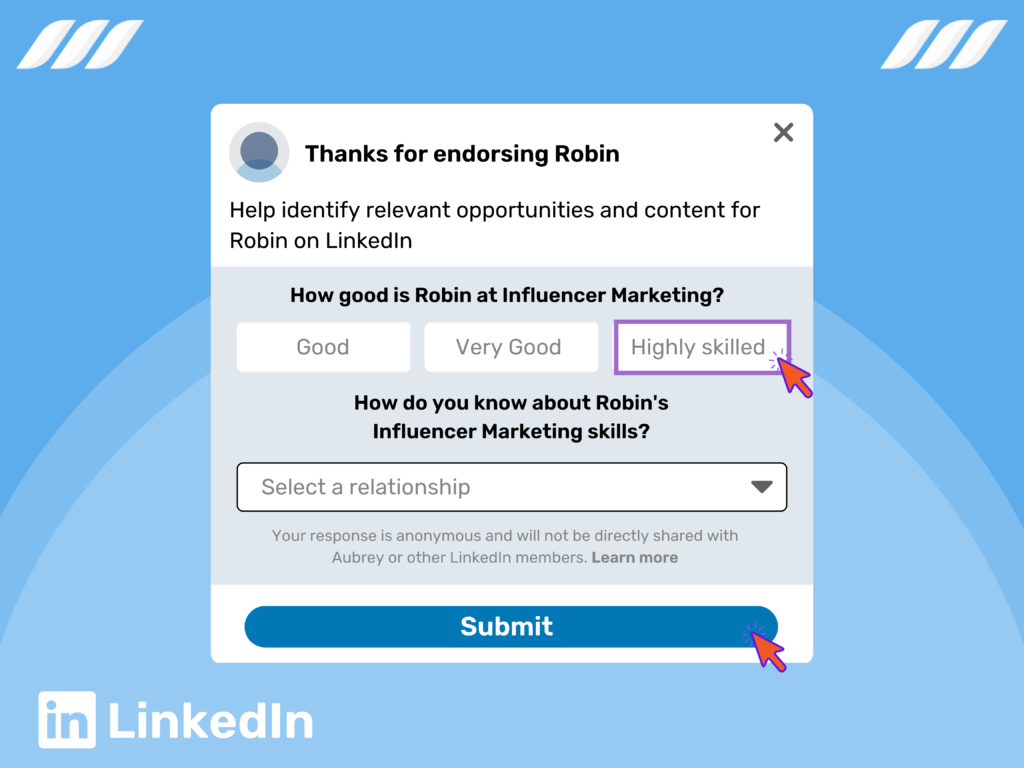 Congratulations! You've learned how to endorse someone on LinkedIn! That was super easy, wasn't it?
How to Get Endorsements on LinkedIn
Getting endorsements on LinkedIn doesn't require extraordinary strategies. All it takes is a few simple practices to get people to endorse your skills. If you haven't been able to get any endorsement so far, the following tactics should help you out.
Request Endorsement
Don't wait for people to visit your profile and validate your skills. Instead, ask for it!
But, what is the right way to ask someone to endorse your skills on LinkedIn? After all, you don't want to sound desperate, needy, or pushy.
So, here's how to go about it: instead of bombarding every inbox with impulsive requests, take your time to write personalized messages. It is a good idea to start with a greeting, then recall quick details of some project the two of you worked on together. Then, finish by gently asking if they could endorse your skill(s).
Keep Your Profile Updated
Another good way to receive endorsements is by keeping your profile updated.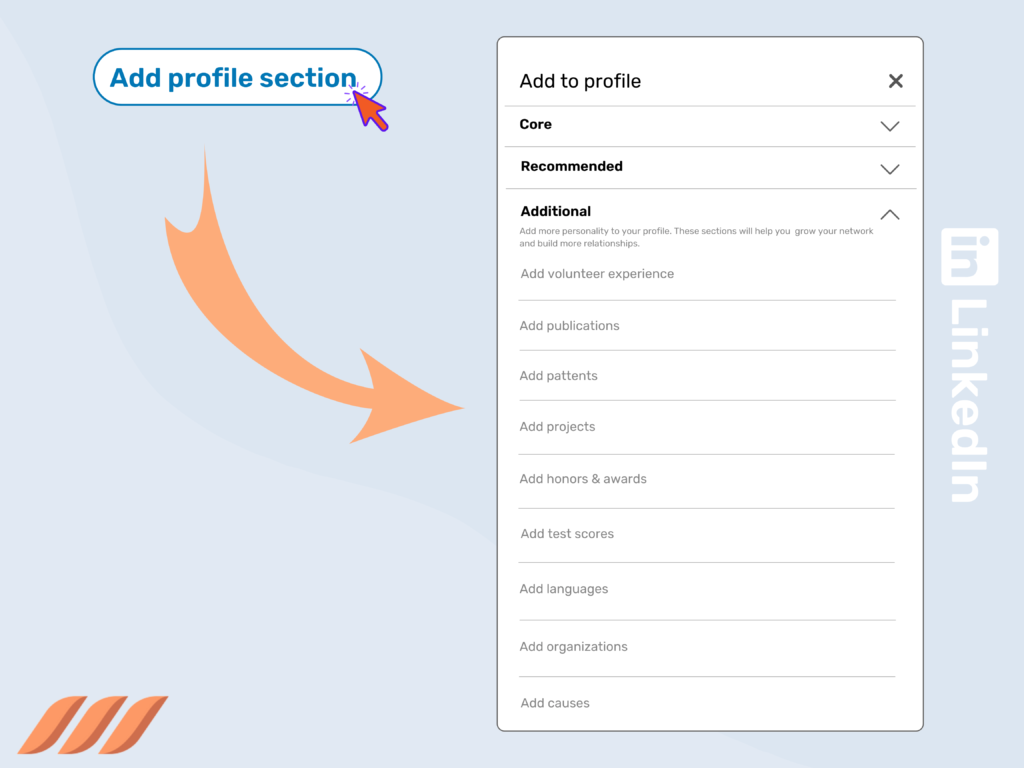 If any projects, honors, or awards relate to your highlighted skills, add them under the "Accomplishments" section. Similarly, you could share posts and articles that best correspond to your skills and expertise. Doing so would underscore your credibility for any particular skill and establish you as the authority in that niche.
Maintain Ethical Standards
When someone endorses your skill, show gratitude in the form of a heartfelt thank you note.
Remember that patience and persistence are the keys if anything doesn't work!
Some become frustrated and resort to questionable techniques, such as buying LinkedIn endorsements. Avoid such practices as they could seriously hamper your reputation if found by LinkedIn in the future.
LinkedIn Endorsement Examples
LinkedIn Endorsement Example #1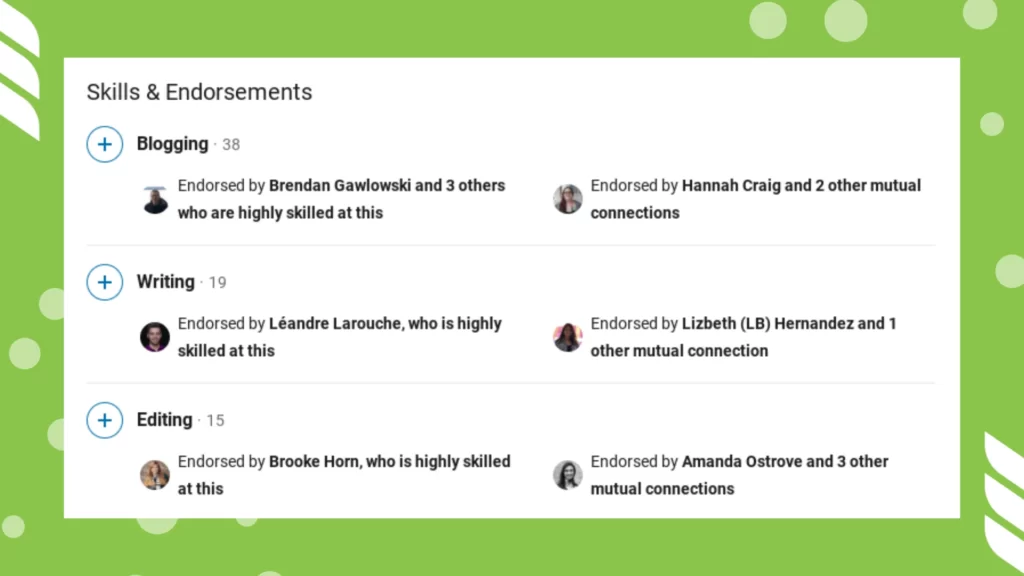 LinkedIn Endorsement Example #2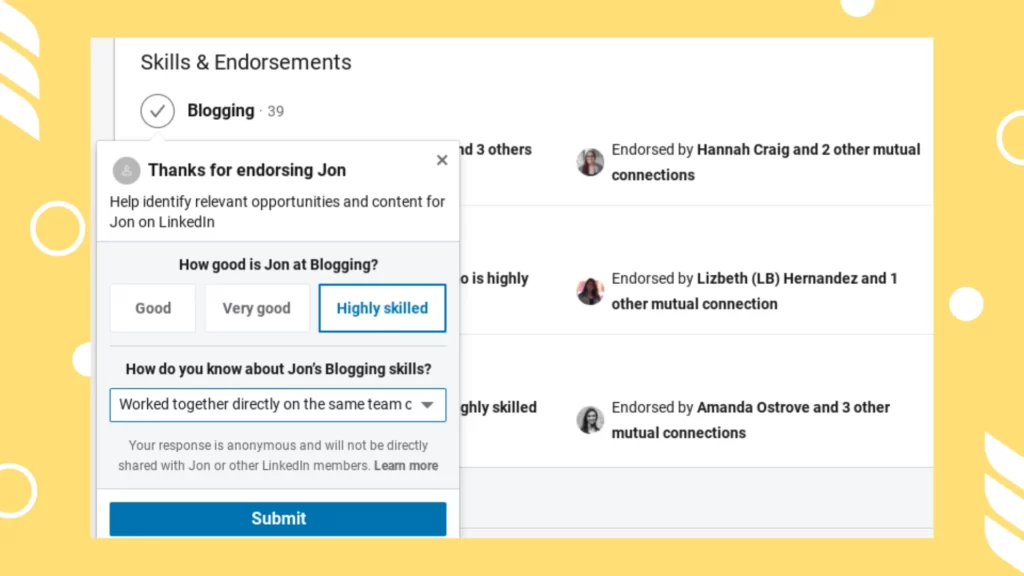 LinkedIn Endorsement Example #3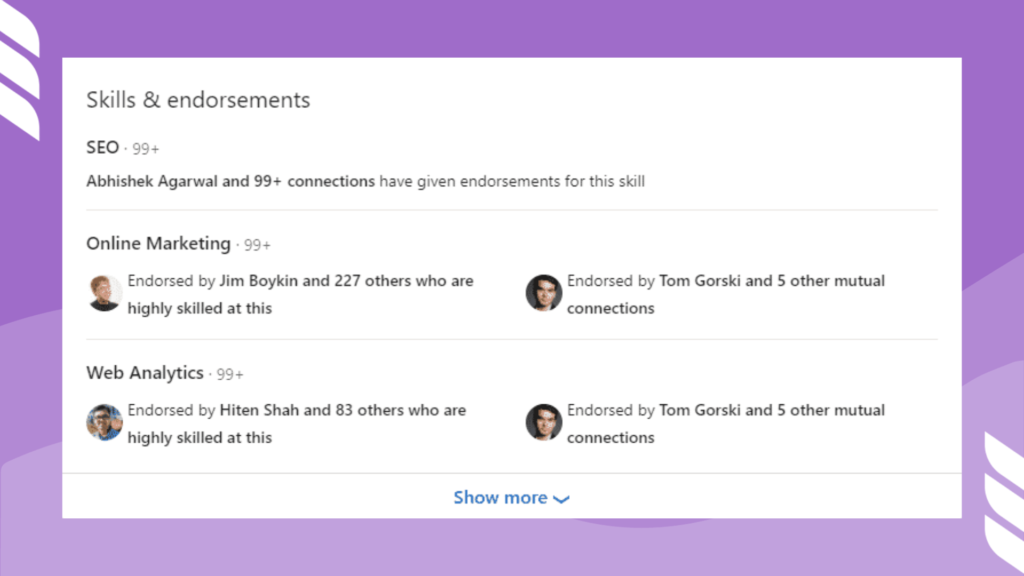 How to Ask for Skill Endorsements on LinkedIn
You can almost always get a "Yes" to your request if asked the right way. But how to ask for endorsements on LinkedIn?
The trick is to keep your message concise and maintain a polite tone. You don't want to implore your connections to do you a favor, so don't push too hard. Instead, try to appear cool and laid back in your approach.
Remember that what you request from your contacts depends on your relationship with them. Let's delve deeper into how to ask for LinkedIn endorsement on a case-by-case basis.
Ex-colleague
Your contact might not be able to recognize you at first. So, in your message, mention the organization's name where you worked together. You can then request them to endorse your skills that were relevant to your role only. If you bring up skills they can't recall, they might be hesitant to oblige by your request.
Current Colleague
It is much easier to get an endorsement from a current colleague since they want to maintain a good work relationship. In this case, you could be a bit more informal. An inside joke, a mutual workplace challenge, or some gossip could help you get them to endorse you.
Your Manager
You may get a little nervous while approaching your manager to endorse you on LinkedIn. But there's no reason you shouldn't ask your manager for an endorsement. It is an excellent opportunity to let them know that you deem them worthy enough to get their validation. Keep it formal in this scenario, and ensure you get your message across without wasting time.
A Client
The best time to get a client to endorse your skills is right after successfully completing the project. Happy clients are more than happy to recognize someone for skills that led to the successful completion of their projects.
Cocnlusion
LinkedIn Endorsement is a great way to know whether a profile is genuine. It's a recognition or validation that you receive by the first-degree connection on your mentioned skills. Endorsement helps other users connect with you based on your skills and reinforce your professional image on the platform as well in the industry. The best part is that LinkedIn allows you to manage endorsements in your profile settings. You can hide unwanted endorsements and restrict their frequency.
Getting people to endorse your skills on LinkedIn is pretty simple. You can request people to endorse you by writing a personalized message to them and sharing the details of projects you have worked on. Keep your profile updated by highlighting your skills and adding them under the accomplishments section.
Share relevant posts and articles related to your skills and expertise to showcase yourself as an authority. You can ask your colleagues, ex-colleagues, team leaders, managers, and clients to endorse you on LinkedIn. If you need help with writing a personalized message for endorsements, Dripify is here for you. Its LinkedIn profile writing service will create a message that will surely help you get endorsed on the world's largest professional network.