LinkedIn is the leading professional networking platform that helps you connect and network with other professionals in your industry. It's also an excellent place to find new jobs, recruit employees, generate leads, grow your business and build your brand on LinkedIn. But did you know that the social networking site also allows you to write recommendations for other LinkedIn users? 
LinkedIn recommendations can come from people you know in person, those you've worked with, or your first-degree connections. Plus, you can write recommendations for your first-degree connections that you know or have worked with.
Once you receive a recommendation, you must approve it to show it on your profile. These recommendations allow potential employers, leads, or clients to know more about you. You can also show what type of professional you are by displaying these endorsements on your profile as a good reference.
What is a LinkedIn Recommendation?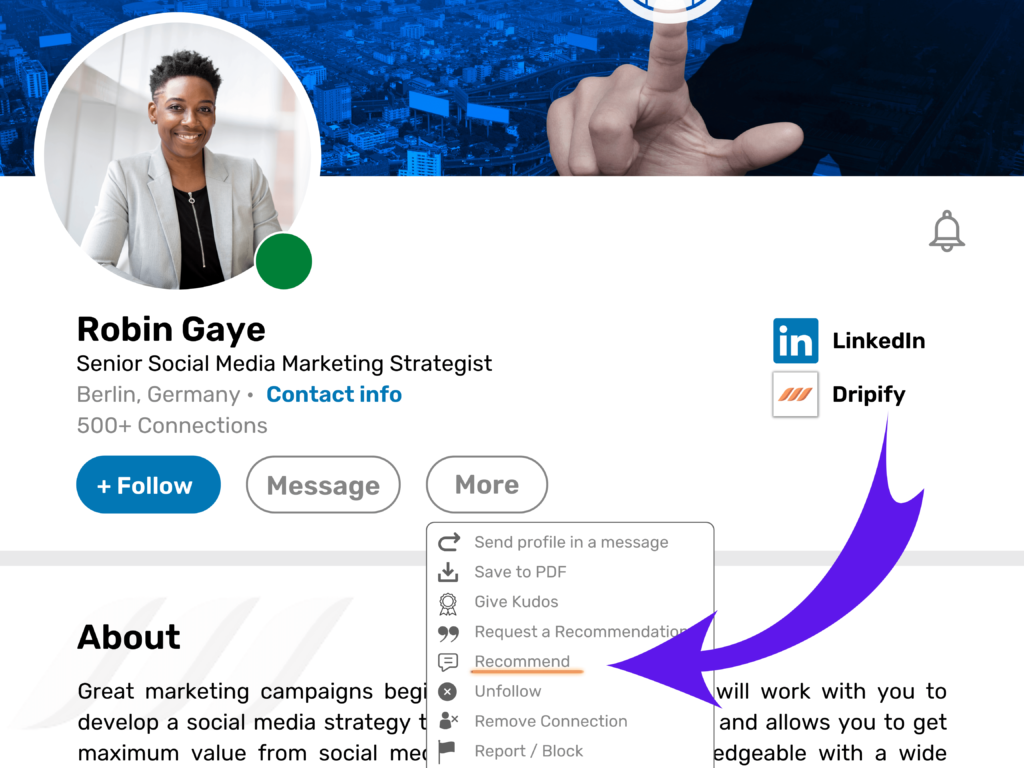 When you're looking for career or business opportunities, a professional reference from someone you know can be just as valuable as your experience or skills. The good news is that LinkedIn allows its users to endorse each other through recommendations.
Recommendations on LinkedIn are written endorsements to help you stand out to employers, leads, or potential business partners. Studies show that people who receive LinkedIn recommendations get more interviews and offers than those without any recommendations.
Recommendations make your profile stand out in your network and beyond. These written statements not only help you at the moment, but they also build your credibility and trustworthiness over time. You may not know this, but recommendations are a powerful way to drive traffic and boost your profile's visibility on the network.
The good news is that writing a linkedin recommendation isn't as difficult as it may seem. It is a good idea to take inspiration from a LinkedIn recommendation example to get started.
Below are a few templates and examples you can adapt to develop a good Linkedin recommendation.
Linkedin Recommendation Templates for Colleague
"Having worked with Denise for three years, I must say he is an excellent professional. He helped me understand the company's project management process and started me with helpful PM tools. I am impressed by his work ethic and communication skills. Plus, he easily adjusts to any given situation or business dynamics. But what makes him stand out is his willingness to help others. I am glad to have worked with him and have no hesitation recommending him to potential employers. Thanks, Den."
"Alex is a very hard-working person who can tackle any AI problem with ease. We have worked together on several projects, and I found him a highly skilled and dedicated professional. His expertise in the field of AI has helped our company immensely. He's also an all-around great guy to work with! I highly recommend him to anyone looking for help on their team or AI project."
LinkedIn Recommendation Templates for Manager
"Jennifer is an excellent manager. I have been working under her supervision for four years now. She sets realistic goals and gives reasonable deadlines to complete those goals. Plus, she is a good listener and always pays attention to the details. Her understanding of people's needs is outstanding, so much so that everyone working under her feels comfortable. On top of that, Jennifer is a great motivator. She instills positive energy in every team member, keeping everyone focused on what needs to be achieved."
"Mr. Morris is a highly skilled and knowledgeable manager. He is not only friendly and helpful but also goes above and beyond to maintain the team spirit. Moreover, I have seen him working his way through challenges and crises. He uses innovative approaches to tackling and solving problems. He is such an inspiration for me, and I feel proud to have worked under his guidance."
Linkedin Recommendation Example for Student
"Linda Stark worked at our on-campus Cafe as a part-time server for two years. As a manager, I was impressed by her work ethic and managerial skills. She is a hard-working young lady with a great sense of humor and commitment to her duty. She was always ready to go the extra mile to provide high-quality customer service. She will be an asset to any cafe looking for a manager or server. Thanks, Linda."
Linkedin Recommendation Template for HR
"Shaun Paul is an experienced and talented recruitment manager. Everyone in the company recognizes him for his friendly nature and HR skills. Shauna is a manager I always trust and look forward to for career guidance. He is always open to listening to our needs and never compromises his professionalism, integrity, and work ethic. He creates amazing experiences for everyone working at the company."
"Annie is a perfect example of an excellent HR manager. She is focused, dependable, and objectives-oriented. She has exceptional skills in the HR field, besides being a helpful human with a sympathetic attitude. Plus, she always takes a humane approach to resolving HR problems. Annie has always been my go-to for career guidance."
Linkedin Recommendations Template for Boss
"Having worked under Sean S. for five years, I would recommend him as a person with profound knowledge and great abilities of advanced business solutions. He is goal-oriented, focused, and highly ambitious. His knowledge is vast and extensive, and he possesses exceptional leadership skills. Sean S. assumed a leadership role in the company, inspiring and motivating his colleagues and entire teams spread across the world. Result-driven, experienced and efficient team player."
"Olivia is a forward-thinking and intelligent CEO who has lots of knowledge in the ICT sector. I found her a highly knowledgeable CEO who goes above and beyond to keep everyone motivated and focused. She is a visionary, result-driven, experienced, and efficient team player. I enjoyed working with her on the various projects we took on, and it was an enriching experience for me."
LinkedIn Recommendation Sample for Senior
"Working with Morris was a fantastic experience. I found him a professional with great experience and profound knowledge of business solutions. He understands complex issues even when outside of his immediate area of expertise. Besides possessing excellent interpersonal skills, Morris has great relations with company clients and potential customers. He is not only a reliable and forward-thinking senior manager but also an inspiring team player."
"Rina is a highly skilled and experienced senior manager. I worked under her supervision for two years, and it was a fulfilling experience. She was always there to provide guidance and helped me improve my skills and learn new skills. Her guidance has helped me in every aspect of my career as an engineer. I always felt welcome and motivated in her presence. Given her innovative approaches to customer satisfaction and problem resolution, I must say she can be an asset to any company."
Linkedin Recommendation for Client
"Mr. Lee is an excellent client to work with. We partnered on a content marketing project back in 2019 that ran successfully for two years. I found Mr. Lee to be highly cooperative and responsive. He set strategic directions for the project and communicated his expectations and goals upfront. Plus, he is a keen listener and takes everyone's recommendations seriously. He also possesses excellent communication skills, sets realistic goals, and gives reasonable deadlines for project milestones. I have no hesitation in recommending Mr. Lee to other potential consultants and partners."
"James was one of my initial clients when I started my web development business. He hired me to develop his company website and provided all the requirements upfront. He was always available and highly responsive throughout the successful completion of the project. I found him to be an inspiring business professional with great communication and project management skills. He is also a great team player and motivator. I look forward to working with him again. Thanks, James."
Linkedin Recommendation for Developer
"Kareem is an exceptional developer who possesses all the skills one would want in an excellent software developer. From Python to Java and Kotlin to PHP, he masters the top programming languages. He has been a great resource to my company and my clients. He did an incredible job on all projects, making timely deliveries and helping me nurture long-term relationships with my clients. His work is always top-notch, and he is always welcoming to feedback and making improvements. Plus, Kareem is self-motivated and a great team player."
"Maria has been working as a website developer at our company for five years now. Having worked with her on many projects, I must say she is a development guru. Her work is always outstanding, and she always goes the extra mile to ensure the company standards and client requirements are met. She is a highly-skilled, experienced, and helpful professional with a positive attitude. Working with Maria has been a great experience for me as I learned many hard and soft skills from her. Thanks, Maria."
How Do LinkedIn Recommendations Work?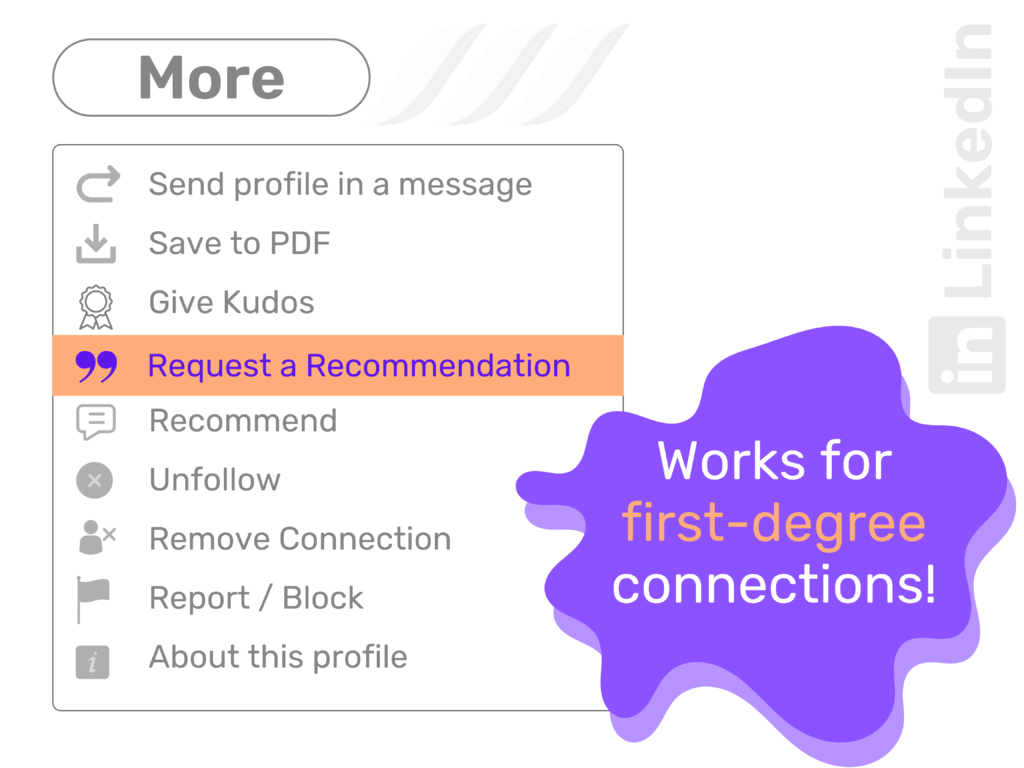 LinkedIn recommendations are written statements by LinkedIn users to recognize your work. Plus, you can write recommendations for other people you've worked with or have business relationships with. It is an excellent way to tell other people about the skills, work ethic, and professionalism of people you know or have had working relationships with.
You can ask for recommendations from your first-degree connections on the network. Likewise, your first-degree connections can request your recommendation. When you write a recommendation for someone, they'll get a notification in their inbox. They're free to accept or reject your recommendation. And they can even ask you to revise the recommendation. After accepting your recommendation, LinkedIn will show it on their profile.
Conclusion
LinkedIn recommendations are a great way to establish rapport with your leads or attract potential employers. The person you've written a recommendation for always enjoys the freedom to hide or delete the recommendation anytime they want.
The good news is that LinkedIn hasn't placed any limit on how many recommendations you can give or get. However, you can write or get one recommendation per person for every position.