Stories are a vital feature of most social media platforms today. Walking in the footsteps of other social networks, LinkedIn introduced the stories feature in 2019. It was expected to play a powerful part in the social media strategies of businesses and professionals.
If you have tried posting stories on LinkedIn but couldn't find the option, you might have certain questions in mind, such as: are LinkedIn Stories gone? Did LinkedIn down stories? 
Stories were an exciting way for professionals and brands to share content on LinkedIn. Unfortunately, LinkedIn took down its stories feature, which is why the feature isn't available any longer.
This comprehensive guide will walk you through everything you want to know about LinkedIn Stories. Keep reading to get your answers!
What Are LinkedIn Stories?
LinkedIn Stories was a short-form content feature that allowed LinkedIn users to share text, photo, and video content in a vertical format with their connections. LinkedIn rolled out this feature in early 2019 and made it globally available later that year.
Stories on LinkedIn worked the same way as other social media applications' stories features, such as Instagram Stories and Snapchat Stories. LinkedIn members could post content to their stories for 24 hours, after which the content would disappear.
The feature also allows users to share their stories with specific LinkedIn groups or connection lists. For example, a member could share their story only with their first-degree connections or with members of a specific LinkedIn group. If a story received a lot of engagement, it would be featured in the "Top Stories" section of the LinkedIn app.
How Did LinkedIn Stories Work?
LinkedIn Stories was an exciting feature that allowed users to share photos and videos that disappeared after 24 hours, similar to Instagram Stories or WhatsApp status updates.
To view someone's LinkedIn story, you had to tap on their profile picture, and their stories would appear in a row at the top of your LinkedIn feed.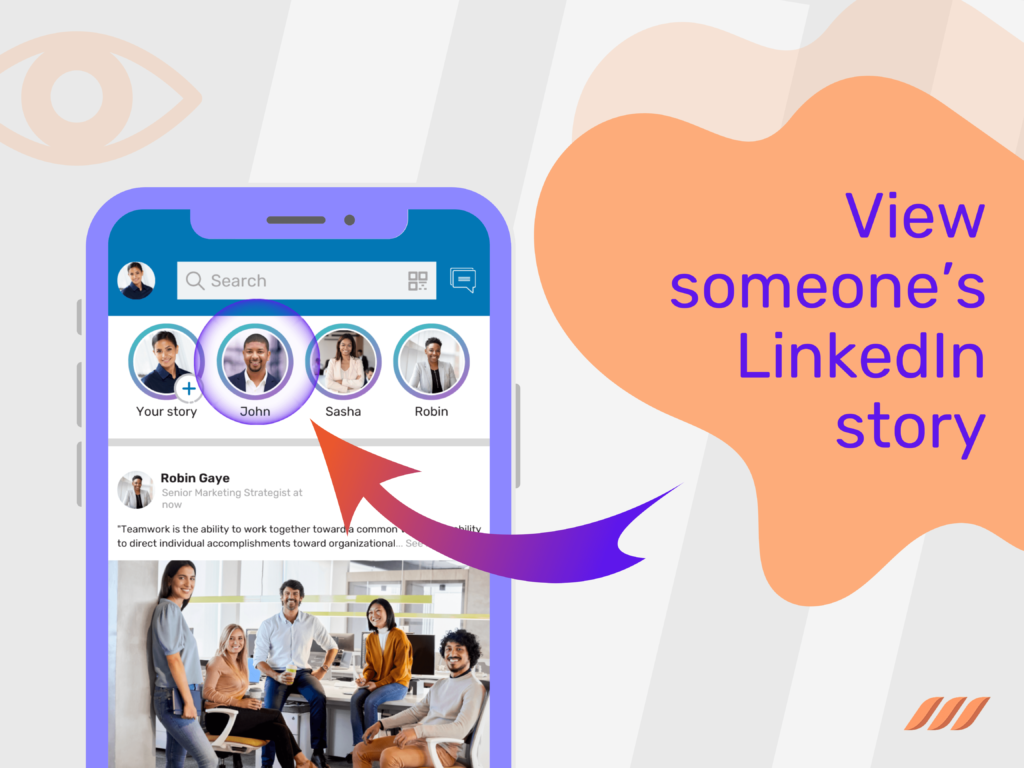 Also, users could view stories on LinkedIn by tapping on each story or swiping left or right. LinkedIn stories aimed to help users share behind-the-scenes content, product updates, company news, and more.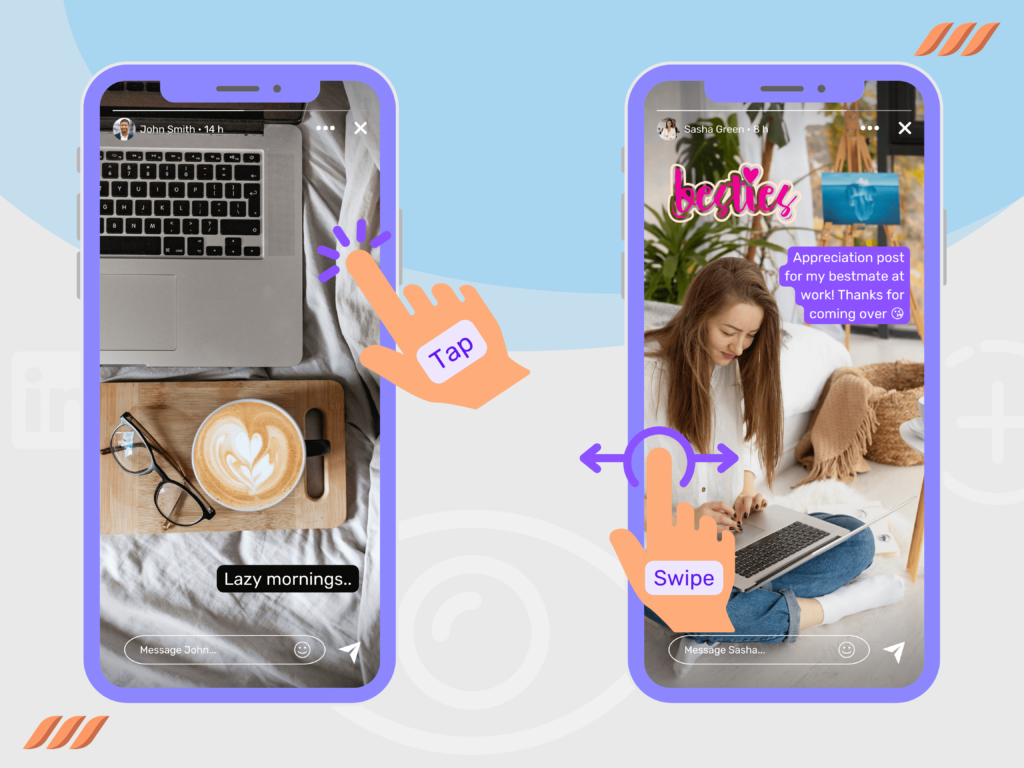 By sharing stories, many LinkedIn users were getting followers, and businesses were able to give a more personal look into their brands.
Plus, stories helped active users build relationships within the LinkedIn community.
For example, if you're a salesperson, you could share a story about your day-to-day work life to give your connections a better sense of who you are and what you do.
Switching to Real-Time Communication With LinkedIn Stories
Thanks to the stories on LinkedIn, we saw businesses of all sizes and across all industries embrace real-time communication. LinkedIn stories encouraged users to connect and engage with their professional networks in new and authentic ways. We've seen stories from all LinkedIn members ranging, from individual professionals to some of the largest companies in the world.
Businesses used LinkedIn stories to showcase their culture, give employees a voice, and build thought leadership – all in real-time. The best part? The stories feature lets users share real-time updates with a global audience of professionals who could engage with their content.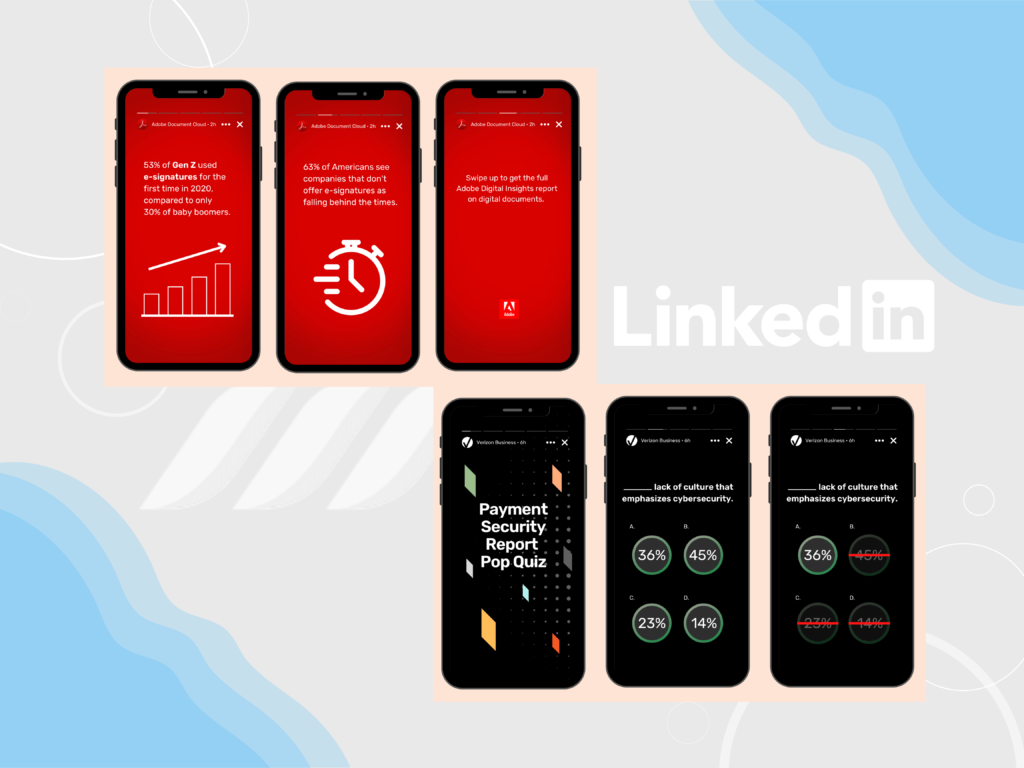 Here are a few examples of how businesses capitalized on LinkedIn Stories in creative and impactful ways:
AT&T leveraged LinkedIn stories specs in a powerful way. The company used LinkedIn Stories to show behind-the-scenes footage of their 5G network rollout across the US. This gave their employees a sense of pride and ownership as they watched AT&T make history.
GE used stories to announce their new CEO, show off their products in action, and give company updates. This allowed the company to build excitement and anticipation around its brand.
McKinsey & Company used stories to share timely perspectives on the COVID-19 pandemic from their global network of experts. This helped position McKinsey as a trusted source of information during uncertainty.
The Benefits of LinkedIn Stories
Here are the top benefits that made stories on LinkedIn quite popular for as long as they stayed:
Real-time communication
Exciting content
Short-from updates
The ability to keep everyone in the loop
No-hassle, crisp content
Sharing quick BTS during projects
5 Strategies for LinkedIn Stories to Grow Your Business
Here are the top strategies that companies used to leverage the power of LinkedIn stories and their real-time communication feature:
1. Live Event Coverage
LinkedIn Stories allowed businesses to share real-time updates and behind-the-scenes content with their followers. Brands quickly began to use LinkedIn Stories for live event coverage. This gave their followers a front-row seat to all the events, such as company events and industry conferences.
2. Q&A Sessions
Using the stories format, businesses could conduct Q&A sessions, giving their followers a chance to ask questions and get insights into the company in real time.
Although LinkedIn Stories was only available for a brief period, it quickly became a popular tool for many businesses to conduct Q&A sessions. Many companies found that the Q&A format was an effective way to connect with their target audience and generate leads.
3. Product Teasers
Some saw the LinkedIn stories feature as a valuable way to share updates and connect with others, while others viewed it as yet another example of the site's Copycat tendencies.
However, one group that seemed to be enthusiastic about the change was businesses. Companies were using the stories feature to share product teasers and announcements, and many saw it as a valuable new tool for marketing their products and services.
4. Promoting Content Marketing Assets
LinkedIn has been increasingly popular among businesses to promote their content marketing assets. The LinkedIn stories feature was especially useful for this purpose, as it allowed companies to share short snippets of their content with a broader audience.
5. Praising Key Talent and Loyal Customers
Although the feature was short-lived, many companies quickly began using it to promote their key talent and loyal customers. LinkedIn stories allowed businesses to connect with their target audience more personally. Many brands found that they could achieve better engagement rates than other forms of content.
LinkedIn Down Stories – What Happened?
LinkedIn stories failed to gain user traction and was ultimately discontinued in September 2021. The network found that stories didn't align with the professional tone of the platform and weren't suitable for its core user base.
While some users may have enjoyed sharing more personal updates on LinkedIn, the feature ultimately didn't fit with the overall purpose of the platform.
LinkedIn stated that it remains committed to providing a valuable user experience and will continue to focus on features that support its mission.
Despite its popularity, LinkedIn eventually discontinued stories, leaving brands to find new ways to connect with their followers.
Conclusion
As you'd know by now, the LinkedIn stories feature is no longer available because it didn't suit a professional platform like LinkedIn. This is likely because the story feature was not widely used on the platform, and LinkedIn wants to focus on being a professional networking site rather than a social media site.
While the stories feature may have been popular on other platforms, it simply didn't fit with LinkedIn's image and purpose. So if you can't find the button to post a LinkedIn story, it's because LinkedIn Stories are gone for good!