LinkedIn is critical in creating your professional profile and helping you advance your career. When connecting with other people on the network, we first skim their current job position, profile tagline, picture, and LinkedIn summary. All of these help us determine whether or not they're worthwhile for networking.
Your summary for LinkedIn is more than a representation of your professional experience. It is one of the first things anyone reads when they check out your profile. It can make or break your impression with potential employers or leads.
Importance of LinkedIn Profile Summary
LinkedIn serves as a bridge between you and your leads or potential employers. Your LinkedIn tagline gives them a brief insight into your professional outlook. And the summary section offers visitors a glimpse into your persona, accomplishments, professional aspirations, and more.
Your LinkedIn summary is much like the objectives part of your resume; it provides viewers with a brief overview of your abilities, goals, and achievements. Like a good punch line, your LinkedIn summary must be short, direct, and powerful enough to grab the reader's attention. The goal is to make them hit that connect button.
How to Write a LinkedIn Summary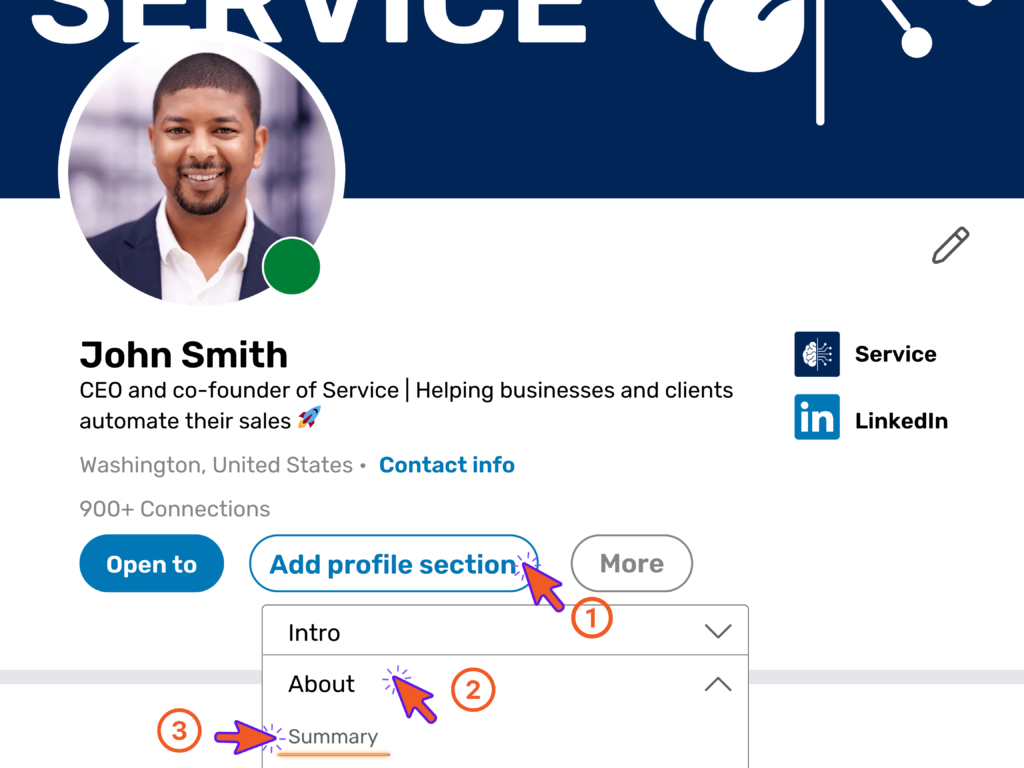 The key to crafting a good LinkedIn summary is to follow a predetermined structure and outline, like a LinkedIn summary template.
Here is how you can create an impressive LinkedIn summary.
Start With a Hook
Every good book starts with a strong paragraph that grabs the reader's attention and sparks their curiosity. In the same way, your LinkedIn summary's start must be powerful and ignite your viewer's interest.
It is a good idea to start the first sentence in a way that allows viewers to know what you do. The second sentence should provide them with a reason to stick around and keep reading. Keep it fun and exciting if you wish to pack on a punch.
Provide Viewers With a Unique Selling Proposition
This is the part where your communication skills come into play. Be sure to describe yourself and your work in the most creative way possible. And in doing so, use your creativity to push the reader into caring about what you do and why it matters. Make your proposition unique so that it helps you stand out from the rest of the crowd.
Highlight Your Accomplishments
Some people may think it is counterintuitive, but there is nothing wrong with briefly highlighting your accomplishments in your LinkedIn summary. For example, you could mention the projects you've worked on, what you have learned, and what you have achieved. While some may think of this as bragging, the true goal here is to highlight your achievements in a way that adds value to your work.
Include a Call to Action
Make sure to end your LinkedIn profile summary with a call to action so your profile visitors can make the first move to connect with you. For example, you could provide them with information about contacting you or how your services can help them.
Use the professional LinkedIn profile writing service by Dripify. Optimize your profile by following the latest LinkedIn trends, get x2 more LinkedIn profile views, increase your conversion rate with Dripify LinkedIn profile creator.
LinkedIn Summary Tips
Now that you have been introduced to the how-to part of formulating a LinkedIn summary, let us move on to some helpful tips on what to include in the LinkedIn summary.
Keep it Concise
Be sure to keep everything concise and to the point. Avoid delving into the nitty-gritty details. Remember, this is not your autobiography. Besides, no one has time to read a huge text block when scrolling through LinkedIn.
It is a good idea to keep your summary under 2000 characters. People only care about what you do, what you have achieved, what they will get by connecting with you, and whether you are worthy of networking.
Use SEO Keywords
SEO keywords can make your profile more search-engine friendly and boost visibility. Think of LinkedIn as a deep ocean where SEO keywords will serve as life jackets to help you stay afloat. You can include SEO keywords anywhere in your profile, from the headline or LinkedIn summary to the experiences or skills part. These keywords will help increase your visibility within the network and in search engines.
Related article: LinkedIn SEO
Make Use of Whitespace
Whitespace makes things more readable and understandable. Crammed-up paragraphs are never a good idea because they have a higher chance of getting ignored. Keep your content organized with the help of whitespace. Use short sentences and paragraphs.
Write in the First Person
Your LinkedIn profile is much like a monologue because you essentially tell everyone what you do. If your profile narrates your experiences, it should be addressed in the first person. Not only does it sound more authentic and natural, but it is also more relatable to the reader.
Focus on Your Strengths
While your LinkedIn summary discusses your experiences, prospects, and goals, it is critical to address how you achieve your goals. Write about your strengths and how you will help others achieve their goals. Keep it brief but be sure it stands out.
Let Your Personality Shine
Only work-related information can make your summary sound boring and monotonous. That's where information about your persona, work ethic, hobbies, and humor can make the cut.
This helps break the monotony and gives readers something to relate to. You could discuss your personality, your values, and your worldview. Give readers insight into who you are as a person, not just as an employee.
Write Like You Speak in Person
How do I make my LinkedIn profile stand out, you ask. Well, using a formal tone will not help here. Instead, you should take a casual or witty route where you converse with your target like you're speaking with them. A simple and conversational tone goes a long way toward attracting your audience.
State the Reasons
Tell viewers what drives you to be in your line of work and your goal behind your motivation. This provides your potential connections with a fresh and new perspective into your professional life.
Be Direct With Your Expectations
A call to action makes a good LinkedIn summary ending. Consider mentioning your expectations directly and clearly. And be sure to add how you wish to be contacted by anyone who wishes to approach you.
Use Emojis
While some people advise against emojis as they are far from professional, there is no denying the fact that they are pretty fun. Using them in your LinkedIn summary is good, but do not overdo this practice. The only reason for using emoji on LinkedIn is to make your profile look more welcoming.
LinkedIn Summary Examples
Have a look at these examples of LinkedIn summary and take inspiration to improve your own summary.
Ilya Azovtsev – LinkedIn Expert
Ilya is a LinkedIn expert who managed to acquire a million profile views in a span of mere four months. A digital marketer by profession, he heads the department of growth at Lemlist. Ilya's strengths include community building.
His LinkedIn profile summary is catchy with a direct and clear tagline. It uses whitespace, emojis and conveys a clear message. Ilya's use of different summary structures and taglines gives his profile a competitive edge over others.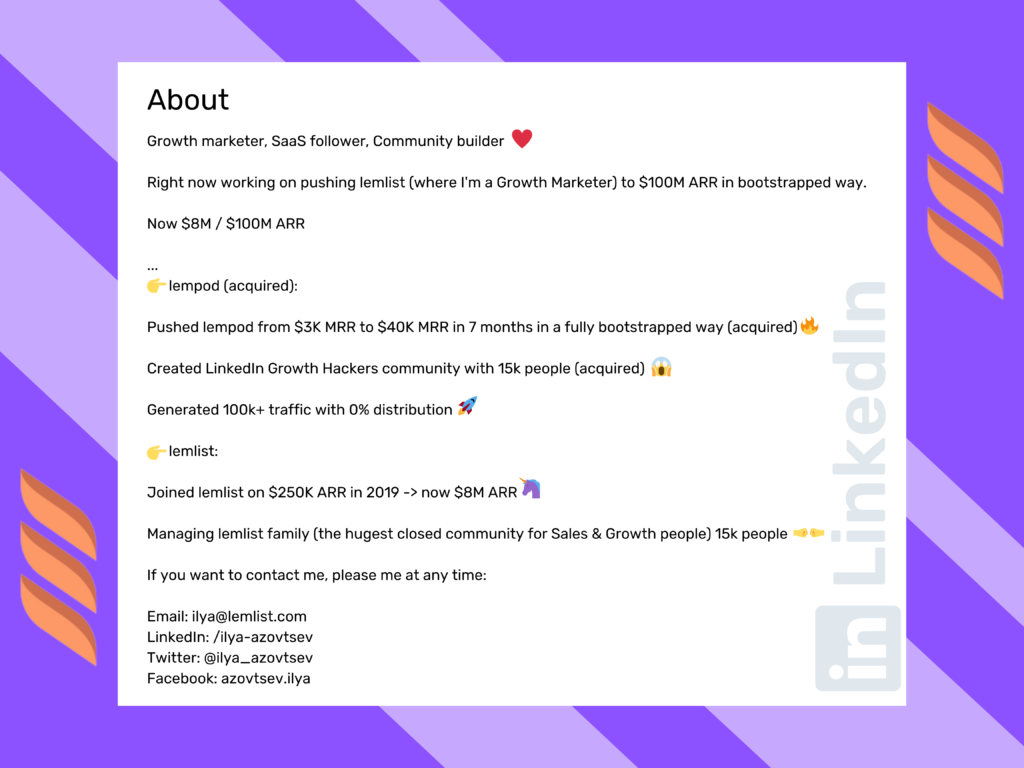 Sharon van Donkelaar – Chief Marketing Officer
Sharon is a Chief Marketing Officer at Expandi. Her LinkedIn profile is a fine example to follow if you wish to enhance your LinkedIn outreach. Her profile introduction is direct and clear, stating her field of work.
Her profile is easy to read owing to the intelligent use of whitespace, and you can note some emojis as well. She ends her LinkedIn summary with a call to action. Composed, cohesive, and clear, Sharon's profile ticks all the boxes.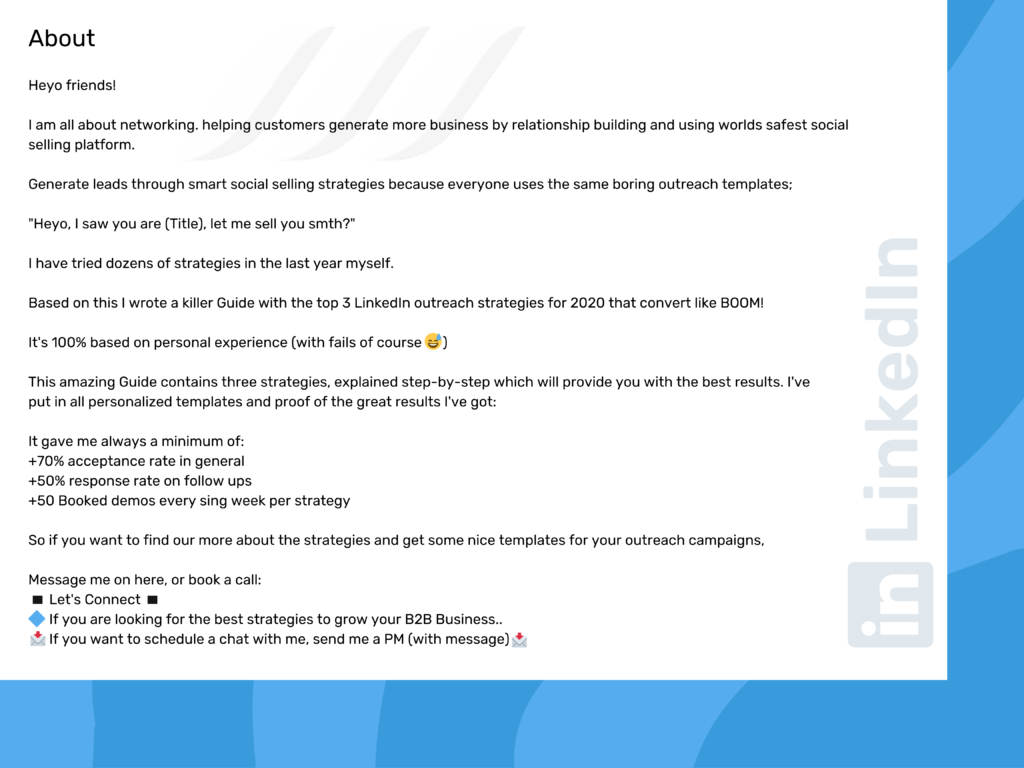 Genevieve McKelly – Human Resources Professional
Genevieve is a human resource professional. Her profile stands out from the rest because it highlights her motivation to help others. It makes her profile appear approachable and helpful. She discusses her hobbies and gives people a reason to engage with her. Moreover, her profile encourages people to reach out to her. Direct yet fun and exciting, Sharon's profile grabs viewers' attention.
Daniel Thornburgh – Software Engineer at Google
Daniel is a Software Engineer at Google. His LinkedIn profile summary depicts his life journey, starting from his youth to the present while being precise and to the point. He notes his interests clearly and balances industry keywords very perfectly. Despite highlighting his achievements, Daniel's profile is far from boastful. In fact, it sounds pretty humble!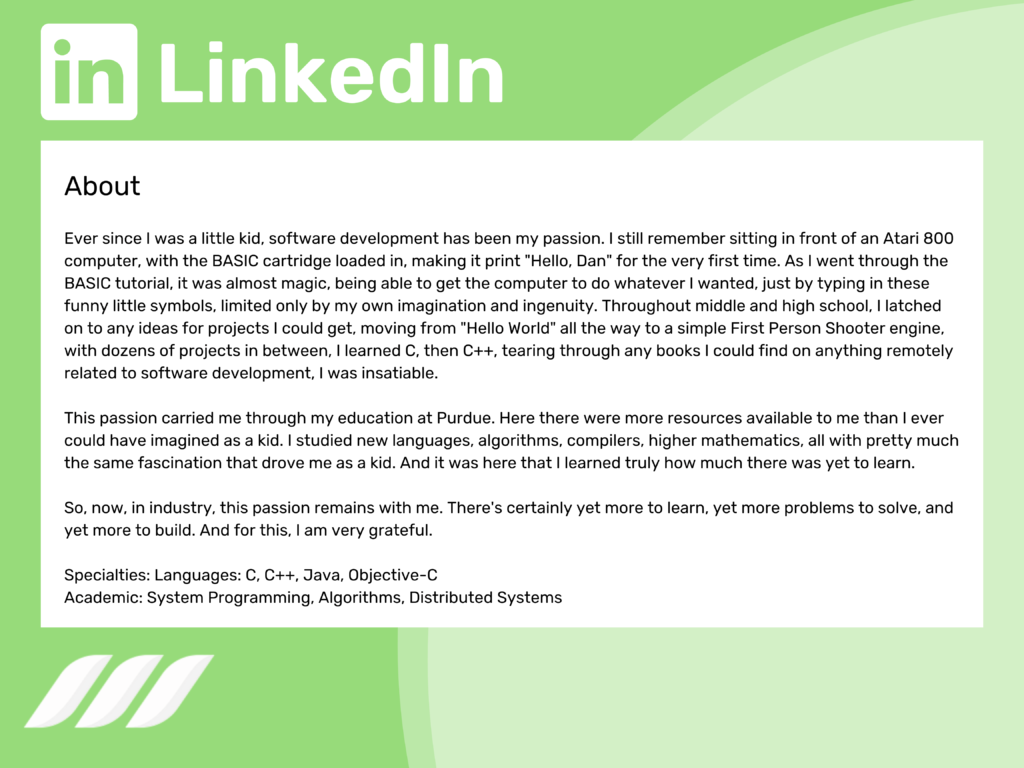 Conclusion
A robust LinkedIn Profile Summary not just keeps your potential customers hooked to your profile, but the chances of their conversion are also heavily affected by it. A descriptive and lengthy summary might showcase your writing skills, but it tends to bore your profile visitors. Writing a short, crisp, and to-the-point summary is what we recommend.
You must also ensure to add a call to action to the summary, which will provide your visitors with the ease of establishing a connection with you. Overall, a sturdy LinkedIn summary is as crucial as other elements of your LinkedIn profile.
However, sometimes we get so indulged in other aspects of our business that there's no time left to create a striking LinkedIn profile. Hiring a professional for the same can be very expensive, and it becomes nearly impossible for startups in their infantry stage. Does that mean you'll be stuck with a dull LinkedIn profile? No, you can simply opt for Dripify LinkedIn Profile Makeover, which comes at a mere cost of $299.
Apart from making your profile beautiful to look at, a professional makeover will also provide you with benefits like a 200% increase in LinkedIn profile views, an enhanced professional reputation, a 2x increase in your conversion rate, etc.