Have you ever thought about how your LinkedIn profile picture could be turning away potential employers, leads, or business partners? You might not even realize it, but your profile picture is one of the first things people see when they land on your profile, and it can make a big impression. 
Research reveals that it takes as little as 33 milliseconds to look at someone's face and form a first impression. Weirdly enough, it takes a few milliseconds to cast the first impression, but it doesn't go away for a long time.
Your profile picture largely dictates your impression on any social media platform. But it is crucial for your success on LinkedIn. Your profile image can be a blockade or a head start in helping you to tap into networking and career opportunities on LinkedIn.
So, how can you ensure your LinkedIn profile picture does its job?
Here are a few tips to help you create a LinkedIn profile picture that will make a great first impression.
Why is a LinkedIn Profile Picture Important?
A study by The Ladders — a business and employment-oriented company — tracked the eye movement of recruiters. The heatmap revealed that recruiters mainly focus the visuals while exploring LinkedIn profiles, with 19% of the time looking at profile pictures.
A good profile picture serves as a point of entry into your profile. No matter what goes into your skills and achievements, your first impression depends on your profile photo and your background photo.
Remember, your profile picture speaks for your personality as well. Is your personality grainy and dull? Then why set up a bland and pixelated picture?
A high-quality photo would stick you out from the crowd and take your profile to a whole new level. It would help you draw attention and expand your career and networking opportunities.
LinkedIn Profile Picture Specs
Let's start with the fundamentals.
Before uploading a profile picture, ensure it meets all LinkedIn requirements to avoid getting rejected. Here are the specifications a profile picture must meet on LinkedIn:
Maximum file size – 8MB
Minimum pixel size – Between 400 (width) x 400 (height)
Maximum pixel size – 7680 (width) x 4320 (height)
In addition to meeting LinkedIn profile picture size requirements, save your picture in JPG or PNG format.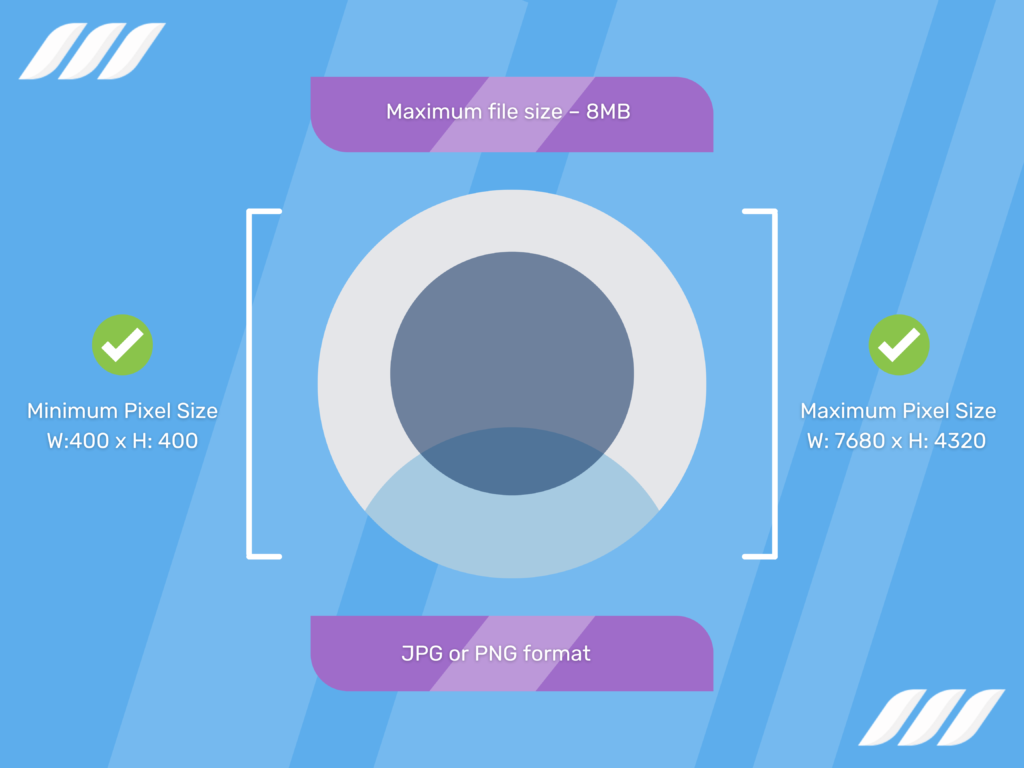 While the guidelines are pretty straightforward, creating a powerful display photo for your LinkedIn account takes a lot more. The most crucial factor here is how you capture a photograph.
Here you can find the requirements for an outstanding LinkedIn background banner for your profile.
How to Take an Amazing Profile Picture for FREE
Draining your hard-earned money on profile pictures might not necessarily guarantee promising results. There are two ways you can go about taking your profile pic.
For starters, you can play safe and hire a professional (with a nominal price tag) to take your headshot. But, if you're tight on budget and not ready for professional photography, you can do it yourself.
To start with, get a professional-grade camera and a tripod (from a friend, maybe?). After that, here's what you need to do:
If you're taking a picture outdoors, wait for a clear, overcast day. Avoid facing direct sunlight since it would make you squint.
Find a picturesque background — preferably something with trees, or you might want to try cityscapes.
Switch on portrait mode and take a burst of photos. The more pictures you'll take, the more likely you'll end up with the one worth your LinkedIn profile.
Make sure to smile and don't hesitate to show your teeth. People find you more attractive when you expose your teeth while smiling.
Enhance your photo using reliable software and play around with basic photo edits such as brightness, contrast, saturation, and sharpness.
It is a good idea to try different outfits, camera angles, and backdrops until you get a lovely photo. After all, getting a good LinkedIn profile picture is worth going the distance.
6 Eye-Catching LinkedIn Profile Pictures
Great ideas begin with great inspirations. Let's look at some LinkedIn profile photo examples and find out how some industry experts captivate their prospects and followers.
Madeline Mann
Madeline Mann is a Talent Development Manager at "Inspire." Here's what makes her LinkedIn photo exceptional:
She is wearing an attire that looks genuine and appropriate — neither too casual nor over-the-top formal.
A bright-orange background symbolizes positivity and happiness.
Pointed eyebrows, coupled with a confident smile, indicate authority and confidence.
Justin
Justin is a top-notch salesperson. As much as his profile speaks for his brilliance, he makes a statement with his profile picture.
The first noticeable element is the all-black theme, which communicates class, elegance, and authority. Another way the black color works is how it spotlights Justin's face. One can clearly see confident facial expressions, enhanced by brightness.
Rachel Montañez
Rachel Montañez, a career coach and expert on burnout, is another example of how you can shine through a LinkedIn profile photo.
In terms of body language, Rachel encapsulates approachability and confidence. Her smile radiates warmth and energy, while crossed arms signify that she knows what she does. Besides, notice how she transmits humanness by keeping her makeover subtle and putting on a simple dress.
Sami Viitamäki
Multidisciplinary marketing strategist and transformation leader, Sami Viitamäki, does it differently by opting for a black and white headshot.
Going for a B&W image instead of a colorful one can be risky. Imagine a psychologist putting up a black and white picture. It won't be welcoming and would keep prospects at arm's length.
In the marketing context, however, it adds a touch of creativity to Sami's headshot and makes his eyes the focal point. The picture speaks for itself, "I know how to capture attention and use innovative strategies," something every marketer wants to achieve.
Tynan Allan
Tynan Allan is a professional development expert and company culture strategist. The most prominent feature of Tynan's profile picture is his radiant smile, which almost looks as if he's laughing.
There's no denying that one look at Allan's photo makes you want to smile as well. It is powerful enough to give people a mental boost and make them happy. Beyond that, it serves as a great example of personal branding. Who wouldn't want a positive and happy company culture after all?
Fernando Parada
Technical sourcer and Fintech expert Fernando Parada set a perfect outdoor photography example.
Two key takeaways from the picture:
The smile looks warm and natural
The image has been neatly processed for brightness and shadows
Apart from it, see how Fernando's body blends with the backdrop while being prominent. The background is sufficiently blurred to keep it distinctive from the foreground.
5 Tips to Give Your Picture an Extra Boost
So, how can you give your picture a touch of genius and create a lasting effect? Follow these five proven tips:
Edit your photos
Taking an impactful picture for your profile is the first step. The second step is to use photo editing software to make it ten folds better.
Of course, photoshopping your way to a perfect photo is the most reliable and widely used method. If you know how to use the software, it should be your go-to software for retouching and editing your photo.
Alternatively, some excellent and user-friendly tools, such as PFP Maker, Gimp, and Pixlr, can be used to edit your photos in under 30 seconds!
Ask someone to take your picture
It is good to set up a tripod and take your picture. But, having someone else take your photo is a better option.
Having your photo taken by someone else adds a perspective to the art. It's a bonus to have someone who could tell you to tilt your head, slightly rotate your torso, or smile a little bit more.
Use Photofeeler to have your photo rated
Seeing your photo from the perspective of others is essential to figuring out how it will perform. Why visualize when you can get people to rate your photo?
Photofeeler lets you upload your photo and have it graded by others regarding likeability, trustworthiness, intelligence, competency, and more. Leverage this tool to determine how people think about your photo before uploading.
Be the center of attention
It's not a good idea to upload a group photo as your profile picture. This would make it hard to identify you in the photo.
As such, pick a solo photo and avoid distracting backgrounds. A simple background will keep you in focus. That doesn't mean you should always choose a solid, white LinkedIn profile picture background. Pictures in nature or an empty sidewalk could also add to simplicity without being boring.
Hire a professional
A profile picture is one of the most crucial elements of your LinkedIn profile. Even if it means spending a few bucks on professional photography, make it count.
Hiring a photographer would ensure consistency and creative inputs. Plus, using advanced equipment and editing software, a professional photographer is sure to create an outstanding profile image for you.
How to Change Profile Picture on LinkedIn
Here's how you replace your photo in 6 simple steps:
Step 1: Click the Me icon at the top-right corner of your LinkedIn homepage.
Step 2: From the dropdown, select View profile.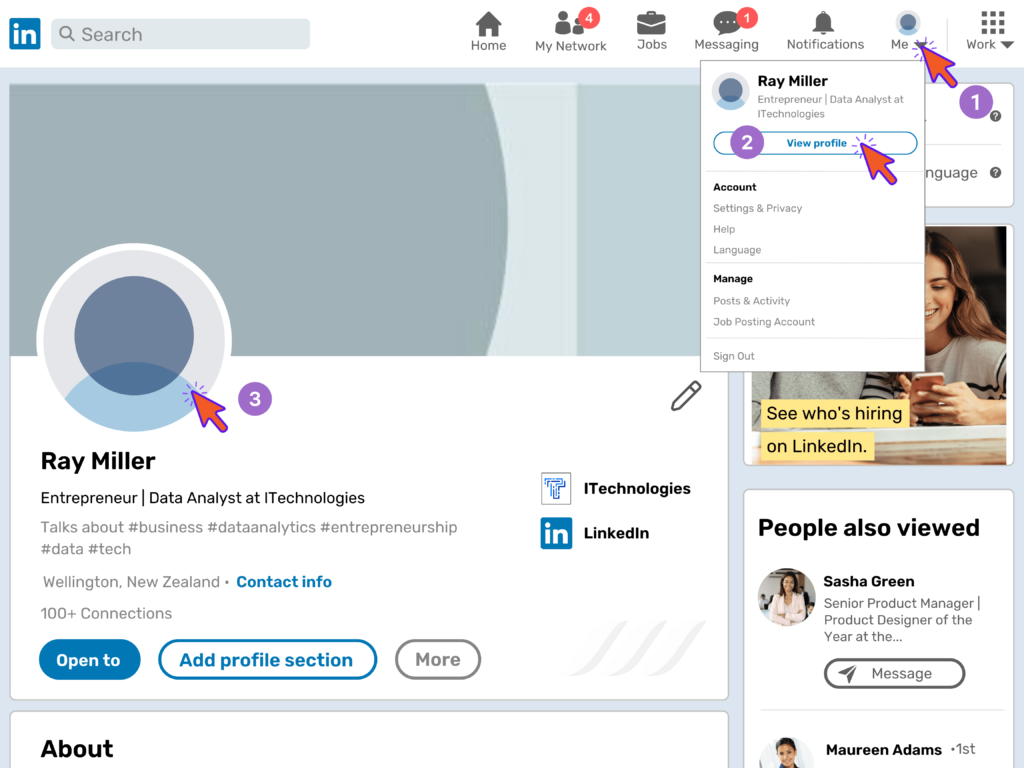 Step 3: Click your profile picture.
Step 4: From the new window, select Add photo.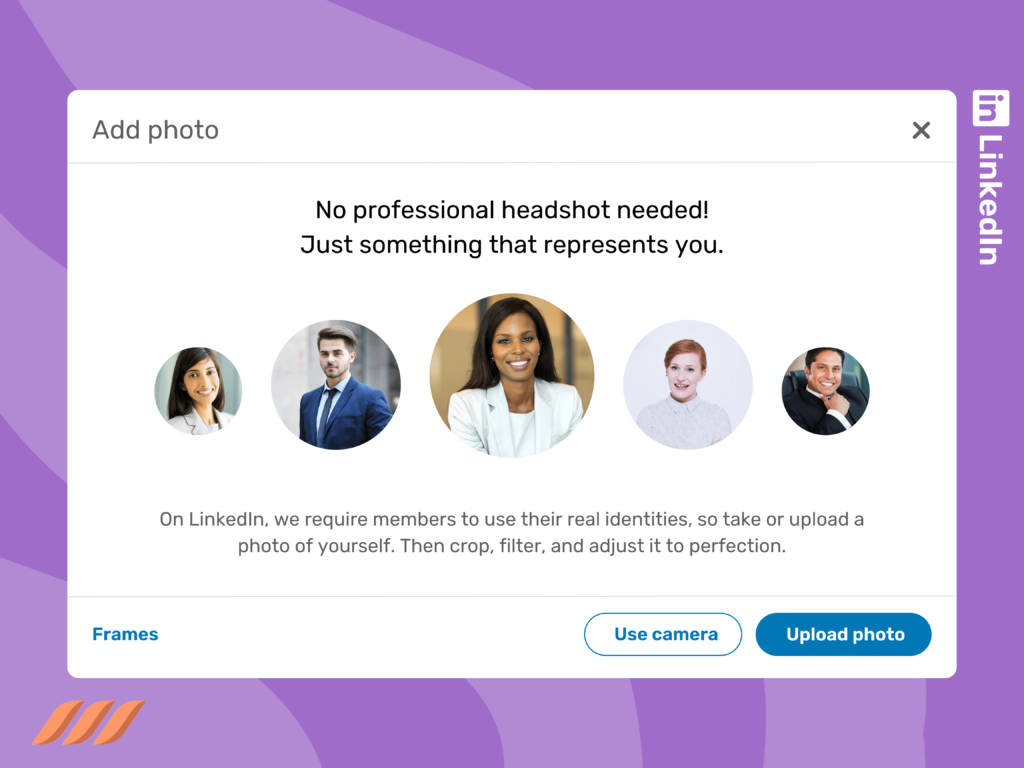 Step 5: Select from Use camera or Upload Photo.
If you select "Use camera," the webcam will switch on.
In contrast, select "Upload photo" if you already have a professional photo.
Edit using basic options such as crop, filter, and adjust.
Step 6: Click Save Photo to finish the process.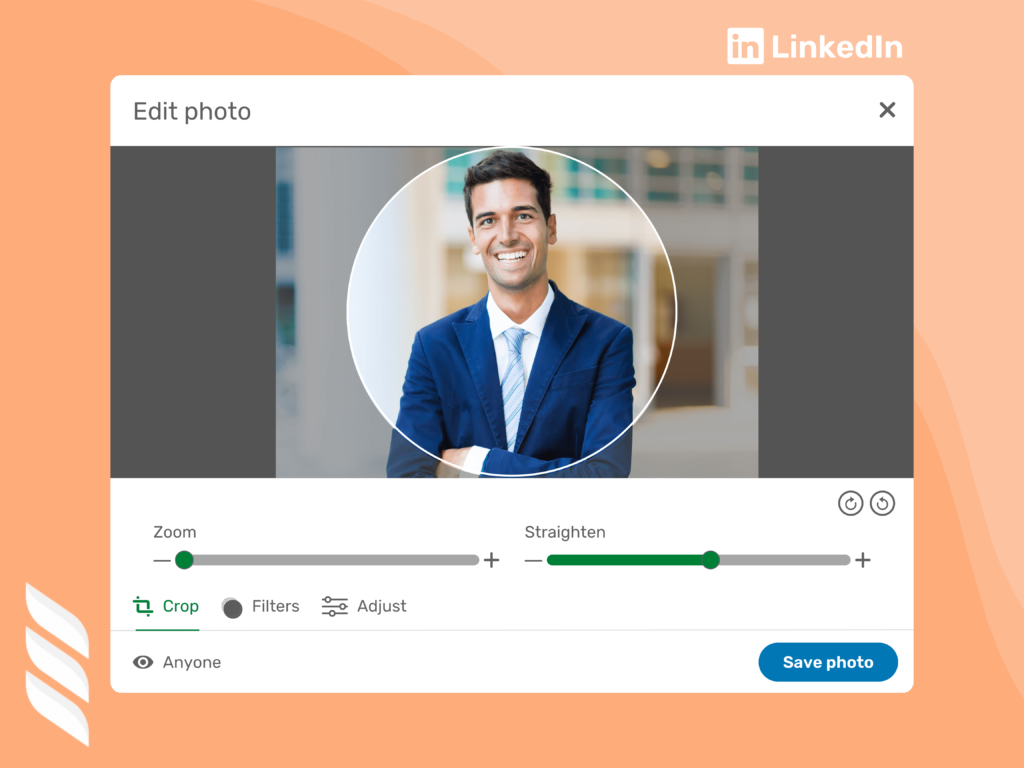 How to Add Open to Work on LinkedIn Profile Picture
Leverage the open-to-work option on LinkedIn to let recruiters know you're looking for new opportunities. Follow these steps to enable the open to work feature: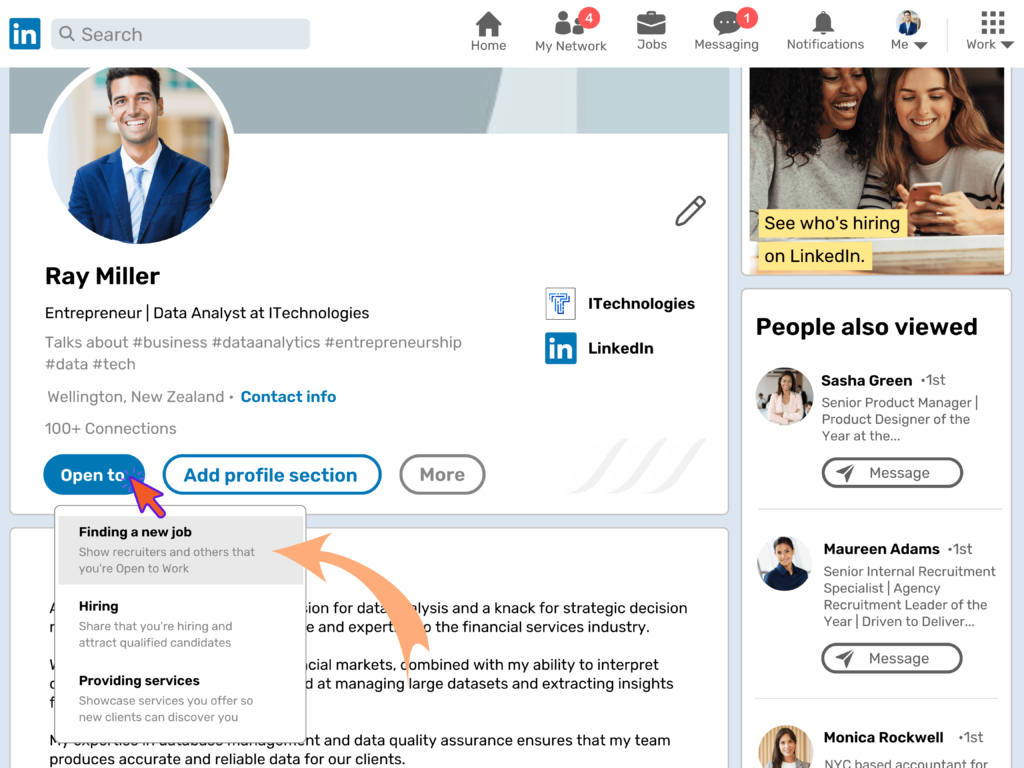 Click the Me icon at the top-right corner of your LinkedIn homepage.
From the dropdown, select View profile.
Click the Open to button underneath your profile photo and select Finding a new Job.
Provide the required information
If you choose to share this information with every LinkedIn member, an #OpenToWork frame would be added to your photo.
Click Add to profile to finish the process.
Conclusion
On any virtual platform like LinkedIn, your profile picture creates the first impression of your personality. People often judge you with one look at your profile picture, which ultimately affects your online presence. On LinkedIn, a lousy profile picture could mean losing a good career opportunity or prospective clients.
Instead, create a compelling profile picture using these tips and stand out from the crowd. Investing in a good LinkedIn profile picture is worthwhile as it enhances your profile viewings and response rates. It also reflects your amiable, hard-working, and other traits essential for constructive engagement on the platform.
Thus, whether you take a photo yourself or with the help of a professional, the utmost goal is to deliver a first look at your profile that grabs the visitor's attention. Also, your LinkedIn overall profile creates a huge difference that can greatly impact your productivity and reach.
Create eye-catchy profile content with the help of Dripify LinkedIn Profile Writing Service that will make you appear unique among others.