What does a LinkedIn background photo do, and why does it matter? Well, a background photo has two main functions: It frames who you are as an individual and/or company and helps people identify your profile when scrolling through their newsfeeds. With more than 840 million professionals using the platform globally, a background photo for LinkedIn is vital for anyone serious about networking or developing new business relationships.
You want people scrolling through their feed to stop and take notice! For this reason, create a professional background image using the Dripify LinkedIn profile makeover service to make yourself stand out on LinkedIn, from the background image to the creative SEO content.
Also, avoid blurry images and closeups of faces because they don't provide enough context about who you are professionally. Make sure your background photo is clean and free of distracting elements like a wall of text or logos; you want people looking at your picture, not reading a blog post in the background!
This guide will cover the key points of a LinkedIn background banner, so you can take full advantage of this feature to improve your visibility on the network and connect with the right people.
LinkedIn Background Banner: What You Need to Know
Did you know that we remember only 20% of what we read, but our brains process visuals up to 60 thousand times faster than text? That means a custom LinkedIn background banner can increase your visibility, getting you more connection requests, leads, messages, or interviews.
It is also a universal fact that visual elements boost engagement rates on social media because humans interact far better with images and videos than text! As such, you need to learn how to create a LinkedIn background banner that captures attention rather than just uploading another generic background shot from Instagram.
The good news is that there are tools to create a meaningful background image for LinkedIn even if you don't have graphic design skills!
How to Create a LinkedIn Background Banner
Whether you're doing it yourself or paying someone to create a LinkedIn background image, the end result should be professional. If time is an issue for you, then there's no need to stress because you can hire professionals to do the job!
On the other hand, if money constraints are holding you back from investing in a custom background banner, you can try using one of the free online templates – they'll work well enough without compromising quality.
Let's have a look at your options to create a good background banner for your LinkedIn profile:
1. Canva
Canva is a user-friendly online tool that allows you to create a professional LinkedIn background banner among other designs. It has thousands of free templates, which are all customizable with colors and text! No design skills required – the process of creating your profile couldn't be simpler, thanks to Canvas' intuitive interface features.
You'll have everything set up in no time at all if you use Canva's prebuilt design templates. Or you could get more creative by developing your design from scratch.
While Canva's free version is enough to create your background banner, the paid version offers more options to play around with and develop a more creative LinkedIn background photo.
2. Upwork
If you're looking for a highly professional and original background banner and have some money to invest in it, we recommend you head over to Upwork.
Upwork is the world's largest freelance marketplace, with freelancers available to help you in just about any niche. You can easily find expert graphic designers on Upwork who specialize in creating LinkedIn background images.
Simply go to the website, create your account, and search by keywords like 'LinkedIn background banner designer.' The website will show a list of professionals who are ready to help you. Their prices can range from $10 to $100 or more for a single background banner, depending on their experience. Be sure to check out the portfolio and reviews before hiring a freelancer.
3. Fiverr
Fiverr is yet another freelance service marketplace where you can find someone to create custom banners for your LinkedIn profile. While Upwork is indeed a better option for larger projects or tasks requiring specific knowledge, Fiverr can still come in handy if you're looking to outsource small jobs without spending too much money.
The price will vary, depending on your requirements for the design and the freelance designer's expertise. But freelancers usually charge around $5-$50 per design with some exceptions like high-quality graphics or animation work costing more than average.
What You Need to Create a LinkedIn Banner
You don't really need much and you don't necessarily need to be a professional graphic designer to create a professional banner! These items will help ensure you're prepared to create the best possible image for your LinkedIn cover.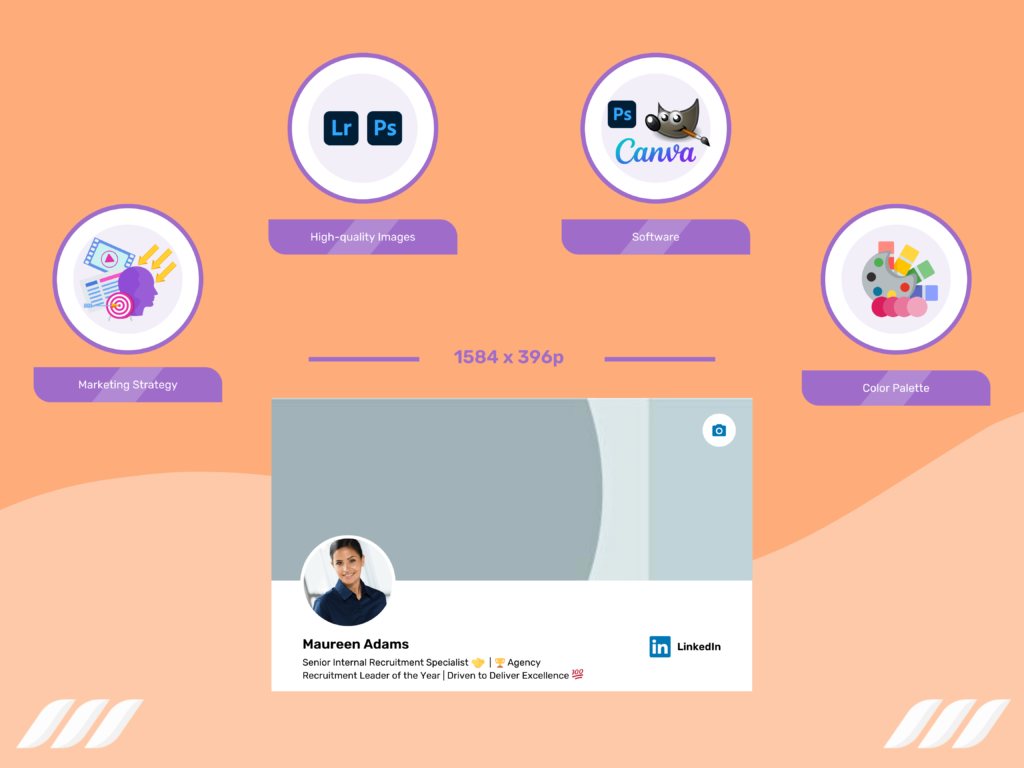 Marketing Strategy
An effective marketing strategy is the first thing you need to create a LinkedIn banner. Each social media platform has its own purpose and benefits. Before creating your LinkedIn background image, ensure you understand how this image will help advance your career goals or the company's vision on the site. At this point, think about your target audience, career goals, and core values.
High-Quality Images
You'll also need high-quality visuals that represent who you are as a business or individual. Make sure each photo is professional because your photos represent both yourself and your brand identity. Consider using services like Adobe Lightroom or Photoshop for any necessary touch ups before designing your background banner.
Software
There are several software options for manipulating images, including Photoshop and GIMP. The latter is free to download online; however, the former option may cost upwards of $100 depending on which version you purchase. Or you could use easy online designing tools like Canva, as discussed above.
But remember that you need at least basic Photoshop training if you want to use it for designing your LinkedIn background. Another option is to ask a graphic designer friend or colleague for help.
Or maybe you'd want to hire a freelance designer to create a professional LinkedIn cover for you. In that case, you must create a brief where you can write down your ideas for the background banner. The designer will take it from there and share/integrate their own ideas to develop a design that grabs the attention of your target audience on LinkedIn.
Color Palette
Like any image-based social media platform, your LinkedIn background photo should match both the site's specifications and reflect your own personal brand or company's style guide/colors. You can do this by creating an offshoot of one specific color within the entire scheme or contrasting all colors against each other with complementary hues. Make sure everything looks cohesive and complete.
How to Change Background Photos on LinkedIn?
It's crucial that your LinkedIn profile accurately reflects who you are as a professional. As such, it's worth making time to update your background photo occasionally. Let's walk you through choosing the right LinkedIn background photo size and changing the photo in just a few simple steps!
How to Choose a Photo
It is vital to keep the recommended LinkedIn background photo dimensions in mind when uploading a photo. LinkedIn recommends that you upload high-resolution pictures for your profile background.
A photo with the dimensions of 1584 x 396 pixels will give off an authoritative and professional vibe. On the other hand, fuzzy or pixelated photos will make your profile look dull, which can affect the credibility you have built up on your LinkedIn account over time through networking.
Also, maintain a 4:1 aspect ratio when choosing files; ensure it's around 8MB if necessary (to avoid blurry photos). And when we talk about format, the social networking platform recommends GIF, JPG, and PNG.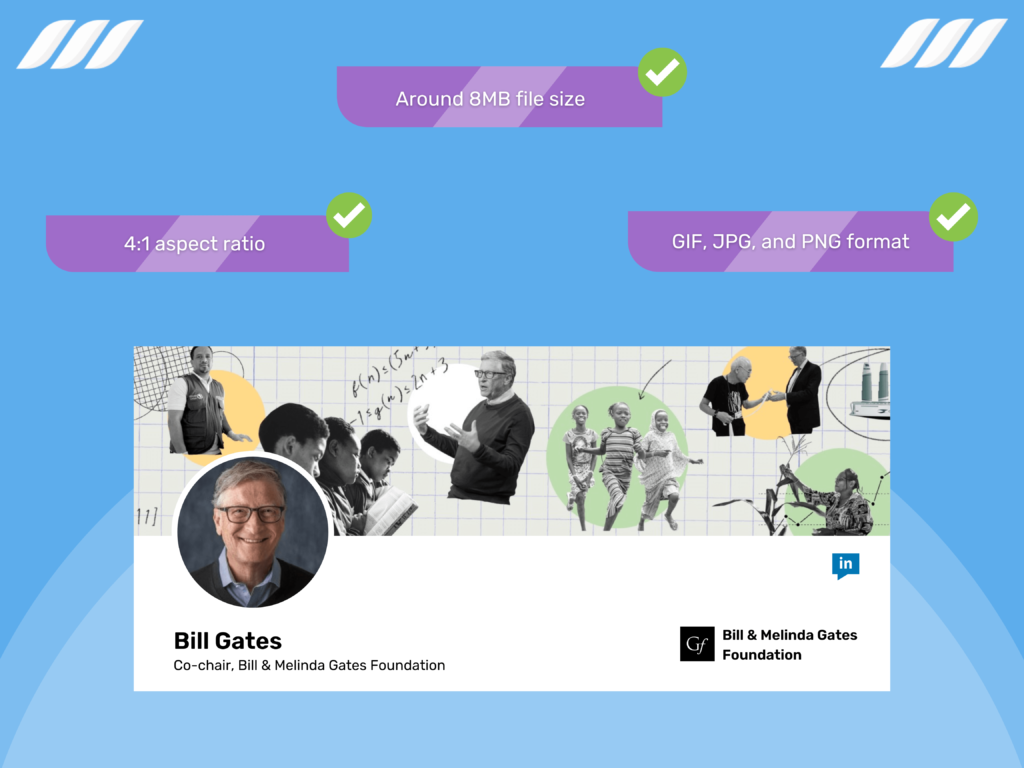 Wondering what type of photo to put up as your LinkedIn cover? Here're some ideas:
1. A high-quality photo from your workplace, such as your desk or home-office.
2. Pictures of your work tools, such as computer, camera, microphone, etc.
3. Photo of something that represents your company or industry, such as products.
4. Pictures of your awards or medals
5. A customized image that represents your interests and passion
6. Image-based inspirational quote that also matches your goals or profession
7. A photo of your city's skyline
8. Something that represents a cause you care about or work for
Where to Find LinkedIn Background Photos?
In today's age when everyone owns a smartphone, it isn't hard to capture amazing pictures for your LinkedIn background. With the above ideas in mind, you could even ask a friend or colleague to help you take a good picture for your LinkedIn cover.
Other options include finding relevant photos on stock image websites. These include:
StockSnap.io
Gratisography
Picjumbo
EyeEm
Shutterstock
iStockPhoto
Adobe Stock
BigStockPhoto
But remember that it is not an easy task to find quality photos that won't cost you a dime. If you're lucky, you may find a free LinkedIn background photo that is high-quality, relevant to your career, and complements your ideas. But in most cases, you will have to buy high-quality images from the above listed sites.
Customize Your Background Image
Once you have chosen a photo and your design is ready, follow the steps given below to change and customize your LinkedIn background image:
Head over to your LinkedIn profile
At the top right corner, click on the pencil icon
Upload your new background image
Customize the image's size and appearance by using the filter and crop options
Confirm the Upload and click on Apply
Change the settings for the cover image to your liking and save the settings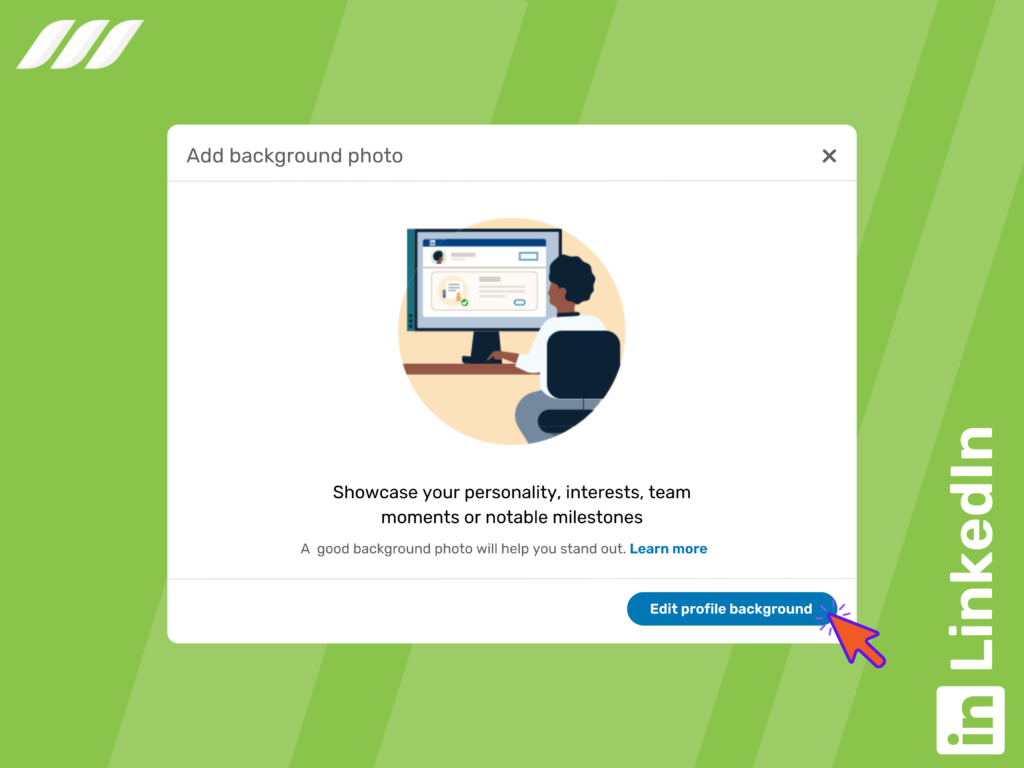 Finally, you've successfully changed your LinkedIn background banner.
LinkedIn Backgrounds: 5 Examples
The Author Style
The City Skyline Style + Media Mentions
Showcase Your Products
The Cause You Care About
Your Services/Speciality
Conclusion
When we discuss creating an eye-catching LinkedIn profile, a background picture is probably the last thing that strikes an individual's mind. No matter how professional it is, at the end of the day, LinkedIn is a social media platform. Hence, spending some time and carefully selecting a background photo can do wonders for your profile.
Although it is not necessary, a background picture that somehow represents the niche of your profile is best recommended. Remember, an individual tends to forget 80% of the content he reads in a day, but a visual has a higher chance of staying in his memory for longer.
One should keep several factors like; marketing strategy, quality, color palettes, and others in mind before choosing a background image. Choosing it based on its attractiveness is nothing but stupidity. The whole idea of including it is to provide your profile visitor with a brief of your business. If the image fails to do so, it's nothing more than just another picture on the internet. Creating an attractive LinkedIn profile is not as difficult as it seems. With Dripify LinkedIn Profile Makeover, you can redesign your LinkedIn profile that manages to attract potential clients towards it.