Adding a resume to LinkedIn is a straightforward yet effective way of standing out. If you don't know how to upload a resume to LinkedIn, scroll down below.
Today, we're going to help you learn:
· How to upload a resume on LinkedIn
· How to edit your resume on LinkedIn
· Best practices for attaching a resume to LinkedIn
· Mistakes you should never make on LinkedIn
· The benefits of posting a resume on LinkedIn
· And a bonus section comprising resume examples
Let's get started!
Why Add a Resume to LinkedIn
LinkedIn is a powerful tool for getting your name out there and standing out in front of hiring managers and recruiters. Uploading a customized and incredible resume lets you showcase your employment information, skillset, and achievements to attract employers.
Let's take a closer look at how uploading a resume to your LinkedIn profile opens you to new job opportunities:
Notify Your Network Easily
Editing your resume and keeping it up-to-date is an excellent way of notifying your network with important information and your latest achievements.
Expand Your Outreach
Interacting with LinkedIn users within your network can benefit you in your job hunt. Uploading your resume to LinkedIn makes it easy for people in your field of interest to assess your skill set and send you a connection request.
Networking can lead you to a contact in your dream company or help you land an interview for a job that's not yet publicly posted!
Impress Recruiters
A LinkedIn resume lets you display your skills, achievements, past work experiences, training, and education. Combine your writing skills with an eye-catching layout to impress recruiters and employers from your dream company.
Stand Out in the Crowd
Updating a hard copy of your resume can be challenging. But you can edit your LinkedIn resume within seconds. In addition, you can choose from an array of unique presentations to catch the attention of employers and recruiters.
How to Add a Resume to LinkedIn
Whether you have an impressive skillset or incredible work history, posting your resume on LinkedIn allows you to captivate recruiters and hiring managers. Take full advantage of the LinkedIn resume feature by learning how to upload your resume below.
How Can I Upload My Resume to LinkedIn on the Web
Here's a step-by-step guide to attaching your resume to LinkedIn:
· Visit the LinkedIn website and log in to your account
· Click on the 'Me' icon on the homepage
· Select the 'View My Profile' button from the drop-down menu
· Tap on the 'Featured' section and navigate the 'Add Featured' link if you haven't uploaded anything to the section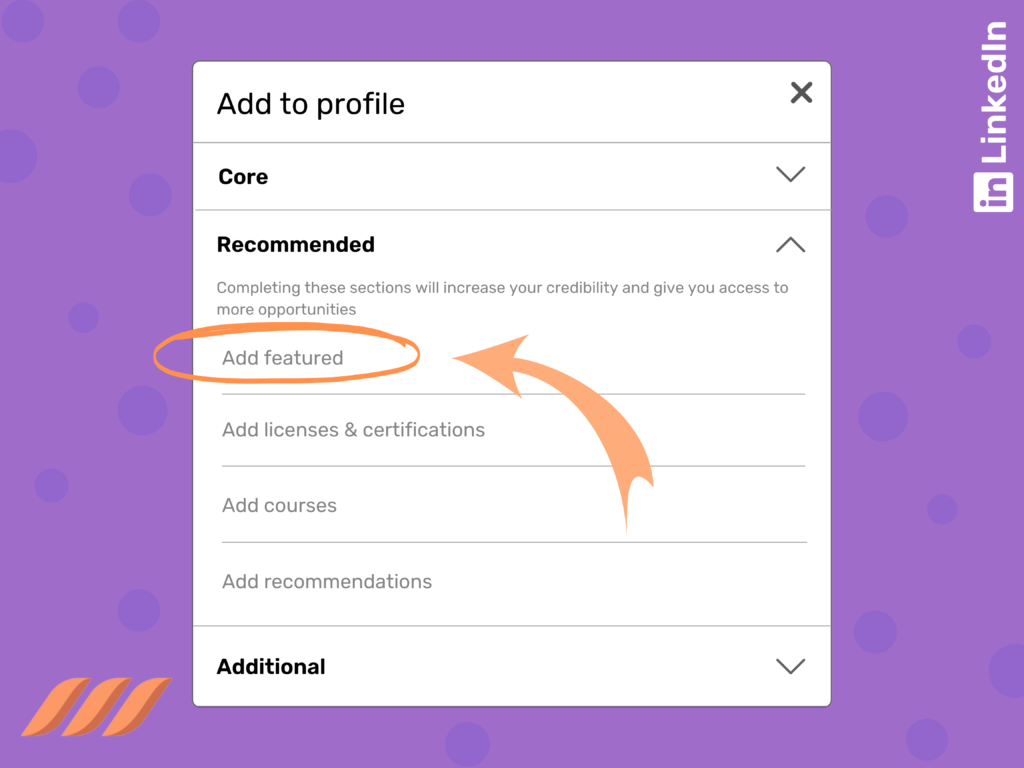 · If you've already uploaded files to this section, locate the '+' icon on the top-right of the box
· Next, select the 'Media' button from the drop-down menu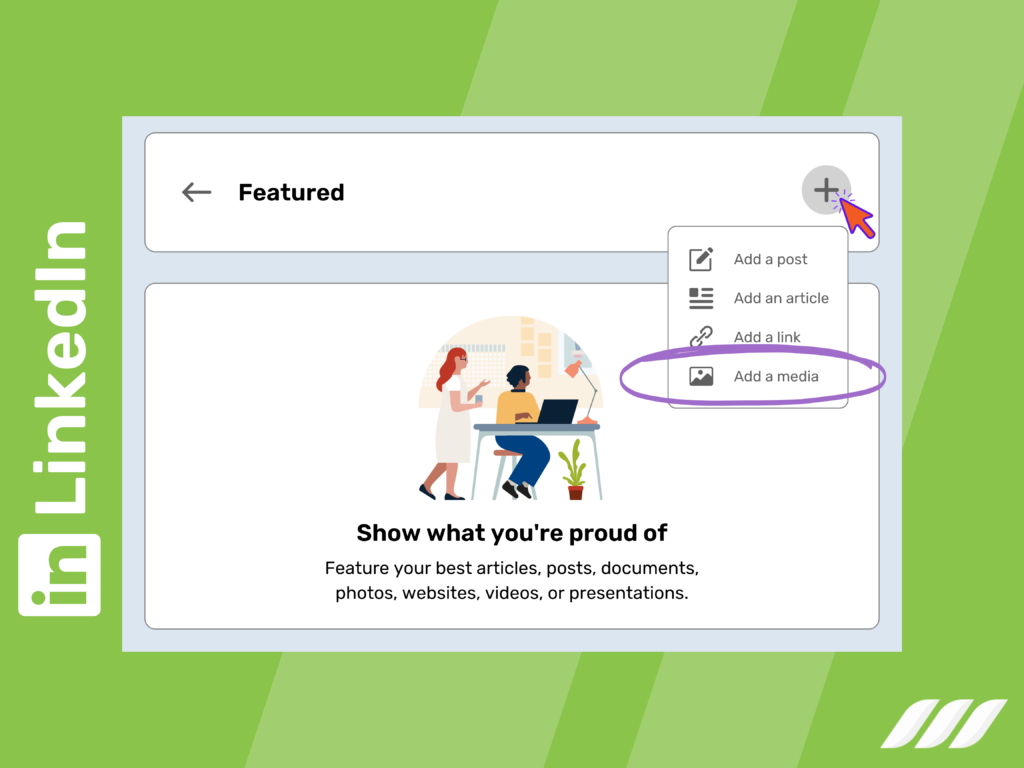 · A new window appears, prompting you to upload a file from your device. Click on your resume file and select the 'Open' button
· LinkedIn provides you with two boxes:
o Title – It is essential to add a headline
o Description – You may leave this section empty
· After writing a compelling headline and summary, click on the 'Save' option
How Can I Add My Resume to LinkedIn on Mobile
You may upload your LinkedIn resume on the mobile app by following these steps:
· Start the LinkedIn app and log in to your account
· Navigate the 'Jobs' icon present on the bottom left of the home feed
· Click on the '…' or 'Options' icon on the top-left corner
· It will lead to a pop-up window and scroll down to the 'Manage Application Settings' button
· Tap on the 'Job Application Settings' option and choose 'Upload Resumes.'
Where Should I Upload a Resume to LinkedIn?
You can upload your resume to LinkedIn in multiple places, including:
On Your LinkedIn Profile
Upload your resume to your LinkedIn as a separate document to attract recruiters and hiring managers. Adding your resume showcasing your skills, experiences, and achievements helps you stand out in LinkedIn's sea of CVs.
For Easy Application
Saving your resume on LinkedIn lets you quickly attach it when applying for a job. Even though most jobs don't require you to add a resume, we recommend sending it to make your profile stand out.
On a LinkedIn Post
Consider attaching your LinkedIn resume in a post to share it with your network. This way, you can receive feedback and inform your connections that you're looking for a new job.
How Can I Update LinkedIn Resume?
Now you know how to add a LinkedIn resume, but can you edit one?
To refresh your resume, you'll have to delete your old resume and upload a new one. Follow these steps to update your LinkedIn resume:
· Log in to your LinkedIn account
· Click on the 'Me' icon located in the top-left corner
· Choose the 'View My Profile' button from the drop-down menu
· Select the 'Pencil' icon located below your profile header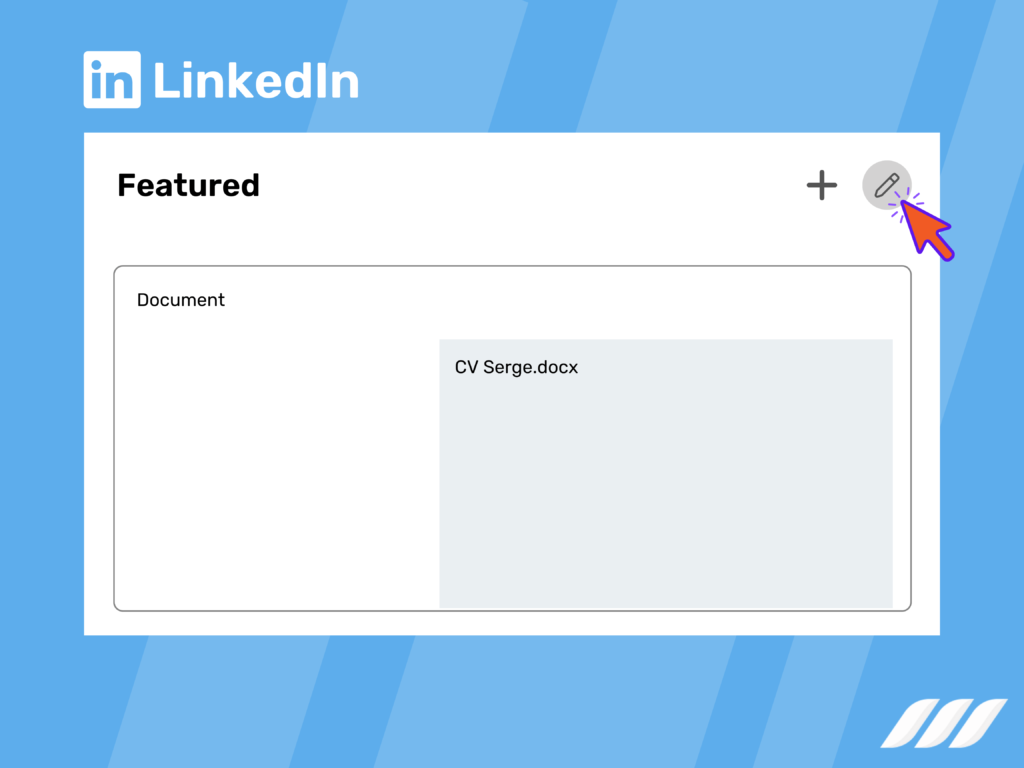 · Scroll down to find your old resume
· Click on it and select the 'Delete' option from the pop-up window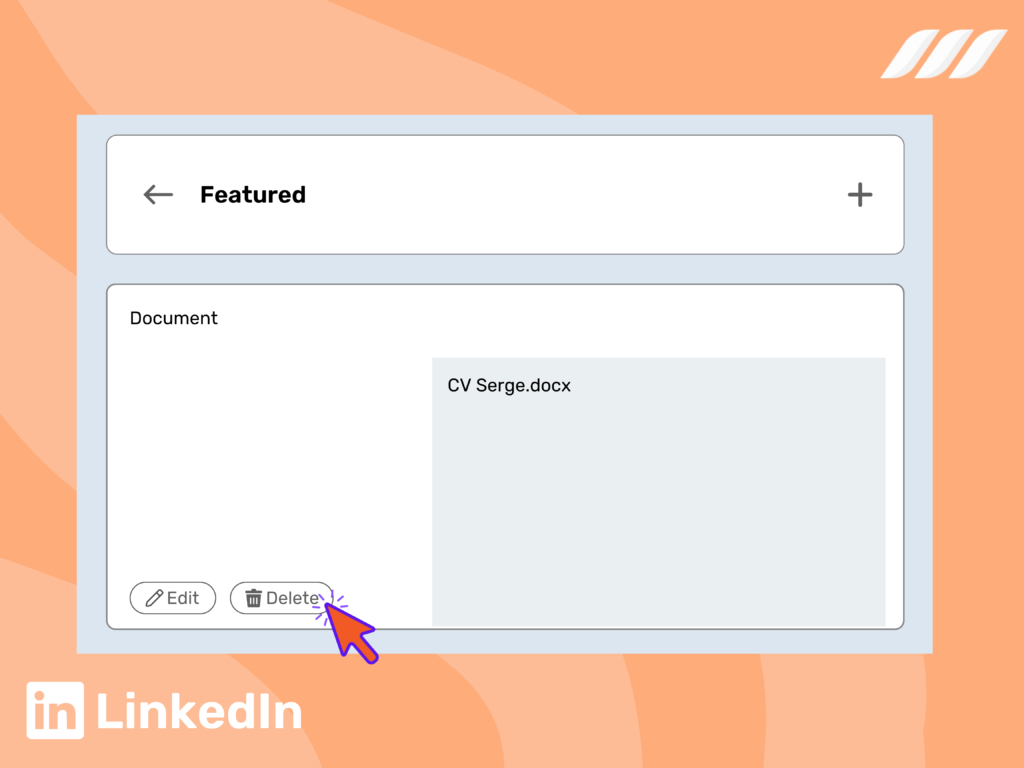 · After that, edit your resume on your Microsoft Work or Google Docs
· Choose the 'Upload' button and select your new resume
· You can also add a new Title and Description
· Choose to 'Apply' and 'Save' your changes
What Should I add to My LinkedIn Resume
Ensure your LinkedIn resume looks attractive by keeping these tips in your mind:
Add an Attention-Grabbing Headline
Complement your LinkedIn resume with a compelling headline that highlights your primary skill. Your goal is to grab a recruiter's attention with your LinkedIn resume headline.
Write a Compelling Summary
Add a summary to your LinkedIn resume to offer insight into your skillset, achievements, and experiences. Ensure your summary is informative and catchy to enthrall recruiters and hiring managers.
Include Your Experience, Skills, and Achievements
Showcase your experiences, skillset, portfolio and achievements to reflect your work history and expertise in your industry. It's also an incredible way of making your resume stand out.
Don't Forget Your Contact Information
Include your contact information in your resume so recruiters and hiring managers can reach out to you directly.
List of Relevant Skills, Certifications, and Tools
Add relevant technical and soft skills to your resume to make it stand out. You may even include certifications you've obtained, tools you've mastered, and your skillset.
Also, remember to add relevant skills to the job you're applying for.
How to Download a Resume from LinkedIn?
You can even download a resume version of your profile. Here's how:
· Open LinkedIn and log into your account
· Click on your image on the left side of your LinkedIn homepage
· Or you may select the 'Me' icon and choose the 'View My Profile button on the top-left corner
· Navigate the 'More' button located below your job title
· After that, click on the 'Share Profile' or 'Save to PDF.'
· Choose the 'Save to PDF' button to download your resume
· Tap on the pop-up button on the bottom-left of your screen or visit your 'Downloads' to locate your LinkedIn resume
Best LinkedIn Resume Examples
Are you wondering, 'what does a good LinkedIn resume look like?' Well, allow us to answer your question with these incredible resume examples:
Example # 1:
Name
(Job Title)
Awards Work Experience
Certification
Technical Skills
Examples # 2:
Name
(Job Title)
Contact Profile
Social Work Experience
Pro Skills Education
Personal Skills Hobbies
What Should You Not Put on LinkedIn?
Maximize your career opportunities by making your LinkedIn profile look professional. Here are three big mistakes to avoid making on LinkedIn:
Using the 'Wrong' Photo
Not adding a profile photo or using an unprofessional picture conveys the wrong message to recruiters and hiring managers.
Invest in a professional headshot to make your profile look attractive.
Writing Your Name in All Caps or Lowercase Letters
Writing your username in all caps or lowercase makes your profile look unprofessional. Remember, LinkedIn is a professional networking platform where you can find new job opportunities. You need to be precise with your details, or you'll chase recruiters away.
Forgetting to Add a Headline
Or worse, writing a poor headline. Your LinkedIn headline is key to grabbing the attention of employers and recruiters. LinkedIn provides you with 120 characters to write a headline, so use it wisely to captivate your target audience.
How to Create a Stand Out LinkedIn Resume with Dripify
Hire top LinkedIn resume writers to curate a unique and compelling LinkedIn resume. Dripify steps into the picture to offer you fantastic resume writing services.
Our qualified and skillful writers help you increase engagement, discover new opportunities, and boost profile views with a fine-tuned and eye-catching LinkedIn profile.
Further your career by connecting with our professional LinkedIn resume services. Sit back as we update, refine, and polish your resume to showcase your top skills, work experience, certifications, and tools.
If you're struggling to write a high-quality resume that attracts recruiters and hiring managers, our LinkedIn resume service can provide you with the assistance you need to succeed.
Can Recruiters See My Resume on LinkedIn?
If you upload your resume to your LinkedIn profile, your 1st-degree connections can view it. But if you attach your resume to a job application, only the post creator can open your resume.
Conclusion
Now that you know how to upload and delete your LinkedIn resume consider adding one to attract recruiters and hiring managers.
Uncover the best job opportunities by following the tips we discussed above. Moreover, you can check the best LinkedIn resume examples to gain inspiration.