LinkedIn is a business-oriented social networking powerhouse with excellent visual tools. That's why you should start creating your LinkedIn portfolio today!
What Is a Portfolio?
A portfolio is an impressive collection of materials and visuals that exemplify your skills, qualification, education, beliefs, training, and experiences. It offers employees an insight into your work ethic, skill set, and personality.
Adding relevant experiences and skills in an easy-to-understand, eye-catching format shows your organizational, communication, and career-related skills.
Here's what the ideal portfolio should include:
· Statement of Originality – Start by writing a brief paragraph stating everything inside the portfolio is your work, confidential, and no one should not copy it
· Work Philosophy – Write a description of your beliefs about your skillset and the industry
· Career Goals – Discuss what your professional goals are for the next five years
· Resume – Include an overview of your work experience, training, and skills
What Is a LinkedIn Portfolio?
A LinkedIn portfolio is an innovative yet effective way of showcasing your work experience, skillset, and training attractively. It provides your potential employers, recruiting managers, or clientele an insight into what you do, how well you perform, and how you can help them.
Your LinkedIn portfolio should include meaningful and attention-grabbing content. For instance, you can add recent updates, past experiences, future goals, achievements, etc.
Ideally, you should link samples of your work in your LinkedIn Portfolio. This way, when hiring managers and employers visit your profile, they can assess your functional performance.
What to Showcase in Your LinkedIn Portfolio?
Everyone has work samples. So, what makes your profile set apart from millions of other users? You think creatively!
Go beyond adding boring work samples and think about the different strategies you use to problem-solve. Pinpoint the extra work you do to boost your company's bottom line. That's what makes your portfolio pop.
For instance, you may add:
· Pictures or videos of you giving a speech or receiving an award
· At a conference or giving a presentation
· In your work environment
· With your work colleagues of an influencer in your niche
It highlights your interpersonal and people skills.
What Should My LinkedIn Portfolio Feature?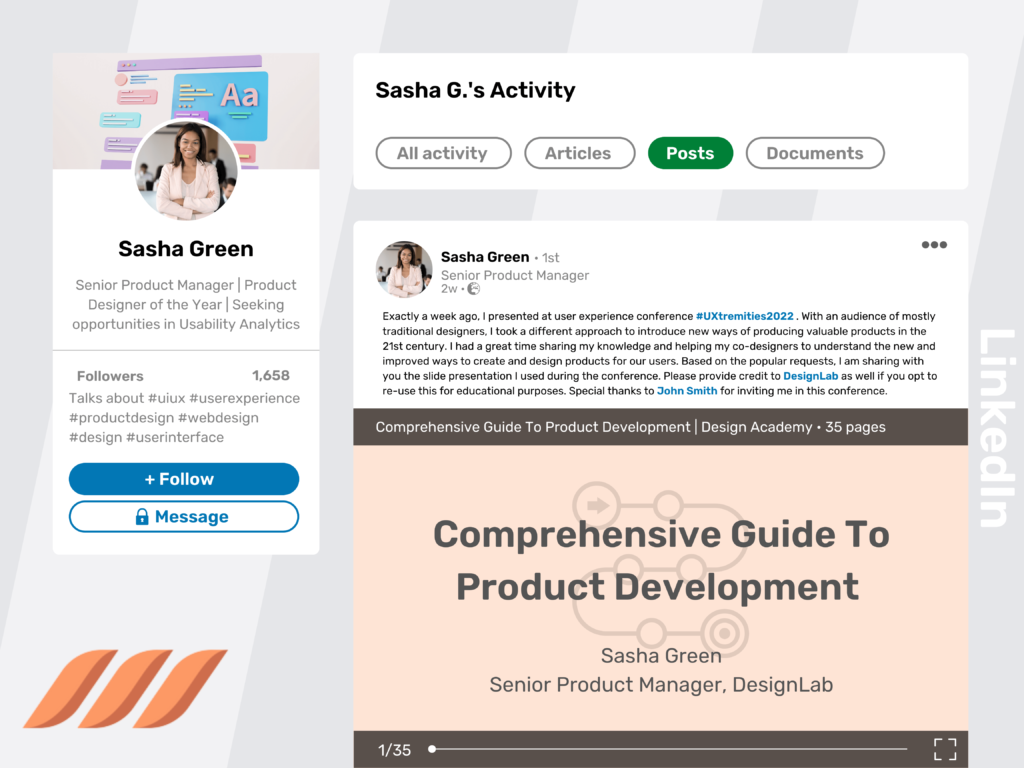 As per your niche, you can feature the following things in your portfolio:
· Recreate a presentation and post it into Slideshare to make it increasingly attractive
· Create a sample report or flowchart to highlight your skills
· Showcase your research outline or map the process of conducting a research project to demonstrate your research skills
· Curate an eye-catching and in-depth mind map to show your logic
· Compile a list of your favorite research links to provide an insight into your personality
· Add a project timeline or diagram recreating the flow of resources, people, and activities
· Volunteer with a friend, non-profit, or family to deliver a project that adds credibility to your portfolio
Ideas to Try to Make Your LinkedIn Portfolio Look More Attractive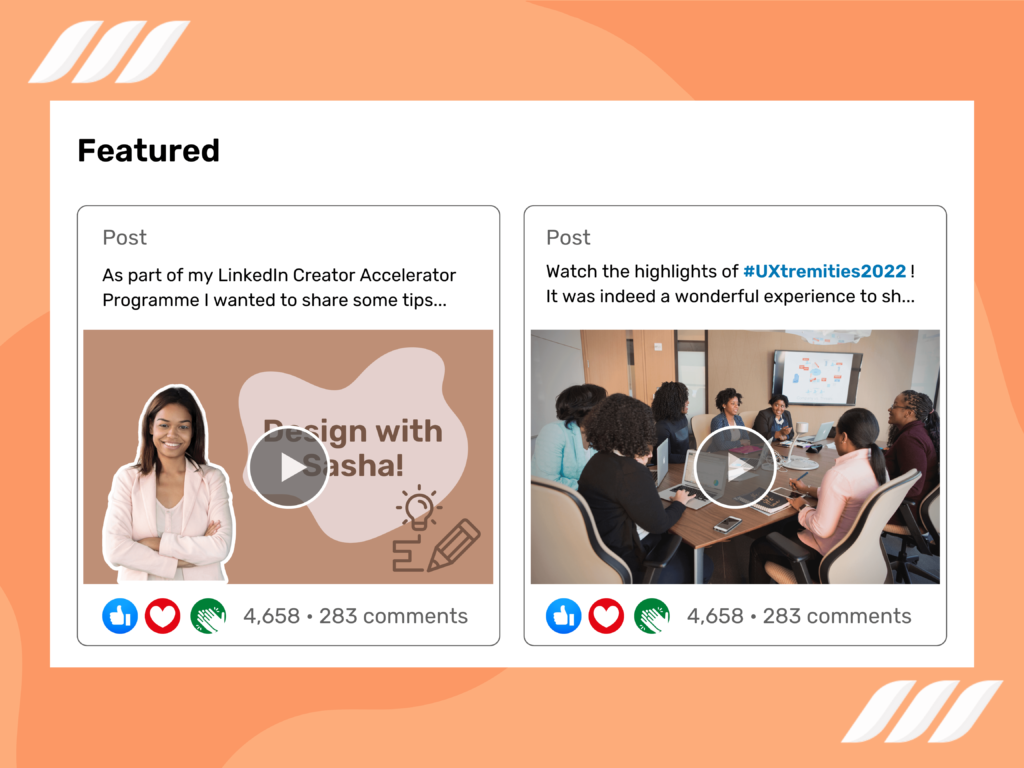 Visually enhance your LinkedIn portfolio to differentiate yourself from the thousands of people with the same job title as you.
Here we've added three effective yet straightforward ways of making your LinkedIn portfolio more compelling:
Letters of Recommendation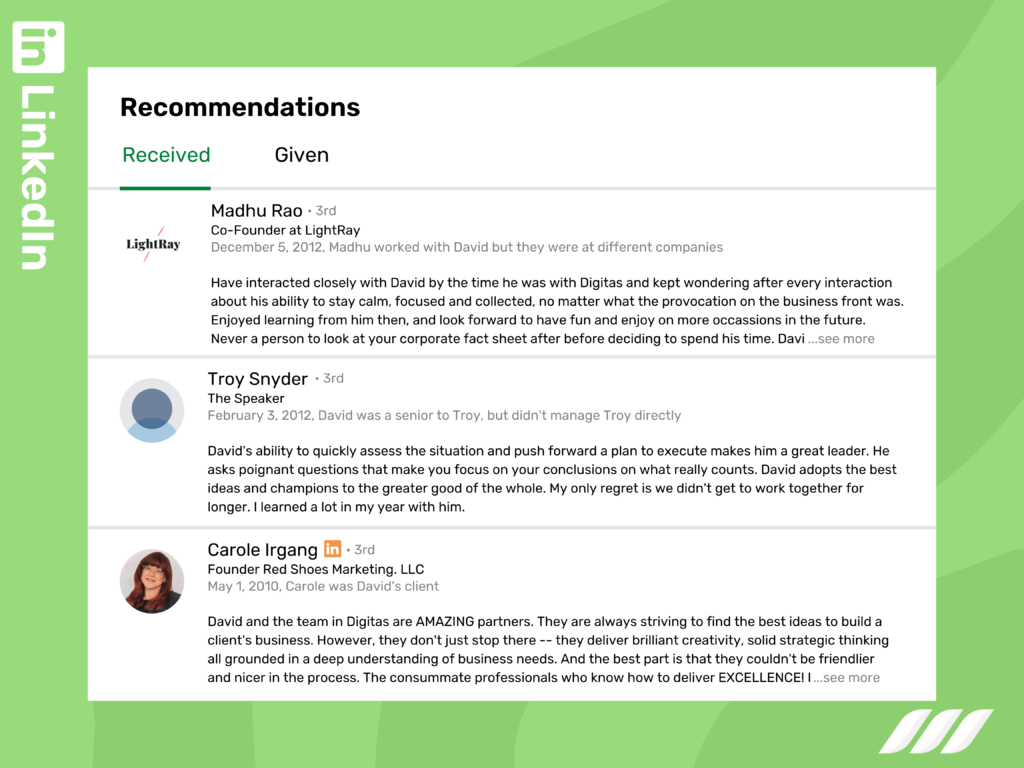 You likely have letters of recommendation or testimonials from past customers or employers. Consider creating a presentation or slideshow featuring these quotes to show your skillset and reliability.
Remember to ask permission to use testimonials and quotes before adding them to your LinkedIn portfolio.
Work Samples
You probably have many reports, work instructions, workflow diagrams, and other content you created during a project.
While you can't use the actual documents, you can create a mock-up to highlight your work experience in the industry.
Videos
Adding a video to your LinkedIn portfolio boosts its visual aesthetics significantly. If you feel uncomfortable sitting in front of a camera, you can do a voice-over!
For instance, you can create a "how-to" video and use screencasting tools to record your demonstration. Remember to keep your videos short, informative, and exciting.
Best Practices to Remember when Creating a Killer LinkedIn Portfolio
Ensure you instantly capture a prospect's attention by creating a killer LinkedIn portfolio. Here are a few practices you can follow to keep an employer or prospect scrolling through your profile:
Use Attention-grabbing Visuals to Captivate Your Target Audience
When a prospect comes across your LinkedIn profile, your goal is to captivate them and assure them that they've landed in the right place.
 A good idea is to feature your best work in LinkedIn's 'Featured' Section.
Leverage Slideshare to Expand Your Outreach
SlideShare is a fantastic tool for promoting visual content. And it's growing spectacularly on LinkedIn. So, consider adding informative yet eye-catching SlideShare to your LinkedIn profile to capture the attention of potential prospects.
Create and Post Viral Content
It is a great opportunity to go viral on LinkedIn. Drive continuous and organic traffic and engagement to your top content by adding it to your LinkedIn portfolio. It's also an excellent way of captivating potential employees or prospects!
Bonus: What Else Can I Add to My LinkedIn Portfolio?
If you're struggling to decide what you should add to your LinkedIn feature, here are ideas you can try:
· A Short Version of Your Resume
· An Infographic Featuring Your Skills and Achievements
· Client Success
· FAQ relevant to Your Industry and WorkLetter of Recommendation
· Personal Branding Elements that Make You Look Relatable and Build Rapport
· Social Proof
· Video Introducing Yourself and Your Brand
· Work Samples
What Media Can You Add
LinkedIn supports an array of visual content and supports:
· Audio Files
· Documents
· Images
· Presentations
· Videos
It means you can add the following documents:
· Excel Files
· PDF Files
· Pictures
· PowerPoint Files
· Screenshots
· Videos
· Word Files
· And more!
LinkedIn allows you to add these files to your LinkedIn Portfolio or the 'Featured' section.
Why Should I Add Media Files to My LinkedIn Portfolio?
Let's discuss the three reasons you should consider when creating a portfolio on LinkedIn:
LinkedIn is a Super Visual Platform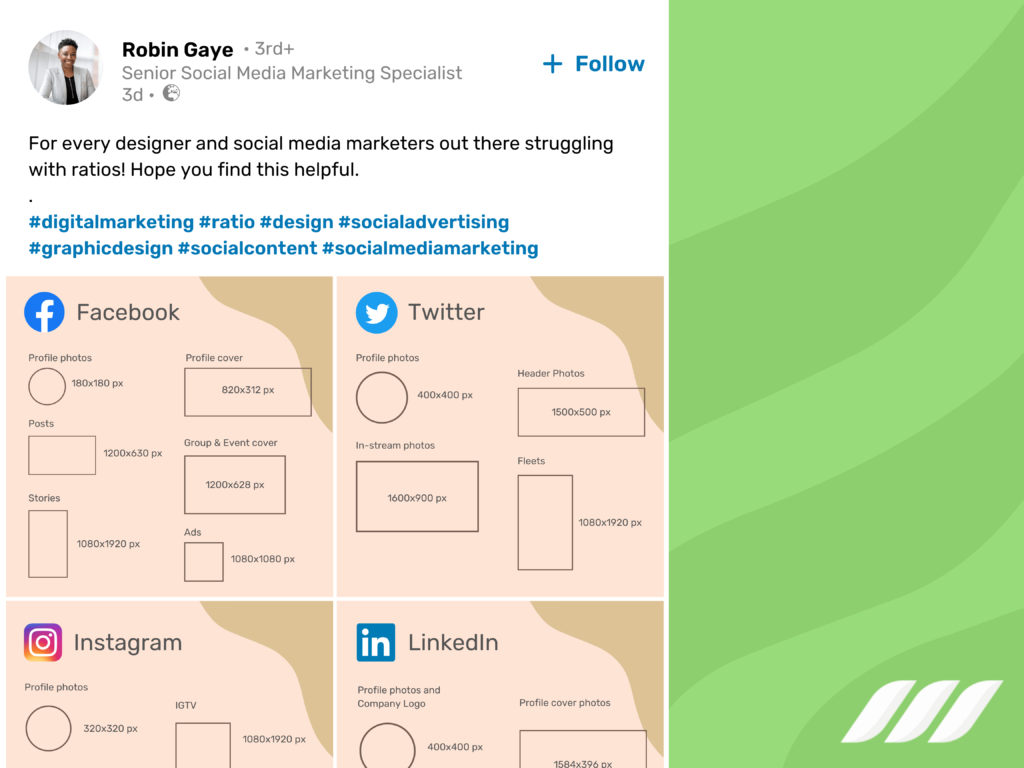 LinkedIn's 'Professional Portfolio' allows you to benefit from LinkedIn's visual tools and share the following content:
· Blog Posts
· eBooks
· Images
· Infographics
· Links with Images
· Photos
· Portfolios
· Screenshots
· Slideshare Presentations
· Videos
The best part? You can combine attention-grabbing photos and videos with compelling descriptions to captivate prospects.
LinkedIn Allows You to Share Infographics
Numerous studies show that LinkedIn is the perfect place for sharing infographics. According to studies:
· Infographics on LinkedIn enjoy a better click-through rate
· LinkedIn users share infographic posts more than traditional ones
LinkedIn Lets You Leverage SlideShare
The fact that LinkedIn lets users leverage SlideShare sends a powerful message about the platform's commitment to showcasing visual content. Therefore, integrating visual content on your profile via SlideShare is an incredible yet straightforward way of attracting prospects.
How to Add Portfolio Pieces to Your LinkedIn Account?
Want to learn how to link a portfolio to LinkedIn? Here's a step-by-step guide to adding a portfolio to your LinkedIn account:
· Visit your LinkedIn profile and click on the 'Me' icon
· Select the 'View My Profile' button
· Locate the 'Edit My Profile option and click on It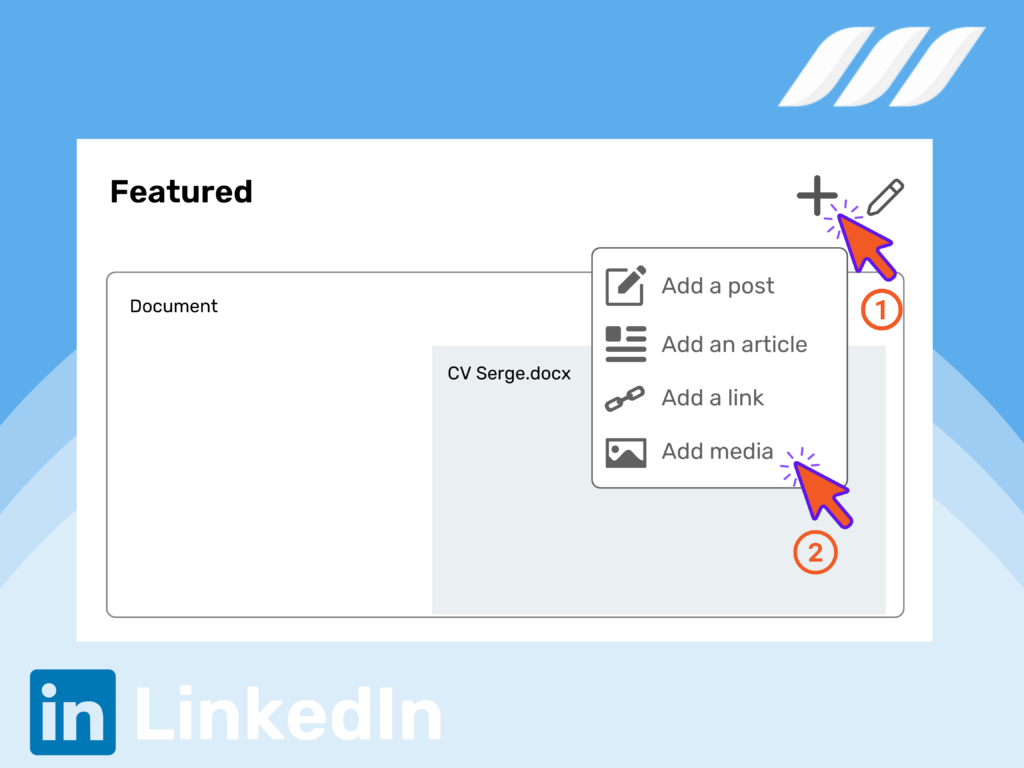 ·   Here you'll notice a plus box in certain sections of your profile that allows you to add:
o PDFs
o Photos
o Presentations
o Websites (to enable you to create an online portfolio)
· Click on the '+' start to add content from the files stored on your device
· After adding content, you can edit the title and description.
· After adding content to your LinkedIn portfolio, you can edit your 'Title' and 'Description.' You'll notice the title shows up as a caption. The description appears when you click on a specific piece of content.
· While creating your LinkedIn portfolio, you'll also notice that LinkedIn adds each content to your profile with a preview image and title. You can choose to leave it at that or add different types of content
· Click on 'Save.' This way, when someone clicks on an individual piece of content, the preview, title, link, and descriptions will become visible
How Can I Use Media to Get Visual on My LinkedIn Portfolio?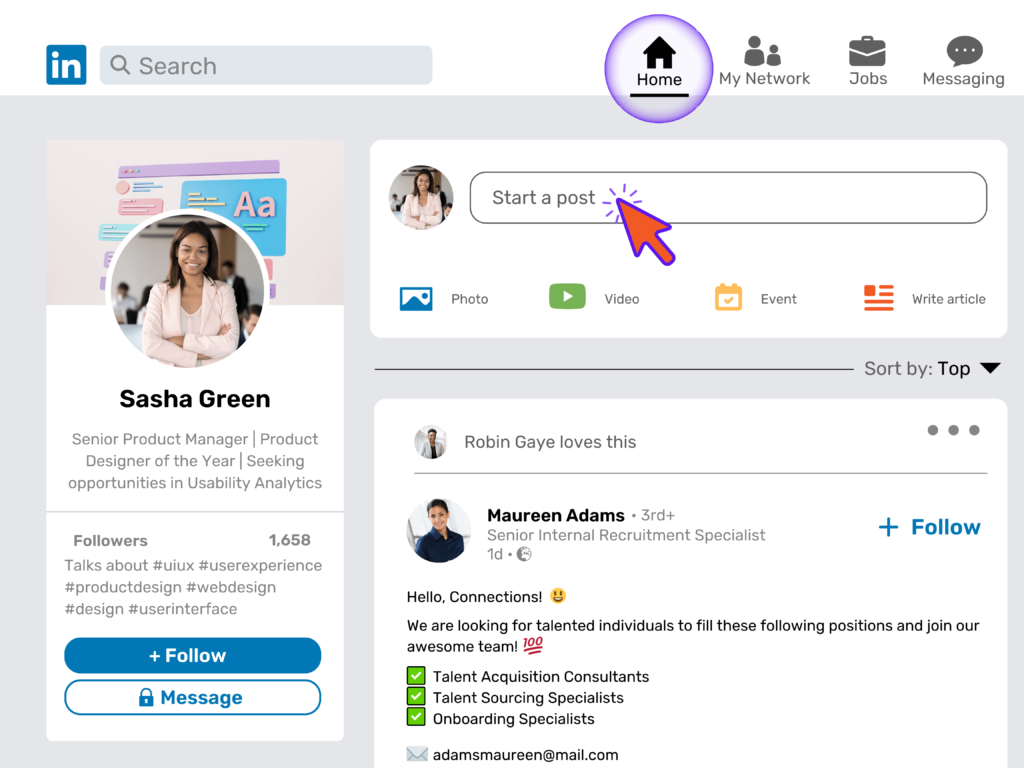 Here, we share practical tips to get creative with LinkedIn's 'Add Media' option to enthrall prospects:
· Add a Slideshare Presentation – Include presentations uploaded to SlideShare to showcase your quality of work, achievements, and skillset
· Remember Social Proof – Consider adding social proof of how your audience perceives your projects in your presentations
· Include Displays to Your Portfolio – If you have projects, design work, and photographs, showcase them within your LinkedIn portfolio
· Include Articles and Blogposts – Take screenshots of an article that showcases your achievements, skills, and experience and add it to your LinkedIn portfolio along with the link in the description
Additional Tips and Tricks to Remember When Sharing Your LinkedIn Portfolio
Here are bonus tips you should remember when sharing your LinkedIn portfolio:
· LinkedIn allows you to edit, delete, and reorder content in your LinkedIn portfolio. You can also hover over the icons and then click and drag them wherever you want
· If you're using Google Drive to add content to your LinkedIn portfolio, consider sharing PDFs
· Ensure your gallery preview looks attention-grabbing by sharing links, content that positions you as professional, relevant screenshots, images, and infographics
Most importantly, remember that only your 1st-degree connections can view your LinkedIn portfolio.
How Much Content Can You Share in Your LinkedIn Portfolio?
LinkedIn lets you share as many files and links as you want. That means you can keep updating and tweaking your LinkedIn portfolio as you advance in your career.
However, remember to add two to five items that give an insight into your profession, your skillset, your experiences and training, your brand, etc.
LinkedIn Portfolio: 3 Best Examples
Here are a few incredible LinkedIn portfolio examples to inspire you:
Showcase Your Digital Marketing Expertise
To create a robust LinkedIn Portfolio, combine a powerful summary about yourself, your past experiences, and your skillset with letters of recommendation or customer testimonials.
Consider adding pictures that showcase your achievements and you at work. You may create a compelling list of your skills, add links to relevant blog posts, and screenshots of how customers liked your services to sell your case!
Read also: Digital Marketing Experts to Follow
Demonstrate Your Business Skills
If you're working in a business-related field, a LinkedIn portfolio is a straightforward yet effective way of selling your skills.
Show off your latest achievements and developments in your career by uploading past projects, customer testimonials, and quotes by past colleagues or employers.
In addition, if you have writing or tech-related skills, demonstrate them to add credibility to your portfolio.
Captivate Prospects by Adding Your Coaching Skills
Professional trainers and coaches can enthrall new clients by creating compelling descriptions and adding pictures of them at work.
In addition, you can add customer testimonials, surveys, and showcase quotes that allow clients to perceive how your coaching helps people.
Conclusion
You've learned how to add a portfolio to your LinkedIn profile and increase its aesthetic appeal.
Showcase your creativity, achievements, skills, and experience by following the tips above. To captivate employers, recruiters, or customers, remember to add relevant and attention-grabbing screenshots, PDFs, blog posts, links, and other media content.
Now to sum it up, we've added a few questions you might have.