Volunteer work is essential for many different reasons, and when it comes to LinkedIn, it plays a crucial role in growing your network and tapping into career and business opportunities. It is a good idea to add volunteer experience to LinkedIn as it establishes your personal brand, helps grow your career, and boosts your social capital.
As per the results of a LinkedIn survey, 41% of managers and employers said they would hire someone based on their volunteer experience. While work experience is vital, adding volunteer experience to LinkedIn is equally vital in your job search or lead generation efforts.
When you mention your volunteer work on the platform, it highlights your personal values, causes you care about, leadership skills, and initiative to instigate change.
Compassion, empathy, motivation, honesty, teamwork abilities, and communication skills are just some of the elements that volunteer experience can contribute to your LinkedIn profile.
Why Add Volunteer Work to Your LinkedIn Profile?
Adding volunteer experience on LinkedIn is an excellent way to start a conversation with anyone who visits your profile. On top of that, volunteering is a great way to support communities and get your business out in front of potential collaborators.
When you put out your volunteering experience on LinkedIn, it gives others a deeper insight into your interests, especially if they are relevant to your work area or your profession. Doing so can also help your LinkedIn profile shine, especially if you are just starting your professional career or switching a job.
Add Volunteer Work on LinkedIn [Steps]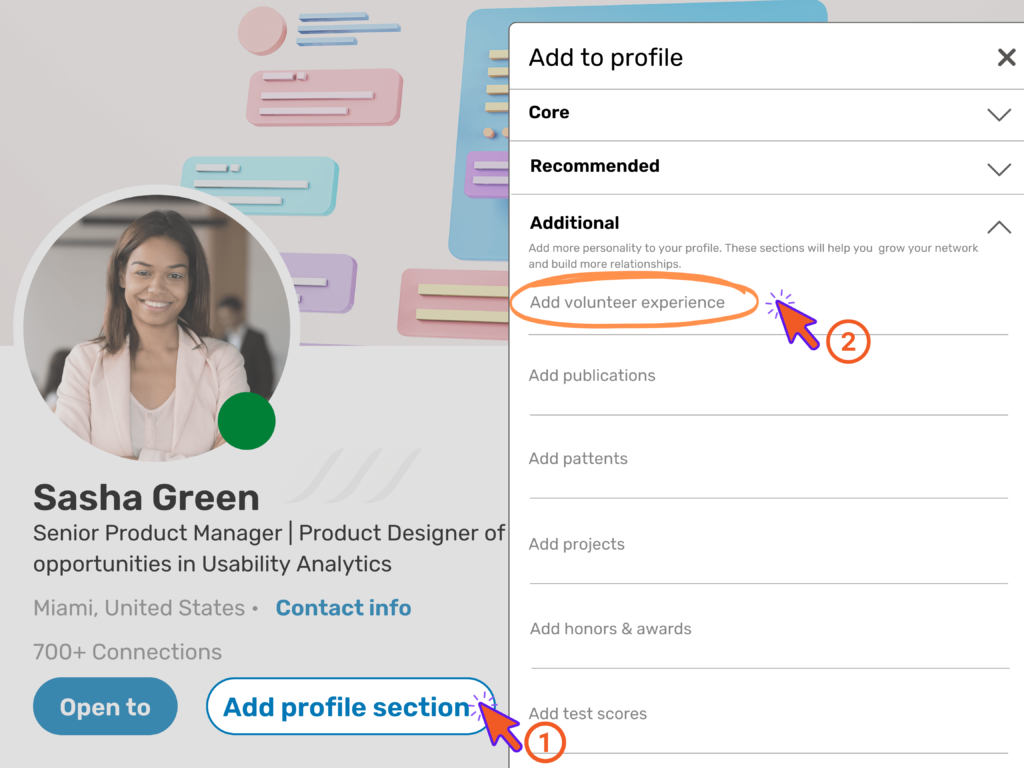 Here's how to add volunteer experience to LinkedIn in a few easy steps:
Open Your LinkedIn Profile
If your profile already has the Volunteer section added, click on the pencil icon, which will take you to a tab that says Edit More. From there, follow the on-screen instructions to add each of your volunteer experiences to your profile.
In case you don't already have the volunteer section added to your LinkedIn profile, simply click the View More link below the Contact Information section at the top of your profile. This will allow you to visualize a complete list of sections to add.
Click on the Add Volunteer Experience tab, which will open the section on your profile.
Enter the Organization's Details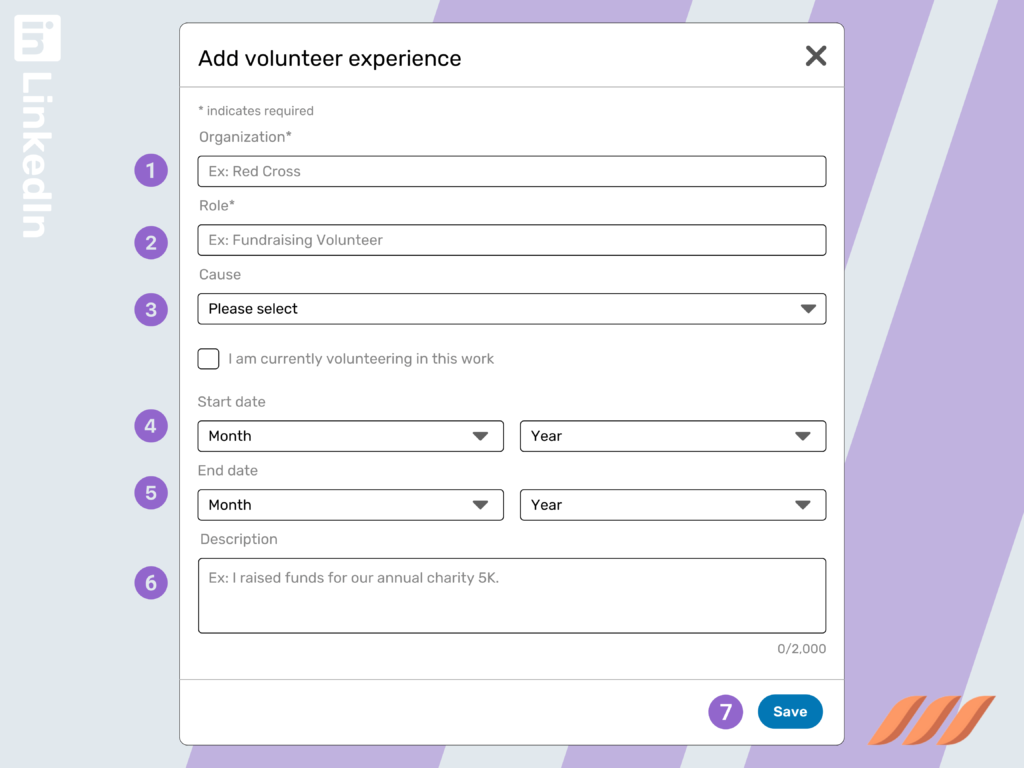 In the Organization field, type the organization's name and then click on Role. Add your role or nature of volunteer work experience. This field shows up at the top of the individual volunteer experience.
Use this section to enter details that highlight your role or what work you did specifically. Some examples of roles include supporter, contributor, patron, sponsor, donor, subscriber, grantor, and more.
Proceed to the Cause Dropdown List
The Cause dropdown list allows you to choose an applicable and relevant cause from the list. If nothing from the list represents your experience accurately, leave the section blank by selecting the top option, i.e., a minus sign indicating a blank field.
Choose Dates in the Date Range Fields
Choose the month and year from the dropdown lists. LinkedIn does not feature an end date feature by default. If you are working as a volunteer at the moment, select the I Currently Volunteer Here tab.
Enter Information in the Description Field
Write the relevant volunteer experience details in the Description field. Be sure to incorporate some context around your experiences. The easiest way to do that is by drawing information from the organization's website.
Click the Save Button
Scroll down and hover over the Opportunities You Are Looking For tab. Proceed to click the pencil icon to enter editing mode. Click on the boxes that highlight the causes that you care about.
Enter Details of Any Other Organization You Support
Add details of any other organization-related work in the Under Which Organization(s) Do You Support tab. Add the names of charitable organizations where you are not actively involved but supporting them. Click inside the text field and start typing.
LinkedIn works in a way that matches organizations with those who may be operating on LinkedIn as well. Proceed to the dropdown list or add it to the free form if no match is available. If you are looking to add multiple experiences, press the Tab or Return keys.
To summarize:
Log into your LinkedIn account
Head to your profile
Click on the blue tab near the top of your profile that says "Add Profile Section"
Choose the "Volunteer Experience & Causes" section
Click on the "Add to Profile" button
Be sure to scan the dropdown menu for "Volunteer Experience." Once you have found something, hit the "+" button
Fill in the form fields and hit "Save" when you are finished
That's it! Your volunteer experience is now live on LinkedIn for your contacts to see.
How to Rearrange Volunteer Experience on LinkedIn
The common assumption is that changing the order of volunteer experience on your LinkedIn profile is not easy. But the truth is that it is not as difficult as it might seem. Here's exactly how you can reorder your volunteer experience on LinkedIn.
If you wish to make changes to any entries that you may have made to the volunteer experience section on your profile, here is how you can rearrange it.
Click on the Me icon on top of your LinkedIn homepage.
Click on View Profile.
Scroll down to reach the Volunteer experience center.
To rearrange your volunteer experience, move your cursor over the position that you want to rearrange.
Drag the Reorder icon to the position you desire.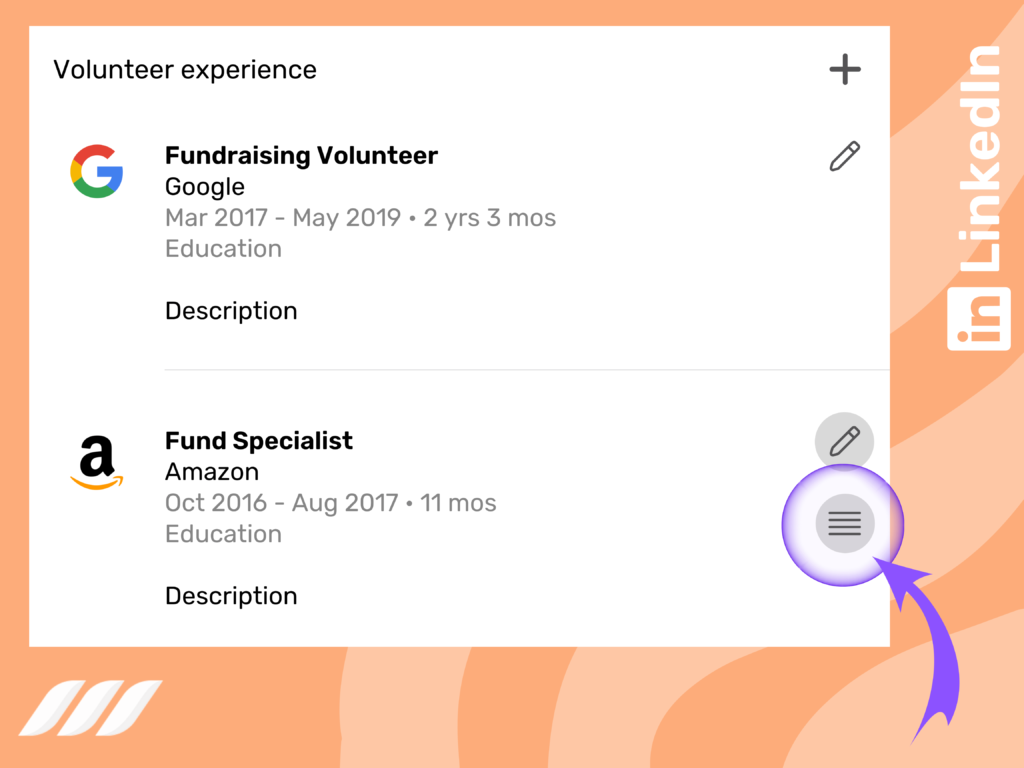 Another way to go about this process is by removing the experience you wish to bring to the top. Once removed, you can add it again to get it to the top. Make sure that the dates are also correct. If you are no longer working with an organization, set an end date. Remember that your most recent experiences would come at the top by default, so beware about the dates and whether or not you're currently volunteering somewhere.
How to Remove Volunteer Experience on LinkedIn
If you wish to remove volunteer experience on LinkedIn, here is how you can do it:
Click on the Me icon on top of your LinkedIn homepage.
Click on View Profile.
Scroll down to reach the Volunteer experience center.
Click on the edit icon right next to the position you wish to remove.
A window will pop up; at the bottom, you will find a Delete Volunteer Experience button. Click on the said button, and you're all set!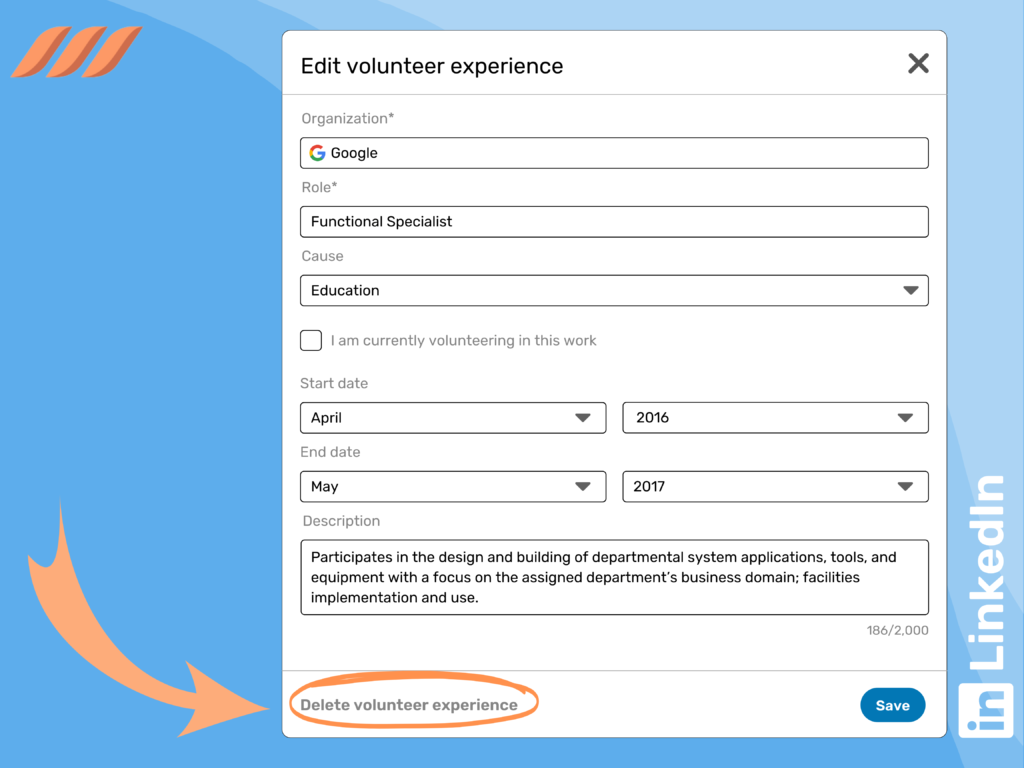 Get Help With LinkedIn Profile Optimization
Optimizing your LinkedIn profile doesn't have to be difficult, but unfortunately, doing it manually can be overwhelming and consume much of your time. The good news is that you can use LinkedIn profile makeover tools to enhance your profile. One of the best tools in this niche is the Dripify LinkedIn Profile Writing Service.
Did you know that optimizing your LinkedIn profile can make it stand out against 95% of other LinkedIn accounts? Yes, that's absolutely true. Proper optimization not only helps boost profile views but also increases engagement and higher chances of connecting with leads and potential employers.
Optimizing your LinkedIn profile with Dripify comes with the following benefits: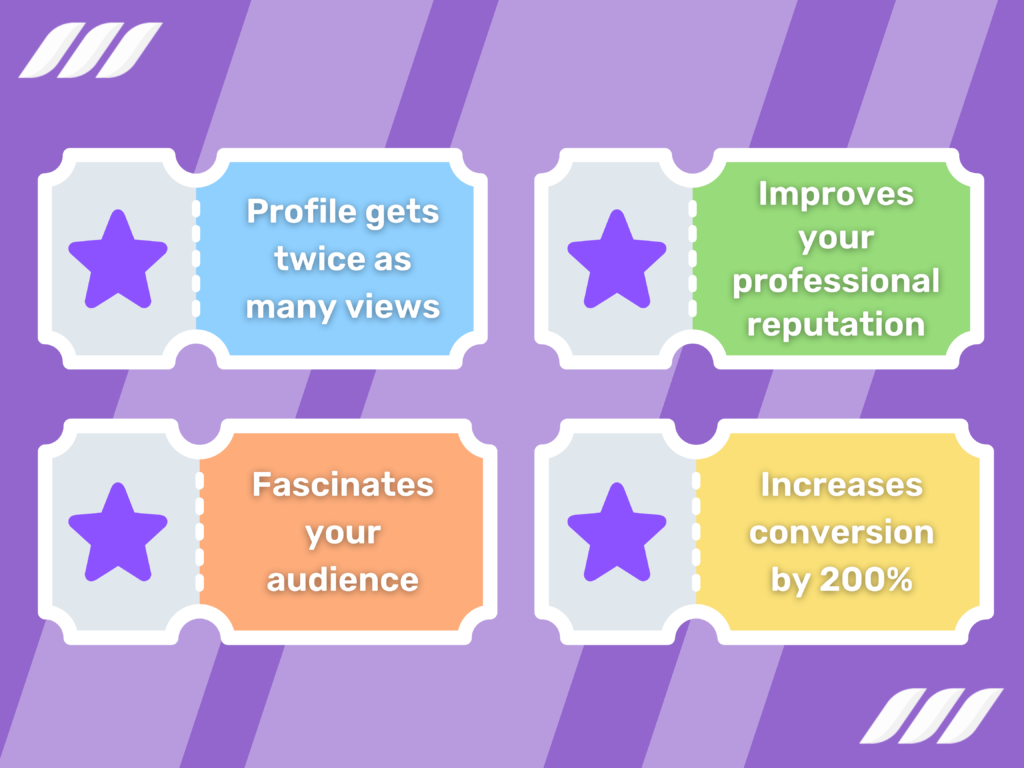 Your profile gets twice as many views: Dripify will rewrite, restructure, and optimize your profile's content and fill it with relevant keywords to boost its visibility and outreach.
Improves your professional reputation: Dripify rebuilds your "Experience" and "Skills & Endorsements" sections to enhance your credibility on the platform.
Fascinates your audience: The custom background banner and profile photo uses corporate color themes and styling to make your profile appear more professional and eye-catching. On top of that, the creative LinkedIn profile summary and overall layout help attract attention from viewers.
Increase conversion by 200%: As per statistics, 75% of prospecting efforts on the platform rely on profile quality. Your updated and optimized LinkedIn account will draw more connection requests from leads, recruiters, and other candidates.
Here is how you can start your LinkedIn profile optimization journey with the Dripify sales automation tool.
Fill Out a Creative Brief
To get started, you must provide some information about yourself and/or your business. Fill out a quick questionnaire, sit back, and let the Dripify LinkedIn Profile Makeover tool take care of the rest.
Let Dripify Rebuild Your Profile
The Dripify creative team will redesign your LinkedIn background photo. The content designing team will then craft your new profile content.
Upload Content to Your LinkedIn Profile
All the content will be delivered to you via a Google Drive link in the interest of privacy. Simply download the content and upload it to your LinkedIn profile.
Conclusion
Adding volunteering experience to your LinkedIn profile is a good way to stand out among your competitors. Adding it to your profile will help potential employers know you better and consider you for the job. Volunteer work boosts your profile, especially if it is related to your profession or industry.
The easiest way to optimize your LinkedIn profile is to use the Dripify LinkedIn Profile Makeover tool. The tool helps your profile stand out from 95% of other profiles and increases the views on your account, thereby increasing your chances of getting scrutinized for the job.
Adding volunteer experience to your LinkedIn profile using the Dripify LinkedIn Makeover Tool can make your profile stand out among others. It can help you get twice the views and improve your professional reputation. Optimizing your profile using this tool can help you increase your conversion rates if you are running a business.