Content writing is a great way to express your creativity and make money doing something you love. It's also a great way to get your foot in the door if you're just starting out in freelance writing.
The good news is that businesses worldwide increasingly recognize the importance of quality content to engage and acquire consumers. That makes content writing one of the most sought-after jobs in the digital world.
But what is content writing? Why is it important? But how do you become a content writer? And what skills do you need to become a content writer?
This guide will provide an overview of the content writing process, from finding the right clients to writing engaging content that will keep your readers coming back for more.
We'll also share the best practices and practical content-writing tips to help you succeed in no time. By following the tips and tricks outlined in this content writing guide, you'll be well on your way to becoming a successful content writer.
Let's start with the basics first!
What Is Content Writing?
Content writing is the process of creating fresh, engaging content for online or print publications. Many people assume it's all about writing articles for websites and blogs. But in reality, content writing is much more than that.
In fact, content writing is an entire process of creating engaging content for different types of media in different formats, including the following:
Case studies and white papers
Articles and blog posts
Social media posts
Product descriptions
Product reviews
Video scripts
Brochures
Landing pages
Or any promotional materials
Yes, copywriting is also a part of content writing. The written pieces must be engaging, informative, and have keywords to target potential customers.
Why Is Proper Content Writing Important?
Content writing is critical in delivering a brand's message to customers and stakeholders online and offline. This makes proper content writing essential for businesses, websites, and all forms of communication, including visual formats.
Quality content delivers the right messages in an engaging way that educates the reader, introduces products, builds relationships with customers, or increases website traffic. And in doing so, content writers impact the readers' trust in a brand or business.
Investing time and resources into proper content writing shows potential customers that you are serious about offering quality information or services. Remember, customers want to do business with brands they trust. So ensuring that you stand out from the competition with strong content is your key to success. And for that, you must follow the best practices and develop specific content writing skills.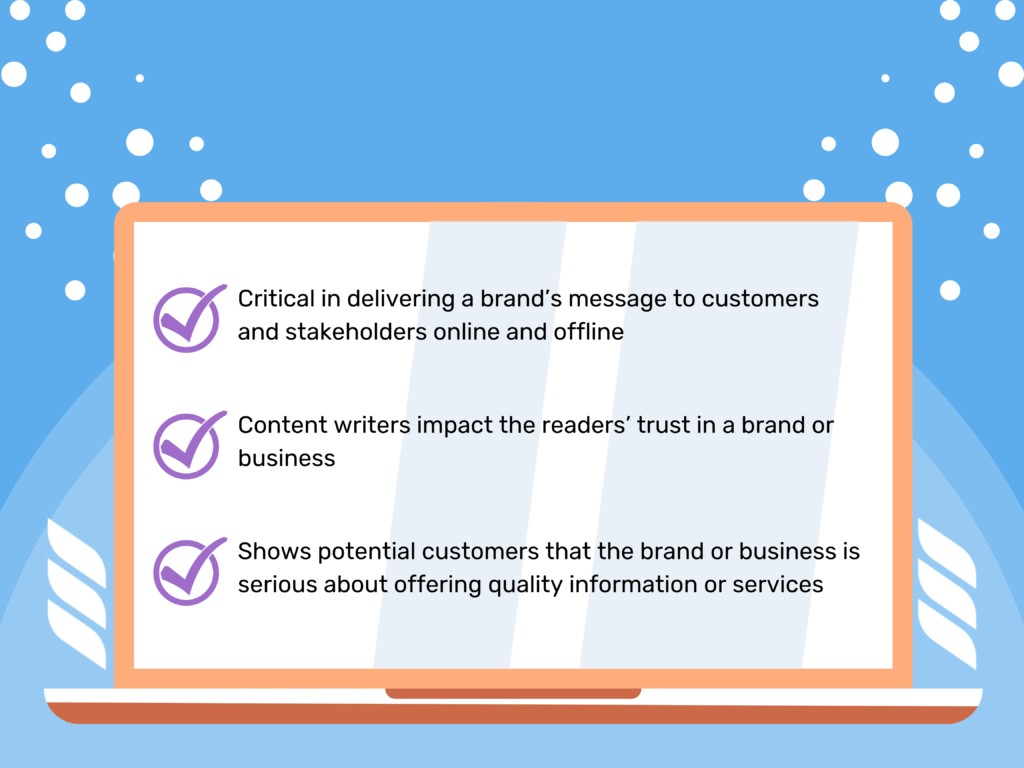 Read also: How to Create a LinkedIn Content Strategy
Content Writing Best Practices
As a content writer, it is essential to follow content writing best practices to develop content that draws attention and engages the reader. Your content must be relevant, useful, and engaging to provide value to readers. And not to mention, it should be SEO-friendly so readers can easily find it in search engines.
Let's discuss three main best practices of content writing:
1. Develop Personas
A buyer's persona is a profile of your ideal customer based on market research and real data about your existing customers. It helps you to create content that speaks directly to their needs, interests, and concerns.
Developing buyer personas helps you better understand your target audience's needs, problems, pain points, and interests. That way, you can tweak your content to cater to their needs and ensure it's relevant.
2. Use a Consistent Voice
Using the same tone, diction, and style in all your content pieces will help you to create a cohesive brand image. That's why it's important to develop a consistent voice that reflects the core values of your business.
This voice should be used across different channels and platforms, regardless of whether you're writing a blog post or creating an ad. A consistent voice helps build trust with your audience and ensure readers recognize your brand from one piece of content to another.
3. Include Stats and Links Properly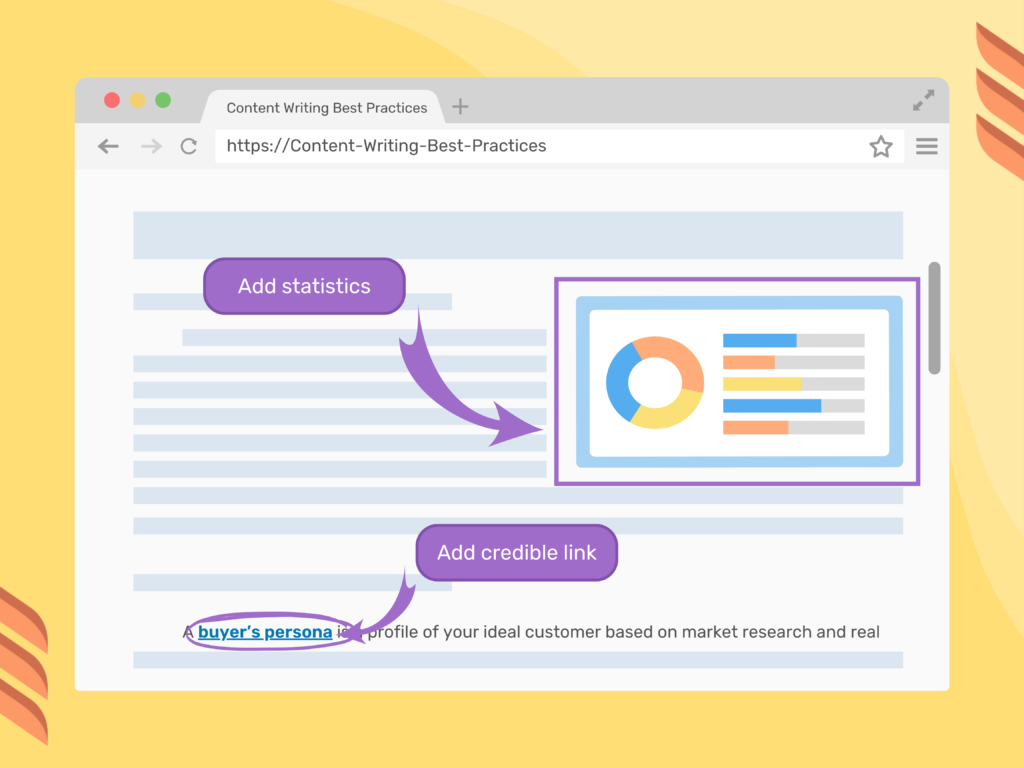 Stats and links to credible sources in your content help establish trust with your readers or target customers. It also allows readers to fact-check the information, which is one of the basic requirements for good content writing.
So, whenever possible, link to authoritative, independent resources and cite articles written by industry experts. Linking to reputable sources also helps build credibility in your reader's mind.
4. Mind Your Formatting
You want your content to be easy to read and understand for your audience, and that's where proper formatting comes in handy. Make sure to write short paragraphs and organize your content with headings. Also, you may want to include lists and bullets in your content to make it easy for the readers to digest.
Plus, it's important to make the text scannable by breaking it into smaller sections. That way, readers can easily skim through it and quickly find the necessary information.
5. Use Visuals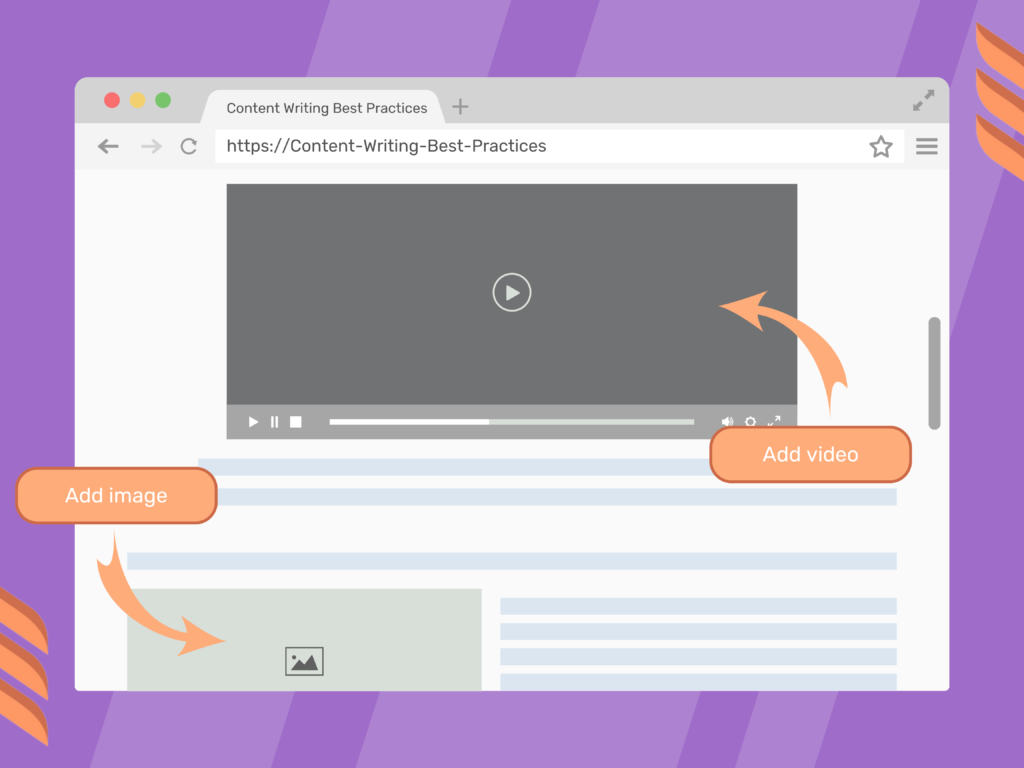 Your job as a content writer is to write content, of course. But in today's world, visuals play an important role in engaging your audience.
It is always a good idea to include relevant images, videos, illustrations, infographics, charts, and graphs in your articles wherever possible. Visual elements help to break up more mundane texts and draw the reader's attention.
6. Don't Sound Salesy
Sure, you create content with the hope that it will draw and convert your leads into customers. But that doesn't mean your content should be overly promotional because it will turn off your readers who want informational, helpful, and educational content.
It is good to place a link or two to your product or service in your articles or a CTA at the end of your content for anyone who wants to buy your product or service.
But make sure not to sound salesy by centering every element of your content around your product. Instead, strive to provide value and establish credibility with the reader so they can buy your product without you asking them to.
7. Create a Content Checklist
A content checklist is a hidden arsenal for content writers and brands. That's why it's essential to create a list of items that need to be in each post. It should include keywords, links, word count, and more.
What Is a Content Writer?
A content writer is a professional who creates written content mostly for use in the digital space, such as websites, emails, blog posts, and more. The written content can also take the form of visual media.
Content writers understand different types of writing, including creative, technical, and marketing writing. They rely on their knowledge of different writing types to develop an engaging piece that delivers a brand's message.
Most content writers also know how to optimize their work with on-page SEO practices to help rank their content higher in search engines. Some writers are specialized in certain industries, formats, and topics, while others are generalists.
The more experience a content writer has, the better they can produce great content that resonates with their audience.
What Skills Does a Content Writer Need?
Content writing requires strong writing skills, creativity, familiarity with SEO concepts, a bit of marketing skills, and the ability to research topics effectively. Content writers must take complicated facts and break them down into digestible pieces.
1. Strong Grammar and Writing Skills
It goes without saying that to be a content writer, one needs to have strong grammar and written communication skills. Content writers should have an eye for detail regarding grammar, spelling, and punctuation; even small errors can distract readers.
2. Familiarity With SEO
As a content writer, you must understand how search engine optimization (SEO) works and how to apply it in your writing. This includes using heading tags, titles, meta descriptions, and target keywords.
3. Research Skills
Research is key to finding relevant information to include in your content. As a content writer, you must find reliable sources quickly. Finding relevant keywords is also critical for SEO, so you must know how to research and analyze keywords.
4. Readability
For your content to be engaging, you must ensure that it is easy to understand and written in a way that appeals to the target audience. This includes using simple language and avoiding overly complicated sentences or jargons.
5. Organizational Skills
Content writers must be able to work in a team, prioritize tasks, and meet deadlines. Plus, you must be able to create an outline for your content to ensure your articles are well-structured.
How to Start Out as a Content Writer?
As an aspiring content writer, the first thing you must do is to improve your writing skills. This is where continuous practice can help hone your skills. Plus, it is vital to determine what content format you'll specialize in and what niches you'll serve.
For example, you can develop your skills as a case study writer rather than just a general content writer. Or maybe you'd want to become a medical content writer with expertise in the medical field. Deciding a niche can help you stand out from the competition.
Taking content writing courses and getting acquainted with at least the basics of SEO and online marketing is also a good idea. Next, you must research how to market yourself as a writer. For that, you'll need to create an effective portfolio that contains samples of your writing that you'll send to potential clients.
Building relationships with potential clients is essential so you can consistently get work on a long-term basis. And in doing so, stay focused and keep improving your skills.
Top 13 Content Writing Tips & Tricks
Whether you're new to content writing or have been doing it for years, these tips will help you take your skills to the next level.
1. Write a Catchy Headline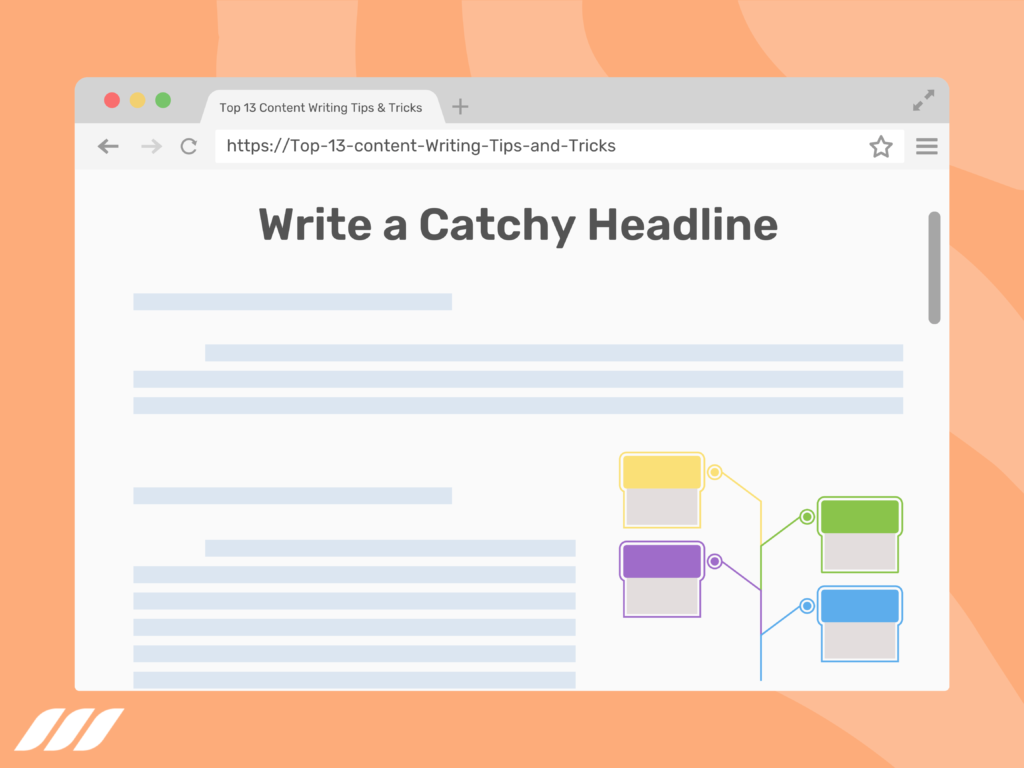 Writing catchy headlines can be the difference between people reading your content and simply scrolling past it. Good headlines are super important in drawing and engaging your audiences.
Remember, crafting a headline is an art that takes practice and a creative approach for it to pack a punch! It's not about using overly complicated language or providing spoilers; it's about engaging with your audience by capturing their attention with words.
A well-written headline ensures you have made the first step toward successful content marketing. You can use tools like Sharethrough Headline Analyzer or Coschedule Studio to analyze your titles and develop the best ones.
2. Create an Effective Outline
An effective outline is essential for breaking a post or article into digestible sections. An effective outline serves as a roadmap for content creators to follow, ensuring that the content created flows in a logical framework and covers all the necessary points.
3. Focus on Single Purpose
Next up, always craft one key message to communicate your brand's mission effectively. Doing so will ensure that your core purpose isn't lost in a clutter of information. Focus on one powerful goal since it gives audiences an easier way to consume and understand your story.
4. Add Your Unique Voice
Content tilt is a powerful way to add your unique voice to your content. It allows you to stand out and grab people's attention. And it works by adding a unique point of view, opinion, perspective, or approach that is different from what is typically seen online.
5. Make Your Content Easy to Read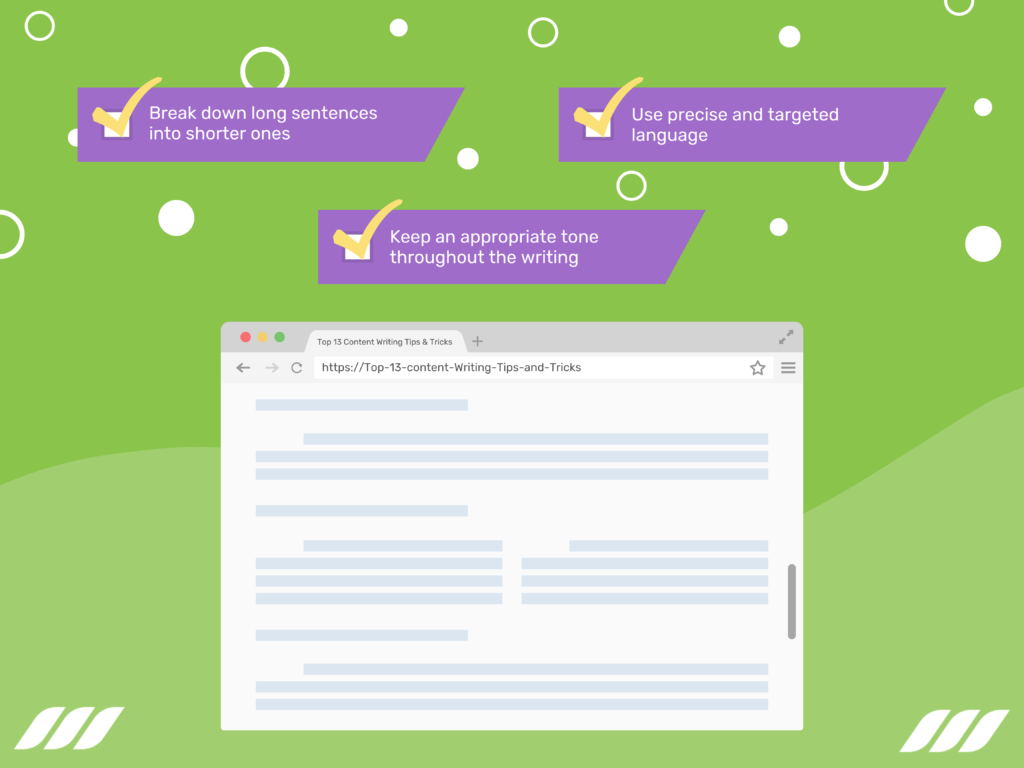 Every piece of content should be written in a way that is easily understood by the target audience. To ensure readability, break down long sentences into shorter ones, use precise and targeted language, and keep an appropriate tone throughout the writing.
Additionally, read over the text multiple times before publishing to ensure it's easy for readers to comprehend. Or you can use free tools like Hemingway Editor or Grammarly to improve and check for readability.
6. Optimize Your Content for Search Engines
When creating content for a website, blog, or any other online platform, optimizing the content for search engine ranking is crucial. This will help ensure that your content is ranked as favorably as possible on search engine result pages.
As a writer, you must naturally select the right keywords and sprinkle them naturally throughout the content. Plus, understand H1, H2, H3, and other tags, use alt tags in images and videos, and link to relevant authority sources.
7. Add More Value Than Your Competition
As a content writer, you'll need to analyze your competition and conversationally provide valuable information.
For example, you can create interesting angles and use humor to engage your content. It is also good to include bullets, charts, images, videos, and infographics in your content to communicate your point more effectively.
8. Understand Your Readers' Intent
Ask yourself why people would search for your content and what's their intent. What are their problems, needs, and goals? What do you want your readers to do after reading your content? Once you understand the intent behind what people are looking for, you can craft content better to meet their needs.
9. Write As You Talk
Writing conversational content can help bridge the gap between internet users and your message. Framing your thoughts in terms of an informal conversation helps potential customers understand your point quickly. But it depends on your client's brand voice. So consult with your team before you start writing.
10. Support Your Content With Facts & Stats
Strong content is the foundation of a surefire marketing strategy. One of the key components of creating a successful piece of content is backing up your claims with facts and statistics. So, remember to include reliable sources, statistics, studies, research, and surveys about your topic.
Read also: Best LinkedIn Marketing Strategies
11. Ensure to Use of the Right Tools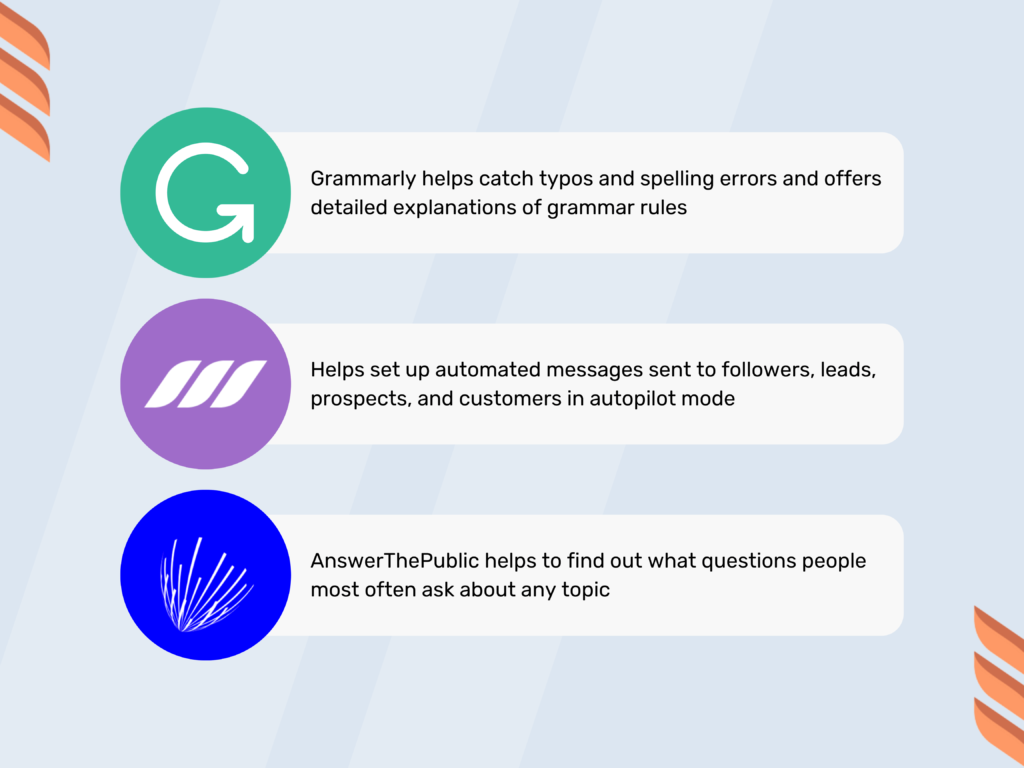 Utilizing the right tools when content writing can help you create more effective and engaging pieces. Grammarly is an advanced grammar checker that helps catch typos and spelling errors and offers detailed explanations of grammar rules.
Headline analyzers ensure titles are attention-grabbing enough to stand out and entice readers to click on your article. AnswerThePublic is a great tool to easily find out what questions people most often ask about any topic, so you can better address their needs in your writing.
If you or your client is into LinkedIn or email marketing, Dripify sales automation can help you set up automated messages sent to followers, leads, prospects, and customers in autopilot mood. And the list goes on!
12. Make Your Content Actionable and Trustworthy
It's no secret that content marketing is the cornerstone of any successful online business, but crafting actionable and trustworthy content can be a challenge. To establish trust, be sure to keep your audience in mind when developing your content.
What do they need from your content? What information should you include or omit? Ask yourself these questions and use trustworthy sources that support your content.
13. Proofread, Edit, And Edit Your Work
Proofreading, editing, and revising your work are the keys to writing high-quality content.
A good editor will take your piece of writing and turn it into a masterpiece. Editors look for passage flow and continuity, sentence structure, clarity of meaning, overall readability, and much more.
A great content writer minimizes the job of an editor. So, if you want to be a successful content writer, ensure you proofread and revise your work as often as possible. And send it to your client once you're sure the content is perfect in all aspects!
Conclusion
We hope you now have a better understanding of content writing and the steps you need to take to become a content writer.
To write great content, you must have clarity of your audience's needs and preferences, properly format your content, ensure grammar accuracy with attention to detail, and cultivate a consistent yet unique voice.
Remember, dedication, hard work, and continuous practice are the keys to start a successful career as a content writer. So, start today and keep these content writing tips, skills, and best practices in mind.