Every successful marketing strategy has one secret behind it – knowing your audience.
In fact, it's super challenging to craft a successful marketing campaign without studying your target market. Similarly, B2B sales professionals can't convert buyers if they don't know their target clients.
This is where buyer personas enter the scene. Everyone in the marketing realm uses these nifty profiles as a reference when dealing with customers. But what is a buyer persona, and how do you make one? Read on for the answers!
What Is a Buyer Persona?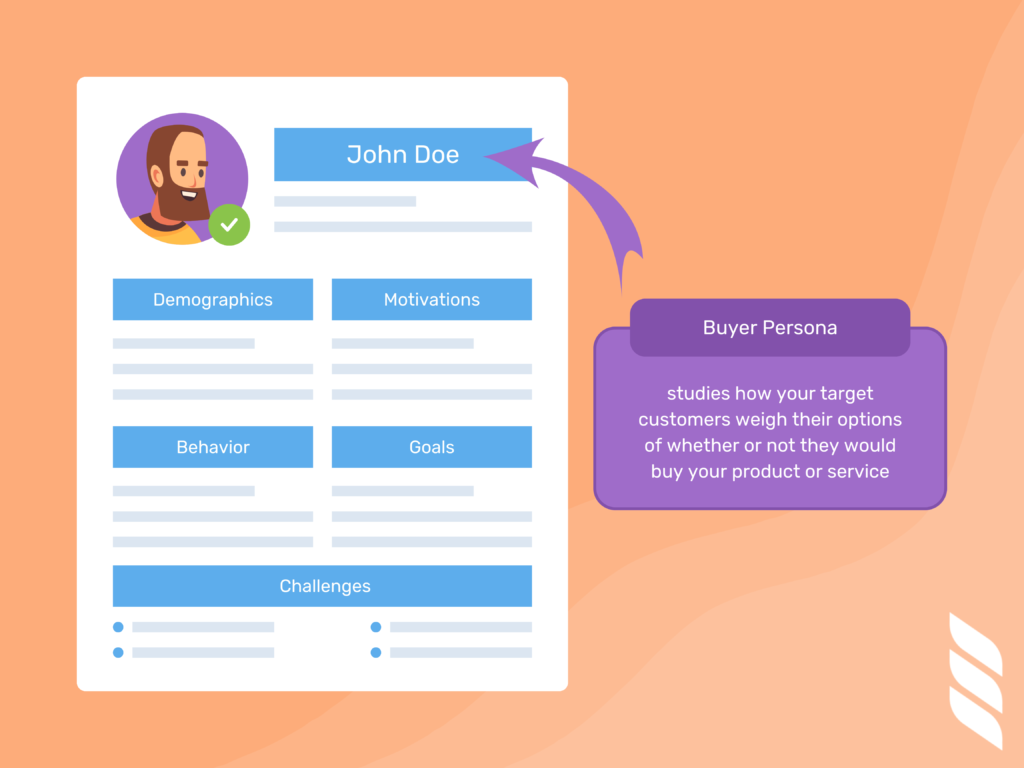 In simple words, buyer personas are semi-fictional profiles marketing teams use to portray the ideal customer. In even simpler terms, it helps businesses get to know their buyer.
Buyer personas generally include the customer demographic, motivations, goals, behavior, etc., which marketers learn by studying customer data (collected through surveys) and doing extensive market research.
Essentially, a buyer persona tells you what prospective customers think and do when they need products or services you want to sell. It studies how your target customers weigh their options of whether or not they would buy your product or service.
Personas describe your ideal customer in terms of who they are, how they make decisions, what challenges they're facing, what solutions they need, and who's their first option to provide the said solution.
Let's use an example:
Consider your best friend – you have a profile of their likes & dislikes, interests, and hobbies in your head. You know how they shop, what they're likely to spend money on, what's something new they'd be willing to try, etc. You tap into this information when their birthdays come up and you're hitting the mall to get a present your best friend would love.
In the marketing world, this 'best friend' is the customer, and their 'profile' is the persona. More importantly, this customer (like your best friend) is not one-dimensional, nor is their profile.
A buyer persona is more than just a mere description – it gives insights into what criteria lead customers to choose you over your competitor (or vice versa). It also gives insight into the related interests of customers, so your branding and future product launches can cater to those. For example, someone interested in yoga and wellness might also like crystals, candles, and other similar items.
This profiling helps you improve your prospecting. Plus, it allows product development teams to cater to the target customers in a better way and strategize their marketing tactics.
Once businesses understand their customer base, they can use it to their advantage and offer more personalized, efficient services.
Businesses also have multiple buyer personas to depict ideal customers with different influences. If an end-user is purchasing a product but will rely on others' reviews and approval, every person involved in forming that final decision of "yes, I will buy your product" or "no, I'll look elsewhere" is a separate persona.
So, now you understand the basics of a buyer persona, great! But why does it matter? What makes it the bread and butter of marketing? Let's take a look!
Why Are Buyer Personas Important?
As we've learned, buyer personas are super detailed and created after researching your target audience. They even include verbatim quotes from real people who want to purchase a product or service.
The priceless insights make buyer personas highly important. The knowledge helps you focus your time on fruitful tasks, align your marketing decisions with customer expectations, and steer product development in the right direction.
A persona can help you plan your business activities in a way that attracts valuable leads and customers to your brand and provide an effective, tailored experience.
Another way buyer personas help is by building trust. If you pay attention to companies around you, many start talking about their journey and what they do instead of what the customer wants. This creates a distance between the customer and the brand.
Related article: How to Convert Leads Into Customers
It's a no-brainer that people gravitate toward brands they trust. An efficient way to minimize that distance and form trust among first-time buyers is by showing genuine care. And to do that, you need to know and understand the customer with the help of a persona.
Only once you address your potential customers and understand their dilemmas, they will be open to exploring your product, service, or solution.
To sum it up, buyer personas help keep your business centered around the customers' needs.
Different Types of Buyer Personas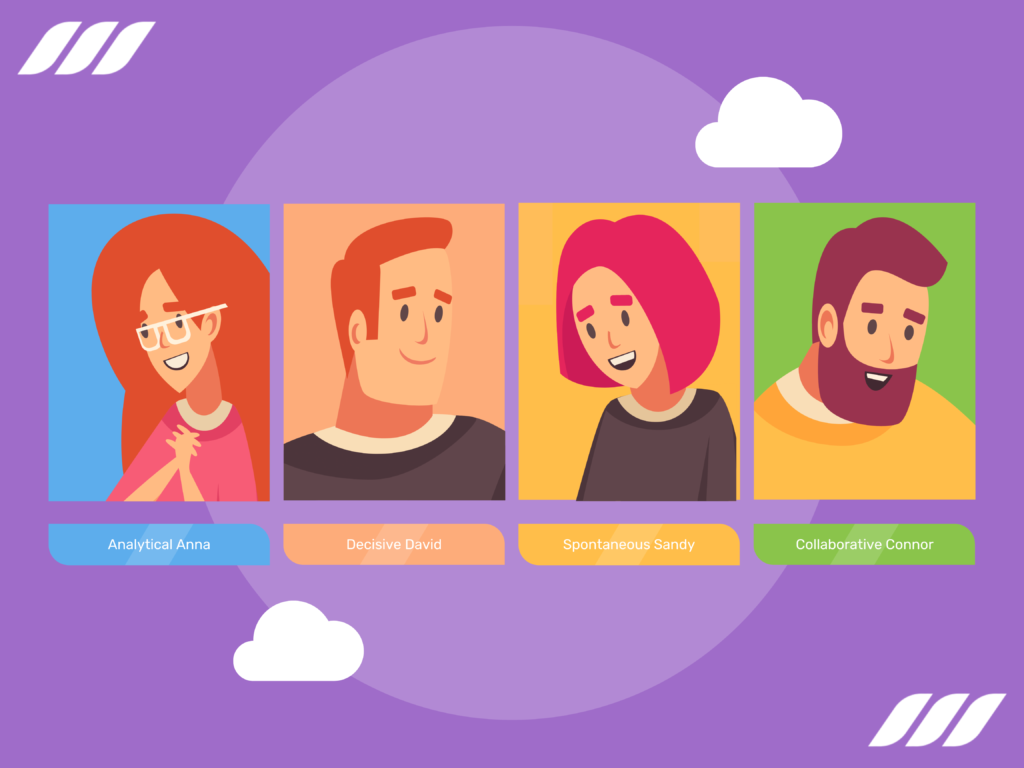 How many buyer personas you'll need depends on your business – some may have one or two, while others may have 15 to 20 (or more). Each persona can target a different audience or a mutual audience.
You may aim to plug different combinations of products/services for each. Remember, if you're new to developing personas, it is good to start small. Focus on making one strong profile through research first. You can build more personas later on.
1. Analytical Anna
Analytical Anna is logical and dislikes making decisions on a whim. More often than not, she's reading reviews, fine print, service details, etc. A catered sales persona is just a cog in the wheel for her. She's hard to convert, but she's a customer who will stick around.
2. Decisive David
Decisive David's here for business. He doesn't have all day – he needs you to explain (in key points) what you offer and prove why you're better than the competition. He might seem overbearing at first, but you should act willing to solve his problem at your end efficiently. Consensus isn't natural to him.
3. Spontaneous Sandy
Spontaneous Sandy lives in the moment. She doesn't want any details – if she likes your brand and the product, she will buy it in a snap. This is arguably where a persona is most effective in acquiring a new customer, but she's much harder to keep around. She's impressed by innovation, creativity, and fun ideas.
4. Collaborative Connor
Collaborative Connor loves to take his time making decisions. However, he's not methodical like Anna; instead, he values others' opinions and influences. Regardless of what the purchase is, he seeks help. Most B2B cases tend to be like Connor's. Try answering as many questions as possible, and be patient when waiting for a response.
How Can Buyer Personas be Used in Marketing?
One of the core uses of a buyer persona is to help marketing teams generate appealing content for the target audience. If prospective buyers see your ad or social media page and feel that it's personalized for them, they're likely to make a purchase.
Similarly, when sending marketing emails and newsletters, marketers can write multiple versions, one for each buyer persona they've made, instead of using one generic chunk of text.
Read also: How Can Social Media Marketing Help Your Business
You can segment your customer base and assign everyone a persona, sending messages accordingly.
Read also: Why Outreach Marketing is Important for Your Business?
How to Create Buyer Personas: Step by Step
Here's how to create a buyer persona:
Step 1: Get Others Onboard
Before designing the persona, you must identify who you need to work with. Generally, all your customer-facing coworkers and partners must be on board to develop the persona.
If that seems excessive, at least one representative from each department will suffice. Since every department has had a unique set of interactions with customers, they can provide valuable input to form your ideal buyer.
You may want to start with sales and marketing reps, then include customer service and admin. You'll also need an executive leader to oversee the project and make sure the brand values are upheld.
Creative designers will also play a role in making a concise, interactive persona once you've done initial research.
Step 2: It's Research Time!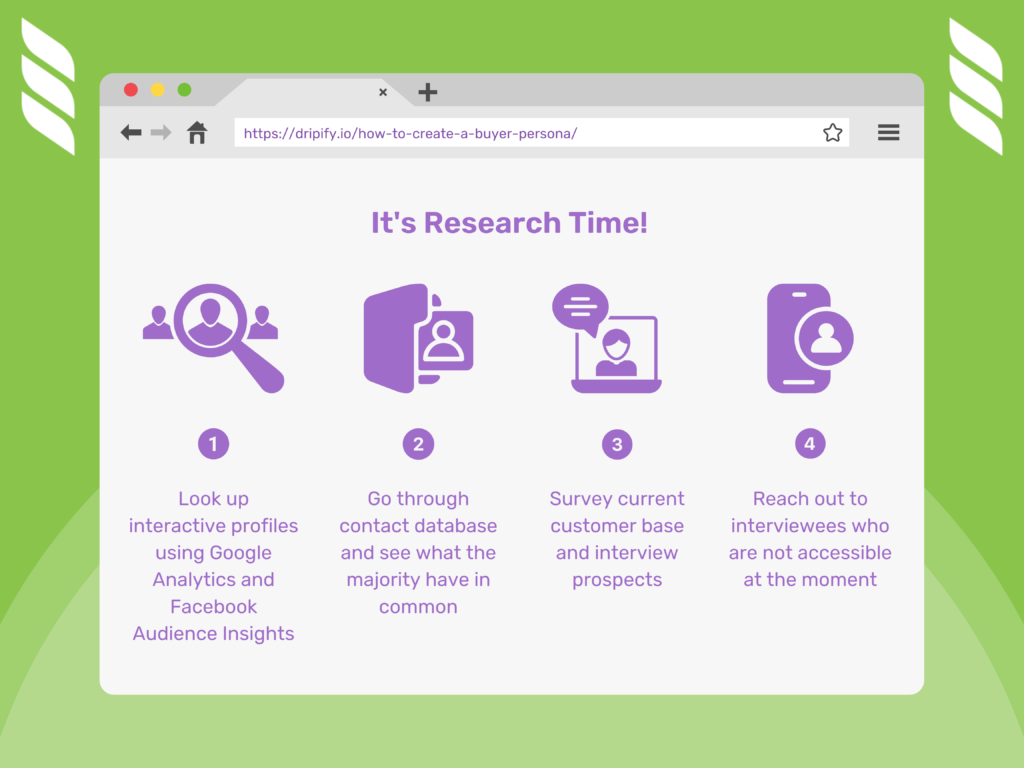 This step will help answer a few important questions.
Who are your existing customers? How can you cater to them better? What audience do you want to acquire? Who follows you on social media but never orders a product? Who are your competitors, and how are they attracting your potential customer base?
General info you'll need includes age, language, location, spending power, shopping patterns, the industry they work in, job title, etc. The primary info you need to draft a persona includes all related interests, challenges they face, motivations, and what drives them to competitors.
Remember, learning the challenges is key to communicating your USPs (unique sales positioning statement). It's the part of personas that elaborates on how your product helps the target customer.
Related article: How to Create Value for Your Customers
But where do you begin finding this data?
Well, social media analytics are a good start. Using tools like Google Analytics to check site visitors and Facebook Audience Insights to look up interactive profiles is recommended.
Moreover, go through your contact database and see what the majority have in common. Also, you must research how your customers use your products and how they interact with your content. B2B marketers can use Keyhole.co and Hootsuite too.
Afterward, it's time for surveys and interviews, both from people in your contact base and outside it.
Start by surveying your current customer base. Since they've already engaged with your brand and bought your product or service, they exemplify a good chunk of your target base and help form the ideal persona.
Taking feedback and reminding customers that their input is valuable will strengthen the B2B or B2C relationship.
Next, interview your prospects, aka those who haven't bought your product yet, but you can reach out to them (usually through social media). A quick online survey with the same questions as lead generation forms works best.
Read also: Lead Generation Marketing Trends
You'll likely have to offer incentives like a gift card, free shipping, or a discount on the next purchase for the candidates to participate in your survey.
Lastly, you may need to reach out to interviewees who are not accessible at the moment. You can use tools like Enlyft to match a rudimentary/in-progress profile to more prospects or enlist people through Craigslist or UserTesting.com.
The goal here should be to make the survey process easy. If you're calling someone, suggest a flexible time. Keep online surveys short enough to complete in 5 minutes.
Here are some other clever tips to help you get information for a buyer persona:
If you use forms on your website, add fields to help extract the information needed for developing a persona. In B2B cases, this could be something like company size.
Get responses from your sales team. Ask them about potential leads they interact with the most and what's a generalization about your customers you can make based on their experience.
Call your recent customers and interview them about what they like about your brand. This helps find what interests most of your consumer base.
Once this time-consuming process is over, you'll be left with a lot of raw, unfilled data about both current and future customers. It's time to filter it.
Step 3: Let's Distill the Data
So your aim is to build a one, maximum two-page slide or document for a persona (buyer persona has to be succinct so you can reference it anytime). You need to sift through it and distill relevant content to get this from heaps of data.
Hubspot has a nifty persona-maker tool that first-timers can try out. Use customer answers to find common denominators between your audience and design trend maps. You may also want to make boxes in the persona and denote each to a specific issue.
Adding helpful buzzwords and mannerisms to your perfect customer persona is a good idea. Personas should not be devoid of personality. They should reflect how humans think, form interests, and deal with challenges. If you make multiple personas, sales teams can use them to deal with prospective customers effectively.
Make sure to sort the information in a way you'd like to add to your visual framework. If you're designing your template, create sections for things like general info, interests, challenges, etc. Sort the pain points and hurdles first so you can write how to solve them.
Also, add a column for motivations and what drives your buyers to make those purchases. Lastly, if they're relevant, you can add extra sections – personality, career aspirations, info sources, tech prowess, education level, etc..
We have some examples of buyer personas later in the article, so stick around.
Step 4: Put Yourself in the Equation
With more on-point info about your customers' goals and grievances, it's time to focus on how you're helping. Analyze the features of your service and how they benefit the end user.
Consider the hurdles and how you'd fix them. Think about your role in helping this ideal customer persona, then make a section to give solutions.
Step 5: Get the Teams Acquainted
Finally, it's time to get your teams acquainted, starting with the salespeople.
This is where you can use real quotes from interviews in the persona and add objections customers may raise. Doing so will help your sales team address common questions and concerns effectively.
Well-built buyer personas also ensure every team member is caught up on customer interaction basics. It also maintains one quality of service company-wide.
Related article: How Fast Do Marketing Leads Turn Cold
Buyer Persona Examples
A buyer persona isn't just an information set – it's a specific, detailed description that mimics a human customer archetype. It has a picture, name, multiple interests, own set of priorities and motivations, etc.
Real customer quotes are included at the end. Here are a few examples of a buyer persona:
Example 1 (Formal Clothing Reseller)
Name: Ellen, Woman aged 21
Occupation: College Student
Location: Michigan
Income: $20k/year (part-time)
Persona Type – Collaborative Connor
Ellen is looking for an affordable yet chic straight dress for her friend's wedding next month. She has a difficult time in retail stores due to budget constraints and her 2XL size being unavailable most of the time. She came across the website when she Googled "wedding dress reseller." A social, environmentally-conscious young adult means she likely values the opinions of others as well.
Needs a 2XL gown in a straight dress style
Looking for colors other than white
Would like to purchase from a reseller because of the low budget and lack of sustainability in fast fashion. An environmentally-conscious shopper
Hoping she doesn't have to sacrifice style for a larger piece
Not being able to put both the size and availability filter on the entire search result simultaneously
Getting a few dress options when looking up 2XL only
No recommended dresses if she likes one
"I love shopping from resellers. Expensive gowns you wear once are so bad for the environment. No dress I bought was damaged, so I packed everything nicely. I wish the website loaded faster though."
Example 2 (Cosmetics Company)
Name: Lydia, a Woman aged 34
Occupation: Corporate Lawyer
Location: Illinois
Income: $175k/year
Family life: Two kids aged 5 and 7
Persona Type – Decisive David
Lydia cares about her appearance and social status. Her work requires her to dress well- however, between her busy schedule and kids, she can't afford to spend hours fixing her hair and putting on makeup. She needs products that help her save time. She mentioned she travels a lot as well.
Struggles You Can Address
Sell high-quality cosmetics and skincare in different sizes so customers can test them
Sell travel-sized cosmetic samples for on-the-go testing
Unsure what brand products to get
Breakout-prone skin. Open testers cause acne
Doesn't have the time to go to a physical store like Sephora and spend hours testing products either
Lydia's source of information is social media, and she connected with you through Instagram. Influencer marketing is a great way to reach Lydia. She can be offered an extra tester or something with her first purchase as an incentive. Once a regular customer, she may promote your products among her peers.
Related article: Customer Acquisition Channels
How to Create a Buyer Persona for My Business?
You can create a solid buyer persona for your business using the steps above. Multiple personas together serve as more efficient tools as you eventually will have a persona to represent every type of customer. Starting small is okay, but don't stop at one profile.
Another point to note is that your personas shouldn't be static since customer bases are dynamic. Keep enhancing them with new insights, surveys, and customer feedback.
What About "Negative" Buyer Personas?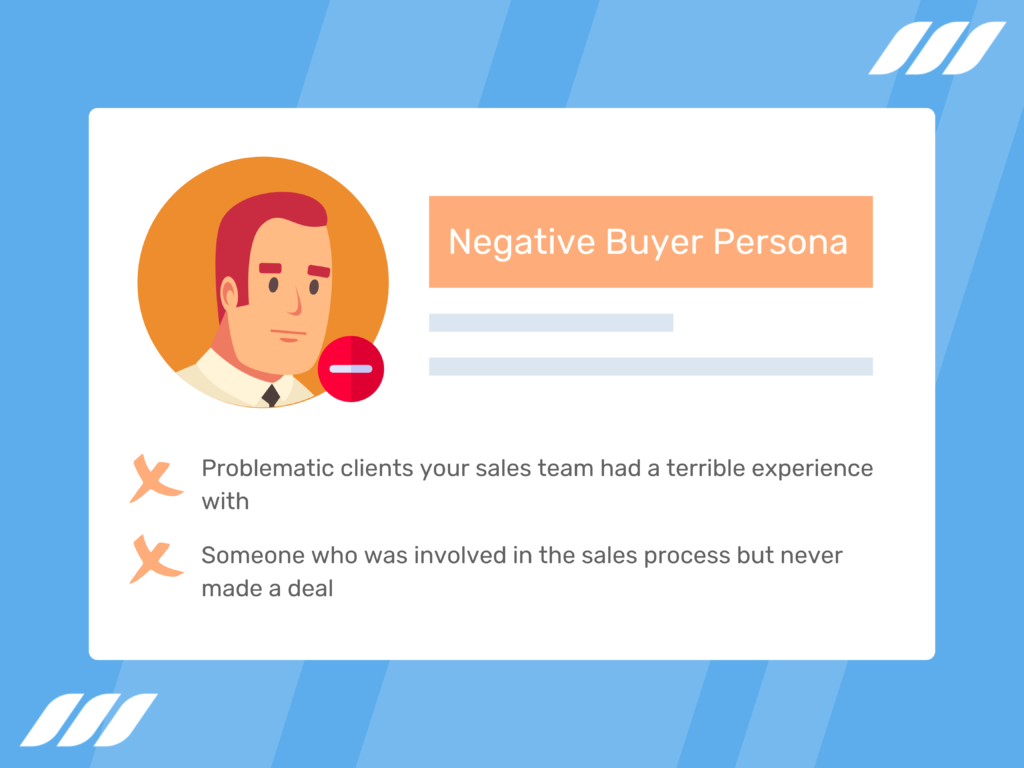 Negative buyer personas or exclusionary personas are similar to your regular old buyer persona, except you're trying to identify and exclude customers.
These may be problematic clients your sales team had a terrible experience with or someone who was involved in the sales process but never made a deal. Clients with low-profit yields and high acquisition costs can also be used to make a negative persona.
A well-built negative persona helps sales and marketing teams spot customers who won't be a good match for your brand. Marketers can strategize better and fine-tune the ways they reach out to people.
Conclusion
For a business, buyer personas are the gold-standard tool to represent your target audience and understand their behavior, wants, and needs. Personas are essential for marketing and sales teams to connect deeper, growing your customer base and retaining loyal buyers.
Now that you know what a buyer persona is, it's time to create a persona using this detailed guide.