Living in the internet-driven world requires you to have a prominent social media presence so your business can benefit from digital marketing and improve its search ranking. That is to say: social media is the go-to method to grow your brand, find more business opportunities and reach wider audiences.
Social media marketing is a great way for businesses to reach their target audience and build brand awareness. Plus, it can help you generate leads, drive traffic to your website, and build relationships.
With its extensive reach, social media allows marketers and businesses to connect and engage potential audiences and customers. Whether you use older platforms such as YouTube, LinkedIn, Instagram, Facebook, or relatively younger forums like TikTok, you can target and engage the audience with your content.
The trick is to ensure your social media marketing strategy aligns with your business objectives. If you're an entrepreneur looking to reap the benefits of social media marketing, and you just starting out with social media marketing, this guide will assist you in creating a solid strategy from start to finish.
What Is Social Media Marketing?
Social media marketing (SMM) refers to "online marketing methods" brands use on various platforms, including Twitter, Snapchat, Pinterest, Facebook, and LinkedIn, to attract or capture clients' attention, diverse audience segmentation, boost brand awareness and collaborate with customers and other businesses.
Social media marketing is a successful way for all brands to reach their prospects and leads and convert them into long-term customers. Social media marketing provides many opportunities for businesses to connect with prospects, engage and spend time with them.
These platforms typically make it easy for businesses to bolster brand engagement. However, enterprises and startups should have a comprehensive and data-driven social media marketing plan to benefit from multichannel networking.
What Is B2B Social Media Marketing?
Both B2C and B2B are highly effective and successful tools for improving online presence. However, social media channels for B2B are likely to focus on lead generation and brand development. B2B brands can take advantage of the business opportunities that different platforms offer.
The latest report by Social Media Examiner shows that over half of B2B marketers use social media channels to build partnerships and get competitor insights compared to their B2C counterparts. This difference is vital in creating B2B sales tactics to attract and engage target audiences.
Typically, B2B brands are more focused on positioning themselves as a thought leader within the niche to serve the audiences. B2B crowd appreciates elements that can make content more exciting and engaging, such as:
· Storytelling
· Stand-out visuals
· Compelling headlines
· Empathy
Other types of content B2B audiences love includes:
· Webinars
· Infographics
· Videos
B2B marketers focus on offering social media content to help their audience become more successful and productive with their businesses.
Why Is Social Media Important for Your Business?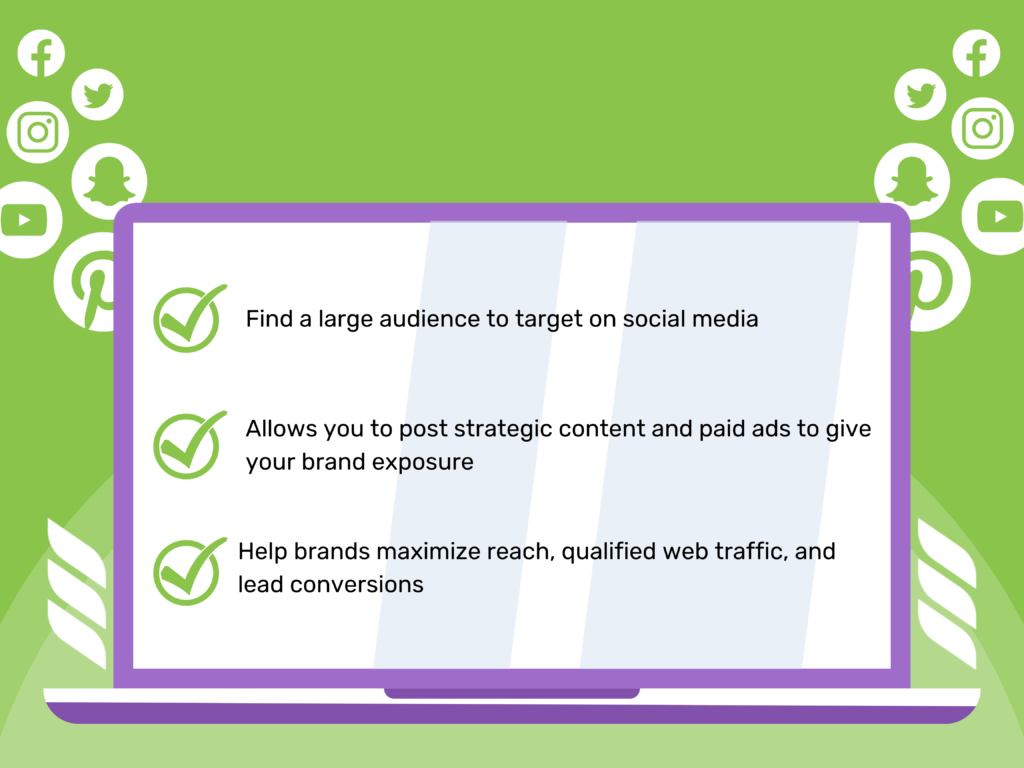 As said earlier, several individuals use social media for various daily purposes. This exponential social media growth and use indicates a significant shift in the rising customer acquisition trend.
Today, many people make sure to connect with sellers or businesses before they make buying decisions. Irrespective of how long you have been running a company or the size of your brand, you can find a large audience to target on social media.
Social media allows you to share or post strategic content or use paid ads on various online platforms where target audiences spend a lot of time. This easily-made connection with social media users is a fantastic way to give your brand extensive, targeted, and valuable exposure.
Leveraging the power of social media with the help of marketing specialists can help brands maximize reach, qualified web traffic, and lead conversions. Lead conversion is the best outcome your brand can achieve from comprehensive social media marketing.
According to expert digital marketers, it is essential to determine the brand's marketing goals to plan an effective social media plan. To achieve your brand's online success, a creatively designed social media marketing strategy can do wonders.
No matter what marketing strategies you use for your brand, the goal should be to reach and connect with the audience. The aim is to boost brand awareness and drive revenue.
6 Types of Social Media Marketing
Magazines and Billboards are no longer the only way to advertise your brand. With growing digital marketing trends, you can rely on many advertising options or types. Remember that every kind of social media marketing has unique limitations and strengths.
1. Social Networks
A social network is a social media site that enables your brand to connect with a population with the same interest and background. For instance, Instagram, Facebook, and Twitter are the most used and popular sites people use for social networking. The platforms allow people or brands to connect. They're a place for people to share their thoughts, upload photos and videos and participate in discussions.
2. Social News
Social news sites allow users to share or post links to external blogs or articles. Brands usually use it to run voting on different items and display the item with the highest number of votes. Reddit is an excellent example of a social news site.
3. Bookmarking Sites
Bookmarking sites such as Diggs, Pinterest, and Flipboard are other social media marketing types. Brands can use these sites to organize and save links for online websites and resources. The sites have a "tag" option that makes it easy to search and share the link with the followers.
4. Microblogging
As the name suggests, the type of social media marketing is great for submitting your short blog, including links to service sites and products. Brands can post their written entries on the walls of the subscribers' or other users' accounts. Twitter, for instance, is the most popular micro-blogging site.
5. Media Sharing
Media sharing sites provide ways for users to post different media types. These can be video sharing or image sharing sites. The sites also feature the ability to make profiles and comment on the uploaded videos or images.
This social media marketing type encourages user-generated content to help brands curate, create, and share creativity that sparks conversation.
6. Social Review Site
People head to reliable review sites when they decide to buy something. Social review sites are another type of marketing that helps customers determine the quality and experience that different brands provide.
The sites are great for customers and brands to understand customers' perspectives and identify if there's room for improvement.
The Benefits of Social Media Marketing
For Brand Building
Social media platforms have a unique visual nature that allows businesses to build a visual identity among vast audiences. Over the years, social media marketing has played a vital role in helping brands improve brand awareness. It is worth noting that brands can build better brand awareness with the help of campaigns.
Social media marketing can increase the scope and exposure a business receives. The more exposure a company has via social media, the more traffic it will get. Social media platforms are great for making loyal customers or generating leads.
With a solid online presence, brands can make successful business partnerships, improve sales, and lower marketing costs.
For Business Growth
Social media marketing allows brands to tell or share their story across different platforms. They help businesses spread their message and keep buyers informed about their vision and goals. Brands can keep audiences and prospects updated about their services and products.
When B2B marketers leverage the power of social media, they extend the reach of their brand even further. Most research has shown that social media marketing can produce double the leads as telemarketing, trade shows, pay-per-click, and direct mail campaigns.
In fact, the social media lead conversion rate is 13 percent higher than the average lead conversion rate. Statistics show that social media is an important channel for technology and B2B brands. It plays a vital role in the overall growth of the brand.
Read also: Best LinkedIn Tactics to Grow Your Company
For Traffic to Your Website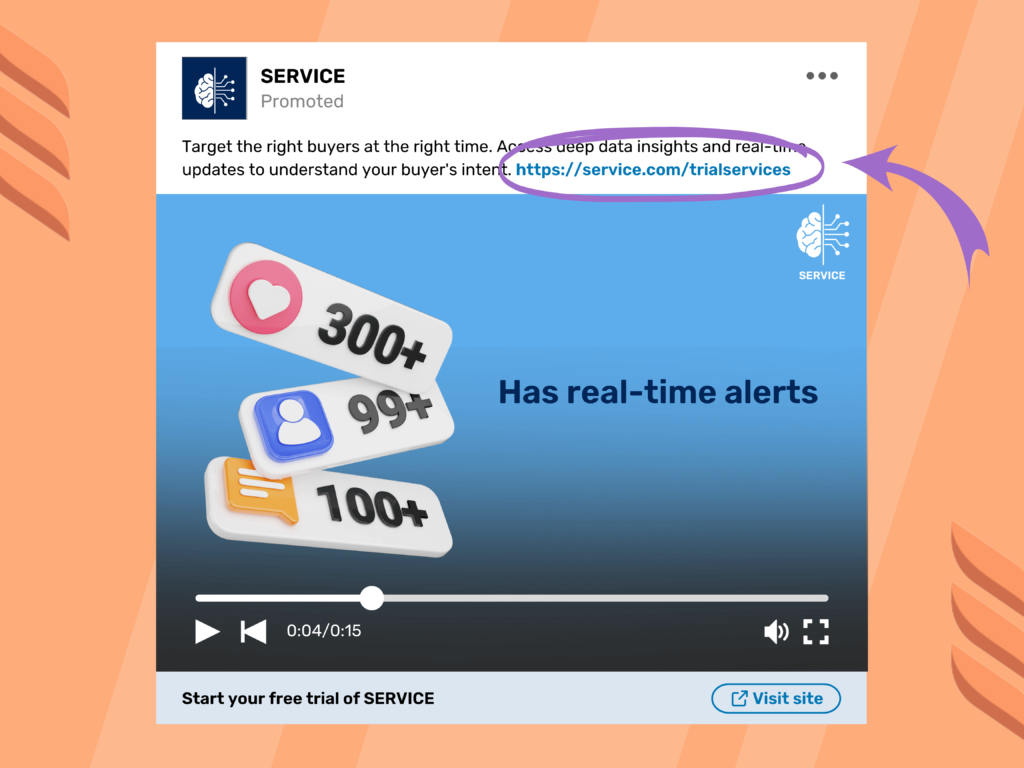 Inbound marketing is another major benefit of social media marketing. By sharing links to your blog posts or website content on social media, you can drive more traffic back to your site. This is especially true if you create shareable content that resonates with your target audience.
For Content Creation and Distribution
Did you know social media communities are a great way to create and share thoughtful and original content?
Promoting the content on different social media channels allows your brand to get well-researched and smart content among the audience, grow your leads, and prove your expertise. For instance, Hootsuite used its Twitter account to post some interesting Infographics, stats, and fun facts from its recent digital global report.
Similarly, brands can create employee-generated and user-generated content to develop innovative and fresh options. However, solid content marketing is essential to maximize the advantages of social media for the brand.
For Communication
Keep in mind that your prospects talk about your services or product on social media. If your brand is on the ball, you can discuss a critical post about the brand to address negative feedback or highlight positive aspects.
Be sure to tell people your side of the story. If someone likes something about your products, send them thanks or appreciate them. In contrast, if someone has complaints about the services, you must deal with them carefully and professionally.
In such instances, it's essential to have a communication crisis plan. Remember that even a small number of negative comments or shares can cause a devastating impact on your community. Have a plan in place to manage social accounts and ensure you're ready to deal with the worst-case scenario.
Unlike conventional media, social media platforms allow you to contact, interact, and discuss things directly with your customers. You need to stay active and responsive to cater to people's comments and questions on social media networks.
For Gaining Insights
Learning about your prospects and customers is imperative to meet their needs and demands. The good news is that social media platforms generate tremendous customer data in real-time. Your brand can use these insights or information to make intelligent business decisions.
For example, you can use LinkedIn as social media marketing tool to learn about your client's interests, needs, and pain points. And then, you can create content that addresses those needs and helps solve their problems. You can also use social media scraping tools to get data about your target audience.
All top social media networks use analytics to provide accurate demographic information to interact via accounts. It is an excellent way to tailor or design your social media marketing tactics to reach and communicate with your real audience.
In addition, social media monitoring is a critical component of audience engagement. You don't have to determine how many people talk about your brand online or what they talk about. Put simply, their feelings and emotions about your brand are what help them build a perception or impression.
If there are mentions and comments with negative sentiment, you need to figure out the problem and ways to address it.
For Advertising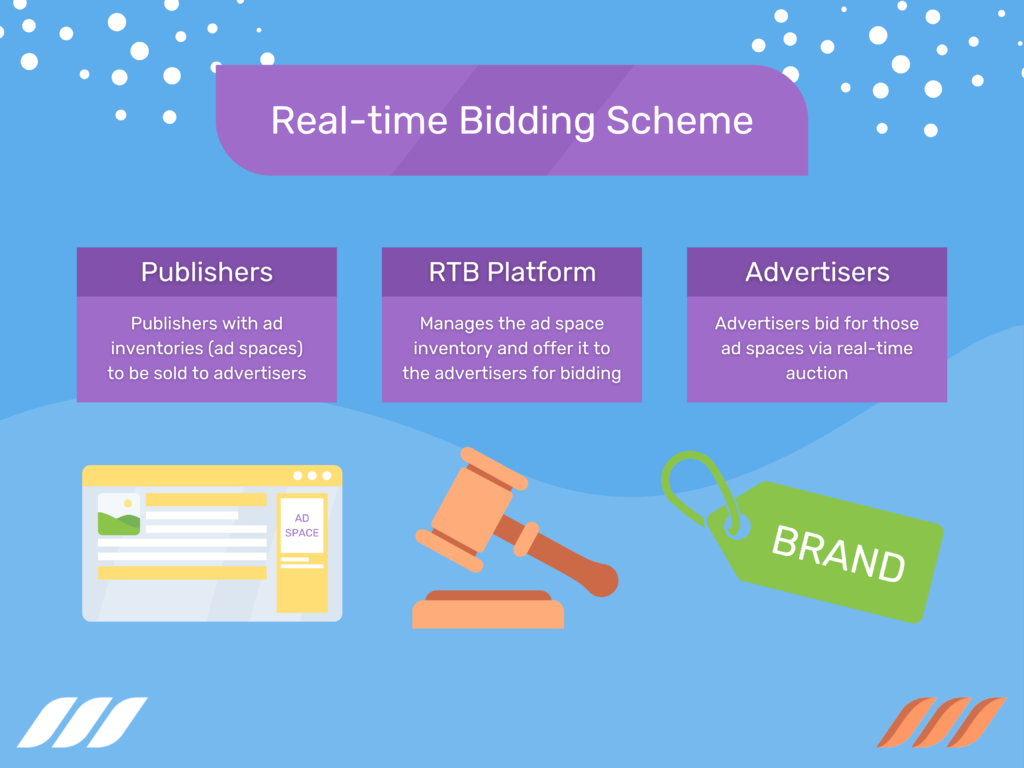 Social media marketing is one of the most inexpensive ways to promote or advertise your brand. In fact, social media ads are a cost-effective way to distribute content and promote business. It doesn't end here, as the ads come with powerful and impactful targeting options to effectively reach the audience within a budget.
Many savvy businesses and marketers use social media ads to benefit their brands. According to the latest statistics, social media promoters are expected to invest over $56 billion in product marketing on social media.
Brands create campaigns and programmatic advertising that can reach across different services and apps to a custom audience in the USA. Programmatic Advertising uses AI technology to mechanize ad trade and target a specific audience.
For example, real-time bidding is programmatic ad buying. This automation is faster and more well-organized, translating into higher conversations and reducing consumer acquisition.
Interestingly, programmatic advertising has the potential to modify advertising trends swiftly. Recent EMarketer data shows that approximately 90 percent of display ads on social media will be programmatic by 2023 in the USA.
For Budget
Social media marketing can save you time and money. You don't essentially need to hire agencies or consultants to do social media marketing for you because you can do it yourself, especially as a small business owner.
The good news is that social media automation tools have your back. Software like Dripify sales automation tool allow you to put the repetitive tasks of prospecting and lead generation on LinkedIn on autopilot. Cost-effective sales automation software can help grow your leads and sales without spending a fortune.
For Lead Generation
Social media can also be used for lead generation. For example, you can use social networking sites like LinkedIn or Facebook to draw people so they join your email list or visit your website. Next, you can use email marketing to convert those leads into customer and grow your business.
Check out these lead generation marketing trends for more ideas.
For Proving ROI
Social media presence is fundamental in online promotions, search rankings, and marketing. Current stats found that social media users have amplified to 4.47 billion. In recent years, over 340 million users joined Facebook, Twitter, and other social media platforms.
Also, Web Index's current stats revealed that a user spends 2 hours on different multi-networking sites daily. It includes eight to nine messaging and social media apps. The increasing number of social media users shows that brands need to focus on their social media marketing tactics to build brand awareness and reach their target demographics.
Moreover, social media platforms are essential to a brand's sales funnel. It refers to the process via which a new user or prospect becomes a long-term customer. With different social sales tools, brands can improve their eCommerce and product search. The evolving tools allow you to align your marketing and advertising efforts with sales goals.
For example, analytics and social media tracking tools enable you to see the full effect of social media tactics and strategies. You can track anything from follows, engagement to conversion, and purchases with these tools.
The Essentials of a Successful Social Media Marketing Strategy
Before we get into tips you can use to create a social media marketing strategy, it is vital to learn some essentials of a successful strategy.
Create an Audience Persona
Speaking to a specific population or audience through social posts is the core of your social media marketing plan. If you don't have a clear or intuitive idea about the audience you want to target, it is better to create an audience persona.
It typically analyzes the audience's demographic, including their needs, fears, and interests. Creating an audience persona will help you choose the right social media platform to connect with the users.
Whatever goal you choose, align it with different metrics to measure your success later.
Know Analytics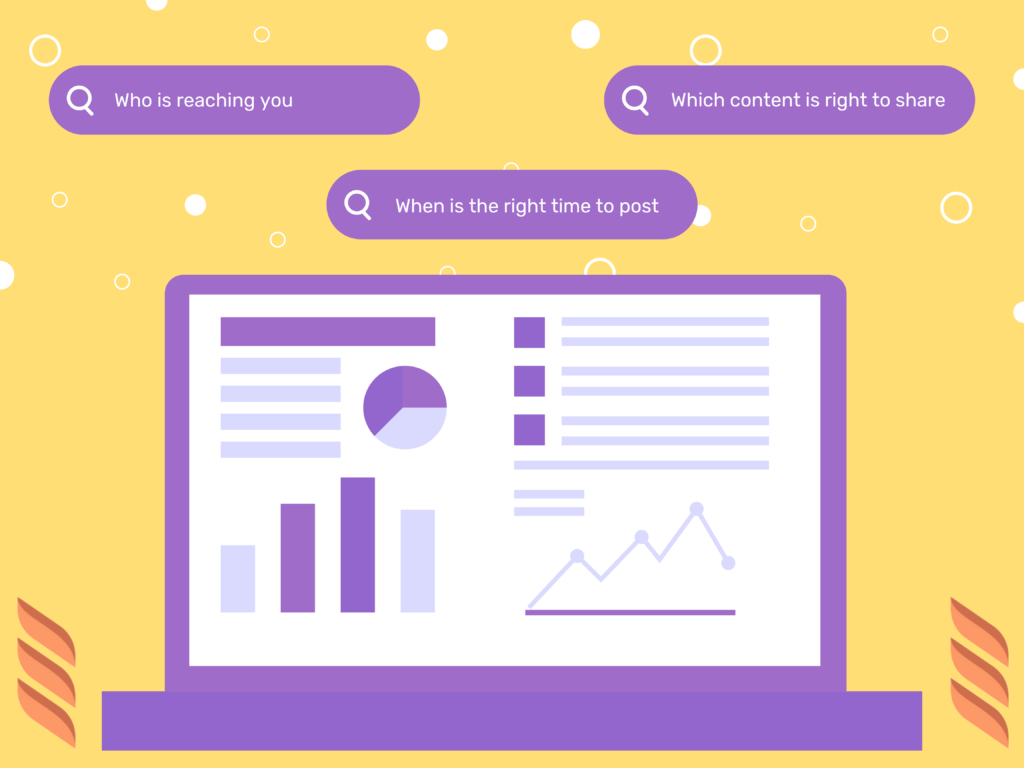 Keep tabs on quantifiable insights to determine who is reaching you, which content is right to share, and the time to post.
Budget Your Plan
Budgeting is also essential to determine how much of a budget you want to allocate to the social media marketing plan. You need to itemize your potential expenses to determine where your money will go.
You should have enough finances to invest in:
· Campaign content
· Paid social promotions
· Social media management tools
· Analytics tools
· Engagement efforts
Have a Content Strategy
A social media marketing strategy requires a mix of content to attract people. You need to develop a comprehensive process to improve this content and its worth. It should be visual, practical, and emotional to ensure optimal results from your content.
Integrate with Digital Strategy
Note that social media marketing isn't just about building brand awareness. Over half of marketers and businesses using social media consider it essential to improve sales. That is why it is crucial to integrate your social media marketing strategy into a large digital marketing plan.
Here is what you can integrate into your marketing plan:
Content marketing
Email marketing
Display and PPC advertising
Offline marketing
Search engine marketing
Important Social Media Marketing Statistics for Your Business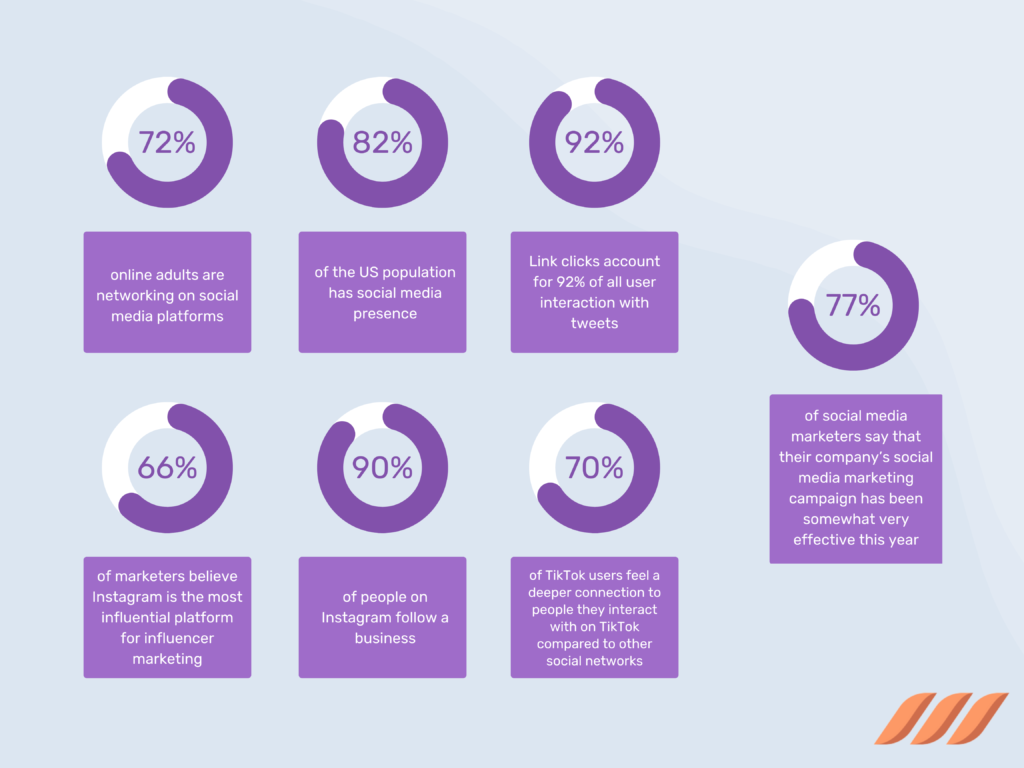 Everyone is using social media, from your five-year-old niece to your great-grandmother. Okay, maybe not your great-grandmother, but a whopping 72% of online adults are networking on social media platforms, up from 67% just four years ago.
And 82% of the US population has social media presence. Let's have a look at some more statistics.
As you can see, social media is extremely popular and will only continue to grow. If you're not using social media for your business, you're missing out on a huge opportunity to reach new customers and grow your business.
So what's the first thing you need to do to use social media for your business effectively? Let's take a look.
Get Started With a Social Media Marketing Strategy
A social media marketing strategy is a crucial part of any solid social media marketing plan. It gears your business for the success on social platforms. It gives you a clear road map to follow and helps you achieve your business goals.
Here's how to create an effective social media strategy for your business:
1. Set Goals
The first step is to set goals for your social media marketing strategy. What do you want to achieve with social media? Do you want to increase brand awareness, drive traffic to your website, or generate leads?
Once you know your goal, you can start setting objectives.
For example, if you want to increase brand awareness, you could set an objective to get your brand name in front of X number of people in X weeks or months. Or, if you want to generate leads, your objective could be 'to get X number of leads from social media in X weeks.'
2. Understand Your Audience
The next step is to research your audience. Who are they? What do they want?
You can use social media listening tools to help you with this step. These tools allow you to track what people say about your brand and competitors.
You can also use demographic data from social media platforms to get an idea of who your audience is and what they're interested in. For example, LinkedIn Learning helps you research your audience on LinkedIn.
3. Choose Your Social Media Platforms Wisely
It's time to pick the social media platforms for your campaign. Not all social media platforms are created equal. Some are better for certain businesses than others.
It's important to choose the social media platforms that are most relevant to your audience and where they're most active.
For example, if you're a B2B company, LinkedIn is a place to run your SMM campaign. Or if you're in a B2C business, consider using a combination of platforms like Facebook, Instagram, and Twitter.
4. Know Your Competition
It's also important to research your competition. What are they doing on social media? How are they connecting with their audience? What are their strategies? What type of content they're creating? You can use this information to improve your own social media strategy.
And don't just look at the basic metrics to know your competition. Consider running a complete competitive analysis to understand their social media marketing strategy and improve your strategy accordingly.
5. Create Content That Converts & Connects
Your social media content must be valuable and interesting to your target audience. It should be relevant and help the consumers achieve their goals or overcome their problems.
Find inspiration from your competitors and other businesses in your industry. See what's working well for them and adapt it to your own business. And don't forget to include calls-to-action (CTAs) in your content. These are essential to generate leads or get people to take action.
6. Create and Follow a Social Media Content Calendar
A social media content calendar will help you plan and publish your content regularly and effectively.
Your social media calendar should include:
The topics you'll be covering.
The content you'll share (e.g., blog posts, infographics, images, videos, etc.).
When you'll share your content (e.g., Monday mornings or Wednesday evenings)?
Which platforms you'll be sharing your content on.
7. Monitor & Do a Social Media Audit Regularly
It's important to monitor your social media activity and regular audit. This will help you see what's working and what needs improvement. Be sure to keep track of your social media analytics because they reflect whether or not your strategy is working.
You can use social media marketing tools to track your brand mentions and see what people say about your products or services. As your business grows, you must constantly track performance and adjust accordingly.
Social Media Marketing Tips
So, you have learned how social media marketing works, let's find some tips to help you get started with your comprehensive social media campaigns.
1. Create Dynamic Content
Content is the most important aspect of social media marketing. You need to ensure that your post is educational, informative, and answers your audience's questions. The ideal content should include the following:
quick tips
How-tos
Insights and data
Announcements and updates
Questions, polls, and contests
You can use different social media formats such as live streams, images, online stores, and videos to make your content more engaging and exciting.
2. Create Uniformity
You can project your business across a wide variety of platforms. Note that each platform offers a unique voice and projection. It is essential to create uniformity in terms of your business's identity, whether fun or friendly.
3. Engage with Participants
A professional social media account of your brand isn't enough to ensure an online presence. To make an impact, you need to pay attention to people who engage with your content and posts. Make sure you respond to comments on your posts, conduct live streams, plan real-time questions, spark discussions, and post polls.
4. Benefit from Content Creation Tools
All social media platforms are equally engaging and require your brand to create or post unique content that garners users' attention.
If you want to set your post apart from others, add relevant and attractive visuals, illustrations, texts, and photos. Use quality content creation tools and templates to create professional visuals and logos to make your mark.
5. Create Unique Feed
Uniqueness is the key to making your brand's social media account stand out. Make sure to keep tabs on your competitors, generate ideas to make your marketing strategy, and find ways to fill the gaps in your plan. Follow brands with successful content strategies and values.
6. Follow the three Rs
Social media is an engaging place and needs brands to be active when gaining traction among the audience. To stay on the top of people's minds, you need to post valuable content regularly. The best way to do this is to follow 3 Rs:
Repurpose – create a post from reviews, post a blog into the series of Tweets, or share a case study of a customer.
Repost – Repost or retweet influencers' content, and reshare links in the post to keep your content calendar full
Recycle – Recycle an old video and repost it on the top performing blogs monthly to get new followers
7. Use Analytics to Measure Success
Tracking data is essential to determine the success of your social media marketing techniques. You can use Google Analytics to measure the most successful tactic and strategies for your brand's marketing. By attaching tracking tags to marketing campaigns, you can monitor them.
8. Keep Eyes on Trends
Once you're done with key messaging, find out what is trending on social media. Find a strategy or pattern increasing in popularity and align it with your brand's key message. It can help you capitalize on trends and drive engagement.
9. Focus on Video Content
There is no denying that video content is more engaging. With the birth of live sessions, IGTV, and rapid YouTube growth, no social media marketing strategy is considered effective without video content. A tweet with a video is 6x more likely to be reposted compared to just text or photo. Therefore, using videos in your posts or content is one way to get more exposure.
10. Join Communities
With extensive social networks, small communities have become more critical. Make sure you connect with like-minded brands within your domain and people through Twitter Chats, Facebook Groups, or LinkedIn Groups.
The Best Social Media Marketing Platforms for Business
LinkedIn
LinkedIn marketing strategy helps you establish your brand reputation. You can manage company pages, connect brands with different industry leaders and create valuable posts for businesses on this professional forum.
Facebook
Facebook is an ideal platform to market your services cost-effectively. You can expand your reach on this powerful social media platform with Facebook optimization.
YouTube
YouTube is the largest platform online shoppers use to discover brands. Upgrade your YouTube social media marketing to capture and compel the attention of prospects.
Twitter
Using your professional Twitter marketing account is the right way to spot target customers, create paid or organic marketing strategies, and measure analytics.
Instagram
Instagram is a great platform for businesses in any industry, but it's especially useful for B2C companies. It's a visual platform, so it's perfect for businesses that sell physical products or services.
Even if you have a brick-and-mortar store, you may want to use Instagram to give your customers a behind-the-scenes look at your business. You can also use it to showcase how your products and services work.
Snapchat
Snapchat stories can be vital in keeping your prospects and potential customers updated about your brand activities.
TikTok
Use TikTok to promote your services and products. It can help you create organic and viral content.
How to Use LinkedIn for Social Media Marketing
1. Create a company page on LinkedIn. This will help potential customers learn more about your business and what you offer.
2. Use LinkedIn Groups to connect with potential customers and partners. Groups allow you to share your expertise and connect with potential customers and partners.
3. Use LinkedIn Ads to target specific groups of people based on their job titles, company size, or other factors.
4. Share long-form content with your followers using LinkedIn Pulse. Consider sharing articles, infographics, and other content with your followers.
5. Connect with influencers. Connecting with LinkedIn influencers can help you reach a larger audience and build your brand. You can use LinkedIn for B2B lead generation as well.
LinkedIn is a powerful tool for small businesses to reach out to potential customers and generate leads. However, manually connecting with and messaging potential customers can be time-consuming and repetitive.
You may want to automate much of the LinkedIn prospecting process with the help of an automation tool. LinkedIn automation makes it easier and faster for businesses to generate leads and boost their sales.
Top 7 B2B Social Media Marketing Tools
Dripify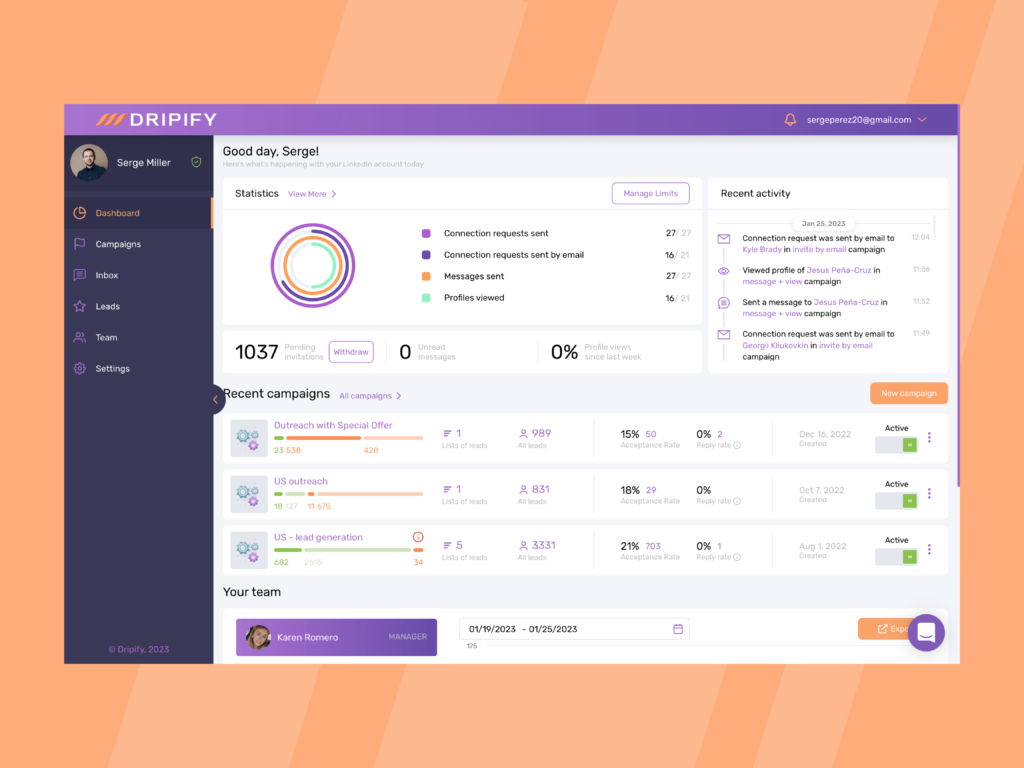 If you're looking for the most advanced tool for LinkedIn lead generation and sales automation, Dripify is the best option. The hi-tech tool allows brands to establish their sales funnel within a few minutes. The tool is easy-to-use and lets the software complete most tasks.
Several other features can help you improve your LinkedIn prospecting and get more deals. It is one of the modern marketing platforms for professionals in software, tech, and SaaS. Dripify empowers your brand to harness drip marketing's power to generate prospects automatically.
Dripify sales automation tool can help you take potential talents onboard, develop unlimited and brilliant prospecting campaigns, and provide prompt responses via innovative inbox features in Dripify Export.
Read also: Why You Need Dripify for Marketing Agencies
LinkedIn Sales Navigator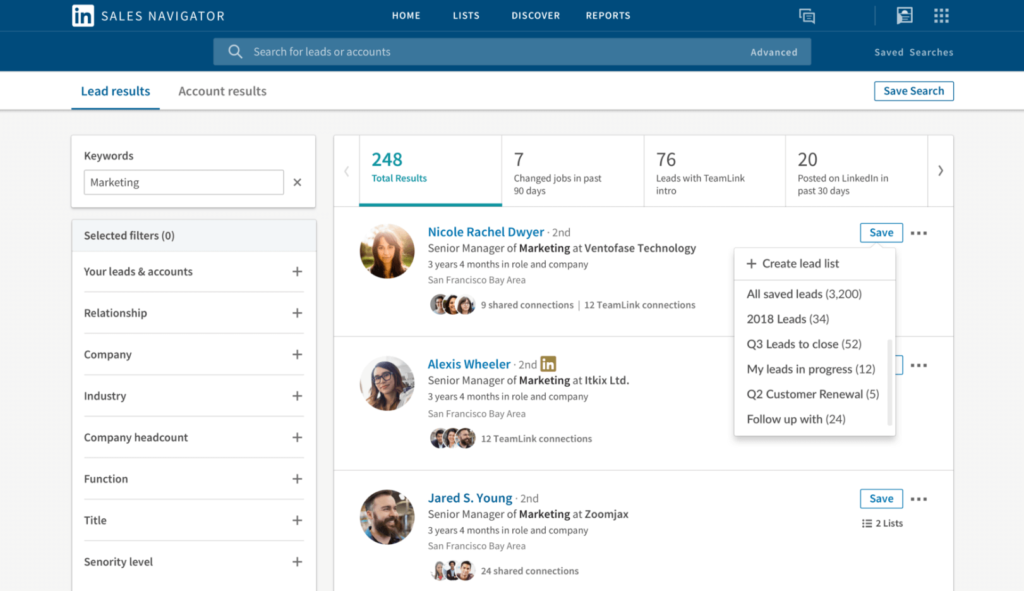 The flagship product by LinkedIn is for brands' sales teams. It enables ops leaders, managers, and representatives to inform their strategies and approaches through LinkedIn's expansive insight, data, and relationship tools.
It can quickly identify and discover people, brands, and communities that are fit for the service or product you offer. Plus, it engages and converses with prospects in the ready-to-do environment while helping you benefit from content-sharing capabilities.
Ahrefs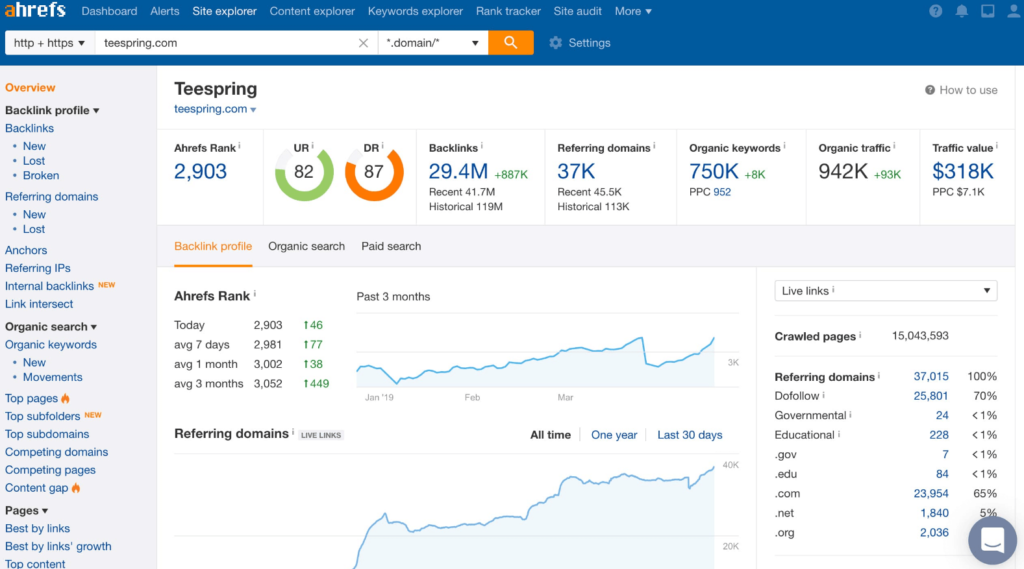 Many firms and brands consider paid and organic search traffic the most crucial traffic sources. You need insightful and reliable data to benefit from this source, and that is where you need Ahrefs.
Ahrefs is an all-in-one SEO toolset that is excellent for optimizing your website, running keyword research, analyzing competitors, building links, and getting content ideas.
HubSpot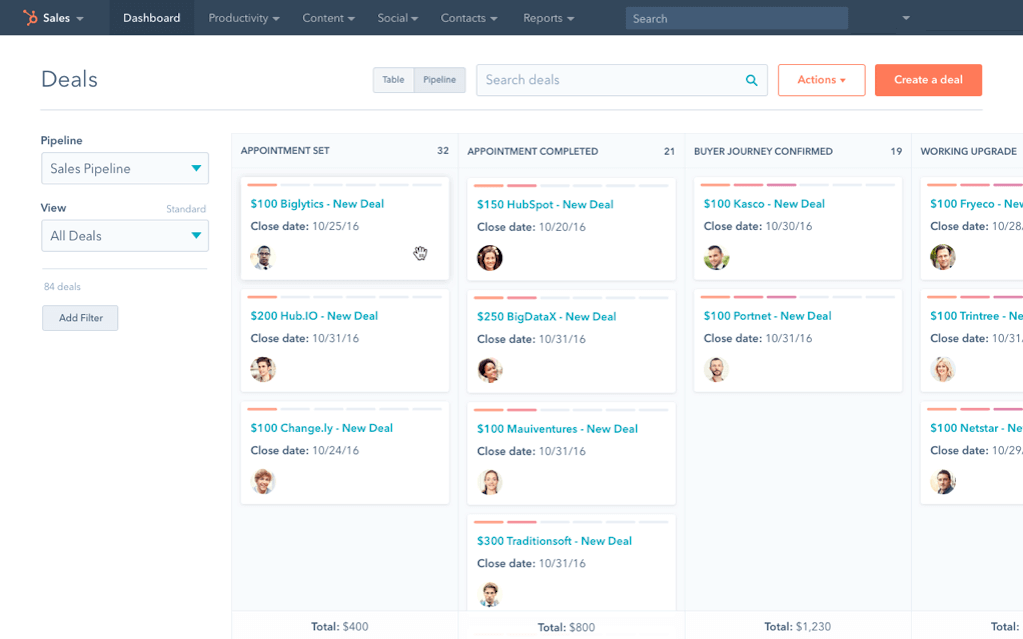 HubSpot comes with inclusive reporting capabilities. As HubSpot's comprehensive model enables you to connect your marketing tactics, depending on the plan you choose, you can track marketing campaigns and follow buyers along their journey.
Typically, HubSpot uses the details and information brands provide to contact them about relevant products, content, and services. If you don't find the campaign helpful, you can unsubscribe anytime.
Salesforce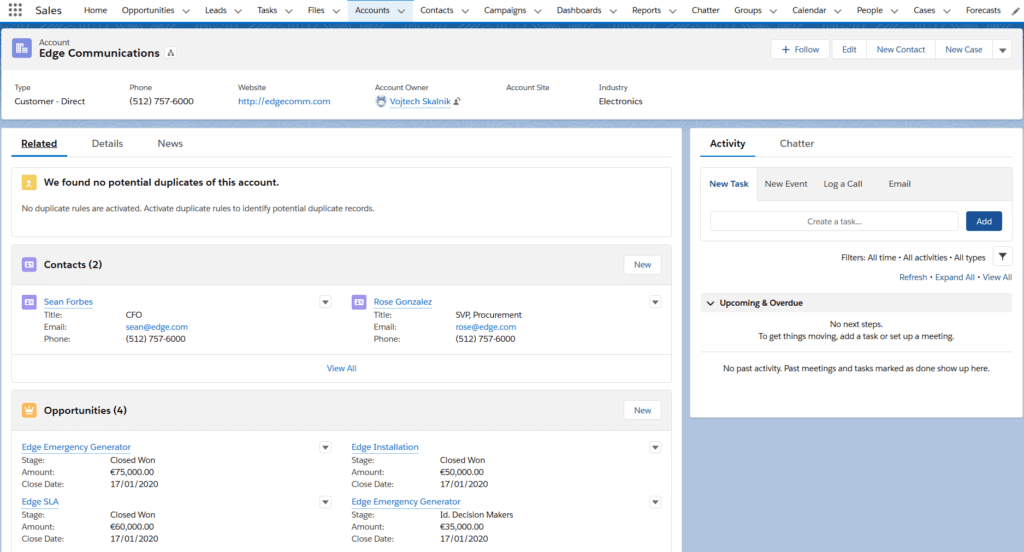 Salesforce is another effective B2B marketing tool specializing in CRM (customer relationship management).
Its data-driven approach has made it a leader in the industry. It is one of the superior social media platforms and studios with effective capabilities to handle many marketing facets such as dynamic customer journeys, multichannel campaign execution, pre and post-campaign analytics like audience segmentation and building, social media advertising, and engagement.
HotJar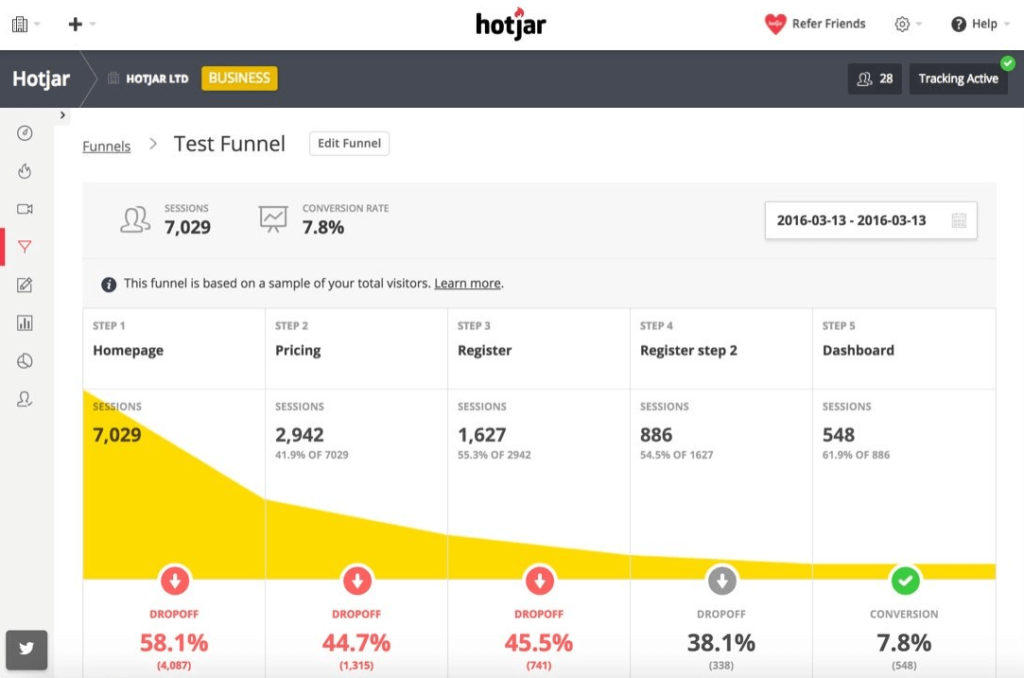 HotJar is another powerful tool you can use for effective social media marketing. It can help you determine users' voice and online behavior. The social media marketing tool combines other feedback tools and analysis to provide you with a big picture of the strategy you can use to improve the conversion/performance rate and user experience.
HotJar complements the insights and data you obtain from conventional web analytics tools such as Mixpanel or Google Analytics. It is an easy-to-use and industry-leading service.
BuzzSumo
BuzzSumo is a popular cloud-based tool to help brands discover the most effective outreach, content, and engagement opportunities on social search. With this brilliant B2B social media tool, you can find trending stories, content success, and new keywords while keeping tabs on your brand's most important marketing components.
The most posted and shared content report of BuzzSumo is its most powerful feature. Simply add a topic, hit 'search,' and presto, it can present you with some of the most shared content on LinkedIn, Twitter, Facebook, and Google+. You can also get an aggregate value of various social media channels.
Conclusion
Social media marketing has become an important platform for businesses to reach their target audience. The explosive growth of social networks and the increasing time people spend on them have created a unique opportunity for brands to connect with customers directly and build trust.
Social media marketing is not just about broadcasting content but also about listening to what your customers want so that you can give them more of what they like. You need a solid social media marketing strategy to drive customer engagement and brand loyalty.
With a comprehensively designed social media marketing plan, you can create, manage, and assess the content you post on various social media platforms. It helps your brand improve engagement with customers and boost sales and revenues. If you operate a business, use this post as a guide to reach potential customers and drive sales through social media.