If you're like most people, you probably have a LinkedIn account that you use for networking, marketing, or exploring business opportunities. But what if we told you that LinkedIn offers a lot more than just a way to connect with colleagues or grow your business?
LinkedIn Learning is an understated subsidiary of LinkedIn where you can equip yourself with in-demand skills and level up your professional journey. It is an excellent platform for online courses as it offers tons of valuable content for anyone looking to learn new skills or broaden their knowledge base.
This powerful e-learning platform didn't get much attention in the first few years of its development. But that changed in 2020 with the emergence of COVID-19 when more people were working from home and seeking industry-specific education and online training.
In this comprehensive LinkedIn Learning review, we'll give you full information about this learning platform and its different features. Whether you're looking to make a career change or simply want to improve your skillset, LinkedIn Learning is definitely worth checking out!
What is LinkedIn Learning and How Does it Work?
Formerly known as Lynda.com, LinkedIn learning is an on-demand, video-based learning platform. It comprises more than 16000 courses, segmented into short videos with specific learning outcomes. These courses also come with downloadable practice exercises and quizzes that you can explore at your own pace.
LinkedIn Learning offers courses under three categories — business, technology, and creative — each divided into subcategories. So, if we talk about business alone, it segments into 15 subcategories, including online marketing training, soft skills, professional development, and more.
In addition to the basic courses, the platform also offers certification programs. These are aimed at individuals preparing for professional certification exams or those looking for continuing education credits.
Besides individuals, LinkedIn learning targets employers, libraries, government agencies, and educational institutions. The platform caters to students by providing supplementary learning materials, improving business employee engagement, and helping graduates find good career opportunities.
LinkedIn Learning Features
What is included in the LinkedIn learning subscription? Here are some of the features the platform has to offer:
Offline Viewing – You can easily download the contents of the courses and access them on the go without internet connectivity.
Unlimited Library Access – There's no restriction on the number of courses you can take. This opens the doors for 16000+ courses taught by real-world professionals.
Free Trial – You get a 1-month free trial, allowing you to access 17,000+ courses and the related resources.
Certificate on Completion – The platform offers proof of course completion in the form of a certificate.
Multiple Languages – To accommodate global learners, LinkedIn learning supports six languages other than English — French, German, Spanish, Japanese, Brazilian, and Portuguese.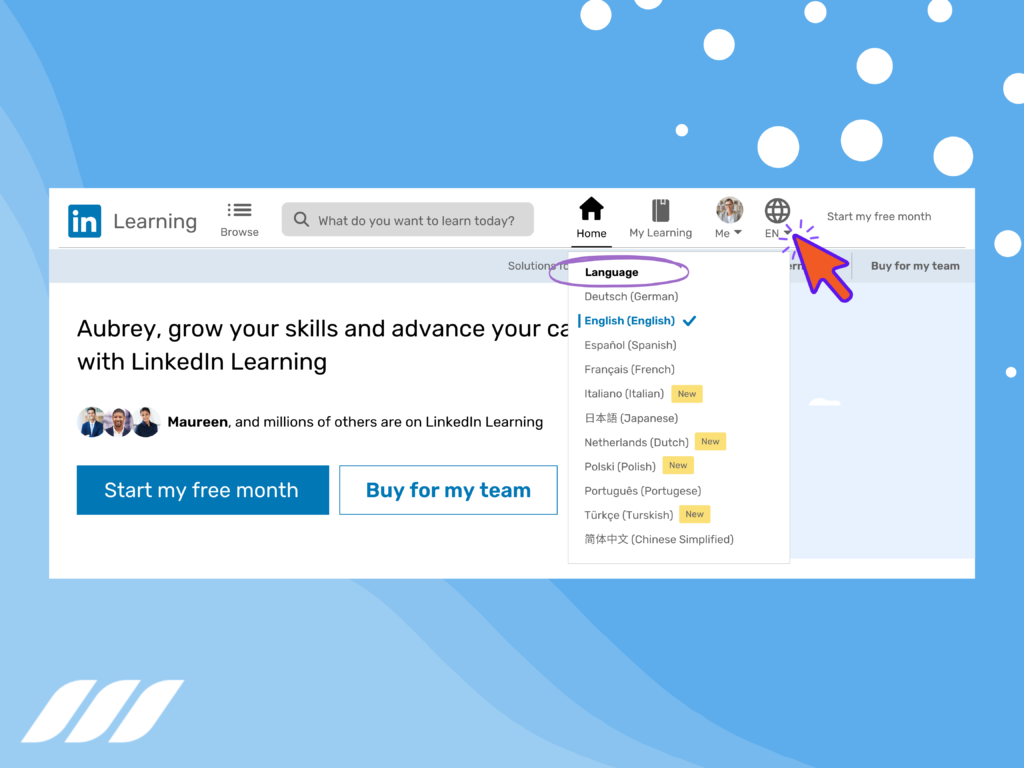 Quizzes and Tests – Every course comes with interactive resources that help your practice and reinforce the learning contents.
Transcript – Each video lecture contains a script that links to the timestamps within the video. This makes it easy to follow or click back to the spot you want to revisit.
Learning Path – This feature suggests courses centered around a particular skill or a career option.
Course Recommendation – Based on your existing skills or interests, you are offered personalized course recommendations.
Q&A Section – This is where you could ask questions from the instructors or browse solutions for any problems you come across.
How Much Does LinkedIn Learning Cost
LinkedIn learning supports two types of payment options. You could either pay for individual courses or sign up for a monthly or annual subscription.
Monthly subscription: It comes with a subscription charge of $39.99 per month
Annual subscription: It would cost you $239.88 per year, working out as $19.99 per month
The only difference between the two options is that you'd be saving 50% with an annual subscription. However, with both LinkedIn learning subscription plans, you'd gain access to complete features and a 1-month free trial. On the other hand, buying an individual course would range between $20 and $40, including tax.
Is LinkedIn Learning Worth It?
By analyzing real-time data to identify your required skills, LinkedIn learning sets up a personalized learning experience for you. It assesses your profile to determine what skills you've listed, who's in your network, what kind of content you like, and what opportunities you are after.
Plus, the courses on LinkedIn learning come with tagged skills. Primarily, this allows you to share those skills on your LinkedIn profile once you've acquired them. Also, when you search for a specific skill, the algorithms match those in the course library to give you appropriate suggestions.
Another factor that sets LinkedIn learning apart is how it keeps on evolving. The platform releases 50 new courses weekly and ensures they're relevant, in-demand, and engaging. Besides, the courses are prepared by industry experts who prepare content based on market gaps and practicality.
Above all, LinkedIn learning helps you grow your network. How? by letting you be part of learning groups to discuss common topics and share your knowledge and ideas.
All in all, if you want to enhance your professional skills, train employees, or expand your connections, LinkedIn learning should be your go-to place.
The Most Popular Courses on LinkedIn Learning
Let's look at some of the most sought-after and highly-rated courses on LinkedIn learning.
Finance and Accounting Tips by Jim and Kay Stice
Difficulty level: Beginner to Intermediate
Learner count: 516,889
Skills covered: Corporate finance, Accounting
Course description: covers financial details and teaches fundamentals of balance sheets, debits and credits, company operating cycles, and more.
Effective Listening by Tatiana Kolovou and Branda Bailey-Hughes
Difficulty level: Beginner
Learner count: 1,188,548
Skills covered: Active listening
Course description: Focused on honing listening skills and overcoming blockades in your effective listening skills.
Introduction to Graphic Design by Tony Harmer
Difficulty level: Beginner
Learner count: 202,970
Skills covered: Graphic design
Course description: Involves high-level, creative concepts and software for graphic design projects.
Python Essential Training by Bill Weinman
Difficulty level: Beginner to Intermediate
Learner count: 534,538
Skills covered: Python (Programming Language)
Course description: Provides an in-depth understanding of the latest version of Python to help you master scripting. This includes the basics of the language syntax and usage and advanced features such as objects, generators, and exceptions.
LinkedIn Learning Courses With Certification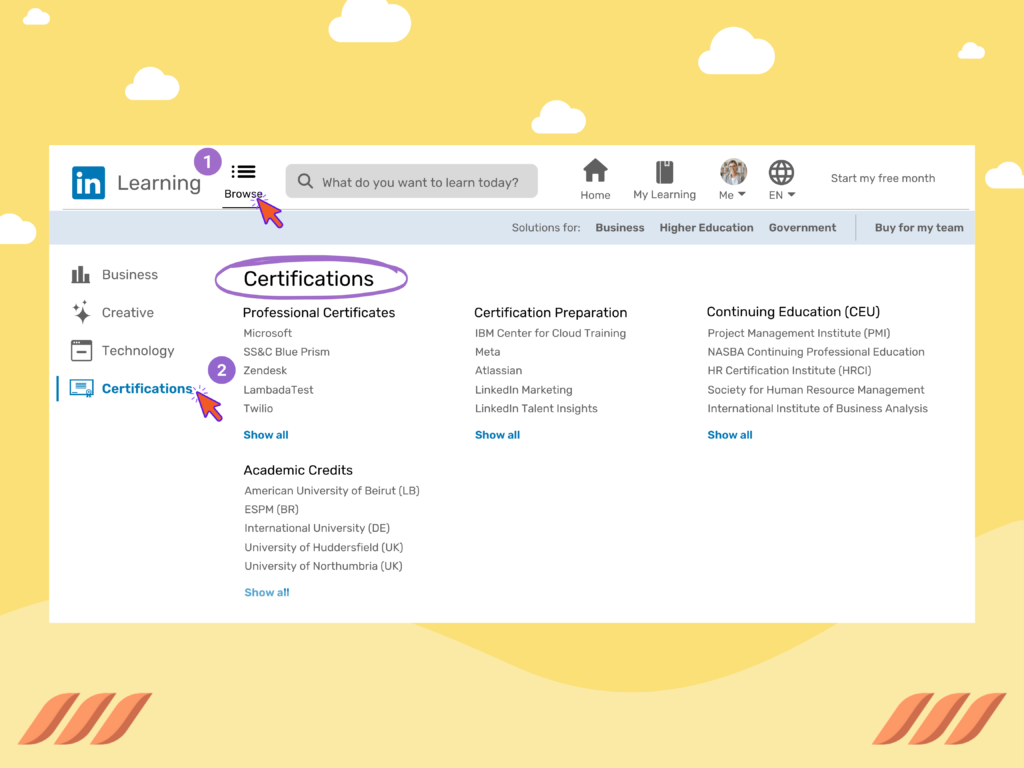 Most courses and learning paths come with a Certificate of Completion. You can go and pick a course of your choice, complete it and get a completion certificate.
But, some courses, such as weekly tip courses, involve frequent updates. This makes them ineligible for Certificates of Completion.
How do you know if a course would grant you a certificate?
Check the overview of the course to see if it gets frequent updates. If the course description states that it's a series course, there's no certification.
That said, LinkedIn certificates are not endorsed or recognized by third parties, nor are they equivalent to a degree or any professional certification. Instead, they serve as a token of recognition or evidence of completion that you could showcase on your LinkedIn profile or feature in your resume.
While LinkedIn doesn't offer professional certification, it does help you prepare for certification exams and earn continuing education credits (CEUs).
Select the Courses tab, and you can click Certification programs. This would open a new window where you'd be able to find a list of 48 popular professional certifications. By selecting your desired certification, you'll be suggested all the best matching learning paths and courses.
5 Tips to Find the Best LinkedIn Learning Courses
With one click, you will find many courses falling under a wide range of categories. But, when browsing through 17000+ courses, it might not be easy to pick one that best serves your needs.
Here are 5 ways to narrow down your choices or find out your perfect course:
Preview course
Get the feel of the course and see if you can follow the instructor by previewing courses. By watching a couple of sample videos, you could decide if getting a particular course would be worth it.
Use the course recommendation feature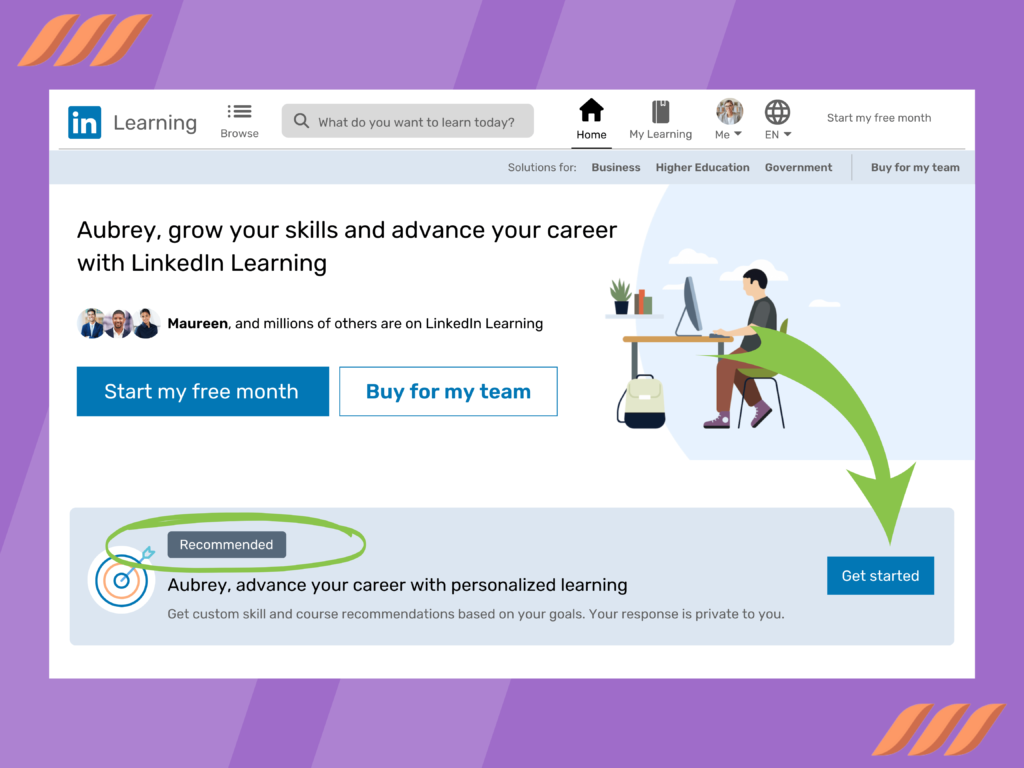 The recommendations are provided based on your skills, profile activity, or subjects you're interested in. Tags such as Trending now, Learn within 30 minutes, New releases help you choose the right course. If you want to get personalized recommendations, you could specify skills of interest.
Read course descriptions
Each course contains a description that highlights its contents, learning objectives, and how it will help your career. Make sure to check out course instructors, skills covered, and difficulty level while choosing a particular course.
Use learning paths
A really innovative and valuable feature of this platform is the Learning path. By taping into learning paths, you'll get suggestions for a series of courses that you could take to reach a larger goal — such as web developer, photoshop expert, and more.
Explore questions and answers
Every course contains a Q&A section. If you're unsure whether the course is the right fit, consider visiting this tab. Chances are you'd find similar questions already asked and answered. Regardless, it's worth speaking your mind and asking questions here to help you find clarity on the course contents.
How to Open a LinkedIn Learning Account
Follow these 4 simple steps to register for a LinkedIn learning account: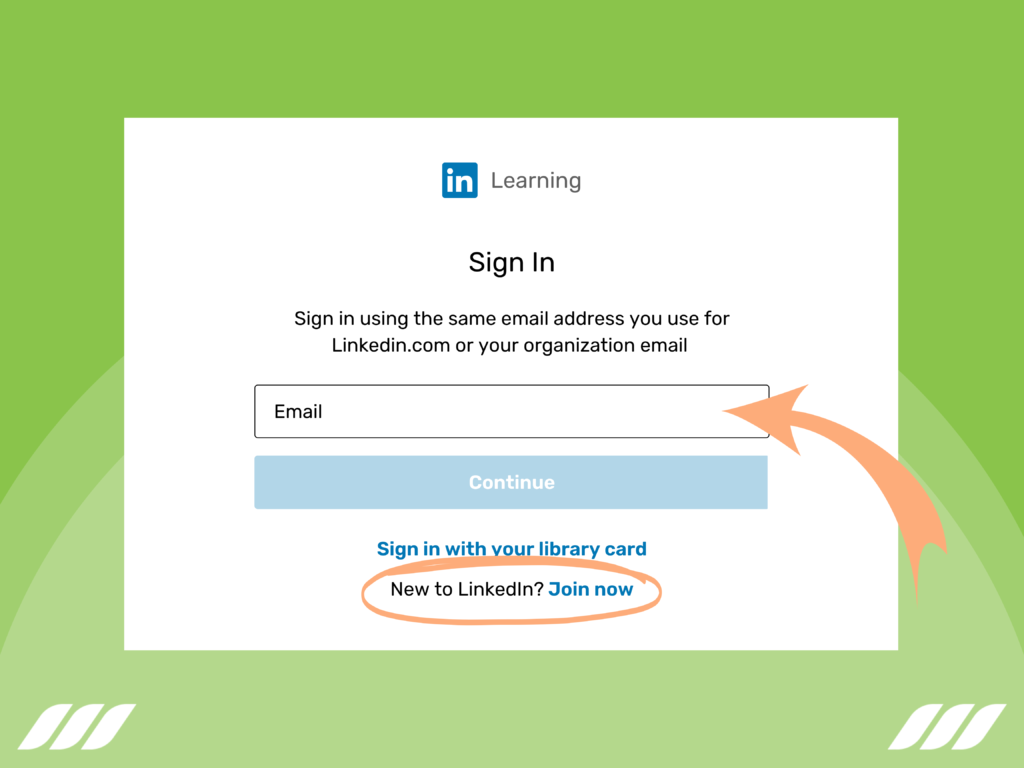 Open your browser and visit www.linkedin.com/learning/
Enter the same email address and password associated with your LinkedIn account and click Continue
Click Join now in case you don't have a LinkedIn account
Provide an email address and set up a unique password, and then select Agree & Join
LinkedIn Learning Pros and Cons
Pros:
Huge variety of courses with an unlimited access
Easy to navigate around, together with a clean design
All courses are self-paced, which means you can learn at your convenience
Can be accessed from a desktop, laptop, or smartphone (using LinkedIn learning app)
Gives you a 1-month free trial to help make up your mind
Accommodates audiences from non-English speaking regions by offering courses in multiple languages
Offers personalized courses and provides precise recommendations
Provides strong support in the form of a Help Center as well as Q&A section with each course
Cons:
The certificates of completion are not accredited by any external institution
No free courses after the trial period
Doesn't offer refunds for course subscriptions
Will LinkedIn Learning Help Me With My Career?
If you want to pursue a career in Business, Technology, or Creative fields, LinkedIn learning is your best bet. Features such as learning paths and course recommendations make it possible to acquire the knowledge and skills needed for a particular career.
The course contents are broken down into bite-sized videos that you could easily accommodate with your regular work schedule. Besides, the courses are taught by instructors with a proven record in the industry.
The bottom line: LinkedIn learning could give you a head start in your professional career or make your skillset stand out against a nominal subscription fee.
How to Cancel LinkedIn Learning
Here's how you can cancel your LinkedIn learning subscription: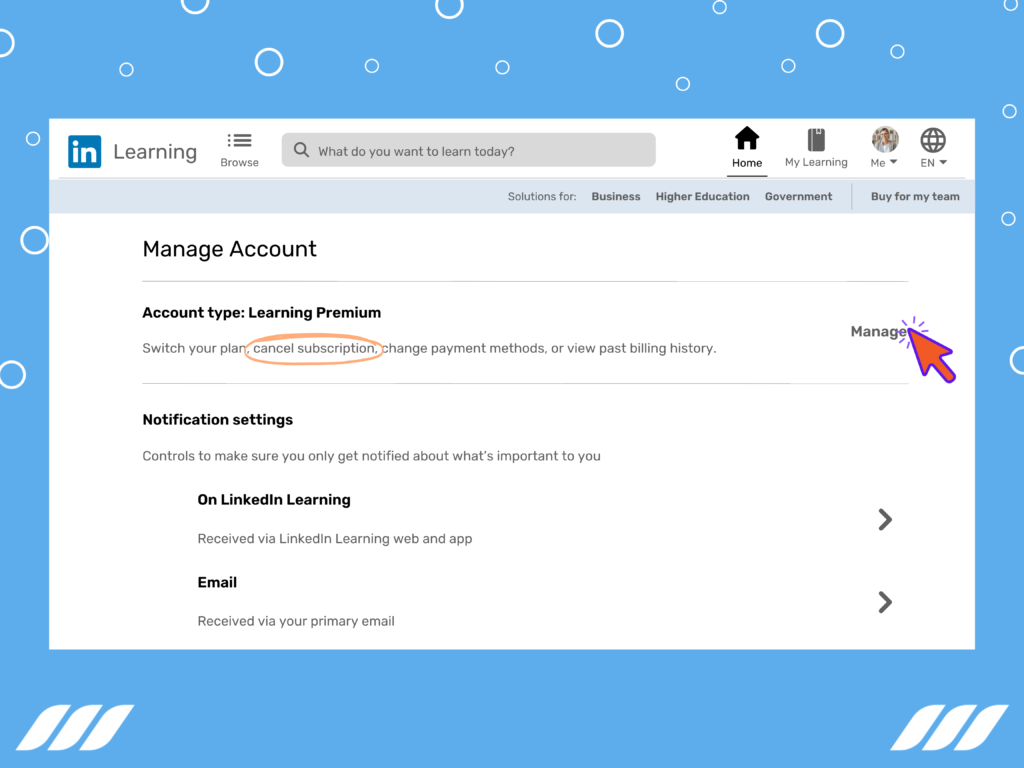 Click your photo icon on the top right corner of your LinkedIn homepage
From the dropdown menu, select Settings
Click Manage in the Account type: Learning section. This would redirect you to the LinkedIn MY PREMIUM page.
From the right rail, select the Manage Premium account.
Click Cancel subscription
Follow the remaining steps to complete the account deactivation process
LinkedIn Learning Alternatives Comparison
Udemy vs. LinkedIn Learning
Like Linkedin Learning, Udemy offers subscription-based courses on professional development from industry experts. While LinkedIn Learning hosts 16000+ courses under three main categories, Udemy features 5000 courses spread over 75 categories.
Both Udemy and LinkedIn learning support multiple languages to encourage global participation. In addition to French, German, Spanish, Japanese, and Brazilian, LinkedIn Learning has courses in Mandarin.
Unlike LinkedIn Learning, Udemy provides some free courses, with restrictions on features such as certificates, instructor Q&A, and direct instructor messages.
Website: https://www.udemy.com/
Pluralsight vs. LinkedIn Learning
Pluralsight is another paid education company that hosts a variety of video-based courses.
One way it differs from LinkedIn Learning is the course categories. While LinkedIn Learning covers three domains — business, technology, and creative — Pluralsight offers technology-based content. Some examples include IT ops, Data professional, Manufacturing & design, and Web development.
Both platforms provide learning paths, with Pluralsight differing in terms of 50+ free courses and skill and role IQ tests.
Website: https://www.pluralsight.com/
Coursera vs. LinkedIn Learning
Coursera is another learning platform designed for students, professionals, and business owners.
Although Coursera has a significantly lower course count than LinkedIn Learning (4000 vs. 16000, respectively), it offers around 1600 free courses with graded assignments (minus the certificate).
Another way Coursera deviates from LinkedIn Learning is by offering guided projects for data science, computer science, and business. Not only that, the platform partners with companies and institutions. It also provides continuing education paths and specialization for job skills.
Website: https://www.coursera.org/
Lynda vs. LinkedIn Learning
Founded 20 years ago, Lynda.com was the earliest e-learning platform. In 2015, LinkedIn bought Lynda.com, later merging and renaming it as LinkedIn Learning in 2017. Then in 2019, LinkedIn announced that users would require a LinkedIn profile to access LinkedIn Learning.
From the course and content perspective, you'd find LinkedIn learning the same as Lynda.com, except for new additions. Besides hosting the courses previously offered on Lynda.com, LinkedIn Learning gives you personalized course recommendations and integrates completion certificates with your LinkedIn profile.
Website: https://www.linkedin.com/learning/
Skillshare vs. LinkedIn Learning
If there's a platform that beats LinkedIn learning in terms of course count, it's Skillshare. Offering 25,000+ courses, Skillshare remains a catch-all form of online course marketplace, covering a wide array of topics and subjects.
Apart from being a much cheaper option, you get a two-month free trial with Skillshare (vs. 1-month on LinkedIn Learning).
One drawback of Skillshare is that it allows anyone to become an instructor, whereas LinkedIn learning permits only certified professionals and industry experts.
Website: https://www.skillshare.com/
Conclusion
LinkedIn has always been known as a robust social media site for professionals. It offers numerous opportunities to expand your business potential, connect with potential employers and grow your career path. However, another particular attribute is attached to it, known as LinkedIn Learning. You can flourish your career growth and enhance your skills, all in one place.
The broad spectrum of content on LinkedIn Learning offers multiple video and audio learning courses. Whether upgrading your proficiency in a particular field or starting to learn a new skill, this e-learning platform gives you a wide range of options.
LinkedIn Learning is not just authentic but also offers premium-quality videos. Its top features, like offline viewing, multiple language options, certification, unlimited access, etc., justify the subscription amount. Moreover, any course completion is reflected on your LinkedIn account, which amplifies your growth opportunities. Thus, it is definitely a valuable tool for anyone willing to learn and grow.
Lastly, never shy away from taking help from a LinkedIn automation tool. Not sure about which software to go with? Let us make it easy for you with a recommendation. Dripify is one the most popular automation tools that makes it much easier for marketers to get in touch with potential clients. The filters provided can help you to target precisely the prospects that have the potential to get converted.