LinkedIn is the world's most popular social media platform for professional networking. It's an excellent platform to enhance your career, expand your business, network with professionals, and obtain leads and clients.
If you are new to the world of LinkedIn, you might wonder whether to stick to a free account or go for an advanced option. Below, we have mentioned all the details required for you to understand the difference between different types of LinkedIn accounts. This article will help you choose a LinkedIn account type suitable for your requirements.
Read also: How to Buy LinkedIn Accounts
LinkedIn Account Types
Unlike most social media networks out there, LinkedIn offers its users a variety of account types. That's because it's a business and career-focused social media platform that knows every individual has different needs and requirements for networking. Plus, our professional networking needs keep changing throughout our careers.
While LinkedIn offers you multiple account choices, selecting the best account for you may be difficult without knowing the specifics, benefits, and drawbacks. So, let's look at the details of the different LinkedIn packages.
Free LinkedIn Account
If you are just getting started on LinkedIn, then a free account might be the right option. It can help you get familiar with the site, understand how LinkedIn works, and help you determine whether you need advanced options to meet your requirements.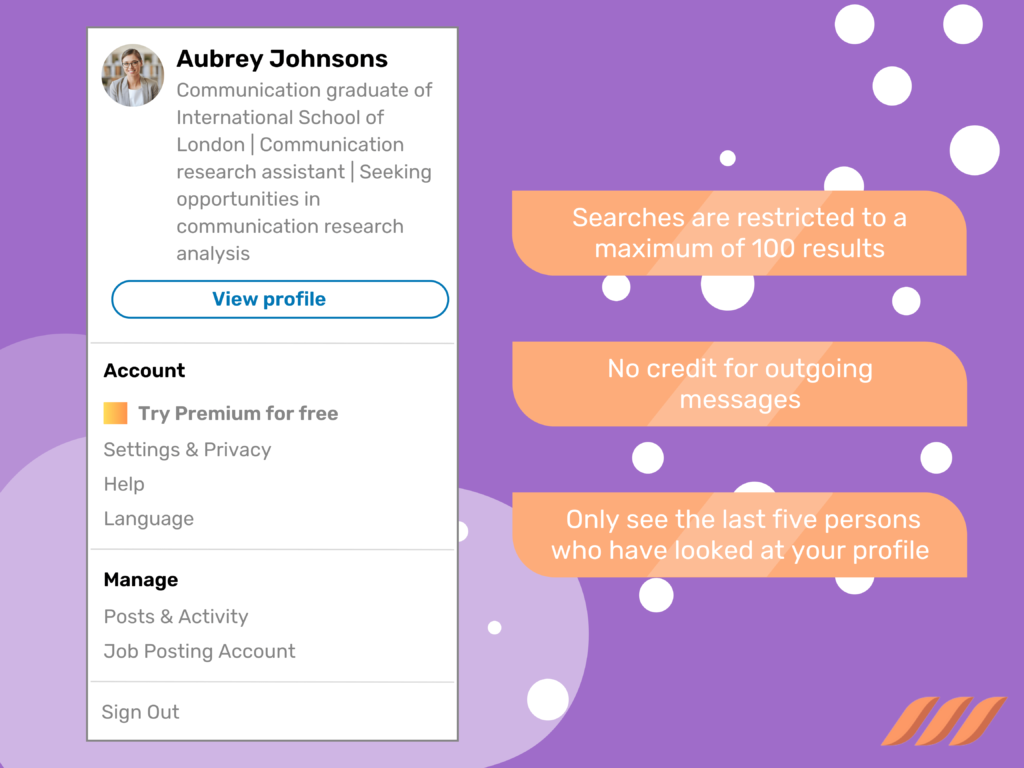 A LinkedIn free account allows you to connect with leads and coworkers while also developing a professional network using your first and second-degree contacts. Similarly, you can message your connections and look up and review profiles. Plus, you can send connection requests and receive InMail messages.
But, like all good things in life, there are a few limitations to a free LinkedIn account. For instance, your searches are restricted to a maximum of 100 results, outgoing messages do not earn you any credits, and you can only see the last five persons who have looked at your profile.
Nevertheless, a free LinkedIn account definitely gives you enough incentive to stick with it for a while until you are ready to take it a step forward.
LinkedIn Premium Account
If you have decided to take a step further in professional networking, LinkedIn premium accounts might be a good option. It can help you grow your network with some additional features not available in a free account.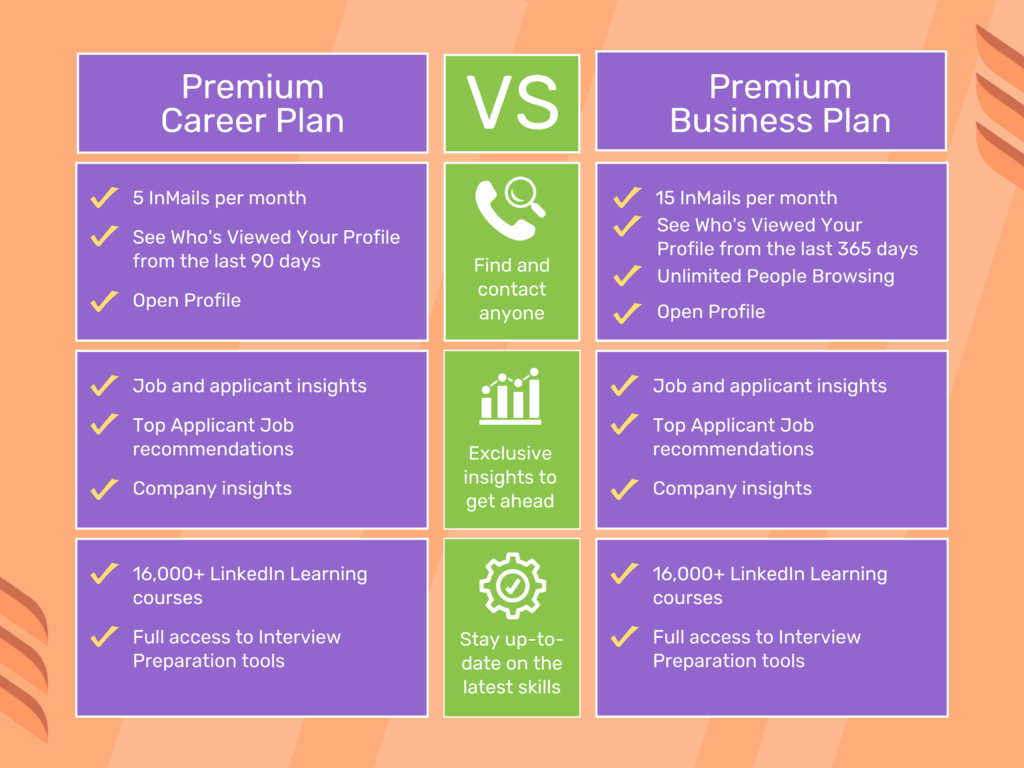 A premium account offers you insights into your industry's jobs and salaries. On top of that, you receive 5 InMail credits and get unrestricted access to those who have visited your profile. Also, for advanced searches, you can get up to 1000 results.
The best part is that LinkedIn offers a month-long free trial for premium accounts. That means you can opt for the free trial to determine whether a premium account is a suitable option for you.
The LinkedIn premium plan is divided into two categories: premium career and business plans. Let's look at both options.
Read also: How to Search for LinkedIn Premium Members
1. Premium Career Plan
As the name suggests, the career plan is designed for career-oriented individuals, such as job seekers or those who want to grow in their profession. You can use this account to gain traction on the network, draw attention from the right professionals, and network with relevant people from your industry.
The best feature of a premium career account is that it allows you to catch the attention of recruiting managers. Plus, it will enable you to compare your position to other applicants. The idea is to make the job search and application process more manageable. Likewise, the career plan helps you identify career aspects that you need to work on to gain an advantage over others.
2. Premium Business Plan
As the name implies, LinkedIn business accounts are for people who want to market their brands on a broader scale. The purpose of a premium business account is to assist you in connecting with your target market, leads, and possible collaborators who can help your company grow,
You can connect with the right professionals and ensure you get your message across. If you're someone who wants to expand a business, a LinkedIn business account might just be a great place to start your journey.
Related article: Is LinkedIn Premium worth it?
LinkedIn Sales Navigator Account
Sales Navigator is a powerful tool that LinkedIn has created for B2B sales professionals. This account might be the right option for you if you have a sales background. It helps you search, find, and network with your leads. You can use it to nurture a strategic relationship that can help convert your prospects and leads into long-term customers.
A sales navigator account offers you 20 InMail credits per month as well as lead referrals. You can also save your searches and leads using a sales navigator.
Related article: LinkedIn Sales Navigator vs. LinkedIn Premium
LinkedIn Sales Navigator Team Account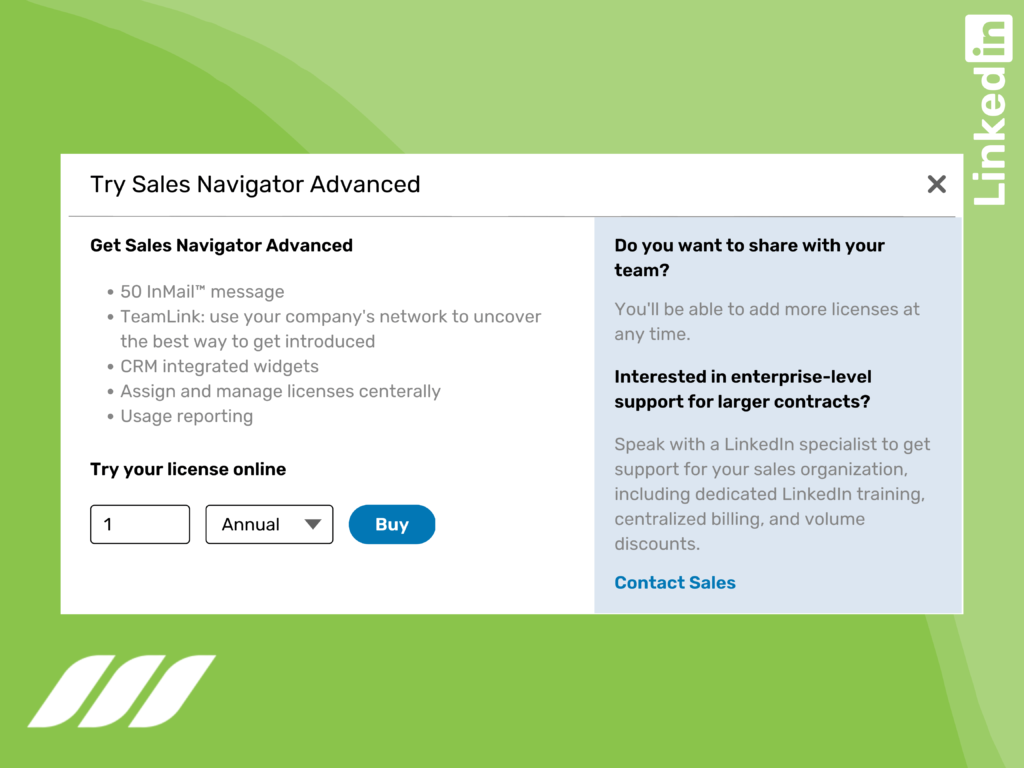 The sales navigator team account includes a variety of seats and team-focused features. Advanced features include the ability to interact via PointDrive presentations, CRM integrations, usage reporting, and more. Plus, you get 50 InMail credits every month and 5000 saved prospects.
LinkedIn Recruiter Lite Account
The LinkedIn Recruiter Lite account is ideal for hiring without dealing with a lot of paperwork. LinkedIn Recruiter Lite is a fantastic resource for finding, engaging with, and maintaining a network of possible job prospects. It also includes several benefits, like 30 InMail credits each month, 0+ search saving options, and job and InMail performance reports.
LinkedIn Recruiter Account
Hiring managers actively searching for job candidates can consider having a LinkedIn Recruiter account. This account includes extensive filters and search options to help you identify, search, and filter the best candidates for the roles you want to fill.
With a recruiter account, you get 150 InMail credits per month. And you can use 40+ search filters, as well as have access to hiring team communication tools. Other features include analytics on recruiter pipeline, performance, and usage.
Related article: Differences between LinkedIn Recruiter Lite and LinkedIn Recruiter
Choosing Your LinkedIn Membership
LinkedIn is a go-to app for jobs, business development, lead generation, career advancement, and professional networking. LinkedIn recognizes that people have varied needs and use the network for different reasons, which is why it offers various types of LinkedIn accounts.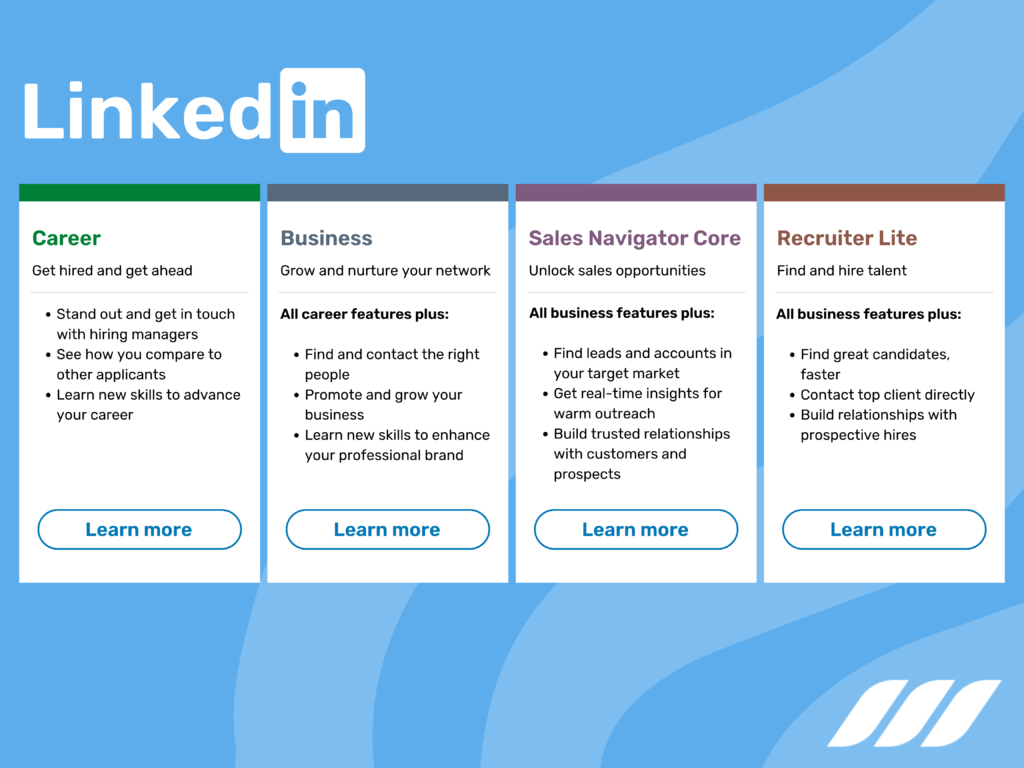 Which type of LinkedIn account you should choose depends on your specific requirements and needs. As we explained, some people use it for career opportunities, whereas others utilize it to find leads. It is good to start off with a free account to understand how the social media site works and whether a free version is enough to achieve your goals.
And if you want to upgrade to a premium option, we recommend you use the free trial option to determine whether a premium account suits you. This way, you will be able to make an informed decision.