Are you looking to connect with LinkedIn Premium members but not sure how to go about it? Well, you're in luck because, in this article, we'll show you exactly how to search for LinkedIn premium members.
First things first, let's talk about what LinkedIn Premium is all about.
LinkedIn Premium is a paid subscription service that provides users with additional features and benefits unavailable to regular LinkedIn account holders. These benefits include advanced search filters, access to premium profiles, and the ability to see who has viewed your profile.
But the question remains: is LinkedIn Premium worth it?
The answer to that question really depends on your goals and how you plan to use LinkedIn. If you rely heavily on networking and outreach for business purposes, then a premium subscription might be a good investment.
Now, let's dive into the meat of this article – how to search for LinkedIn Premium members.
How to Search for a LinkedIn Member With Premium Subscription?
With a Premium subscription, LinkedIn users can access advanced search features that can help them find and connect with the right people for their business needs.
But how do you search and find LinkedIn Premium account holders? Let's have a look!
Method 1: Gold LinkedIn Premium Profile Badge
LinkedIn gives its premium users the option to showcase their premium membership by displaying a gold LinkedIn profile badge on their profiles. This badge not only signifies their exclusive membership but also adds credibility to their profiles.
LinkedIn will also display the Premium profile badge next to your name in search results, making it easier for recruiters or potential business partners, or employers to spot your profile. This can be especially helpful if you're actively searching for job or business opportunities or looking to network with other professionals in your industry.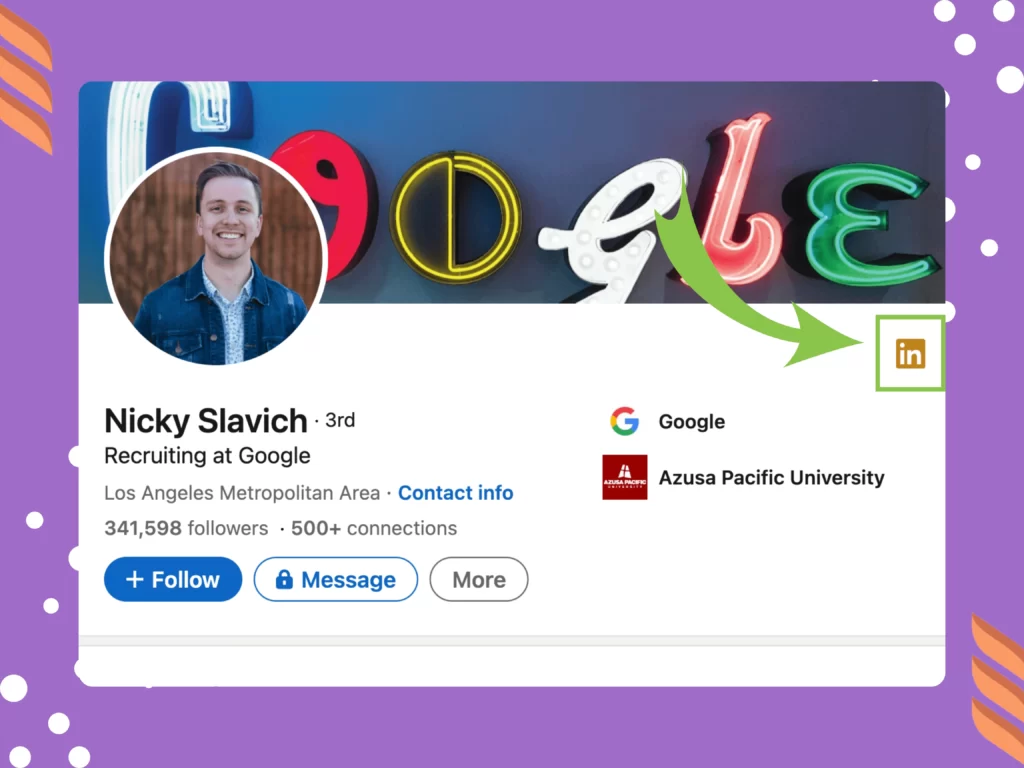 So, the next time you see a golden LinkedIn logo displayed on the profile of a LinkedIn user, you can tell they have premium membership on the network.
But LinkedIn leaves it totally up to the user to choose to display the premium badge on their profile. Unfortunately, many people choose not to showcase their LinkedIn premium membership by displaying a golden badge.
Method 2: Through LinkedIn Sales Navigator and an Automation Tool
So, how do you find LinkedIn premium account holders who don't display the LinkedIn gold badge on their profiles? Unfortunately, you can't spot these members directly within the LinkedIn network. You'll need to use LinkedIn Sales Navigator along with the best LinkedIn scrapers to extract information about premium users hidden in their profile codes.
Follow the steps given below!
Step 1: Search on LinkedIn Sales Navigator
LinkedIn has specifically developed Sales Navigator for sales professionals, but it can also be useful for anyone looking to connect with premium account holders. To use this feature, you'll first need to sign up for LinkedIn Sales Navigator. Plus, you must know how to use LinkedIn Sales Navigator.
Related article: LinkedIn Sales Navigator vs. LinkedIn Premium
Once you get access to Sales Navigator, use the advanced LinkedIn search filters to narrow down your search and find your target people or prospects. Simply enter your search criteria, such as name, industry, location, and job title, to find people meeting your criteria.
Step 2: Export Your Search to Dripify and Press the "Premium" Button
LinkedIn Sales Navigator won't show you whether someone has a premium account. For that, you must export your Sales Navigator results to Dripify, a LinkedIn automation and scraping tool that helps you with your LinkedIn marketing outreach.
After exporting your search to Dripify, you'll see a "Premium" button that you can click to filter out all non-Premium accounts from your search results.
Step 3: Dripify Will Delete all Non-Premium Accounts
Once you've clicked the "Premium" button in Dripify, the tool will automatically delete all non-Premium accounts from your search results. This will leave you with only premium account holders on your list if there are Premium Profiles among your search results.
Step 4: Export Your Search into a CSV With Dripify
Now that you have your list of LinkedIn premium account holders, you can export your search into a CSV file with emails using Dripify. This will allow you to easily import the list into other tools or platforms, such as your CRM or email marketing software, for prospecting.
So, there you have it: your list of LinkedIn premium account holders. That was super easy, wasn't it?
Conclusion
In conclusion, searching for LinkedIn Premium members is not as difficult as it may seem. With the help of LinkedIn Sales Navigator and tools like Dripify, you can quickly and easily identify premium account holders and connect with them to grow your network.