LinkedIn is an excellent tool for lead generation and career development. By staying active on the professionals networking platform, you can keep up with your contacts and build new relationships. The best way to use LinkedIn is to set up a new LinkedIn account and start building connections. Once you have established some rapport within your network, it's time to start looking for people who might be interested in what you're selling or promoting. You can do this by using LinkedIn as a resource!
There are a few ways that LinkedIn users can search through their contacts for potential leads: groups, interest lists, lookalike audiences, and more. These options allow users to narrow their searches based on specific criteria, such as company size, location, and industry. The best way for your lead generation outreach is to collect information on prospects through LinkedIn, network with them, and then begin your pitch.
But using manual methods to visit every profile and copy-pasting the information will take ages. So is there a quick way to go around this, you ask? Yes, there absolutely is!
This guide will help save your precious time and walk you through the process of how to export LinkedIn contacts together with their email address in a few easy-to-follow steps using Dripify LinkedIn Scraper tool. It will help to extract the information in a structured manner that is easy to interpret and manage.
With the exported data, you will be able to achieve your marketing and sales goals in no time. You can carry out email retargeting and marketing campaigns outside the LinkedIn platform to improve your sales and grow as a business. This guide is also helpful for those looking for jobs or just to network with relevant connections in your niche.
Related article: Best LinkedIn Scraping Tools
How to Export Your LinkedIn Contacts
Exporting information on your LinkedIn connections is super simple, thanks to the exports feature on the social media platform. Just follow the steps below, and you will be able to quickly export contacts from LinkedIn with the valuable information you need.
Log in to your LinkedIn account and click on the 'Me' icon. Then select the Settings & Privacy from the drop-down list.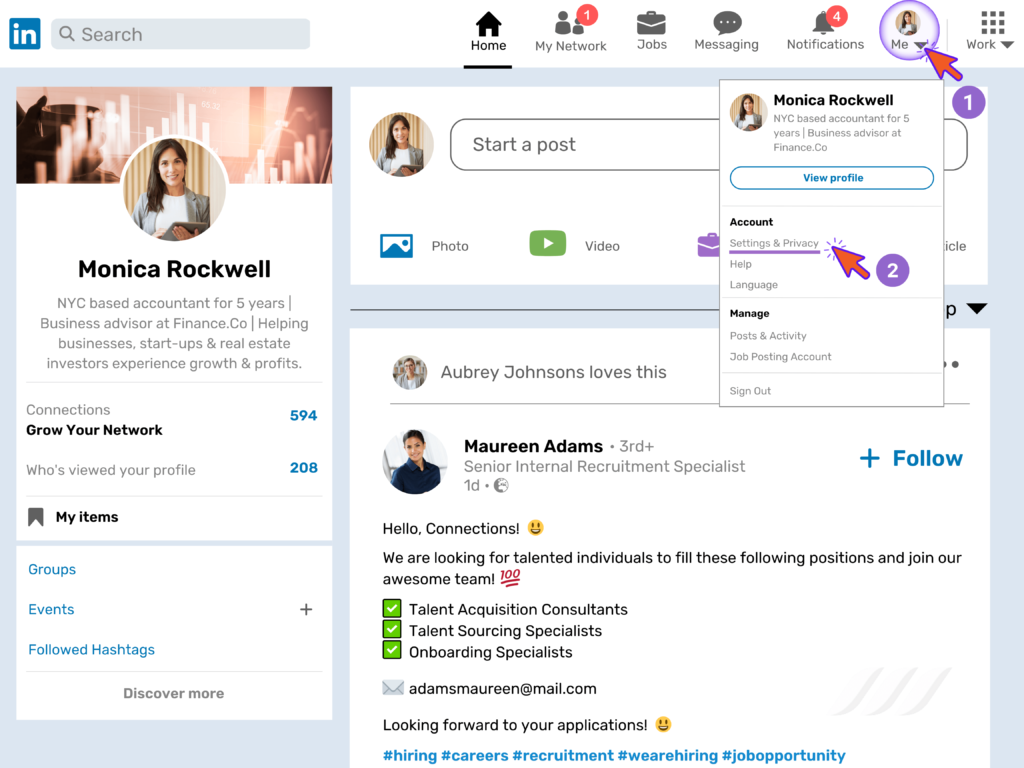 Click on the Data Privacy tab on the left.
Scroll down to the section: How LinkedIn uses your data.
Click on change next to the 'Get a copy of your data.'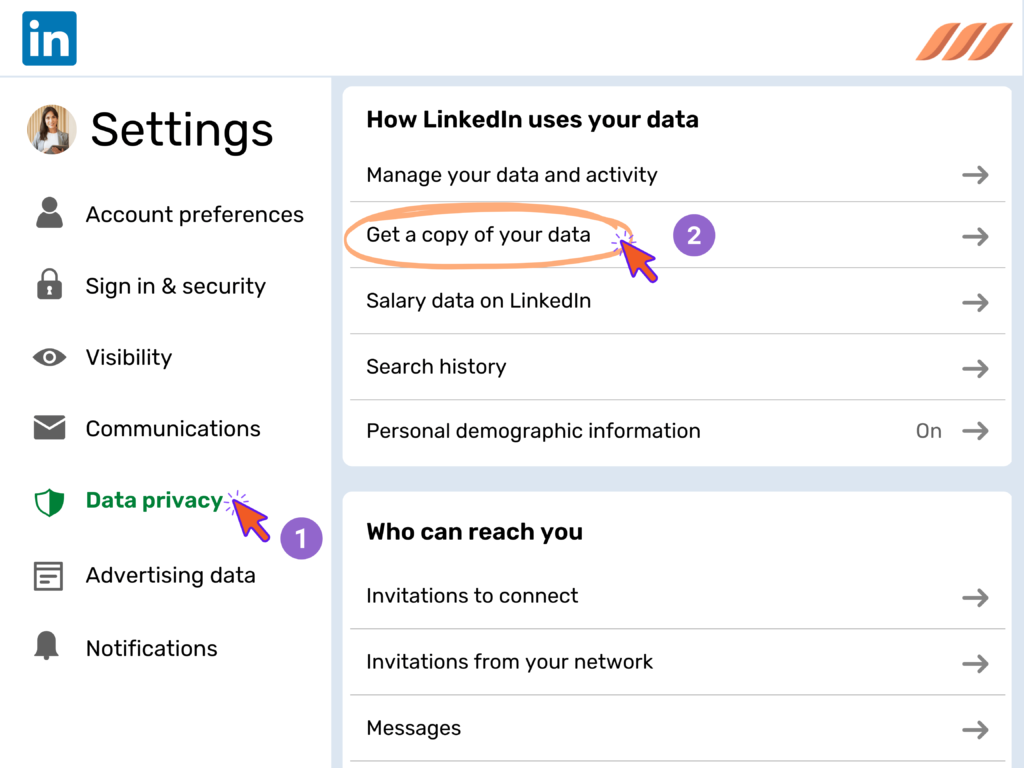 Go to the second option from the list that says: Want something in particular? Select the data files you're most interested in.
Select the type of data that you require. To export your LinkedIn contacts, click and check the box labeled 'Connections.'
Request Archive and then enter your password to confirm. You will receive an email shortly from LinkedIn with your requested information.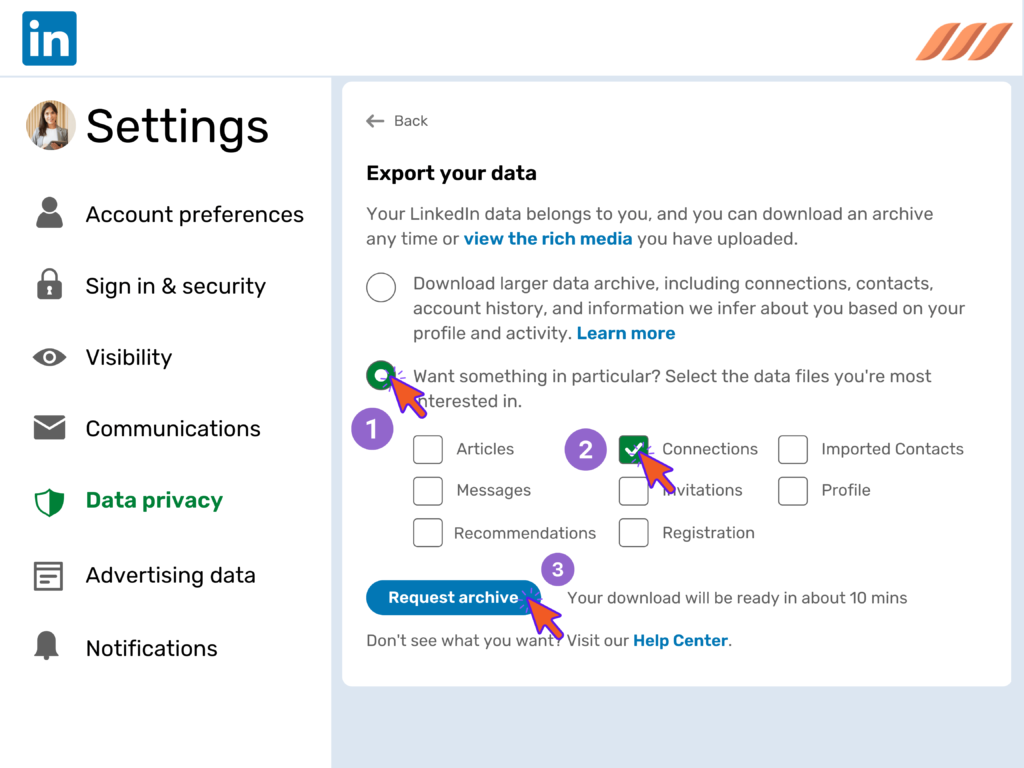 You can download LinkedIn contacts as a data archive with the link provided in the email. This action will send you a CSV file containing the information on your LinkedIn contacts.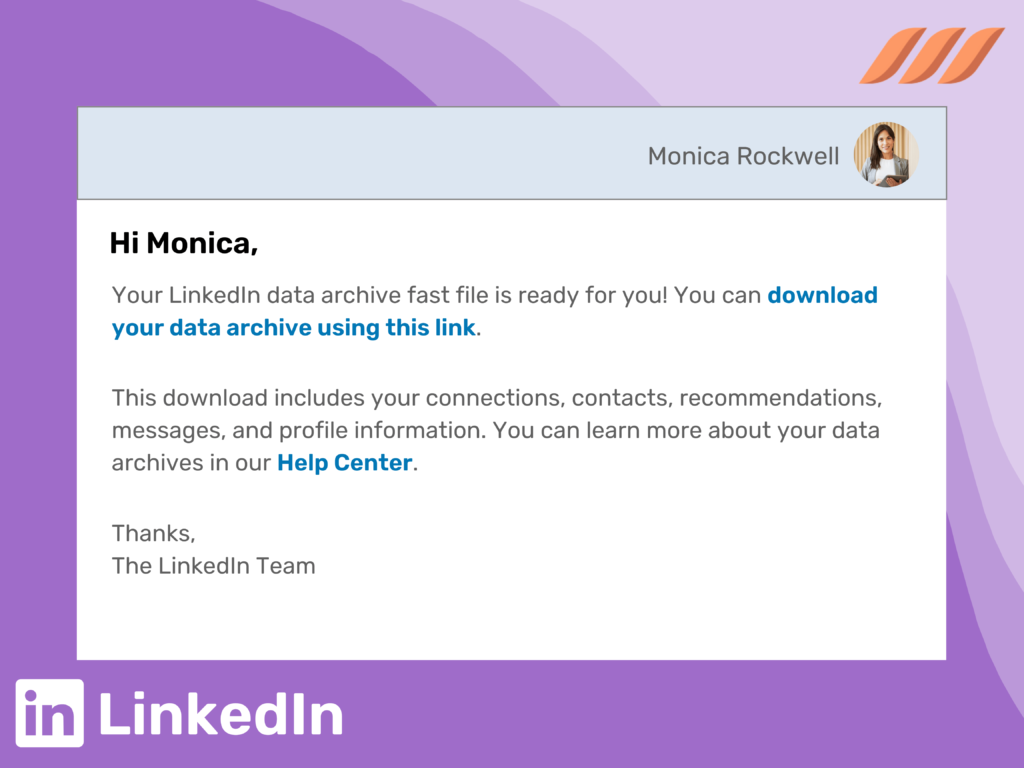 The information that you will receive in the file includes:
First Name
Last Name
Company
Position
Connection dates
While the data obtained using these steps will fetch you enough information on your contact, you'll not get access to the email addresses of all the contacts that you have exported.
Why are There No Emails in My LinkedIn Connections Export?
By default, LinkedIn settings protect its users' privacy by hiding their email addresses. So, when you export connections from LinkedIn, you will only be able to obtain the email addresses of those users that allow their contacts to download emails in their data export.
Using LinkedIn Sales Navigator, you can easily extract leads from Sales Navigator in just a few minutes.
Suppose you want to allow your connections to download your email addresses in their data export. In that case, you will need to change your LinkedIn settings.
You can do this by going to the Visibility tab in the LinkedIn account settings. Under the visibility of your account and network, you will find a panel named: Who can see and download your email address. Under this tab, you can switch to 'Yes', where it asks to allow your connections to download your email address in their data export.
How to Export Your LinkedIn Contacts With Dripify
If you would like to gain access to your leads' email addresses and other information, Dripify has you covered. Read on to learn how to export LinkedIn contacts with email addresses with the help of Dripify LinkedIn automation.
Dripify sales automation tool uses an advanced algorithm for email verification that can access the email addresses of your leads. Downloading LinkedIn contacts has never been easier. And with the detailed information you obtain, you can set up new marketing campaigns and easily build your professional network beyond LinkedIn. The exported information will also serve as a backup in case your LinkedIn account is suspended or restricted.
Using Dripify
Dripify is a web application that you can even use with a free LinkedIn account. It is completely safe and does not need to be installed on your device. All you need to do is sign up and then log on to https://app.dripify.io/. This will take you to the main dashboard, where you can manage campaigns, send and receive messages, access your leads, manage your team, and take many more actions.
Collect Information on Your Leads
To access the information on your leads, click on the tab labeled 'Leads.' Here, you will find all your leads listed. You can filter them based on the LinkedIn actions already performed by Dripify, or by certain conditions. You can even create custom filters and group your leads as per your preference.
Export Contacts as a CSV File With Dripify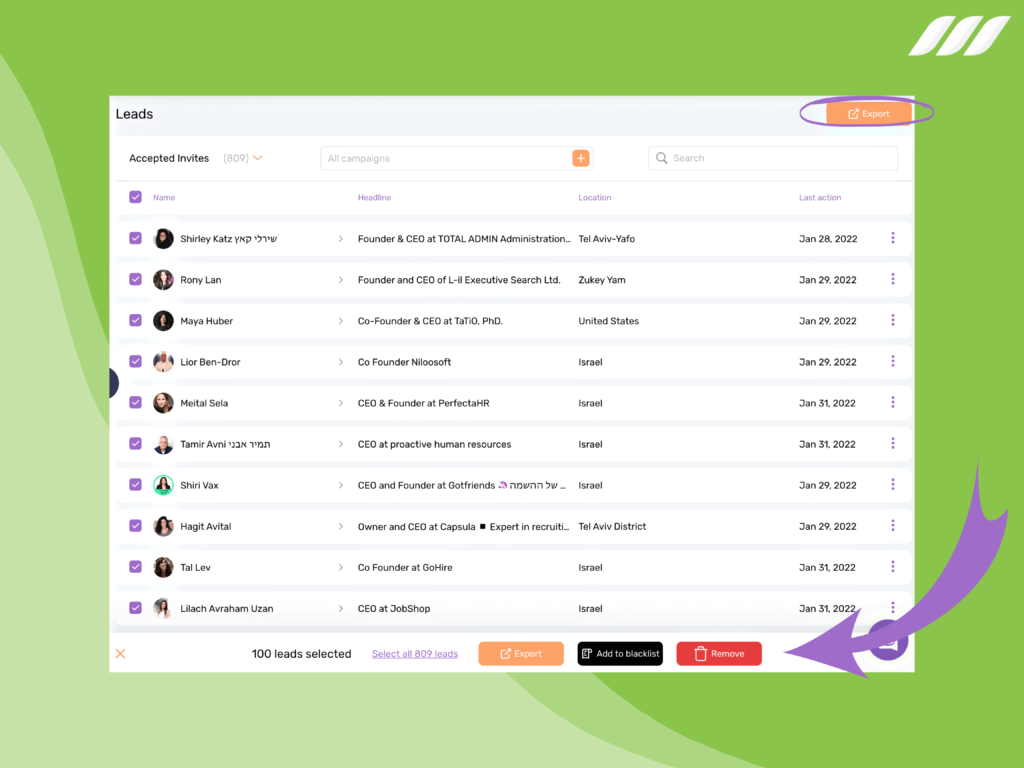 Here's how to export email addresses from LinkedIn: To export connections, head over to the option at the top right corner of your screen. From there, you can export the data of the leads you are interested in as a CSV file.
In the file obtained, you will find all the required information on your leads, along with their email addresses. That was a super easy way to export email addresses from LinkedIn, wasn't it?
With Dripify, you can even scrape the email addresses of your 2nd and 3rd level connections if those users have put up their email addresses on LinkedIn and allowed their data to be accessed.
Find Verified Corporate Email Addresses Using Email Finder Credits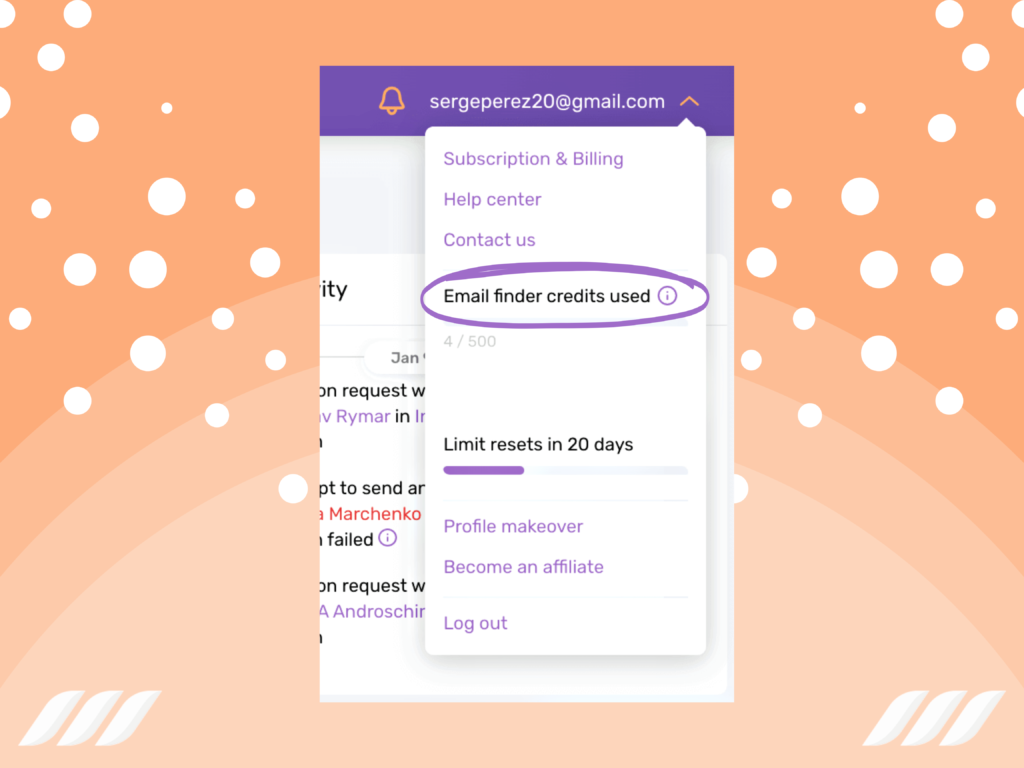 Suppose you would like to dig a little deeper and get definite access to the email addresses of the second or third-level connections on your LinkedIn. In that case, Dripify can be a great assistance. All you will need are some email finder credits.
Email finder credits act as a currency on Dripify. As a part of the 7-day free trial, you'll get 500 email finder credits for free on any Dripify Plan. These credits will be valid for 30 days. After the free trial ends, you'll have to buy a new batch of credits through a subscription package.
With Dripify, you can get more information on your leads than just their name, company, role, or location. Using Dripify, you'll get the following data on LinkedIn users:
First names
Last names
Email addresses
Company
Position
Company location
Company headcount
Industry
Top skills
Mutual groups
University names
Profile type and more
This elaborate list is enough to underscore the advanced algorithms and automation technology that Dripify uses to enhance your experience with exporting LinkedIn contacts. The valuable information you get with this tool can supercharge your lead generation, sales, and bottom line.
Read also: Best Email Finder Tools for Building Your Contact Database
Conclusion
You might have a question, "What is the requirement to export the contacts anyway?" There are several reasons to do so; for starters: Although LinkedIn is a powerful and convenient tool, it has some limitations as well. Most people don't access their LinkedIn profile often and drop it only once in a while to check out what's new. This provides you only with a small window of time to establish a conversation.
Exporting contacts on LinkedIn with email is more relaxed than they seem to be. LinkedIn offers an inbuilt feature to export your contacts to a space outside the platform. This simplifies the process as you are not required to take any help from an external tool.
Once your contacts have been exported to a spreadsheet, you can utilize the list for retargeting your contacts via email campaign. If more than one individual is concerned, you can provide them with the list you create instead of providing full access to your Linkedin profile.
These inbuilt tools surely enhance your LinkedIn experience. But, there are some automation tools that increase your profile visibility and generate potential clients. Try Dripify free trial today!