LinkedIn allows job seekers to build their professional profiles and apply for opportunities posted by recruiters and companies. On the other hand, organizations set up their company pages on LinkedIn with goals like generating leads, increasing sales, and growing their business.
This article will discuss the benefits of joining LinkedIn, how you can create LinkedIn account, and much more.
Create a New LinkedIn Account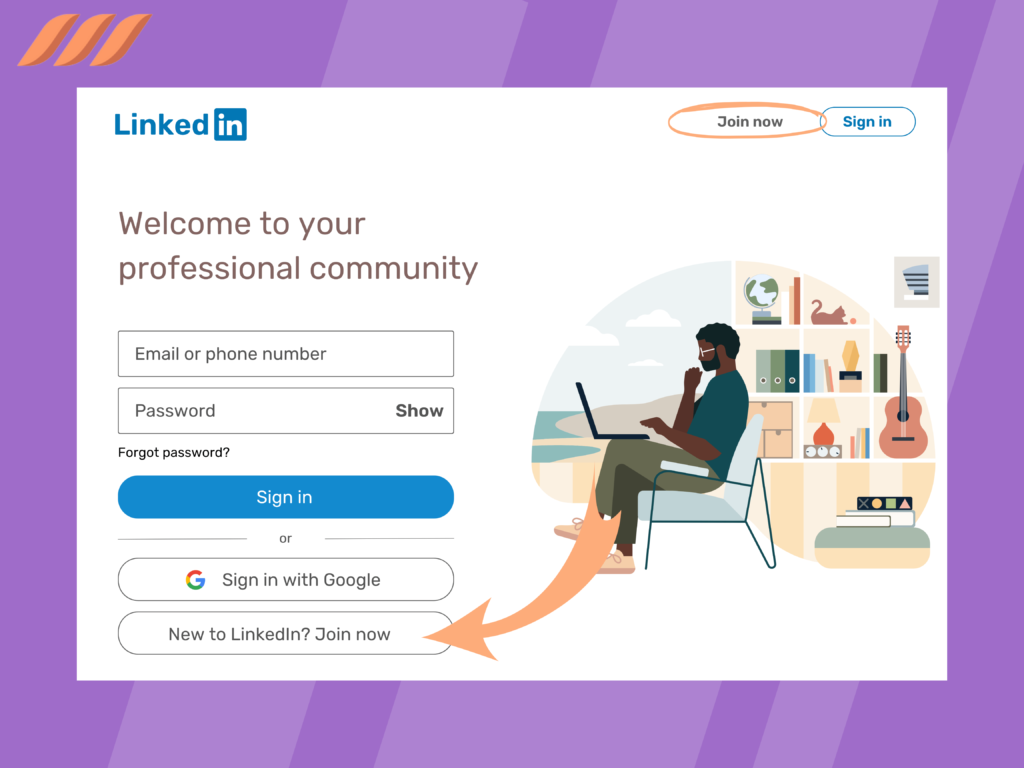 Let's walk you through the process of creating a LinkedIn account: 
Go to LinkedIn's official website and navigate to the LinkedIn sign-up page.
Enter your personal information (first name, last name, email), choose a password, and click Join now. Make sure to enter an active email address since you'd need it for validation during the sign-up process.
Provide additional information as prompted — for instance, country of residence, zip code, company name, type of employment, etc.
Go to your email and find the confirmation message. Then click Confirm your email.
Add contacts by either clicking LinkedIn contact suggestions, importing contacts, or manually finding them through the search bar.
Now you've created your LinkedIn account successfully. Follow the remaining options (profile picture, writing summary, skills, etc.) to complete and optimize your LinkedIn profile.
SEO Optimize Your New LinkedIn Profile
Now that you've set up a new LinkedIn account, it's time to make it SEO-friendly to maximize your visibility and reach on the platform. Here are LinkedIn SEO tips:
Create a keyword-rich profile – Choose the main keyword in your title: the one people will be using while searching for your services. You can use it in different sections of your profile. Also, place other relevant keywords in your profile.
Create backlinks – Use your blogs or guest posts on high authority domains to create backlinks to your LinkedIn profile.
Publish posts – Publish LinkedIn posts or articles relevant to your niche. Case studies, industry news, listicles, quick tips, and videos are some other content types you could post.
Complete your profile – LinkedIn algorithm preferably suggests complete profiles over those that aren't. As such, ensure you have a complete profile, and nothing important is missing.
Expand your network – The number of your LinkedIn connections is critical in ranking your profile. It's good to make lots of 1st-, 2nd-, and 3rd-degree connections. This will help your profile get more visibility in LinkedIn searches.
Name your picture and images – Instead of naming your profile photo after your name, leverage it to add your main keyword (job's title) here.
Use Hashtags – Research trending hashtags related to the content your audience is interested in, and then use them in your profile, posts, and articles to expand your reach. 
Include native video – Video-based content receives far more engagement than text-only posts. More engagement means you'll get higher re-share possibilities, drawing attention to your profile.
Get skill endorsements and recommendations – LinkedIn endorsements validate your skills. And LinkedIn recommendations are first-hand opinions about your work by other professionals. Since both can help ramp up your profile's visibility, try to get more endorsements and recommendations on your LinkedIn profile.
Benefits of Creating LinkedIn Account
You should have a LinkedIn account even if you don't have a job or internship. Having a profile allows you to connect with others outside and tap into career and business opportunities. Also, LinkedIn is an excellent platform for B2B prospecting, lead generation, and B2B sales.
Here're the benefits of having a LinkedIn account: 
1. Job opportunities
Did you know that more than 95% of recruiters use LinkedIn to hire top-tier talent? If you want those recruiters to find you, you need a profile on LinkedIn. This professional networking platform gives you a personal brand and makes you visible to key decision-makers and hiring managers.
2. Demonstrate your proficiency and credibility
After creating a LinkedIn account, you'll have many options to make your profile more comprehensive and detailed. Features like skill endorsement and recommendations add credibility to your profile, enhancing the trust levels of recruiters or your prospects.
3. Helps you rank on Google
LinkedIn is a big, trusted networking platform. Therefore, when you create a LinkedIn profile, you get a higher chance of appearing in Google search results. This is much easier and quicker than having your website or online portfolio (provided you have an SEO-friendly profile). Discover how to search LinkedIn profiles on Google easily.
4. You can research companies
A LinkedIn account also gives you access to companies, interviewers, and markets. This will be helpful before submitting your job applications as you could know a company's working culture or people who'd be interviewing/supervising you.
5. Give networking opportunities
By creating a LinkedIn account, you'll enter a community of 900M+ members and 70M+ companies. Staying active and building relationships in the biggest professional networking community means you can access business and employment opportunities.
Create LinkedIn Account for Business
You've explored the benefits of having a LinkedIn company account. But how to create a LinkedIn business account, you ask!
Create a company LinkedIn account in these four easy steps:
Step 1: Getting Started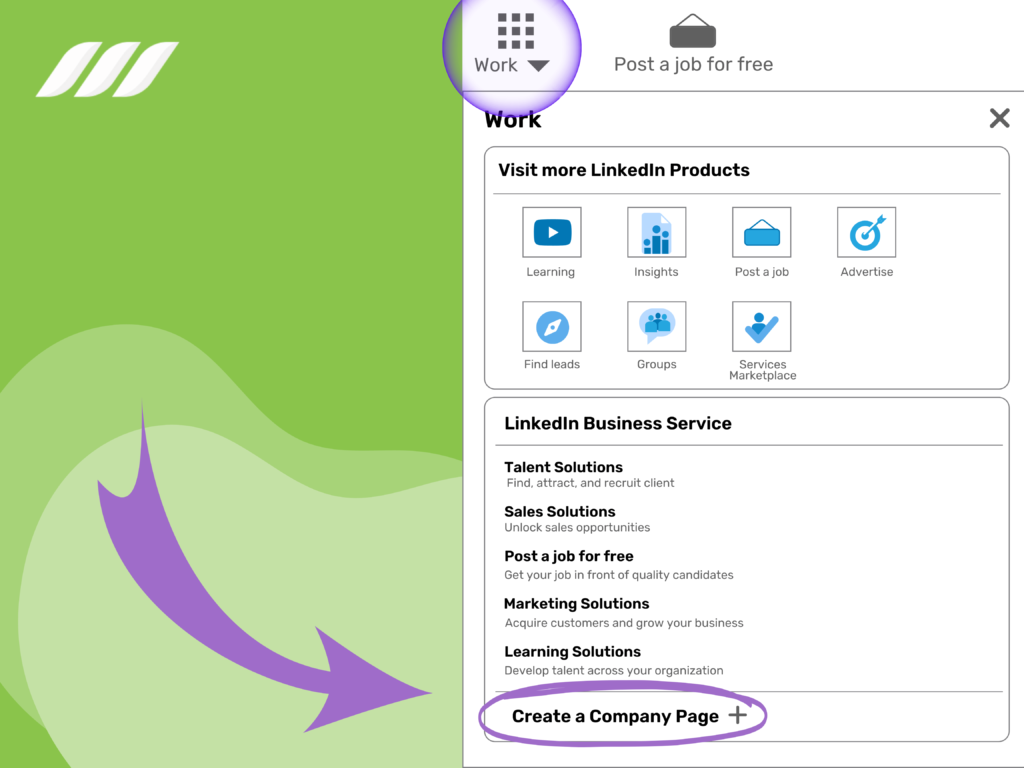 Head over to LinkedIn Marketing Solutions webpage. From the menu bar, hover over LinkedIn
Pages and select Create a LinkedIn Page.
Alternatively, if you have a user profile, click on the Work icon on the top right corner and select Create a LinkedIn page+.
Step 2: Choosing a Page Type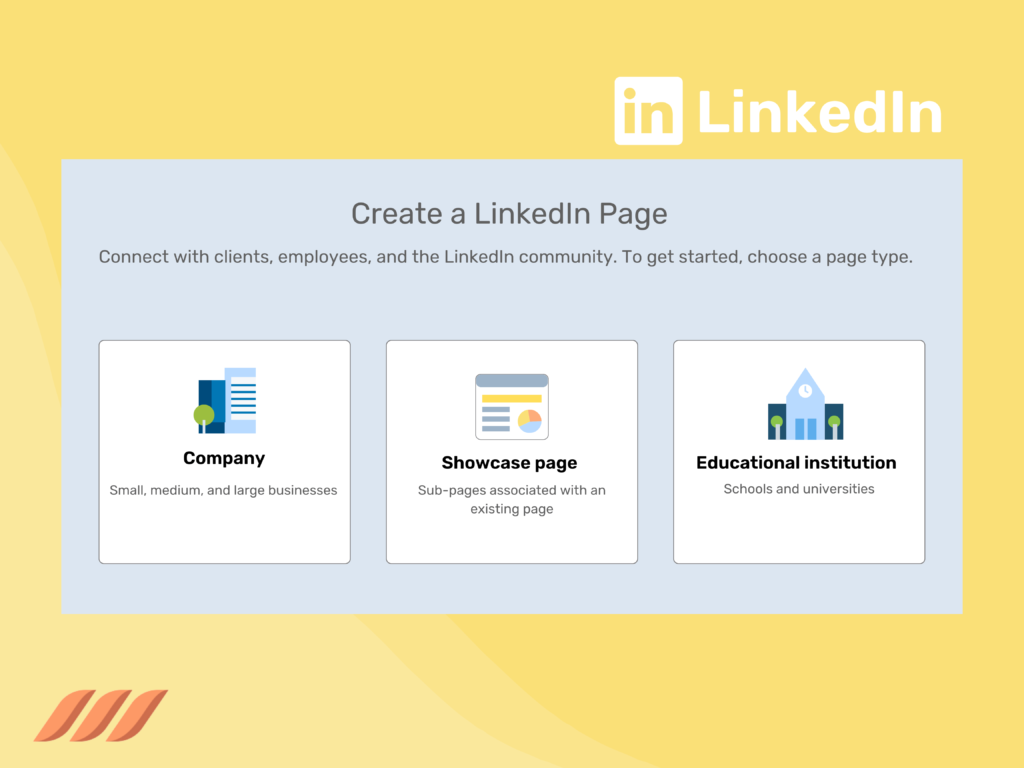 Now, based on the size and requirement of your business, you'll be asked to choose from:
Small business
Medium to large business
Educational Institute
Step 3: Filling Out Company Details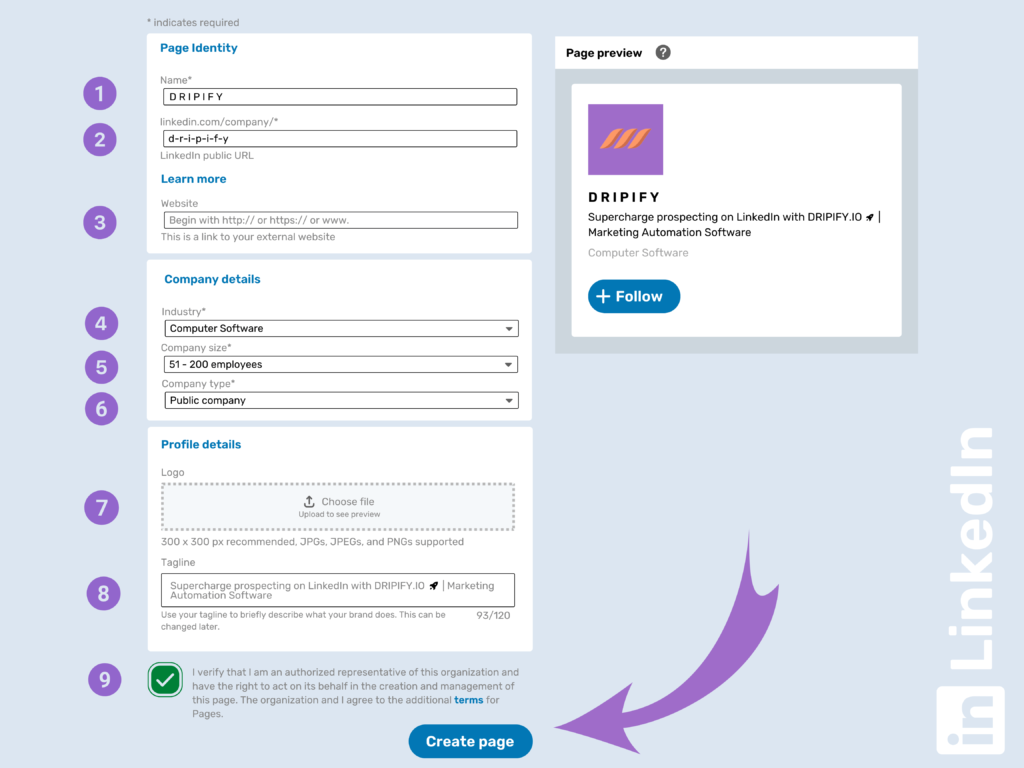 Provide Page Identity and fill in Company Details, and Profile Details. Here's the list of fields falling under these categories:
Name
LinkedIn public URL
Website
Industry
Company size
Company type
Logo
Tagline
When finished, check the checkbox at the bottom and click Create Page.
Step 4: Building Your Page
You'd now be taken to an admin view of your company page. Under Build Your Page, the following options would appear:
Description
Location
Cover Photo
Hashtags
Fill in these additional details to strengthen your profile and unlock new features along the line.
Benefits of Creating a Business Account on LinkedIn
There are numerous reasons why a business should join LinkedIn. Here're the benefits of creating a business account on LinkedIn:
1. Create and post shareable content
You can post content in various formats on LinkedIn to draw attention and expand your brand visibility. For example, you can create and publish blog posts, infographics, polls, social media podcasts, shareable presentations, and carousel posts on the platform.
You'd receive likes, comments, and shares by posting relevant, interactive, and valuable content. The outcome? Audience engagement, retention, and more visibility.
2. Provide insights into your products/services
Many people follow brands and businesses on LinkedIn to get promotions and discounts, new product info, and provide feedback. This allows you to cater to your audience's expectations and generate sales.
Plus, you can identify the pain points of your target audience and use LinkedIn to demonstrate your solutions. You can nurture your page visitors into warm business leads and drive them through your sales funnel.
3. Do competitor research
As a LinkedIn user, you can visit your competitors' company pages to see what they are up to, such as the changes they have accomplished and their strategies. And by keeping up with industry news or changing trends, you can update your strategy and gain a competitive edge.
4. Hire talented individuals
Using a LinkedIn business account, you can hire skilled, relevant, and experienced employees who can be an asset to your organization. LinkedIn profiles reveal detailed information about candidates, including their accomplishments, skills, experience, and much more.
Besides, you can check out recommendations and skill endorsements to see if they have a proven record with people vouching for their skill set.
5. Use analytics to your advantage
LinkedIn allows you to view analytical data about your company page as a page administrator. This includes:
Seeing how engaging your posts are
Identifying trends across key metrics
Understanding more about your follower demographics and sources
Learning more about your page traffic and activity
By tapping into these analytics, you can get a deeper insight into what's working and what's not working for you and then adjust your content strategy accordingly.
How to Avoid the Temporary Restriction on LinkedIn
Failing to comply with LinkedIn's terms and conditions can land your account under temporary restriction. Let's discuss how to avoid restrictions and keep your LinkedIn experience hassle-free.
Related article: What to Do When Your LinkedIn Account Restricted
Target the right people
Prospecting on LinkedIn should be done carefully. If you send messages to the right audience, there would be fewer chances of being flagged as spam.
Personalize your messages
You'll have a lower acceptance rate if you send invitations with a default message. It is good to send requests with a personalized message that clearly states why you want to connect and what benefit the person will get after connecting with you.
Prospect at normal hours
Sending 30 invitation requests on Sunday at 4 am isn't normal behavior. You must avoid being super active at odd hours to avoid signaling unusual activity to LinkedIn's algorithm.
Use reputed and safe automation tools like Dripify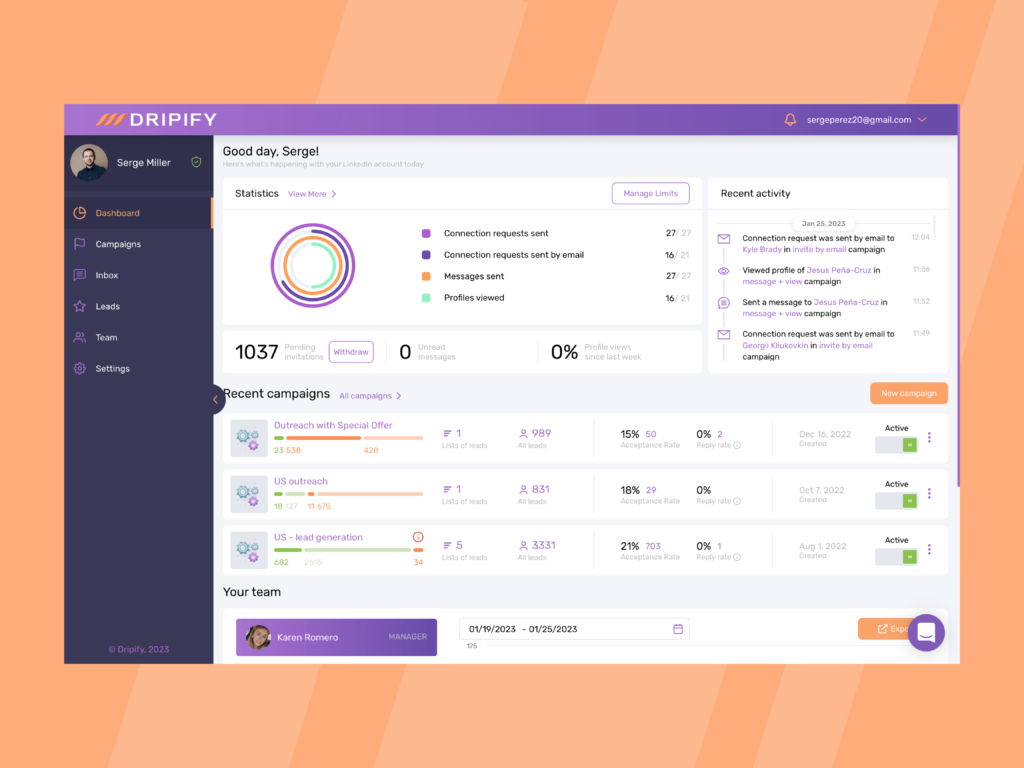 LinkedIn discourages using automation tools, and you'll likely face a temporary account restriction if it detects them. For that reason, use automation tools that are safe and reliable. Dripify is a trusted LinkedIn automation tool that uses human behavior replication techniques to evade LinkedIn's detection system.
Related article: Using LinkedIn Automation Safely
How to Avoid Getting Banned or Restricted on LinkedIn
In most circumstances, LinkedIn restricts accounts temporarily. However, you might lose your account forever if the offense is severe.
So, what is the biggest reason for getting permanent restrictions from LinkedIn?
While LinkedIn doesn't usually explain account bans, speculations reveal that repeated offense is the leading factor for most permanent account bans. If LinkedIn's algorithm detects repeated violations, you're likely to lose access to your account.
The bottom line — respect LinkedIn terms of use, and you'll have no trouble with the account suspensions.
How to Delete a LinkedIn Account
You can permanently delete your LinkedIn account if you don't find it helpful or for other reasons.
Follow these steps to delete your LinkedIn account:
Step 1: Log into your account with your username and password.
Step 2: On the top-right side of the screen, select your profile picture with Me written underneath.
Step 3: From the list of options under ACCOUNT, select Settings & Privacy. This will take you to a new page.
Step 4: Click the Account tab and choose closing your LinkedIn account, listed under Account management.
Step 5: You'd now be asked to select the reason for closing your account. If none of the options apply to you, choose Other. Then, click Next.
Step 6: Enter your password and select Close Account.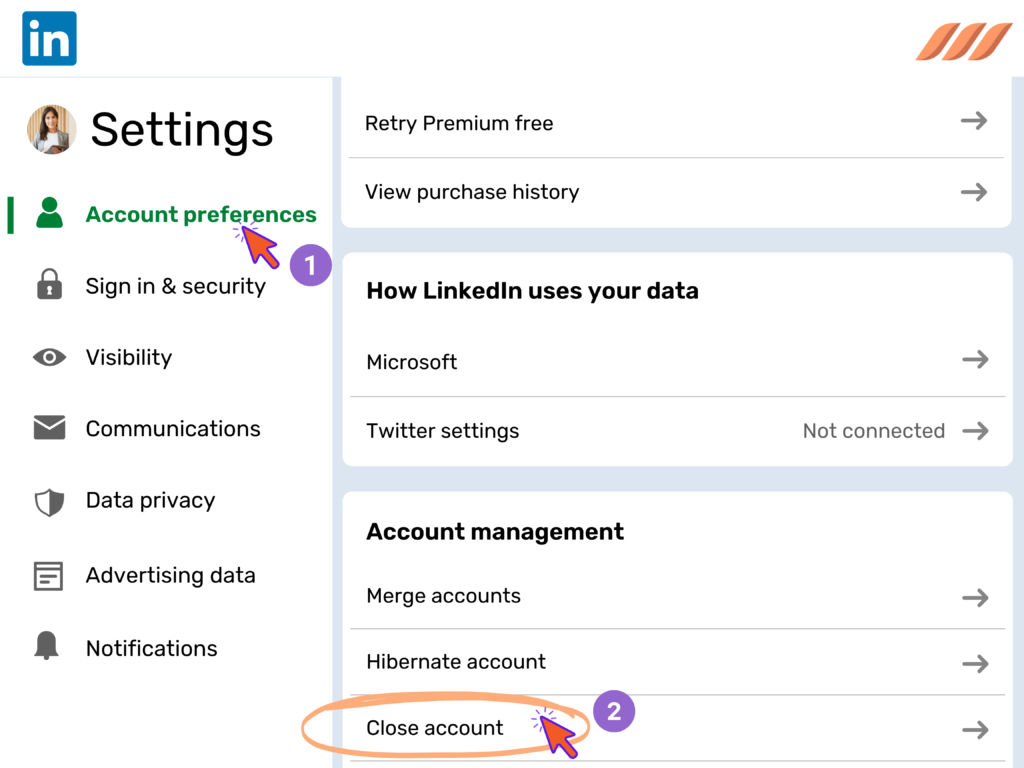 Once deleted, LinkedIn allows you to recover your account within 14 days. So, keep that timeframe in mind if you want to get your account back.
Why Delete a LinkedIn Account?
It might not always be fruitful to keep your LinkedIn account running. Here are some common reasons why you might want to delete your LinkedIn account:
You don't have time to stay active on LinkedIn and post content regularly.
LinkedIn is not useful for you since your target audience is elsewhere.
Since LinkedIn has an unlimited license to use your data, your privacy could be at stake.
You receive too many unsolicited invitation requests and spammy messages.
It might be resource-intensive to get a competitive edge on LinkedIn.
LinkedIn marketing could be shifting your focus from your business priorities.