LinkedIn carousels offer a completely different way to tell your brand story or interact with your target audience on the professional networking platform. Using Carousels, you can break down topics into smaller chunks, make mini-tutorials, or map out a process.
LinkedIn carousels feature multiple visuals that people can swipe through while on your LinkedIn feed. This means you can give your stories textures to create more engagement. Plus, the eye-catching designs of carousels make them stand out on the news feed.
This article will explain everything you need to know about LinkedIn carousel posts so you can drive engagement and maximize your brand's organic reach.
How LinkedIn Carousel Posts Work
Carousel posts are optimized documents with many slides you can share on your newsfeed. Viewers can navigate between pages by clicking the left/right buttons, similar to a PowerPoint presentation.
The best part is that LinkedIn allows you to incorporate your custom logos and contact information into the documents. This makes carousels a perfect way for personal branding. LinkedIn users can download your carousels and share them with their network, promoting your brand to the external community.
Since carousel posts are hosted on LinkedIn, users don't have to leave the platform to access the documents. Because of this, the LinkedIn algorithm boosts these posts, helping you attain a solid organic reach.
Also, because you're free to add as many slides as you want, you can share more information on the carousel than in a regular LinkedIn post with a limit of 3000 characters. Above all, you can add a CTA at the end of a carousel and prompt instant action from your audience.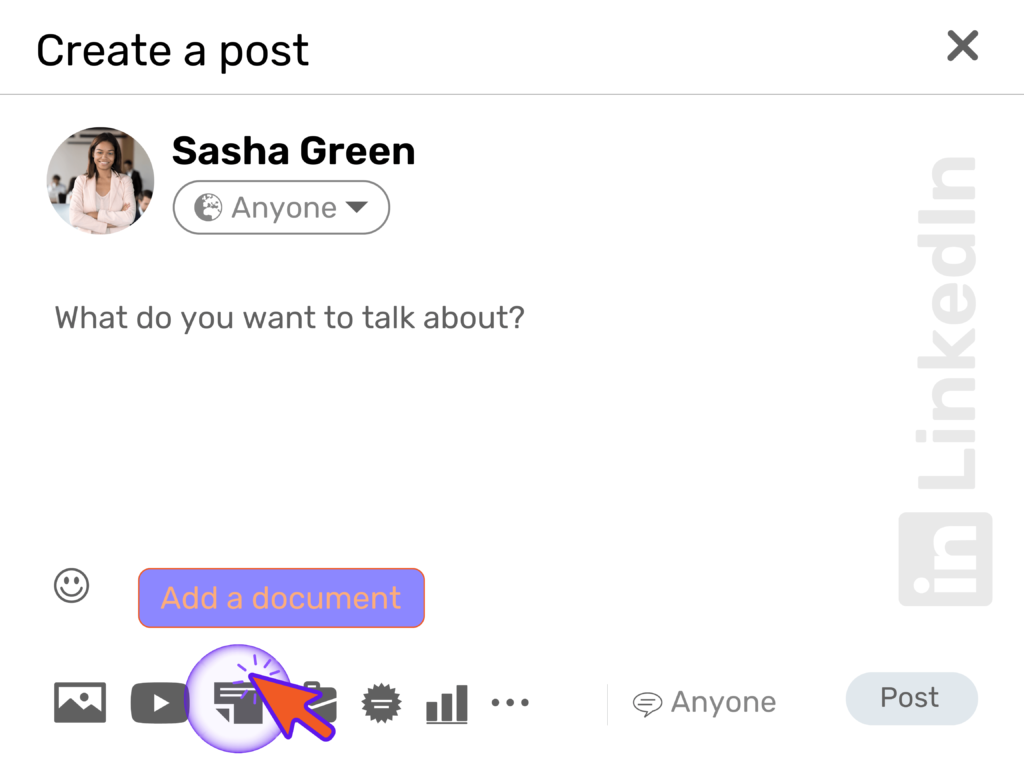 Creating a carousel post is pretty simple. First, you have to click the "document" icon on your homepage feed. Alternatively, you can select the document sharing button on the "Create a post" window. Next, choose your document, give it a descriptive title, add a description, and you're good to go!
What Are the Specs of LinkedIn Carousel Posts?
When designing your carousel post, you must follow a few guidelines. Let's walk through the specs of a LinkedIn carousel post.
Name – Use up to 255 characters to name your carousel post.
Introduction – complete introduction within 255 characters. However, 150 characters are recommended to avoid the text cutting off on some devices.
Max file size – 10 MB
Max image dimension – 4320 x 4320 pixels.
Accepted image types – JPG, PNG. Note that GIFs are accepted.
Destination URL: URLs must have the "http://" "or https://" prefix.
Stick to the 45-character limit for carousels that direct to a destination URL
Use the 30-character limit for carousels with a Lead Gen Form CTA
LinkedIn Carousel Posts Best Practices
Make your carousel posts more engaging by following these tips:
Use few but high-quality images. Although 5-6 images are recommended, you can go for 10-12 if they're relevant.
Keep the image between 1080 x 1080 pixels with a square (1:1) aspect ratio. A square format also allows you to use your posts for other platforms, such as Instagram.
Draw the audience in with a powerful first slide having great visuals.
Once you've grabbed the attention, build their interest using the next slides so that your CTA renders successfully.
Keep your slides free from videos and animations, as LinkedIn document sharing doesn't support these media.
Optimize your slides for mobile phones. Make it easy for people to swipe, click, comment, follow, or turn on notifications.
Cut the fluff and aim for 10-15 words per slide; no one likes to read long-form slides.
Keep your headlines bold and include a visual hierarchy to guide users through your content.
Make your carousels digestible by sticking to 10-30 bite-sized slides instead of offering too much. If you have a complex topic, you might want to split it into multiple carousel posts.
Use the same color/pattern within the same section of your slideshow to keep your slides consistent.
Write your posts in a conversational tone to add a personal touch.
Why Create a Carousel?
While many users regularly update their status using LinkedIn posts and articles, carousels are still not prevalent. This means you have an excellent opportunity to tap into.
Here are some of the top reasons you should create LinkedIn carousel posts.
Drive more engagement on your posts
Boost the visibility and interaction on your posts.
Get more traffic on your LinkedIn profile.
Tell a story in a captivating way and stand out.
Increase your popularity among the LinkedIn community.
What is the Format of a Carousel on LinkedIn [Examples]
Let's look at some real-world examples that highlight out-of-the-box ways of using LinkedIn carousels.
Example 1: Infographics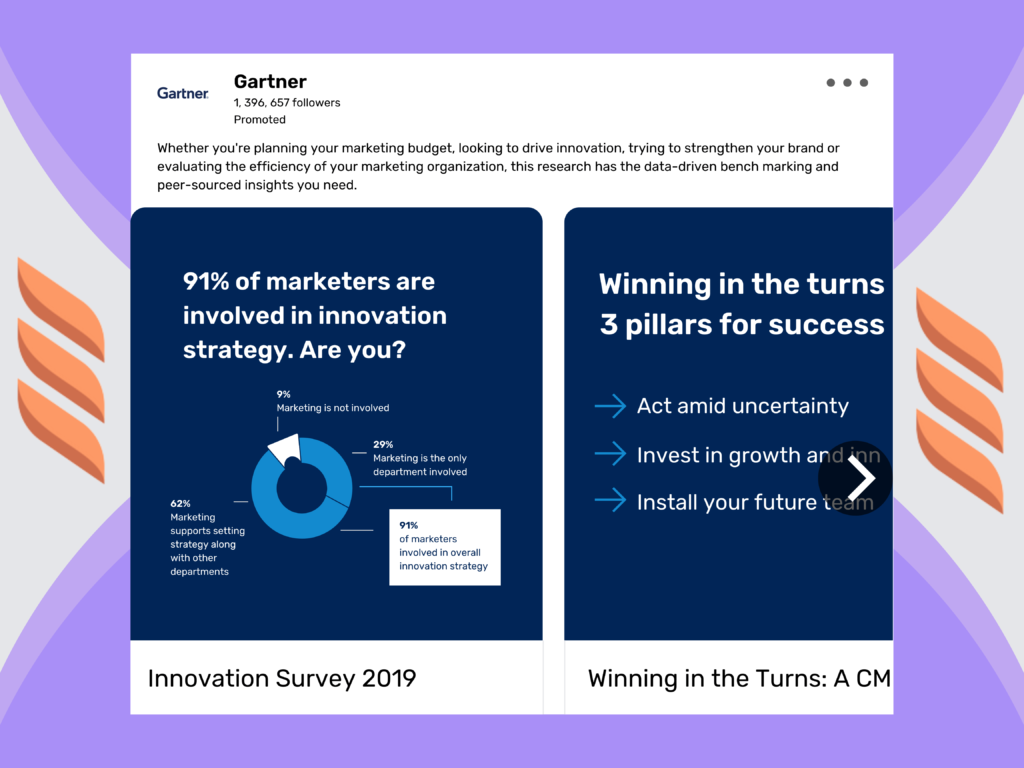 Technological research company, Gartner, decides to put the survey findings in the form of a carousel. View the carousel.
Definitely a good idea to make this form of content stand out. Maybe you could use carousels as well for your next whitepaper or e-book?
Example 2: Step-by-Step Instructions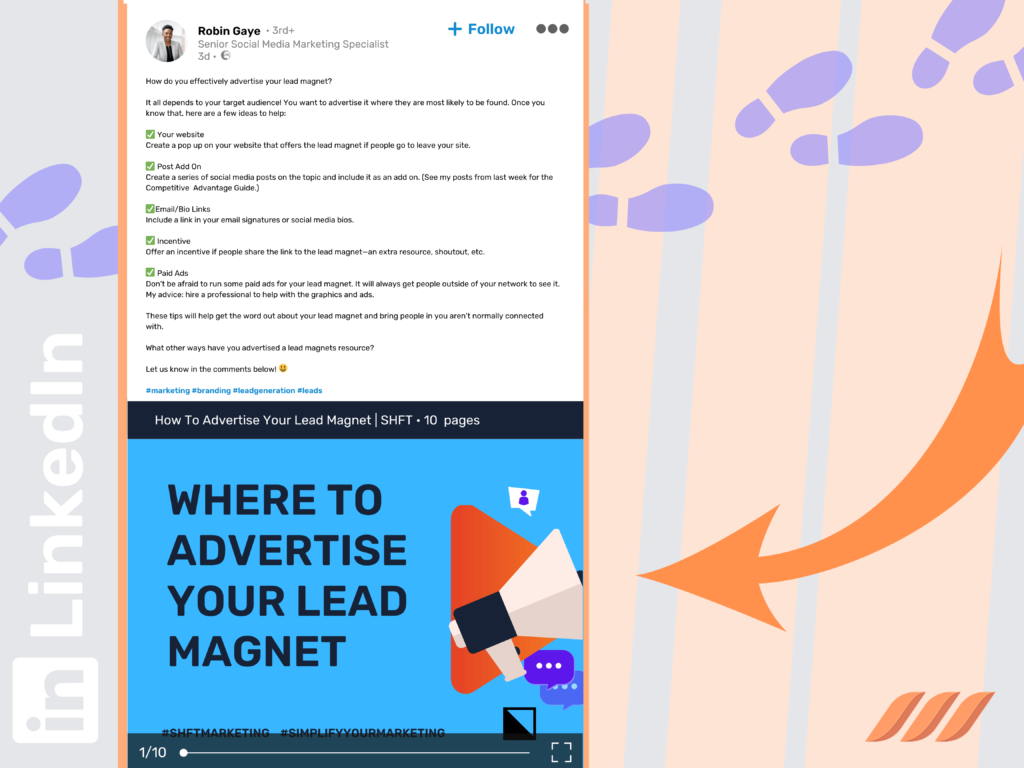 Splitting the instructions into different slides makes it easier for users to follow instead of cramming everything under one post. Check out Robin Gaye's carousel post which includes actionable tips to amplify the value of a regular carousel post.
Example 3: Event Conference/Conference Slides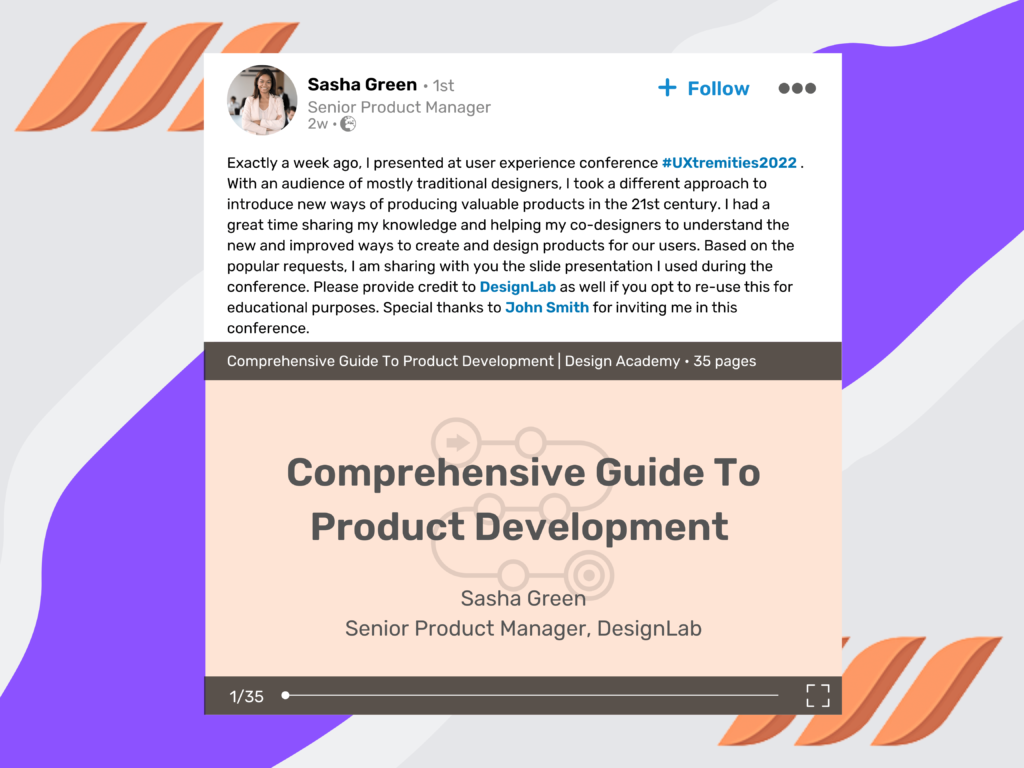 Here's an example, Sasha Green uses carousel posts to help audiences understand a product development. As you can see, this carousel beautifully encapsulates so much information — perfect for sharing conference content with audiences.
Example 4: Listicles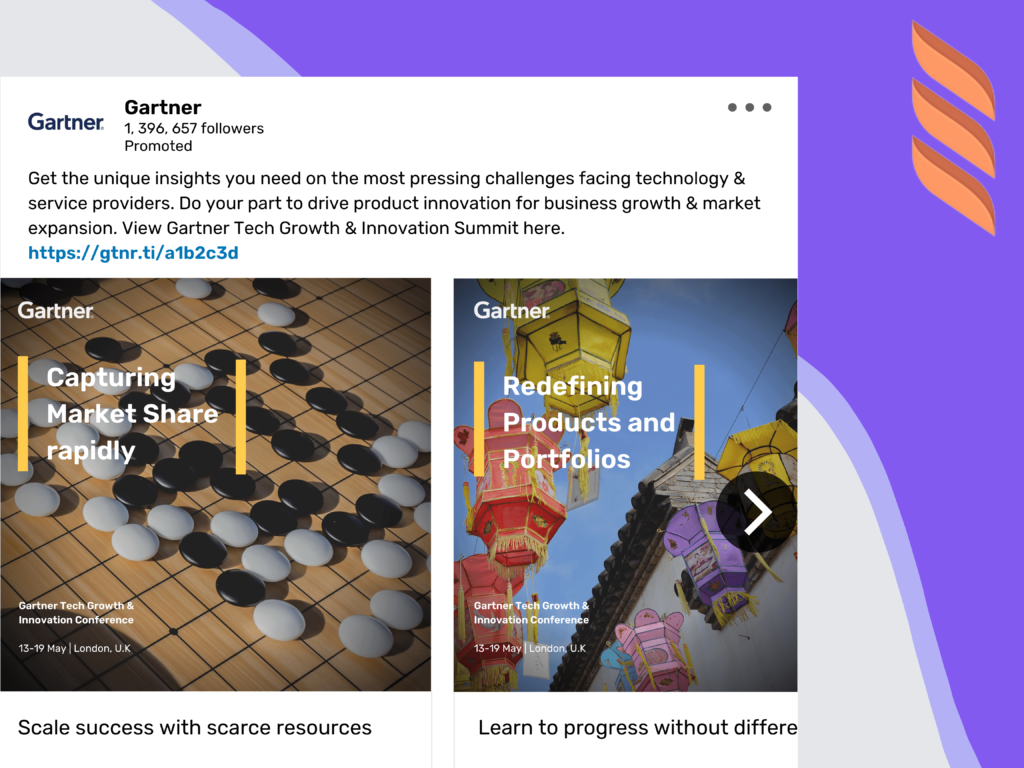 Using carousels, you can summarize a blog's content in a listicle form. This way, you make it easier for audiences to process information, saving their time and helping them retain information. Check out another example by Gartner where the company created a carousel to list down important points of their Tech Growth & Innovation Summit.
Example 5: Career Opportunities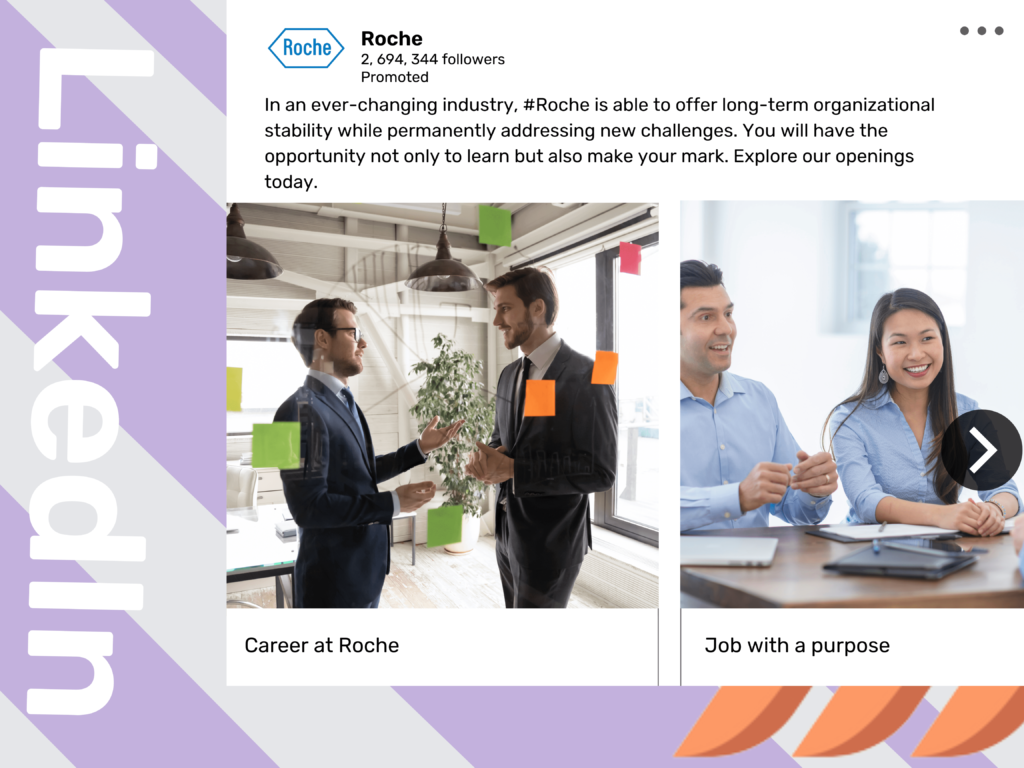 Look at Roche's innovative way of posting jobs or promoting career opportunities using carousels. Using carousels, you too can provide information about your working environment through real-time images; use slides to explain why people should be a part of your team.
Conclusion
Whether you want to share "How-to" articles, checklists, a blog's revamped version, infographics, or job postings, carousels are a powerful way to bring the LinkedIn community together and share knowledge that benefits every member.
Carousels are easy-to-create and provide one of the best pathways to organic reach. You can leverage carousel posts to grow your audience and generate new opportunities by following the best practices.