Did you know LinkedIn just extended its character limit? Now you can write posts up to 3000 characters long! This is an excellent opportunity to engage your network with more detailed and thoughtful posts. 
So, do you want to make the most of this incredible new feature? Keep reading for expert tips and details on making the most of the new character limit on a LinkedIn post!
What is the LinkedIn Character Limit?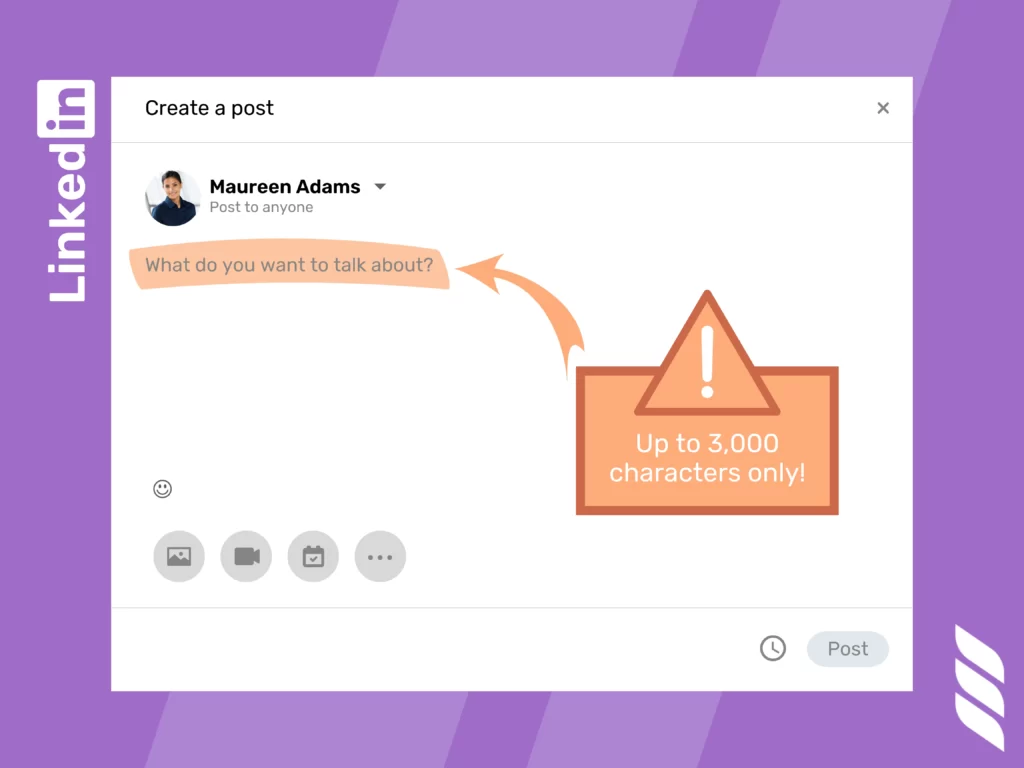 LinkedIn character limit is the number of characters (words, emojis, spaces, and letters) you can add to one LinkedIn post. According to the latest feature of June 2021, you can add up to 3000 characters in one post, making it more engaging and detailed. But, this update is both a blessing and a trouble. How? Because:
It is a great way to pour all your thoughts, ideas, and pitch into one post without limitations. (Blessing)
It is a little risky since your posts must be super engaging so that the readers don't get bored or become disinterested while reading the whole content. (Trouble)
But don't worry; we will tell you how to make the most of this LinkedIn update. Read on!
Why Do You Need to Write 3,000-Word Posts on LinkedIn?
Why do I need to change my old strategies and start writing a 3000-character long LinkedIn post, you ask! Well, we did the research and found the following possible reasons to use this update to your advantage:
The more words and characters you write, the higher your conversion rate will be.
You get enough freedom and space to fully express your thoughts, share your areas of expertise, and convince people of your abilities.
You can ask argumentative questions in your long LinkedIn articles or posts for more people to engage and eventually expand your reach.
However, be very careful with your words, and curate your posts while keeping copywriting and optimization rules in mind. Overall, the better you write, the more exciting and engaging your posts will be.
How to Write 3,000-Word Posts on LinkedIn?
Below, we are sharing some expert tips on writing the best and most engaging 3000-word posts on LinkedIn. Just keep one thing in mind; quality always wins over quantity.
Always use easy-to-understand words and avoid alien and scholarly language. The more direct the content, the higher the engagement. Also, use emojis frequently to make the posts fun and attractive.
The first 210 characters are critical; they help you grab the reader's attention. These are the words you see before the "see more" text. So, use engaging, compelling, and captivating words to arouse curiosity.
If you want the LinkedIn algorithm to boost your post, make sure it is interesting or argumentative enough for people to react.
Always start with an introduction and end with a conclusion. A longer format of posts will help make your post more compelling and complete.
If you are talking about facts, don't forget to share evidence in the form of links. Also, try to avoid talking about topics you are less familiar with.
The most important of them all; you don't want the readers to get bored. So, try to structure the post in the form of a story; interesting, humorous, and witty.
Use strategies like keywords and practices of SEO for LinkedIn posts to reach more audience.
The Benefits of the LinkedIn Character Limit
The new character limit on LinkedIn allows you to explain what you are and what you do to your network. Long LinkedIn posts are a great way to portray your experiences, abilities, and professional and academic lives. Plus, the character limit ensures that you are posting the right amount of words to gain the best conversion rates and reach.
Conclusion
The extended LinkedIn character limit of 3000 is an incredibly beneficial feature, but only if you play wisely! Just remember to keep your post interesting, say the right words, and fill your profile with engaging content and words.