Do you find yourself coming up short on the perfect words when posting to LinkedIn? Enter emojis, the little, cute symbols 😇 that are used in digital communications and social media sites 🙌.
We have been using emoticons or emojis in text messaging for a while now. They're quite famous on Facebook and Instagram as well. But how about bringing them to the biggest platform for professionals?
Yes, you can use emojis on LinkedIn, too! You might think of using LinkedIn emojis as a sixth grader going bonkers stuffing profiles with emojis all over the place, but that's not what it is all about.
Adding emojis to your LinkedIn posts and profile is a great way to make them more entertaining as well as establish yourself as an authority in your field 🏢👨‍💻👩‍💼💻👨‍💻.
We're talking about bringing value to your LinkedIn experience by tapping into emojis and injecting emotions into your communication and content. Emojis for LinkedIn are fun, creative, and eye-catching, allowing us to connect with other humans on a deeper level.
Let's discuss how you can leverage LinkedIn emojis to cut through the noise on the networking platform.
How to Add Emojis on LinkedIn
Adding emojis to your LinkedIn post is not as tricky as you might think. Read on for all the methods to use emojis on the professional networking platform.
Copy And Paste Your Favorite Emojis
Copy-pasting emojis for LinkedIn is an old-school method but it still comes in handy for starters. A resource like Get Emoji or this article (scroll down) will give you a plethora of options to copy-paste emotions into your LinkedIn posts and content.
Simply select the emoji you like and select "Copy." Paste it to your desired destination just like you paste any regular text.
The best thing about this method is that it has more diversity. Unlike other options, you can expand your search, get different kinds of emojis from anywhere, and copy-paste them into LinkedIn.
Use Keyboard Shortcuts
Alternatively, you can add emojis by simply hitting a combination of keys and dropping them in the text field with one click.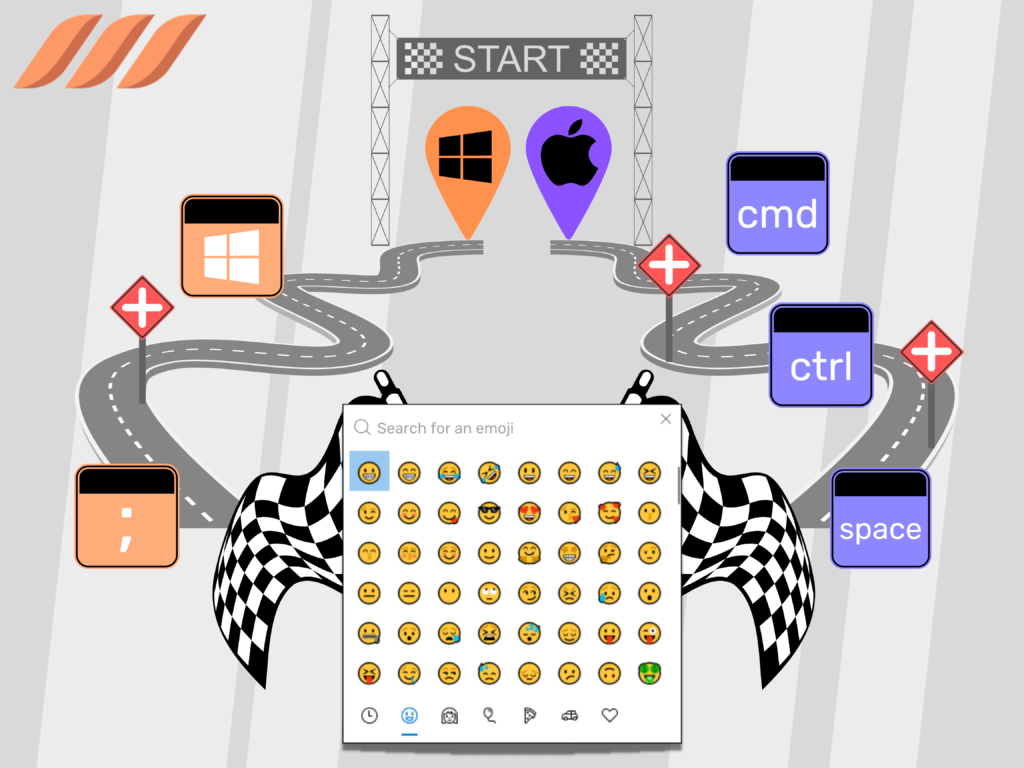 Emoji Keyboard With Windows PC
Follow these steps if you have a computer running Windows OS.
First, locate the Windows key on your keyboard. This must be at the bottom-left side having a Microsoft Windows symbol. Press it together with the semicolon key and it will pop open the emoji window screen.
You can switch between categories to find different types of emojis (people, food, celebration, etc.). Use your cursor to select an emoji and this will drop it right into the text field in the background.
Emoji Shortcut on Mac
If you happen to be using a Mac, use the following keyboard shortcuts to add emojis on LinkedIn.
First, place the cursor in the text window where you want your Linkedin emoji. Next, press Command + Control + Spacebar, and it will open a mini window full of emojis falling under multiple categories. Click on the appropriate emoji to add it to the text window.
List of Emojis to Copy and Paste on LinkedIn
You may want to copy emojis directly from this page and post them on LinkedIn.
Productivity and Growth Emoticons
⚡️ 🔥 💥 ⏰ 🚀 📍 ✅ ✔️ ➡️ ⤵️ 💯 ♻️ 🚩 🏆 🎯 🏁 💲
Hand Gestures and Body Language
👏 👋 👌 👐 🤞👂 👍🏻 👈 ☝️ 💪 ✍️ 👃 👎 👉 ✌️ 🙏 👊 👆 ✋ 🖖 ✊ 🙌 👇 🖐 🤘 👀 👁 🗣 👤 👥
Facial Expressions
😁 😂 🤣 😃 😄 😅 😆 😉 😊 😋 😎 😍 😘 😗 😙 😚 🙂 🤗 🤩 🤔 🤨 😐 😑 😶 🙄 😏 😣 😥 😮 🤐 😯 😪 😫 😴 😌 😛 😜 😝 🤤 😒 😓 😔 😕 🙃 🤑 😲 ☹ 🙁 😖 😞 😟 😤 😢 😭 😦 😧 😨 😩 🤯 😬 😰 😱 😳 🤪 😵 😡 😠 🤬 😷 🤒 🤕 🤢 🤮 🤧 😇 🤥 🤫 🤭 🧐 🤓 👾 🤖 🧒 👦 👧 🧑 👨 👩 🧓 👴 👵 👀
Work, Education, and Business
💻 ⌨️ 🖥 🖨 🖱 📷 🎥 📞 ☎️ ⏱ ⏰ ⏳ ⌛️ 💡 🔨 🛠 ✉️ 📩 📨 📦 📊 📈 📉 🗃 🗳 🗄 📋 📁 📂 🗂 🗞 📰 📓 📔 📒 📕 📗 📘 📙 📚 📖 🔗 📎 🖇 📐 📏 ✂️ 📌 📍 🚩 🖌 📝 ✏️🔍 🔎💭
Hearts And Symbols
❤️ 💛 💙 💜 💔 💕 💞 💓 💗 💖 💘 💝 ⛔️ 📛 🚫 ❌ ⭕️ ❗️ ❕ ❓ ❔ ‼️ ⁉️ ❎ ✅ 📣 📢 🔔 🔕 ➕ ➖ ➗ ✖️
LinkedIn Emojis to Boost Your Posts
Now that you have a complete collection of emoticons, you can start using them on LinkedIn to create more engagement. And that begins with making your emojis coherent with your post's content.
Here are some ways you can place appropriate emojis based on the context.
If you're encouraging the audience to call or email you, you could use the phone emojis 📞 ☎️ and email emoji 📧.
Use tick emojis ✅✔️ ☑️ explain the benefits your prospects could be getting.
Leverage LinkedIn reaction emojis to add a human touch to your post — a winky smile 😉next to advice or a sad face 😥 next to a problem.
For indicating conversions, sales, and growth — 🎯🚀🧲💲
For new opportunities or making announcements — 📣 📢 🔔
If you're discussing training programs — 📱💻👨‍🏫📖
Why Use Emojis in a LinkedIn Post?
Emojis in Linkedin posts can make them more vibrant, interactive, and prominent. Result? More engagement and more exposure.
Here are three major reasons why you might want to add emojis to a LinkedIn post:
Convey Emotions
Emojis on Linkedin posts help you convey emotions in a better way. For instance, a message could appear more welcoming and positive with an addition of a mere smiley.
Consider the first sentence and see how a smiling face makes it warmer.
Sentence 1 – I can't attend the meeting you've scheduled because it conflicts with my site inspection timings. Fill me in on it tomorrow.
Sentence 2 – I can't attend the meeting you've scheduled because it conflicts with my site inspection timings. Fill me in on it tomorrow. 😊
Boost Your Post's Readability
Emojis add a visual element to your post, making them more readable.
For one, they make a better alternative to conventional bullet points. Not just that, you can diversify the bullet list according to the content. So, if a point discusses credibility, you could add 💯. If it talks about communicating, consider indicating it with 📩 or 📞.
The bottom line — insert emoji in a LinkedIn post to smartly fill up the black & white text space. Besides bullets, you can use them as reference points or spread them out to break sentences and paragraphs.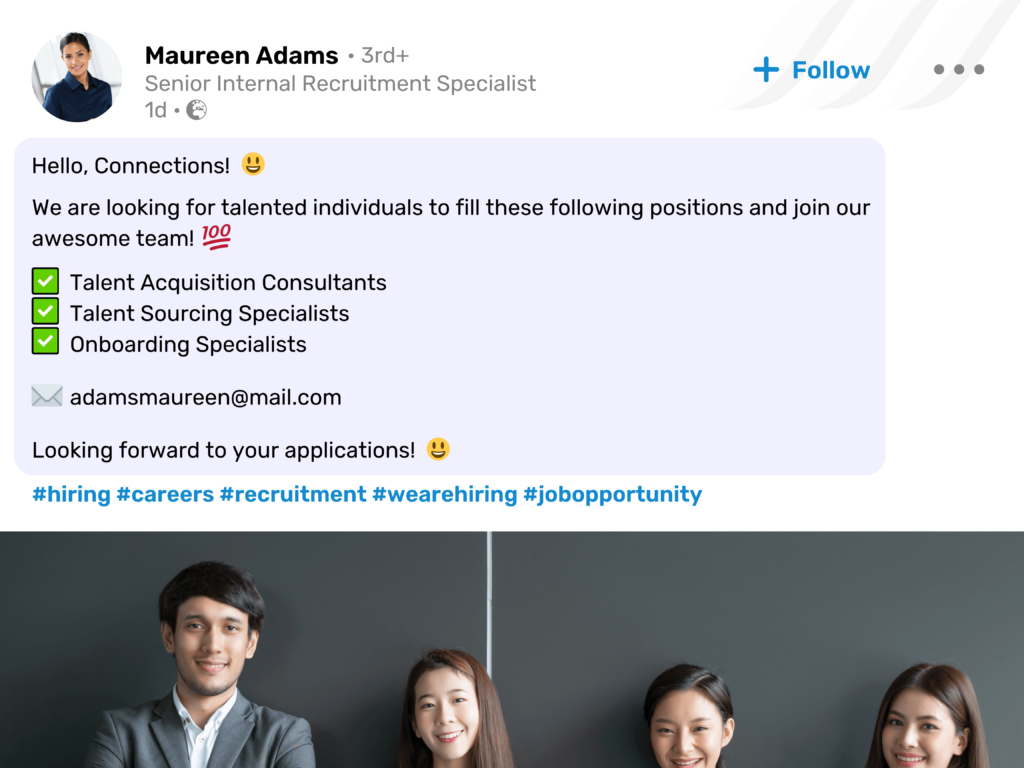 Save Space
What would take a bunch of words can be conveyed with just one emoji. In other words, you can add emojis to LinkedIn posts to keep your points concise. For example, "Call us at [number]" can be written as 📞 [number].
Conveying information in fewer possible words means a better chance to hook your audience as quickly as possible. Plus, it saves us characters to write other useful information since we have a character limit in LinkedIn posts.
Benefits of Using Emoji on LinkedIn
Emojis add a personality to your LinkedIn profile, make it less robotic, and convey the essence briefly. Here are two more ways emojis can benefit your LinkedIn presence.
Supports Branding
There are a couple of ways you can leverage emojis to do your branding. For starters, select emojis of your brand's color and use them in your posts. For example, if green is your brand's focus color, search for green emojis to complement your color theme. This adds consistency to your posts/messages and sets your content apart.
The second way to create brand recognition is to use a few particular emojis consistently. For instance, you may want to select emojis relevant to your business and use them repeatedly wherever appropriate. When you use them consistently, they will turn into your "signature" emojis. And when people see those emojis elsewhere, they'd think about you.
Boosts Engagement Levels
It's no secret that adding visuals to your Linkedin posts/profile can instantly grab viewers' attention and trigger engagement. Adding emojis to your post or profile can make it stand out from the thousands of profiles out there. In a digital space where hundreds of thousands of people post content, emojis can help distinguish your presence.
In fact, a recent study correlated the probability of getting 100 likes on a LinkedIn post with the number of emoticons. The percentage loosely increased with the increase in LinkedIn emoticons, with 10.38% being the highest probability at 15-16 emojis. This makes sense considering the added readability emoticons offer and the fact that humans process visual content 60,000 times faster than text.
The Best Way of Using Emoji on LinkedIn
LinkedIn posts are not the only place where emojis can be added. Use this versatile tool to your maximum advantage:
Make Your Headlines Pop
The headline is the only part of a LinkedIn profile visible in the thumbnail. So, you'd want to make the best use of the 120 characters you're given.
Placing emojis in your headline would give it the spark needed to grab attention and compel people to read through your profile.
Optimizing The Rest of Your Profile
There's no reason why you shouldn't add emojis to your profile's sections. Use an emoji keyboard or copy/paste into different text areas of your profile. These include job titles, summary, volunteering, awards, etc.
In the Summary Section, for example, you could emphasize your achievements, deliverables, or skill sets with ticks ✅ for more attention.
Conclusion
Emoticons give life to your LinkedIn profile, posts, and messages. You can copy-paste your way to creating content with the right emojis. Alternatively, you may want to use appropriate keyboard shortcuts to have a variety of emojis at your disposal.
Emojis, if used smartly in posts, can boost readability and help convey emotions. When used smartly, this can lead to higher engagement levels and better branding. The best way to use emojis is by inserting them in your posts, LinkedIn headline, and other areas of your profile.