LinkedIn is an excellent resource for professional networking, B2B marketing, lead generation, and career growth. But when LinkedIn restricts your account, it can be pretty frustrating. A restricted account means you'll not be able to access your account or network with your LinkedIn connections or prospects. The restriction could be temporary or permanent.
This post will discuss everything you want to know about LinkedIn account restriction. We'll tell you what 'LinkedIn account restricted' means, how to reopen restricted LinkedIn account, and more.
LinkedIn Restriction Types
LinkedIn restrictions come in different shapes, depending on the rules of use that have been breached, the nature of the account, and other criteria. These restrictions can be temporary or severe and long-lasting. In fact, sometimes, initial restrictions are the first steps to permanently banning accounts.
Let's look at some common LinkedIn restriction types.
Request for Email IDs on Sending Invites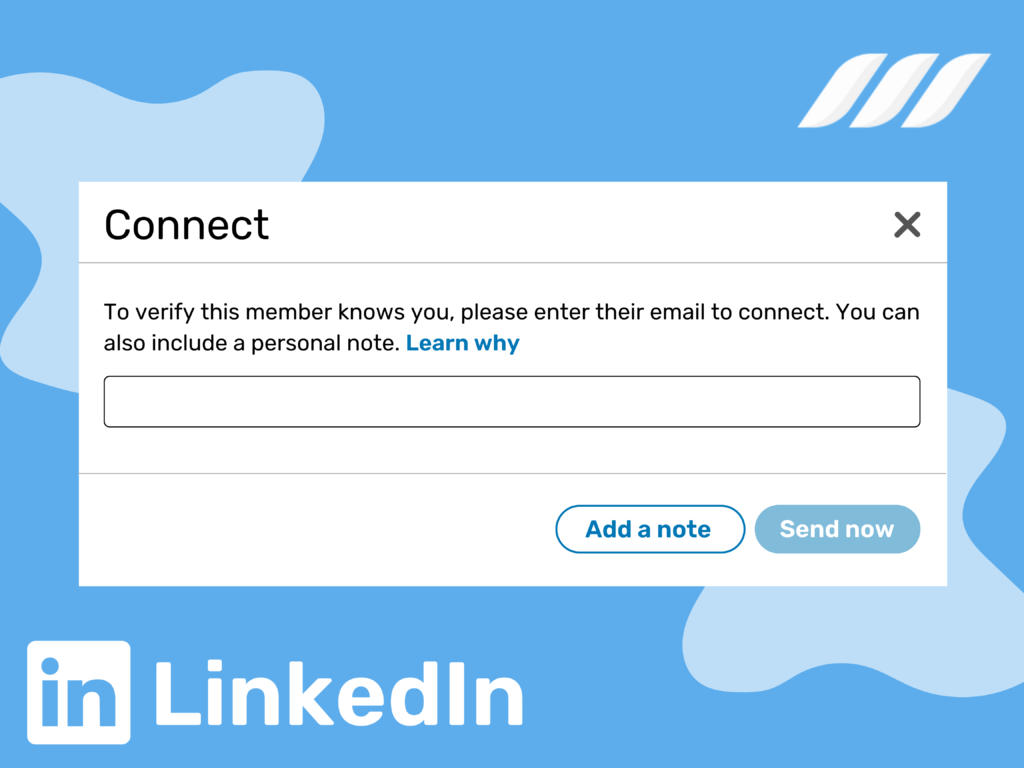 This is one of the most basic types of LinkedIn restrictions. If you have been sending many unsolicited invites, LinkedIn may notice it and ask you to enter the email ID of the person you are trying to reach. This is to check whether you know the people you're sending messages to.
It is a good idea to stop sending invites for a few days in such a situation. If the issue does not resolve after a few days, use a tool that allows you to end automatic connection requests. Some tools enable you to bypass the part where LinkedIn asks you to put in a potential connection's email ID.
But remember that just because you are asked to enter someone's email address once does not mean you will have to enter it for everyone.
Weekly Invitation Quotas Reached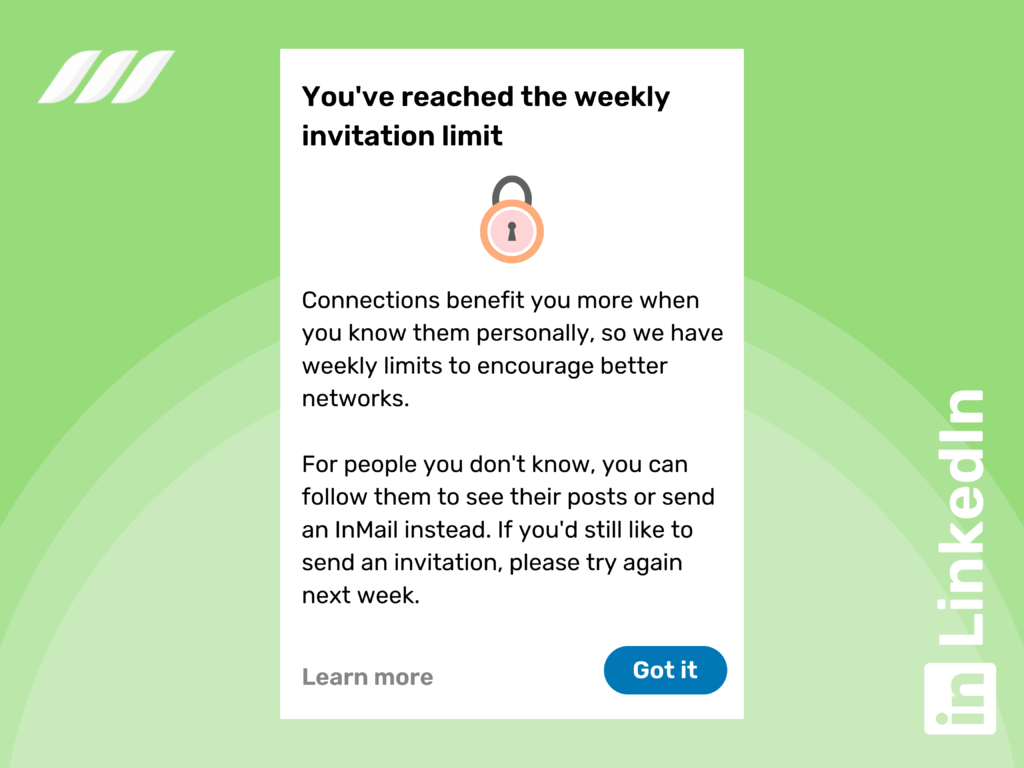 LinkedIn recently introduced a new feature that limits the number of invites you send out in a week. All LinkedIn users are now limited to sending only 100 connection requests weekly. The best part is that this rule applies to everyone, including premium users. If you wish to bypass this restriction, an excellent way to go about it is by employing an automation tool.
An automation tool can help you collect the email addresses of people you wish to connect with. The request is then filed in a non-traditional way (via email). For this reason, when you use an automation tool, you do not have to feel limited by the 100 weekly invites restriction.
Arrival in SPAM Mail
This restriction is tricky to identify because it typically happens when you use an automation tool and contact several people using the same private message. As such, you must choose your LinkedIn automation tool carefully, such as a tool that provides you with multiple, customizable message templates.
Plus, remember that LinkedIn can detect any behavior that appears automated and impose restrictions without confirming whether or not automation tools are being used.
Temporarily Restricted With ID Request
Temporary restriction with an ID request is a more serious restriction because it means you have violated the platform's Terms of Service.
Temporary restrictions may occur if you have done one of the following actions:
You have been using a prohibited automation tool
Your account does not indicate your true identity
Your shared post or content has been flagged
You have indulged in any behavior that seems suspicious to the LinkedIn ID algorithm
Permanently Banned from LinkedIn
A permanent ban is a final step. Before you are banned from LinkedIn, you go through the previous steps that require you to provide identity proof and other details for verification. LinkedIn will send you an email notifying you that you've been permanently banned from the platform. You will not get unbanned even if you provide your ID. Although a rare occurrence, a permanent LinkedIn ban is one you must avoid at all costs.
Why Your LinkedIn Account Was Restricted
Your LinkedIn account is restricted: there are many reasons it can happen, depending on the nature of the restriction, the choice of the IA that led to your first restricted account, non-compliance with LinkedIn's bad terms of service, and more.
Here is a list of reasons why LinkedIn may restrict your account.
Excessive Invitation Requests
LinkedIn is all about forging interactions with people around you. That said, you must avoid sending too many connection requests at a time.
Thanks to the advanced algorithm of Dripify automation software, you can bypass this limit and send up to 75 connection requests per day on LinkedIn.
Low Acceptance and Response Rates
You can send out as many requests as you want. But, if your requests are left unattended and your messages are not getting responses, your account may come off as a fake account or spam.
Too Many "Not Knowing You" Reports
When you send out an invite request, users may accept or reject it. In some cases, they may report you by hitting the "I don't know this person" tab. If too many users report you as someone they do not know, your account may get restricted.
Using Unreliable Automation Tools
LinkedIn does not like automation tools. While some comply with its rules and go undetected, LinkedIn can easily detect others. As such, you must pick a safer and trusted tool to automate your repetitive LinkedIn activities and actions.
Sharing Inappropriate or Insulting Content
Sharing inappropriate content indirectly or directly may land you on the account and content restricted list. Make sure to keep everything decent and respectful on the platform!
Forwarding the Same Message Chain Repeatedly
LinkedIn does not like it when you repeatedly send the same messages to everyone because it does not reflect professional behavior to create a quality network. So, personalize your messages to avoid getting banned from the platform.
What Happens When Your LinkedIn Account is Blocked
If your LinkedIn account is blocked for any reason, LinkedIn may restrict the content you have shared and may even have the content removed. It all comes down to the type and severity of the violation. You can appeal your case to reopen a restricted LinkedIn account if you feel like there is an issue worth reporting.
What to Do if You Get Banned from LinkedIn
Here are some methods to unblock a restricted LinkedIn account.
Weekly Email and Request Limit
If LinkedIn asks you to enter someone's email when you request a connection, simply stop sending any invite for the next 24 hours at least. But you can manually send an invite daily to see if your account has been banned from LinkedIn.
Request a Response from a Contact
When making your way into someone's spammed folder, we recommend you wait for a couple of days before sending a follow-up message. Plus, try to reduce the number of actions you use during your campaigns and use different message templates. You can request a response from the contact so that LinkedIn knows that there is a real connection.
Provide Email IDs with Connection Requests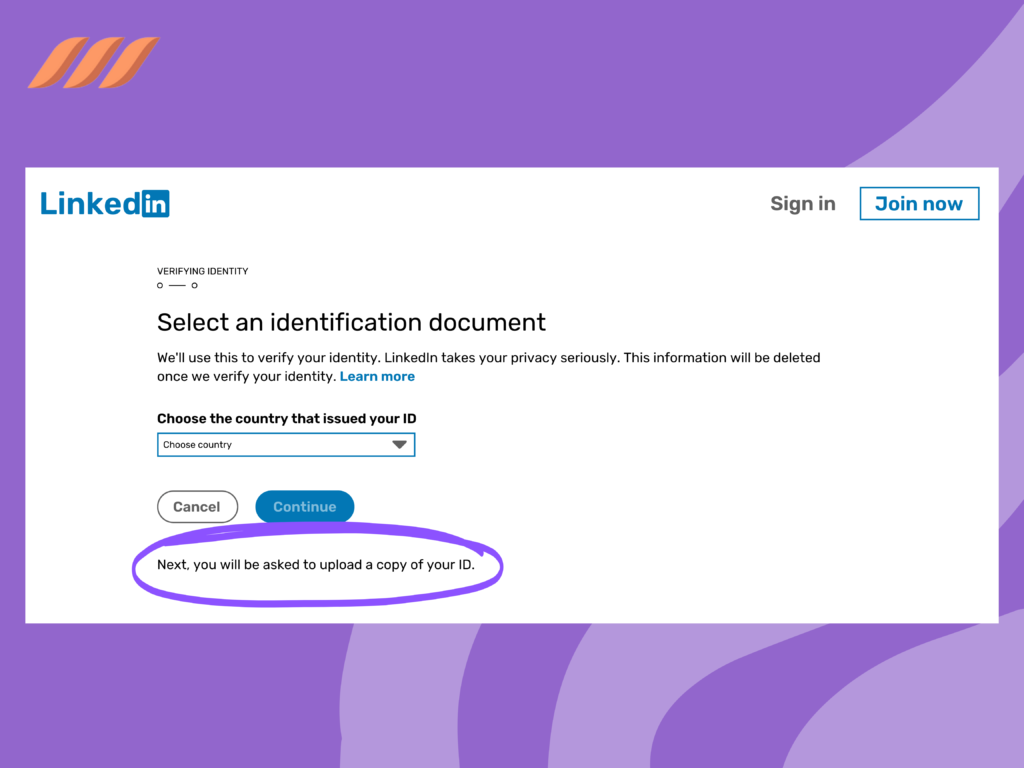 If LinkedIn asks you for an ID, give them an ID – it is as simple as that. You will never get your account back if you provide a fake ID.
Use Approved and Safe LinkedIn Tools
Stop using any tool previously identified by LinkedIn because LinkedIn can detect it again. If the tool is not recognized by name, we recommend you halt activities for a few days and reduce the profile action count for some time. Once you are off the radar, you can consider going back to your old ways.
Using approved and safe LinkedIn automation tools is always a wise choice. Here are some reasons why:
Some tools are unsafe because they may be configured differently or add random additions to your profile, making you an easy target. Never use automation tools that change your LinkedIn profile interface.
You may exceed your account usage limit on some days, even putting you at risk of restriction or a permanent ban. Using a safe automation tool will allow you to send out as many requests as you desire while ensuring the presence of a check and balance system.
Using a completely automated LinkedIn tool is also a bad idea because it does not control your account activities. A robot cannot compete with the human brain or add that personal touch.
Safety must be your ultimate priority, so opt for tools like Dripify that provide you with all the benefits of automation along with complete safety. Dripify is a leading LinkedIn prospecting and automation tool that works in autopilot mode while you sleep. It allows you to create drip campaigns and automate invitation requests and messaging. Rest assured that Dripify's advanced algorithms will keep your LinkedIn account safe.
What You Shouldn't Do if You Get Banned from LinkedIn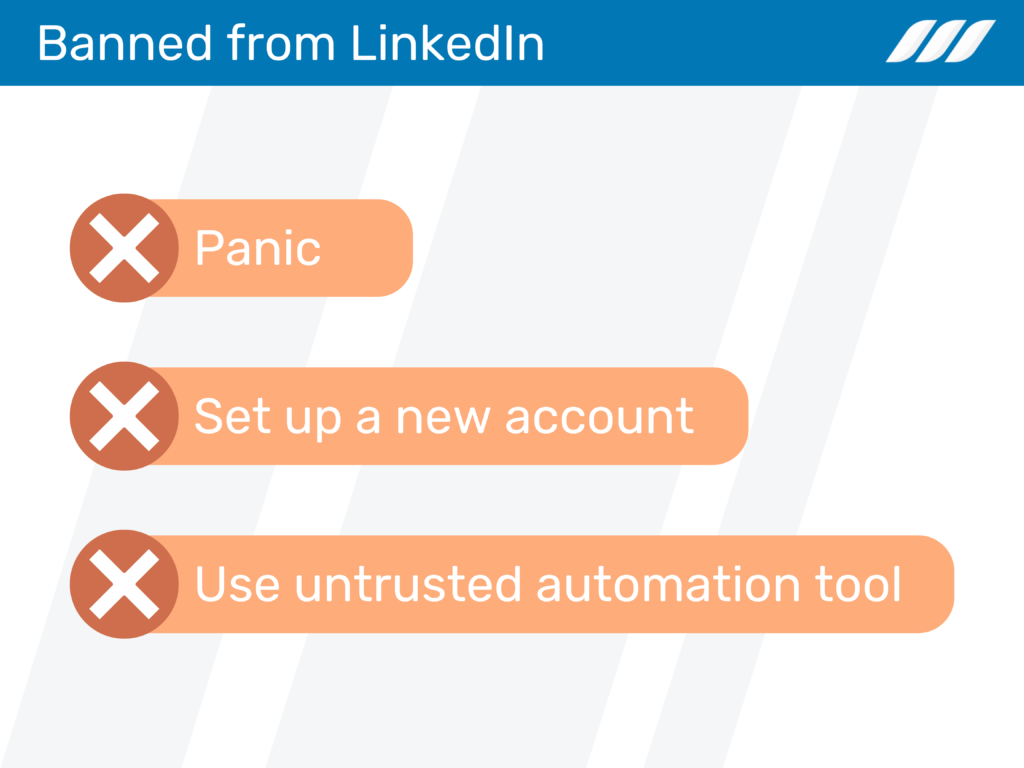 Here are two things you must not do in case your account gets banned on LinkedIn:
Panic
LinkedIn imposes restrictions every other day. There is no need to panic. Regardless of the nature of the restriction, know that there is always a solution.
Create a New Account Immediately
Creating a new LinkedIn account is not the solution. It does feel like the right thing to do but setting up a new account right away is the worst idea.
If you want to do it anyway, be sure not to use the same browser with information stored in cookies that allows LinkedIn to see if you have a restricted account.
But we recommend you avoid setting up a new account unless your LinkedIn account is permanently restricted.
What if You Get Permanently Blocked on LinkedIn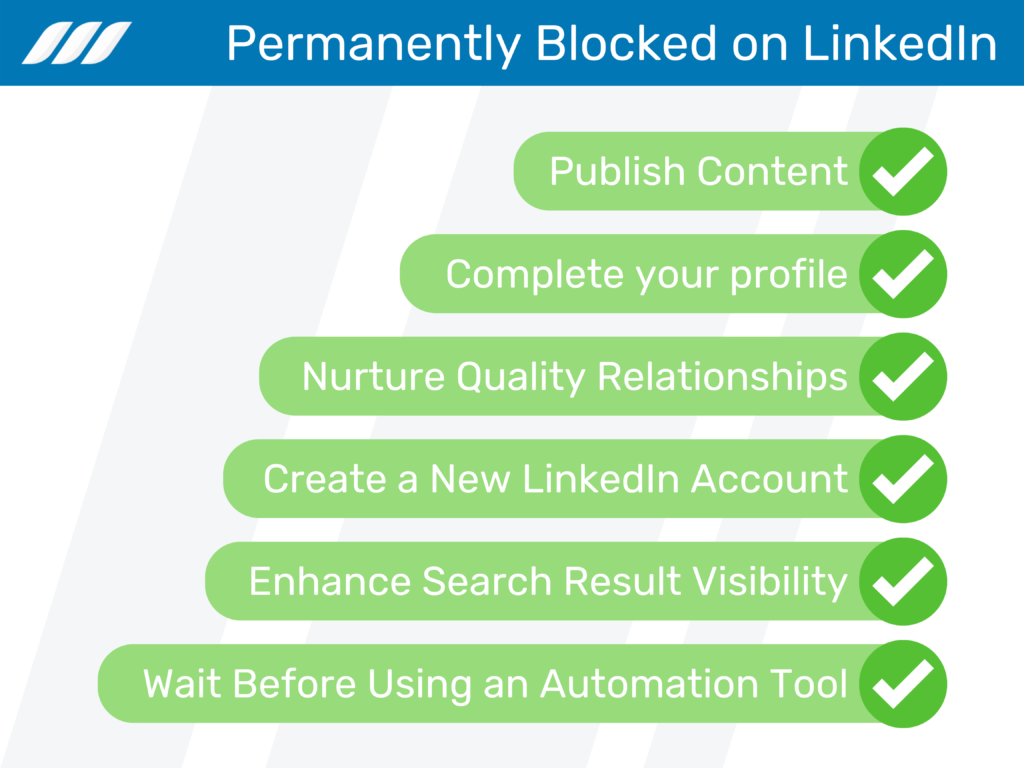 Here's what you can do if you get permanently blocked on LinkedIn?
Create a New LinkedIn Account
Start afresh and make a new LinkedIn account if the old one has been permanently shut down. Delete your cookies and caches to leave no traces of your previous account. Use a new email ID and create a new account – simple!
Nurture Quality Relationships
LinkedIn picks favorites. An account with a more significant following, a track of daily posts, and higher engagement is prioritized over an account with minimal connections and no posting history. As such, be sure to create a quality network by adopting the slow and steady approach.
There is no need to get over-excited or go overboard. Build connections over time and add a personal touch, so it looks as natural as possible.
Complete Your Profile
A complete profile is a great way to show LinkedIn that you are a real person, not someone hiding behind a fake identity.
Enhance Your Search Result Visibility
The greater your visibility in search results, the greater your chances of expanding your network. Having more visibility means you're part of LinkedIn's interesting user list and thus an unlikely suspect.
Publish Content
LinkedIn is a social media platform so treat it like one. Create content that adds value to LinkedIn because doing so will reduce your chances of being kicked off the platform. Prioritize your content's quality as it is the primary method to draw interest, get connection requests, and land potential business opportunities.
Wait Before Using an Automation Tool
If you have been banned or restricted for using an automation tool, be sure to wait at least three months before you start using one again.
LinkedIn Account Recovered – How to Avoid Being Banned Again?
If you have recovered your account, congratulations! Now, you must be extra careful because even the slightest warning might be a precursor to a permanent ban.
You must adopt a slow and steady approach to avoid getting banned again. Keep it very low-key in the initial few weeks and then send out a maximum of 15 invitations per week. You can gradually increase your invite count over time.
Second, review your campaign approach and adopt a less salesy and less automated approach. Plus, stop using any untrusted automation tools and instead opt for one that is safe and undetectable by LinkedIn, like Dripify.
And last but not least, respect LinkedIn's TOS. Follow the guidelines laid out by the platform and prevent yourself from getting banned.