Your LinkedIn lead generation efforts appear to be going quite well. You're sending out connection requests and messages on a daily basis, and some of your prospects are actually accepting your connection requests.
But suddenly, something unexpected happens. Your account is hit with a restriction.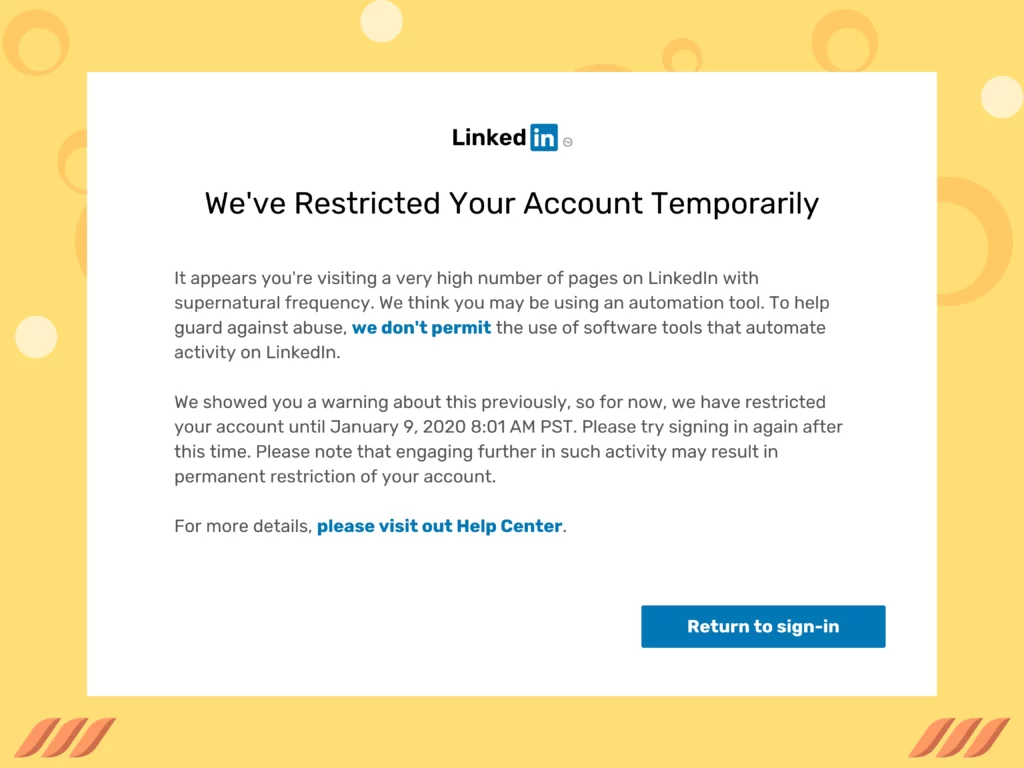 As a result, you're logged out of your account and you find yourself in a situation where you can't use LinkedIn as you normally would. This is commonly referred to as being in "LinkedIn jail."
As a consequence, your ability to connect with and generate new leads is put on hold, at least for a certain period of time.
If you've experienced this situation, you're not alone and there's no need to panic.
There are a few reasons why this might have occurred, and there are strategies you can use to prevent it from happening again.
And it's important to note that just because your account has been restricted once doesn't mean it will always be that way. However, if this issue keeps happening repeatedly, there's a risk that you could end up with a permanent ban from LinkedIn.
LinkedIn Restriction Types
LinkedIn restrictions come in different shapes, depending on the rules of use that have been breached, the nature of the account, and other criteria. These restrictions can be temporary or severe and long-lasting.
Let's look at some common LinkedIn restriction types:
Email Request while Sending Invites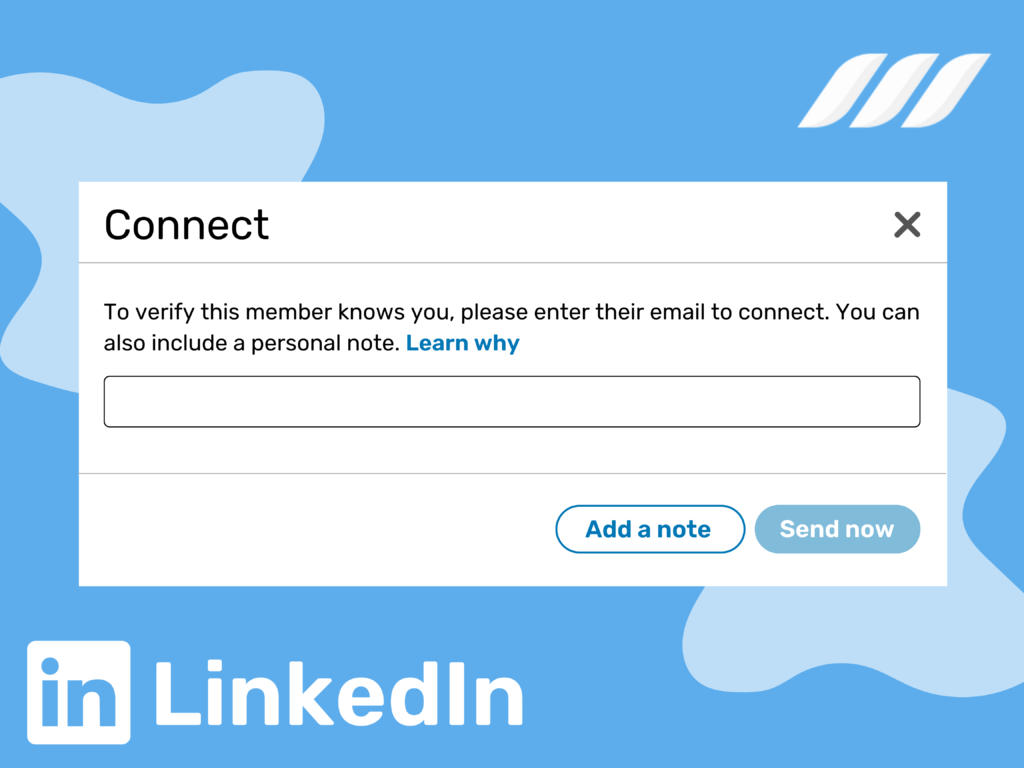 This is one of the most basic types of LinkedIn restrictions. It happens when you send out many unsolicited invites and a large percentage of people who received the connection request report that they don't know you. LinkedIn may notice it and ask you to enter the email address of the person you are trying to reach. This is to check whether you know the people you're sending connection requests to.
If you find yourself in this situation, there are steps you can take to address it. First, you should reduce your overall activity on LinkedIn and stop trying to send connection requests. Second, retract or withdraw the oldest pending connection requests, bringing your total below 500 requests.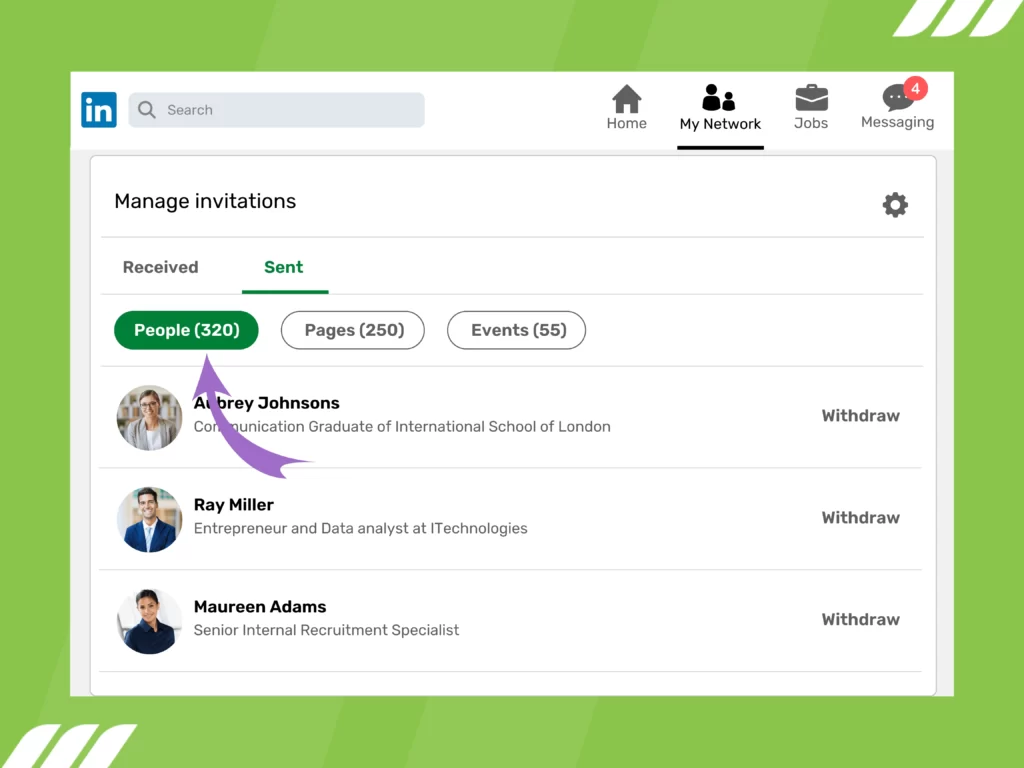 After making these adjustments, give it about a week before trying to connect again. Taking these actions should resolve the issue and allow you to proceed with your LinkedIn activities smoothly.
Weekly Invitation Quotas Reached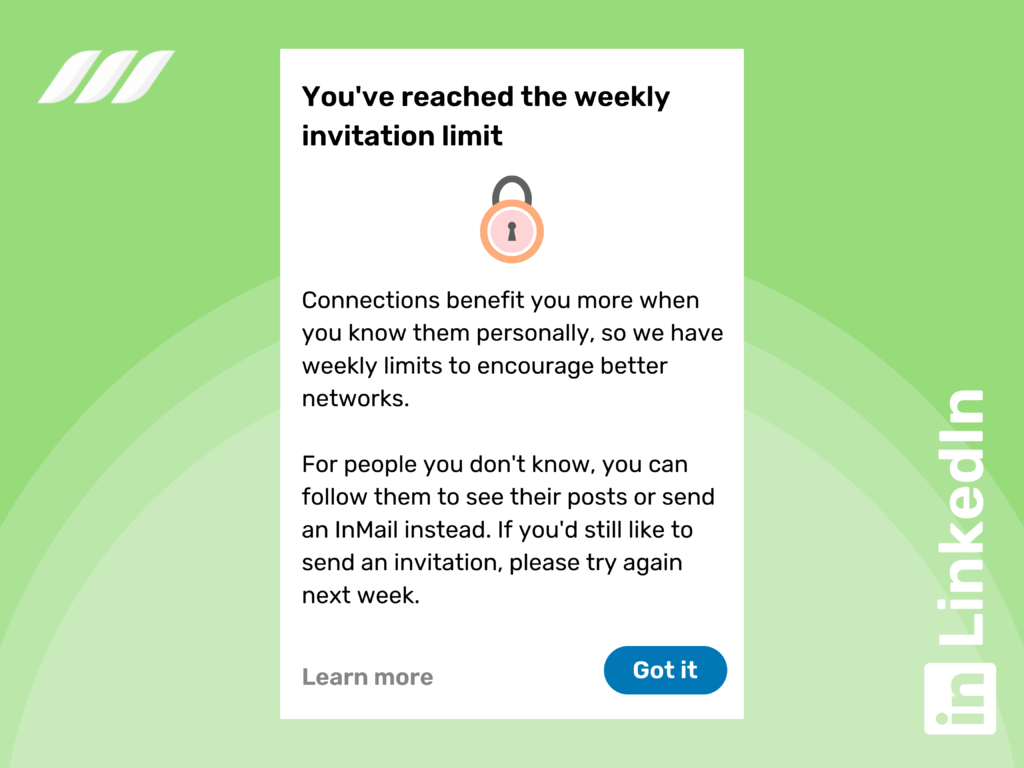 Did you know that there is a limit on the number of LinkedIn invites you can send out in a week? All LinkedIn users are limited to sending around 100 connection requests weekly. The best part is that this rule applies to everyone, including premium users.
While in real-world use, the limit typically falls between 100 and 200 per week, you can actually bypass this limit using Dripify.
Temporarily Restricted With ID Request
Temporary restriction with an ID request is a more serious restriction because it means LinkedIn thinks you have violated the platform's Terms of Service. LinkedIn's monitoring system is evolving and not perfect yet. As a result, this type of restriction is quite common, even among LinkedIn users who have never used automation tools or haven't sent out too many connection requests.
And it's worth noting that many cases were reported where even individuals who were very active on LinkedIn – engaging in activities like viewing profiles, liking and commenting on posts, endorsing skills, and performing other actions manually – encountered this restriction.
Additionally, LinkedIn's platform experiences semi-regular algorithmic changes, roughly every quarter. It's not always on a set schedule, but when these updates occur, numerous profiles are affected and receive these temporary restrictions. Such waves of restrictions have become a prevalent phenomenon on LinkedIn lately.
However, the good thing is that regaining access is straightforward – by simply uploading an ID.
Permanently Banned from LinkedIn
A permanent ban is a final step. Before you are banned from LinkedIn, you go through the previous steps that require you to provide identity proof and other details for verification. LinkedIn will send you an email notifying you that you've been permanently banned from the platform. You will not get unbanned even if you provide your ID. Although a rare occurrence, a permanent LinkedIn ban is one you must avoid at all costs.
Why Your LinkedIn Account Was Restricted
LinkedIn relies on a series of distinct signals to identify and prevent any suspicious activities. Understanding these signals and adhering to the unspoken rules associated with them can help you avoid LinkedIn account restriction.
These signals serve as guideposts, shaping the contours of a user's experience on the platform and providing insights into the behaviors that are both encouraged and discouraged.
Profile Signals
Unusual Login Activity: LinkedIn monitors login activities to ensure a secure environment for its users. As such, using your account from different locations or devices might trigger suspicions, possibly leading to limitations on your account.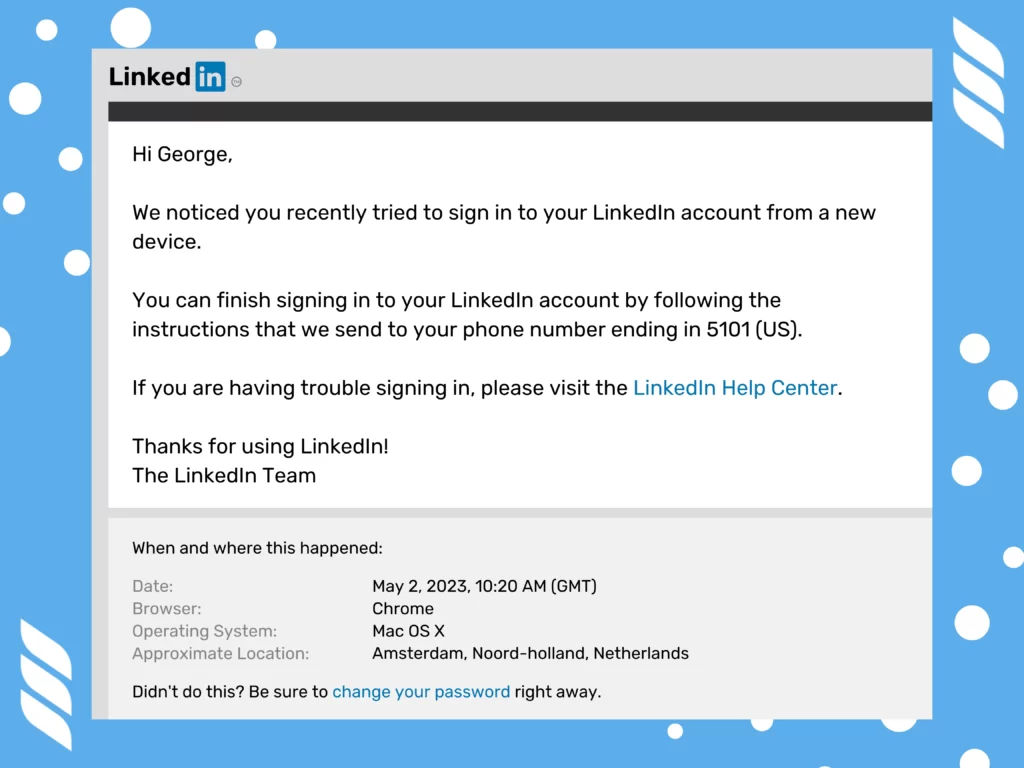 Having Multiple Accounts: LinkedIn has a strict "one user, one account" policy. Creating multiple accounts or impersonating others through the use of their images or information violates these guidelines, potentially resulting in the suspension of all your accounts.
Using Multiple Accounts from the Same IP Address: Managing multiple LinkedIn accounts from a single IP address might arouse suspicion. This can lead LinkedIn to restrict your accounts.
Misrepresentation or False Information: LinkedIn is very strict against false or deceptive information, such as using someone else's photograph. It uses cutting-edge algorithms, as well as user-generated reports, to detect and flag such misrepresentations.
Frequent Profile Changes: While it is a good idea to keep your profile up to date, making overly frequent adjustments to important profile details – such as job titles, locations, or educational backgrounds – can potentially raise eyebrows and lead to account suspension.
Incomplete Profile: An incomplete or inadequately professional profile might not be the primary cause for account restrictions, yet it can contribute to an unfavorable impression.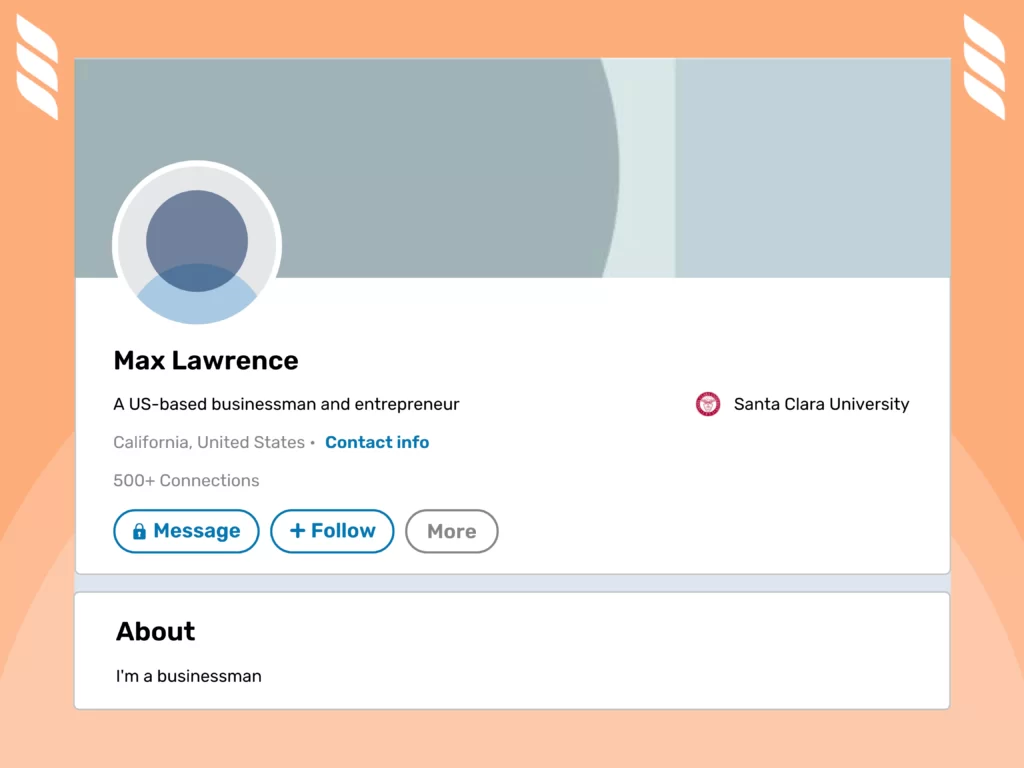 Looking for tips to make your LinkedIn profile look more professional? Check out our detailed guide on how to improve your LinkedIn profile.
Email Address Linked to Spammers: The email address you use to access your LinkedIn account plays a pivotal role in verifying your identity and facilitating communication. And if you have an email address with a history of spam or blocked users, it can increase the risk of account restrictions.
Unsafe Automation Tools: While automation tools can boost efficiency, not all of them adhere to LinkedIn's regulations. So, be sure to pick a safe tool, such as Dripify that prioritizes safety and compliance. Dripify, for instance, replicates human behavior, reducing the likelihood of account restrictions due to suspicious automation.
Avoid Keyword Stuffing: Excessive use of keywords, especially those unrelated to your professional background, can distort search results and cast doubt on the authenticity of your profile.
Irrelevant Endorsements: When you get endorsements for irrelevant skills, it affect the authenticity of your profile and give a misleading impression.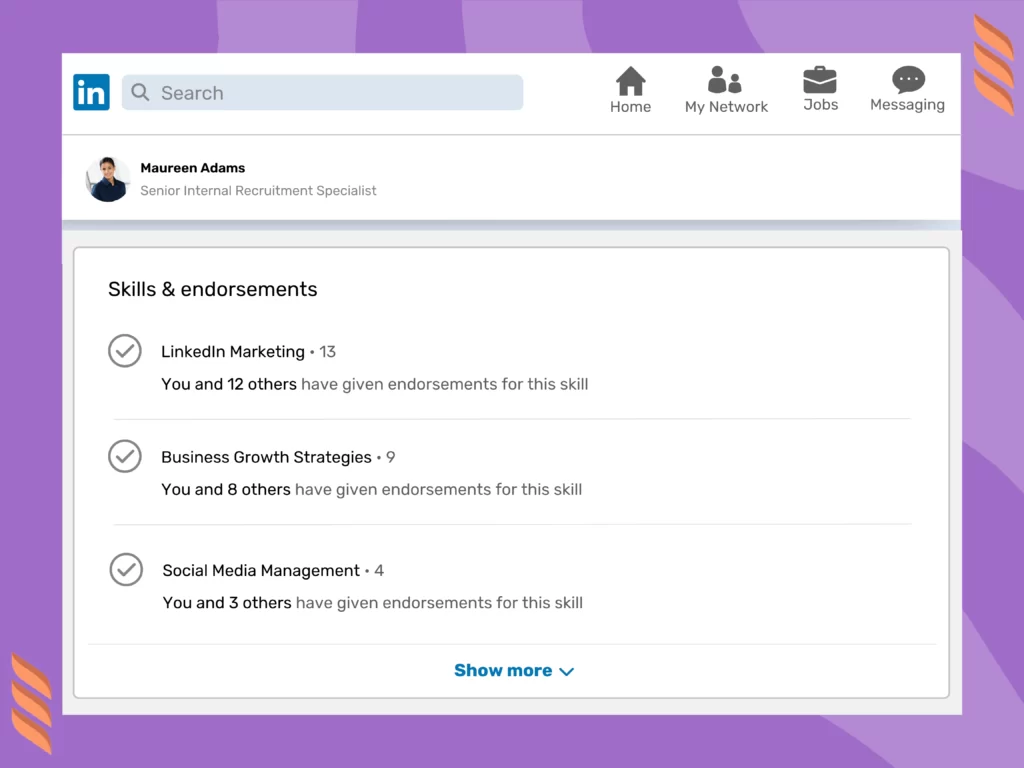 Inconsistent Employment History: Inconsistencies in your employment history, such as overlapping dates or contradictory job titles, can cast doubt on your credibility and increase the risk of account restriction.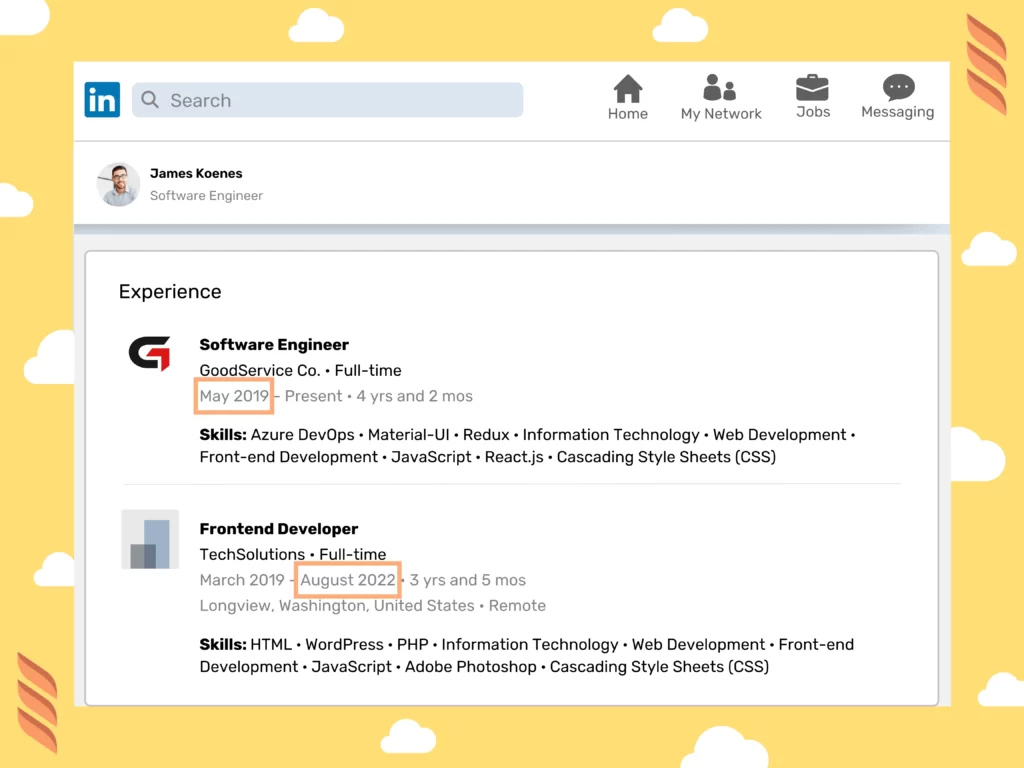 Activity Signals
Viewing Too Many Profiles: An excessive number of profile views can trigger alarms within the LinkedIn ecosystem. This might be misconstrued as automated or abusive, potentially leading to account restrictions.
Rapid Account Activity: Quickly performing multiple actions, such as browsing numerous profiles in quick succession or rapidly endorsing other users, can resemble bot-like behavior. This behavior, when detected, may result in account restrictions. Thankfully, Dripify's Activity Control can help maintain a more organic pace, reducing the risk of being flagged as a bot.
Low Acceptance and Response Rates: A consistently low acceptance rate for connection requests or a lack of responses to messages can signal inauthentic behavior, potentially impacting the credibility of your profile.
"Not Knowing You" Reports: When you get multiple "Not Knowing You" reports from users who reject your connection requests, it can prompt concerns and increase the risk of account restriction.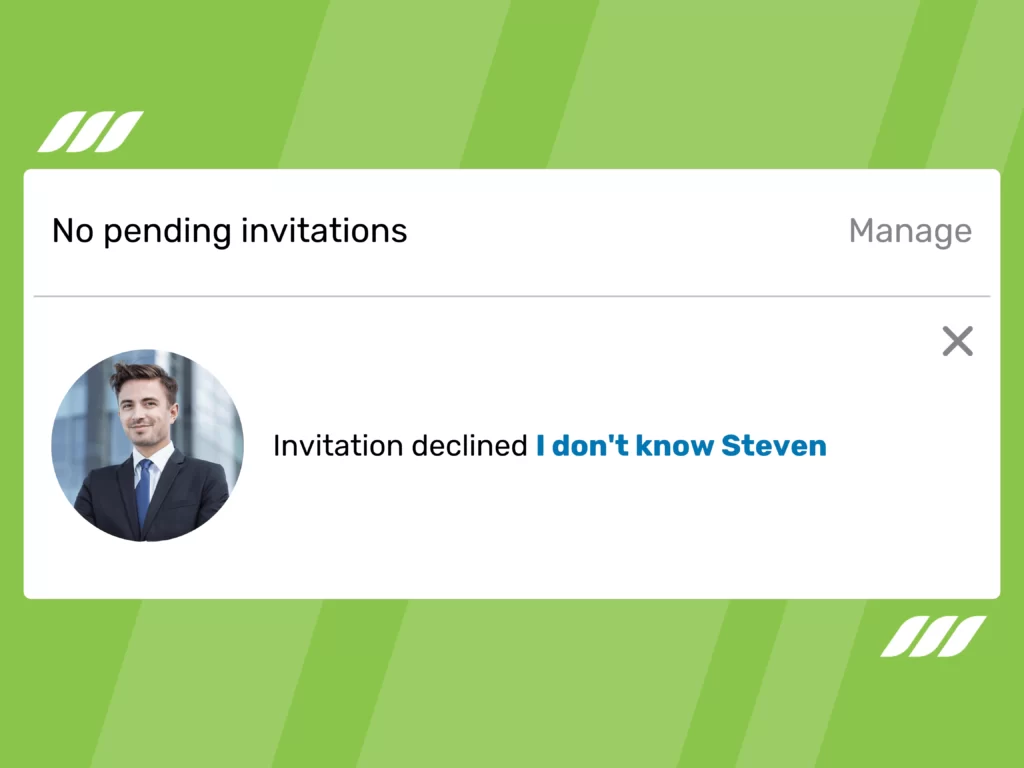 Repeating Message Chains: Sending identical messages to multiple recipients can convey a lack of personalization and authenticity. This may trigger LinkedIn to restrict your account because it may think you're using a bot.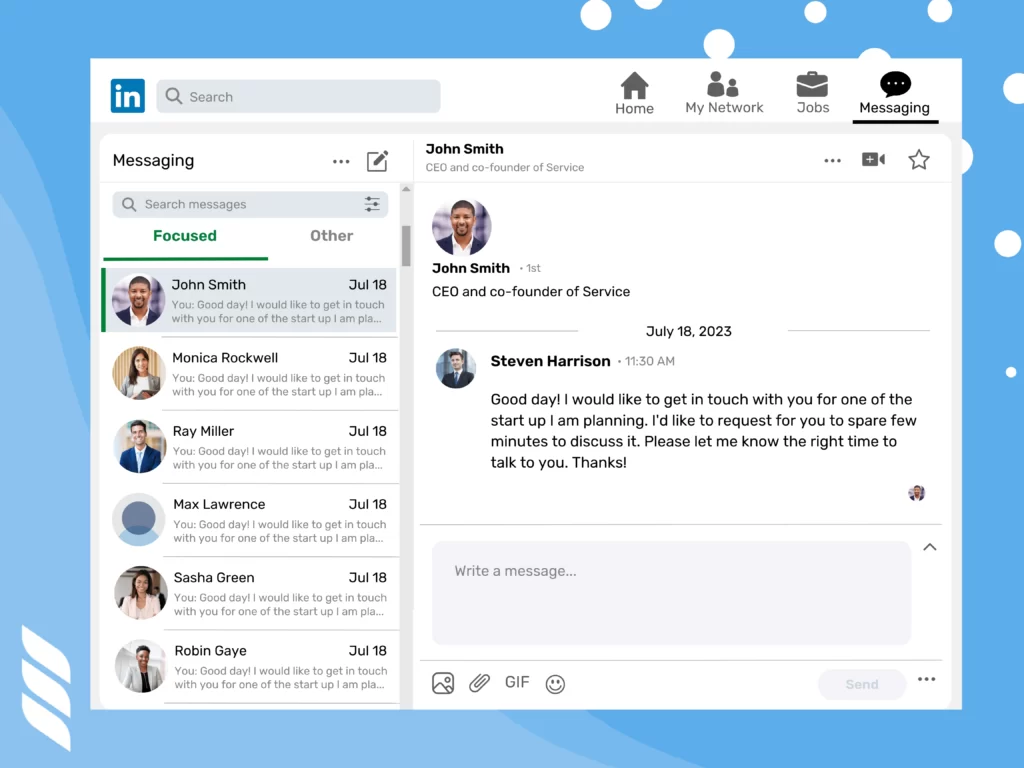 What to Do if You Get Banned from LinkedIn
First off, do not panic! LinkedIn restrictions are common, and while they might seem a bit unpredictable at times, they're usually manageable. In most situations, these restrictions can be lifted if you follow the right steps and guidelines.
So, what should you do if you get banned from LinkedIn?
First, let's start with things you should not do when you get banned on LinkedIn.
Panic
LinkedIn imposes restrictions every other day. There is no need to panic. Regardless of the nature of the restriction, know that there is always a solution.
Create a New Account Immediately
Creating a new LinkedIn account is not the solution. It does feel like the right thing to do but setting up a new account right away is the worst idea.
If you want to do it anyway, be sure not to use the same browser with information stored in cookies that allows LinkedIn to see if you have a restricted account.
But we recommend you avoid setting up a new account even if your LinkedIn account is permanently restricted. In fact, around 90% of permanent restrictions are successfully resolved by LinkedIn's support team, leading to account restorations.
Use Untrusted Automation Tools
It's no secret that LinkedIn automation tools enhance efficiency and convenience. But using the wrong ones can lead to serious consequences. Untrusted automation tools could potentially employ incorrect algorithms and simply lack essential safety features. These aspects cannot not be easily verified by you as a user, yet they have the potential to trigger red flags on your LinkedIn account. To ensure a safe and effective LinkedIn experience, pick a reputable and well-established automation tool that prioritize compliance and account safety.
What if You Get Permanently Blocked on LinkedIn
In more serious cases, LinkedIn might fully restrict or permanently block your account. The good news is that in most cases, you have the chance to unblock your account. This usually involves submitting necessary documents like your passport or driver's license for verification purposes.
Even if LinkedIn states that your profile is permanently restricted, there's still a way out. Reach out to LinkedIn support agents to seek help in regaining access to your account. Their decision may take into account factors like whether you have a paid LinkedIn account, how complete your profile is, and whether you have skill endorsements and recommendations – all of which contribute to your account's authority.
LinkedIn Account Recovered – How to Avoid Being Banned Again?
If you have recovered your account, congratulations! Now, you must be extra careful because even the slightest warning might be a precursor to a permanent ban.
Simplify LinkedIn Login Activity: LinkedIn's careful watch over login activity means you should stick to a single device and location. It is a good idea to use LinkedIn during off-peak hours to reduce the chances of concurrent sessions.
Manage Connection Requests: Keeping too many pending requests might not look great. Instead, try to have fewer than 300 pending invitations. You can use Dripify to easily retract unaccepted requests.
Smart Connections: Raise your acceptance rate (aim for 40% or more) by targeting the right audience on LinkedIn. You can use search filters to find people who align with your content, industry, or offerings. Also, personalize connection notes, optimize your profile, and consider connecting with premium LinkedIn users for quality connections.
Gradual Activity Growth: Adjust your daily activity limits in Dripify settings. Start slow, like using a quarter of your regular limits during the first week after a restriction, then gradually increasing. The Activity Control feature, available for Advanced plan users, helps maintain safe activity levels.
Handling Multiple Warnings: If you've been warned multiple times, take a brief break (3-7 days) from automation to recalibrate your LinkedIn approach. After the pause, slowly increase your LinkedIn activities with a cautious mindset. Consider the gradual growth strategy mentioned earlier. Our support team can help adjust your limits if necessary.
Conclusion
As you can see, having a restriction on your LinkedIn account can be a daunting experience. But it's important to approach the situation with a clear understanding of why it might have occurred and how to address it. Remember that LinkedIn wants to maintain a secure and professional platform for all its users, and restrictions are often used to ensure compliance with their guidelines.
So, if you find yourself facing a restriction, don't panic. Instead, follow the steps outlined in this article to regain access to your account. Whether it's providing necessary documents for verification, adjusting your activity levels, or seeking assistance from LinkedIn's support team, there are effective strategies to resolve the issue.
The best thing is that Dripify automation software can help you streamline your LinkedIn activities while staying within the LinkedIn's rules. The tool was developed with security and compliance in mind, so you can connect and engage with others on LinkedIn in a natural and responsible manner.