LinkedIn automation tools help you expand your reach and impact on the professional networking site. But not all the automation tools are created equal. And not all of them are safe for your LinkedIn account. It is essential to know how to use LinkedIn automation safely without compromising your account. Our guide will help you pick a reliable, trusted, and feature-rich automation tool for LinkedIn.
Top 27 LinkedIn Automation Tools
We reviewed most of the top LinkedIn automation tools available in the market to bring you a rundown of the leading ones. Whether you're looking for LinkedIn message automation, launch personalized outreach, or scrape LinkedIn data, there is a tool on this list for you.
Keep in mind that a higher or lower price does not determine the quality of most of these tools. In fact, you can find a leading LinkedIn automation tool at a reasonable price that may perform way better than a high-priced but poor-quality tool. It is a good idea to compare the best LinkedIn outreach automation tools before you make a choice that you won't regret later.
1. Dripify
Dripify is a multifunctional, top LinkedIn automation software designed to help sales teams improve LinkedIn prospecting and close more deals while being on autopilot. You can use Dripify while your device is switched off since it provides complete automation and works in the cloud. This tool also allows you to set up your sales funnels in minutes and then let it handle the rest for you. With Dripify, you can create drip campaigns using various LinkedIn actions to boost lead generation.
Dripify LinkedIn automation tool also allows you to manage your onboard team members by monitoring and assessing their performance. You can analyze your daily statistics and see the metrics on each campaign that you may have created. What's more, Dripify is one of the leading LinkedIn scraping tools that you can use to extract email addresses from the professional networking platform. These rich features makes it one of the best tool when it comes to using LinkedIn for B2B lead generation.
Moreover, this top-rated tool allows you to respond to leads by managing all the conversations in your smart inbox. Finally, you may want to use Dripify to download any data relevant to your leads and export it to a CSV document for further campaigns, analysis, and more.
Being the best LinkedIn bot, Dripify offers three basic packages in terms of pricing, namely the Basic, Pro, and Advanced. The Basic package is priced at $39 per month, the Pro at $59 per month, and the Advanced at $79 a month. While some may consider these prices high, the kind of services that Dripify offers makes it worth the investment – start Dripify free trial.
2. Octopus CRM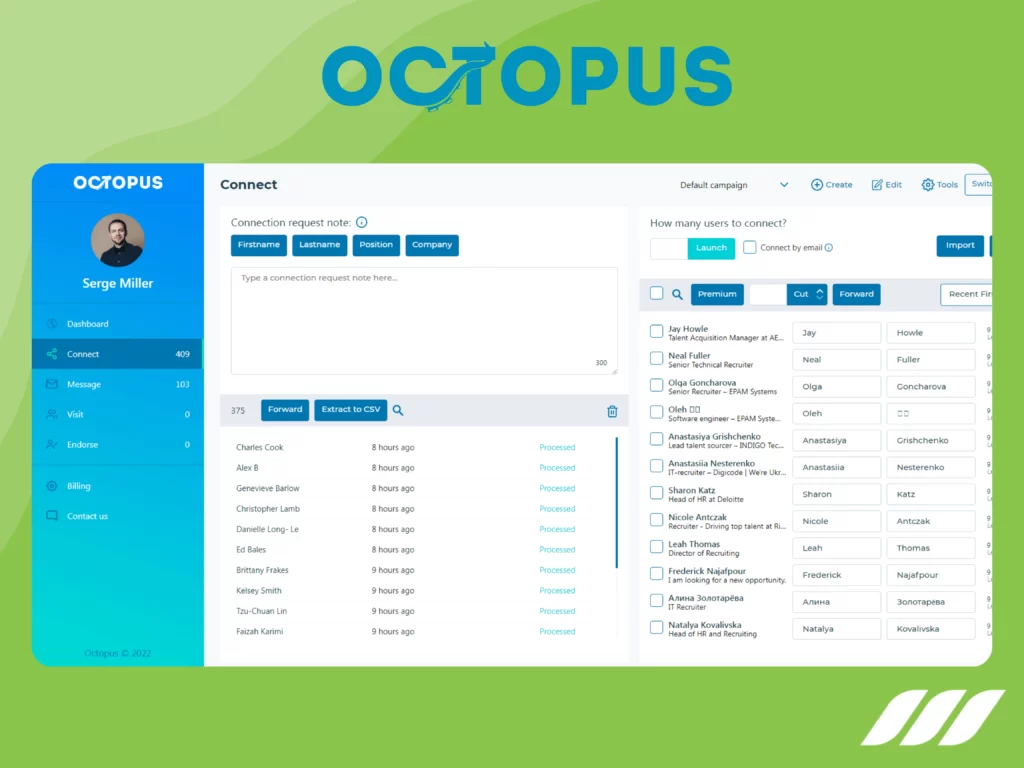 If you are in search of a tool that is inexpensive yet powerful and loaded with features, then Octopus CRM is your safest and best bet. This top LinkedIn automation software allows you to take care of LinkedIn networking with ease and in a secure environment.
Octopus CRM is an all-in-one LinkedIn automation tool that helps LinkedIn users simplify their outreach and prospecting tasks. Online marketers can use it to create LinkedIn marketing funnels for any business. It helps you to connect with your target audience automatically.
Use Octopus CRM to automate sending out bulk connection requests, viewing profiles, sending personalized messages, endorsing skills, and more. In fact, it is the best software for LinkedIn mass messaging. Octopus CRM also allows you to personalize interactions with your connections and build your own marketing funnel on LinkedIn.
The best part: this tool is compatible with all LinkedIn account types. It is excellent for outreach campaign monitoring because it provides you with the relevant statistics and overall trends. Plus, it allows you to control your LinkedIn activity, and you can even integrate it with Zapier and Hubspot.
With the Octopus CRM you can easily add, combine, and remove features and save your prospects in your dashboard. You can create your lead generation funnel to get leads and use the follow-up automation features to increase your conversions.
Octopus CRM is a popular automation tool that offers four different price packages. The starter pack comes at $6.99 a month, the pro package at $9.99 a month, and the advanced package at $14.99 per month. Or you may want to opt for the unlimited package at $24.9 per month billed annually.
👉 Read the full Octopus CRM and Dripify comparison
3. LinkedIn Sales Navigator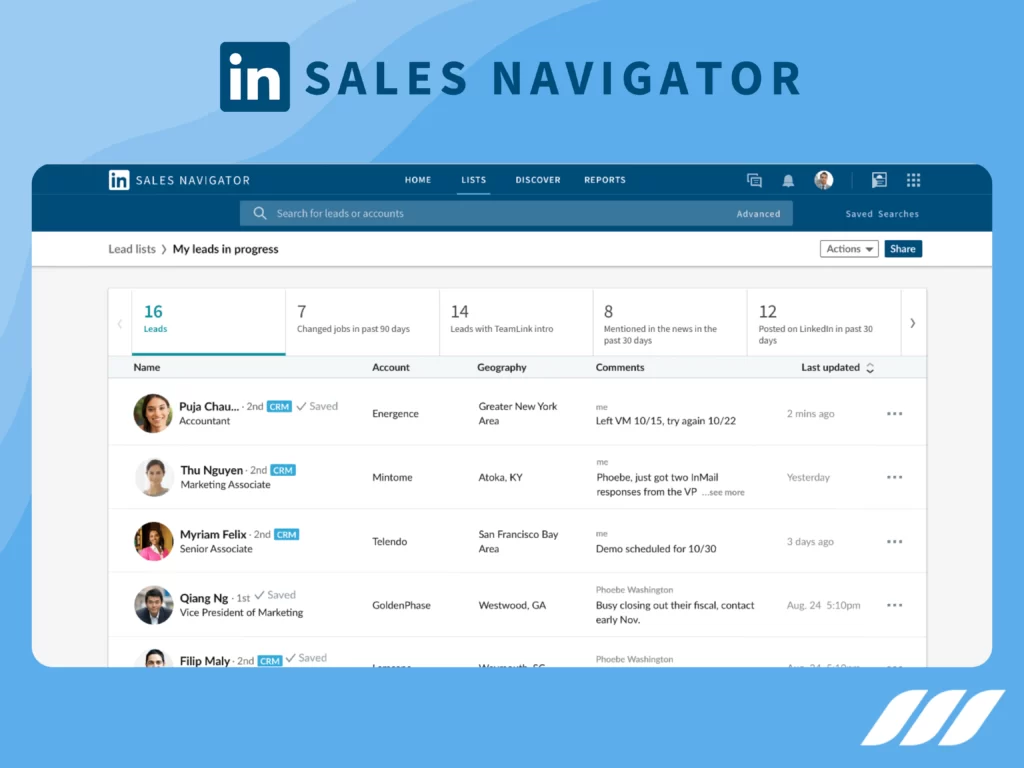 LinkedIn Sales Navigator is one of the most popular LinkedIn automation tools available. It is designed specifically for B2B lead generation and offers advanced search filters, lead recommendations, and personalized insights to help you find and engage with your ideal prospects.
This tool allows you to easily create and save lead lists based on your target audience. This can help you to stay organized and focused on your most promising leads. You can also save leads as accounts, allowing you to track their updates and activity on LinkedIn.
The InMail messaging system lets you send personalized messages to prospects even if you're not connected with them on LinkedIn. InMail messages have a higher response rate than regular messages on LinkedIn, making them a valuable tool for reaching out to potential leads.
LinkedIn Sales Navigator is more expensive than other LinkedIn automation tools, with plans starting at $99 per month.
4. Linked Helper 2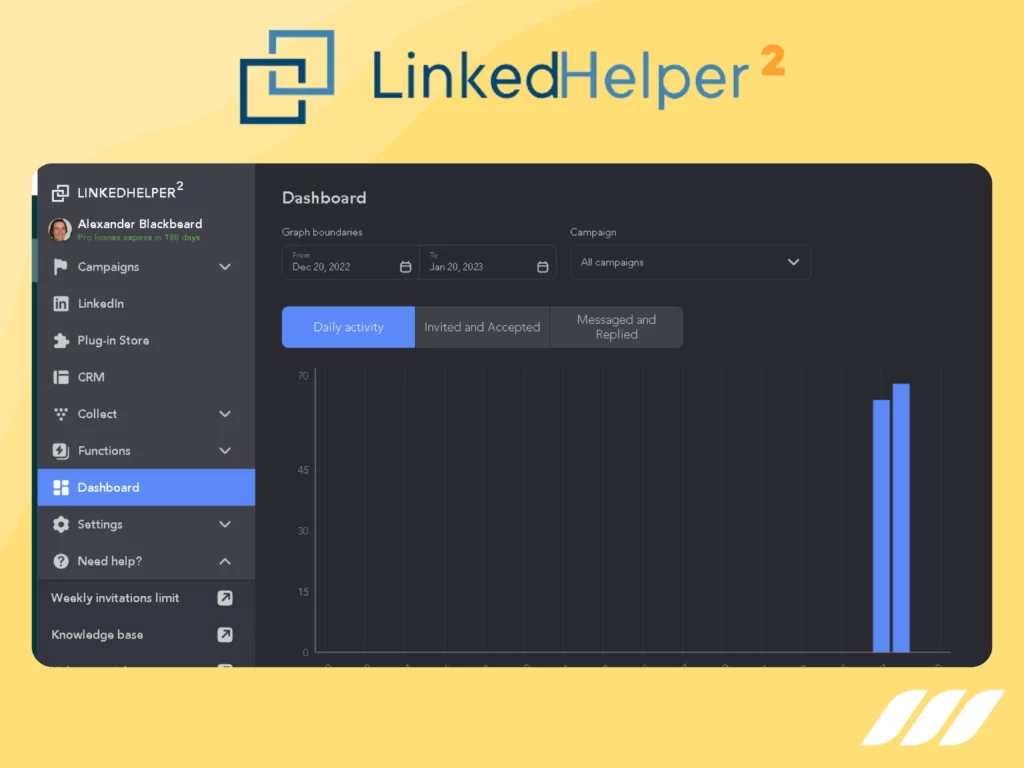 This Chrome-based tool enables you to quickly find valuable leads, saving you time, money, and energy. Use LinkedHelper to automate your work within LinkedIn, Sales Navigator, or even LinkedIn Recruiter. Linked Helper allows you to expand your network using certain key features.
This tool serves as an autoresponder for LinkedIn by choosing an outreach campaign for you, setting up its templates, and running the autoresponder to reach out to your second as well as third-degree contacts.
Suppose you are a member of a group on LinkedIn. In that case, you can use LinkedHelper to automate sending out messages to the group members, regardless of whether they are your first, second, or third-degree connections. Finally, you can use it to export and manage your LinkedIn contacts. You can even import your own custom CSV results into the LinkedIn tool for more specific targeting.
You can try out this tool for free during a free trial period or purchase a monthly license for between $8.25 and $15 per month.
👉 Read the full Linked Helper2 and Dripify comparison
5. We-Connect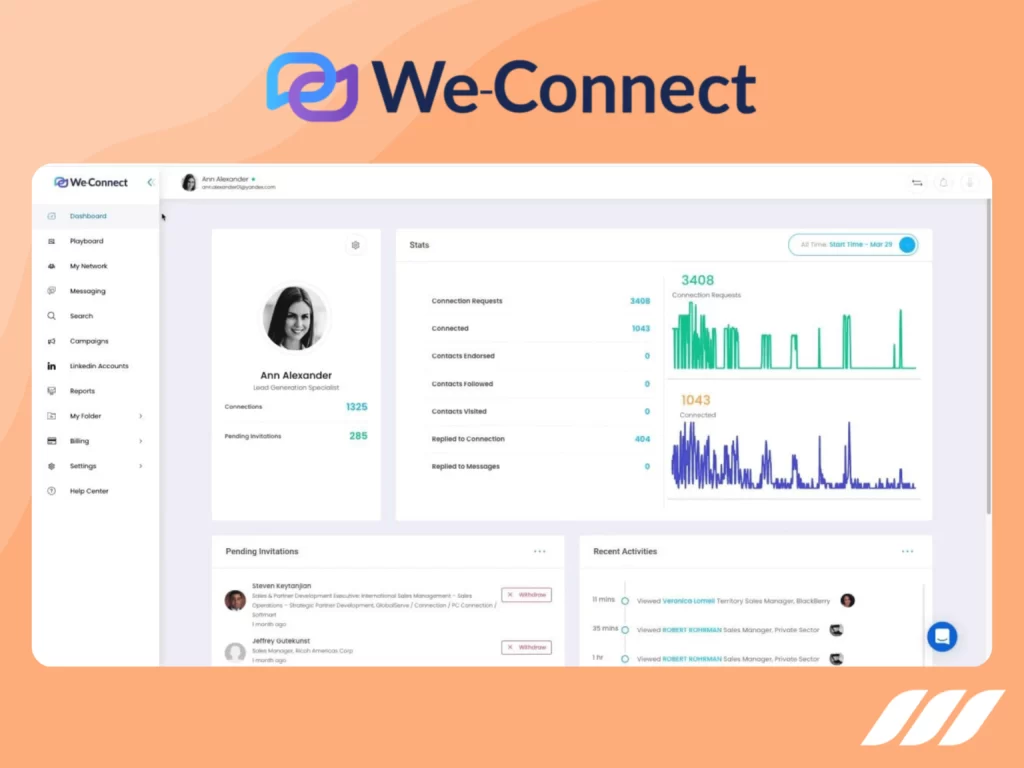 We-Connect is a popular LinkedIn automation tool that allows you to send automated messages on LinkedIn, personalize outreach, and automate connection requests.
This tool enables you to target specific groups of LinkedIn users based on various criteria, including job title, company size, and location, allowing you to reach your ideal prospects with precision.
What's more, WeConnect provides detailed analytics to help you track the success of your outreach campaigns, allowing you to make data-driven decisions and adjust your strategy as needed.
While the tool offers a free trial, paid plans start at $49 per month, which may be too expensive for some users. Additionally, some users have reported issues with slow loading times and occasional bugs in the software.
6. Phantombuster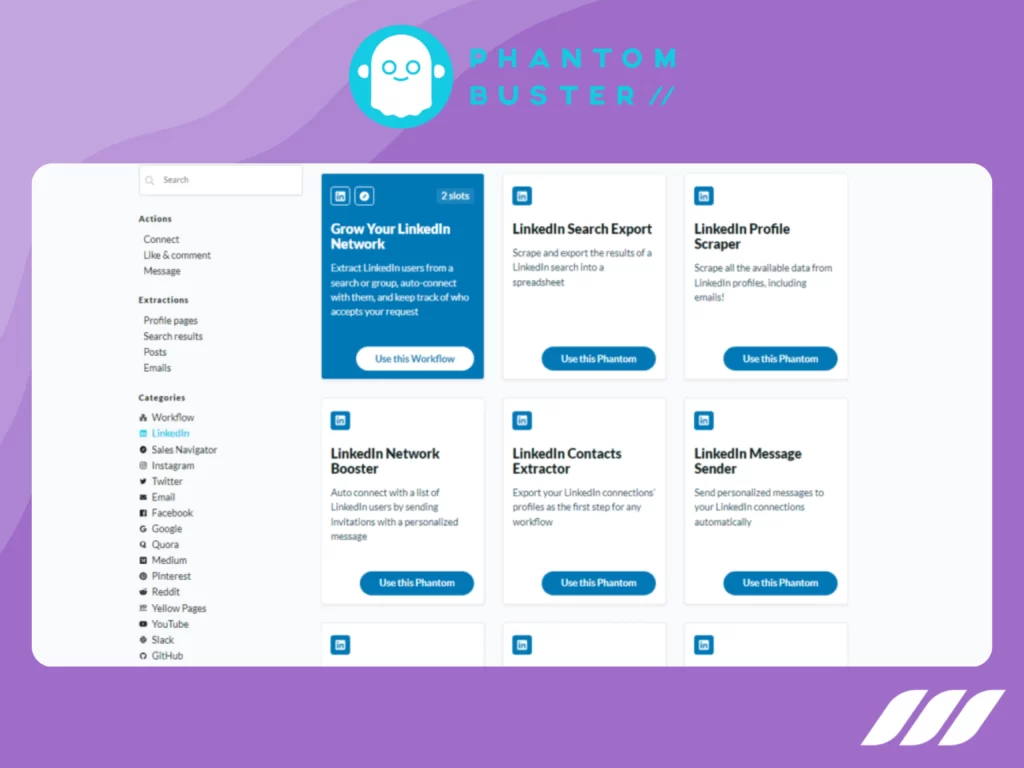 Phantombuster is a code-free data extraction LinkedIn bot that allows you to generate leads, target your audiences, and automate your growth. This tool will enable you to automate many LinkedIn activities, from chain automation to task scheduling and everything in between.
As the name suggests, this tool is based on phantoms that can perform automated actions and extract data. Connecting with relevant LinkedIn users is now incredibly easy with a LinkedIn network booster like Phantombuster.
Phantombuster is also great for profile scraping. It collects relevant data from various profiles, such as their name, job, title, position, and more. It also automatically sends personalized messages to your connections and likes and comments on posts, thereby facilitating engagement.
Providing you with an array of features and automation tips, Phantombuster works best when paired with another LinkedIn automation tool of your choice. Phantombuster can help you speed up the process and get you ahead of your competitors.
In terms of pricing, you can buy Phantombuster for $30 per month. Prices may soar to as high as $900 per month, depending on the features you want to use. You may use this tool's free trial and test it for yourself before going premium.
👉 Read the full Phantombuster and Dripify comparison
7. Linked Radar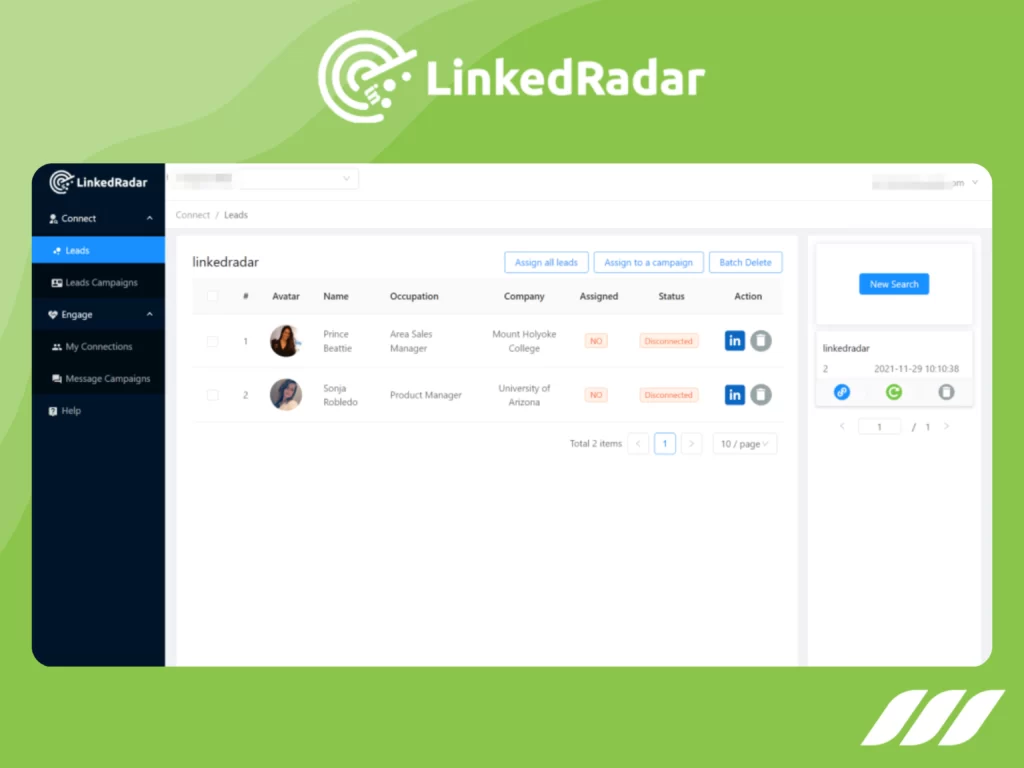 This LinkedIn automation tool helps you find and connect with potential clients by automatically sending connection requests and messages. This means you can personalize outreach on LinkedIn to build better relationships and generate leads.
LinkedIn Radar provides detailed analytics to help you track the success of your outreach campaigns, allowing you to optimize your strategy and focus on the most promising leads.
This LinkedIn automation tool offers 3 pricing plans:
Start Plan – $14.9 per month
Biz Plan – $24.9 per month
Unlim Plan – $69.9 per month
8. Zopto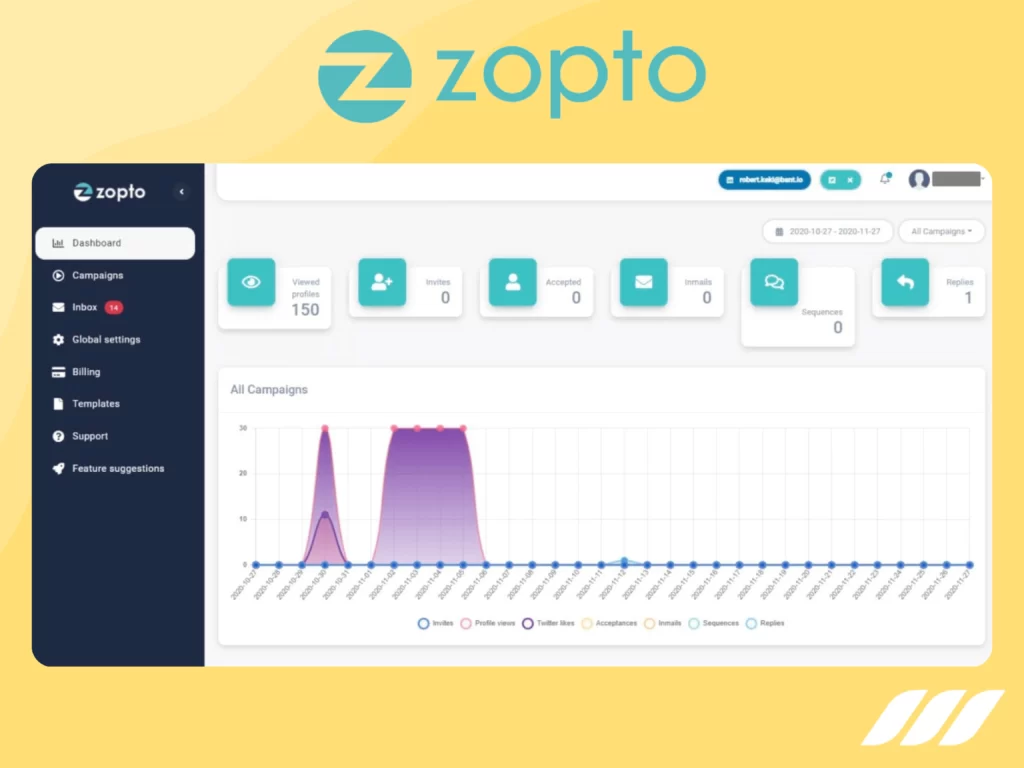 Zopto is another LinkedIn automation tool specially made to assist startups and their sales teams with lead generation. It helps you to choose and filter your ideal customers and start the search using LinkedIn Premium. Zopto is specially made for businesses looking to improve their outreach and lead generation campaigns. However, to take full advantage of the tool, users should understand the sales process and LinkedIn automation.
Zopto offers plenty of useful features to help businesses find potential customers on LinkedIn and increase their conversions and sales:
Customer Filtering: enables you to filter by industry, company size, title, location, seniority level, and more.
Engagement Level: enables you to match the required engagement level and turn on relevant features after selecting the right target audience for your business. You can send connection invites, set up message sequences, and more.
Manage Leads: You can track your leads on the live dashboard that provides detailed statistics and information related to your campaign. Its responsive detection system also sends alerts to users when a response is received from a prospect so that users can respond as soon as possible.
Zopto offers you all the essential automation features and some other unique features like InMail messages, Twitter engagement, advanced reporting, etc.
Data Security: enables you to backup your data automatically to its servers. Still, you don't need to worry about its safety as the data collection is done in compliance with the GDPR regulations.
Reporting: comes with a detailed analytics dashboard to enable you to track your real-time performance and the effectiveness of your campaigns. You can conduct A/B testing and choose more effective campaigns to enhance the impact of your campaigns.
Responsive Customer support: Zopto has a team of multilingual experts whom you can contact for support in case of problems while using the tool. The support is available by phone, chat, and email.
👉 Read the full Zopto and Dripify comparison
9. LinkedFusion
LinkedFusion is an innovative cloud-based tool designed to automate LinkedIn outreach and generate leads. It allows you to create customized outreach campaigns tailored to your specific market niche requirements.
One of the key benefits of using LinkedFusion is the ability to target different time zones and use dedicated IP addresses. This enables you to measure metrics from multiple campaigns and gain valuable insights into your LinkedIn prospects.
LinkedFusion also offers seamless integration with a variety of popular tools, including Zapier, Google Sheet, Hubspot, Salesforce, and most CRMs. This makes it easy to streamline your workflow and manage all of your outreach efforts in one convenient location.
The cloud-based accessibility of LinkedFusion allows you to access the tool from any device, anywhere in the world, via a secure cloud connection. This means that your campaigns can run even when you're offline, ensuring that you never miss an opportunity to connect with potential clients.
Pricing plans:
Professional: $69.95 per user per month
Grow: $95.95 per user per month
Ultimate: $135.95 per user per month
10. Lempod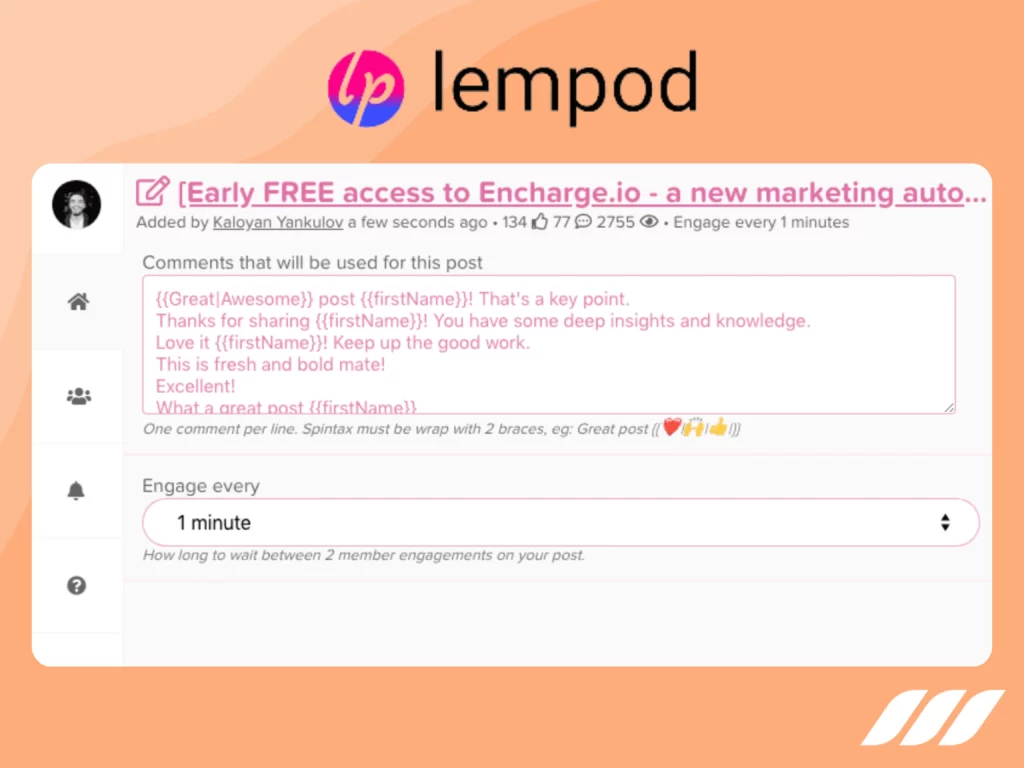 Lempod is an online platform that enables creators to enhance their engagement on LinkedIn by facilitating likes and comments from other users. It functions as a marketplace that connects content producers with relevant engagement pods, allowing them to discover groups of individuals who are interested in supporting their content.
One of the main advantages of Lempod is its customizable filters that enable users to narrow down their search and discover pods that are specific to their industry or location.
Engagement pods, also known as LinkedIn pods, consist of individuals who have mutually agreed to connect and engage with each other's content on the LinkedIn platform. By joining a pod, users can effectively boost their engagement and increase their connections on the platform, thereby enhancing their professional opportunities.
Pricing Plans:
Marketplace: $9.99 per pod
Private Business Pod: $3.99 per user in a pod
11. ProspectIn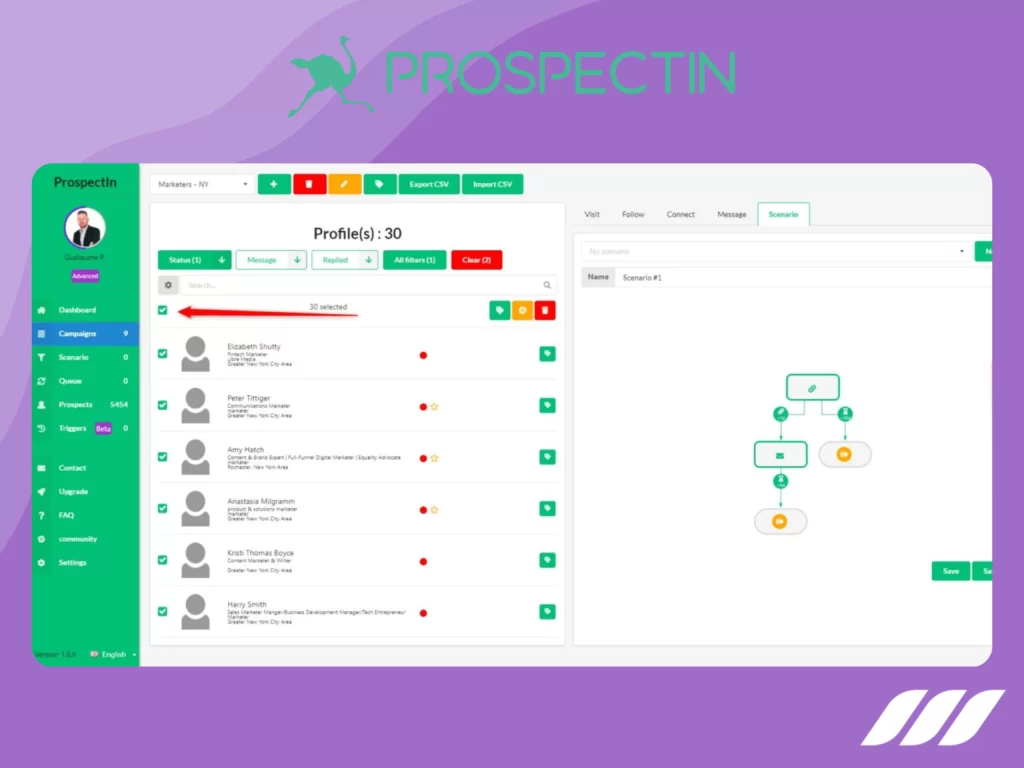 ProspectIn is another reliable automation tool to boost networking and engagement on LinkedIn. For starters, it selects your prospecting sequence and automates the process of reaching out to your prospects on LinkedIn. This can help you to effectively manage your qualified leads. It uses themes to target your prospects and exports them into your CRM automatically, creating a 100% automated sales machine. Plus, it multiplies channels by retrieving your prospect's emails and information from LinkedIn, which you can use to contact them or add them to your CRM.
ProspectIn also extends your LinkedIn network by connecting with decision-makers in your field. It highlights your profile and expertise in the connection invite note. You may use ProspectIn to target your exact audience and personalize your lists. This tool creates very specific lists from over 700 million professionals on the platform. Finally, you can use ProspectIn to customize your messages and optimize them for better conversion rates.
With ProspectIn, you can multiply your conversion rates by 20, reduce your prospecting time by 10, and generate four times more prospects.
👉 Read the full ProspectIn and Dripify comparison
12. Lead Connect
Lead Connect is a classic tool on the Chrome Store that automates the process of generating leads on LinkedIn. It helps businesses find potential customers that they can nurture and ultimately convert into paying clients. This means you can use Lead Connect to quickly grow your sales funnel and increase your chances of closing deals.
The tool is designed to generate high-quality leads from LinkedIn by automatically engaging with prospects that match the user's preferences. Lead Connect views the LinkedIn profiles of potential prospects and sends them personalized connection requests along with multiple personalized messages that are sent over a period of time.
Pricing Plans:
Professional: $22.95/month
Grow: $40.95/month
Ultimate: $77.95/month
13. Waalaxy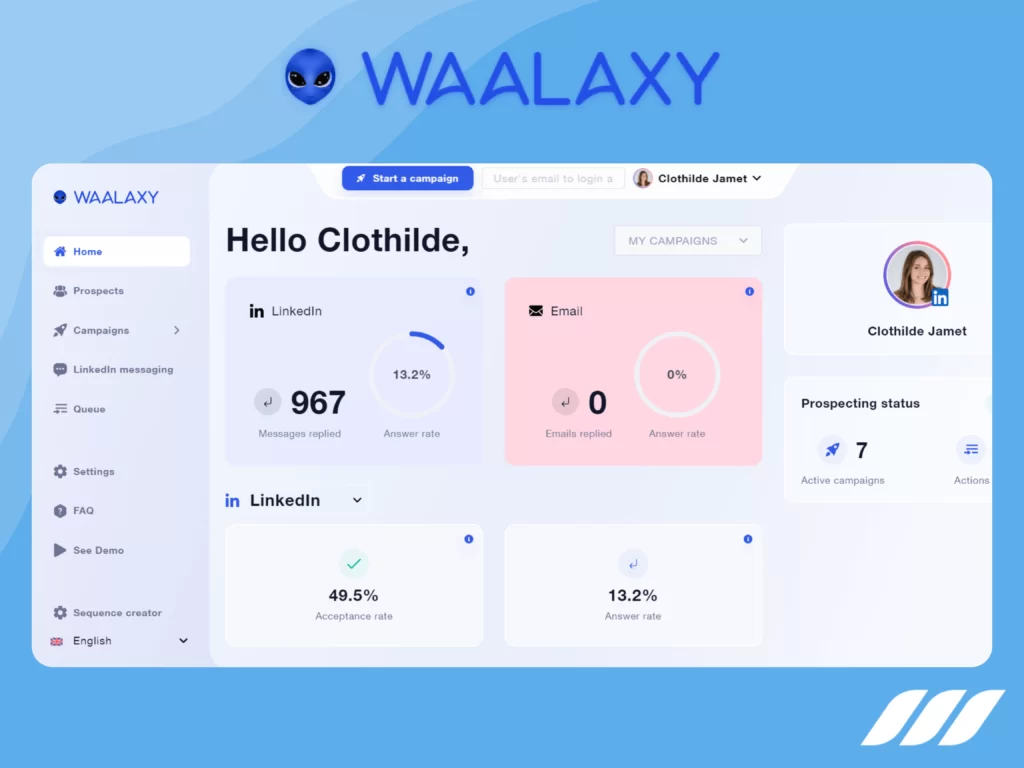 Waalaxy offers a simple, easy to use interface, so it is a great tool for beginners looking for best email marketing automation tools or LinkedIn automation software. Just add Waalaxy to Google Chrome from the webstore, use already presented templates or configure the tool as you wish. Chrome extension does its job without any problem.
Waalaxy can help you to effectively automate multi-channel prospecting and create personalized messaging via LinkedIn, email, or other channels. The extension automatically retrieves the prospect's email and can still send a LinkedIn connection request, regardless of the weekly restrictions. This technique allows you to contact between 500 and 700 new prospects per week.
While Waalaxy is designed for sales teams, it also comes to aid individuals who wish to work with a more user-friendly LinkedIn automation tool. To stay on top of this tool, be sure to regularly read the new guides, watch their videos on YouTube.
Here is the main features:
Order and filter lists: helps you to organize your list of potential customers by segmenting on the basis of multiple criteria like title, region, company, language, category of business, etc. Segmenting helps you to target the right prospects and increases the chances of conversions.
Integrations: Integrate your CRM with Waalaxy and export the data automatically to your preferred tools within a few clicks. Integration with CRM makes the tasks easier for your LinkedIn campaigns.
Automation: sends the follow-up messages automatically to your prospects until they respond to save your precious time and effort. The tool also imports new leads and puts your LinkedIn campaigns on autopilot. These features make it one of the best sales automation tools available on the market.
Waalaxy offers three pricing plans:
Pro package at €25 per month
Advanced package at €50 per month
Business package at €80 per month
👉 Read the full Waalaxy and Dripify comparison
14. Crystal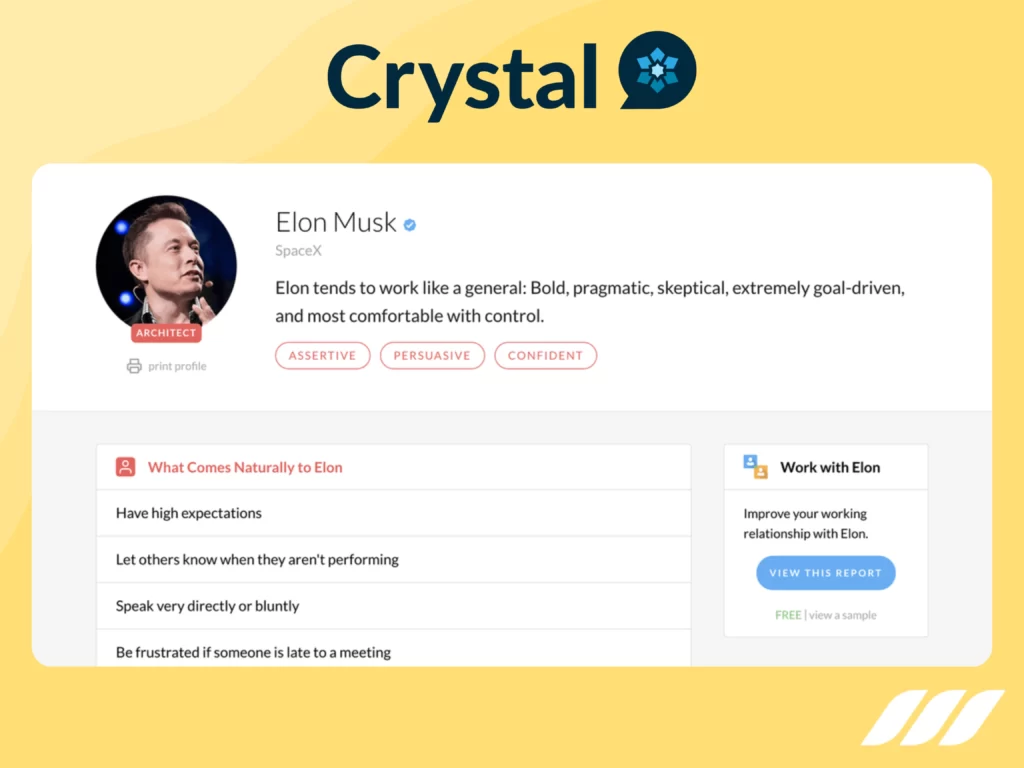 This is a LinkedIn automation tool that uses artificial intelligence to help you write better messages, understand personalities and build stronger relationships.
Using personality AI, Crystal will generate a detailed profile of your target audience based on behavior patterns, text analysis, assessment reports, and other relevant data points. You can use this tool to view a personality report for any LinkedIn profile you come across. You'll get valuable information to create more compelling copy and tailor your approach to each prospect.
Pricing Plans:
Free: $0/ month (limited functionalities)
Premium: $49/month
Business: custom pricing based on profile volume
15. UpLead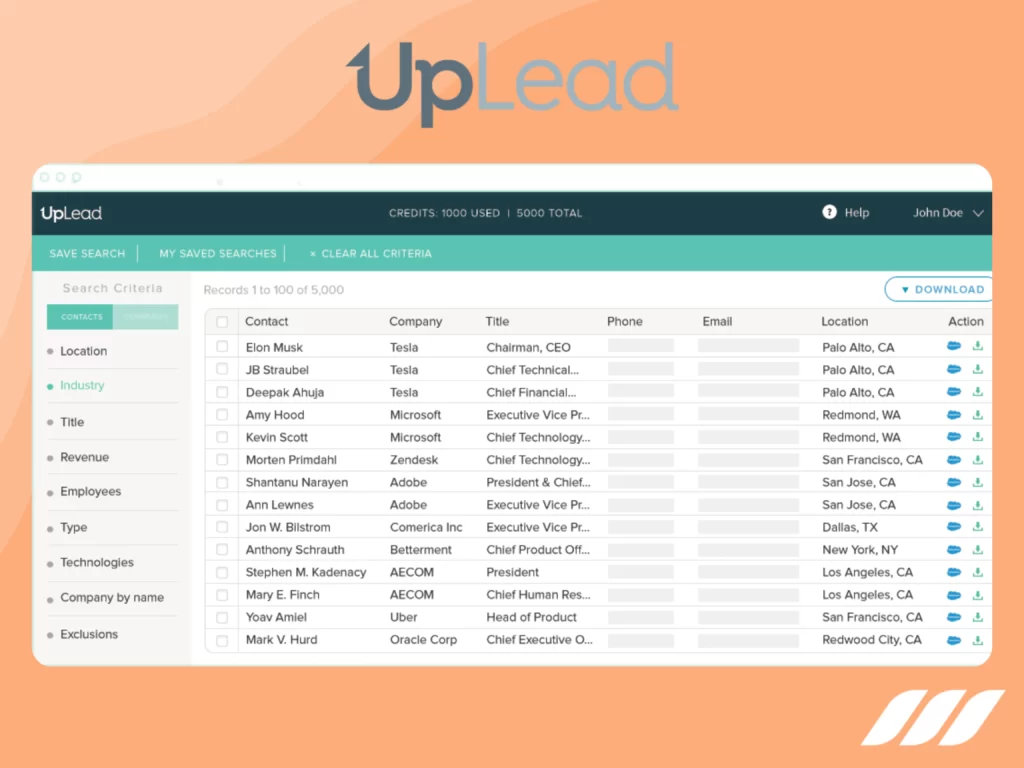 Uplead is a B2B lead generation platform that provides users with access to millions of verified contacts and company data. It offers advanced search and filtering options to help users find their ideal prospects.
Uplead also features a chrome extension for easy integration with LinkedIn and other social media platforms. This tool can save you time and improve your sales conversion rates by helping you reach out to high-quality leads.
Pricing Plans:
Essentials: $74/month
Plus: $149/months
Professional: $299/month
16. Skylead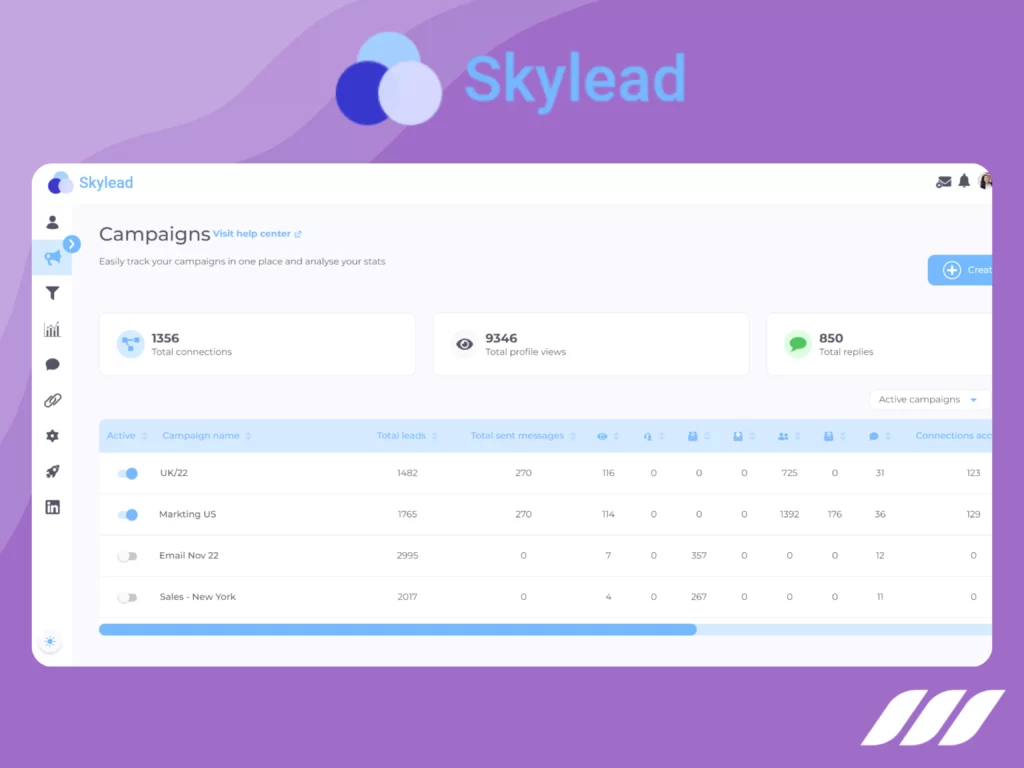 Skylead is another cloud-based LinkedIn engagement platform designed for sales professionals to outreach prospects and build relationships with them. It is best for individuals, agencies, and B2B companies who prefer using LinkedIn and email outreach for lead generation.
It enables you to build a strong relationship with your prospects and increase the chances of conversions. In addition, you can customize messages and create sequences for your campaigns. Skylead enables online marketers to create a campaign in a couple of minutes, and the rest of the process is completed on autopilot.
Here is the some Skylead's features:
Dedicated Inbox: The LinkedIn inbox looks like a mess with hundreds of messages. The problem becomes severe when you need to manage multiple accounts. Skylead allows you to read and reply to messages from its inbox without the need to open LinkedIn.
Third-party integration: you can easily integrate Skylead with CRMs and other third-party software to use more automation. Automating the tasks helps you to save time and effort.
Smart Sequencing: uses conditional logic to send automated messages on LinkedIn and emails for your business. Smart sequencing saves you time and effort to send messages and emails manually.
Customer Support: you don't need to worry about using the tool for your LinkedIn campaigns. They have dedicated customer support to solve issues while using the Skylead.
Multi Campaigns: enables marketing professionals to run multi-channel marketing campaigns. It makes lead generation simple and allows you to target different markets as per your requirements.
👉 Read the full Skylead and Dripify comparison
17. Wiza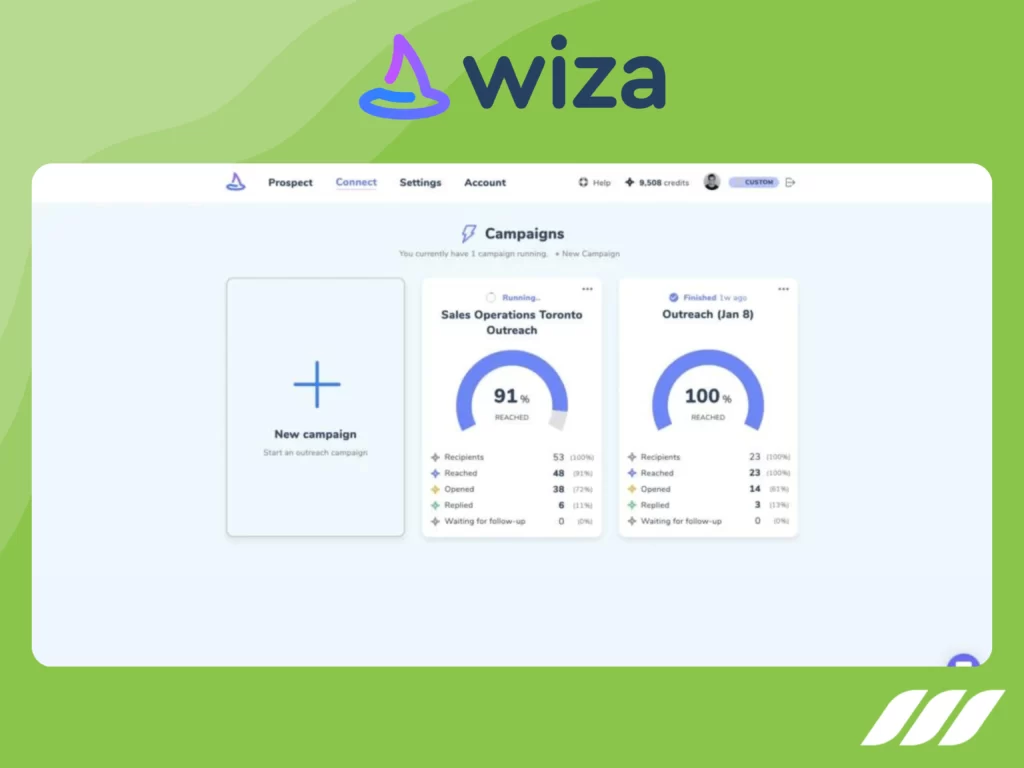 Wiza is a LinkedIn automation tool that helps you generate leads by automating the process of finding and verifying email addresses. It offers a fast and easy way to find and export verified contact information from LinkedIn Sales Navigator, LinkedIn, and LinkedIn Recruiter.
This tool uses advanced automation to quickly extract data and create targeted lists. You can use Wiza to streamline your outreach efforts and save time on lead generation.
Pricing Plans:
Micro: $30/user/month
Pro: $50/user/month
Growth: $100/user/month
18. GrowthLead/Sales Flow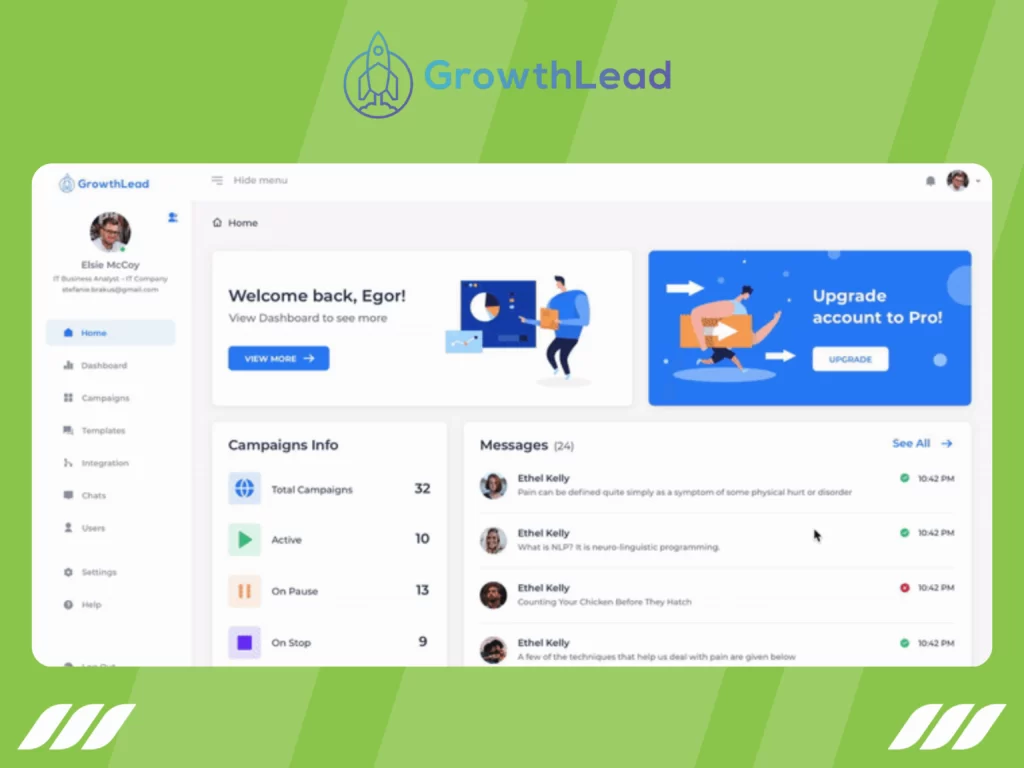 GrowthLead, now rebranded as Sales Flow, is a sales engagement platform designed for B2B companies. It offers features such as LinkedIn automation, prospecting, and lead nurturing to help you streamline your sales processes.
Sales Flow integrates with several popular CRMs, making it easy for users to manage their leads and track their progress.
Pricing Plans:
Pro: $99/month
Team: $65/month and $79/month
19. Dux-Soup
Dux-Soup is also one of the most popular LinkedIn automation tools that does networking and engaging with prospective connections and leads smoother and more effortless. The tool's primary focus is lead generation and outreach. Its integrated automatic lead tools allow you to manage your prospects by leaving tags and notes on the user profiles that you wish to reach out to. This automatic mechanism makes things much easier for new users.
You can use Dux-Soup to download LinkedIn profile details and upload them to your CRM to enable lead management. Moreover, you can use it to automate your LinkedIn profile finding, connecting, and message personalization processes.
When using Dux-Soup, you must have your LinkedIn open in your browser tab the whole time. Despite this slight drawback, Dux-Soup is a simple tool that is particularly helpful for new LinkedIn users. Dux-Soup also comes in the form of a Chrome extension.
While this tool is designed for sales teams, it also comes to aid individuals who wish to work with a more user-friendly LinkedIn automation tool. To stay on top of this tool, be sure to regularly read the new guides on automation management that this service puts out regularly.
Let's say you are seeking advanced features for your outreach campaign. In that case, Dux-Soup may not be the best one. If you are a newbie, however, Dux-Soup has your back.
Dux-Soup comes in three packages: the free one, the professional one priced at $11.25 per month, and the turbo package priced at $41.25 per month.
👉 Read the full Dux-Soup and Dripify comparison
20. AeroLeads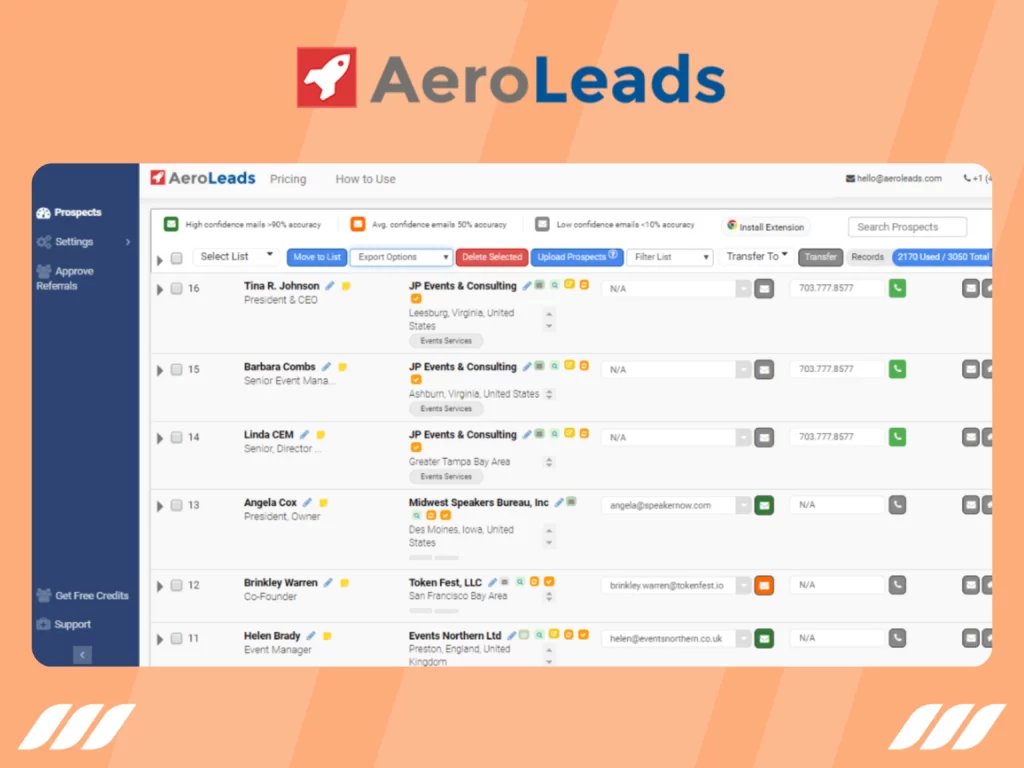 AeroLeads helps you generate leads by automating the process of finding verifying email addresses and building email lists. This tool stands out as the only context-based lead generation software available on the web, offering lightning-fast data retrieval within a matter of seconds.
With its highly customizable options for importing and exporting data, you can easily tailor the platform to your specific needs. Plus, the rich filters allow you to conduct targeted searches for your outreach campaigns. It also offers a Chrome extension to quickly find leads and prospects on LinkedIn.
Pricing Plans:
Take Off: 449/months
Climb: $149/month
Cruise: $499/month
21. LiProspect
This LinkedIn automation software searches beyond your network connections to identify potential prospects interested in your offerings. With over 90% of small businesses using LinkedIn to attract customers, LiProspect provides a valuable solution for discovering untapped leads.
Pricing Plans:
Personal: $89/month
Personal SalesNav: $109/month
22. Meet Alfred
Meet Alfred is an all-in-one sales enablement software designed for LinkedIn, Twitter, and email. It allows you to automate profile visits, connections requests, and follow-up messages, along with other multi-messaging sequences on LinkedIn as well as Sales Navigator. MeetAlfred has a user-friendly interface with clearly outlined steps, making things easy for everyone, including beginners.
Meet Alfred has a lot to offer, including multiple campaign sequencing, a powerful analytics dashboard, in-built safety usage limits, and tons of integrations. However, the tool can be limiting as you can only use it by connecting it with your Gmail or your Microsoft account. Plus, you have to kick-start the app manually. Your laptop or computer must remain switched on the whole time you will be using the automation tool.
Another limitation of Meet Alfred is that you can only automate one week's activities at a time. But, since it is cloud-based, you can customize it to work during certain hours or at preset intervals.
MeetAlfred offers three pricing plans:
The essential package at $29 per month
The advanced package at $59 per month
The professional package at $119 per month
👉 Read the full Meet Alfred and Dripify comparison
23. Reply.io
Reply.io is a sales engagement platform that automates and streamlines outbound communication. It offers a range of features such as email sequencing, task scheduling, and CRM integration.
This platform uses AI and machine learning to optimize email deliverability and response rates. Reply.io is designed to help sales teams scale their outreach efforts while maintaining a personalized approach.
Pricing Plans:
Starter: $60/user/month
Professional: $90/user/months
Custom: Customized pricing based on your needs
24. TexAu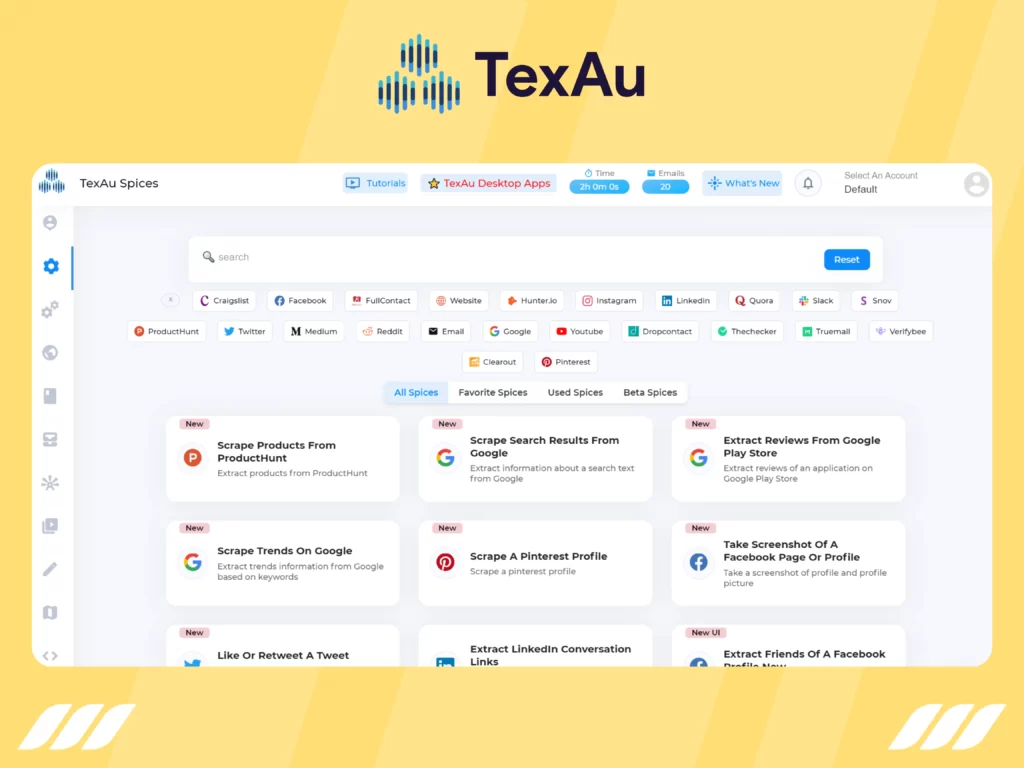 TexAu is a data automation platform that helps businesses to extract data from websites and automate workflows. It is a cloud-based tool that offers a range of features, such as LinkedIn scraping, web scraping, and data enrichment.
Pricing Plans:
Cloud Starter: $290/year
Cloud Growth: $790/year
Cloud Agency: $1990/year
25. Cirrus Insight
Cirrus Insight is a sales enablement platform that integrates Salesforce with Gmail, Outlook, and other email clients. It allows users to view and manage Salesforce data within their email accounts.
The platform provides features such as email tracking, scheduling, and analytics to help sales teams streamline their communication and improve performance. Cirrus Insight is designed to increase productivity and enable sales teams to work more efficiently.
Pricing:
Salesforce Sync: $10/user/month
Pro: $21/user/month
Expert: $29/user/month
26. Expandi
Expandi is a cloud-based automation tool that is considered one of the safest automation tools. It is designed to help business owners generate leads on LinkedIn. Expandi is considered safe since it helps you to outreach people on LinkedIn using automation without getting noticed or banned by LinkedIn.
Expandi is pretty affordable as the pricing starts at $99 per month, and you get many interesting features in the starting plan. In addition, it offers unlimited campaigns and automated sequences. You can see the analytics on the dashboard and gain key insights using campaign metrics.
Use Expandi to create campaigns, choose a target audience, send customized messages and follow up messages. It also offers key insights through campaign metrics that allow you to check the performance of your campaigns.
In addition, Expandi offers some powerful features like an app, LinkedIn chat that lets you chat with your LinkedIn connections, a blacklist feature, and many other features. Use the tool to find people who engage on specific posts and target them with custom messages with a few clicks.
The interesting feature is Smart inbox. The LinkedIn inbuilt inbox is a mess, and you easily get lost in the messages. The situation worsens when you manage multiple accounts. Expandi offers a dedicated smart inbox that enables you to manage the messages and ensure you never miss the conversations.
Expandi is more expensive than other LinkedIn tools, but the safety and features it offers are worth the price you pay for the tool.
👉 Read the full Expandi and Dripify comparison
27. Evaboot
EvaBoot is a Chrome Extension that enables one-click extraction of clean data and email addresses from LinkedIn Sales Navigator. That's not all, you can use it to scrape data from LinkedIn company pages and profiles, besides the website of your leads.
Pricing Plans:
Small: $49/month
Medium: $99/month
Large: $199/month
LinkedIn Automation Tools — Price Comparison
| | |
| --- | --- |
| LinkedIn Automation Tool | Price |
| Dripify | $39 / month |
| Octopus CRM | $6.99 / month |
| LinkedIn Sales Navigator | $99 / month |
| Linked Helper 2 | $8.25 / month |
| We-Connect | $49 / month |
| Phantombuster | $30 / month |
| Linked Radar | $14.9 / month |
| Zopto | $215 / month |
| LinkedFusion | $69.95 / month |
| Lempod | $9.99 / month |
| ProspectIn | $16.99 / month |
| Lead Connect | $22.95 / month |
| Waalaxy | $44 / month |
| Crystal | $0 / month (limited functionalities) |
| UpLead | $74 / month |
| Skylead | $100 / month |
| Wiza | $30 / month |
| GrowthLead/Sales Flow | $99 / month |
| Dux-Soup | $11.25 / month |
| AeroLeads | $449 / month |
| LiProspect | $89 / month |
| Meet Alfred | $29 / month |
| Reply.io | $60 / month |
| TexAu | $290 / year |
| Cirrus Insight | $10 / month |
| Expandi | $99 / month |
| Evaboot | $49 / month |
What Is LinkedIn Automation?
LinkedIn automation is a way to put your LinkedIn activities on autopilot, so you can spend more time focusing on more important things, such as interacting with your clients. It's also a great way to maintain relationships with customers, partners, and prospects outside of regular business hours.
In other words, LinkedIn automation is the process of using tools to automate your activities on the platform that otherwise you would have to perform manually. For example, you can use the best LinkedIn lead generation tools to automate your lead generation efforts, such as sending connection requests, messaging connections, sending follow-up messages, skills endorsement, and more.
What Are LinkedIn Automation Tools?
LinkedIn automation tools refer to software designed to mimic human behavior as they carry out activities on your behalf on LinkedIn. Consider a LinkedIn automation tool to be a LinkedIn bot that does your work for you, thereby allowing you to save time and energy.
Here is what the best LinkedIn automation software can do:
They help run personalized campaigns on your behalf.
They allow sales automation and LinkedIn message automation.
They collect data to help create better versions of your campaign.
They integrate with other marketing tools to create more effective omnichannel campaigns.
Simply put, LinkedIn automation tools make achieving your business or professional goals on the platform a lot easier.
Why Use LinkedIn Automation Tools?
Using LinkedIn for B2B lead generation or networking can be time-consuming and tedious. Luckily, LinkedIn automation tools allow you to automate tasks, such as sending connection requests, sending personalized messages, and scraping data from LinkedIn profiles.
By automating the repetitive LinkedIn tasks, you can save time and focus on more important activities, such as engaging with potential clients and closing deals. Plus, many LinkedIn automation tools allow you to create drip campaigns with automated sales funnels based on multiple LinkedIn actions.
Choose Dripify LinkedIn Automation Tool
The best LinkedIn automation service like Dripify, help you save time, streamline your outreach efforts, and generate more leads for your business. But make sure to consider your specific needs and goals when looking for LinkedIn automation tools.
It is a good idea to pick a tool that offers features that align with your outreach strategy and help you save time and increase your productivity on LinkedIn. Also, make sure to choose tools that are safe and comply with LinkedIn's terms of service.
Additionally, Dripify offers a free trial, allowing you to test software before committing to a reasonably-priced subscription plan.