LinkedIn is an excellent platform for growing your business or career. There's an abundance of opportunities available on the network, but you have to knock on several doors before one opens up. Especially for people from a sales background, the number of messages sent in a day is crucial as it can be the difference between reaching your targets or getting lost in the clutter.
To raise your response rates, you need to send messages to many people. And it takes a lot of time and effort to get your pitch out there and have your message recipients respond. But the good news is that there is a simple way to send out messages to a mass audience in a single go! Yes, we're talking about automated messages.
But what is an automated message on LinkedIn? And how to send messages automatically? Let's have a look!
What Is an Automated Message?
An automated message is a message that has been scheduled to be sent to a recipient or group of recipients at a set date and time. In other words, you write the message and then use an automation tool to schedule their broadcasting. An automated message has many benefits, such as they allow you to send timely messages, get more responses, and establish a good rapport with your connections.
But how to send a mass message on LinkedIn? Well, LinkedIn automation tools save you a lot of time and effort by allowing you to put your LinkedIn messaging feature on automation. Moreover, they make the process of mass messaging on LinkedIn much more effective and straightforward.
But are there more features that LinkedIn automation tools have to offer? While it differs from one automation tool to the other, most tools provide a bundle of features to put the repetitive LinkedIn activities on autopilot.
For example, most LinkedIn automation platforms allows you to:
Automate the process of sending connection requests, messaging, profile scanning, skills endorsing, and more.
Personalizing your messages based on the profile of your intended audiences
Getting regular follow-ups on your sales campaign
Specifying your target audience for your business
Getting feedback based on campaign insights with the help of relevant metrics
In addition, LinkedIn message automation keeps running in the background on autopilot while you focus on operating other vital aspects of your business, such as interacting with customers and improving your strategies.
How Many Messages Can You Send on LinkedIn?
The important question is: how many messages can you send per day on LinkedIn? There is no set limit on how many messages you can send daily, but LinkedIn has a few red flags you need to be aware of.
If 100 messages are sent to 100 different people, LinkedIn will detect this as suspicious activity and flag your account. Or, if you keep messaging different people in a short time, your account will come under the radar of LinkedIn's surveillance team.
The type of LinkedIn automation tool you use also plays a significant part in the safety of your LinkedIn account. It's a smart move to use tools like Dripify, known for robust safety protocols and efficient performance.
How to Send Mass Messages on LinkedIn?
So, how do you automate messages on LinkedIn? You can send automated mass messages on LinkedIn in two ways. One involves the usage of automation tools, and one without using any tool. However, as explained above, automation tools do much more than simply send mass messages.
Without Using Automation Tools
Word of warning. Overusing this option can lead to your account being marked as spam, so be careful when using this option.
The process is quite straightforward: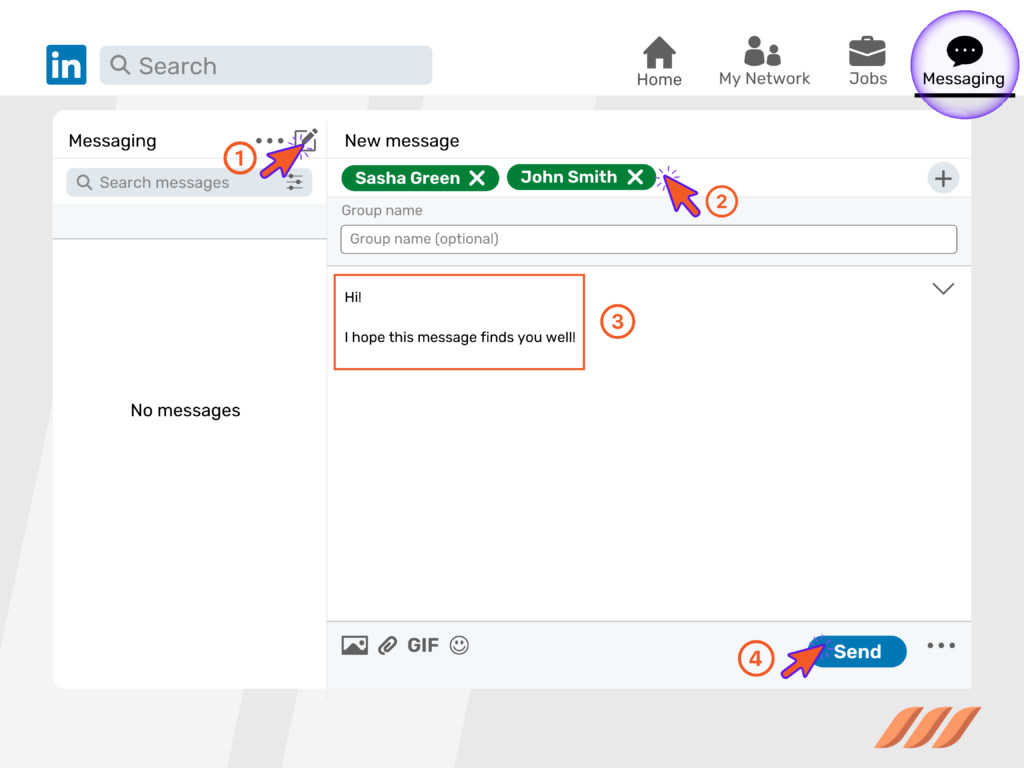 Log into your account on LinkedIn
Open your inbox on the right and click on the tab 'Compose Message'
Add the names of all the connections that you intend on sending the message to
Type out your message and click send.
Your LinkedIn cold message will be sent to all the selected receipts. Make sure you proofread your message before hitting the send button. 
With the Use of Automation Tools
These tools make mass automated outreach and mass messaging much more effective, time-saving, and efficient. But, you first need to define your goals based on your individual requirements before kickstarting your campaign.
Following are a few examples of the type of goals you should consider:
Professional network growth
Developing personal brand power
Lead generation
Searching for investments
Hiring of candidates
You can choose and set the relevant metrics within LinkedIn lead generation tool to start the campaign based on your goals.
Here're are some standard features that most top LinkedIn automation tools offer:
Sending connection invites
Follow-ups
Auto viewing profiles
Sending messages to connections
Sending and responding to Inmails
Selecting profiles and companies to target based on your target audience
Sending group invites
Endorsing skills of your connections
Sending invites to people to follow your business profile
You must first determine the most important features to you (based on your objectives) and then select the appropriate automation tool.
Examples of Mass Messages on LinkedIn
You must understand what sort of messages will get you responses. To help you know better, we have compiled a list of examples for you.
Example 1: Message for Connection Request
This is an example of a message for a connection request. The reason it is effective is that the sender emphasizes the commonalities by mentioning:
The industry they both are in
The mutual connection
A post on LinkedIn that they both engaged on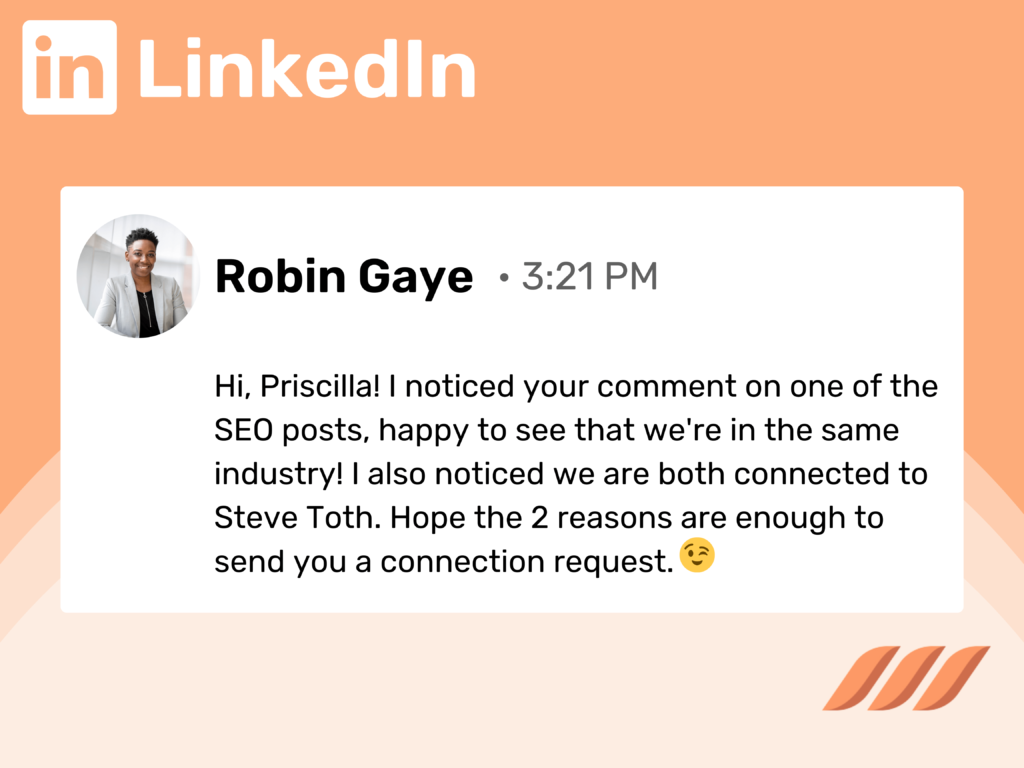 Example 2: Developing a Rapport
This is an example of developing a relationship with a connection that might benefit you. This message reaches out to the self-interest of the prospective person. It asks for their opinion on a hot topic of discussion in the mentioned industry.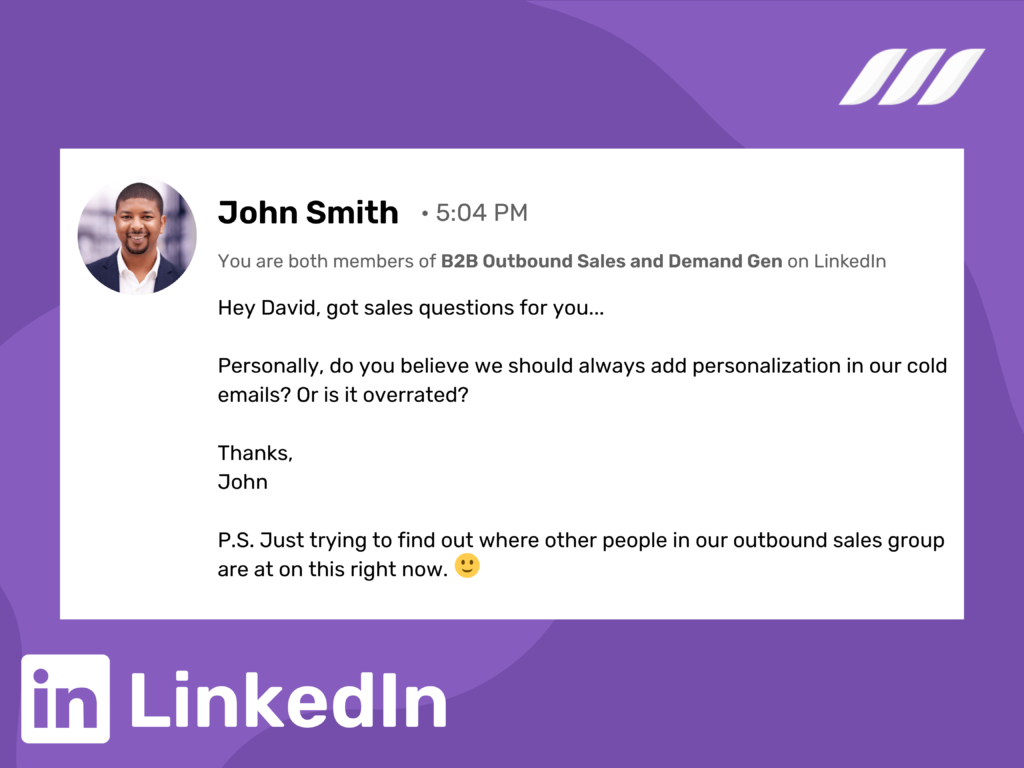 Example 3: Customizable Template
Following is a template that can be customized to suit your business requirements. The template highlights the group you share in common with the recipient. You can also emphasize an added similarity if you mention companies in common or attended the same school. These factors lend authenticity to your business profile.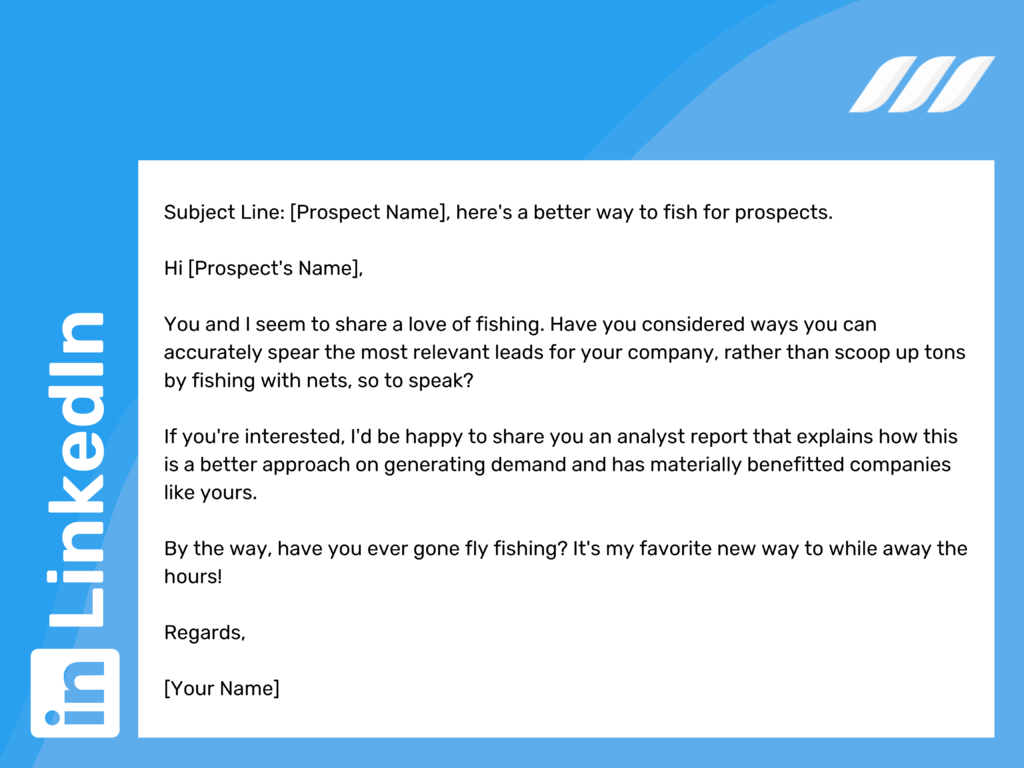 Example 4: Referring to Common Values or Interests
One more example is illustrated below. Checking out a prospect's LinkedIn profile or checking their Facebook page or Instagram can help you identify and establish any commonality. This will make the process of getting a conversation started easier. Developing a rapport will encourage people to be more receptive to your message.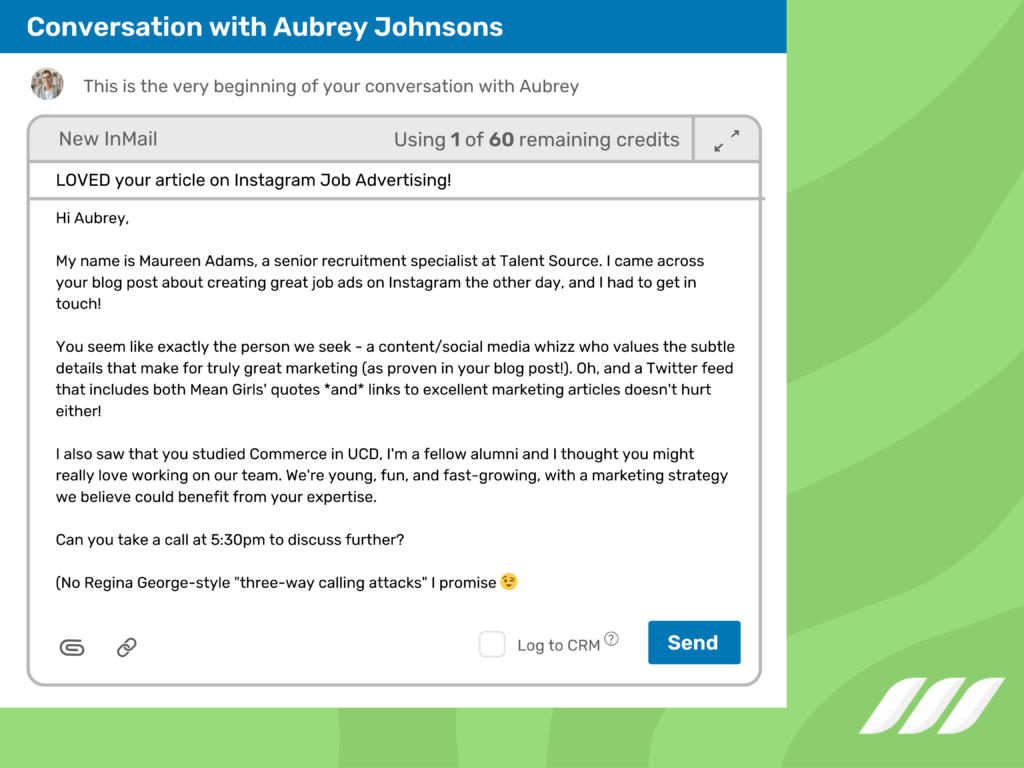 Example 5: Free Offer
If you're looking for ideas to write your pitch, the following is an example to give you some inspiration. This pitch connects with the state of mind of his intended audience. Moreover, there is a free offering involved. This tempts people into pursuing the connection. The cherry on top is that the pitch was sent to contacts that know him, making it convenient to dive right into the big "ask."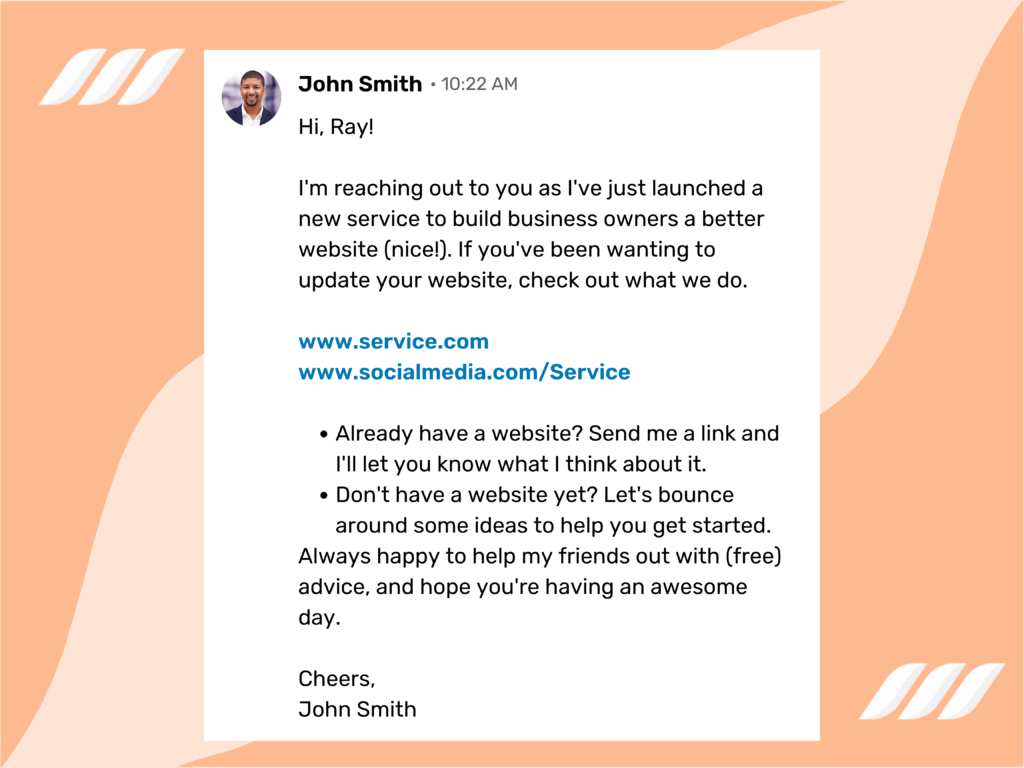 Conclusion
Sending mass messages on LinkedIn is a perfect way to reach your audience. Using mass messages helps you to let your audience know about your products, services, or new launch. In addition, you can use a mass message to share important updates or events with your audience.
Mass messages on LinkedIn help you to reach a mass audience with a single click and establish a good rapport with your connections. An automation tool makes sending mass messages a lot easier. You can use the Dripify automation tool to send creative mass messages to your audience to save time and effort.
The Dripify LinkedIn automation tool helps you craft personalized messages based on the profile of your recipients. It helps you specify the target audience for your business and get regular follow-ups for your LinkedIn campaigns. Try Dripify free trial today!
Get ready to use mass messages on LinkedIn to reach your connections and mass audience with the click of a mouse. Share your new products, services, and events with your audience through mass messages and see the magic happens.