LinkedIn is undoubtedly a goldmine for generating leads and finding new business opportunities. But manually generating leads on LinkedIn can be a time-consuming process. Also, it can be difficult to get leads on the professional networking platform if you do not have the right tools to help you. That is where LinkedIn lead generation tools come in handy.
21 Best LinkedIn Lead Generation Tools
From automation software to data enrichment, these tools are designed to help you save time, generate more leads, and increase conversions. Explore our list of the best LinkedIn lead generation tools available:
1. Dripify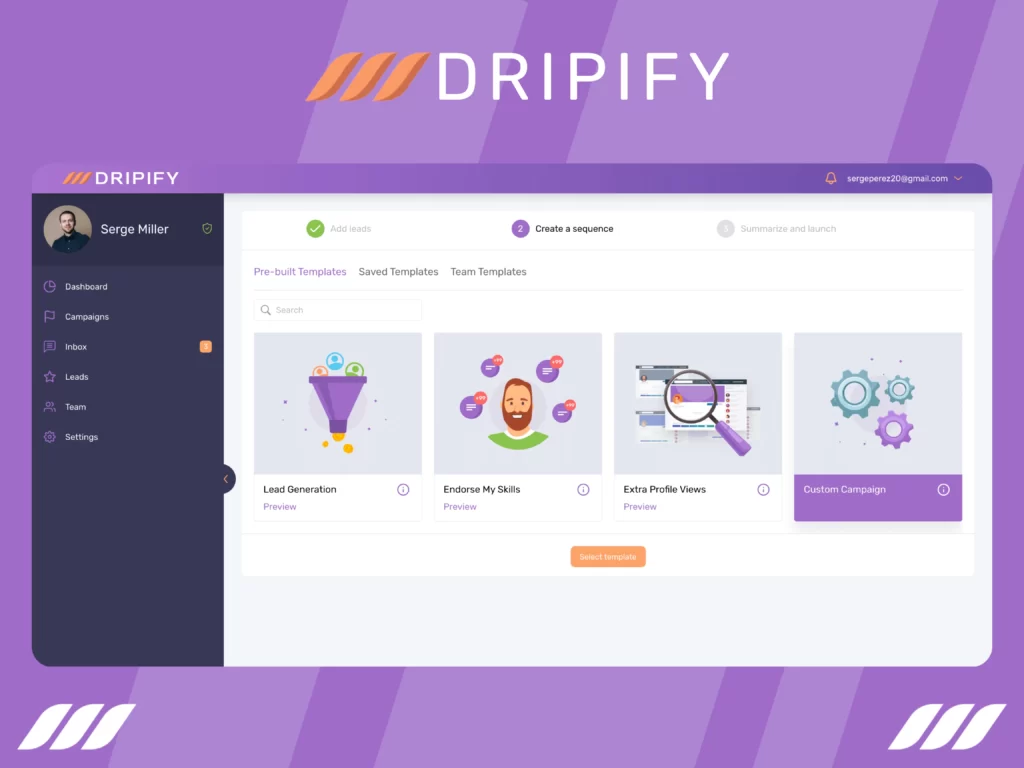 Dripify is a next-generation LinkedIn lead generation tool that automates many different tasks and activities of your LinkedIn outreach efforts, including connection requests, follow-ups, and profile viewing. It is an all-in-one, powerful platform to help you generate leads, nurture relationships, and grow your business.
One of the key features of Dripify is its personalized messaging capabilities. With Dripify, you can send mass messages to your prospects on LinkedIn, allowing you to build relationships and increase the likelihood of generating leads. This tool also allows you to track your results, including open and response rates. This means you can easily optimize your campaigns and increase your chances of success.
Let's provide you with a sneak peek into Dripify's features and benefits:
Automate LinkedIn activities and tasks: Save time by automating repetitive LinkedIn tasks, such as connection requests, likes, endorsements, and messaging.
Engage with leads: Engage with leads through personalized messages, follow-ups, and reminders, all in auto-pilot mode.
What's more, Dripify has an intuitive and easy-to-use dashboard. The dashboard allows you to manage your LinkedIn outreach efforts, track your results, and analyze your performance, all in one place.
The best part? Dripify offers a variety of pricing plans, ranging from a free plan to a premium plan that includes advanced features and unlimited usage. The competitive pricing offers great value for money, making it an ideal choice for small and medium-sized businesses.
2. LinkedIn Sales Navigator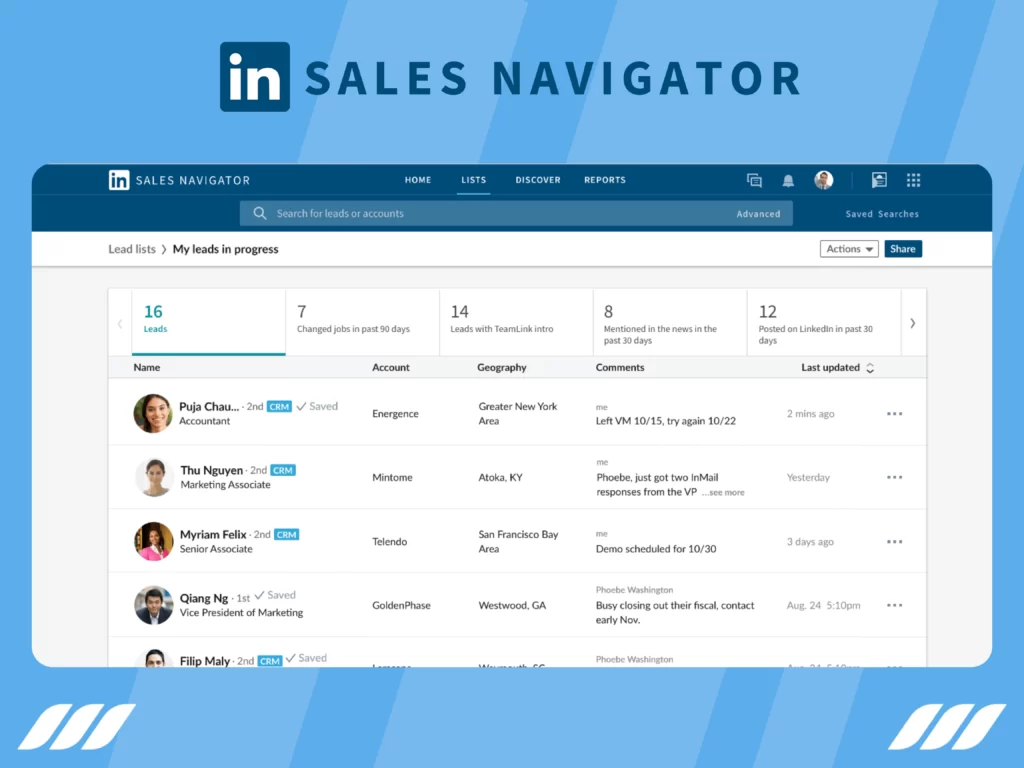 LinkedIn Sales Navigator is a powerful tool by LinkedIn that helps sales teams identify and target the right prospects. It helps you find the right leads, thanks to the advanced search filters, including company size, location, and industry.
The best part? LinkedIn Sales Navigator allows you to save your searches and get alerts when new prospects match your criteria, allowing you to stay on top of new opportunities.
Another key feature of Sales Navigator is its ability to help sales teams build relationships with prospects. You can see who has viewed your profile, allowing you to identify potential leads and reach out to them. Plus, you can save leads and accounts to your account lists, allowing you to easily keep track of your prospects and prioritize your outreach efforts.
What's more, Sales Navigator gives you access to insights and recommendations. You can get insights into your target accounts, including news and updates, allowing you to stay informed and up-to-date on industry trends. You can also get recommendations for new leads and accounts based on your search history and activity, allowing you to discover new opportunities and expand your reach.
3. Octopus CRM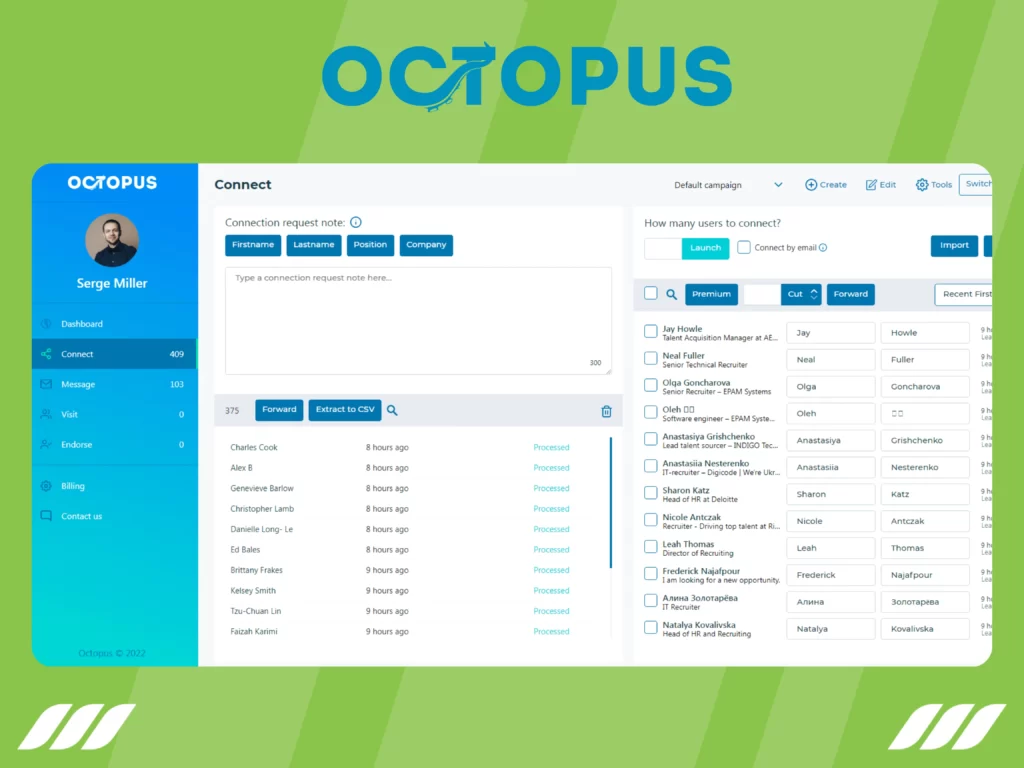 Octopus CRM is also one of the best LinkedIn automation tools that can help you automate your lead generation and sales outreach efforts. It allows you to set up targeted campaigns to reach your ideal audience, send personalized messages, and track your progress.
This tool helps you automate your LinkedIn outreach efforts. It allows you to schedule personalized messages, set up auto-replies, and track your results.
Some of the reasons why Octopus CRM is worth using include:
Time-saving automation: It allows you to automate your LinkedIn outreach efforts like messaging, follow-ups, and profile scanning, freeing up your time to focus on other important aspects of your business.
Personalized messaging capabilities: Octopus CRM allows you to send personalized messages to your prospects, increasing the likelihood of generating leads and building relationships.
Detailed analytics and reporting: It provides detailed analytics and reports, allowing you to track your results and measure the effectiveness of your outreach efforts.
Cost-effective pricing: Octopus CRM offers a variety of pricing plans to suit different budgets, making it an affordable option for businesses of all sizes.
4. Lusha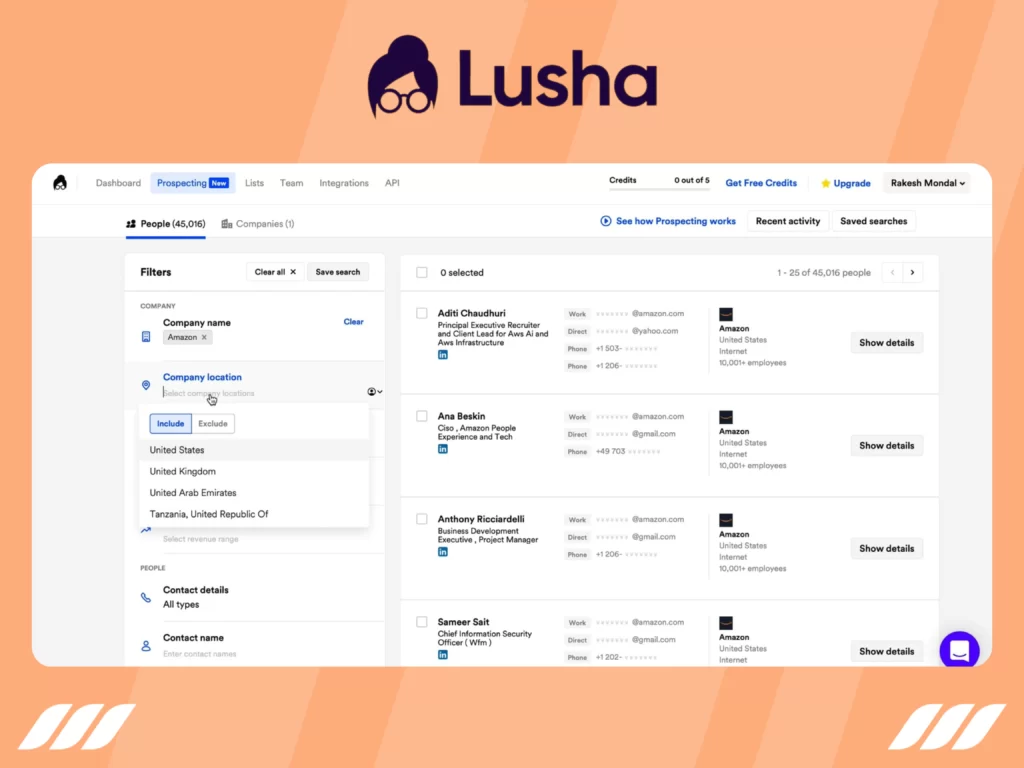 Lusha is an innovative lead generation platform designed to assist sales representatives, recruitment managers, and marketers find contact information of potential clients.
This user-friendly software helps businesses generate leads by providing managers with the ability to collect contact details from various sources, including LinkedIn, B2B websites, and email inboxes. You can search for leads by company name, job title, or location, and instantly get their contact information.
With Lusha, you can create targeted lists and export them directly to your CRM systems. One of the key features of this tool is its automatic contact updating capabilities, which can save managers countless hours of manual data entry.
The platform allows you to streamline your sales processes by generating lead scores and analyzing past deals, helping you identify sales patterns and refine strategies for future success. Moreover, recruiters can benefit from Lusha's extensive database of personal contact numbers, which can be used to connect with potential prospects and expand their networks.
You can also use Lusha to enrich your existing leads with additional data, such as phone numbers and email addresses. It offers a browser extension that integrates with LinkedIn and allows you to extract contact information for your leads.
5. Linked Helper2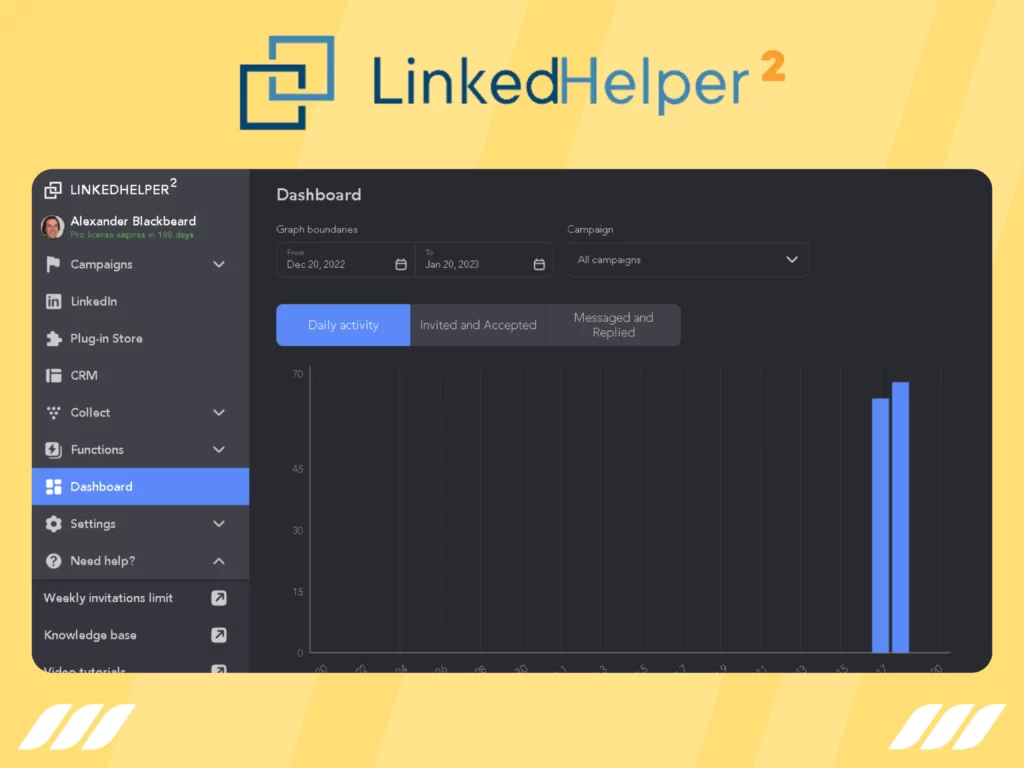 Linked Helper 2 is yet another of the best LinkedIn tools for lead generation. It comes with a built-in CRM system, ensuring safe and effective lead generation. This standalone application can be downloaded on Windows, MacOS, or Ubuntu devices.
The app provides an extensive range of smart LinkedIn outreach campaigns, including warming up leads by following their profiles, liking and commenting on their posts, sending connection requests, and sending several messages with reply detection on each step.
Moreover, Linked Helper 2 offers a wide range of automation features for various LinkedIn activities, including sending InMails and messaging LinkedIn group members or event attendees. With this software on your side, you can save countless hours on manual data entry and focus on building meaningful connections with your target audience.
6. Hunter.io
Hunter.io is one of the top email finding tools that helps you find email addresses for your prospects. It integrates with LinkedIn and allows you to extract contact information for your leads.
You can use Hunter.io to search for email addresses by company name and domain and instantly get their contact information. You can also use this tool to verify email addresses and send personalized emails to your leads. It extracts contact details and website details of employees from any company's database, regardless of their business name.
Plus, the platform's database contains an extensive range of information that can be accessed easily, including phone numbers, email addresses, job titles, and social media handles. This makes it super easy for users to reach out and engage with their target audience.
Moreover, Hunter provides users with insights into the reliability of email addresses, which can help you avoid bouncebacks and improve email deliverability rates.
7. Lempod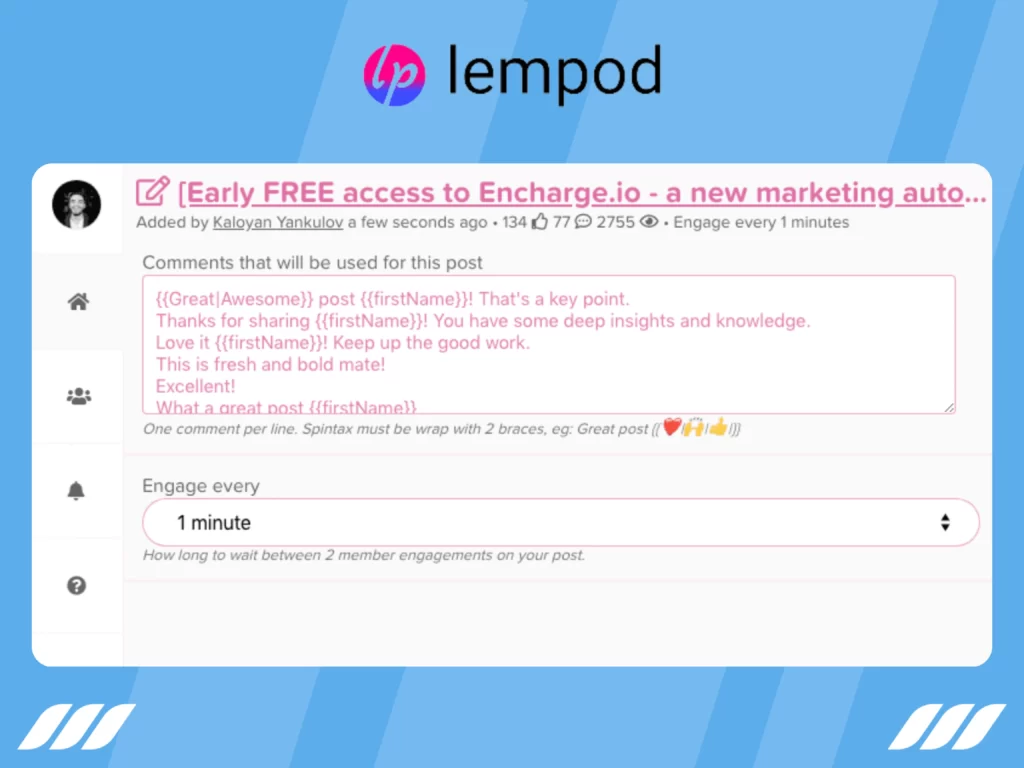 Lempod is a unique LinkedIn engagement tool that offers a marketplace for content creators to engage with comments and likes. It lets you join relevant engagement pods and connect with groups of people who are interested in supporting their content. Plus, it helps you easily filter pods by location and find the best ones for your industry.
The platform offers a range of features, such as the ability to pick pods to share and select the comments people leave on their posts. It helps make recruitment and prospecting efforts on LinkedIn successful by increasing the visibility of relevant posts.
This also means influencers can create engaging content for their target audience by making it valuable and fun. Lempod allows users to find and connect with other content creators who are targeting the same audience, offering better engagement and idea-sharing opportunities.
This fun platform helps leverage LinkedIn networks and reach out to more potential audiences, thereby decreasing marketing costs. To summarize, Lempod helps you engage with a broader audience, build better relationships, and increase brand visibility and growth.
8. SalesLoft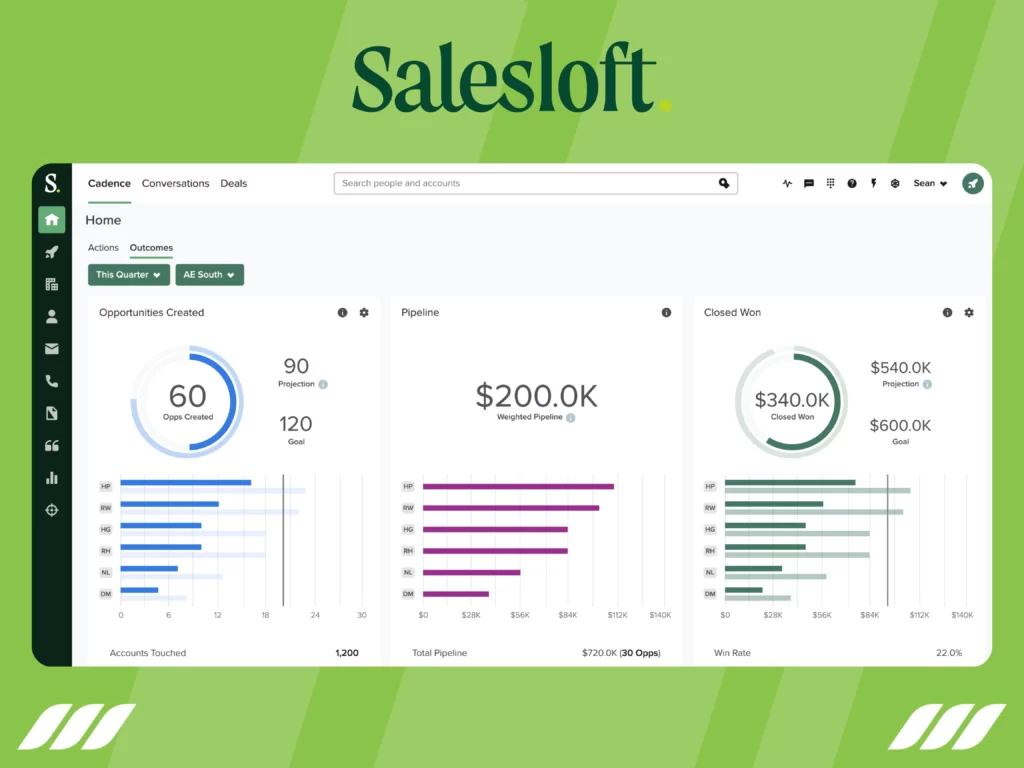 Salesloft is a powerful sales engagement platform designed to drive more revenue for sales teams. This comprehensive tool allows sales representatives and managers to manage their digital selling tasks in one place, communicate effectively with potential buyers, and access valuable coaching and insights to win more deals.
Salesloft integrates seamlessly with LinkedIn Sales Navigator.
Get real-time information on companies
Insights from Salesloft can be incorporated into the sales workflow with LinkedIn Sales Navigator.
LinkedIn research, InMail sending, and connection/introduction requests can be specified alongside other steps using Salesloft's LinkedIn Sales Navigator steps.
The LinkedIn Sales Navigator steps feature is available everywhere, including in Salesloft or Salesforce.
Using Salesloft with LinkedIn Sales Navigator, you can take your social selling strategy to the next level. You can easily access LinkedIn Sales Navigator insights and use them to drive more revenue and win more deals. What's more, it lets you communicate with buyers, make accurate projections, and get the insights you need to succeed.
9. LeadConnect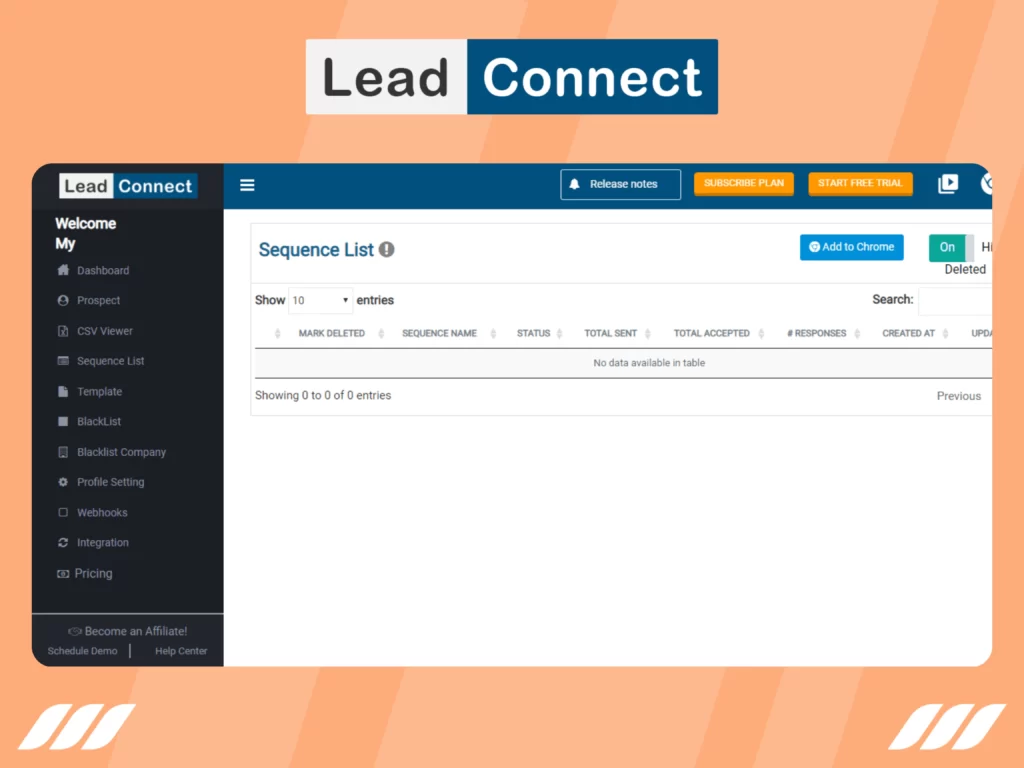 Lead Connect is a conventional LinkedIn automation tool used for lead generation. It allows you to easily locate potential prospects on LinkedIn and grow your sales funnel in a short amount of time.
One of the primary advantages of using Lead Connect is its support for CSV imports and Sales Navigator searches. These features enable you to identify targeted prospects and seamlessly integrate them into your existing sales workflow.
And thanks to its user-friendly design, you can use it to quickly generate leads from LinkedIn. LeadConnect helps you uncover thousands of potential clients, experts, and service providers with simple searches. On top of these, this software lets you automate tasks such as sending connection requests, follow-up messages, and more.
10. Phantombuster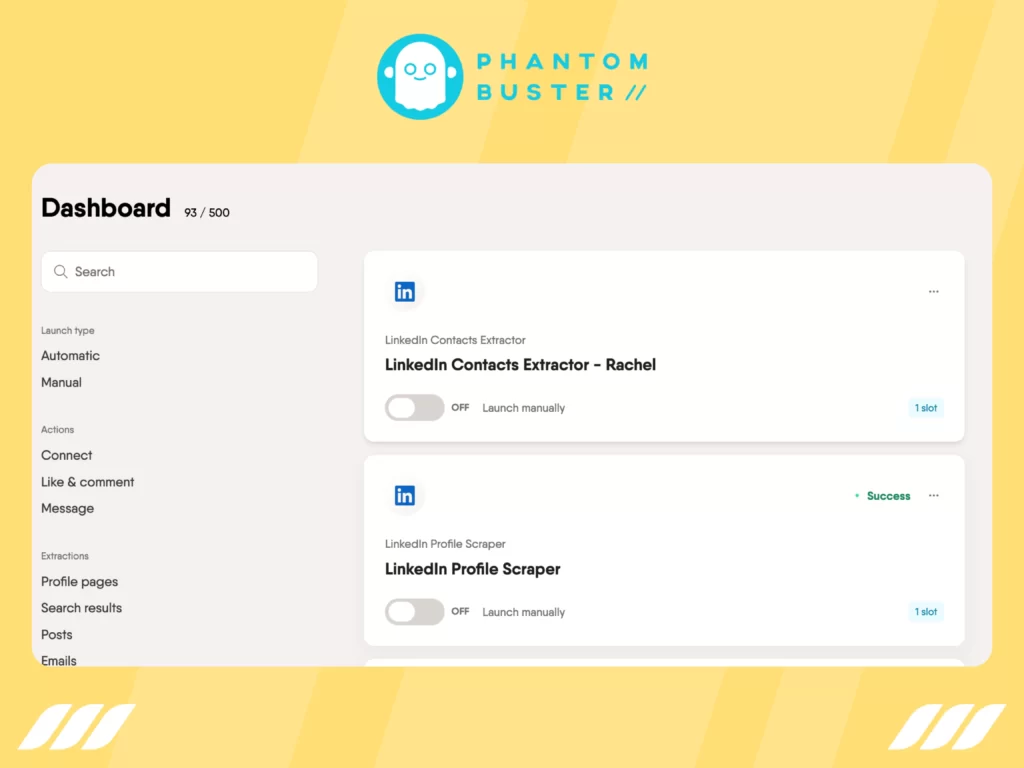 PhantomBuster is a cloud-based data extraction software that automates sales and marketing processes by scraping useful data from various online platforms, including Twitter, Facebook, LinkedIn, and Instagram. This platform provides you with a centralized location to collect, store and manage your data in both CSV and JSON formats.
One of PhantomBuster's key features is its ability to extract data, such as email addresses, phone numbers, web data, and pricing information.
The best thing is that this tool lets you schedule and trigger actions such as auto-following profiles, auto-liking posts, sending customized messages, accepting requests, and more. Using these capabilities, businesses can streamline their sales and marketing processes and ultimately increase their ROI.
PhantomBuster also allows users to create custom workflows that automate repetitive tasks, freeing up time for more important business activities. By reducing the manual workload, it helps you scale your lead generation efforts and drive growth more efficiently.
11. Wiza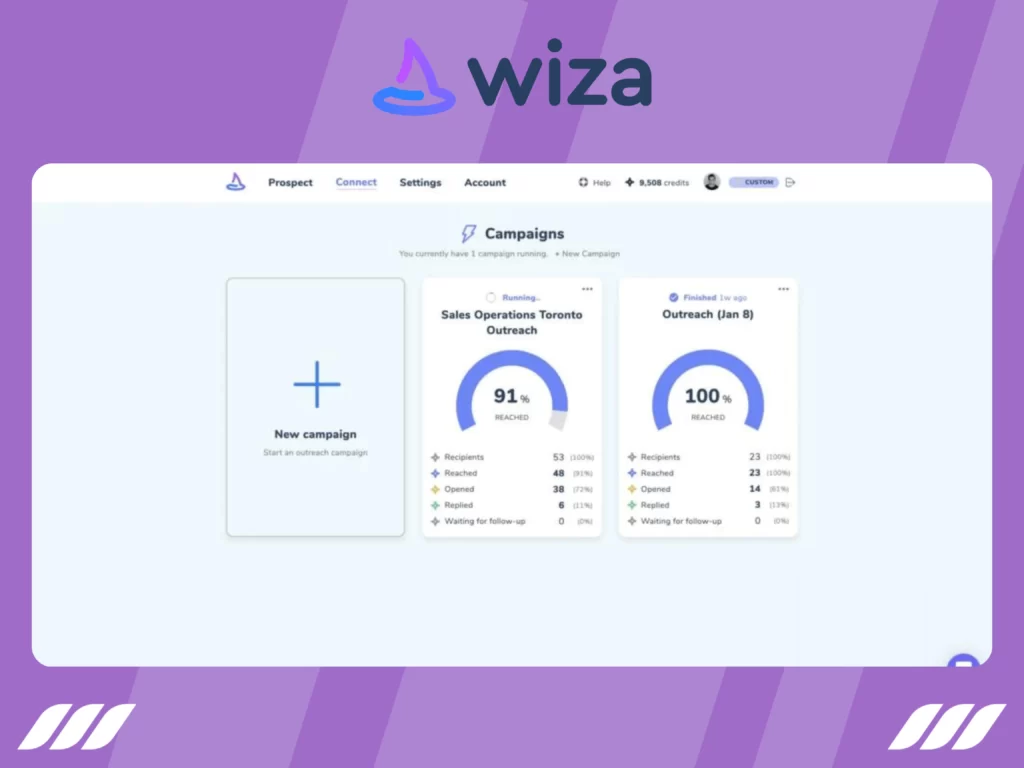 Wiza is a powerful tool that can transform any LinkedIn Sales Navigator search into a high-quality list of verified emails ready for outreach. It eliminates the hassle of dealing with bounced emails, manual copying and pasting, and switching between multiple tools.
Once Wiza completes the scrapping, the list of leads will be available for download in your account dashboard in a CSV format. You can also export your leads directly to Salesforce or Outreach, streamlining your outreach process.
The tool offers the following features:
Scraping of LinkedIn data
Email validation
Pay As You Go and credit rollover
CSV download
Integration with Outreach.io and Salesforce
Email finder for individual profiles
Free no-email scrapes
Unlimited scan queues
These features make it possible to prospect at scale and generate leads quickly. By using Wiza, you can rest assured your lead generation efforts will become a seamless and effortless experience.
12. GrowthLead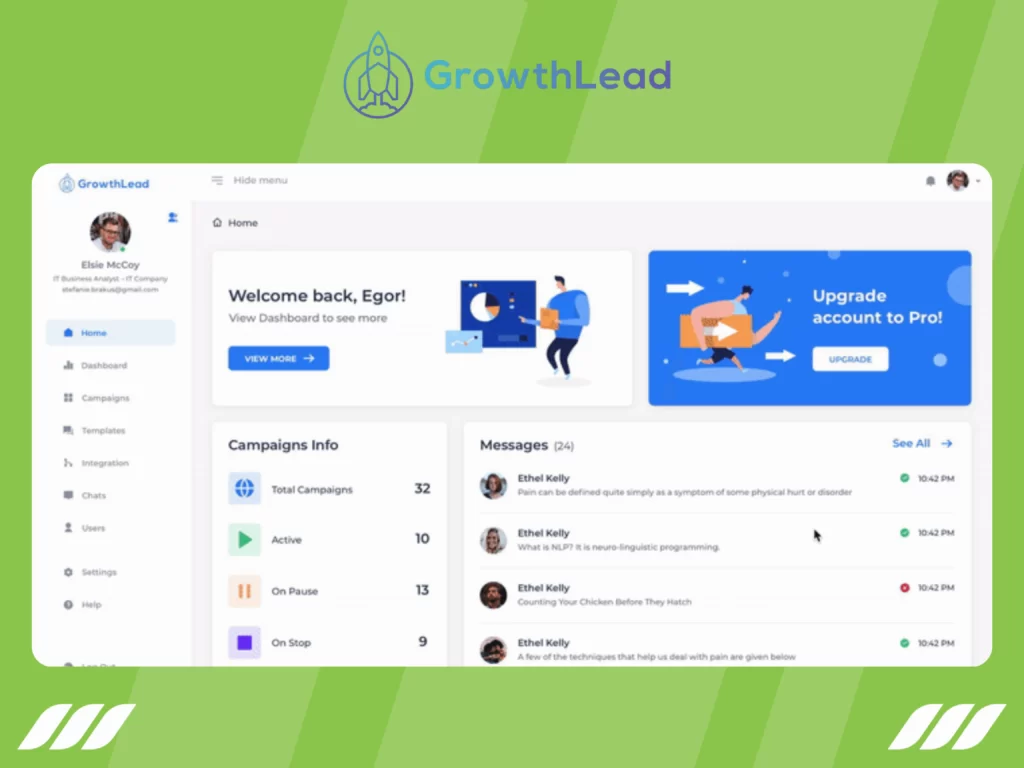 GrowthLead is a software designed to automate B2B lead generation on LinkedIn. It does so by enabling you to send automated connection requests and follow-up messages.
Plus, this software lets you set up targeted campaigns to reach your ideal audience, send personalized messages, and track your progress. You can also use GrowthLead to manage your multiple LinkedIn accounts, schedule appointments, and generate reports.
13. Dux-Soup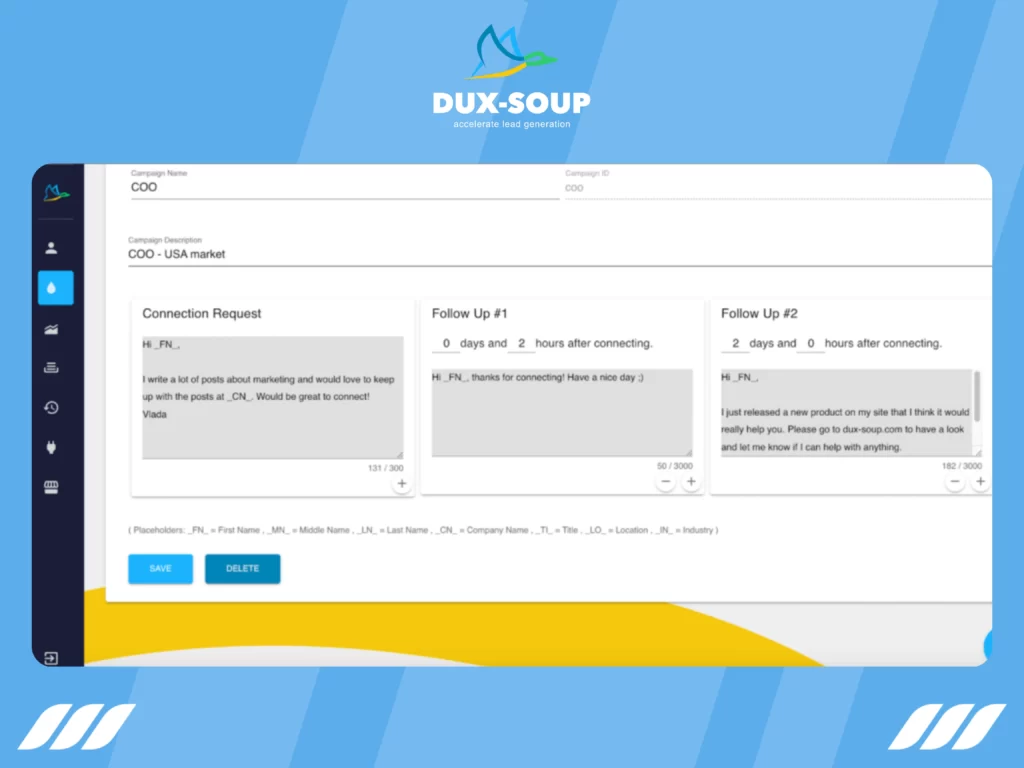 Dux-Soup has been a trusted LinkedIn automation tool for several years now. It helps businesses find qualified leads quickly, enabling sales teams to focus on closing deals faster.
This tool automates engagement with your target audience on LinkedIn, endorsing their skills, sending personalized connection requests, and nurturing leads with personalized messages until you receive a response.
By using Dux-Soup, you can seamlessly integrate LinkedIn with your CRM system, enrich your database with information from LinkedIn, and send LinkedIn campaigns to your CRM contacts with just one click.
Dux-Soup is a browser plug-in that works with Google Chrome
It saves hours of manual data entry by tracking all the prospects you interact with
Allows you to make notes directly on your saved profile pages
Auto-visit profiles of LinkedIn users based on Google or LinkedIn searches
Automatically triggers the profile you are viewing to view your profile and perhaps connect
14. AeroLeads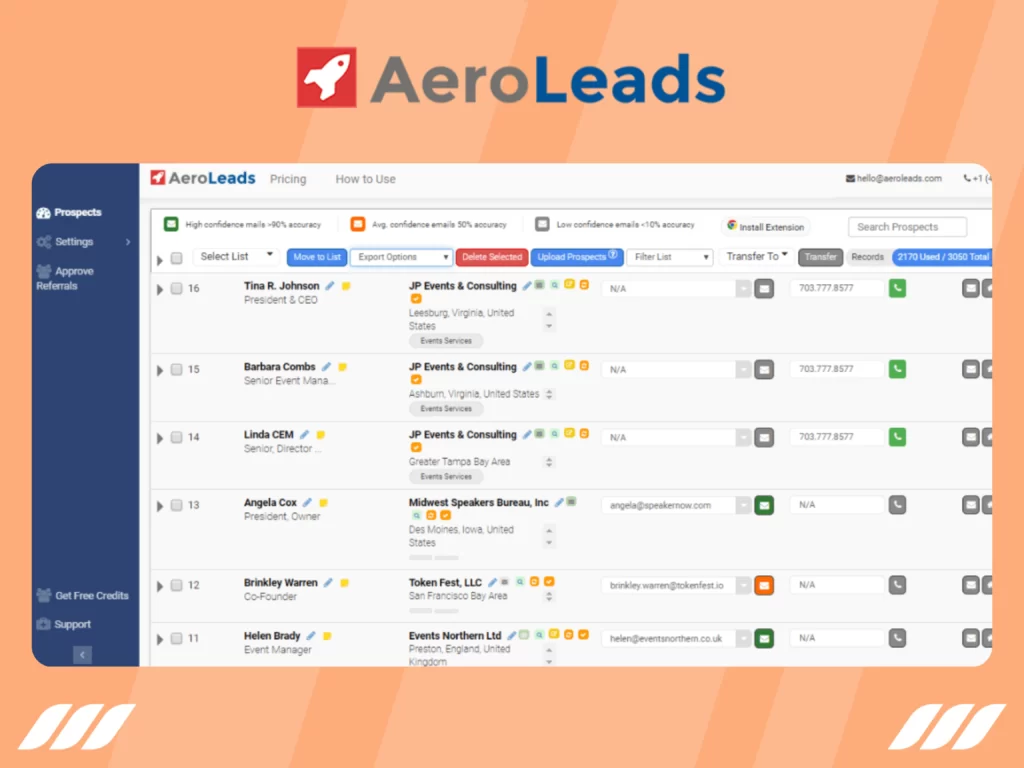 AeroLeads is a web-based software designed to help businesses generate leads and gather relevant contact information. It helps you find and save details of potential customers, making it an ideal tool for businesses looking to scale their outreach efforts.
Here are some of the key features of AeroLeads:
Prospect Generation: AeroLeads helps businesses find potential customers based on various parameters like location, industry, job title, etc. This feature enables businesses to target their outreach efforts more efficiently and effectively.
Contact Details Finder: AeroLeads not only finds relevant prospects but also provides their contact information like email address, phone number, etc. This makes it easier for businesses to reach out to potential customers without spending hours looking for their contact information.
Data Management: All the data gathered using AeroLeads can be saved in your account and exported to other sites like Salesforce, Zapier, HubSpot, Mailchimp, etc. This feature makes it easier for businesses to manage their data and streamline their workflow.
Integrations: AeroLeads works seamlessly with popular sites like LinkedIn, Crunchbase, AngelList, as well as allowing you to upload your own lists. This ensures that you have access to a vast database of potential customers and can make the most out of your outreach efforts.
You can also use AeroLeads to enrich your existing leads with additional data, such as phone numbers and email addresses.
15. TexAu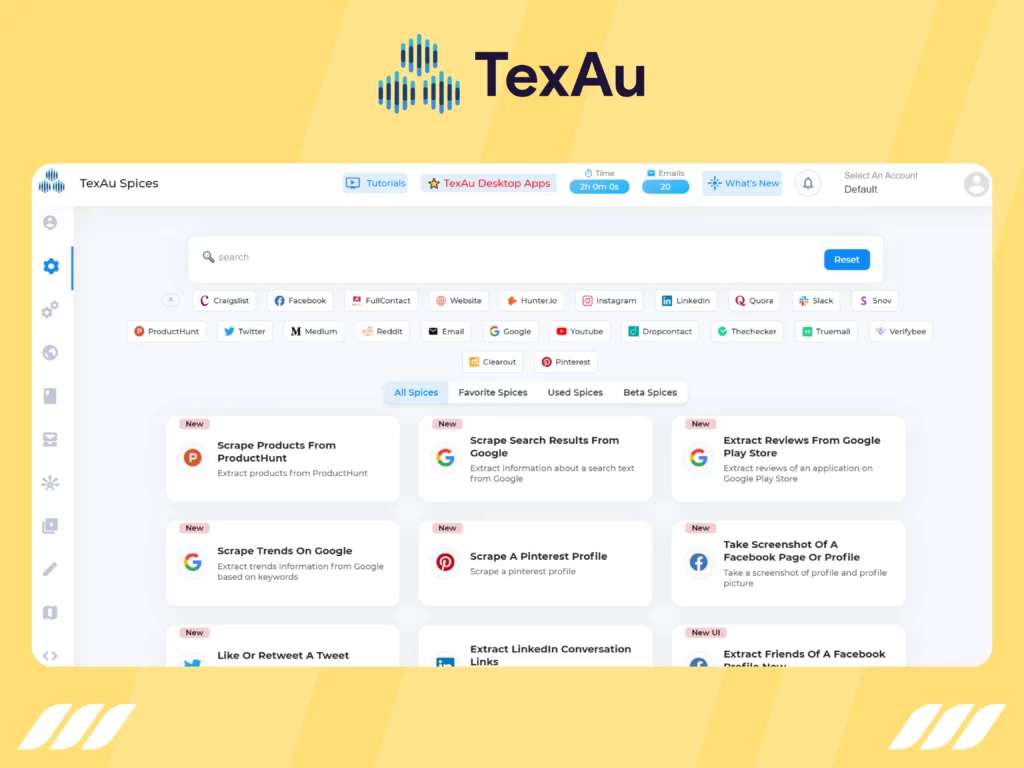 TexAu helps you automate various LinkedIn tasks, such as lead generation and sales outreach. You can set up targeted campaigns to reach your ideal audience, extract data from LinkedIn profiles, and automate various LinkedIn actions. You can also use TexAu to generate reports and optimize your campaigns for maximum results.
Here're some features of TexAu:
Automation of manual work on social media platforms to generate leads faster
Availability of both the desktop app and cloud-based solution
Ability to extract data from any social media platform, such as Facebook, LinkedIn, Twitter, and Instagram
Capability to perform actions like sending messages, connection requests, and cross-platform Drip campaigns
Creation of workflows through an easy-to-use Drag-and-Drop interface
More than 1000 integrations using Zapier and in-built integrations to connect or pass the data to your favorite tools.
16. Meet Alfred
Meet Alfred is a comprehensive social media automation tool designed to help businesses optimize their LinkedIn, Twitter, and email marketing strategies. It acts as your personal assistant on LinkedIn to streamline the process of connecting with the right people and enhancing your social media presence.
This tool comes equipped with various marketing features that facilitate the promotion of your brand across multiple social media platforms. With Meet Alfred, you can rest assured your LinkedIn account, tweets, and email inbox work seamlessly together to generate new leads and scale up your business.
Some of the key features of Meet Alfred include:
Multiple Channel Campaign Sequences that enable you to schedule and automate social media posts across multiple platforms
LinkedIn CRM Integration that allows you to manage leads and contacts directly from Meet Alfred
Lead Generation that helps you find potential clients on LinkedIn
Limit Detection to avoid triggering LinkedIn's daily usage limits
Customizable LinkedIn templates for messaging and outreach
Social Media Post Scheduler for advanced scheduling and automation of posts across platforms
LinkedIn InMail Campaign Automation to automate personalized messages for your connections
LinkedIn Analytics and Performance Tracking to measure the effectiveness of your social media campaigns
17. Cleverly
Cleverly is a LinkedIn lead generation service specializing in helping small and medium-sized companies. It combines a 100% done-for-you service with top-of-the-line automation software to help you connect with your ideal clients on LinkedIn.
With this service on your side, you don't have to worry about writing outreach messages or sending them manually. The team writes and tests personalized copy and sends thousands of messages on your behalf, generating positive responses straight to your inbox.
As a trusted partner of over 1,500 B2B companies, Cleverly has a proven track record of success across different industries. Its LinkedIn lead generation service leverages high-performing data from thousands of successful campaigns to target and engage your most qualified decision-makers, driving them directly into your sales funnel.
Here are some key features of Cleverly's LinkedIn lead generation service:
100% customized service
Top LinkedIn automation tool
Personalized outreach copy
Thousands of personalized messages sent on your behalf
Positive responses delivered straight to your inbox
480+ five-star client reviews
Proven track record of success across different industries
18. Skrapp
Skrapp.io is an easy-to-use email lookup and business data enrichment tool designed to help B2B sales professionals and email marketers enhance their outreach campaigns.
This software gives you access to a comprehensive database of public data that allows you to find and verify email addresses, phone numbers, job titles, company details, and other essential information about your target audience.
Whether you're looking to launch a high-performing email marketing campaign or reach out to potential clients via email, Skrapp.io has everything you need to succeed. With advanced email research features and intuitive tools, you can easily build targeted prospect lists and perform data enrichment to ensure your outreach efforts are targeted and effective.
19. Waalaxy
If you're looking to maximize your acquisition strategy on LinkedIn, Waalaxy has you covered. It can help you streamline your sales and recruitment outreach with ease.
Waalaxy is an all-in-one lead generation tool that claims to transform LinkedIn into your top acquisition channel. It allows you to import prospects directly from LinkedIn and establish a personalized prospecting campaign with just a few clicks.
The best part? You don't need technical skills to get started. Here's how Waalaxy works:
Extract lists of profiles from LinkedIn people search, Sales Navigator, Premium & Recruiter Lite
Set up your campaign with personalized LinkedIn and email outreach
Watch as Waalaxy takes over your prospecting, freeing up to 70% of your time to focus on closing deals
Here're some benefits of using Wallaxy:
Automate your prospecting and generate new, high-quality leads on LinkedIn and email
Use pre-built message templates, tested in-house, to set up your first campaign and start prospecting right away
Run campaigns even while you sleep with Waalaxy's cloud version
20. Zopto
Zopto is a cutting-edge cloud-based tool specifically designed to help startups and sales teams automate their LinkedIn lead generation process. It enables you to expand customer acquisition beyond your existing networks and markets.
This powerful tool comes packed with a plethora of advanced features, including a real-time dashboard, in-depth reports and statistics on lead generation campaigns, a dedicated account manager, and definitive search filters.
To get started with Zopto, you simply need an active LinkedIn Premium or Sales Navigator account. You can then easily search for potential candidates using a wide range of specific filters, including location, industry, company size, title, seniority level, number of followers, and much more.
What's more, with Zopto, you can activate powerful LinkedIn features, such as Connection Invites, Profile View Generator, Sequential Messaging, Free InMails, and more.
And thanks to its intelligent algorithms, Zopto automatically generates conversations and qualified leads based on user-defined criteria. This provides sales professionals and recruiters with a vast pool of potential leads or candidates to connect with.
Plus, it allows you to combine your Twitter engagement with Zopto and seamlessly integrate the tool with your CRM software using Zapier. Whether you're a startup, marketer, or recruiter, Zopto is the ultimate LinkedIn lead-generation tool to help you grow your business exponentially.
21. Skylead
Skylead is a cloud-based software that streamlines the LinkedIn automation and cold email process, making it easier for sales reps and professionals to connect with leads and build relationships.
Some key benefits of using Skylead include saving up to 11 hours per week, booking 50+ meetings every month, and closing more deals. Plus, it helps you with LinkedIn and email outreach, smart sequences, email discovery and verification, and native GIF and image hyper-personalization.
These features mean you can easily attract new leads on autopilot, reach out to more prospects productively, and skyrocket your conversions. In other words, it means you can focus on building relationships and generating leads while the software handles the tedious and time-consuming tasks of outreach and follow-up.
What Is LinkedIn Lead Generation?
LinkedIn lead generation is the process of finding and connecting with potential customers or clients on LinkedIn. The goal is to build relationships with these connections and ultimately convert them into paying customers.
Lead generation on LinkedIn involves identifying your target audience, connecting and engaging with them, and building trust to convert them into leads. It also involves using various tools and strategies to contact and interact with leads.
There are many reasons why LinkedIn lead generation is a good idea.
First, it allows you to reach a highly targeted audience who are more likely to be interested in your products or services. This means you can focus your marketing efforts on the individuals or companies that are most likely to convert into paying customers.
Second, LinkedIn is a trusted platform for business professionals. By building your presence on LinkedIn and engaging with your audience, you can set up your brand as a thought leader and build trust with potential customers.
Finally, LinkedIn lead generation can be a cost-effective way to generate leads for your business. Unlike the traditional marketing channels, such as print ads or TV commercials, you can target your message to a specific audience and track your results in real-time. This allows you to optimize your campaigns and get the most out of your marketing budget.
But how to generate leads on LinkedIn, you ask? Well, there are many ways to generate leads on LinkedIn, including:
Defining your target audience. Who are you trying to reach? What job titles or businesses are likely to buy your products or services?
Creating a compelling profile. Your LinkedIn profile should showcase your expertise and highlight the value you can offer to potential customers.
Sharing valuable content. Posting and sharing relevant content on LinkedIn can help you build your brand and attract leads.
Searching for leads based on job titles, industries, or keywords
Participating in LinkedIn groups and engaging with other members
Posting and sharing valuable content to build your brand and attract leads
Running targeted LinkedIn ads to reach your ideal customers
Using LinkedIn's built-in lead generation forms to collect contact information from interested prospects
Using the best lead generation tools. There are many tools available to help you automate your LinkedIn lead generation efforts, such as Dripify and LinkedIn Sales Navigator.
What Are the Benefits of Using LinkedIn Lead Generation Software?
There are several benefits of using LinkedIn lead generation software, including the following:
Saves time and effort: LinkedIn lead generation tools automate the lead generation process, making it easier and faster to identify and reach out to prospects.
Increases efficiency: These tools help you identify high-quality leads that are most likely to convert, allowing you to focus your efforts on prospects who are most likely to buy.
Improves accuracy: LinkedIn lead generation tools help you avoid manual errors and ensure that your outreach efforts are accurate.
Helps you scale your lead generation efforts: These tools allow you to reach out to many prospects simultaneously, helping you scale your lead generation efforts.
Sales automation: The best sales automation tools will help you automate your sales process by streamlining lead qualification, contact management, and follow-up.
How to Choose the Best LinkedIn Lead Generation Tool
With so many LinkedIn lead generation tools available, it can be hard to know which one to choose. Here are six factors to consider in order to choose the best LinkedIn tools for lead generation.
Your Budget
When it comes to choosing a LinkedIn lead generation tool, your budget is an important consideration. Some tools are free, while others require a subscription.
Free LinkedIn lead generation tools may have limited features, but they can be a good option for small businesses or those on a tight budget. On the other hand, paid tools may offer more advanced features and more comprehensive lead generation strategies.
Your Target Audience
Different LinkedIn lead generation tools are better suited for different target audiences.
For example, if you're targeting B2B customers, you may want a tool that focuses on account-based marketing (ABM) and allows you to target specific companies or industries.
And if you're targeting a broader audience, you may want a tool that allows you to search for leads based on job titles or keywords.
Your Goals
When choosing a LinkedIn lead generation tool, it's important to consider your goals. Are you looking to increase your number of connections? Do you want to generate more leads for your sales team? Do you want to improve your brand visibility?
Different tools may have different features that align with your specific goals.
Ease of Use
Some lead generation tools require a steep learning curve and may take a while to get the hang of, while others are more intuitive and user-friendly. Consider your team's technical expertise and comfort level with new technology when choosing a tool.
Customer Support
It's also important to consider the level of customer support offered by the provider. Will they be available to help you troubleshoot issues or answer questions if you need assistance? Is support available via phone, email, or chat?
The level of customer support can make a big difference in your overall experience with a tool.
Reviews and Ratings
Reading reviews and ratings from other users can provide valuable insight into the performance and reliability of a LinkedIn lead generation tool. It is a good idea to look for reviews from businesses that are similar in size and industry to yours, and pay attention to any common issues or complaints that users have mentioned. Additionally, check out third-party review sites to get an unbiased perspective on the tool's performance.
Choose Dripify Lead Generation Tool
Out of all the LinkedIn lead generation tools listed above, Dripify stands out as an all-in-one sales automation tool. But why do you need Dripify for lead generation? Well, Dripify offers a variety of powerful features that can help you generate leads, nurture relationships, and grow your business. It is easy to use, cost-effective, and offers reliable customer support.
Additionally, Dripify offers a free trial, allowing you to test the tool before committing to a reasonably-priced paid plan. With Dripify, you can create drip campaigns, automate your LinkedIn outreach, personalize your messages, and track your results. It also offers a variety of features, including auto-connection requests, auto-follow-up messages, and automated profile viewing.