Are you constantly on the hunt for accurate and up-to-date email addresses? Do you find yourself struggling to reach the right contacts and missing out on potential business opportunities? Well, you're not alone!
Whether you're a sales professional, a recruiter, or simply an individual seeking to get in touch with someone, finding the right email address can often be like searching for a needle in a digital haystack.
Thankfully, the advent of advanced technology has given rise to a new breed of tools designed to simplify this once-daunting task. It's time to say goodbye to fruitless searches and endless guessing games because email finder services are now your go-to arsenal for effortless email discovery!
But given that there are a lot of email finders out there, you might wonder what is the best tool to find email addresses? Don't fret, we'll be exploring the top email finder tools available on the market.
What Is an Email Finder?
An email finder is a nifty tool that allows you to find someone's email address with ease. It works by using various algorithms and databases to scour the internet for information related to the person you're trying to reach. Whether it's a potential client, a lead, a colleague, or a long-lost relative, an email finder can quickly locate the email address you need.
Top 11 Email Finders
Now that we've covered the incredible perks of using email finder software, it's time to explore the best email finder tools available today.
1. Dripify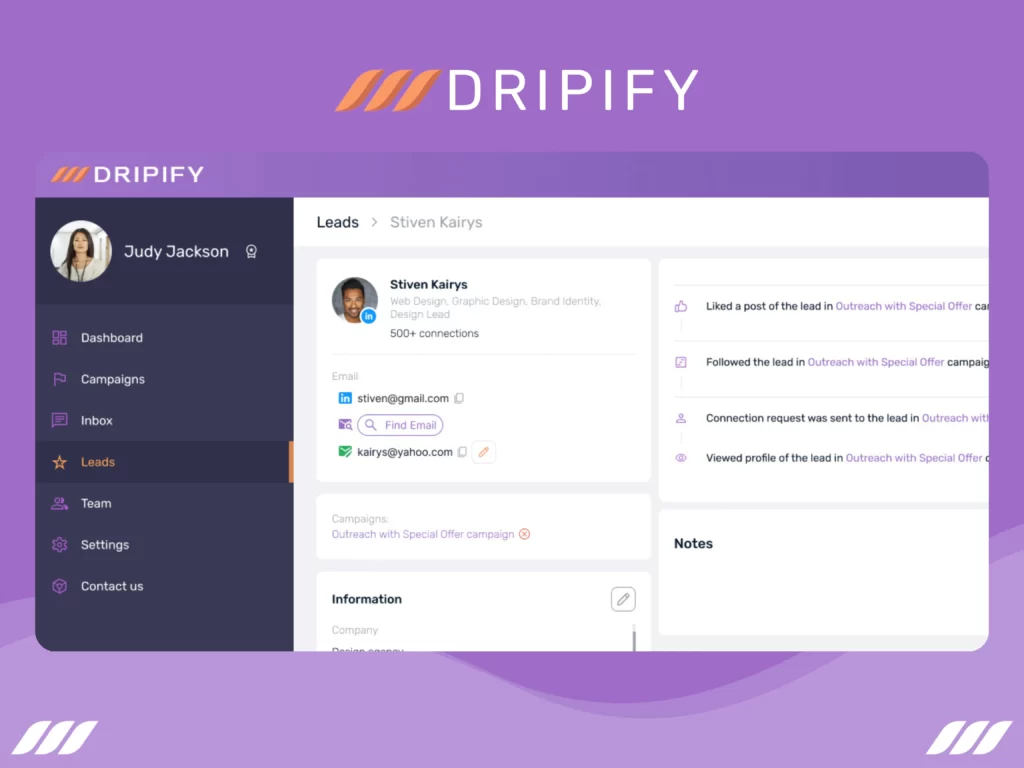 Dripify is the most modern and ultimate sales automation software that also offers a powerful email finder tool. This next-gen SaaS-based email finder tool quickly uncovers accurate email addresses for anyone you need to contact.
Whether you're looking to reach potential clients, influencers, or industry experts, Dripify's advanced algorithms scour the internet, leaving no stone unturned. Say goodbye to outdated contact information and hello to successful outreach campaigns.
Wondering how to find an email address with Dripify? Well, it all begins with the "Find email" action! When you start your outreach campaign in Dripify and add your leads, you'll reach a stage where you need to create a sequence. That's when the "Find Email" action enters the scene, helping you find your lead's email address.
Once found, Dripify will automatically add it to your lead's profile, and you can save it for later if needed. The best part is that Dripify's email finder works perfectly with the "invite by email" action, so when it finds the email address, it will send a connection request to your lead via email.
But as with any tool, the success of email discovery with Dripify depends on the quality of your leads and the information available on their LinkedIn profiles. On average, Dripify's powerful feature successfully unearths the lead's business email approximately 45-55% of the time.
One of the standout features of Dripify is its real-time email verification, ensuring that the email addresses you find are valid and active. No more wasting time on email bounces or risking your sender reputation with outdated lists.
Besides being among the best email finders for LinkedIn, Dripify provides valuable insights, such as LinkedIn profiles, so you can gain a deeper understanding of your contacts before reaching out.
Get more Dripify email finder credits to find the email addresses of all your prospects on LinkedIn.
Read also: How to Export LinkedIn Contacts With Emails
2. BriteVerify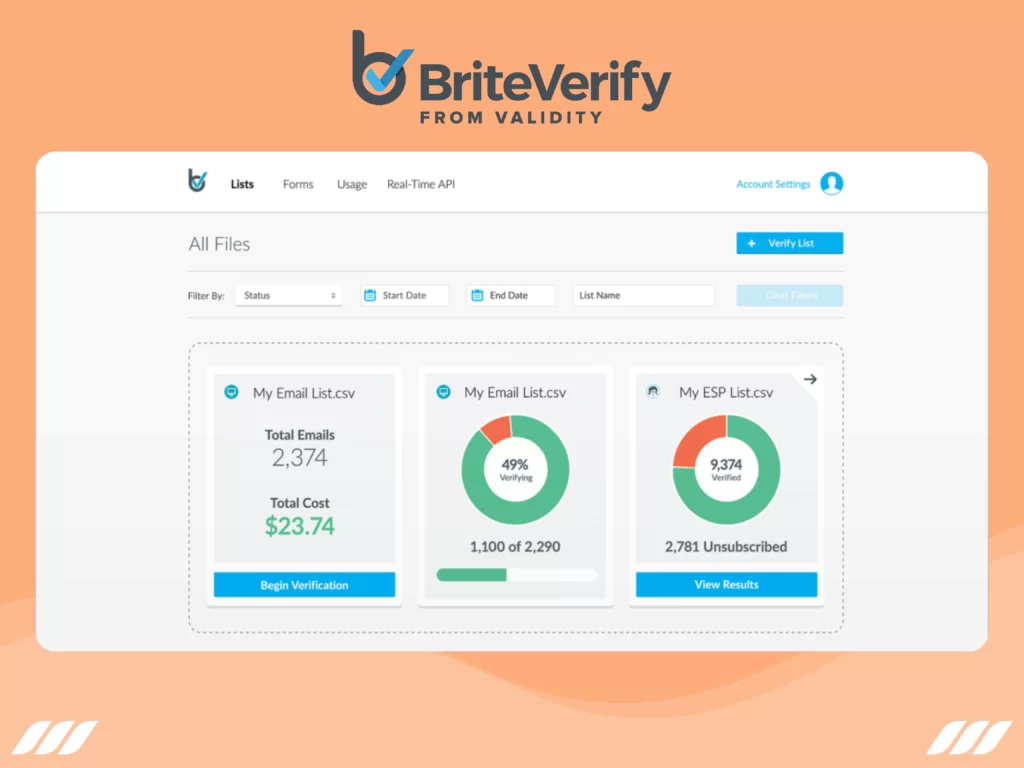 BriteVerify goes beyond being an email finder; it's one of the best email verification tools out there that ensures your emails reach the right inboxes. Using BriteVerify, you can confidently build and maintain a clean and effective email list.
The advanced validation algorithms of this tool meticulously check each email address for accuracy, preventing any chances of deliverability issues and reducing the likelihood of your messages ending up in the dreaded spam folder.
The best part? The process is incredibly simple. Just upload your email list to BriteVerify, and within moments, you'll receive a comprehensive report detailing the validity of each email address. BriteVerify also checks for risky domains and identifies potential threats that could harm your email deliverability.
Having this software on your side means you can spend more time engaging with your audience and nurturing valuable connections, knowing that your emails are reaching the right recipients.
3. Find That Email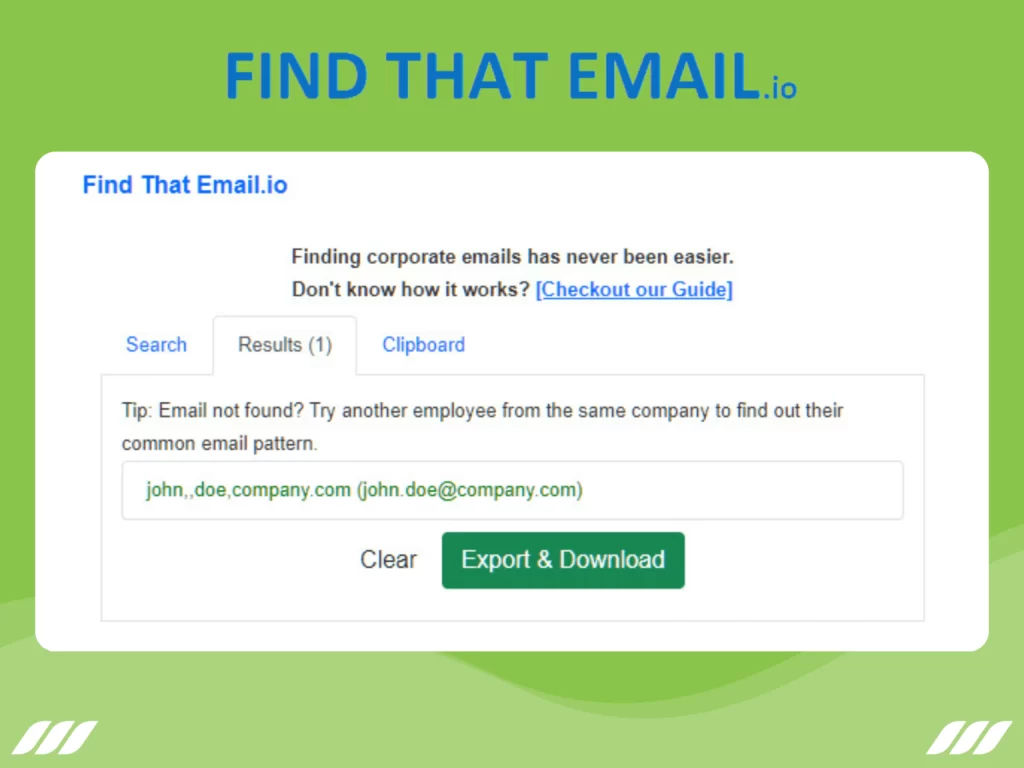 Find That Email lives up to its name by offering an effortless way to find corporate email addresses. In fact, it is the best email finder software for sales teams, recruiters, and marketers looking for ease of use and accuracy. The best thing is that this tool also delivers excellent results as a personal email finder.
With a user-friendly interface, all you need to do is enter the first name, middle name, or lastname of the person you're looking for, and Find That Email will do the rest. Alternatively, you can also use these tools to find the person's name connected to an email address. This way, you can send personalized emails with more enriched content.
The powerful algorithms swiftly scan the web, social media, and public databases to fetch you the most up-to-date and relevant email addresses in no time. This means you can confidently use the email addresses you discover without worrying about higher bounce rates or inaccurate information.
Plus, the tool's bulk search feature allows you to find multiple email addresses simultaneously, saving you even more time. With Find That Email in your arsenal, you can spend less time searching and more time building meaningful connections.
4. NeverBounce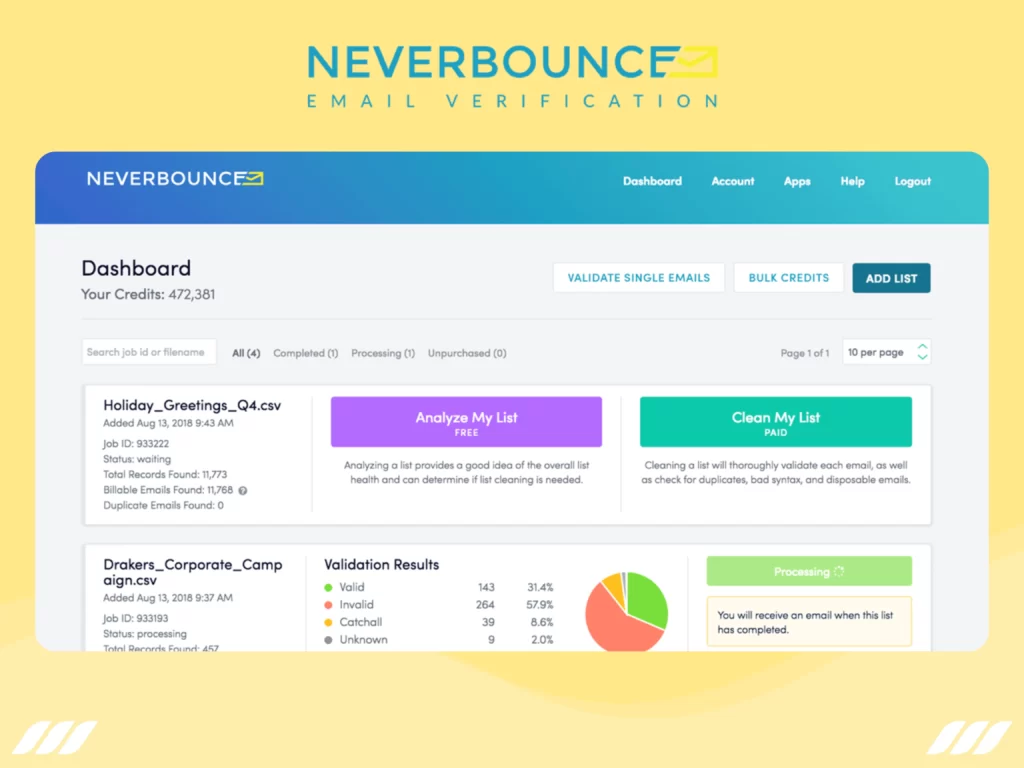 NeverBounce is a powerful email verification tool that keeps your email lists squeaky clean. This service ensures that your emails reach the intended recipients by verifying and validating each email address in your list. This means it reduces bounce rates and spam complaints, besides improving sender reputation.
Using NeverBounce is a breeze. Just upload your email list or connect it with your favorite email service provider, and NeverBounce will work its magic. It will classify your list into valid, invalid, risky, or unknown categories. This valuable data can help you make better decisions about your email marketing campaigns.
5. GetProspect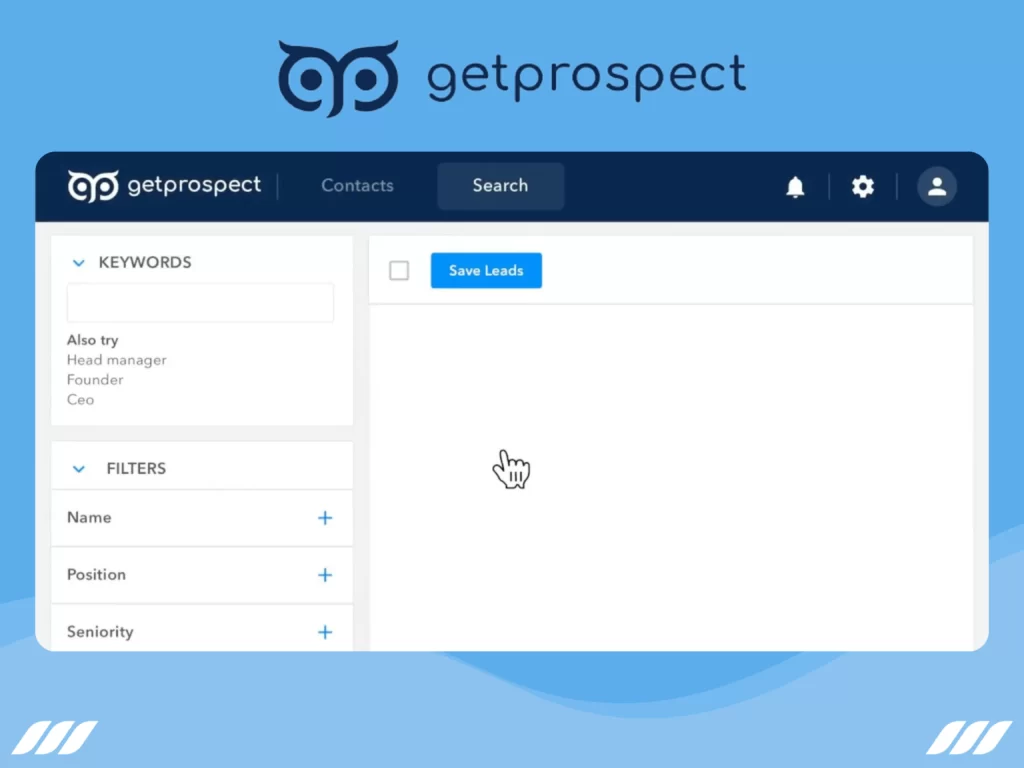 GetProspect is your go-to tool for finding email addresses and prospecting leads. This efficient email finder combines ease of use with accurate results, making it a favorite among sales professionals and marketers. Whether you're looking for potential clients, business partners, or influencers, GetProspect has got you covered.
GetProspect is also rated among the best bulk email finder tools and services out there. The bulk email finder feature allows you to swiftly gather a substantial database of business email addresses in just a few minutes.
Plus, you can upload information about your prospects and enhance it with real email addresses. This can free up valuable time for you to focus on crafting persuasive and compelling texts instead of endlessly searching for relevant contacts.
The best part is that this tool also lets you find email addresses based on company domains. Simply enter the names and company domains of the people you're targeting, and let GetProspect handle the rest. Its intelligent algorithms scour the web, social media platforms, and other sources to fetch you the most relevant and up-to-date email addresses.
6. Verifalia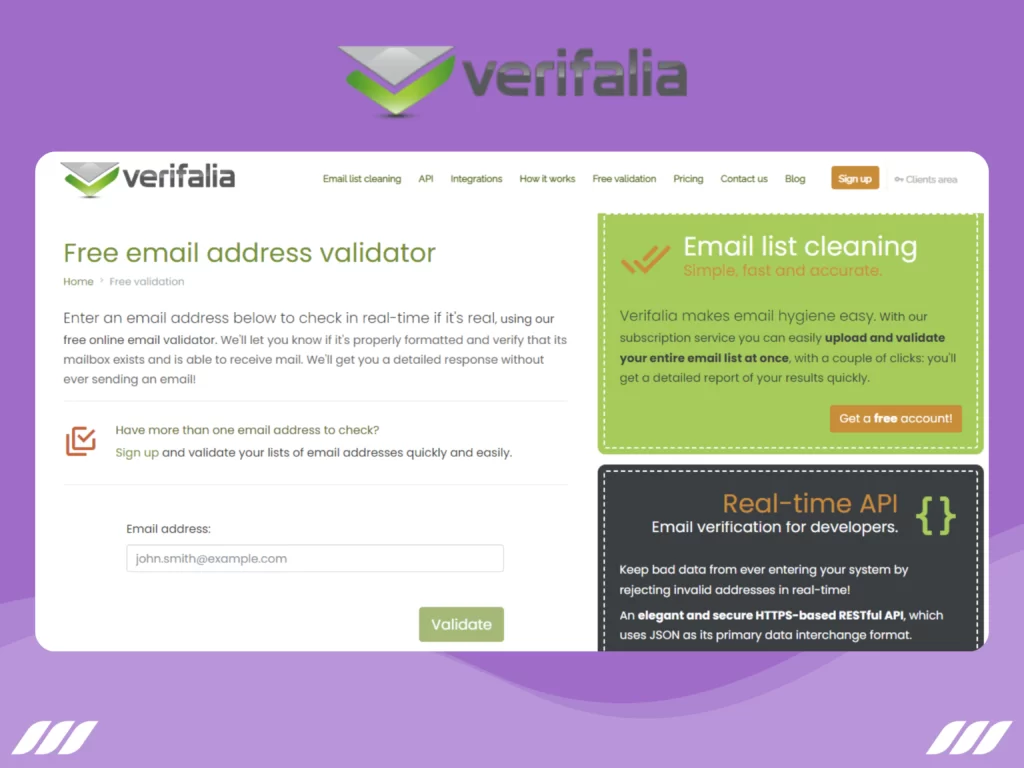 Verifalia is a specialized email verification service that ensures your email lists are clean and deliverable. Whether you're an email marketer, a business owner, or anyone who values email communication, Verifalia is an essential tool for maintaining a healthy sender reputation.
The Verifalia email verification API is a powerful tool offering two essential functions to keep your email lists clean and spam-free:
Real-time email verification: By integrating the Verifalia API, you can instantly validate email addresses as they enter into your system. This means you can rest assured your outreach efforts are directed only to genuine and engaged recipients. Bid farewell to fake sign-ups and the hassle of dealing with spam attacks.
Batch email validation: This APIl lets you take control of your data maintenance with ease by validating your entire database on a flexible schedule. Verifalia helps you identify and eliminate problematic data promptly, even before it can cause issues. When you continuously refresh your data, you can ensure your communication channels remain efficient and error-free.
7. Apollo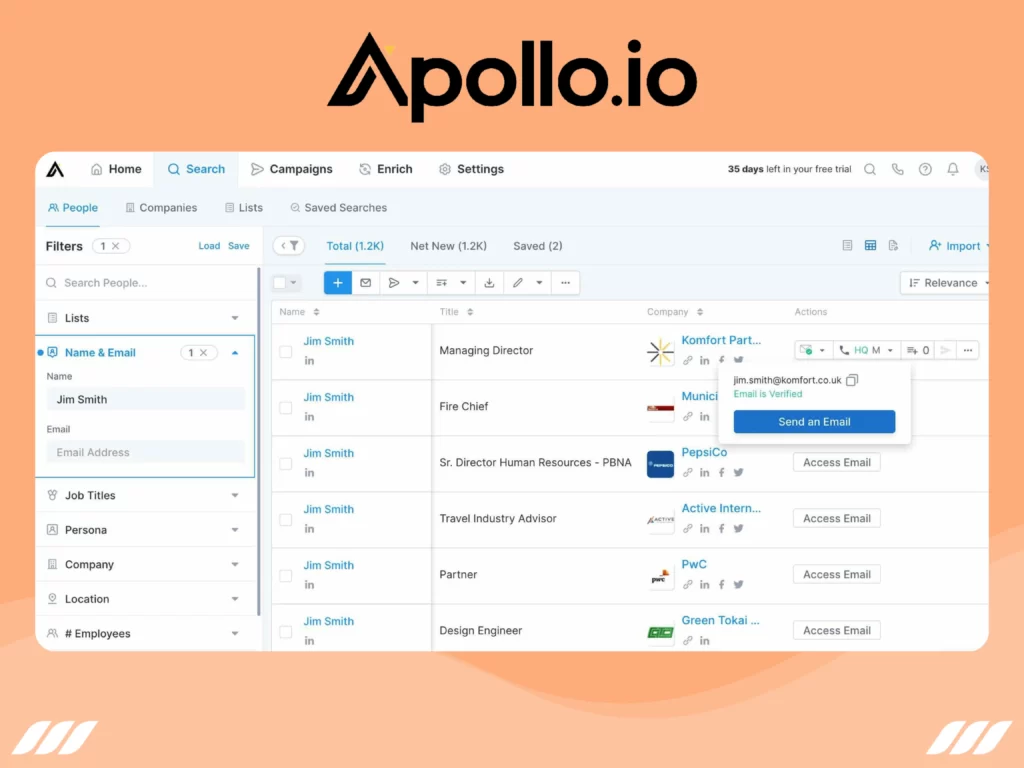 Apollo is more than just an email finder; it's an all-in-one sales intelligence, automation, and marketing platform that allows you to find clients and streamline the sales process. At the heart of Apollo is its intelligent email finder, which helps you locate accurate and verified email addresses with ease.
The most straightforward method to finding email addresses with Apollo involves using the powerful Searcher tool. To get started, simply head to the "Search" option located on the top navigation bar. Once you're there, you'll find the filters bar on the left side, serving as your ultimate hub for precise and advanced filtering.
With over 200 specific data attributes at your disposal, you can perform targeted searches based on various criteria, such as a person's name, company name, job title, department size, revenue and funding, persona, location, and much more!
If you already know the name of the person you're seeking an email address for, it's a breeze to obtain it. Just type their name into the "Name & Email" field, hit the Enter key, and Apollo will work its magic to provide you with the email address you're looking for right at your fingertips! Apollo simplifies the process, ensuring you can focus on meaningful connections without the hassle of complex searches.
8. VoilaNorbert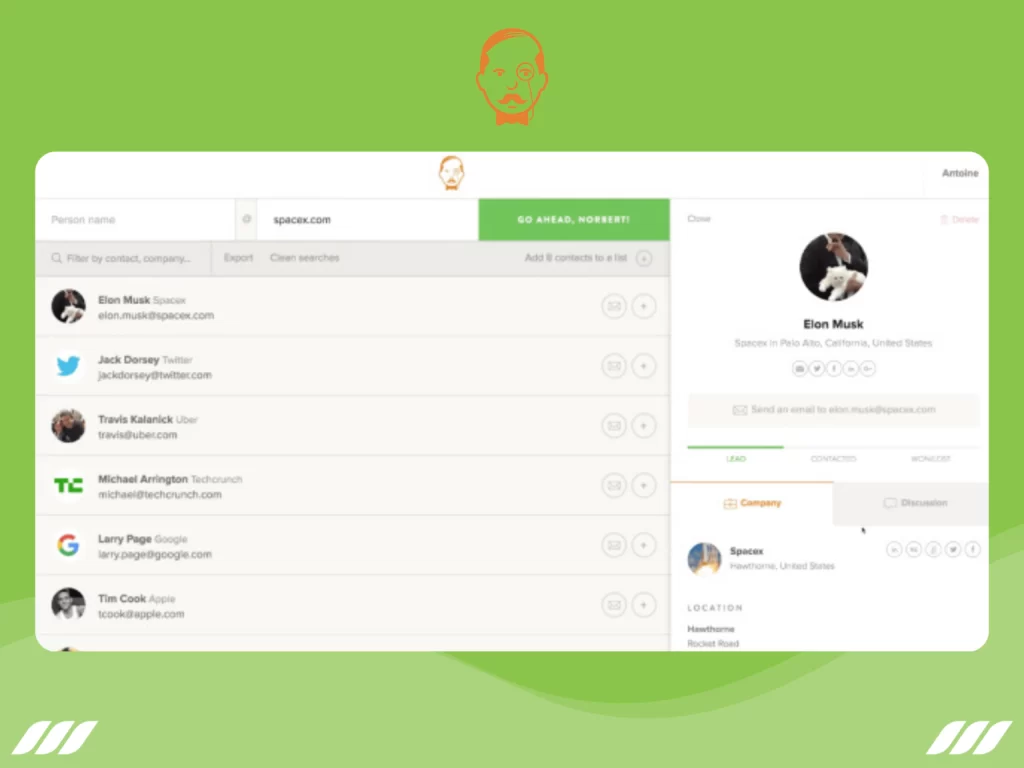 VoilaNorbert is the Sherlock Holmes of email finding. It is the best email lookup tool that comes equipped with powerful algorithms to discover accurate email addresses. Whether you're a salesperson trying to connect with leads or a business owner looking for influencers, VoilaNorbert has you covered.
To use VoilaNorbert, simply provide the first name, last name, and company domain of the person you're trying to reach, and watch as it fetches the person's email address. This software combs through the web and cross-references various data sources to deliver you the most up-to-date and reliable email addresses.
But that's not all – VoilaNorbert also offers a handy bulk search feature, allowing you to find multiple email addresses at once. And thanks to its in-built email verification capabilities, you can rest assured that the email addresses you find are valid and deliverable.
9. Wiza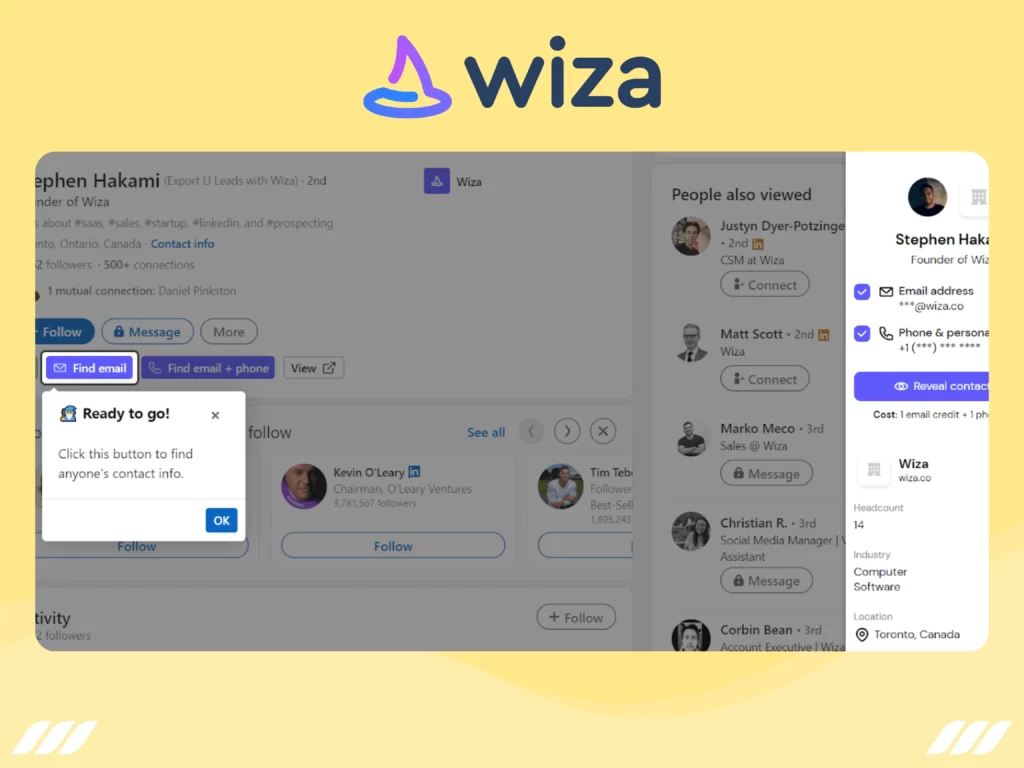 Wiza specializes in finding email addresses from LinkedIn profiles, making it a go-to tool for connecting with professionals in your industry. If you're a B2B marketer or a business owner seeking to expand your network, Wiza is the perfect email finder for you.
The process is simple – install the Wiza Chrome extension, use multiple search filters to find the LinkedIn profiles of your leads, and scrape the leads. Wiza instantly fetches the email addresses associated with those LinkedIn profiles, saving you time and effort. You can then easily export the valid information as CSV to build your email campaign.
So, if you're ready to harness the power of LinkedIn and unlock a world of networking opportunities, Wiza, being one of the best email finding tools, is the tool you need in your arsenal.
10. Lusha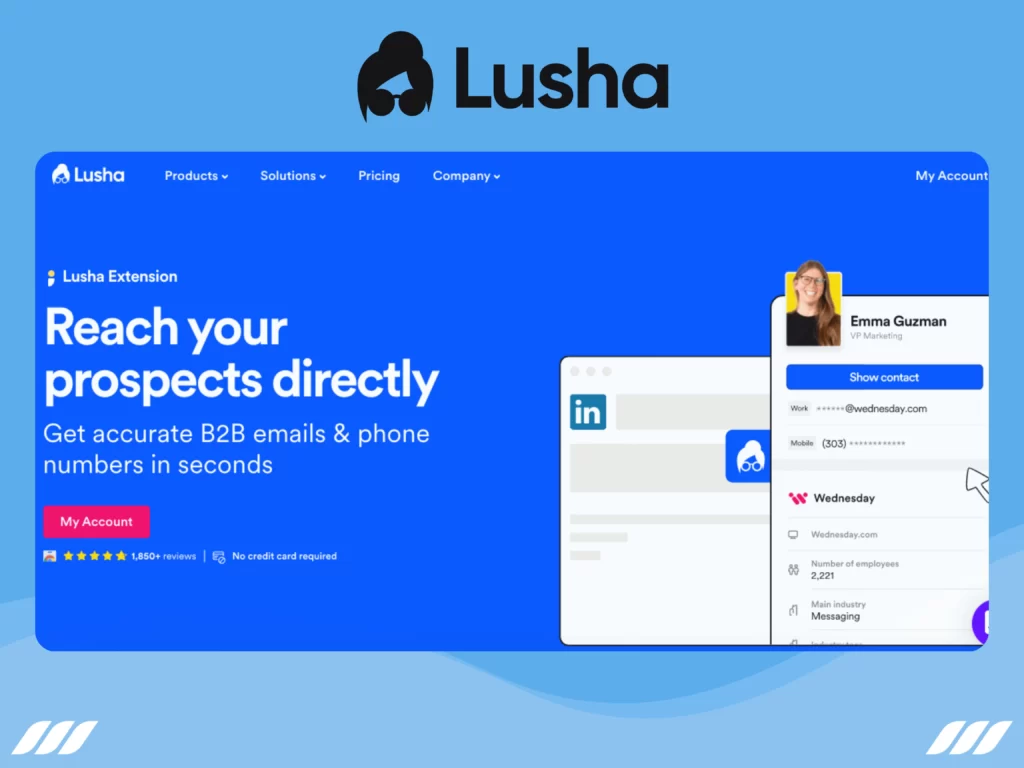 Lusha is yet another versatile email finder that helps businesses and individuals to quickly connect with the right people. Simply install the Lusha Chrome Extension, open popular platforms like LinkedIn, Sales Navigator, Recruiter, Salesforce, or any company website, and unlock the power to access your prospects' contact information and B2B company details in a matter of seconds.
Lusha, also rated among the best social media scraping tools, allows you to build a rich contact database, complete with email addresses, phone numbers, and social media profiles. This comprehensive approach enables you to engage with your prospects through multiple channels, increasing the chances of successful outreach.
11. Discoverly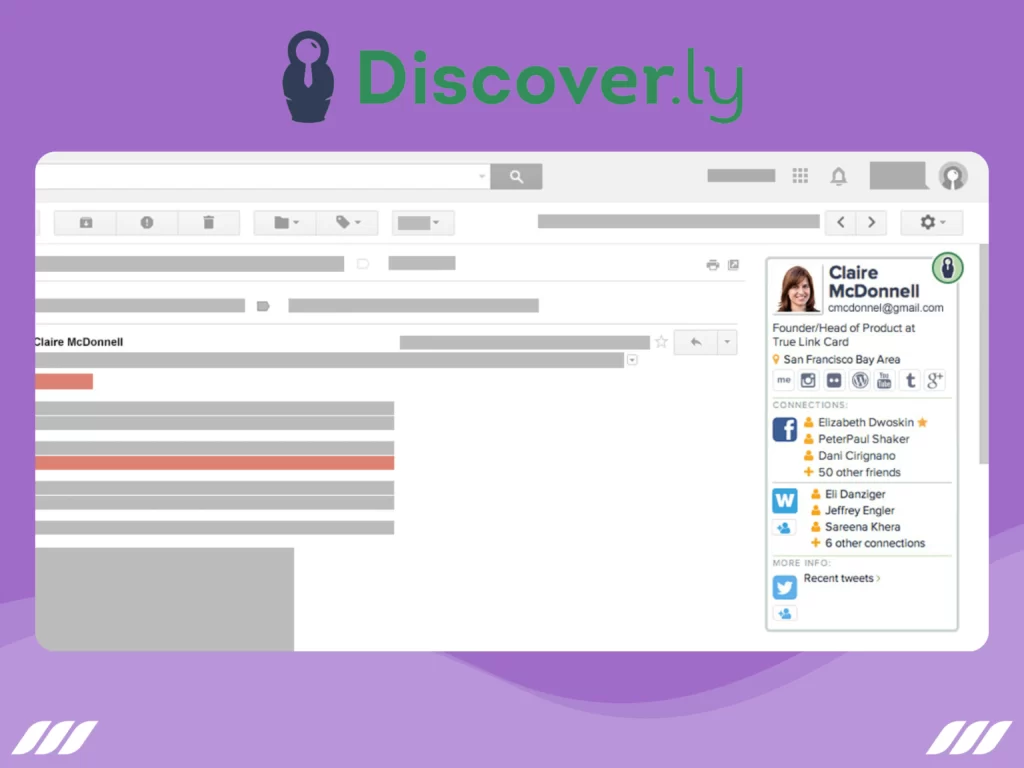 Discoverly goes beyond being just an email finder; it's a social connections unifier that provides you with a comprehensive view of your contacts' online presence. With Discoverly, you can bring all your social connections under one roof, making it easier to nurture relationships and stay informed about your contacts' activities.
The tool seamlessly integrates with your favorite social media platforms, such as LinkedIn, Facebook, and Twitter. Whenever you visit a contact's profile, Discoverly fetches valuable information like email addresses, mutual connections, and social updates, helping you gain deeper insights into your network.
Let's go over the benefits of email finders!
The Benefits of Using Email Finder Tools & Software
Email finder tools and software are cutting-edge solutions offering a plethora of benefits to streamline and optimize the process of finding valid email addresses. Let's take a moment to appreciate the fantastic benefits the top email finding tools can bring to the table.
Time-Saver
Time is precious, and the best email finder tools save you precious hours that you would otherwise spend searching for email addresses manually.
Think about it – you no longer have to waste time scouring the internet, guessing different email address combinations, and hitting dead-ends. With the email finders on your side, all it takes is a few simple clicks, and voila! You have the email address you need right in front of you.
Increase Productivity
Time saved is productivity gained! The best email finding software will help direct your efforts toward the tasks that need your attention. Instead of getting stuck in the tedious and frustrating process of email hunting, you can concentrate on crafting compelling outreach messages, fine-tuning your marketing strategies, or nurturing leads. With increased productivity, you can seize more opportunities, take on more projects, and achieve your goals faster than ever before.
Reach the Right People
In business and in life, success often hinges on making the right connections. Thankfully, email finder tools open up a world of opportunities by allowing you to connect with the right people at the right time.
The best email finder will help you find accurate email addresses, so you can quickly initiate meaningful conversations with the right people. Plus, you can pitch your products or services to your target customers since you've got their valid email addresses.
Enhanced Outreach Personalization
The top email finder software will not only help you discover email addresses but also provide additional insights into your contacts. With access to social media profiles and other publicly available information, you can gather valuable details about your prospects or connections. This wealth of information empowers you to craft personalized and relevant emails that resonate with your audience.
Cost-Effective Marketing
Traditional marketing and lead generation strategies can be costly, especially when acquiring contact databases or hiring teams to manually gather email addresses. The best email finder tools offer a cost-effective alternative, as they significantly reduce the expenses associated with finding leads and potential customers.
Competitive Advantage
The best LinkedIn email extractor tools offer a significant competitive edge by providing you access to accurate and up-to-date contact information faster than your competitors. This advantage can be crucial in various scenarios, whether you're the first to approach potential clients, the quickest to respond to leads or the most informed in your outreach efforts.
Global Reach
Email finder tools break down geographical barriers, allowing you to connect with individuals and businesses worldwide. Whether you're a small local business looking to expand internationally or a freelancer seeking clients beyond borders, these tools grant you access to a vast pool of opportunities. With just a few clicks, you can reach out to potential partners, collaborators, or customers on the other side of the world.
Easy Integration with Existing Tools
Most email finder tools seamlessly integrate with popular email marketing software, CRM, and sales automation platforms, ensuring a smooth and efficient workflow.
Whether you use tools like HubSpot, Salesforce, or Mailchimp, you can easily integrate the best email finder tool into these platforms. This integration saves you time and effort by streamlining your outreach process and centralizing your contact data.
Choose the Best Email Finder
As you can see, the world of email finder tools is a game-changer for sales and marketing professionals like you. Imagine the possibilities when you can effortlessly connect with decision-makers, influencers, and potential clients. The best-in-class tools offer an array of benefits that will transform the way you approach outreach and communication.
Each tool has its unique strengths, so choose the one that aligns best with your needs and goals. Look for tools that offer accurate and up-to-date results, such as Dripify. Also, don't forget to check for user-friendly interfaces and seamless integration with your existing tools, such as CRM platforms or email marketing software, to streamline your workflow.
Remember, an email finder tool will be the one that aligns with your unique requirements and budget and empowers you to reach your target audience efficiently and effectively.