Scraping and extracting data on social media is extremely helpful in boosting the effectiveness of your marketing campaigns. But, with so many tools available, knowing the right one to use may be tricky.
Have you ever looked for the best social media scraper tools? We have you covered below:
What Is Social Media Scraping Tool?
The social media scraping tool is a dedicated web scraper for social media channels. This automation tool extracts data from social media sites and compiles it in one format.
Suppose you're interested in gleaning data from, say, Facebook or LinkedIn. In that case, you only need a social media scraper and a proxy.
Here's how it works – you specify the parameters of your required data. Then, the scraping tool sends web requests for web pages. Next, it scans the returned pages to extract relevant data. After getting the data, you can process it to get the required insights.
Why Scrape Social Media Platforms?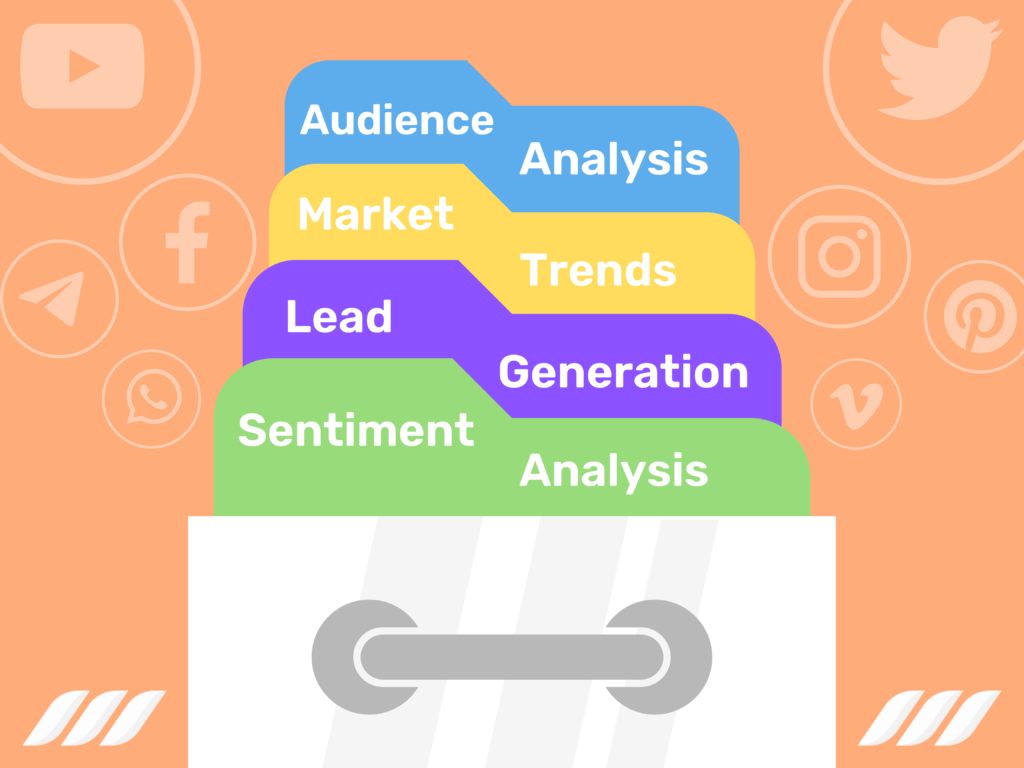 Here are some of the reasons why scraping data from social sites might be beneficial for you:
1. Sentiment Analysis
You can condition data scraping tools to acquire posts that mention your brand. Not only that, you can set constraints in terms of demographics and locations.
This would help you analyze what different market segments feel about your business and how you can tailor your offerings according to audiences' expectations.
2. Lead Generation
With web scraping tools, you can separate out publicly visible contact information, such as email addresses to generate quality leads.
Data scrapers could either be integrated with email scraping tools or work on a standalone mode. You might want to target LinkedIn, Twitter, and Facebook as they're the topmost platforms when it comes to lead generation
3. Market Trends
Web scrapers make it possible to track industry influencers, publications, and changes in buying and selling. By identifying the fluctuations in the market, you'd be able to adjust your business strategy to keep up with market changes.
4. Audience Engagement
As your brand grows, it might be difficult to maintain engagement with your audience. Data scraping helps you assess what type of content people like to see and what topics they are interested in. This way, you can create content your audiences want, boosting engagement metrics.
Related article: Best Social Media Automation Tools
The Benefits of Using a Social Media Scraping Tool
Social media scraping tools extract unstructured data from social media channels like Facebook, Twitter, Instagram, LinkedIn, blogs, wiki pages, news sites, and other platforms with user-generated content.
This data is then converted to a structured format which can help businesses in a number of ways. Some of the benefits of scraping on social media are:
Monitor consumer feedback
One of the biggest benefits of social media scraping is that it gives a great deal of insight into individual and group behavior, decisions, and opinions. This gives you valuable information about your customer base.
You can use the data you collect to track factors that could influence your customers and prepare accordingly.
For example, you can look at reviews and ratings, opinions on topics, buy-in rates, reactions, customer satisfaction, loyalty and other factors. Plus, you can analyze attitudes towards different products.
This can be a helpful tool for monitoring customers in all types of engagement, including all touchpoints, sales processes, social engagement, customer service, and more.
It can also help you develop new marketing strategies, build brand awareness, and improve the customer experience.
Understand market trends
Businesses need to know what customers want and how their product or service can help them. For this reason, you need to understand current market trends, including changes that might affect your customers' expectations.
To do this, you can extract data from social media and use it to understand trends, stay fully up-to-date with market demands, and predict upcoming trends.
You can also extract data to help you keep up with your competitors. By extracting data, you can see what your competitors are doing and the feedback they are getting. This also gives valuable insights into what strategies are working well for them.
Luckily, this task can be automated with social media scraping tools, which give structured data that's ready to be analyzed. By collecting this data, you can update your business strategies to maximize effectiveness.
Create targeted campaigns
Another benefit of social media scraping is that it can determine how to segment your audience and find out who to market to, as well as how and when.
For instance, you can use analytics to create campaigns for different audiences based on ages, income, and other factors. This increases your reach and saves time and money on marketing.
Further, you can find the best times to target people based on their location by finding out when they are most active, boosting ROI.
Top 17 Social Media Crawling Tools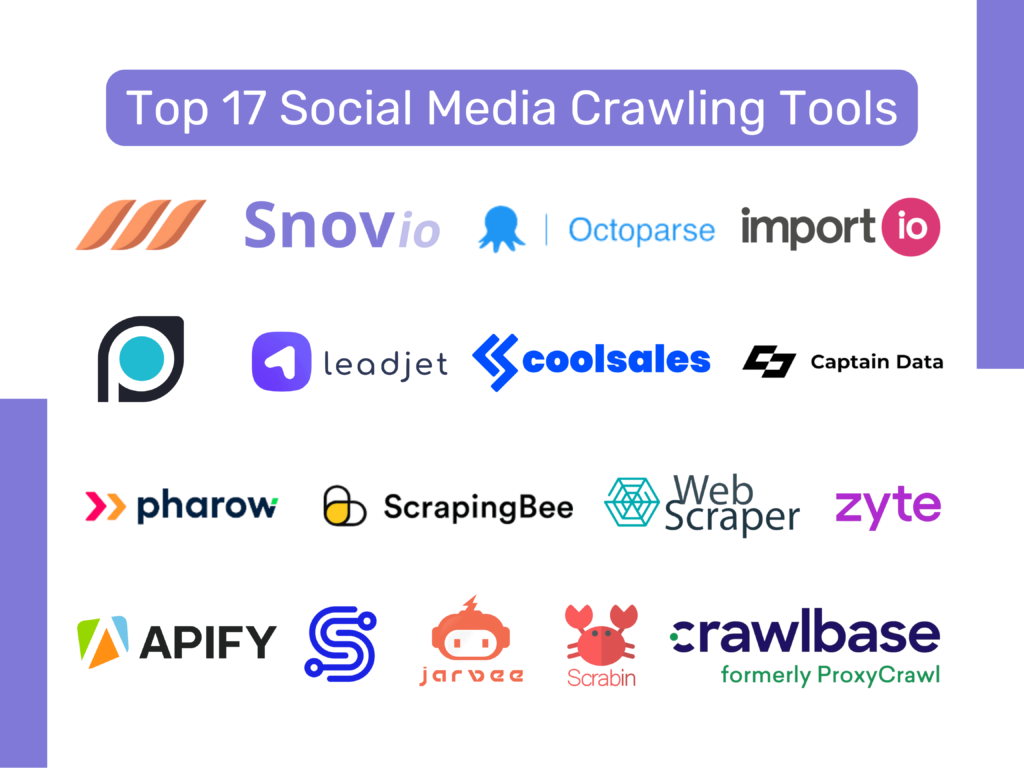 If you're scraping social media, many tools can automate and simplify the process, making it much easier to get the data you need.
Here are some of the best social media scraping tools:
LinkedIn is one of the most used social media platforms for B2B marketing. If you use LinkedIn for lead generation, Dripify lead generation tool allows you to scrape leads, export data, and build completely automated outreach sequences.
You can use this tool to export your LinkedIn contacts to a CSV file, which includes tons of valuable information like name, company, position, email address, phone number, and website URL.
In addition, Dripify can be used to automate many other sales processes, such as creating personalized lead generation funnels, drip campaigns, and more.
Prices start at $39 a month for a basic plan. A pro plan costs $59 per month, and for advanced, it is $79 per month. There's also a free trial available.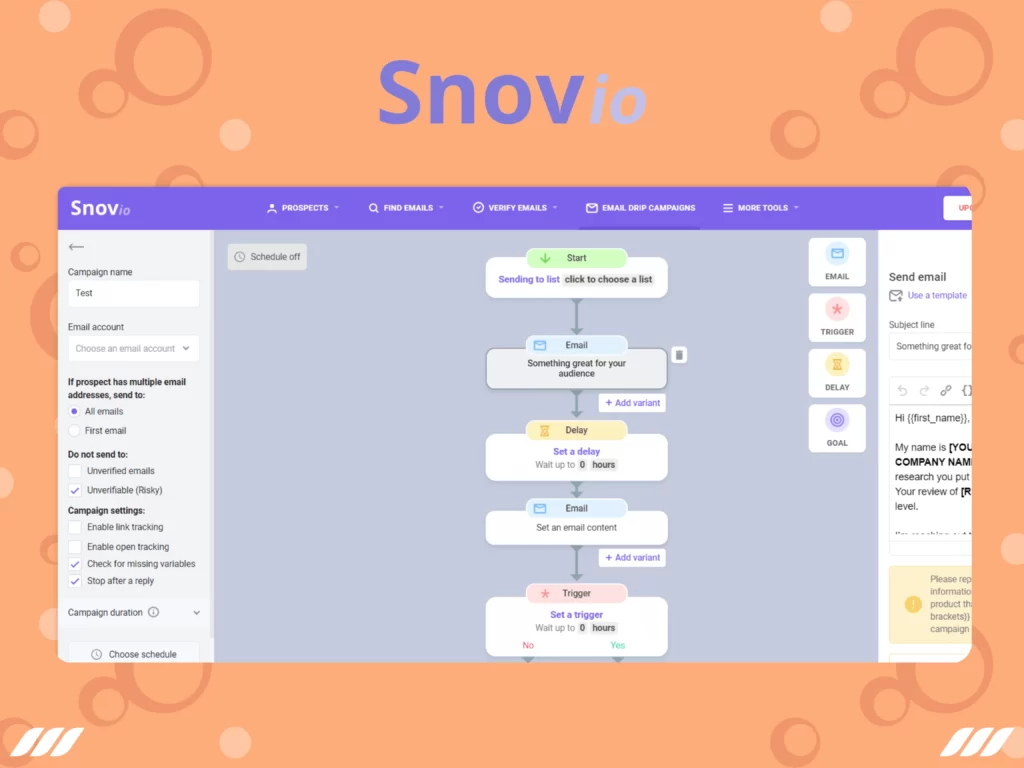 Snov.io is another lead generation tool for LinkedIn. It can also be used to crawl the website for media, scrape and verify emails, and build an email sequence with automated follow-ups.
This tools is competitively priced, with the costs starting at $39 a month for a basic package, and going up to $199 per month for the most advanced. Whether you're an individual, or running a small or medium sized business, you can find a suitable option.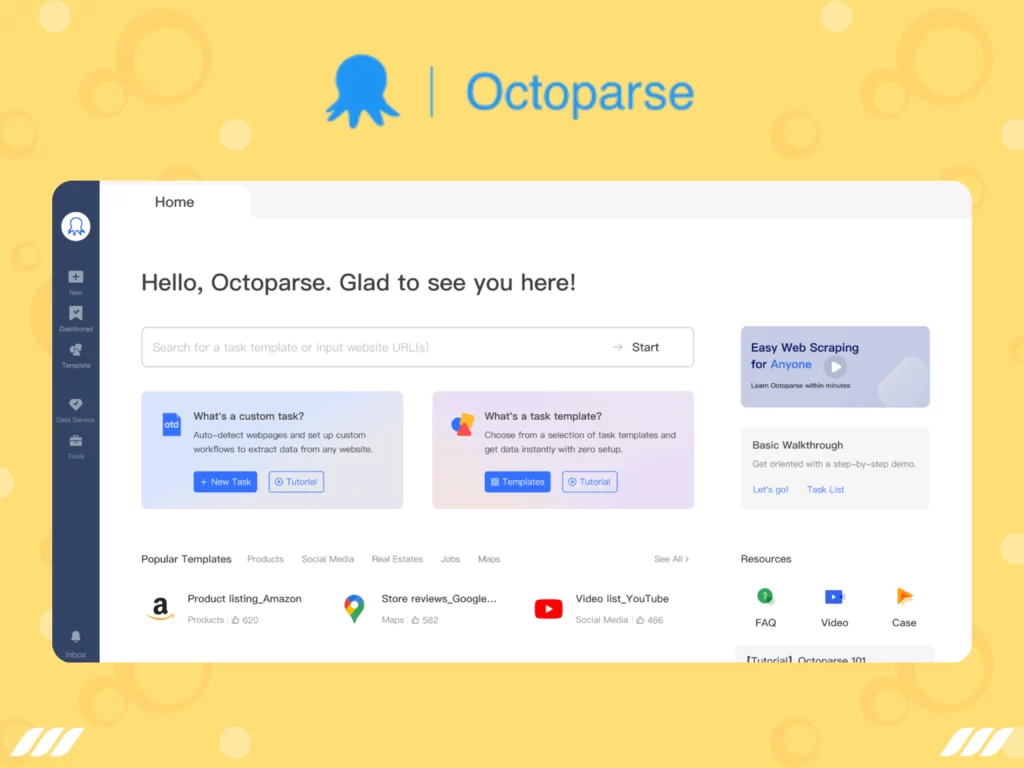 Octoparse is one of the best scraping tools.This tool is coding free, so you don't need any programming experience or knowledge to use it effectively.
As a leader in the market, it's known for its easy-to-use point and click interface, which supports infinite scrolling, text input for search results, log-in authenticatication, clicking through drop-down menus, and more.
The current version has an auto-detection algorithm, which means it automatically selects relevant data. This can then be exported into JSON, HTML, excel, or databases.
The free plan includes unlimited pages and computers but is limited to 10,000 records per export and two concurrent local runs.
The standard paid plan is $75 per month and the professional plan is $209 a month. Octoparse also offer enterprise options for larger businesses. All the paid plans include cloud extraction and support a real-time extraction schedule of up to every 1 minute.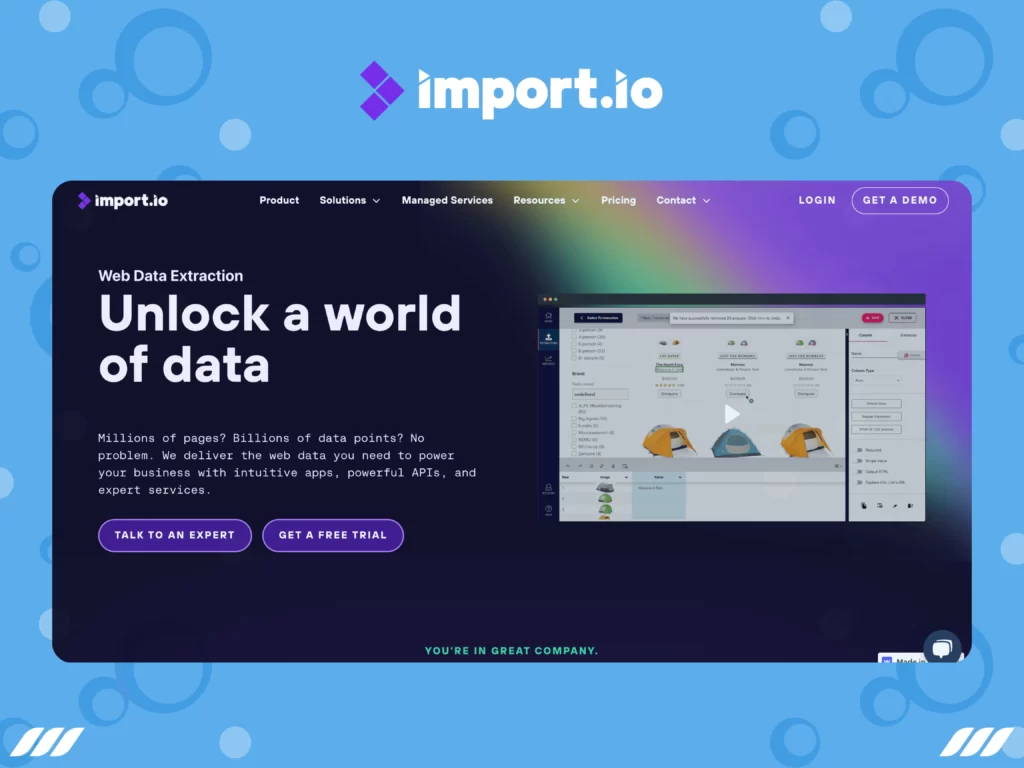 Import.io is another helpful social media web crawler. It has an interactive interface, and the simple point and click system can be used without any code, simply click on the elements and the information will be scraped.
One downside of this tool is that you are slightly limited in the types of pages that can be scraped because of the click system. However, the tool can be used by individuals, small businesses, and even large enterprises and has many great features.
The free plan is good for many projects and gives unlimited access to most of the features. There is also an enterprise option for businesses. Prices for this are available on request and are tailored to suit each business's needs.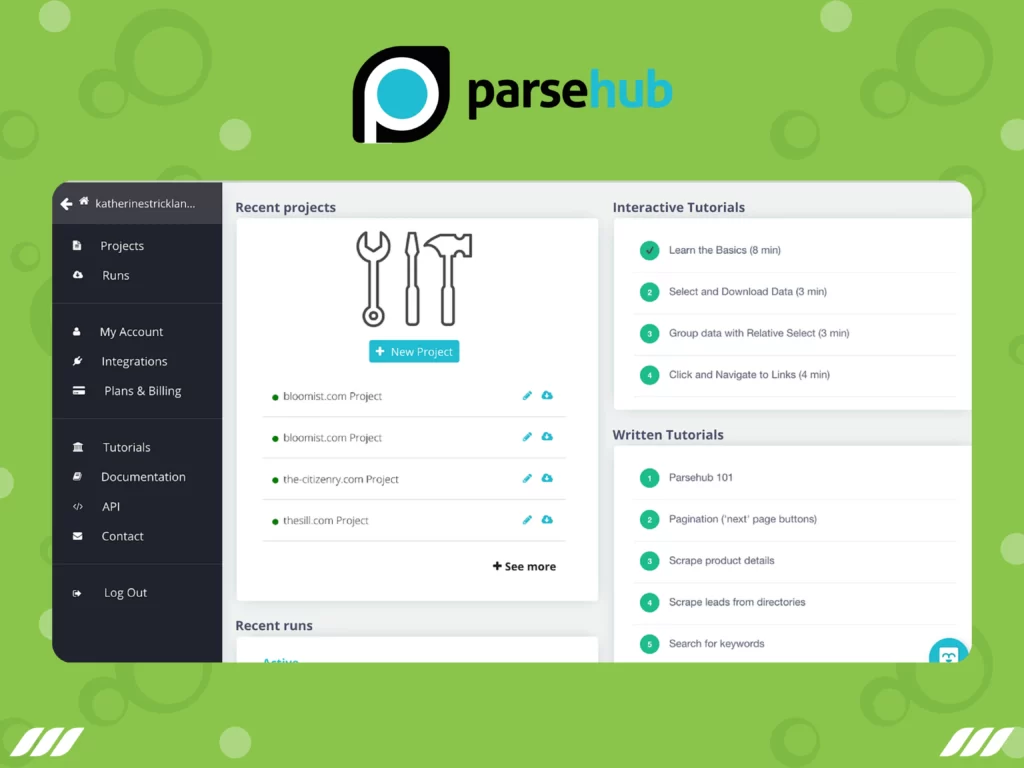 Parse social network scraping tool is another great tool. It's suitable for non-coders and has a graphical interface. Additionally, it supports more systems than many rival products and has lots of awesome features.
ParseHub can select and extract relevant data from JavaScript and AJAX pages. This includes data from nested comments, images, calendars, maps, and pop-ups – which are often very difficult to extract from.
The tool is suitable for Windows, Mac, OS X, and Linux and has a browser-based extension. Any collected data can be exported as Excel, JSON, or API.
This is an easy-to-use, powerful tool. However, the only downside is the price. It costs significantly more than other scraping products, with a standard plan costing $149 per month and professional plans costing $499.
Moreover, a free plan is available, but it is very limited in terms of features and service. For example, it only allows you to extract 200 pages per run, and you only receive the bare minimum in customer support.
Leadjet is an extension-based, complete solution for LinkedIn scraping. What sets Leadjet apart from other LinkedIn data scraper tools? Well, it all comes down to unique features like native integration into Hubspot, Pipedrive, Salesforce, and Copper CRM.
Once you extract contact data from LinkedIn, Leadjet lets you send it directly to these CRM tools. Since Leadjet is integrated with Dropcontact, you can easily get new leads directly in your CRM or Leadjet.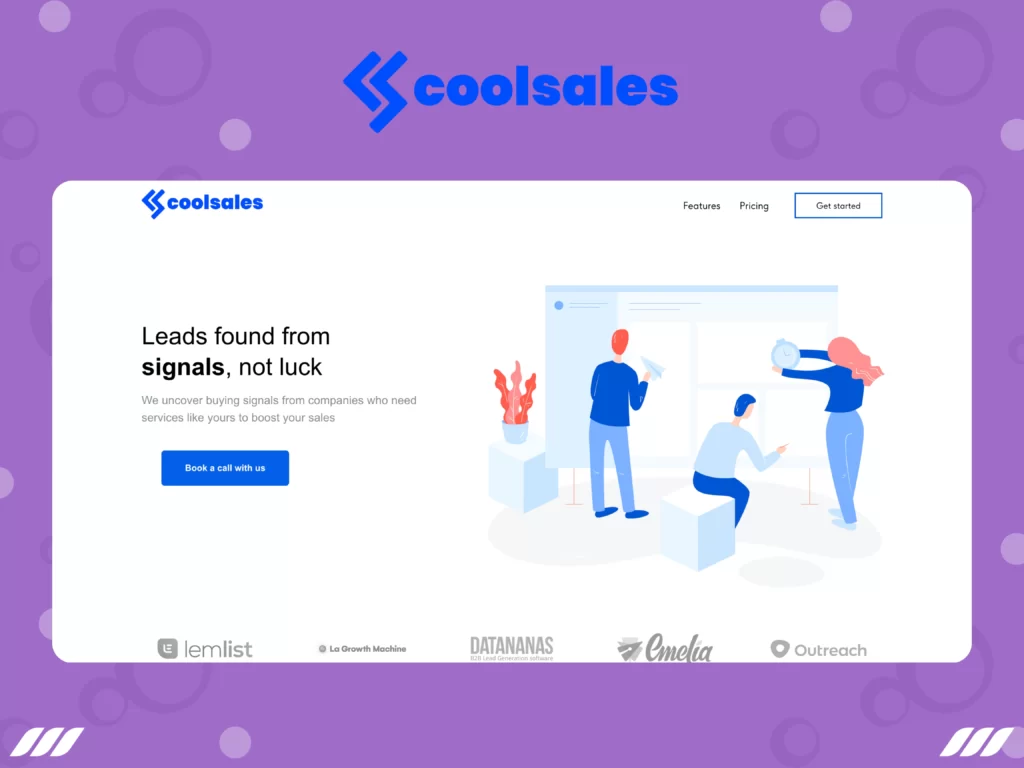 Here's how Coolsales work — track business signals from job postings and then identify the most relevant companies to target. You can scrape job boards and put filters in terms of business signals and Ideal Customer Profiles (ICPs). 
Above all, Coolsales supports native integration with prospecting tools such as Lemlist, Emelia, and La Growth Machine. As a result, you get a fully automated lead generation. You can do sequencing every time a company matches your signal.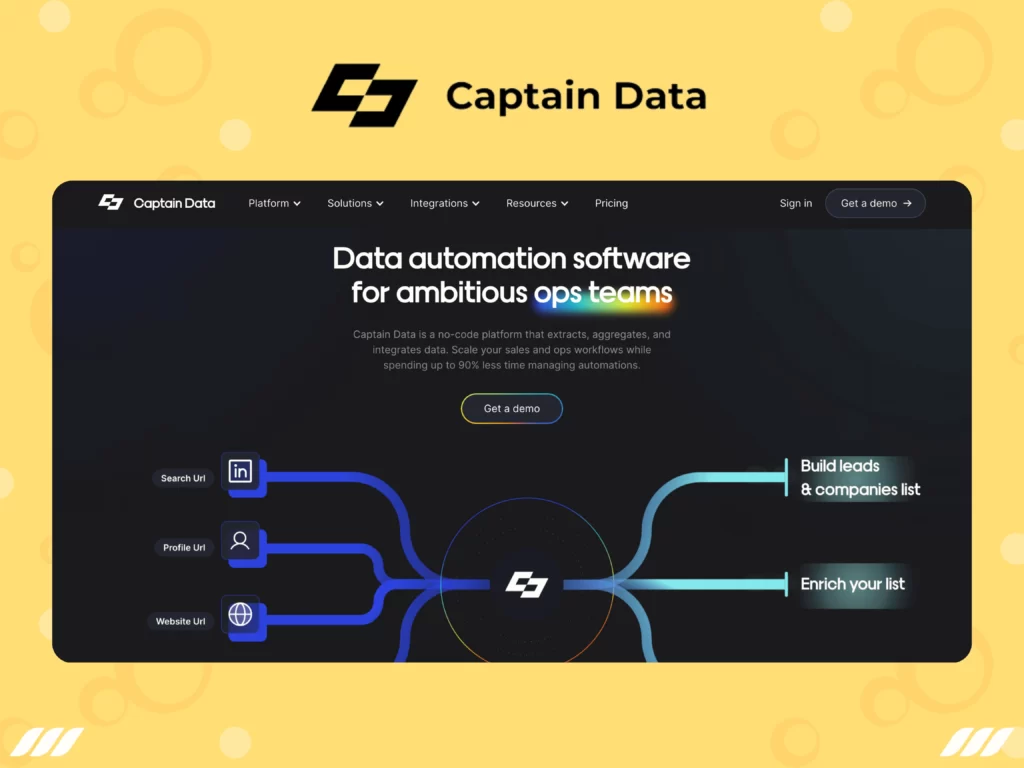 Using Captain Data, you can use ready-to-use workflows to automate your prospecting: find quality leads and then address them in customized ways. Whether you're a sales-automation beginner or a seasoned professional, launching your prospecting campaigns only takes a few clicks.
Apart from connecting other services (Google Drive, Dropcontact, LinkedIn, etc.), Captain Data enables you to share contacts with your team.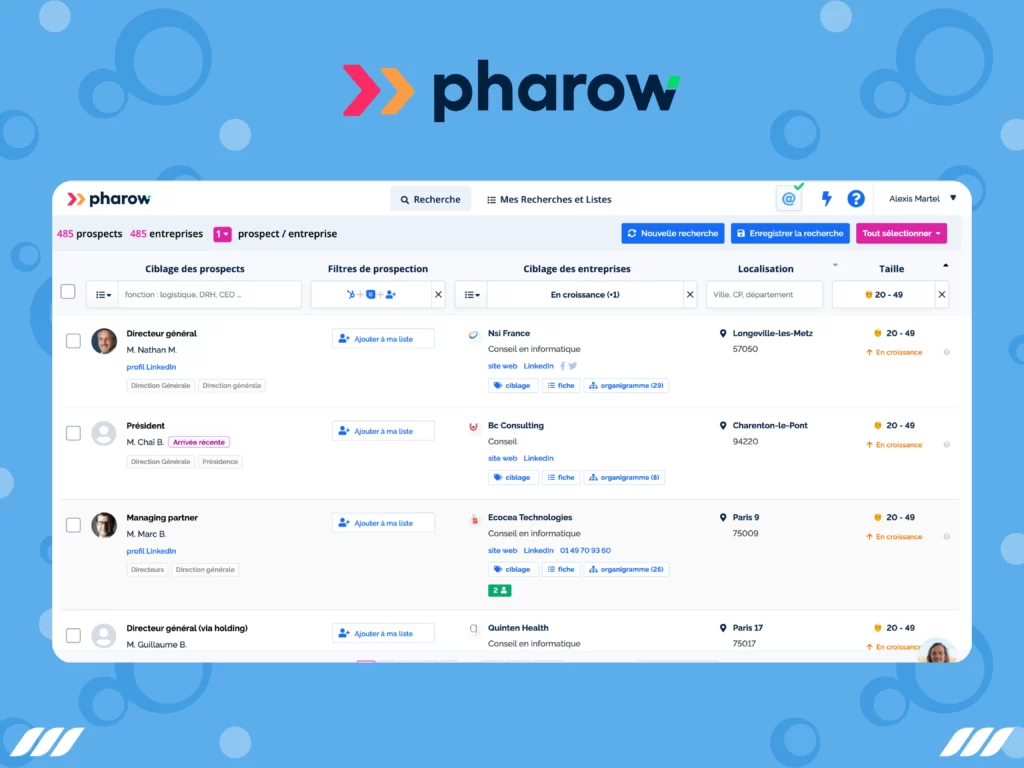 Pharow is a must-have in your arsenal of LinkedIn scraping tools. It allows you to target leads and prospects based on your Ideal Customer Profile (ICP) and obtain data of interest. In addition to defining target functions, you can refine your search results by selecting a company category.
Above everything, you don't need to look for LinkedIn email scraper tools as Pharow works perfectly fine with Dropcontact.
By scraping LinkedIn, Pharow returns contact lists, which you could use in cold emails or integrate into multi-channel prospecting tools.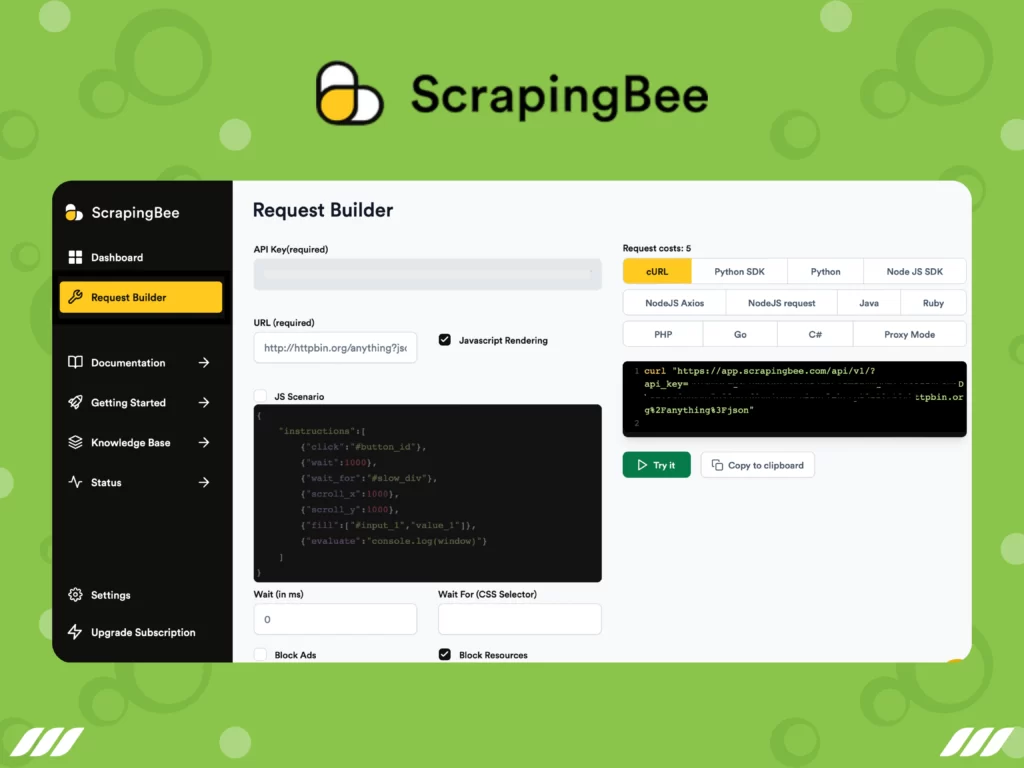 Serving as a proxy API and extraction tool, ScrapingBee boasts seamless scraping with no chance of getting blocked. While using it in "general scraping mode", you can do price-monitoring, real estate scraping, and extract reviews. 
However, in the "growth hacking" mode, ScrapingBee could be used for lead generation, extracting emails, and other contact information.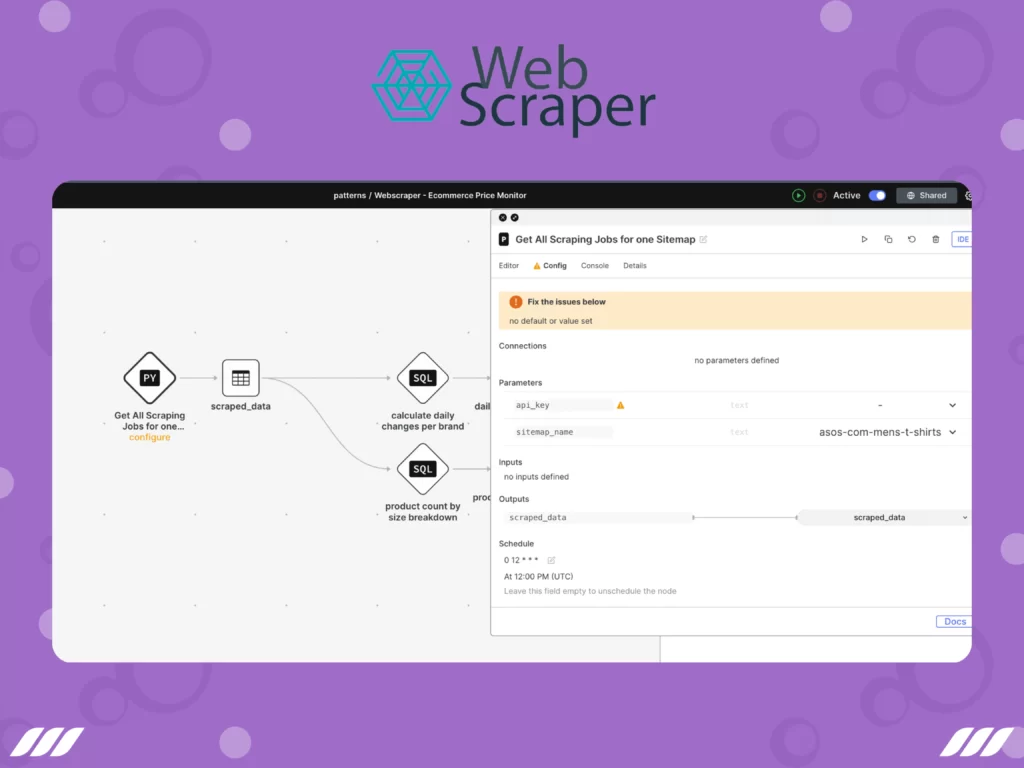 Webscraper.io is a Chrome extension that can be used to scrape social media content, such as comments, posts, and friend lists. Operating on a simple interface, Webscraper.io allows you to configure scraper by just pointing and clicking on elements (no coding).
Through the "modular selector system," you can build site maps on web scrapers using different selectors. This way, you can tailor data extraction to different site structures.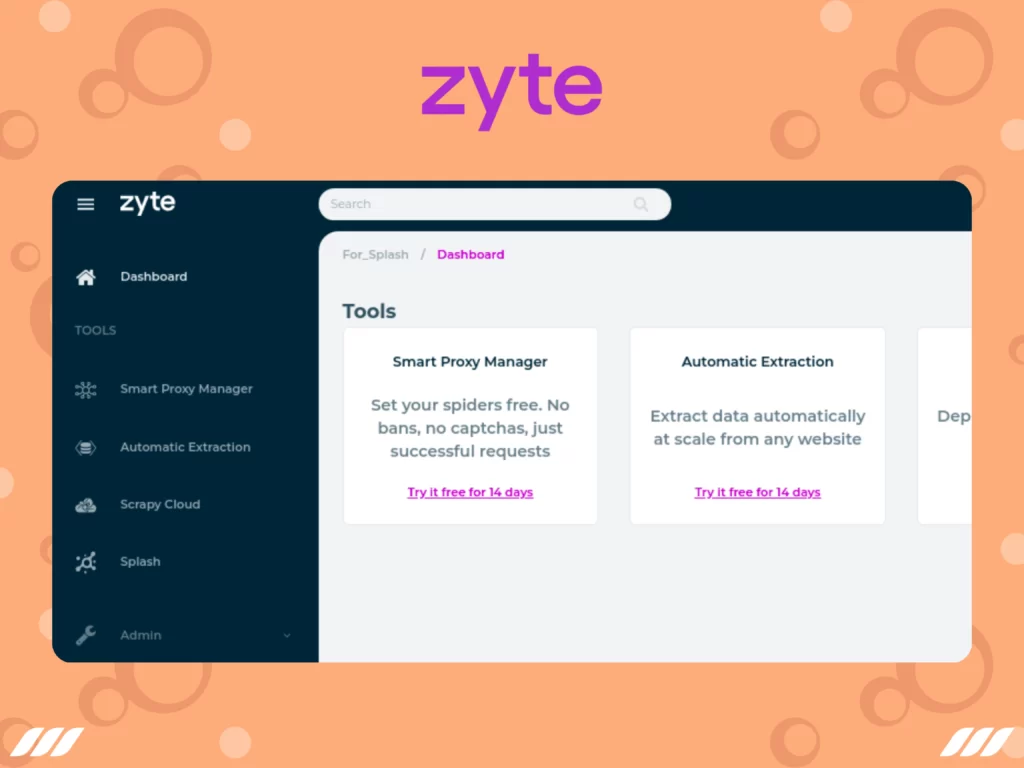 Formerly known as Scrapinghub, Zyte offers a complete collection of scraping tools. All you have to do is follow the instructions on their documentation page. You'll be able to create scrapers for any social media service.
Zyte Smart Proxy lets you bypass the antibot system of websites. Plus, Zyte Splash tool and Smart Proxy work hand-in-hand to deal with websites using JavaScript. Although the Scrapy tool comes for free, you'd have to pay for Smart Proxy and Splash tool.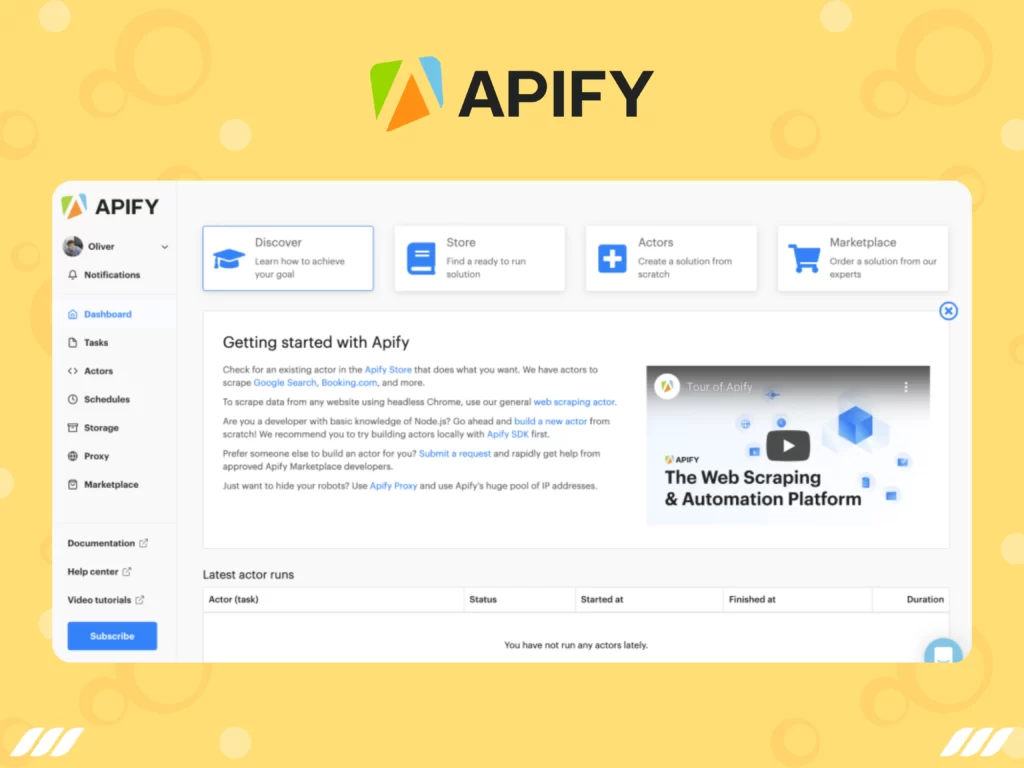 With Apify's online automation service, you can automate many social media activities.
Among other actors, some of Apify's scraping tools entail:  
Facebook Page scraper
Instagram scraper
YouTube scraper
Twitter scraper
Contact detail scraper
Reddit scraper
Primarily, this paid tool involves shared proxies, but you can add external proxies to make sessions more secure.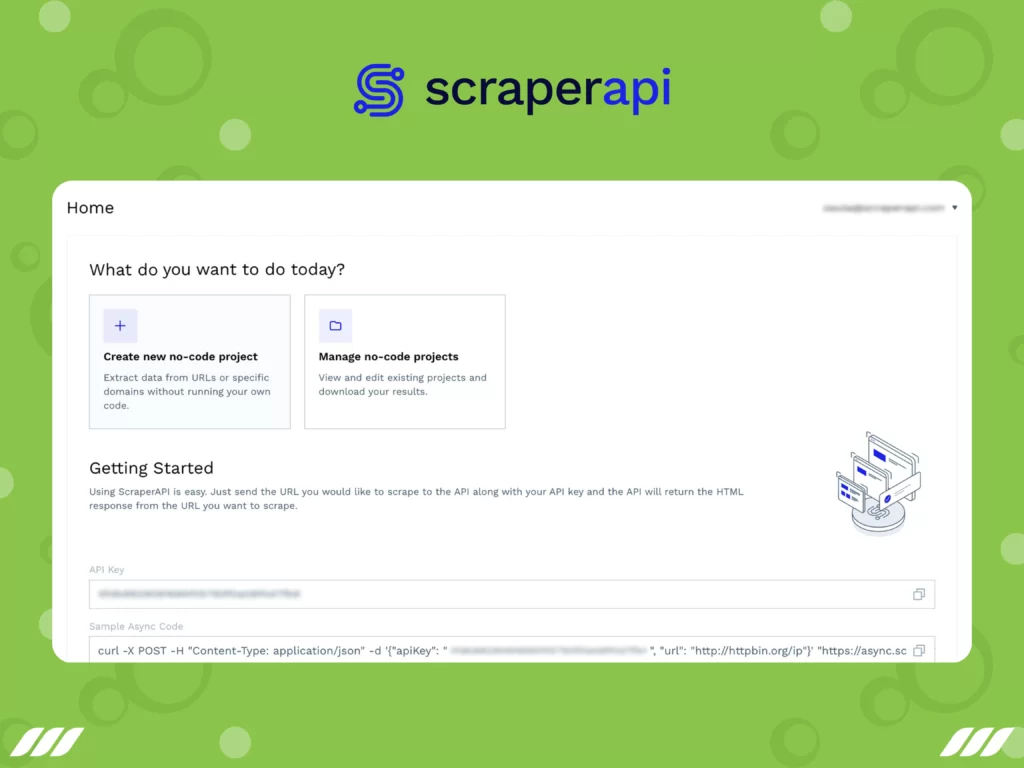 ScraperBee, like its competitor — ScraperAPI — offers proxy APIs for web scraping.
Apart from providing proxies, it handles headless browsers and bypasses captchas. It extracts data from social sites that are difficult to scrape and leaves you with parsing and processing data only.
Furthermore, what makes it an affordable option is that you only pay for successful requests. Featuring 40 million IPs from over 50 countries, Scraper API is not an automated tool. However, it smoothly handles all the intricacies of web scraping.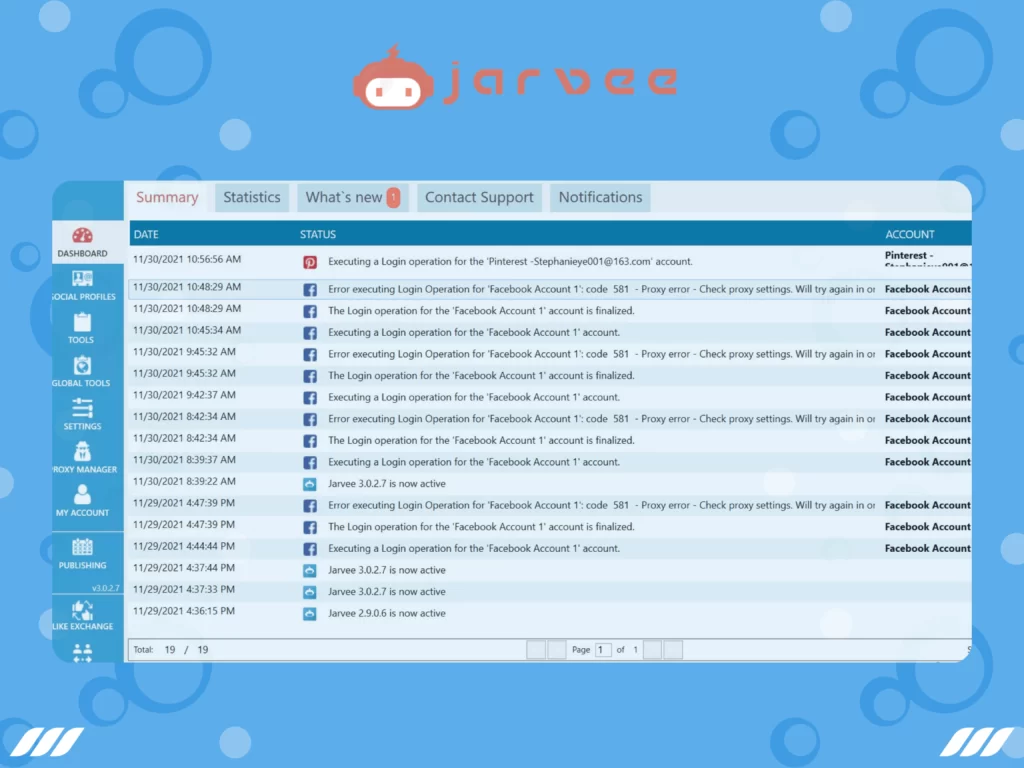 Jarvee is a social media automation tool that can help you automate actions, increase reach, and boost business growth.
Besides being one of the top LinkedIn scrapers, this versatile tool works just as well for Instagram, Twitter, Facebook, Reddit, Quora, etc. 
Jarvee is best suited to Windows 7 or higher. However, if you are Mac/Linux user, you'd need to set up Jarvee on a Virtual Machine or VPS-supported windows.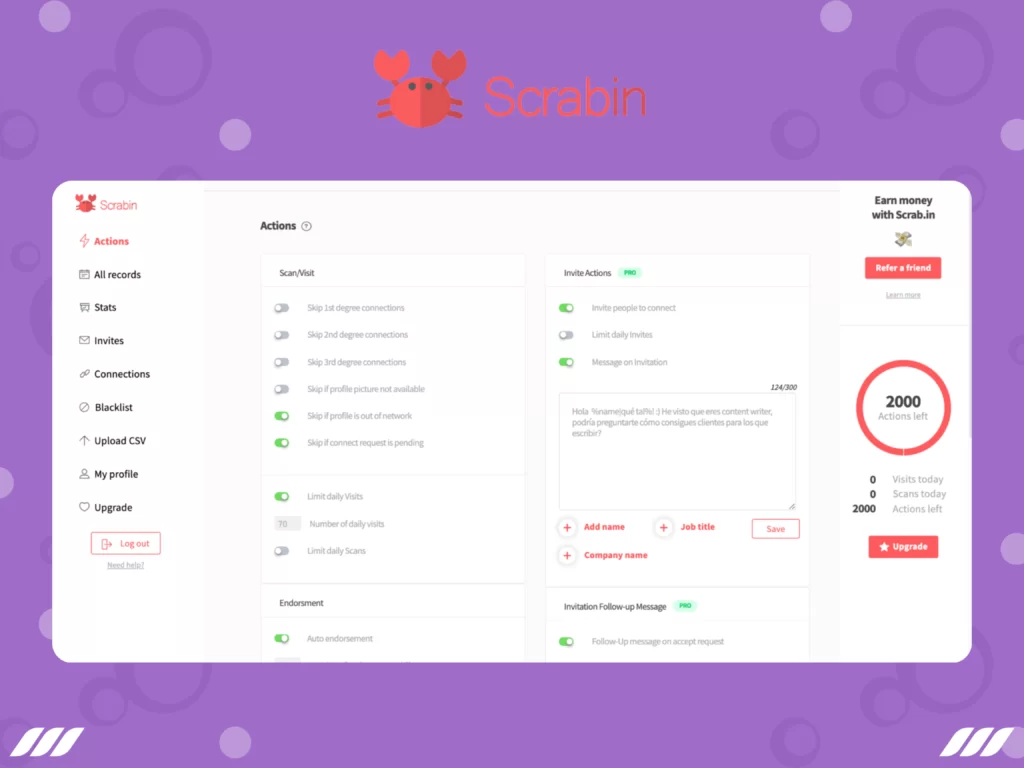 Whether you're looking for LinkedIn email finders or LinkedIn scraper, look no further than Scrab.in.
As one of the best LinkedIn scrapers, Scrab.in automates your LinkedIn actions to speed up your lead generation process. Here are some of the actions scrab takes:
Scan 1st, 2nd, and 3rd-degree profiles
Send invitations and messages
Scan up to 45,000 profiles per month
Auto-follow target profiles
Export leads in CSV
On top of everything, in this all-in-one lead generation solution, you can upload CSV files and send messages to your segmented leads.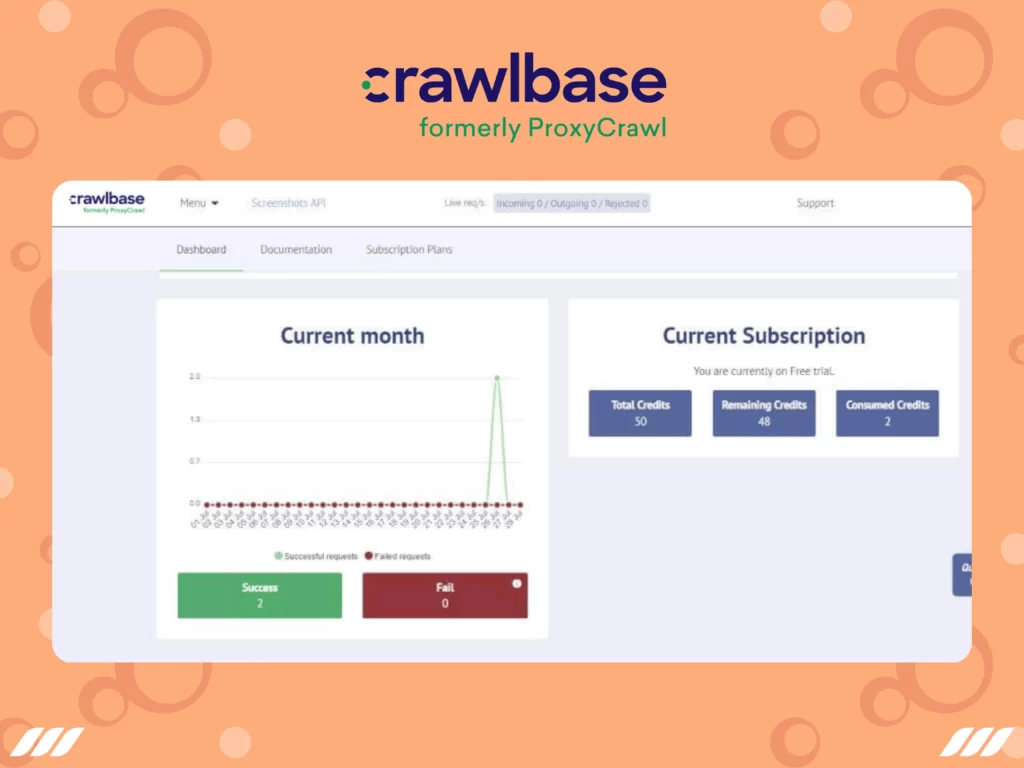 Proxycrawl offers a simple scraping solution. You only need to use its scraper APIs to collect structured data from websites.
Using its proxy API and its extraction API, you can collect data from social media channels not covered by their scraper APIs. The scrapers on the site work for Facebook, Instagram, Twitter, LinkedIn, and more.
Besides offering user-friendly APIs, the platform supports unlimited bandwidth and AI-based scraper maintenance.
Conclusion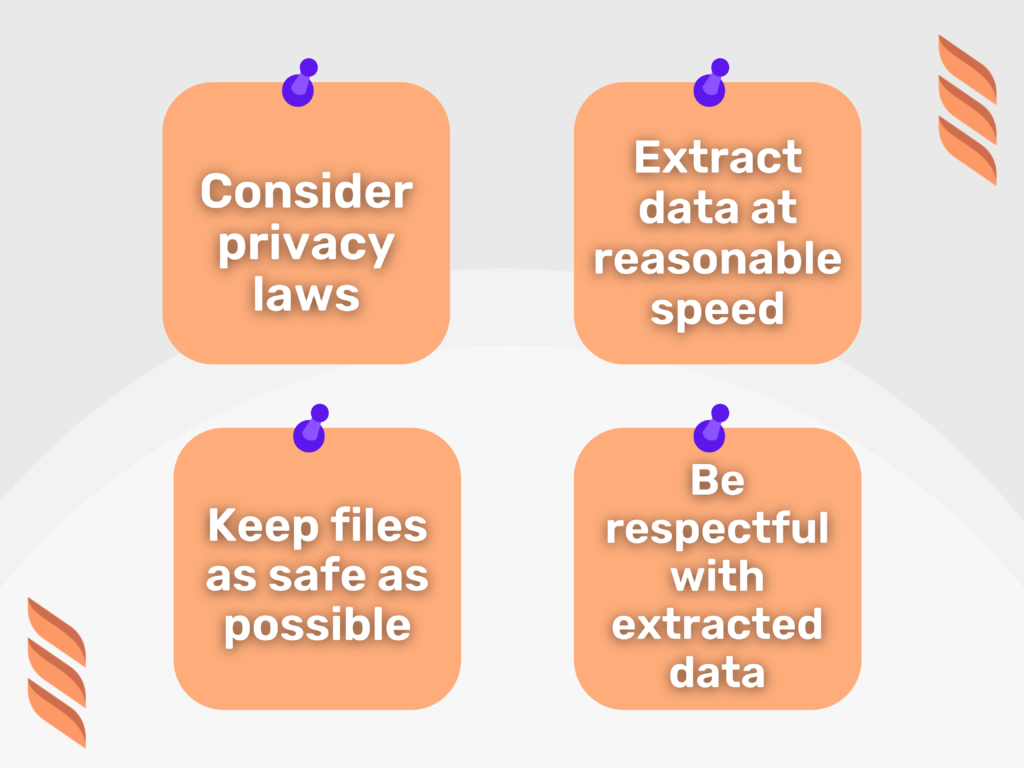 Using a social scraper is a highly effective strategy which has many benefits. It can help you analyze and track your audience, look at current trends, predict future trends, segment your audience and tailor marketing efforts, and more.
When using a social media crawler, it's important to remember to consider privacy laws and extract your data at a reasonable speed to avoid being blocked.
In addition, remember to be respectful with the extracted data and keep your files as safe as possible. This is important for businesses of all sizes.
Using these social media scraping tools can help you automate the scraping process and collect more data safely. This means you can better understand your customers and grow your business.