A quality email list is a crucial ingredient for every email marketing campaign. Whether it is outreach, sequencing, or sales prospecting, finding verified emails is usually a starting point for sales and marketing teams.
If your campaigns are centered around LinkedIn users, you should consider getting dedicated email finders for LinkedIn. These tools operate similar to regular email extractors but feature an expansive database of LinkedIn profiles and functions to complement the LinkedIn interface.
Continue reading to know everything about the best LinkedIn email extractor tools.
What is a LinkedIn Email Extractor?
A LinkedIn email extractor is a software program that businesses and sales professionals use to extract emails from Linkedin profiles. Also known as LinkedIn scraper and email finder, these tools are commonly available as Google Chrome extensions or cloud-based applications.
LinkedIn email extractor analyzes the data present on LinkedIn profiles and uses it to find emails of those accounts. Simply feed your target's first and last name along with the company name, and leave it to the tool to find your email address.
Many modern LinkedIn email scrapers go up a notch and offer various supporting features. For example, many tools allow you to search in bulk, find verified emails, download lead data, and export LinkedIn contacts with emails to CSV.
Why Do You Need LinkedIn Email Extractor Tool?
As a LinkedIn user, you know that you get restricted access to users' email addresses due to the Linkedin privacy policy.
You can access the email addresses of your 1st degree LinkedIn connections, but only if the users have made their addresses public on the network. And when it comes to your 2nd and 3rd-degree connections, you can't see their email addresses.
The solution? Third-party email finders allow you to get email from LinkedIn regardless of your connection status with the LinkedIn profile.
The Benefits of LinkedIn Email Extractor Tools
Why do businesses use LinkedIn email extractors for their prospecting cycles? Here are some of the top reasons for using a LinkedIn scraper.
Saves Time
Even with 1st-degree connections, visiting every profile and looking for email addresses can be time-consuming. Thanks to the LinkedIn email finder, you can overcome the laborious process of finding email addresses.
This way, you can focus your team's effort on your business's core competencies or devising sales strategies. After all, there's no point in pouring your resources into something that can be automated.
Search in Bulk
Many LinkedIn email extractors allow you to search emails simultaneously for more than one profile. This means you just have to select profiles and hit the search button to get dozens of emails at once.
What's more, most of these tools come with CSV file uploads and API support for enhanced accessibility. So, if you have names stored in a file or if you're a developer, you're good to go!
Bypasses Invitation Limit
LinkedIn puts a cap on your weekly connection requests under its typical framework. You can use automation tools to send more than your allowed requests. On the downside, you risk alerting the LinkedIn algorithm with this approach.
You can get around the LinkedIn limit by finding email addresses with LinkedIn tools and sending connection requests by email. Since Linkedin supposes you already know these people, it doesn't count requests by emails in your weekly invitation limit. Plus, it does not involve the risk of being detected by LinkedIn.
Finds Leads
What if you don't have a list of LinkedIn users for email enrichment? In that case, you can use the lead finder tool. The software will sort your potential leads using multiple filters, such as industry, location, job title, position, and more.
Once you get these LinkedIn profiles, the contact information (usually email and phone number) comes pre-populated. You can also search by company and get the emails of employees working there, together with other relevant information.
Read also: Best Data Enrichment Tools
Expand Your Network
With search filters like industry, role, and number of connections, you can find authority figures of a company. This means you can create a prospecting list of people with decision-making power.
Finds The Right Talent
LinkedIn email finders help you connect with the top talent and break the competition. You can ramp up your hiring game by sending a relevant job opening to the extracted email addresses.
Top 14 LinkedIn Email Extractors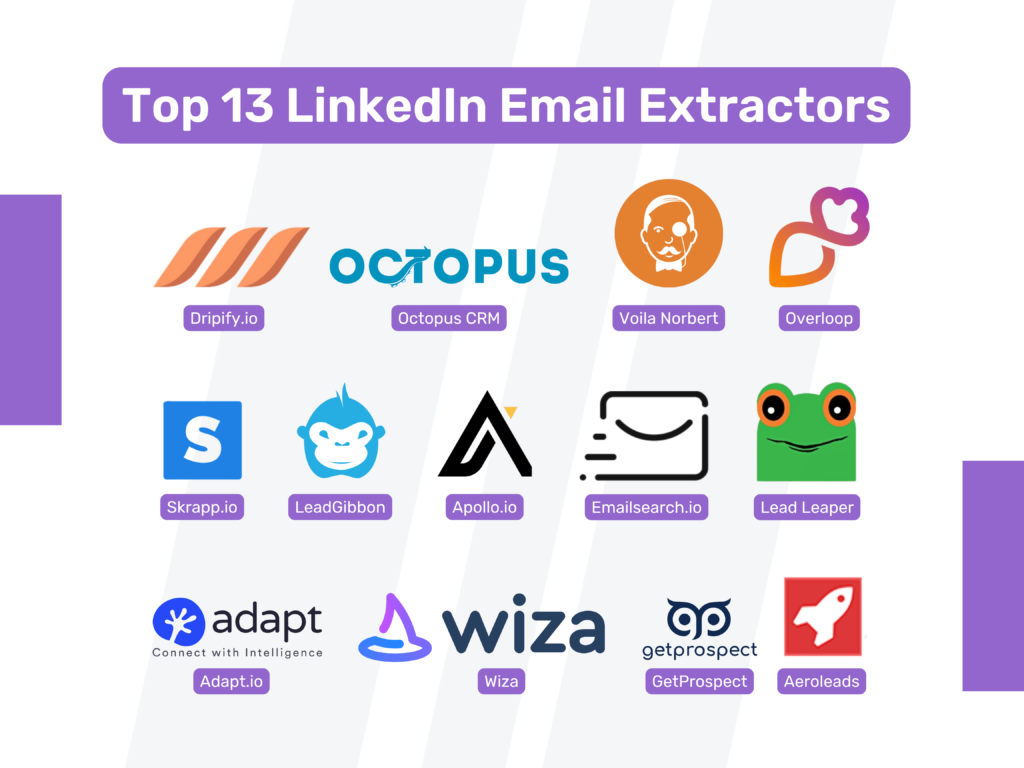 Depending upon price points, LinkedIn email extractors can offer a wide range of features — from bulk search to export to integrations. Let's have a look at the best LinkedIn email extractor tools available in the market.
Dripify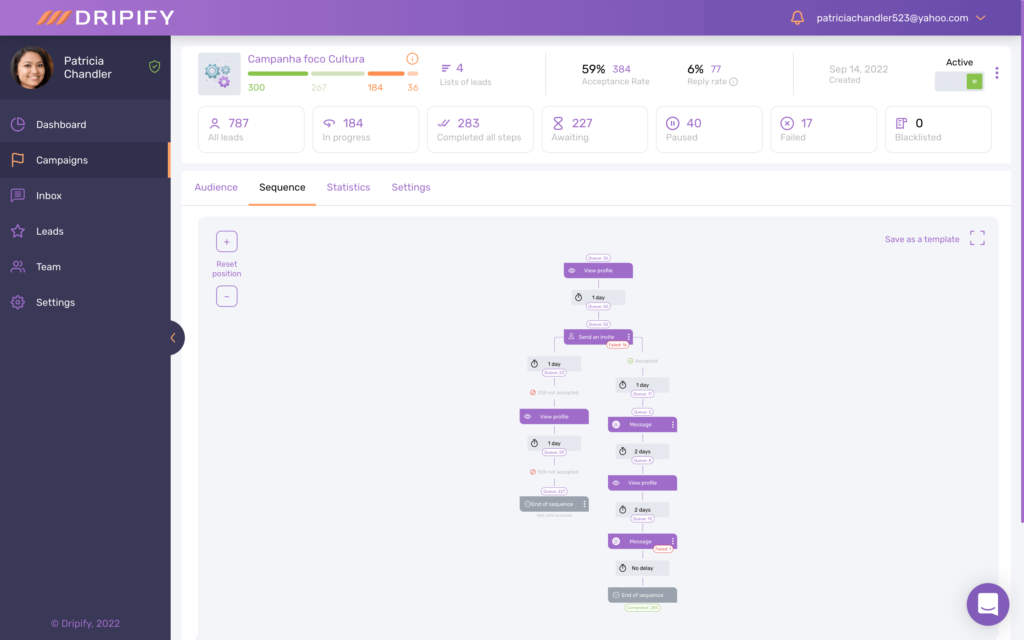 Dripify sales automation tool enhances your sales prospecting efforts by offering a powerful LinkedIn scraping feature. You can access your leads' data, download it into a CSV file, or integrate it directly into your campaigns.
Key Features
Exportable File: Download data in a CSV file with tons of details on top of the email (phone number, website, number of connections, and more).
Invite By Email: To bypass your connection request limit, you can use your email credits to send LinkedIn connection requests by email.
Built-In Verification: Don't worry about the deliverability rate, as all the emails are verified on the same platform.
Pricing
ContactOut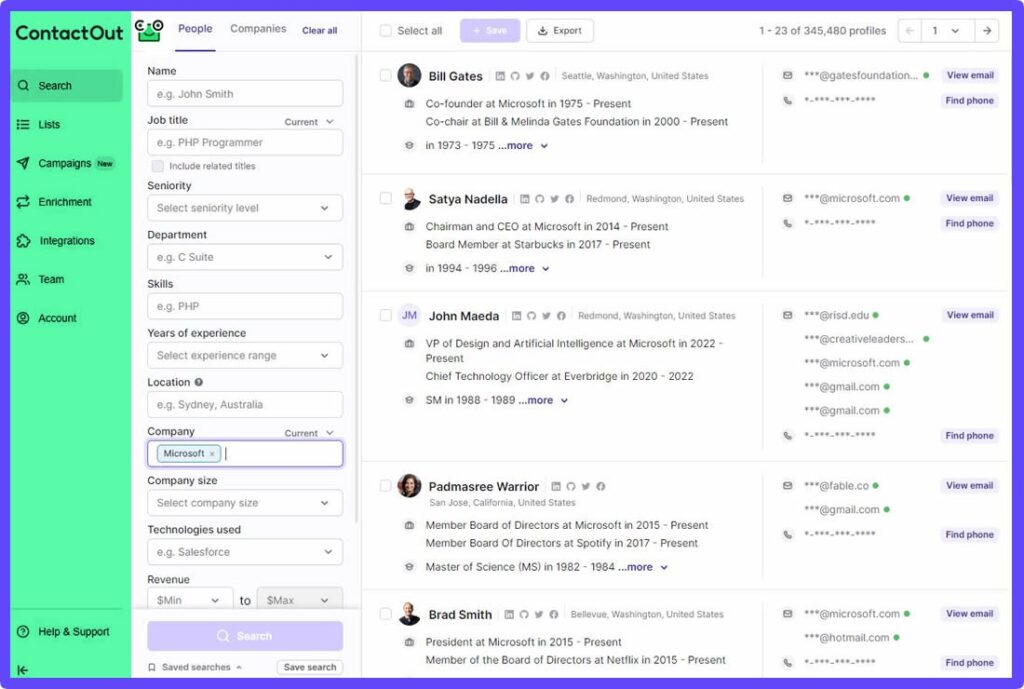 ContactOut is a LinkedIn email finder tool used in finding people online and retrieving their work history, education, and social media profiles. It's a Chrome extension that simplifies LinkedIn sourcing for recruiters, salespeople, businesses, and other organizations aiming to connect with existing and potential partners, investors, collaborators, or with any individuals as they build their professional networks.
Key Features
LinkedIn Sourcing: ContactOut Chrome extension works on top of LinkedIn helping you find work and personal emails as well as phone numbers of your prospects.
Search Portal: Locate quality candidates rapidly through ContactOut's search portal. Has comprehensive filtering options like seniority, department, location, industry, and other search filter criteria, leading to more precise and targeted search results.
Save Profiles: Easily save leads from LinkedIn to your dashboard, and classify them into distinct folders. Share with your team and effortlessly export to spreadsheets or ATS with a single click.
Data Enrichment: Quickly and effectively enrich lists of LinkedIn profile URLs in bulk to gain full profile details, job information, and contact data – including personal email addresses.
Email Campaigns: Easily engage with prospects using pre-built, reusable email templates while browsing through LinkedIn. Reach out to multiple people in one go and set up automated follow-ups.
CRM and ATS Integrations: Enjoy CRM integrations with Salesforce & HubSpot as well as Lever, Greenhouse & Bullhorn for ATS integration. You can also use Zapier to connect your apps and automate workflows.
Pricing
Free: 40 emails and 3 phone numbers for free, per month
Sales: 6000 emails and 600 phone numbers per year, for $79 per month
Recruiter: 12,000 emails and 600 phone numbers per year, for $199 per month
***Custom Plans are also available upon request.
Octopus CRM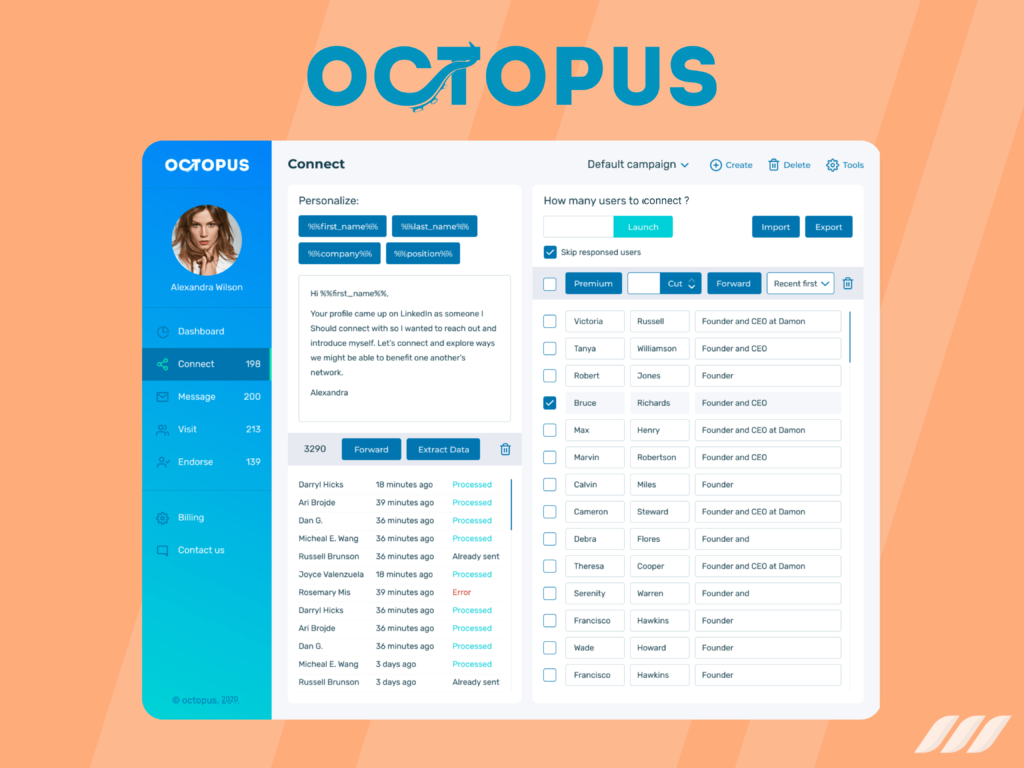 Octopus CRM is a comprehensive automation tool for LinkedIn. It amplifies your LinkedIn prospecting through automated connection requests and marketing funnels. You can scrape emails, use them to send connection requests, or export them for sequencing or other purposes.
Key Features
Import/Export: Upload your incomplete list of LinkedIn contacts for data enrichment (including emails), or export LinkedIn contacts to CSV.
Zapier and Hubspot Integration: Translate your data to Hubspot, Zapier, Google Docs, or other software.
Invite By Email: Trade your email credits for connection requests when your weekly invitation limit is over.
Pricing
Each Octopus CRM plan comes with 500 free email credits. Plans start at just $6.99/month (annual billing).
Voila Norbert
Voila Norbert extracts anyone's email address by just using the prospect's name and company URL. It uses a combination of highly effective techniques and a regularly-updated database to search for your desired email addresses.
Key Features
Email Verification: With the 8-step email verification process, Voila Norbert increases your deliverability, fewer bounces, open rates, and revenue.
Integrations: The best email finder tools can be integrated with other renowned platforms such as Google Chrome, Zapier, Salesforce, Hubspot, and more. 
Browser Extension: With the browser extension, you can eliminate switching between windows and discover email addresses while browsing through websites.
Pricing
Valet: 1000 emails for $49/month ($39/month with annual billing).
Butler: 5000 emails for $99/month ($79/month with annual billing).
Advisor: 15000 emails $249/month ($199/month with annual billing).
Counselor: 50000 emails for $499/month ($399/month with annual billing).
Overloop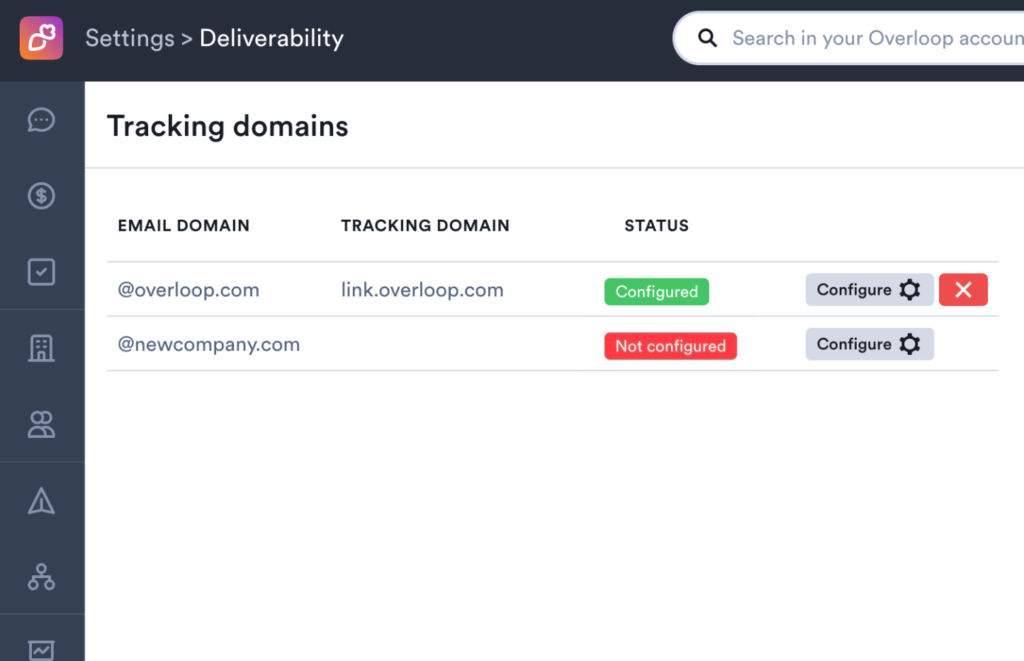 Overloop is a multi-channel platform that covers outbound sales, business development, recruiting, and link building. One powerful component in its list-building suit is the email finder, which enriches your contacts using a highly effective algorithm.
Key Features
Bulk Search: Select multiple contacts and find multiple email addresses simultaneously instead of searching one by one.
Confidence Score: Set your minimum score criteria (0-100) for enrichment. A score of 5%-33% indicates an unverified email, 33%-66% means partially verified, and 66% or more are for the safest emails.
LinkedIn Email Finder: By downloading the Chrome extension, you can find the email addresses of LinkedIn members with just one click.
Integrations: Migrate your contacts from a CSV/spreadsheet or notable CRMs like HubSpot, Salesforce, and more.
Pricing
All-access package: 250 emails for $99/month (monthly billing) or $82/month with 2 months free (annual billing).
Email credits start at $39/month for 250 credits, going up to $499/month for 10,000 credits.
Skrapp.io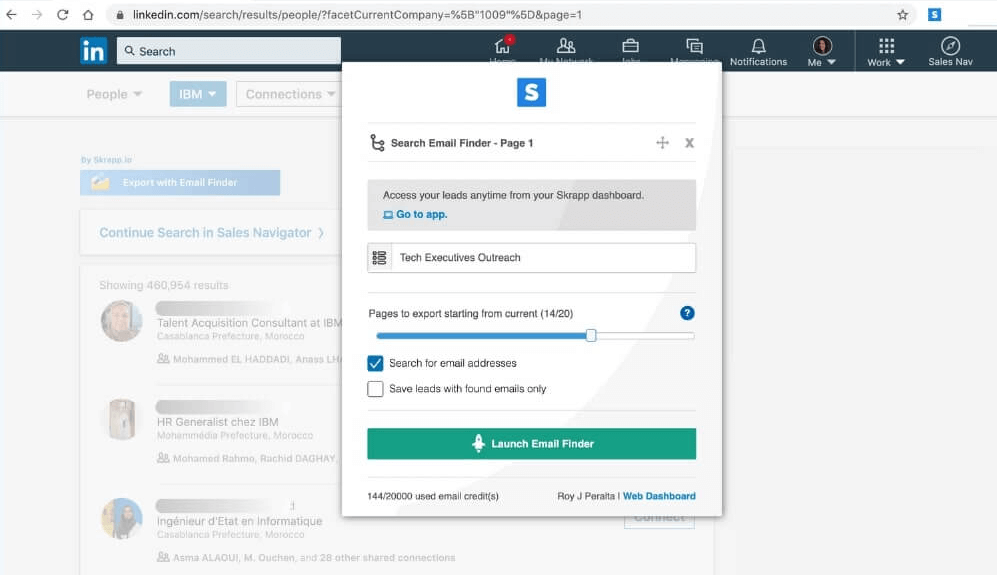 Skrapp features a complex algorithm that indexes company pages and deduces email addresses by pattern recognition. The behind-the-scenes might sound complicated, but at the front, it's simple. To get the email address, you must type in the prospect's first/last name and company name.
Key Features
LinkedIn Email Finder: Find the email addresses of your interested LinkedIn profiles and automatically save them in your CRM.
Bulk Email Finder: Upload a list of names (including companies) to get corresponding emails in a matter of seconds.
Company Email Finder: Enter the name of any company and find the email addresses of employees working in it.
Email Finder API: A dedicated space for developers where they can access email finder through API endpoints.
Pricing
Starter: 1000 emails for $49/month (monthly billing) or $39/month (annual billing).
Seeker: 5000 emails for $99/month (monthly billing) or $79/month (annual billing).
Enterprise: 20000 emails for $199/month (monthly billing) or $159/month (annual billing).
Global: 50000 emails for $299/month (monthly billing) or $239/month (annual billing).
LeadGibbon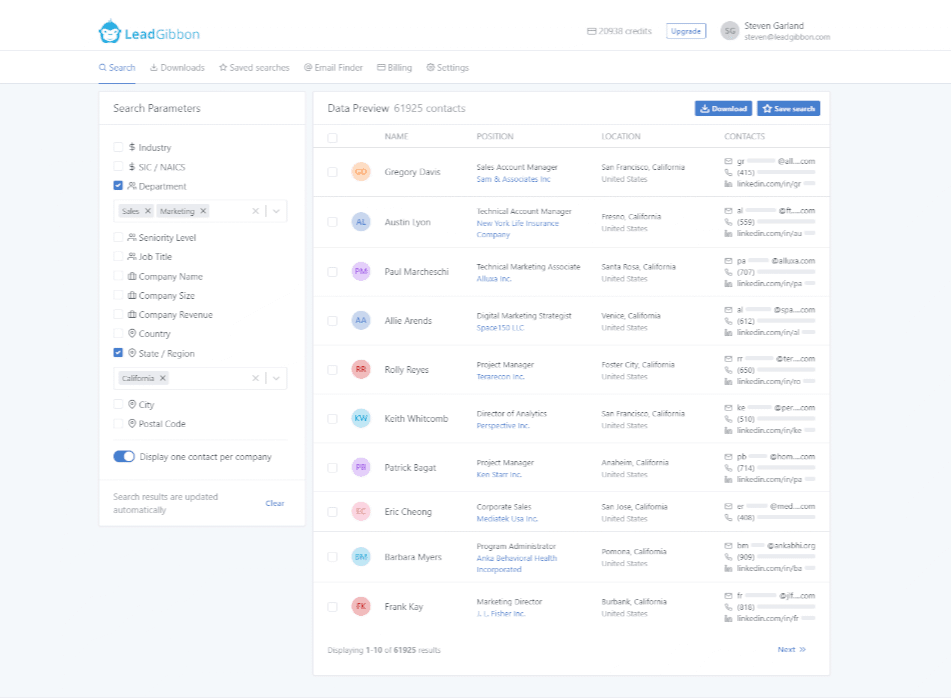 Build a clean contact list, including anyone's email addresses in any industry at any position. LeadGibbon is a complete B2B lead intelligence solution that provides validated email addresses and analyses your potential customers.
Key Features
Built-In verifier: You don't need a separate email verifier as LeadGibbon marks verification status right at the time of finding emails.
Sales Navigator Compatibility: Besides LinkedIn profile, LeadGibbon works just as well with Sales Navigator. You just need to visit Sales Navigator, launch your extension, and click the "Get Email" button to get validated emails.
CRM Compatibility: Once you have your emails, you can easily export them to your desired CRM with the extension.
Pay For Verified Emails: If LeadGibbon can't find a 100% verified email, you'll get the best guess without paying for it.
Pricing
Basic: 250 verified emails for $49/month.
Pro: 500 verified emails for $99/month.
Business: 1250 verified emails for $199/month
Apollo.io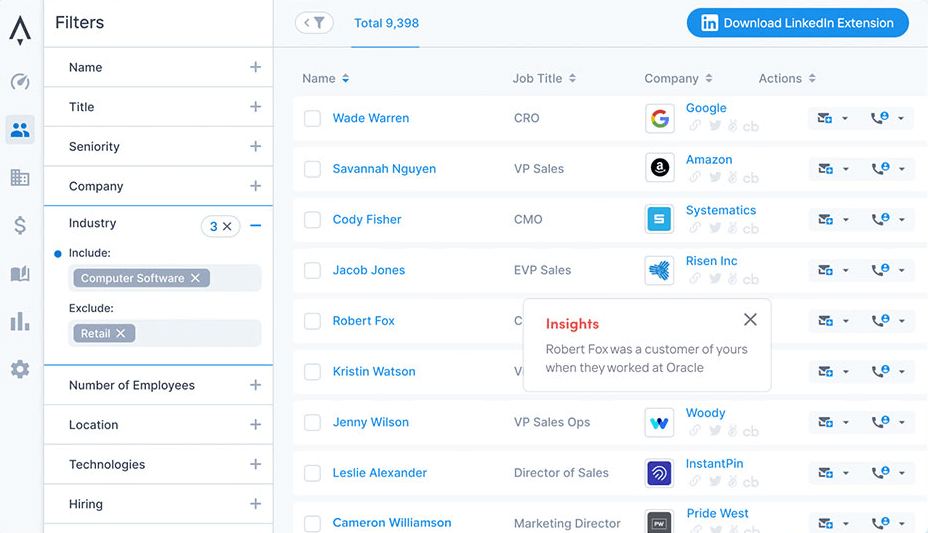 Apollo is a one-stop solution for your email campaigns that provides complete features—from sequencing to task management to A/B testing. Besides verified email addresses, you can find click-to-call numbers as well.
Key Features
Advanced Search: Start off by entering your prospect's name in the search field and hitting enter. But if you don't have the names, search with advanced filters like company name, job title, department, location, and more.
CRM Integration: On finding the emails, you can push them to Salesforce/HubSpot or download them in a CSV file.
Campaign Friendly: Once you have email-enriched lists, you can seamlessly add them to your email sequencing or prospecting campaigns.
Pricing
Free Plan: 50 email credits per month.
Basic: 200 email credits for $49/month (monthly billing) or $39/month (annual billing).
Professional: Unlimited email credits for $99/month (monthly billing) or $79/month (annual billing).
Custom: Unlimited email credits with customized features. Contact sales for your quote.
Emailsearch.io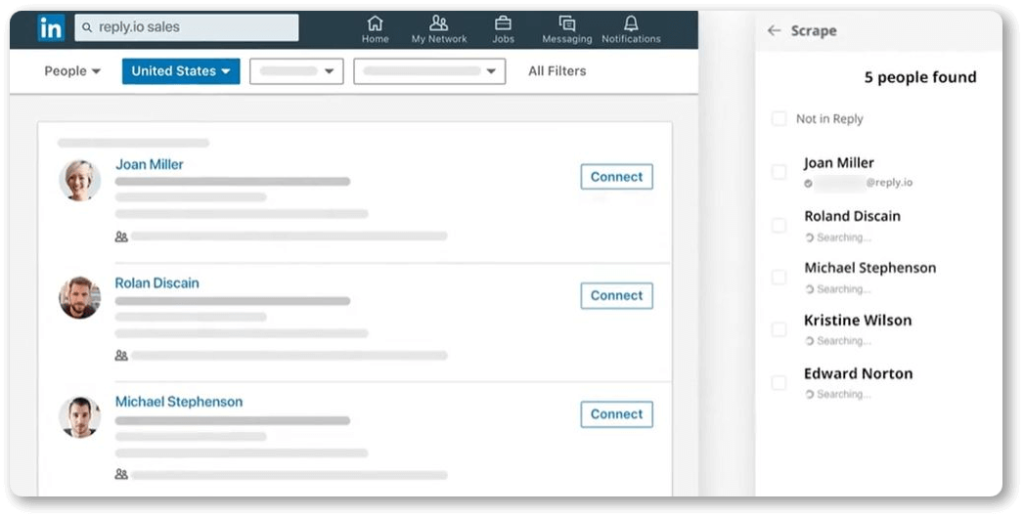 Emailsearch.io features an algorithm that crawls 200+ million domain addresses and updates the database with verified email addresses. Hosting a simple interface, Emailsearch finds emails with lesser inputs than its competitors.
Key Features
Personal Emails: Not only professional emails, but Emailsearch also finds employees' personal emails. Since professional emails could become void on leaving a company, personal emails are much more reliable.
Multiple Search Options: You can look up using names, domains, and LinkedIn profiles. Not only that, Emailsearch also supports CSV upload and API search for finding bulk emails.
Data Enrichment: Find the company domain with names and emails of a company's employees, and export data to CRM with Zapier.
Pricing
Basic: 1000 searches and 1 user for $29/month.
Pro: 5000 searches and 2 sub-users for $49/month.
Expert: 20,000 searches and unlimited users for $99/month.
Lead Leaper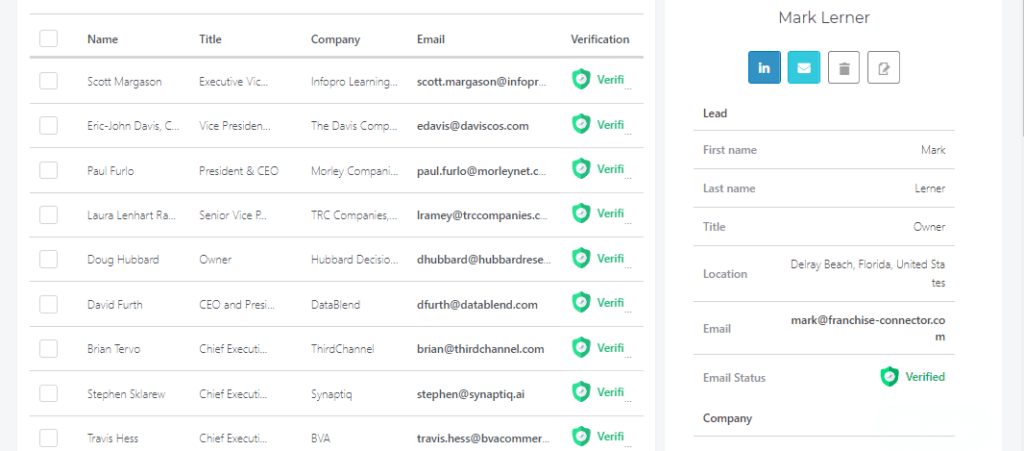 Lead Leaper enriches your list with new leads and finds their business emails. But that is just scratching the surface. You can automate your drip campaigns and email templates and track your email outreach.
Key Features
Provides free email credits every month.
Guarantees no email duplicates; an email is never counted twice (even after exporting).
Works perfectly fine with Sales Navigator and LinkedIn Premium besides free LinkedIn.
Pricing
Free Plan: 100 credits per month
Growth: 2000 email credits for $29/month.
Professional: 5000 email credits for $39/month.
Enterprise: Custom plan with quoted credits per month and flexible pricing.
Adapt.io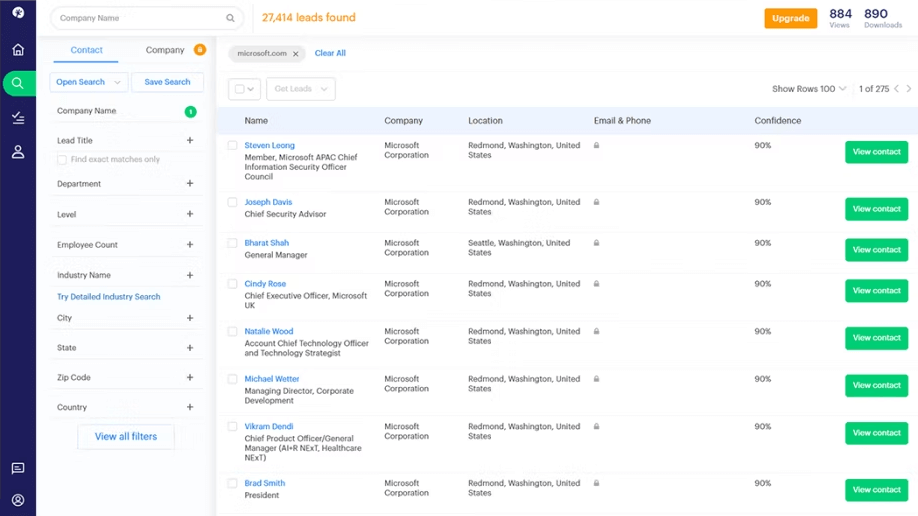 This link-building and prospecting tool empowers your sales and marketing efforts by extracting emails with high deliverability rates. Just install the Chrome plugin and discover accurate emails, phone numbers, and further insights.
Key Features
Bulk Search: With the advanced LinkedIn search, you can find emails and phone numbers in bulk.
Social Media Enrichment: Once you have emails of your B2B leads, you can engage with them effortlessly and scale your sales productivity.
Browse By Industries: You can search by industries and find key positions' email addresses and phone numbers.
Pricing
Price quotes are provided by providing your details (work email, contact needs, roles, etc.). However, plans usually start at $49/month for 500 monthly credits.
Wiza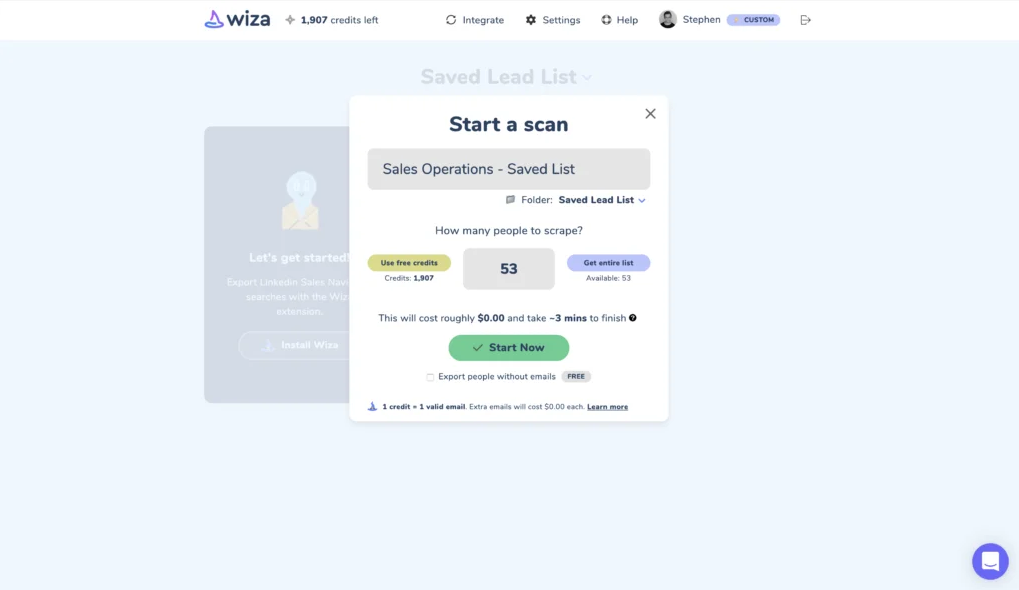 Are you doing a cold outreach or looking for job candidates? In any case, Wiza converts your searches into an exportable list of leads with emails. Doing so can achieve around 97% data accuracy and save 75% time on prospecting.
Key Features
Sync With Marketing Platforms: Besides pushing your contacts to CRMs, you can also send leads to sales automation platforms such as Outreach or Salesloft.
Pay When Verified: You are charged only when you get a 100% verified contact information (email + phone).
Business Emails: Find both business and work emails with built-in email verification.
Pricing
Micro: 75 email credits for $30/month (monthly billing) or 900 email credits for $300/year (annual billing).
Pro: 250 email credits for $50/month (monthly billing) or 3000 email credits for $500/year (annual billing).
Growth: 750 email credits for $100/month (monthly billing) or 9000 email credits for $1000/year (annual billing).
GetProspect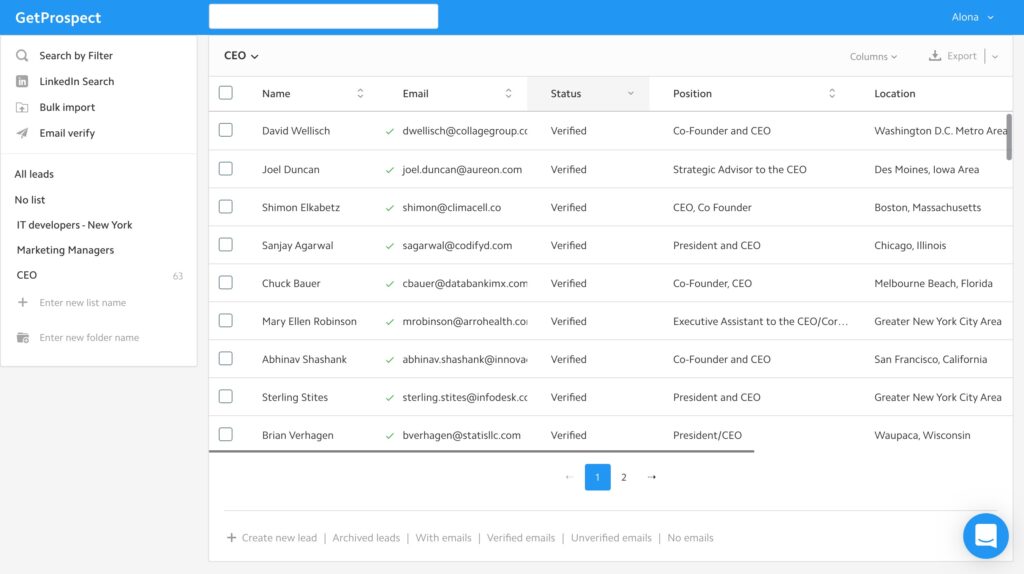 Having a database of over 200 million contacts, GetProspect is a safe and user-friendly tool for email scraping. Whether you're doing sales prospecting or email outreach, find valid emails for your contacts in any industry, position, or location.
Key Features
Complete Prospect Profile: Not only do you get emails, but you can also probe into fine details like seniority, location, LinkedIn URL, etc.
Bulk Domain And Name Search: If you have a list of domains or names, you can upload them to get emails. GetProspect also allows you to click your LinkedIn names and get emails then and there.
Duplicate Detection: If an email is already present in your database, GetProspect will alert you.
Customized Exporting: Export in CSV or XLSX format and get your results in the same format.
Pricing
Free Plan: 50 emails per month.
Starter: 1000 emails for $49/month (monthly billing) or $34/month (annual billing).
Basic: 5000 emails for $99/month (monthly billing) or $69/month (annual billing).
Plus: 20000 emails for $199/month (monthly billing) or $139/month (annual billing).
Pro: 50000 emails for $399/month (monthly billing) or $279/month (annual billing).
Aeroleads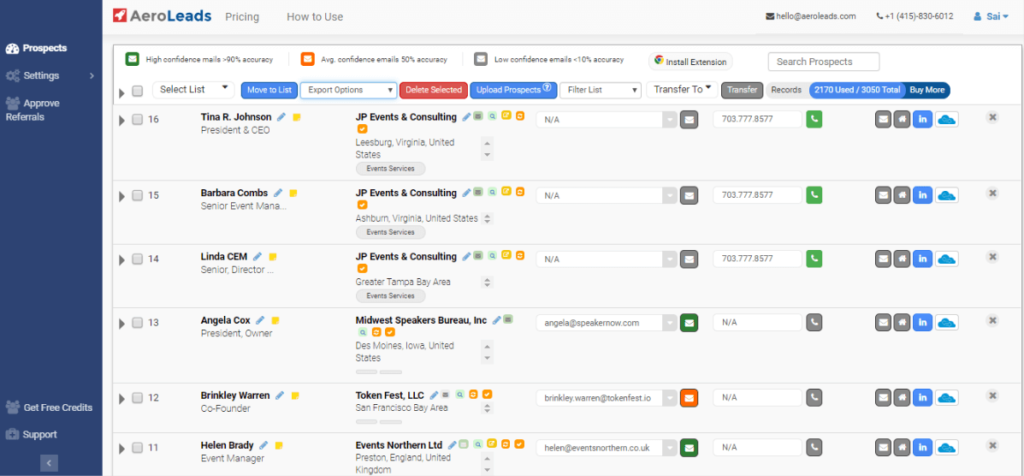 Whether you're looking for business emails, personal emails, or phone numbers, Aeroleads has got you covered. With data of 450+ million prospects, Aeroleads is a dependable email-finding solution to populate your email lists.
Key Features
Pro Plugin: You can add 2500+ prospects from LinkedIn and Sales Navigator in one go.
Multiple Extensions: Aeroleads comes as a Firefox extension and Chrome extension.
Multichannel Plugin: You can use the extension on any website to find employee data.
Data Export: One-click export to any major CRM in addition to CSV transfers and uploads.
Pricing
Take Off: 2000 email credits for $49/month.
Climb: 8000 email credits for $149/month.
Cruise: 30000 email credits for $499/month.
Enterprise: Credits and pricing as per requirements.
Choosing The Right LinkedIn Email Extractor for Your Business
It might not be easy to pick your LinkedIn email extractor when there are so many choices in the market. What pushes far down the rabbit hole is that each of them raises the bar with unique features.
That said, you can greatly simplify your thought process by asking the following questions:
Is the Price Good to Go With?
Let's break it down into two subparts. One, what returns on investment are you expecting? This boils down to the scale of your company. Two, what is the price-to-features ratio? For that, research the best prices you're getting for the greatest number of features.
What Features are You Looking For?
This mainly comes down to your end goals. Are you looking for a complete automation solution? Then consider getting email extractors like Dripify that render automated sales funnel using contact data.
Or, are you just looking to find the email addresses of a bunch of contacts? Whatever the case, make sure the bells and whistles suit your objectives instead of being good for nothing.
Conclusion
LinkedIn scrapers are among the most useful automation tools for LinkedIn. They give you a head start in your sales prospecting or outreach efforts by bridging the gap between you and your prospect.Keep these next-level email finders in the arsenal of your top LinkedIn automation tools. Now, it's on your part to brainstorm your requirements and select the one living up to your requirements and budget.