Your sales team invests a lot of effort and time to close a deal successfully. Not only do they have to understand customers' unique needs, but they also need to maintain data and follow-up. That means endless meetings, phone calls, and emails- things that worsen when our prospect list grows.
It simply gets too overwhelming for your sales rep to handle everything manually. Well, you can eliminate the repetitive tasks and save a significant chunk of their time by going for sales automation. If you haven't heard of sales automation tools before, you've come to the right place!
What Are Sales Automation Tools?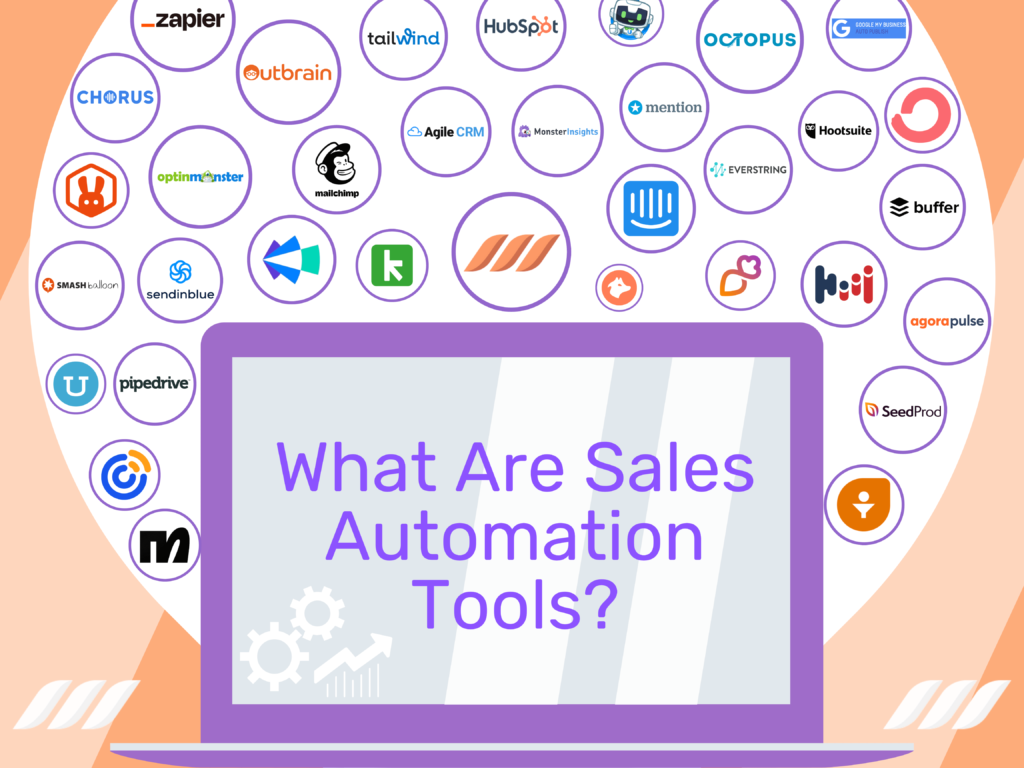 Sales automation tools allow businesses to automate manual and time-consuming sales tasks using software, AI, and digital solutions. As a result, your sales team can divert their focus on priority tasks, such as making strategic business decisions, nurturing leads, and fostering customer relations.
Why Do Small Businesses Need to Use Sales Automation Tools?
While it's true that every business has unique needs, sales automation tools provide benefits for all-sized businesses. Here, let's focus on the vital advantages of marketing and sales automation for businesses:
· Ensures accurate reporting
· Provides the opportunity to create personalized marketing strategies
· Facilitates data management
· Helps save time
· Speeds up the sales process without costing accuracy
· Improves efficiency and productivity
· Enhances customer satisfaction and retention
· Recognizes potential customers
· Provides you insights on prospects
· Simplifies the process of reporting
The Top Benefits of Using Sales Automation Tools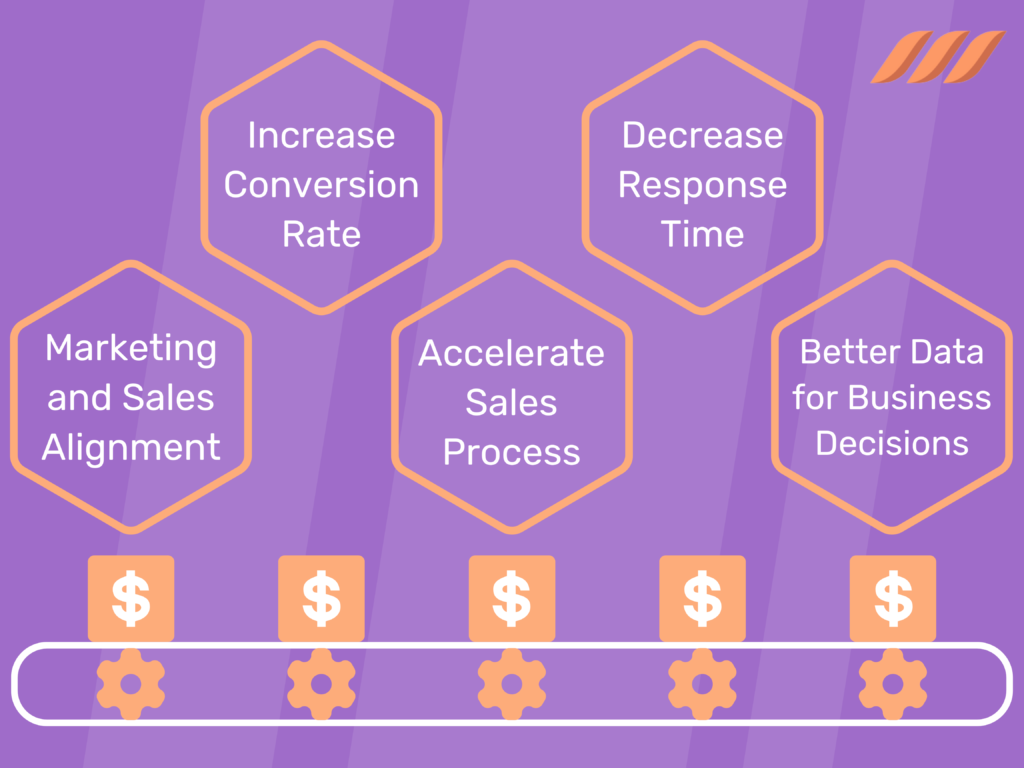 Marketing and sales automation helps streamline your marketing efforts, thus making your business more productive and efficient. In addition, these tools offer the following benefits:
Marketing and Sales Alignment
Combining your sales and email automation efforts with one or multiple seamlessly integrated software allows you to align company goals. Further, automating your sales and marketing automation will make going from marketing to sales-qualified leads more accessible and practical.
According to research, marketing automation can boost sales productivity by a whopping 14.5% and reduce marketing overhead by 12.2%. It can also help you attract better leads and improve sales.
Boost Conversion Rate
Sales automation can also improve your team more effectively, helping you increase your conversion rate and manage leads efficiently.
Your sales automation platform can track leads, filter out potential customers, and boost data consistency. That way, you can use the information to retarget your website visitors who don't convert.
Accelerates the Sales Process
Automating your sales process makes it move swiftly while eliminating the risk of human errors. The tiniest error can cause a heavy loss to your business, so using the best sales automation tools can improve accuracy and save time without risking faults.
Improves Customer Satisfaction by Decreasing Response Time
Sales automation speeds up the sales process while decreasing the response time. You can get back to prospects faster, avoid frustrating them, and give them the priority they deserve.
Plus, by offering quick replies, you can make prospects happier and more likely to convert. Moreover, you improve customer retention by paying attention to their concerns.
Better Data to Make Strategic Business Decisions
Big Data is a buzzword businesses like to throw around a lot. Unfortunately, most companies cannot collect and use this data efficiently. Marketing and sales automation facilitates the understanding, gathering, and use of Big Data.
34 Best Sales Automation Tools for Small Businesses
Now that we've discussed the benefits of top sales automation tools, let's discuss options:
Dripify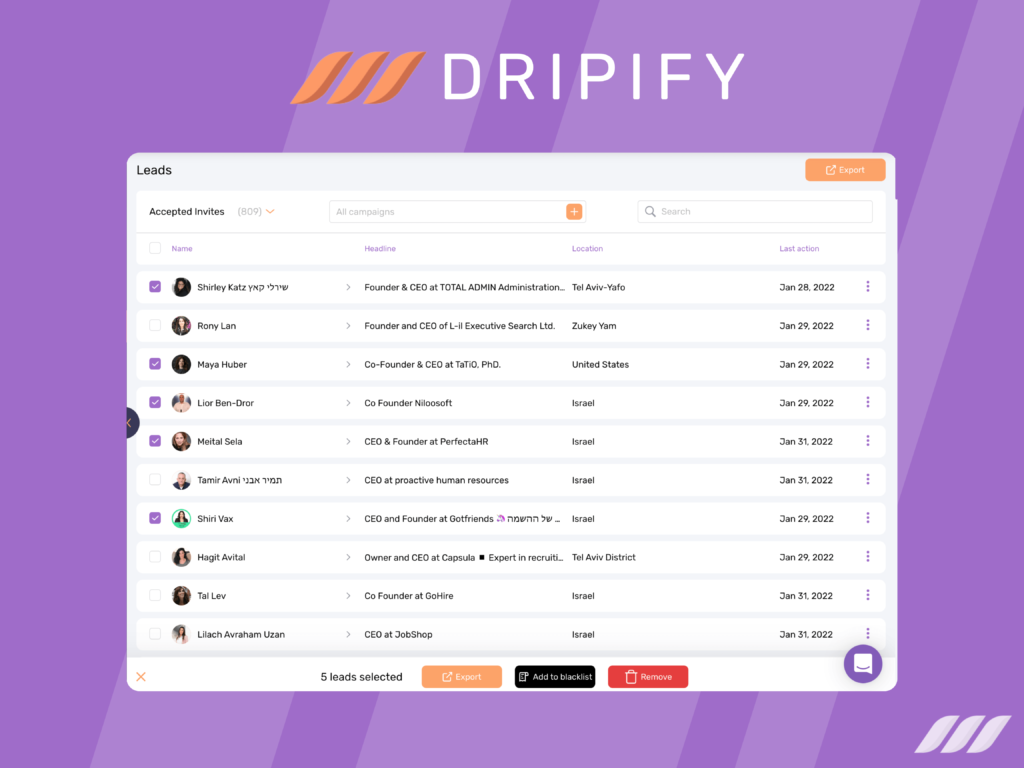 Dripify is your all-in-one platform for all your marketing and sales automation needs. With this state-of-the-art multifunctional sales automation tool, sales reps can improve their LinkedIn prospecting efforts.
The sales automation platform allows you to build an automated sales funnel from scratch. You may use various LinkedIn actions, set time delays, A/B test your campaigns, and boost lead generation on LinkedIn.
In addition, Dripify allows you to track advanced LinkedIn analytics to identify which sales and marketing strategies are working and which require improvement. You can boost customer satisfaction and retention by managing your LinkedIn conversations with Dripify's control panel.
Communicate with leads and close more deals effectively and successfully by integrating Dripify into your existing LinkedIn marketing strategy.
Pros
· Easy to set up and use
· Excellent funnel building structure
· Fun personalization options
Cons
· Clunky interface
Pricing
Dripify offers a basic plan at $39, a pro plan at $59, and an advanced one at $79
Octopus CRM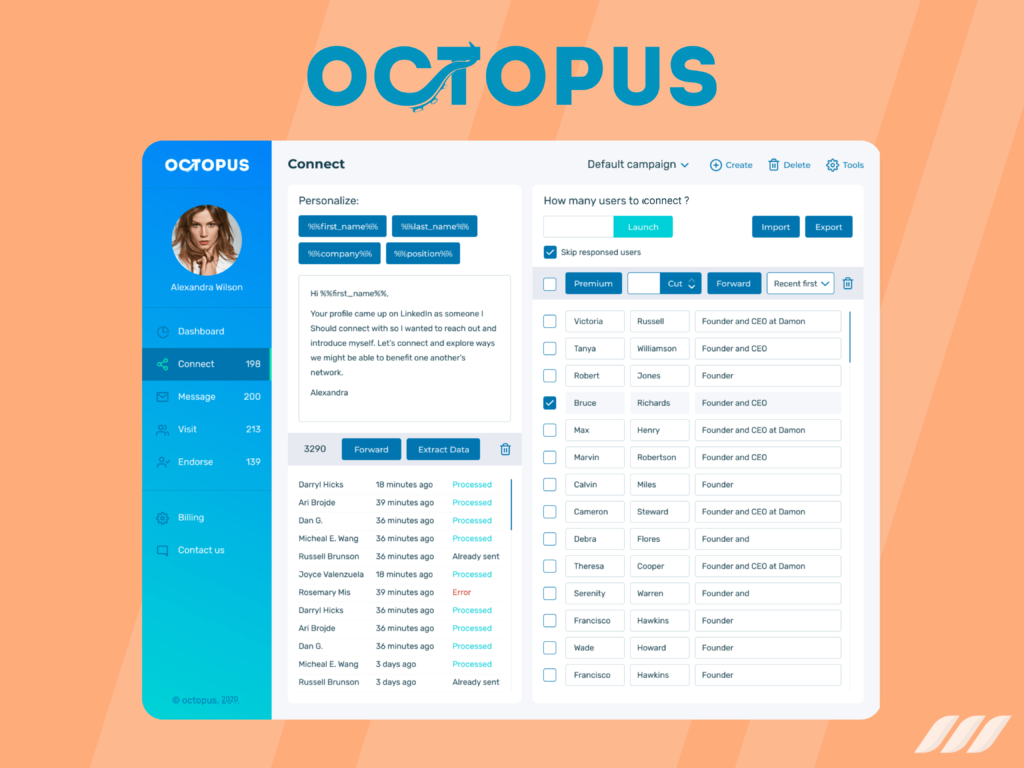 With over 84% of salespeople actively using LinkedIn, it makes sense to invest your time, money, and efforts into creating a LinkedIn marketing and sales strategy. Avoid wasting your time on repetitive tasks and boost efficiency by automating lead generation and follow-up with Octopus CRM.
The innovative LinkedIn automation software helps you streamline your sales and prospecting efforts. As a result, you can develop your business and expand your customer base.
Pros
· Easy to use
· Allows you to bypass LinkedIn's email and message limits safely
· Affordable
Cons
· Comparatively, fewer personalization options
Pricing
Octopus CRM's basic plan starts at $6.99, and its unlimited plan costs $24.99 monthly.
Mailchimp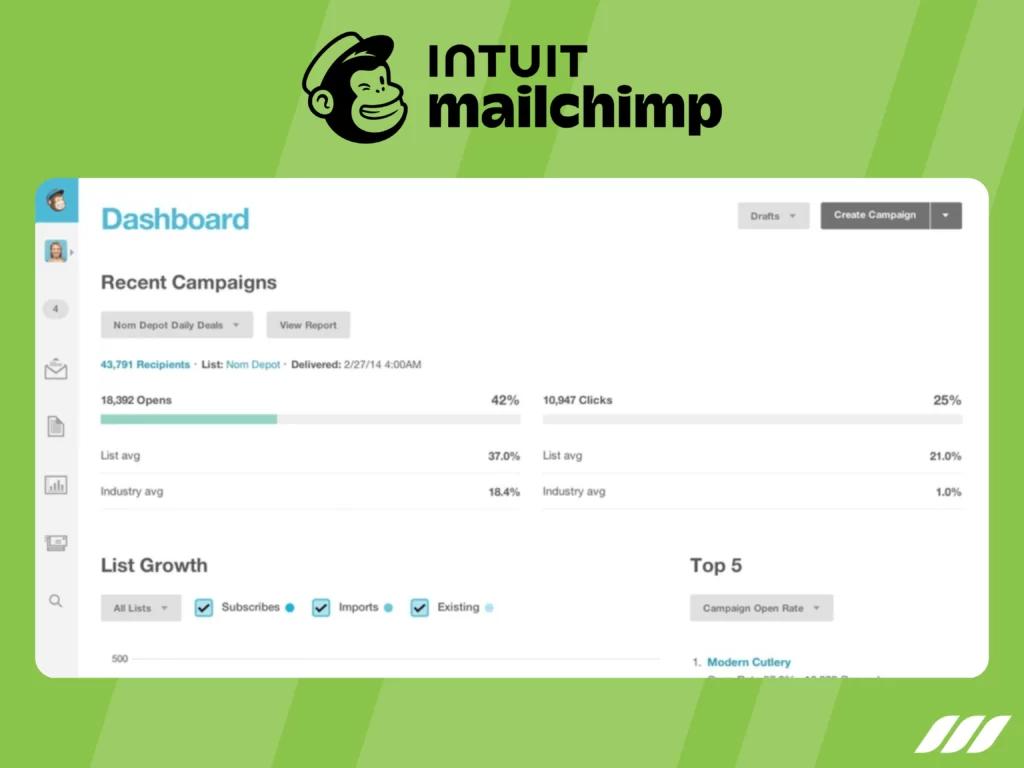 Mailchimp is a revolutionary and one of the best email marketing software that offers sales automation to streamline your email marketing efforts. With this advanced platform, your business can automatically send emails based on customer purchase history, time of day, page navigation, and customer interest.
Furthermore, Mailchimp helps you create drip campaigns to nurture leads by sending a series of emails at the right time. You can also send pre-built and personalized abandoned cart emails to encourage customers to checkout.
An additional point of using Mailchimp is that the tool integrates with various CRMs, allowing you to combine your sales and email marketing strategies.
Pros
· Affordable
· Intuitive drag-and-drop email campaign
· Automates email marketing
Cons
· The limited number and types of templates
Pricing
You can use Mailchimp for free for a single seat. However, three plus seats cost between $11 to $299
Overloop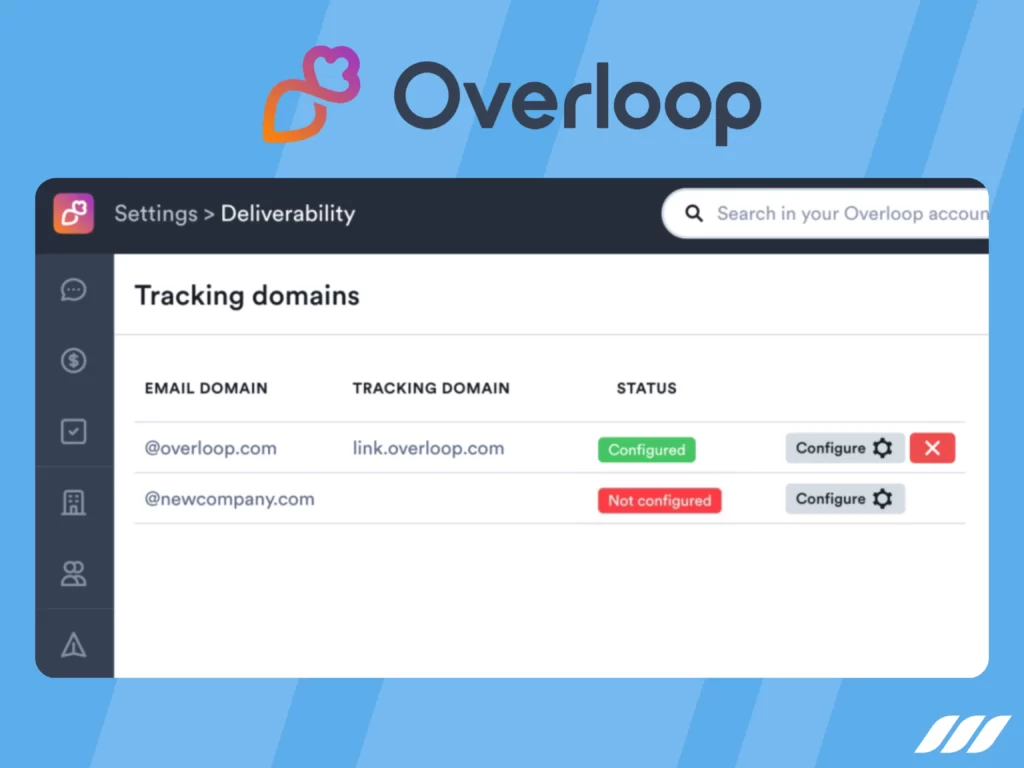 Overloop is another incredible sales automation tool for generating and nurturing sales prospects. The platform allows you to send personalized and effective cold emails to optimize outreach. It also helps expand users' lead base by creating deals at the correct sales pipeline stage.
Furthermore, Overloop enables you to capture leads directly on your website using customizable web forms. The tool also queues up deals, contacts, and tasks so you can approve them before they reach the next stage.
Pros
· User-friendly interface
· Automation tasks specific to lead management
· Access to manual reviews
Cons
· It does not offer a free plan
· Experiences downtime frequently
Pricing
Overloop's lite plan costs €39 ($40), whereas the advanced plan costs €129 (132.5.
Hunter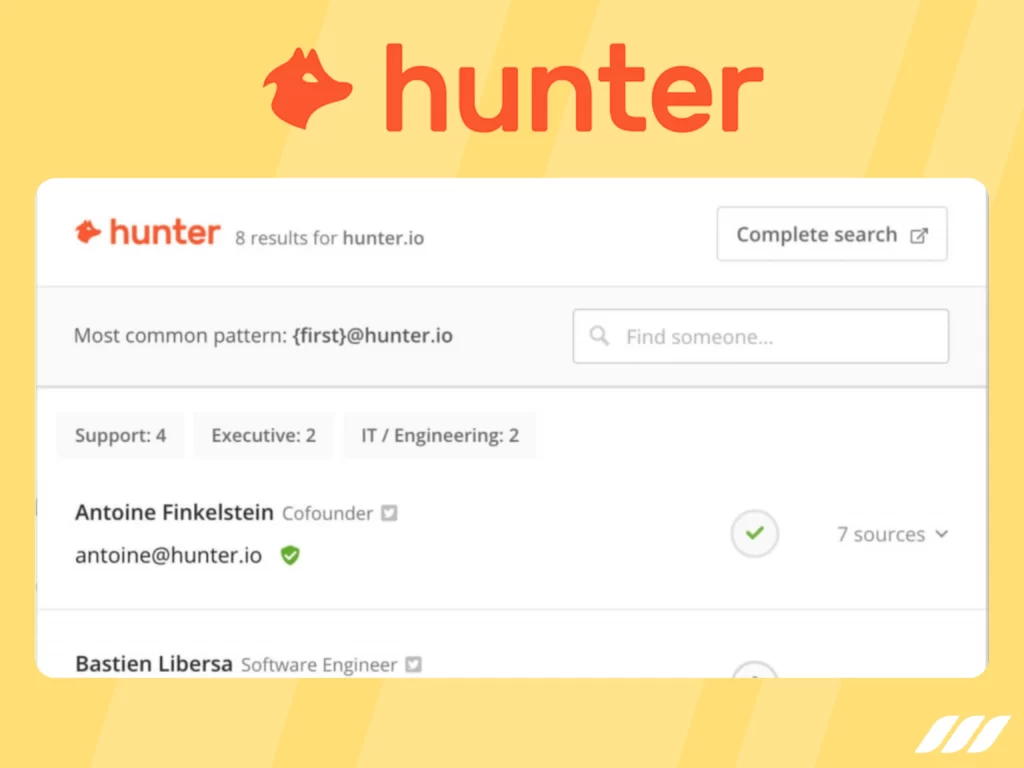 Hunter is the perfect sales prospecting and lead generation tool for businesses seeking an all-in-one solution. The advanced platform allows you to quickly and efficiently find and verify any email address.
In addition, the tool's 'Domain Search' feature lets you see the email address associated with a specific domain name. You can also verify the email address to avoid bounces and spam traps.
What makes Hunter stand out is that you can use it as a web app or Chrome extension! Moreover, it offers a Google Sheet add-on to find and verify email addresses efficiently.
Pros
· It helps you filter and match email addresses with specific domains
· It offers a web app, and chrome extension, and a Google sheets add-on
· Offers excellent insights into valuable data
Cons
· Clunky user-interface
Pricing
Hunter offers users a free plan for 25 searches and 50 verifications. However, its paid plan costs $49 per month.
Hubspot Sales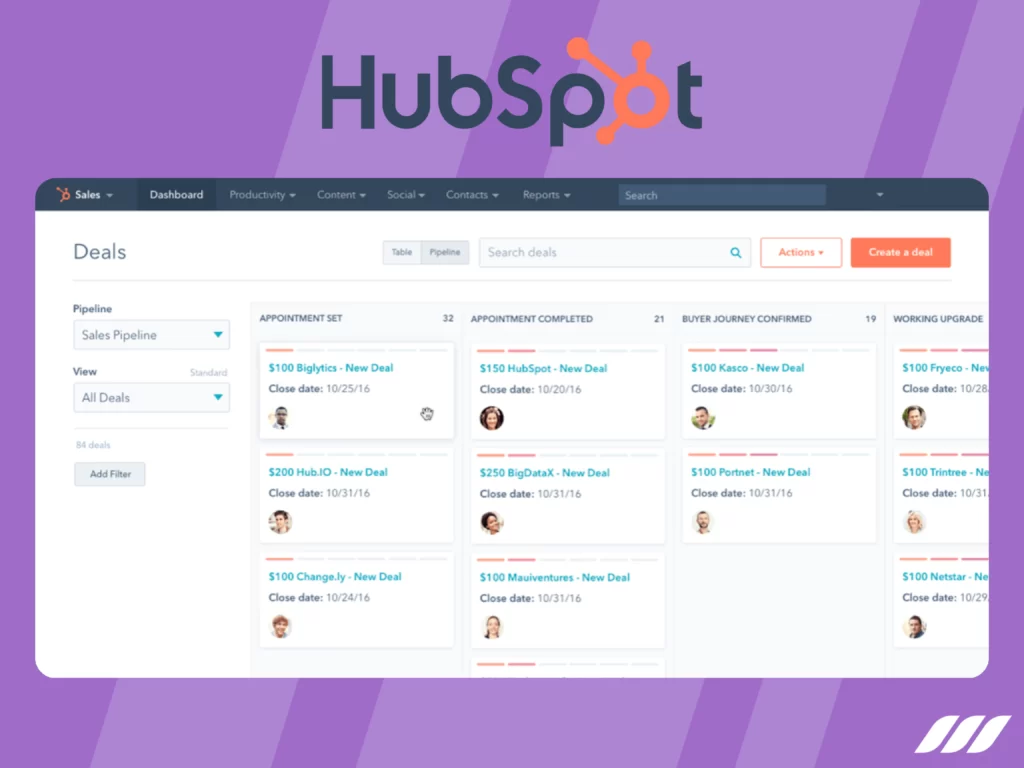 HubSpot is a popular and innovative marketing and sales software for small business websites. The tool allows you to automate your marketing, sales, and service strategy.
The robust automation software allows you to plan your marketing campaigns, offers free email, and lets you track customers' behavior. In addition, you can learn marketing automation from trained and experienced experts and earn certifications.
Pros
· Free email marketing tools
· Quick and personalized follow-ups
· Excellent customer support features
· Live chat and conversational bots
· Analytics and insights to monitor your campaigns
Cons
· Contracts are inflexible
· Limited reporting capabilities
Pricing
You can use HubSpot for free and upgrade it for $50-$3200 based on your unique business needs.
Agile CRM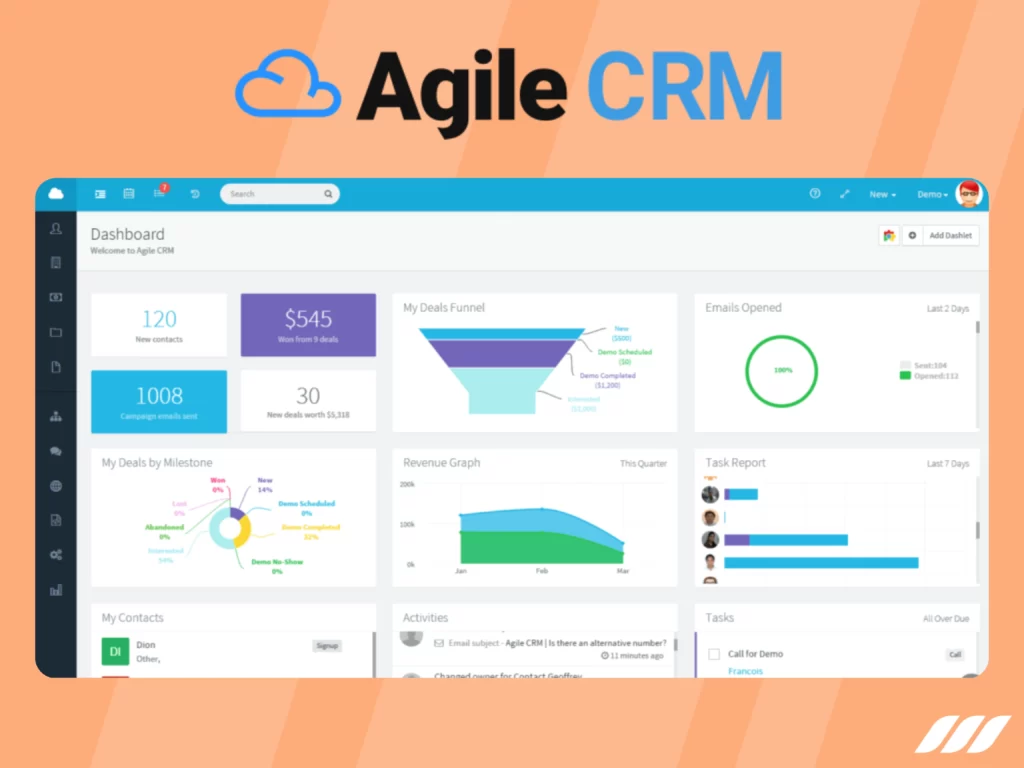 Agile CRM is an excellent customer relationship management solution for small and mid-sized businesses.
The platform connects sales, marketing, customer services, and social media on one integrated interface. As a result, the platform helps companies improve customer engagement, optimize customer lifetime cycle, and, ultimately, boost profit.
Furthermore, the platform offers unique sales automation capabilities in its VoIP software, including Twilio and RingCentral. It also helps filter contacts and companies, sync email and calendar, and send the right deals at the right time.
Pros
· Excellent telephony features, such as call forwarding and enhanced caller ID
· Unlimited deals and tasks
· Includes lead scoring
Cons
· The free plan includes only one third-party integration
Pricing
Agile CRM offers a free plan for ten years. Depending on your sales automation needs, you may upgrade your plan costing $9.99-$64.99.
Chorus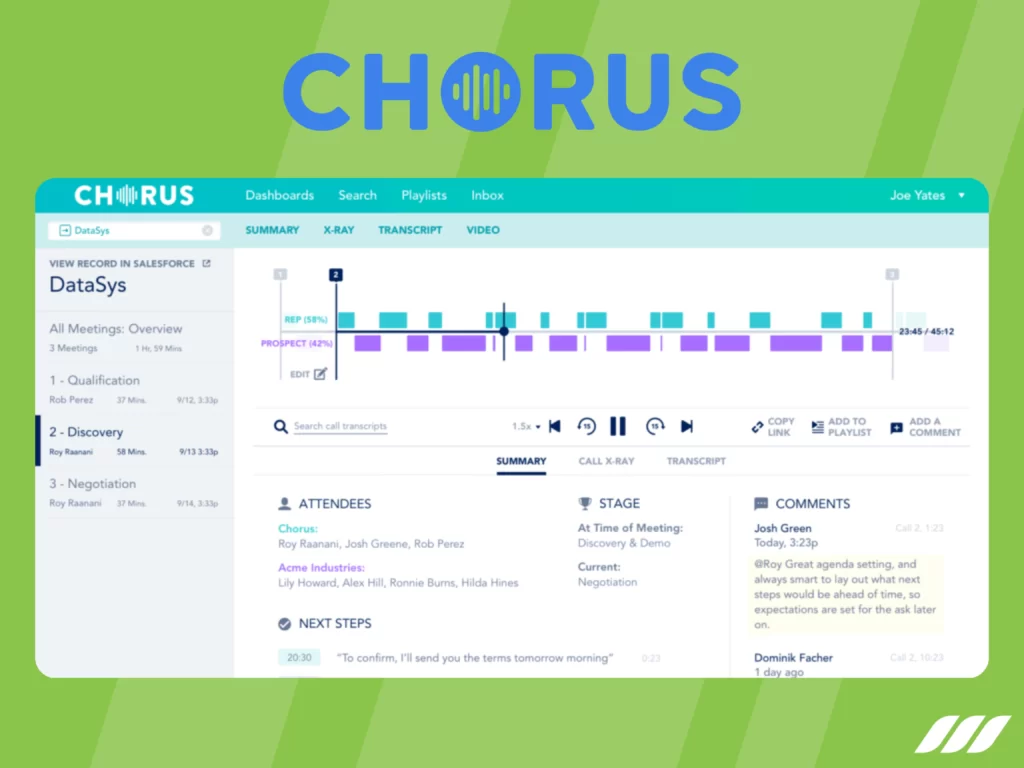 Chorus is a state-of-the-art conversation intelligence platform that helps sales managers and marketing teams store and analyze business conversations. The advanced change agent improves the effectiveness and efficiency of your sales and marketing strategy, enabling you to boost sales rep efforts.
The robust platform empowers businesses to grow and expand by making it easy to implement data-driven and customer-centric models. It also allows you to pinpoint moments that influence sales outcomes and streamline real-time collaboration.
Pros
· Enhances visibility
· Boosts productivity by streamlining team collaborations
· Distributed call recording
Cons
· No free plan
Pricing
Chorus offers flexible pricing plans
Everstring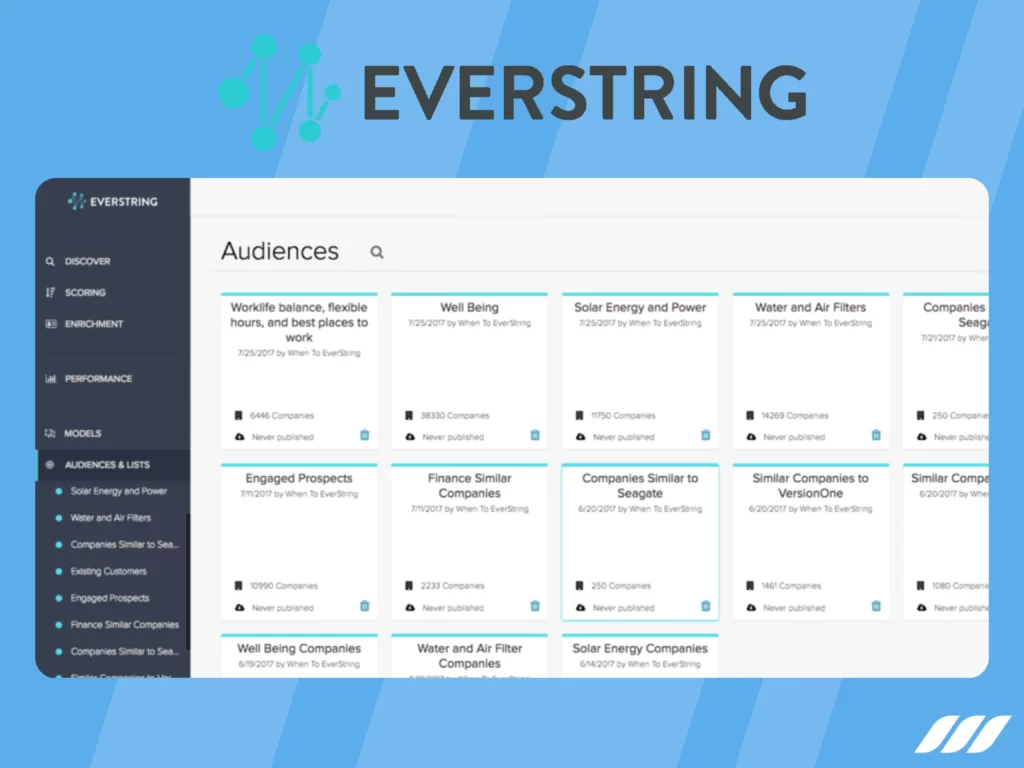 Everstring is a unique cloud-based predictive analytics platform that empowers your sales and marketing efforts. The platform seamlessly integrates with your existing CRM platform, allowing you to optimize sales cycles.
The innovative tool includes critical automation features, including company search, account prioritization, workflow integrations, account-based marketing, and insights for personalized communications.
Lastly, Everstring boasts a data platform entailing automated AI, ML, data ingestion, and human-intensive task system tools helpful in discovering and operating B2B data.
Pros
· AI and ML-powered
· Offers data insights to help businesses make strategic business decisions
· Provides 3rd-party integrations
Cons
· It does not offer a free plan
· Expensive
Pricing
Everstring's starting plan costs $820 per month.
Clari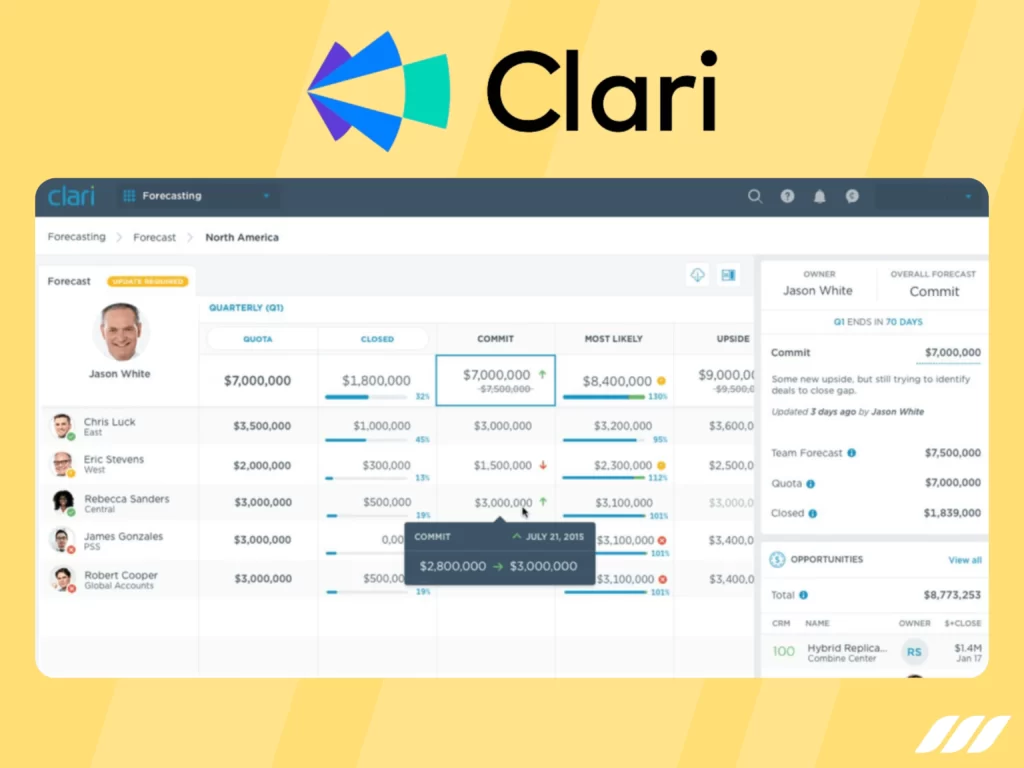 Clari is another innovative sales automation and revenue operation platform that helps sales managers forecast accurately, boost customer engagement, identify pipeline risk, and grow revenue.
The robust platform helps small businesses discover upsell opportunities by making revenue operations more efficient, predictable, and connected.
Clari's continuous and accurate predictions improve efficiency and close more deals. It also provides pipeline visibility to boost conversion rates.
Pros
· Easy to setup and use
· Access to personal dashboard and predictive forecasts
· Helps you close more deals successfully
Cons
· Takes time to get used to the platform's interface
Pricing
Clari offers flexible pricing plans.
UberConference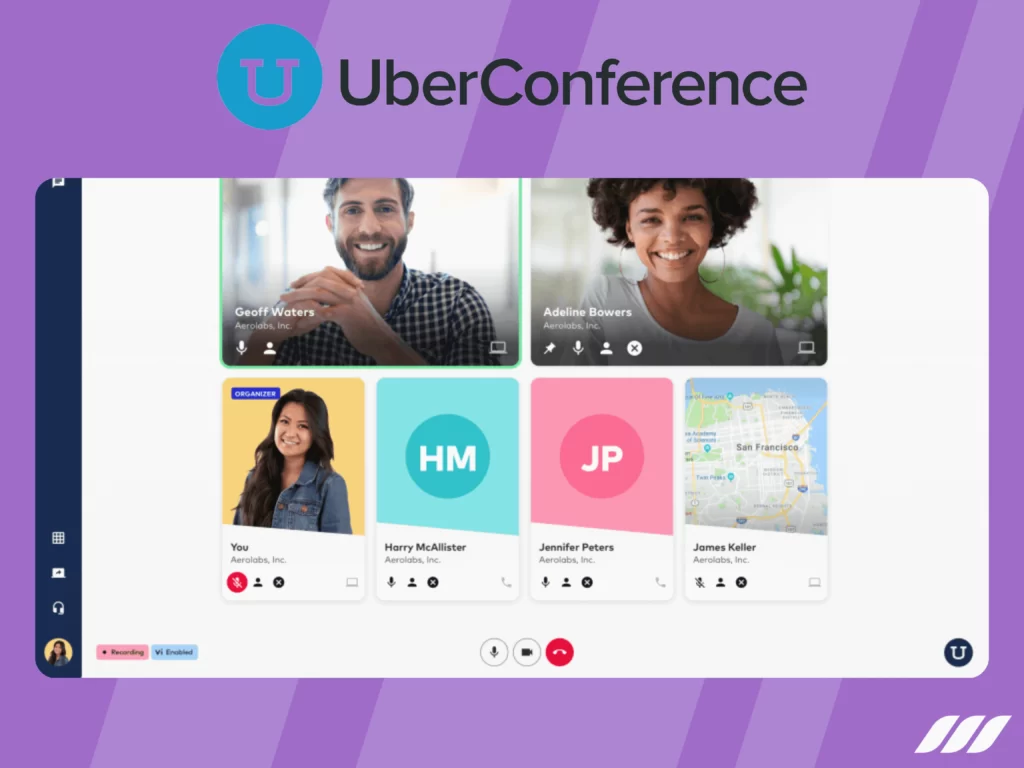 UberConference is an excellent sales automation tool for B2B sales professionals and allows them to connect through video conferencing. This automation tool does not require PINs and downloads, which makes it extremely easy to use. Moreover, it smoothens the communication process with sales reps, and the dial-pad feature allows you to stay connected to the world.
Pros
· Easy to invite others
· Privacy
· Great call quality
Cons
· Needs Zapier Integration
· Should be able to sync with CRMs
· Needs Webhooks
Pricing
UberConference offers a basic plan starting from $20 per month.
Sendinblue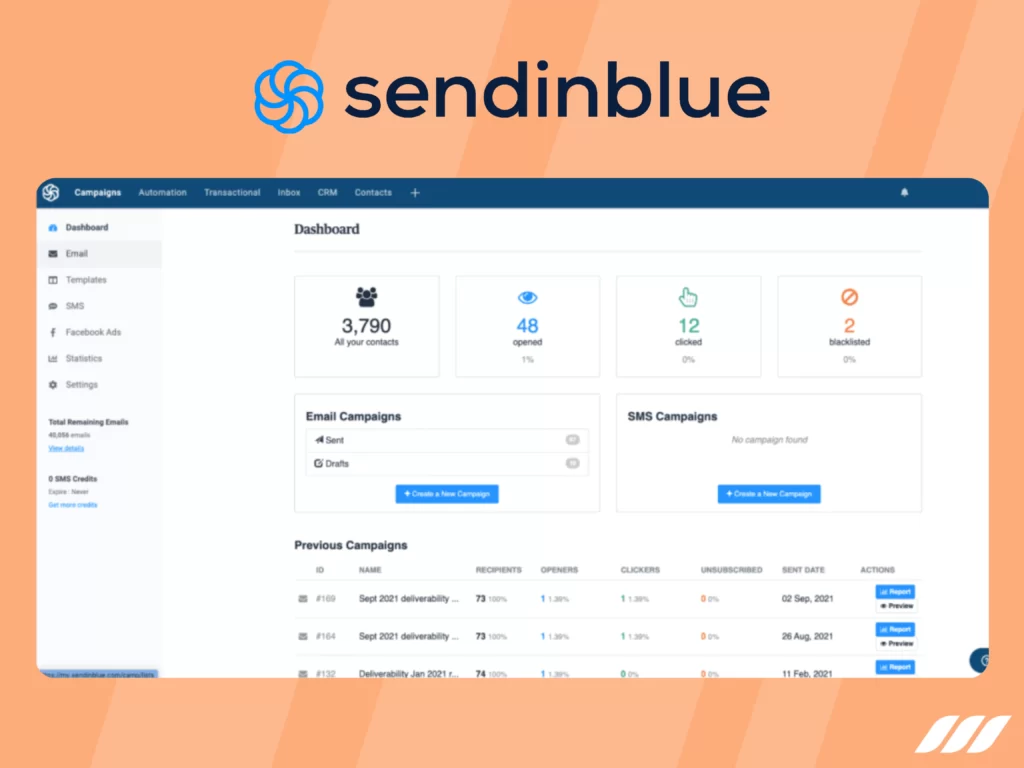 Sendinblue a fantastic B2B sales strategy that helps you target your customers through social media, email, live chat, and text messages. This automation tool can segment your email list and automatically send personalized emails to your customers. Moreover, Sendinblue offers a straightforward drag-and-drop builder to create automated email campaigns. You can set up this tool with WP Mail SMTP for reliable email deliverability.
Pros
· Very responsive support team
· Ease of setup
Cons
· Inefficient support system
Pricing
The premium plan starts at around $55 per month.
Constant Contact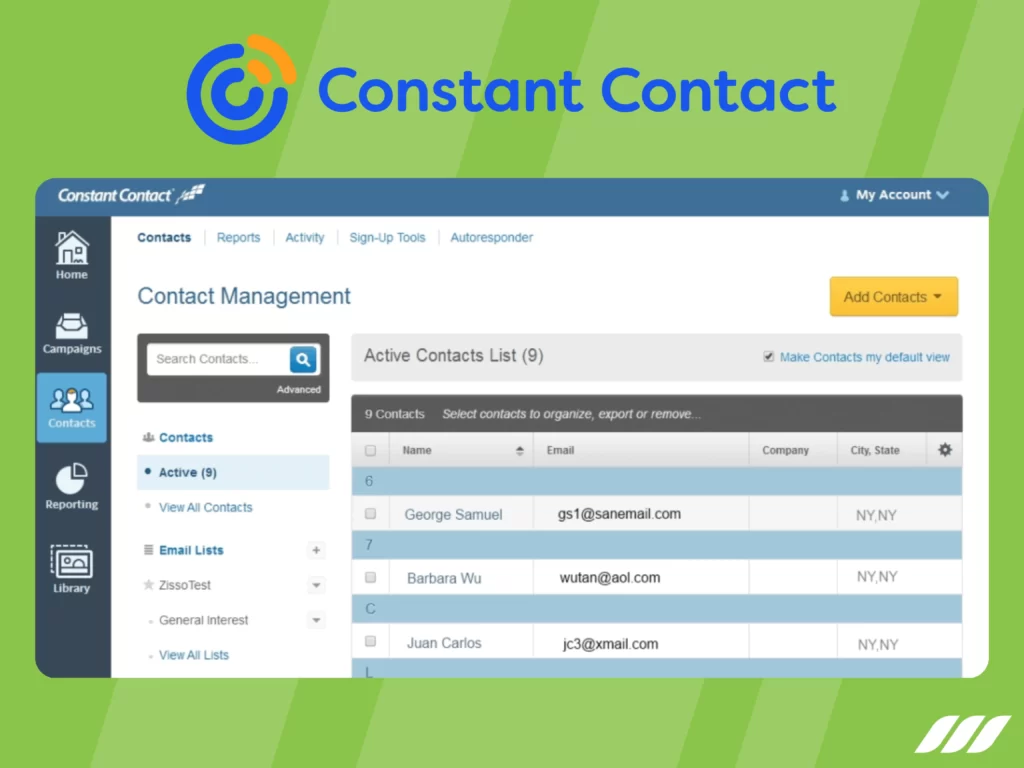 Constant Contact is a great automation tool because it is beginner-friendly but still offers powerful tools to automate email marketing. It allows users to send single welcome emails, automated emails, or targeted messages to customers that help lead nurturing. Moreover, you will get support with this best lead generation tool because of its helpful webinars and online training.
Pros
· Easy to use
· Simple instructions
· Very responsive
Cons
· Limited automation
· Slow customer service
Pricing
Constant Contact's Email Plus plan starts at around $45 and with a free 60-day trial.
Keap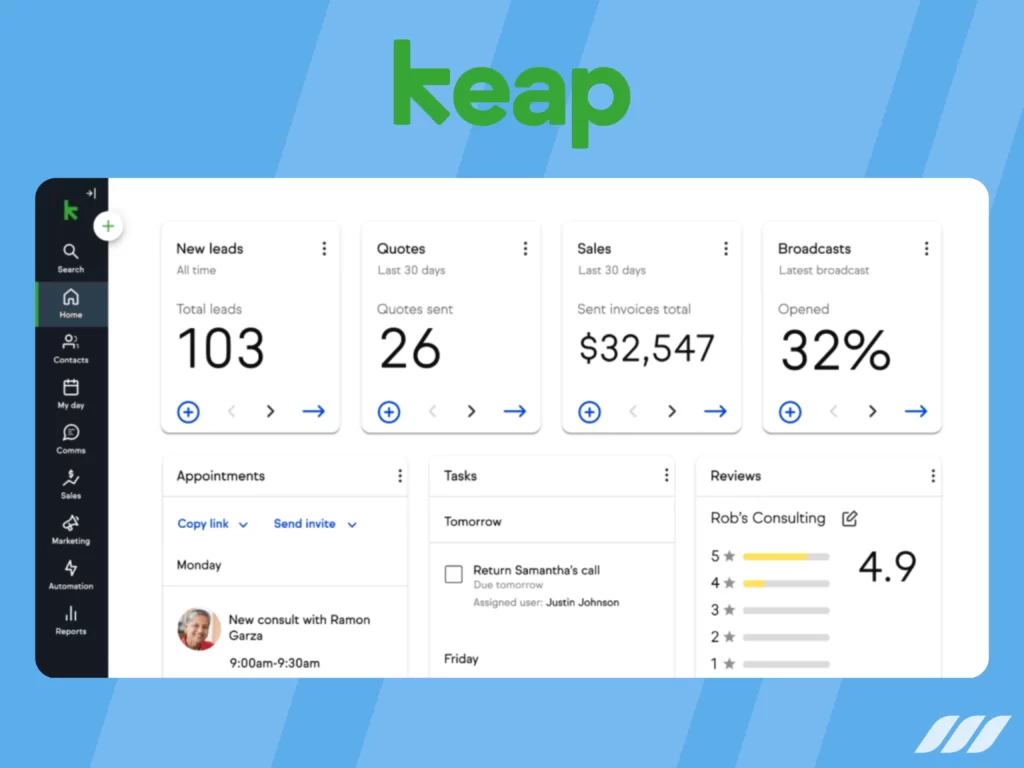 Also known as InfusionSoft, it is an excellent sales automation software used by multiple small businesses. It allows you to make different email marketing campaigns and improves customer engagement. Moreover, it enables users to create attractive landing pages in fewer clicks with pre-built templates.
Pros
· Offers payment management features
· Sends unlimited email with a pre-built template
· Offers workflow automation tools
Cons
· No free plan
· Expensive pricing plans
Pricing
The pricing plans start at $199 per month.
ConvertKit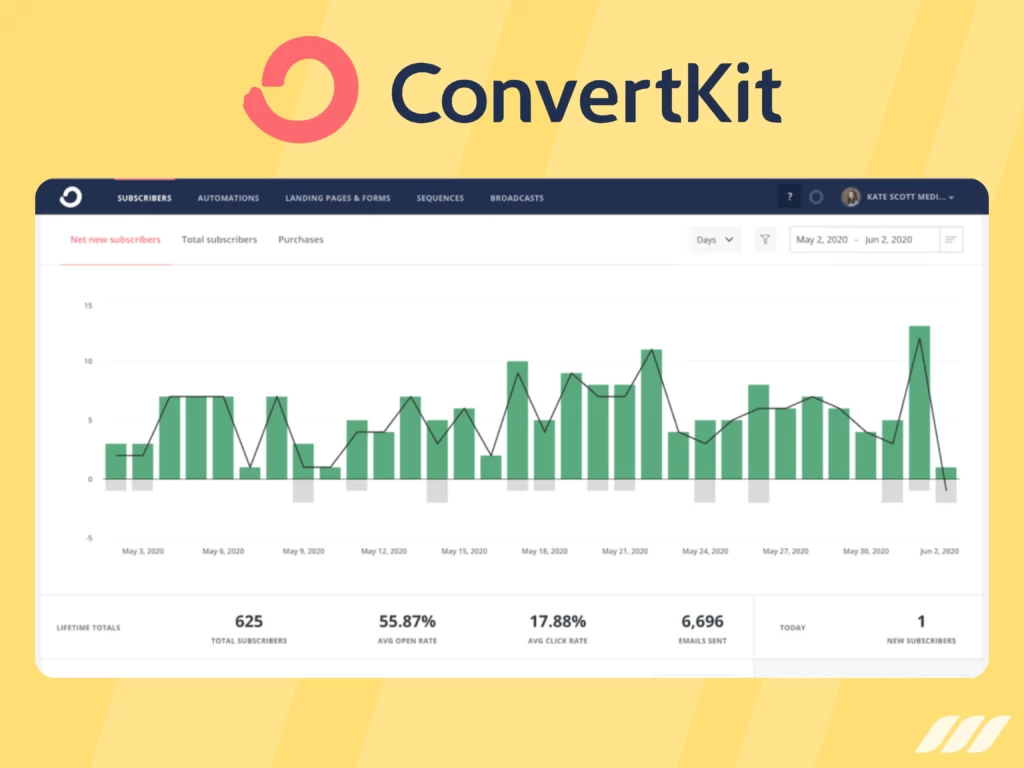 It is an innovative sales automation platform for bloggers, creators, and small business owners. It is an easy-to-use email marketing tool with a robust platform that allows users to segment contacts as existing customers or leads.
Moreover, it sends targeted emails to reach customers and turn them into prospects. ConvertKit's innovative email builder feature enables users to create eye-catching emails. You can enjoy tracking conversion rates and adding attractive CTA buttons.
Pros
· Easy-to-use
· Fantastic User Experience
· Best-in-class deliverability
Cons
· Lacks Integrations with eCommerce Platforms
· Not great for managing multiple clients
Pricing
The cost of the basic plan starts from $29.
OptinMonster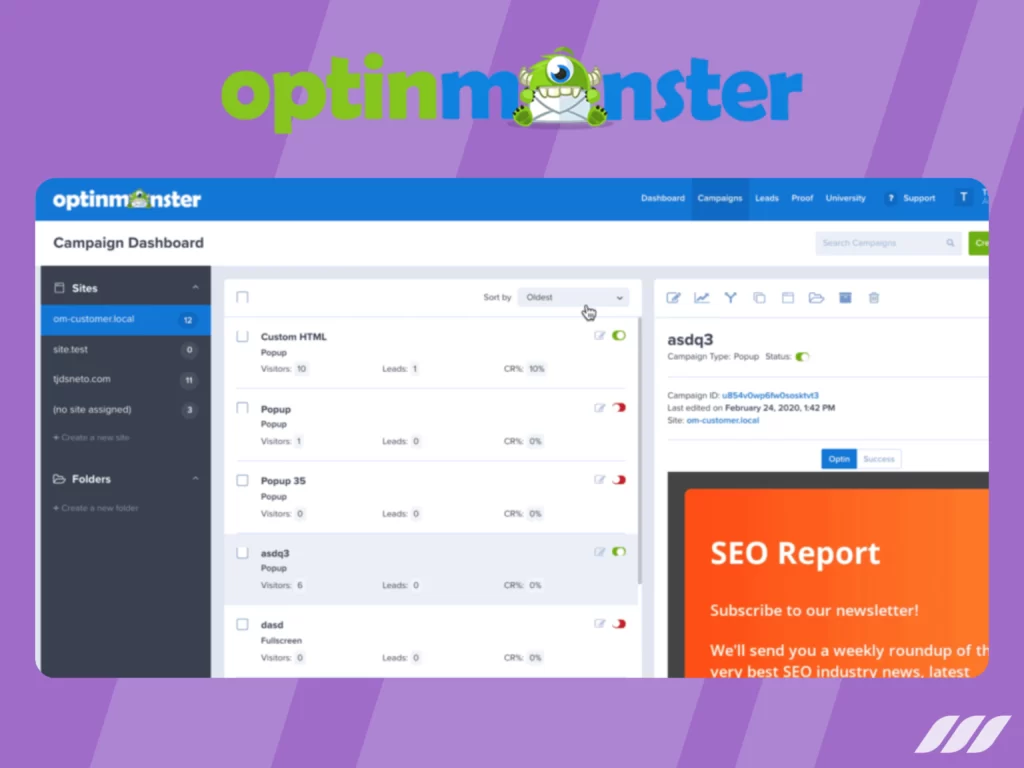 OptinMonster helps make striking landing pages, lightboxes, and pop-ups that attract leads. Their innovative ChatBot features allow you to automate social media campaigns. Furthermore, this automation software segments leads and customers while you sit back and relax.
Pros
· Easy to setup
· Responsive support team
Cons
· It does not have an end date/time to turn off campaigns automatically.
Pricing
The plan starts at $9 per month; however, it is billed annually.
Uncanny Automator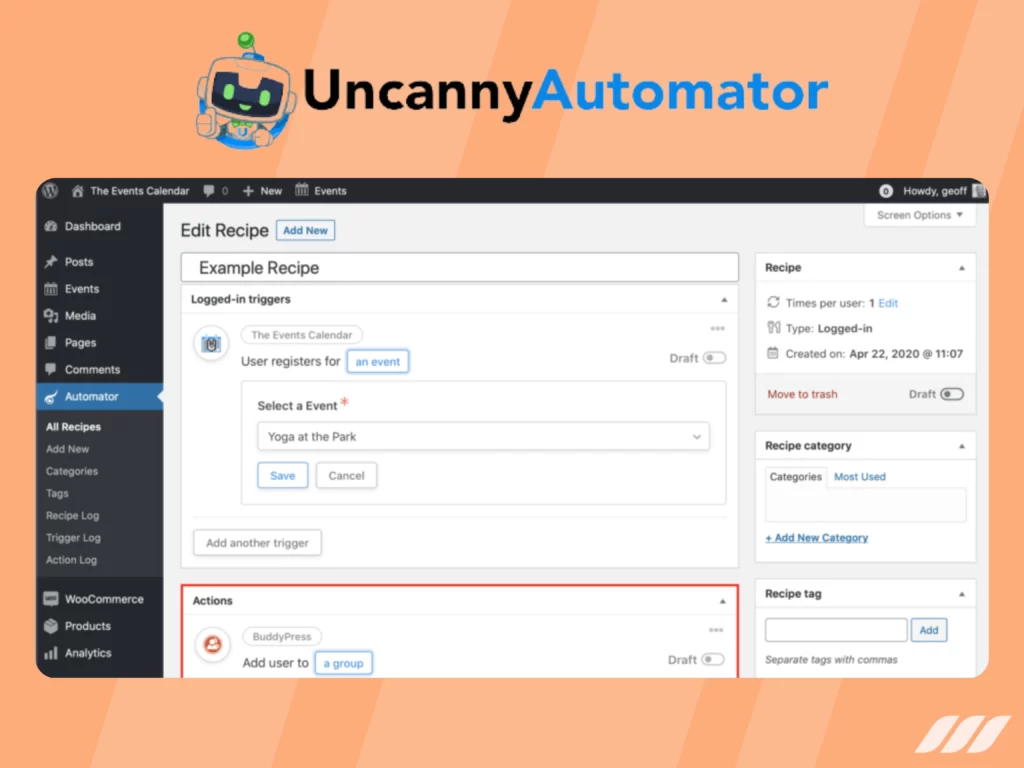 Uncanny Automator allows you to put the entire small business website on autopilot. It is an excellent automation tool that automatically connects your existing plugins and apps to perform actions. Moreover, it enables the creation of recipes based on users' behavior and turns them into marketing workflow and sales opportunities.
Pros
· Enjoy free trials before choosing a plan
· Automates routine tasks
· Integrates with different websites
Cons
· Expensive
· Users who don't have a WordPress plugin cannot enjoy its usefulness
Pricing
The pro plan starts at $149/year for one site with a free version.
Intercom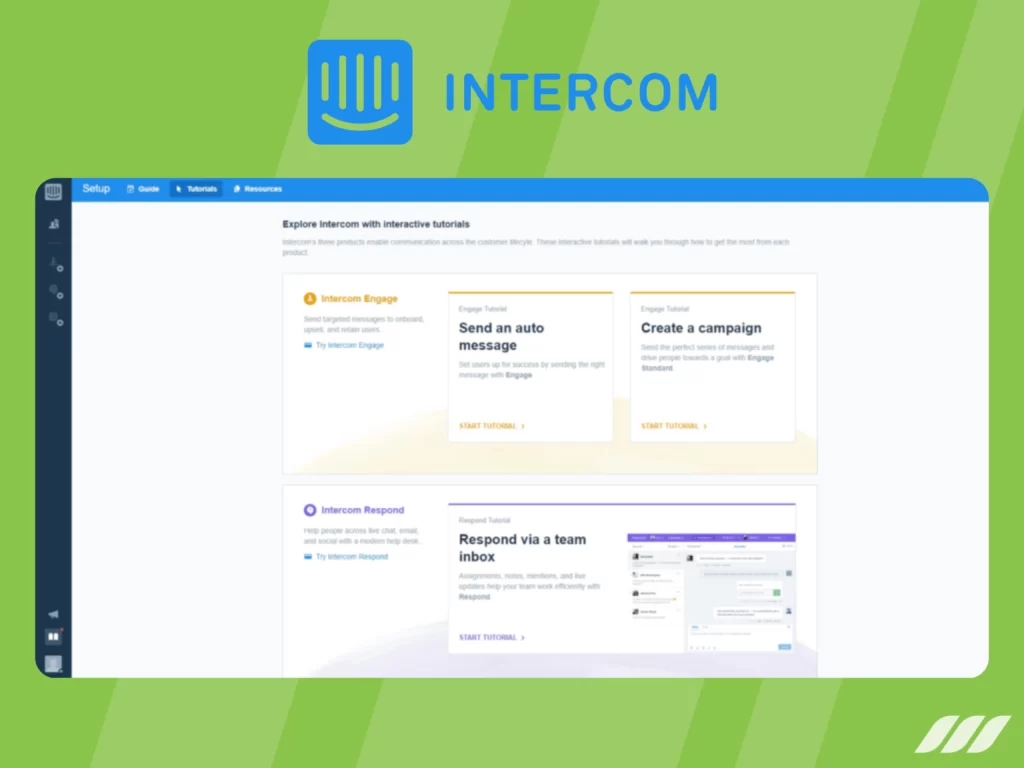 Another excellent email marketing software enables you to send automated messages. You can enjoy adding images, emojis, videos, and apps to enhance your marketing efforts. It allows you to choose various message styles without involving associated fees.
Furthermore, Intercom lets you select a ChatBot and integrates chats' marketing element. Add-ons such as advanced customer engagement, product tours, and lead generation improve the overall experience.
Pros
· Responsive Live chat
· Ease of use
Cons
· Requires native text messaging integration
· Seems glitchy at times
Pricing
The plan starts from $50.
Demand Science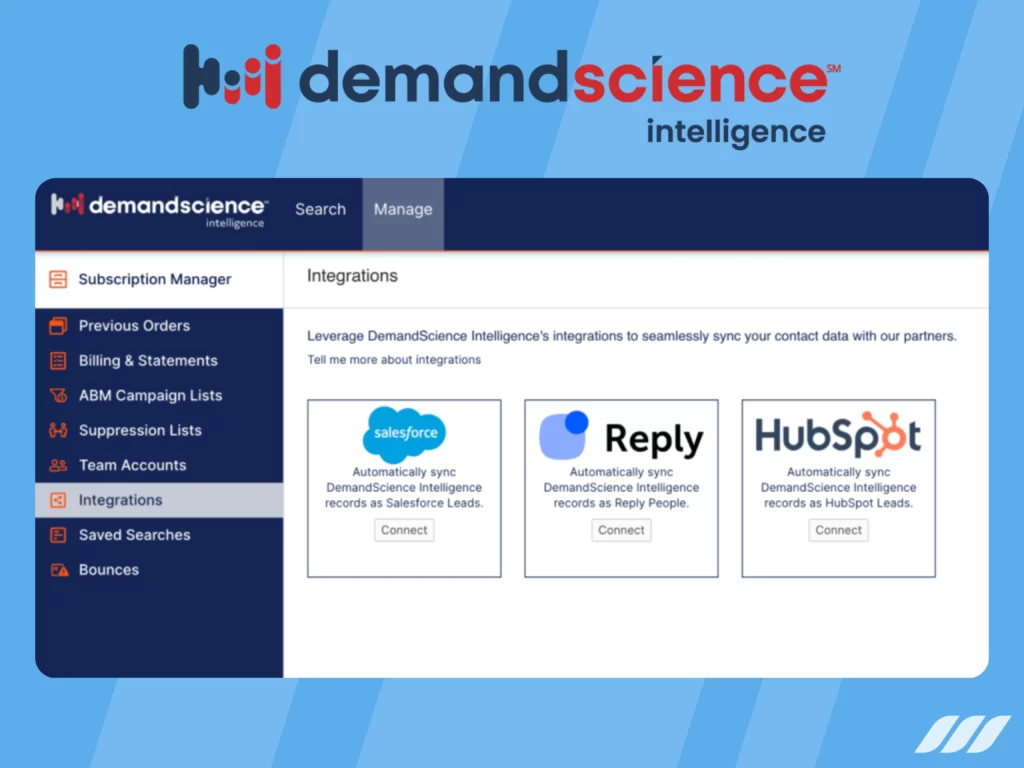 Previously known as Leadiro, DemandScience is great automation software that enables users to identify prospects and convert opportunities with accurate data. It acts as a large-scale database with contact information and email lists based on the size, geographical location, business industry, and job titles.
Moreover, the platform alerts users when prospects engage with marketing materials or show interest in your products. DemandScience tracks behavior and trends across different devices to ensure you are targeting the right buyers.
Pros
· Provides quality lead data
· Simple interface
Cons
· No free plan
Pricing
The platform offers custom pricing based on business needs.
Smash Balloon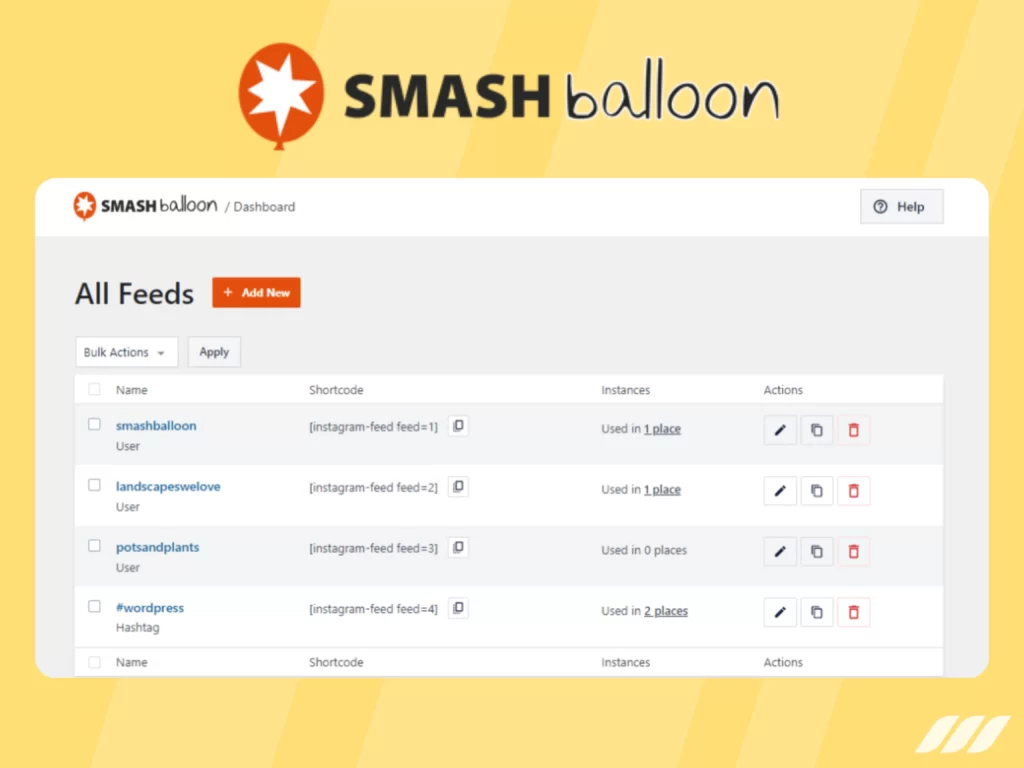 Smash Balloon is a powerful and one of the best sales automation software that lets users choose from four plugins. Users can add social feeds to their website, including Facebook, Twitter, YouTube, and Instagram. It allows users to automatically add images from the account, customize social feeds, and post with hashtags.
Pros
· Easy to use
· Customizable options available
· Responsive and mobile friendly
Cons
· Only for WordPress Sites
Pricing
The plan starts at $98.
RafflePress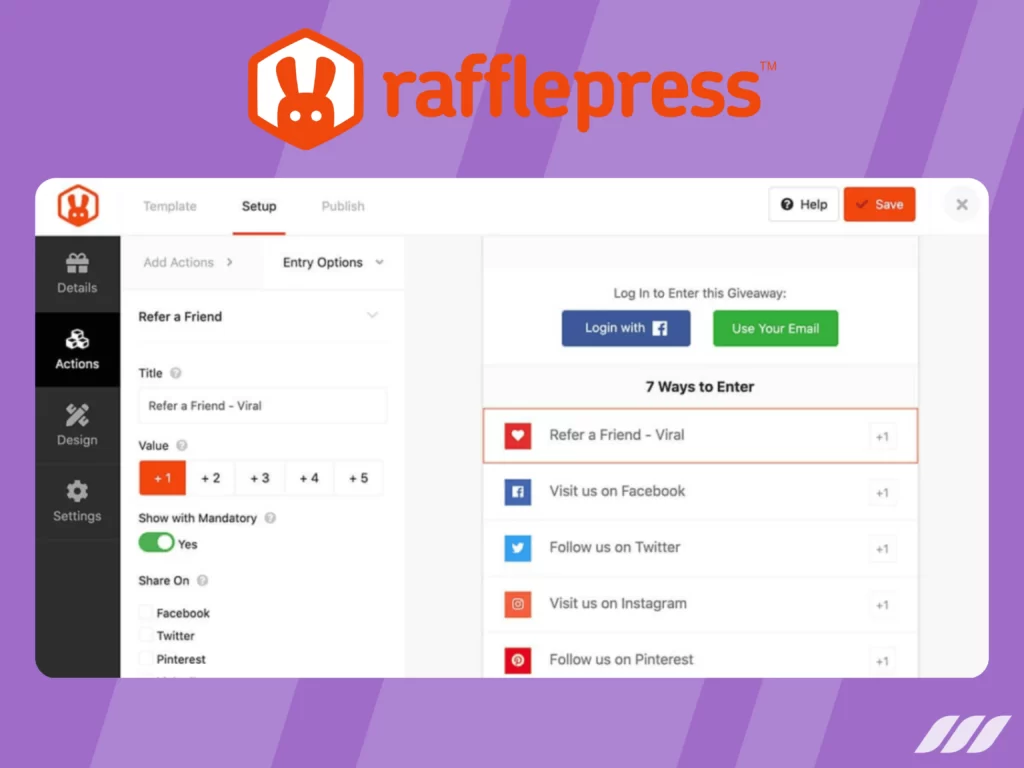 It is a popular WordPress contest that allows creators and small business owners to add attractive incentives to their web pages. RafflePress includes visiting a specific webpage, adding exciting polls and surveys, or watching a video. Moreover, it allows users to customize actions such as encouraging readers to write a review. It also motivates users to create competition for readers to help increase customer engagement rates.
Pros
· Easy to use
· Mobile friendly
· Zapier integration
Cons
· Has a limited number of email integrations
Pricing
The basic plan costs $39.50.
Outbrain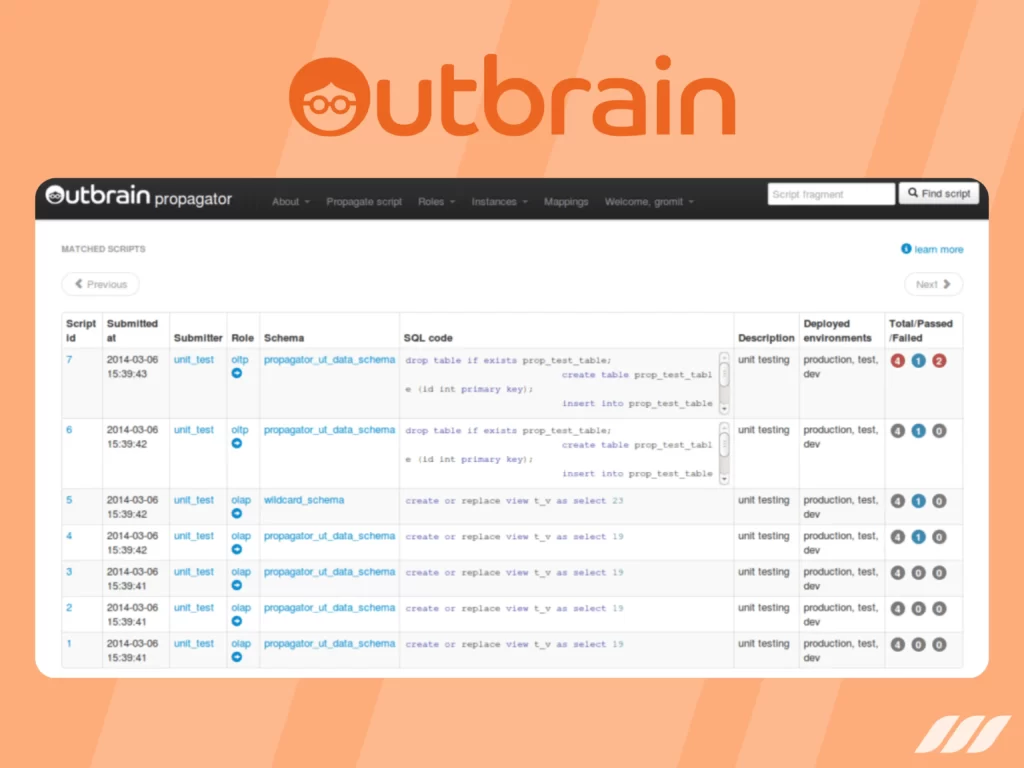 It is an excellent automation tool that allows you to display your top-performing content on different websites. Outbrain has partnerships with MSN, CNN, the Guardian, Buzzfeed, US Weekly, and the Wall Street Journal. However, these websites will not republish your article but will post attractive titles, thumbnails, brand names, and links to your website.
Pros
· Eases communication
· Easy navigation
Cons
· Ad formats are not customizable
· Lack of account teams
Pricing
The pricing plan starts from $20.
Zapier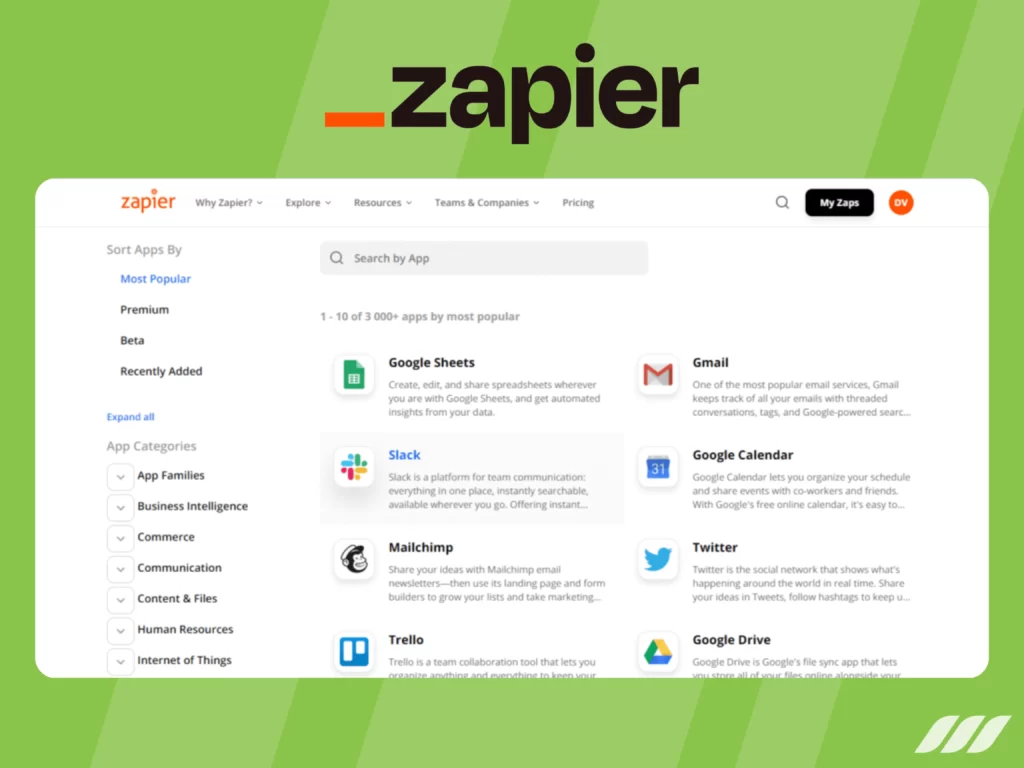 It automates workflow between different business apps. This innovative automation tool allows users to create tasks based on triggers. Moreover, most workflows are easily created without coding knowledge. Zapier integrates with over 5,000 applications used by small businesses. It automates and synchronizes task workflows with third-party applications.
Pros
· Integrates more than 5,000 apps
· No coding or technical experience needed
Cons
· Free plan includes five integrations
· Paid plans include multiple integrations
Pricing
The payment plan starts from $19.99 monthly for 750 tasks.
Google My Business Auto Publish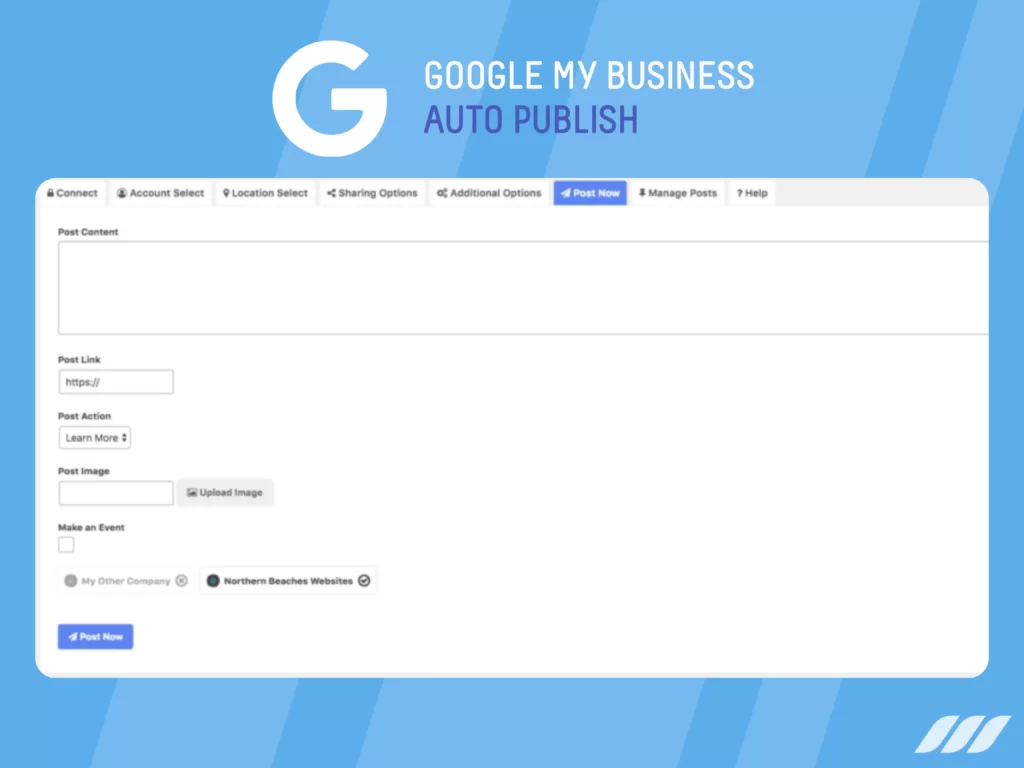 It is an excellent and easy-to-use WordPress plugin that allows users to publish high-quality content on your 'My Business Google account. Moreover, Google My Business Auto Publish enables users to add posts and pages, select plugins and set up default share messages on their Google business profile
Pros
· Free to use
· Easy to use
Cons
· Limited customizable options
Pricing
It is free.
ManyChat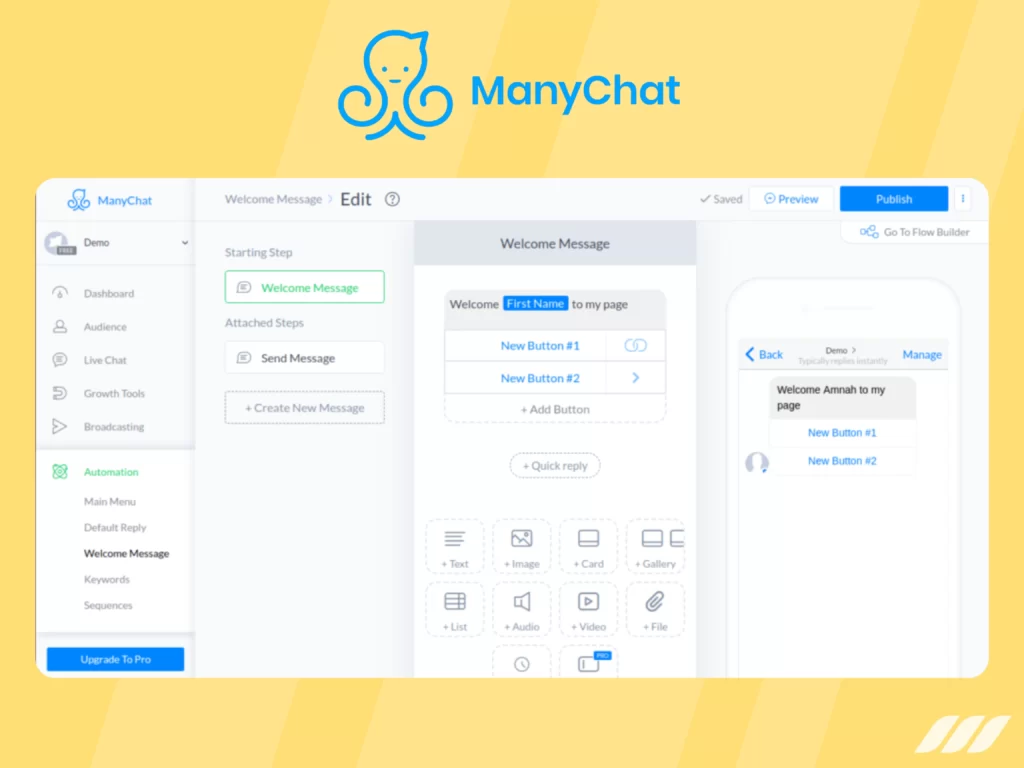 It is an innovative chatbot that allows you to send automated Facebook messages to let customers purchase directly from Messenger. It helps buyers choose suitable products and pay for them through ManyChat. Furthermore, it tracks customer responses and conversations to offer a personalized customer experience and provides customer coupons while encouraging them to purchase the product. It integrates with payment gateways like PayPal and Stripe and apps such as Zapier.
Pros
· Facilitates two-way communication
· Versatility of use
Cons
· Poor customer service
Pricing
The payment plan starts from $15.
Tailwind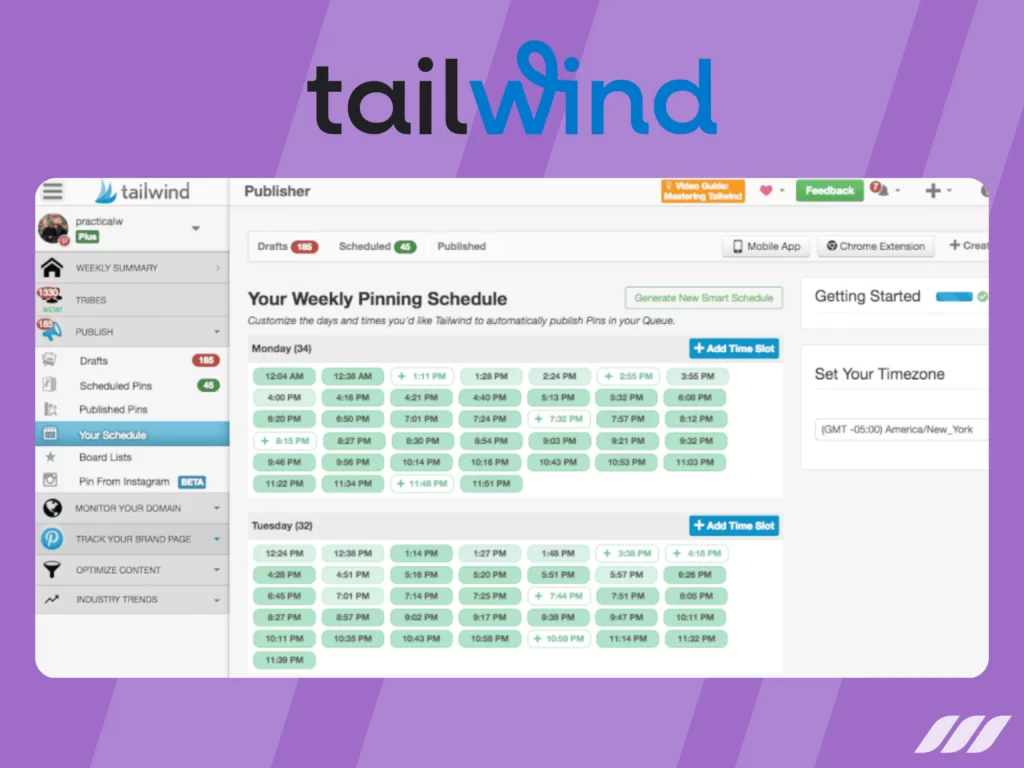 It is an excellent marketing tool for small businesses wishing to sell their products on Instagram and Pinterest. It allows them to schedule posts, increase reach, and manage Pinterest and Interest accounts. Moreover, Tailwind provides users with accurate hashtag suggestions on Instagram and will enable users to schedule ten pints on Pinterest. It is an ideal tool to enhance engagement rates and enjoy power-up features to reshare pints and posts.
Pros
· Faster CSS Styling Process
· Responsive customer team
Cons
· It takes time to learn the tool
Pricing
The payment plan starts from $99.
Hootsuite
Hootsuite is a well-recognized automation tool that allows users to manage their social media platforms. It enables users to leverage the tool to schedule and post content, engage with clients across multiple channels, boost response time, optimize performing range, and track their strategies' performance and effectiveness.
Pros
· Seamless scheduled posting
· Reliable
Cons
· Limited image editing
Pricing
The payment plan starts from $49.
SeedProd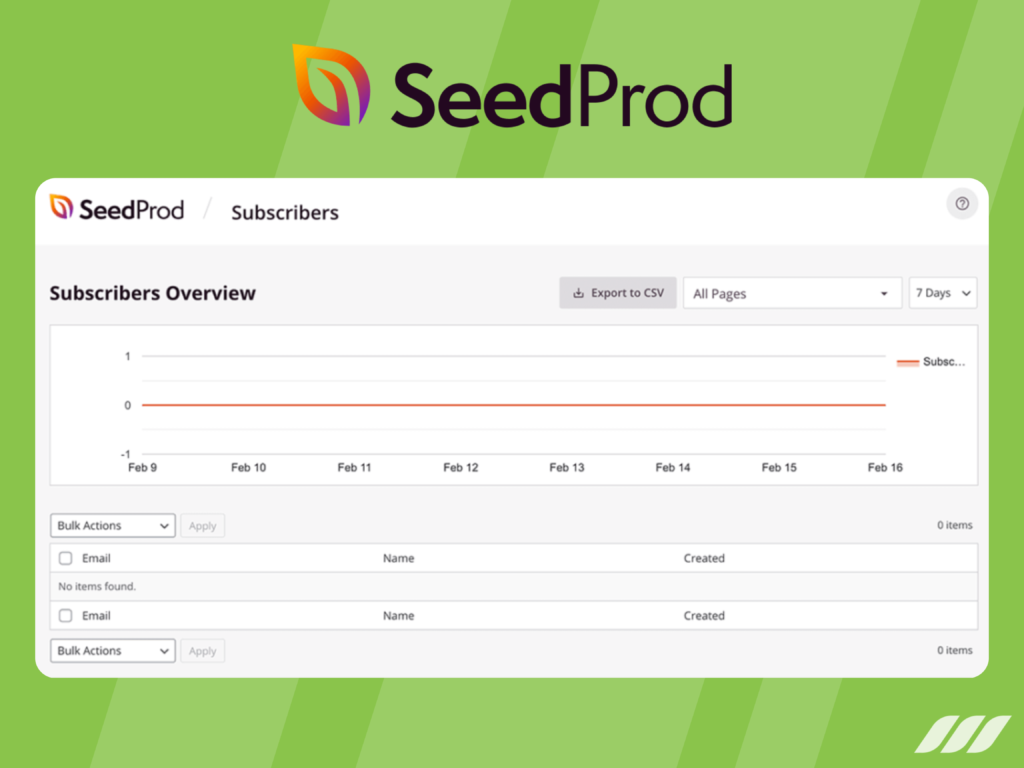 SeedProd is an excellent sales automation tool that allows you to gather emails and attracts traffic to your website even if the website is under construction. Moreover, it automatically collects leads for marketing funnels to avoid losing customers.
Pros
· Easy customization options
· User-friendly
Cons
· Limited Blocks and elements
Pricing
SeedProdoffers a basic plan at $39.50 per year for one website.
AgoraPulse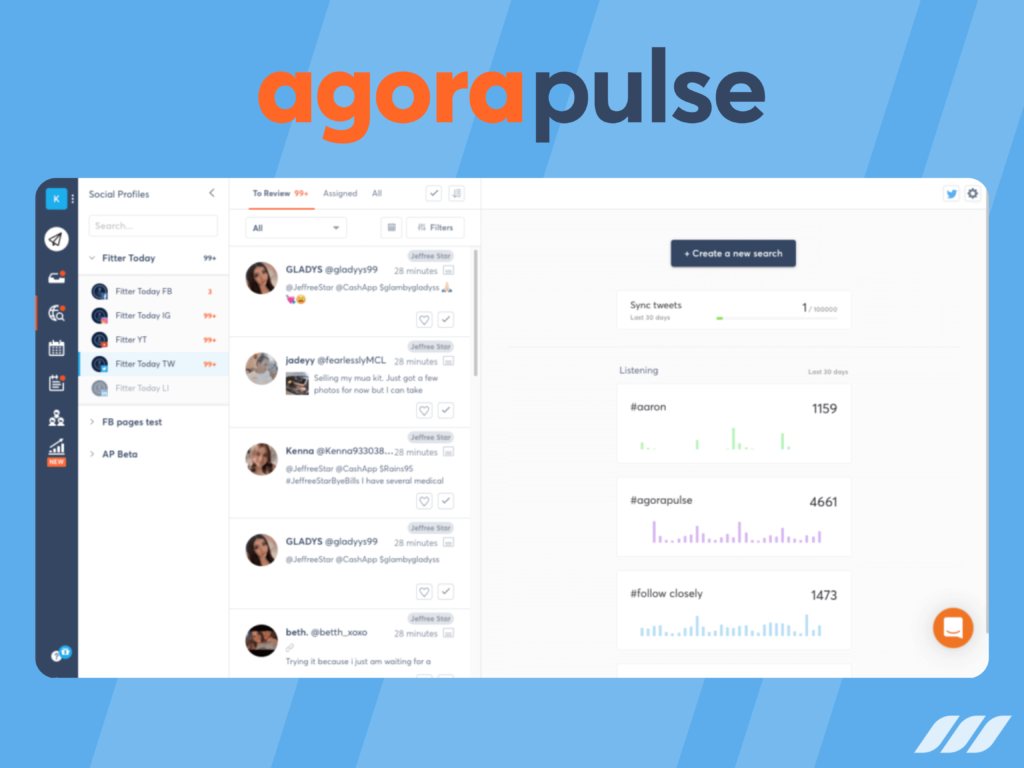 It is a practical social media management tool that allows flexible schedule plans. The innovative tool allows you to reschedule your posts and boasts a specialized social inbox tool to add comments and manage mentions.
What's more, AgoraPulse will enable users to access unlimited insightful reports that help identify your ROI. It also lets users add internal notes to segment audiences and customers' conversations.
Pros
· Great layout
· Good Support
· User-friendly
· Doesn't crash consistently
Cons
· Limited integration
· Customized reports require an additional fee
Pricing
The plan starts from $99.
Buffer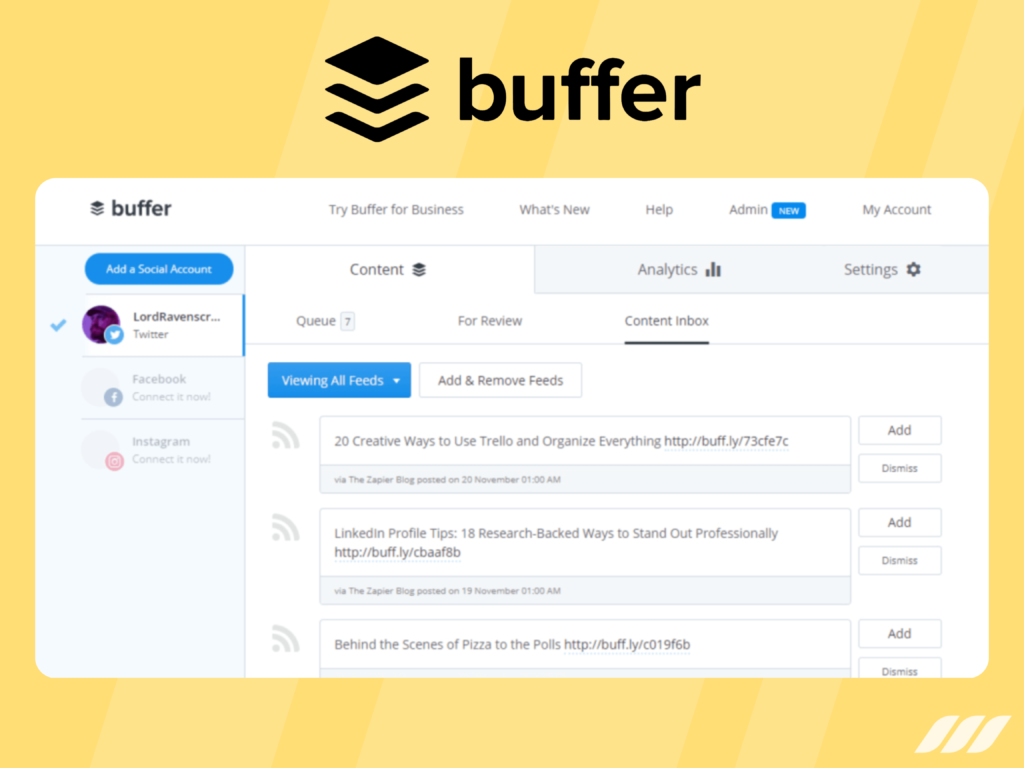 Buffer is a great scheduling and social media managing tool that allows users to schedule content beforehand. It is an ideal automation tool for social media platforms such as Facebook, Pinterest, LinkedIn, and Instagram. Users can leverage the means to identify effective hashtags for Instagram and measure content's performance. It allows users to 'Publish' and 'Analyze' tools.
Pros
· Organize multiple clients.
· Set reminders and notify team members.
Cons
· UX could be better
· Posting videos is challenging
Pricing
The payment plan starts from $99.
Mention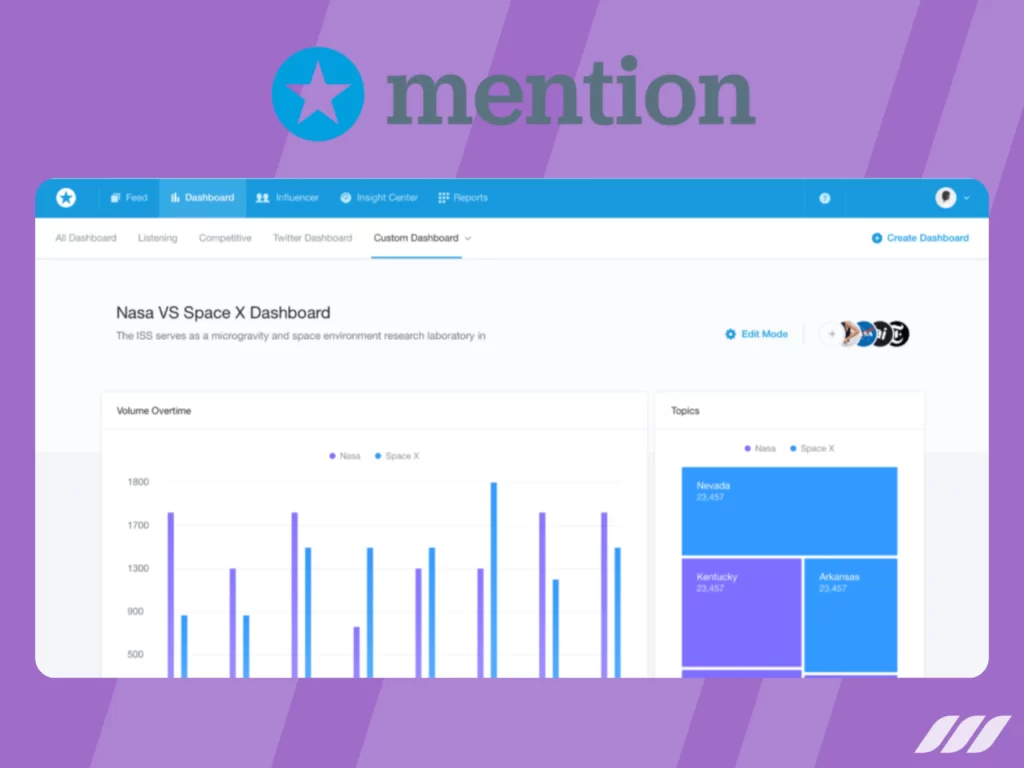 Mention is a tremendous B2B sales strategy that allows small business owners to manage social media accounts, monitor the web, and listen to their audience. The 'listen' feature lets users monitor social media, review sites, and blogs. It saves time otherwise spent on monitoring brand mentions. It enables users to organize multi-channel social media posts.
Pros
· Great notifications
· Easy to set up
Cons
· Misses certain web mentions
Pricing
The pricing plan starts at $15.
Pipedrive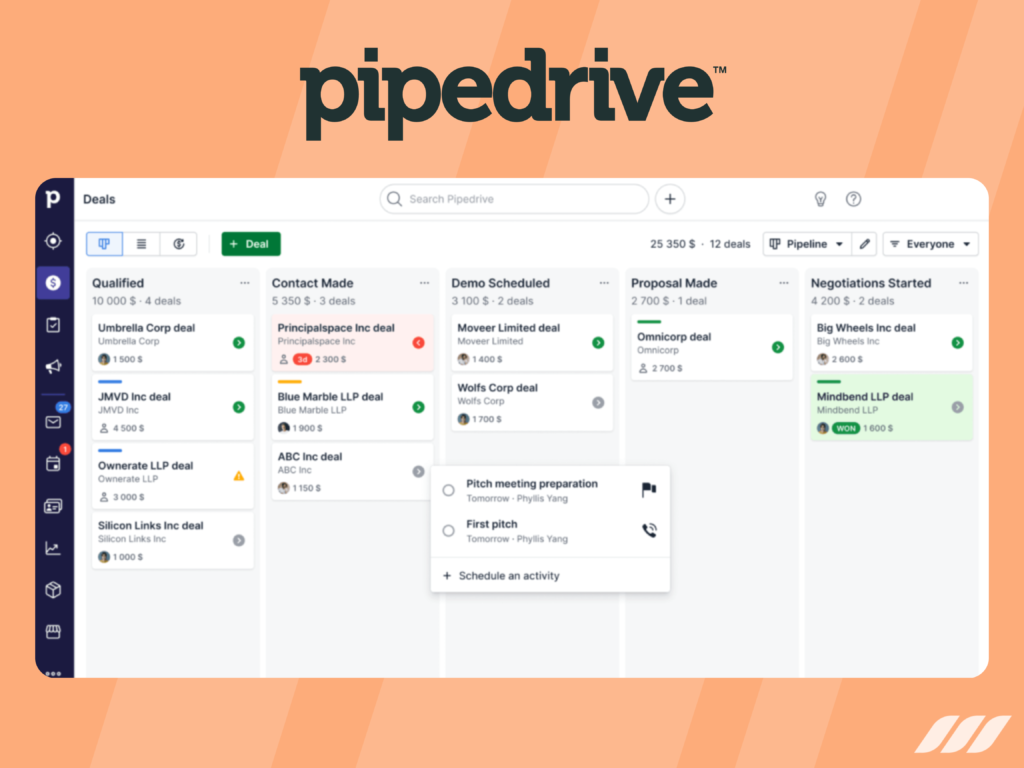 Pipedrive's sales automation tool automatically informs you on items that need attention, including creating a new deal when a contact is added, sending personalized emails, and transferring ownership of a task when deals move to another stage. Moreover, it eliminates repetitive tasks and automates workflow for manual activities.
Pros
· 24/7 chat
· Cost-effective
Cons
· No free plan
· Limited Phone support
Pricing
The plan starts from $14.90 per month per user.
Freshsales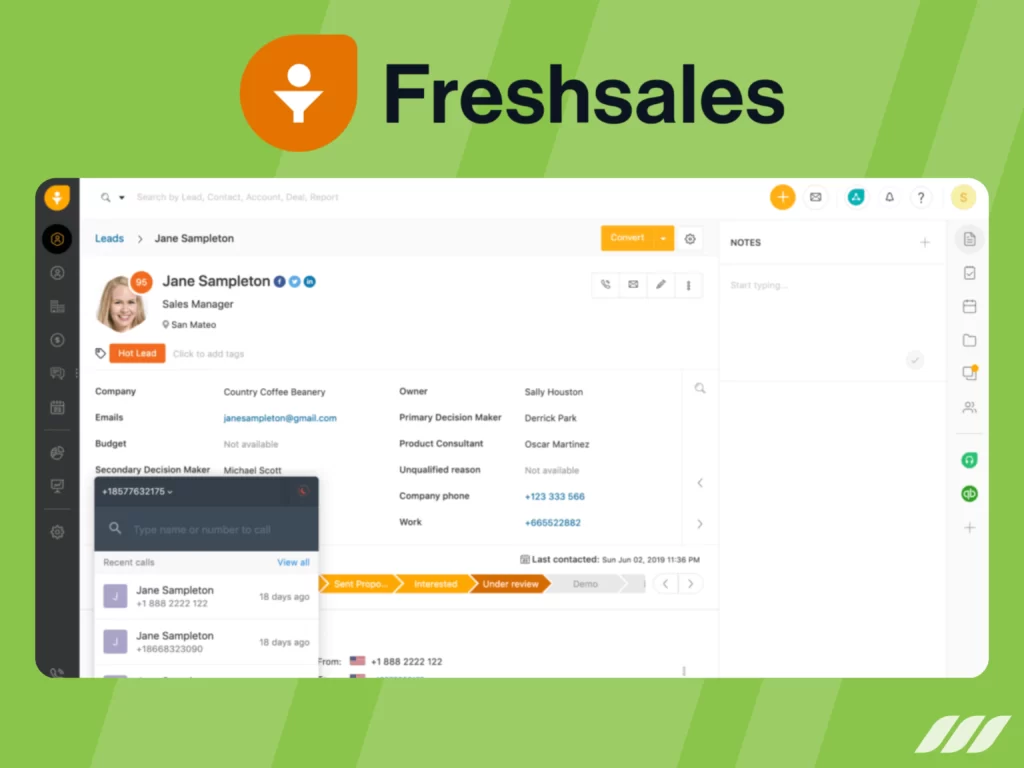 Freshsales CRM with automated marketing tools. The simple workflow allows users to set up triggers that send emails to customers externally or other people within the business. Upon that, it helps you automate repetitive tasks such as webinar invites and follow-ups.
Pros
· Offers a free plan
· Highly customizable workflows
Cons
· No free reporting tools
Pricing
The payment plan starts at $19 per month and has a limited free version.
MonsterInsights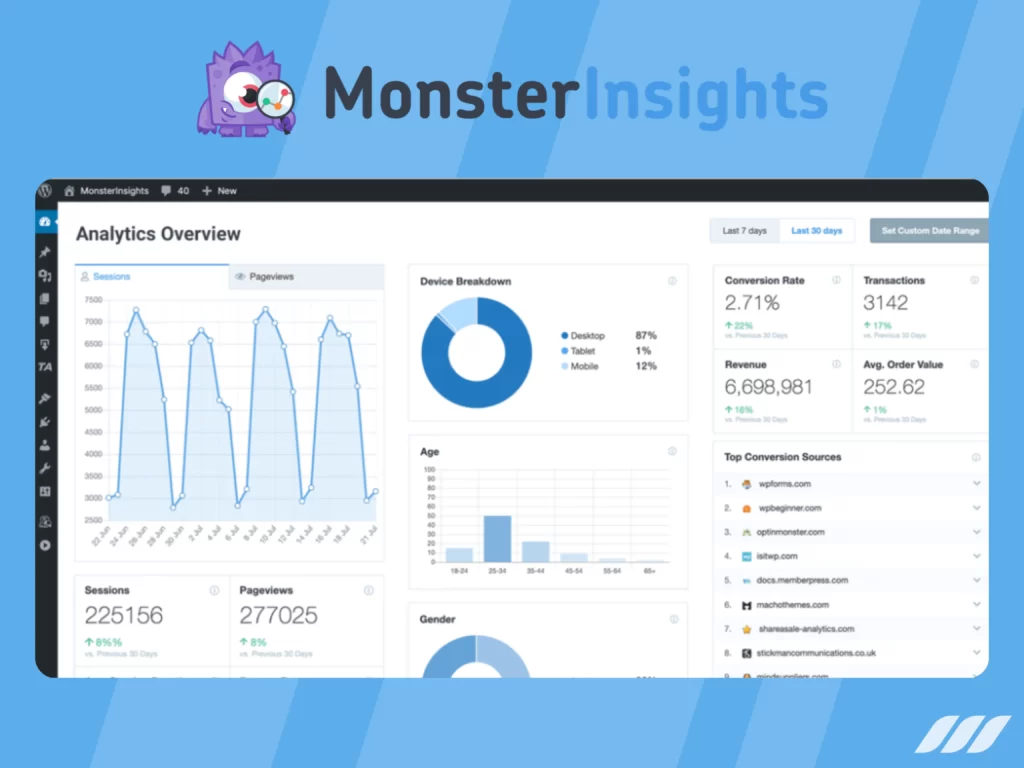 MonsterInsights is an easy-to-use WordPress plugin that allows businesses to identify how people arrive at your website. Moreover, it enables you to track user activity. It includes outbound link tracking, WooCommerce conversion, form submissions, and user tracking.
Pros
· Easy installation
· Easy user-interface
Cons
· Limited Free Version
Pricing
The package starts from $199.
Conclusion
The benefits of using sales automation tools are endless because they streamline business processes and automate tasks that save time and effort. Moreover, small businesses can also benefit from best LinkedIn automation tools to smoothen their workflow and attract prospects while enhancing customer engagement. Small companies searching for automation tools must consider the tasks they want to automate and then pick a tool that can help their business needs.