Sales professionals spend time on activities like finding leads, creating proposals, sending emails, and making follow-up calls. It's not just about turning cold calls into hot ones; it's about having a streamlined workflow process that can be easily managed. This is where sales automation comes in handy.
With the help of a LinkedIn automation tool like Dripify, you can manage your sales process more effectively and efficiently so that your team has more time for interacting with customers.
Read on to learn more about how Dripify for sales teams can benefit your business.
What Is LinkedIn Automation?
LinkedIn automation refers to using software to automate specific tasks, such as making connections or sending messages. By automating these tasks, your sales team can save significant time.
LinkedIn automation tools simplify the sales process by putting many different marketing tasks on autopilot. The result is that your team can spend more time on closing deals instead of spending your time on administrative tasks like searching for leads, keeping track of who you've talked to about which service or product, and sending out emails about availability or setting appointments.
In addition, automation can help improve the quality of your LinkedIn and help you nurture better relationships with leads, prospects, and customers. It can be valuable for sales teams that want to make the most of their LinkedIn account.
Importance of LinkedIn Automation for Sales Team
Manually searching for and engaging with potential customers on LinkedIn can be time-consuming. Fortunately, many of the best LinkedIn automation software can help sales teams be more efficient and effective in their outreach.
Automate Repetitive Tasks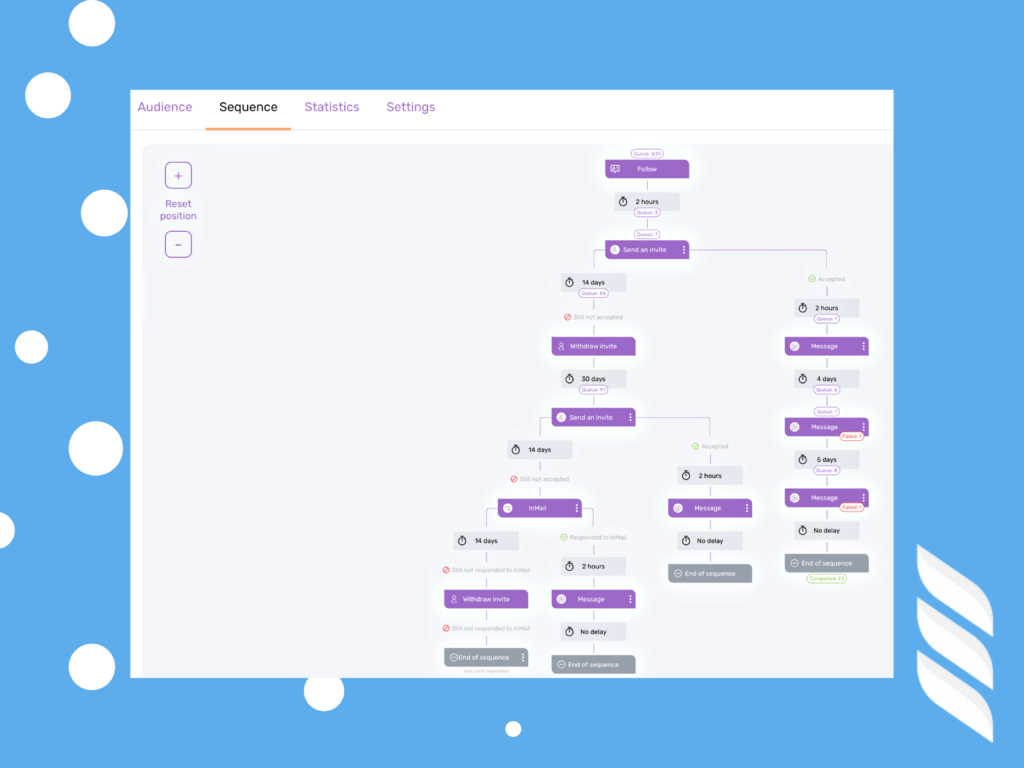 These tools allow you to automate repetitive and hectic tasks like finding new contacts, scanning profiles, sending messages, and responding to messages. LinkedIn automation can also be used to create sales engagement campaigns, which will help you nurture leads and close more deals faster.
For example, sales reps can use LinkedIn automation to find and connect with potential customers quickly. Also, these tools can help create drip campaigns, track engagement, and analyze campaign performance.
What's more, LinkedIn automation helps you nurture leads and create meaningful relationships. With a reliable LinkedIn automation tool, sales teams can quickly build relationships with potential customers, leading to increased sales and revenue.
Build Brand Awareness
The automation of LinkedIn marketing helps you build brand awareness. By automating repetitive and time-consuming LinkedIn activities, you can easily reach a larger audience and increase your visibility on the platform. Moreover, it can help drive traffic to your website.
In addition, automation tools can help sales teams manage their LinkedIn presence more effectively by scheduling posts and updates. As a result, LinkedIn automation helps the sales team connect with more prospects and close more deals quickly.
Improve Sales Velocity
As mentioned above, sales teams usually spend a lot of time on activities like prospecting, cold calling, and so on. With a LinkedIn automation tool, you can make your prospecting more effective and save time as well. Additionally, you can nurture leads and close more deals faster, improving your sales velocity.
Lead Generation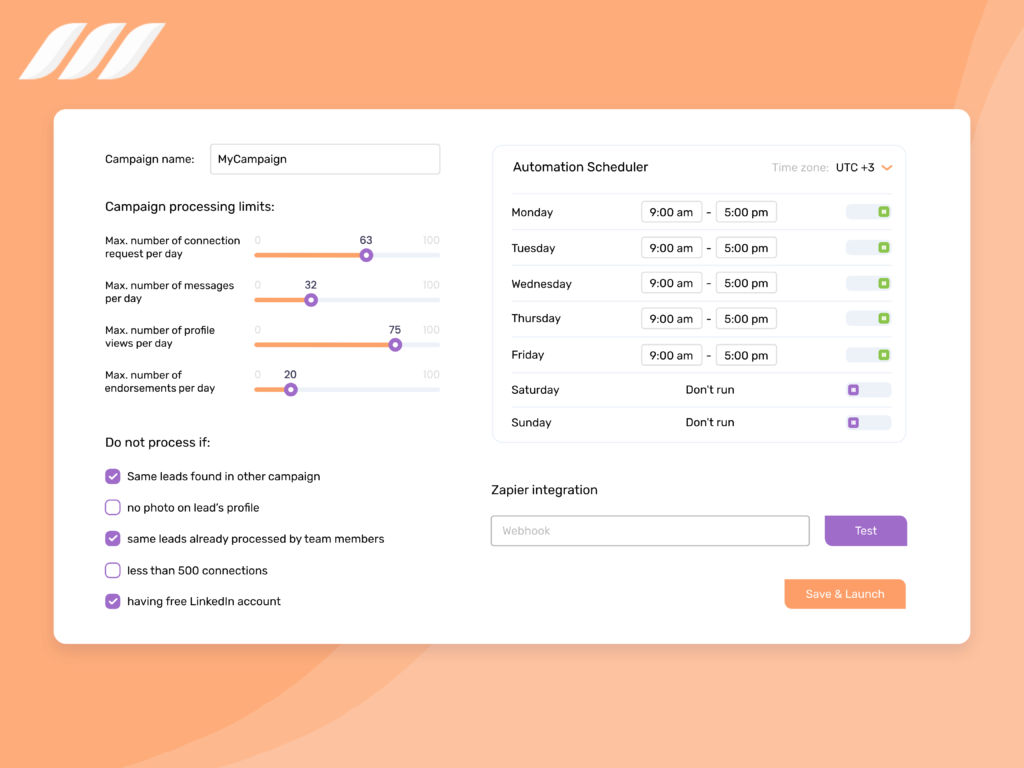 A sales team's number one goal is to generate new leads. LinkedIn automation can help you quickly find and add new contacts to your database. With the right software, you can create highly-targeted search campaigns and find leads based on location, job title, company, and other factors.
Plus, a good LinkedIn automation tool will allow your team to create a targeted lead-generation campaign with higher chances of conversion. Additionally, many tools allow you to create a sales engagement campaign, a series of automated messages sent to a list of potential customers.
Engage With Prospects
It's not just about reaching out to your prospects or leads; it's also about sparking engagement. Using a LinkedIn automation tool, you can send automated messages to your database of leads. These automated messages can help you build relationships with leads and nurture them toward a sale.
Moreover, you can schedule messages to be sent at the optimal time to boost engagement. LinkedIn automation tools also allow you to personalize your message and use built-in templates to create and send messages fast.
What is the Dripify LinkedIn Automation Tool Used For?
Dripify is an all-in-one LinkedIn automation tool that makes it easy to manage your LinkedIn marketing and lead generation campaigns. It helps you create drip campaigns and track and analyze their performance.
This tool lets you automate tasks like messaging LinkedIn users, finding leads, following up with leads and prospects, and much more. You can also use Dripify to respond to leads and manage your entire team.
Dripify is the perfect tool for marketing agencies that want to save time and generate more leads. It lets you quickly extract vital information about your leads and prospects and load it onto your CRM software. Furthermore, Dripify allows you to export lead data, which can boost your lead generation and sales process significantly. The best part? You don't have to worry about your account safety because Dripify is a fully safe cloud-based software for your LinkedIn account. While using this LinkedIn automation tool, you'll get a unique IP address from the area where you live, so the LinkedIn algorithm doesn't sense suspicion.
Benefits of Using Dripify LinkedIn Automation Tool for Sales Team
Here're some reasons why using Dripify for sales teams is always a good idea.
1. Easily Create Drip Campaigns
Dripify makes it easy to create drip campaigns that will help you connect with potential clients and close sales. You can create custom messages, target specific audiences, and track the performance of your campaigns.
The automated sales funnel feature also allows you to nurture leads with automated follow-up emails and other content. Dripify's LinkedIn lead generation software helps your sales team quickly and easily find leads so that you can focus more on interacting with clients.
2. Automatically Monitor Sales Performance
Dripify helps salespeople track sales performance and analyze sales data extracted from LinkedIn. You can view, track and evaluate LinkedIn sales activities, compare performance with other channels, and optimize campaigns based on crucial data.
Sales teams can also use the analytics feature to understand their customers better and target them more accurately. With this information, teams can optimize sales processes and improve sales performance.
3. Manage Your LinkedIn Presence
Dripify makes it easy for sales teams to manage their LinkedIn presence with an automated scheduling feature. You can easily schedule LinkedIn prospecting messages and follow-ups.
4. Streamline the Sales Process
Dripify helps sales teams streamline their sales process by automating routine tasks. For example, you can automatically send follow-up messages to leads and schedule meetings with potential customers on LinkedIn.
The platform helps you automate your sales process and speed up your response time. You can even remind your team of upcoming sales goals.
5. Save Time and Money
Dripify helps sales teams save time and money by automating complex processes. You can easily manage LinkedIn marketing campaigns with automated scheduling tools, track performance, and analyze data to optimize your efforts.
The platform also makes it easy for teams to connect with potential customers and close more deals quickly. With Dripify, sales teams can save time and money and still get the best results.
6. Manage Your Team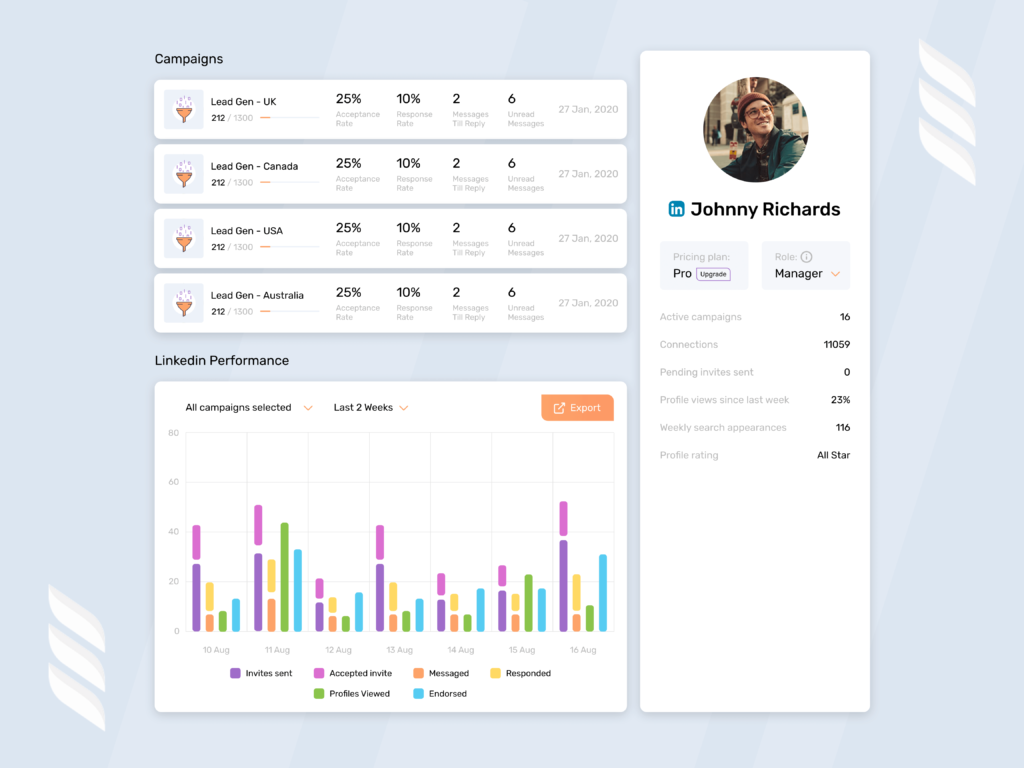 Dripify also helps you manage your team by providing a central platform where you can track their progress and send them messages. This helps keep everyone on track and ensures all your marketing efforts are coordinated.
What are the Different Types of LinkedIn Automation Tools?
LinkedIn has become one of the most powerful networking and business-oriented social media platforms. It's a place where businesses market themselves and their products. They also find new talent and build relationships with professionals.
Many businesses have started using automation tools to maximize the potential of LinkedIn. These tools help to automate repetitive tasks, such as sending connection requests or endorsing others. They also help you to generate leads and nurture prospecting.
Let us share the different types of LinkedIn automation tools with you now:
1. Content Publishing Tools
Content publishing tools allow you to post content on LinkedIn, including blog posts, articles, and videos. These LinkedIn tools help you to plan your content calendar, schedule post times, and track the performance of the campaigns.
They also provide features like automated LinkedIn messages, lead generation, and more. This helps the sales team to post content regularly and engage with their LinkedIn audience.
2. Connection Management Tools
LinkedIn connection management tools help salespeople build relationships with LinkedIn users. These tools allow you to send automated connection requests, follow-up messages, and endorsements. You can also use these tools to track interactions and engage with customers more effectively.
3. Lead Generation Tools
LinkedIn lead generation tools help businesses find leads on LinkedIn, gather contact information, and nurture prospects. They provide features like search automation, LinkedIn profile scraping, and contact finder.
And lead generation tools also help sales teams save time and money. They can use LinkedIn automation to identify potential leads, build relationships, and close more deals quickly.
4. LinkedIn Advertising Tools
Advertising tools provide features to create, manage and optimize LinkedIn Ads campaigns. These tools can target relevant audiences, monitor ad performance, and adjust real-time bids. This helps sales teams to maximize their LinkedIn Ads ROI.
Also, LinkedIn advertising tools offer analytics and insights to measure the success of each ad campaign. This allows sales teams to see which campaigns perform better and make necessary decisions.
5. Analytics & Reporting Tools
Analytics & reporting tools help you track LinkedIn performance and gain insights into the activities of your audience. You can use these tools to monitor social media activity, analyze content performance, and measure the ROI of LinkedIn campaigns.
6. Data Extraction Tools
Data extraction tools allow you to extract data from LinkedIn profiles, such as contact information, job titles, and more. You can use this data for marketing campaigns or contact lists. These tools can also help enrich LinkedIn profiles with missing data.
With Dripify, you can access many of these LinkedIn automation features in one place. The platform makes it easy to manage your LinkedIn campaigns and get the best results. It helps sales teams automate LinkedIn marketing and manage their team more effectively.
Why You Should Pick Dripify LinkedIn Automation Tool for Sales Team
There are tons of reasons why you should pick Dripify, an automation tool for sales teams. Read on for how your sales team can benefit from Dripify.
1. Cloud-Based LinkedIn Automation
Dripify is a cloud-based LinkedIn automation tool to help you manage your LinkedIn profile and connect with potential customers. It lets you automate your LinkedIn sales process from any device or location. You don't need to download it or save it anywhere.
2. Build Sales Funnels Using LinkedIn Actions
Dripify offers a powerful feature for building sales funnels. You can use LinkedIn actions to trigger sequences and other automated marketing tasks. This feature can help you boost lead generation and increase sales with LinkedIn. That's perfect for sales teams that want to maximize their LinkedIn sales potential.
3. Access LinkedIn Insights
Dripify also provides insights into LinkedIn performance, such as clicks, impressions, and engagement. You can use these insights to understand LinkedIn campaigns and optimize the LinkedIn sales process.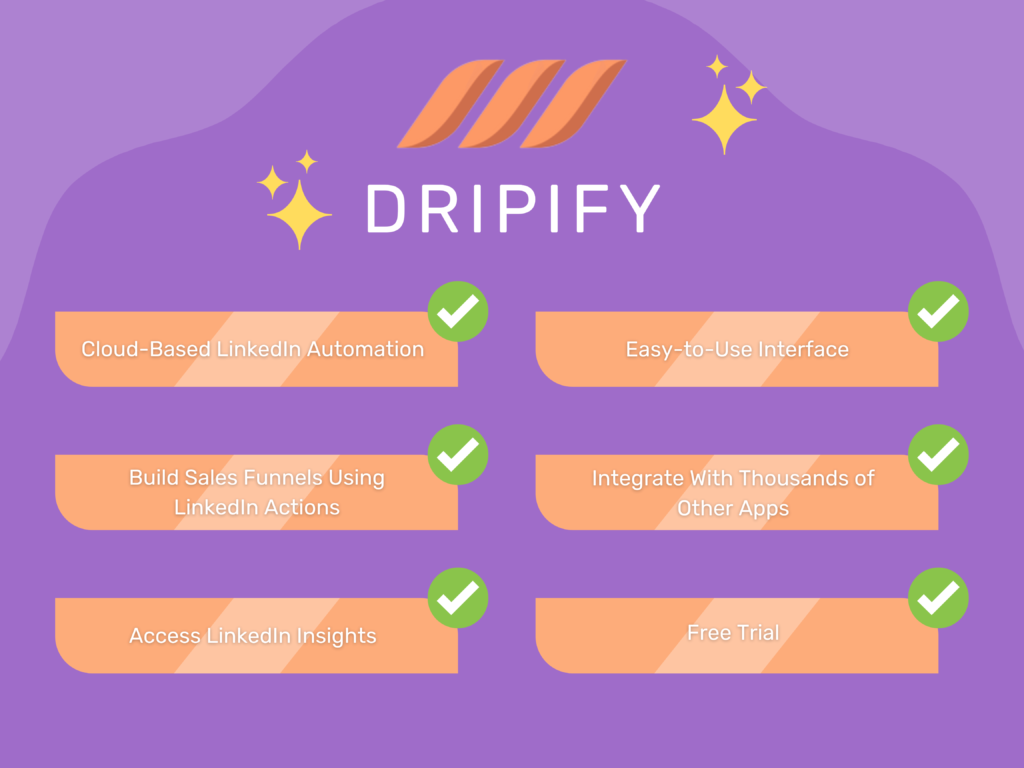 4. Easy-to-Use Interface
The Dripify platform is easy to use and provides a dashboard that helps you monitor LinkedIn performance. You can easily track your LinkedIn campaigns, analyze LinkedIn performance and adjust your LinkedIn strategies in real-time. That's perfect for sales teams that need to manage LinkedIn campaigns quickly and efficiently.
5. Integrate With Thousands of Other Apps
With Dripify's Zapier integration, you can integrate your sales efforts with thousands of other apps. For example, you can integrate LinkedIn campaigns with customer relationship management (CRM) software, email campaigns, and more.
6. Free Trial
Dripify offers a free trial, so you can try the LinkedIn automation tool before investing in it. And you don't even need to enter your credit card information to try the tool.
All you need to get started is your email address. That's a great way to understand what Dripify can do for your LinkedIn sales effort.
Conclusion
With a reliable LinkedIn automation tool, you can find new contacts, send messages, and respond to messages more efficiently. These tools can also be used to create sales engagement campaigns, which help you nurture leads and close more deals faster.
Dripify is the perfect LinkedIn automation tool for sales teams. It makes it easy to manage LinkedIn campaigns, maximize LinkedIn sales potential, and streamline your sales process. Invest in Dripify today and get the LinkedIn automation tools you need to succeed.