Do you want to kick your sales game up a notch? Imagine having a toolkit right at your fingertips, custom-made to skyrocket your sales performance. No more chasing dead-end leads or drowning in a sea of data!
Yes, we're talking about Sales Development Representatives (SDR) tools here. These tools play a pivotal role in identifying and nurturing leads, ultimately driving revenue growth. We'll uncover the absolute must-have SDR tools that will skyrocket your sales performance.
Say goodbye to the old way of doing things and embrace the power of sales automation, efficiency, and results.
What Is a Sales Development Representative (SDR)?
Before we jump into the best tools for SDRs, let's make sure we're on the same page about what an SDR actually does.
A Sales Development Representative (SDR) plays a pivotal role within the B2B sales ecosystem. Essentially, SDRs act as the initiators of the sales process, responsible for identifying, engaging, and qualifying potential leads before passing them along to the sales team for further cultivation and conversion.
Think of an SDR as a skilled navigator in the vast sea of potential clients. Their task is to discern the prospects that hold the greatest promise – those who are not only interested in the offerings but are also in alignment with the company's target clientele. This filtration process ensures that the sales team invests its efforts in the most viable opportunities.
Here's a sneak peek into the role of an SDR in the sales process:
Lead Identification: Identify potential leads from various sources.
Outreach: Initiate contact through calls, emails, and social media.
Qualification: Assess lead interest and fit for the offering.
Appointment Setting: Schedule meetings for the sales team.
Nurturing: Engage and build rapport with leads over time.
Handoff: Pass qualified leads to sales for closing.
Data Management: Update and maintain CRM records.
Feedback Loop: Provide insights to refine sales strategies.
Read also: Best CRM Software for Sales
What Are SDR Tools?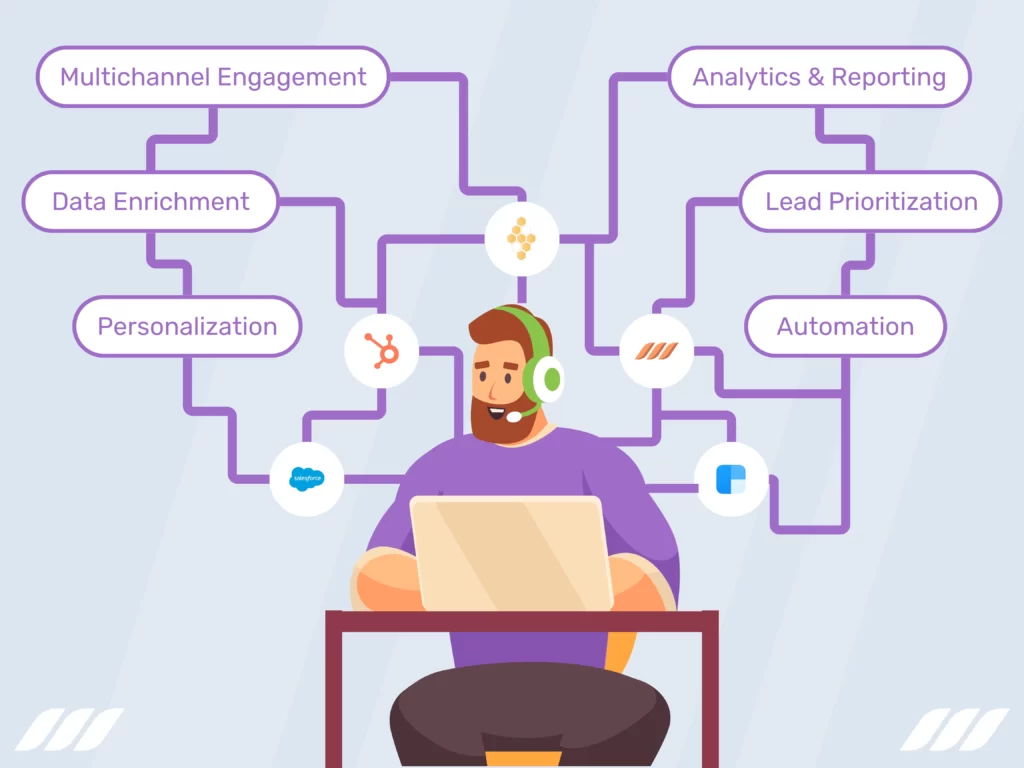 These nifty tools are designed to supercharge your sales prospecting, streamline your outreach, motivate your sales team, and make your life a whole lot easier. They're like your trusty sidekicks, always by your side to help you increase sales and achieve your goals.
SDR tools basically encompass a suite of software applications and technologies that are specifically designed to empower SDRs in their mission to identify, engage, nurture, and qualify potential leads.
Automation: The best tools for SDRs allow you to automate repetitive tasks, such as follow-up emails, appointment scheduling, and logging interactions. This automation not only reduces manual effort but also ensures consistent and timely engagement with leads.
Personalization: As a sales professional, you know that effective communication hinges on personalization. SDR tools help you create customized messages, addressing prospects by name, reference their specific pain points, and align messaging with their unique needs.
Multichannel Engagement: Modern prospects interact across various channels, from email to social media and beyond. SDR tools help you engage leads across these diverse platforms, increasing the likelihood of capturing their attention and initiating meaningful conversations.
Data Enrichment: SDR productivity tools provide real-time data enrichment, furnishing SDRs with valuable insights into lead demographics, company details, and online behavior.
Analytics and Reporting: These softwares offer robust analytics to measure the performance of your outreach efforts. With in-depth analytics at your fingertips, you gain a clear and precise understanding of how your efforts are resonating with your target audience.
Lead Prioritization: SDR tools enable lead scoring and prioritization based on factors such as engagement level, company size, and industry.
Top 5 SDR Tools to Drive More Results
Now that you know the role of SDRs and SDR tools in the sales process, let's have a look at the best SDR tools out there.
1. Dripify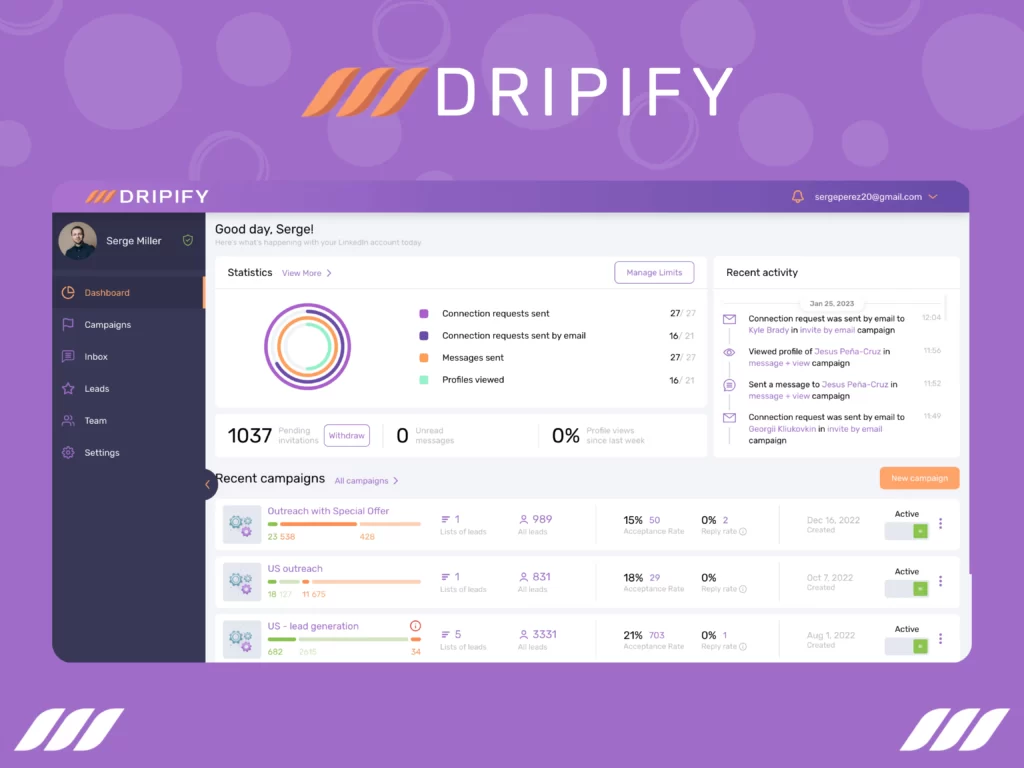 Meet Dripify – your modern ally for LinkedIn automation, sales intelligence, and email marketing. This powerhouse platform not only saves you time but also supercharges lead generation.
Why do SDRs need to use Dripify? Well, from LinkedIn prospecting to email automation and email discovery tools, Dripify makes your cold outreach a breeze. Plus, the magic of AI-driven technologies pushes personalization to new heights.
Key Features
LinkedIn Automation: Automate repetitive LinkedIn lead generation tasks like profile visits, messaging, follow-ups, skill endorsements, and much more.
LinkedIn Scraping: Dripify lets you scrape LinkedIn profiles, extracting valuable data like names, job roles, companies, and contact info for sales and marketing efforts.
Email Discovery and Verification: The email search and verification tools work perfectly for getting info like decision-makers' valid contacts.
Analytics: The in-depth email performance analytics help make informed decisions and refine your B2B sales strategy.
Automated Email Sequences: Create a series of perfectly timed emails to nurture your leads without lifting a finger.
Personalization Magic: Customize each email with your lead's name, pain points, and more to make it feel like you're writing just for them.
Tracking Wizardry: Get notifications when your emails are opened, links are clicked, and be ready to strike while the iron is hot.
Pricing
Dripify offers various pricing plans to fit your needs, starting at just $39/user/month.
2. HubSpot Sales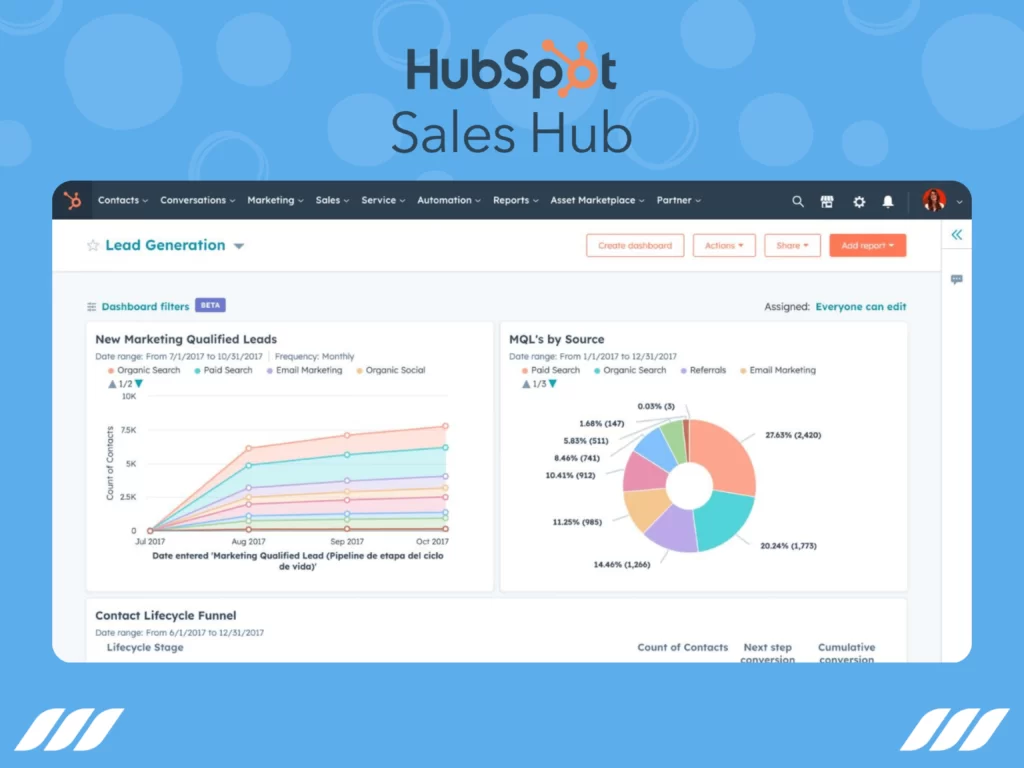 HubSpot Sales is also one of the top SDR tools out there. It is an all-in-one platform that helps you organize your leads, track interactions, seal deals, and stay on top of your follow-ups. No more sticky notes and mental gymnastics to remember where you left off with each lead.
Key Features
Email Templates: Convert your top-performing sales emails into customizable templates for efficient team collaboration.
Email Tracking: Stay informed as soon as a lead opens an email, enabling timely follow-ups and quicker deal closures.
Document Management & Tracking: Create a repository of valuable sales content, easily share documents through email, and track their impact on deal closure.
Conversation Intelligence: Automatically capture call details and gain valuable insights through AI-powered analysis, enhancing coaching opportunities.
Call Tracking: Optimize your sales call strategy by prioritizing and logging calls in your CRM for streamlined efficiency.
Sales Automation: Establish personalized, automated email sequences and follow-up tasks to maintain engagement throughout the sales journey.
Interested in knowing about sales automation tools? Check out our comprehensive article on the best sales automation tools out there.
Pricing
HubSpot Sales offers a free plan with basic, limited features. More robust options start from $45/month.
3. SalesHive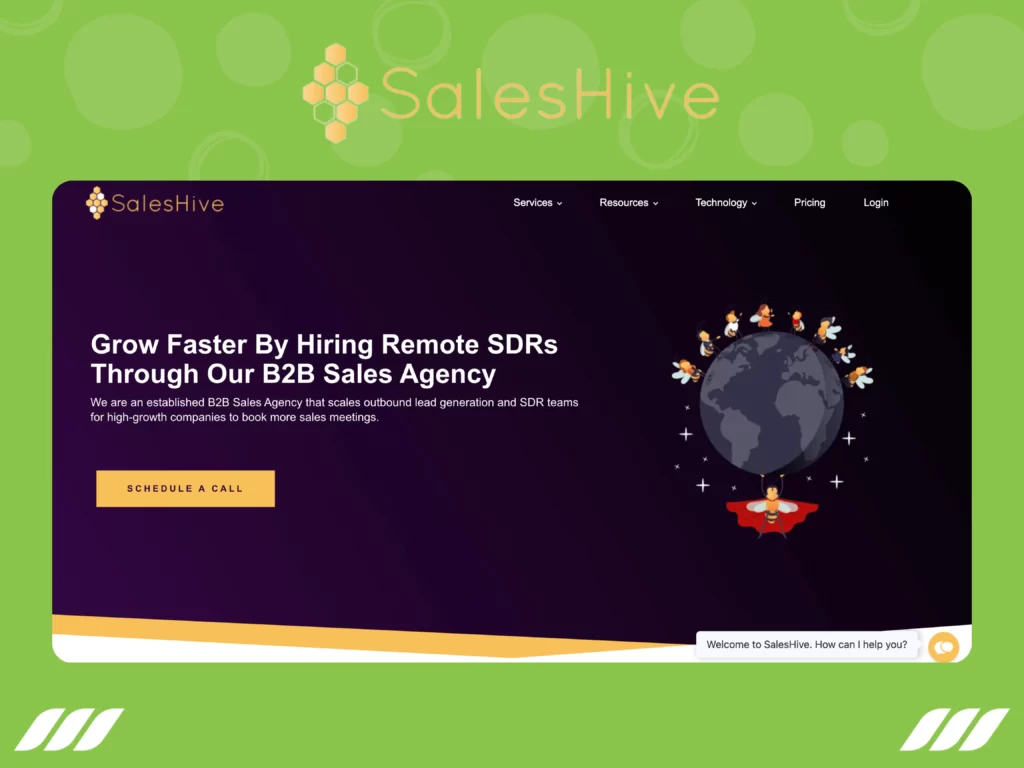 SalesHive functions as a B2B lead generation agency that uses cold calling, email, LinkedIn, and direct mail strategies to secure meetings with well-qualified buyers from high-potential prospects. The company relies on an exclusive technology platform for its operations.
Key Features
Cold Calling: Let highly skilled sales development professionals from the United States do cold calling on your behalf. These professionals ensure your sales representatives' schedules are brimming with eager and promising leads.
Email Marketing: SalesHive can run cold email outreach initiatives on your behalf to get appointments for high-value meetings with key decision-makers within your designated target market.
LinkedIn Marketing: Steer clear of draining your resources on costly InMail credits for social outreach. SalesHive offers a different approach – focus on the very same prospects you engage through emails and cold calls.
Direct Mail: Let SalesHive delight your prospects with a personally handwritten letter. This gesture resonates, setting the stage for a lasting and impactful connection.
Pricing
SalesHive offers pricing tailored to your needs, so you can get started without breaking the bank. The Starter plan is priced at $5,000 per month.
4. Salesforce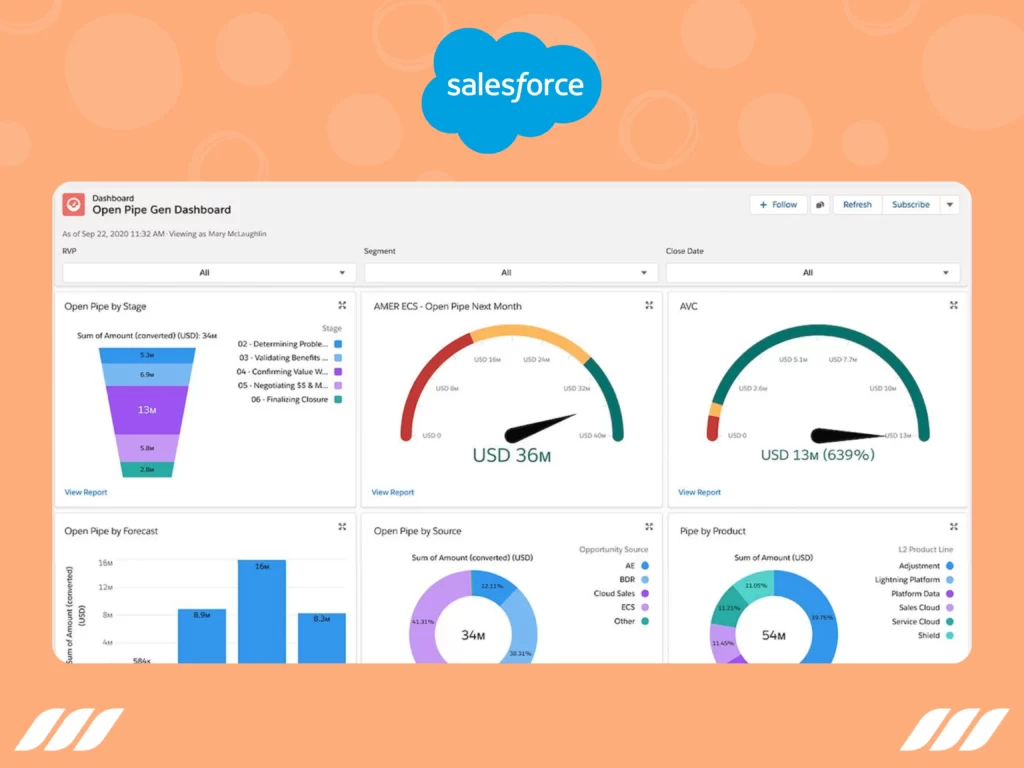 If you're in the sales game, you've probably heard of Salesforce. It's like the granddaddy of CRM (Customer Relationship Management) software. But here's the thing – it's not just for the big players. Even if you're a small startup, Salesforce can work wonders for your sales process.
Key Features
Contact Management: Centralize customer information, interactions, and communication history in a single location, enabling efficient tracking of customer details and engagement.
Opportunity Management: Monitor and manage sales opportunities throughout their lifecycle, from initial lead to closed deal, with tools for forecasting, pipeline visualization, and revenue tracking.
Automation Superpowers: Automate repetitive tasks, so you can focus on what you do best – building relationships and closing deals.
Sales Analytics: Access insightful reports and dashboards that provide a comprehensive view of sales performance, allowing for data-driven decision-making and strategy refinement.
Pricing
Salesforce offers different editions, starting from $25/user/month, with more advanced features in higher-tier plans.
5. Clearbit Connect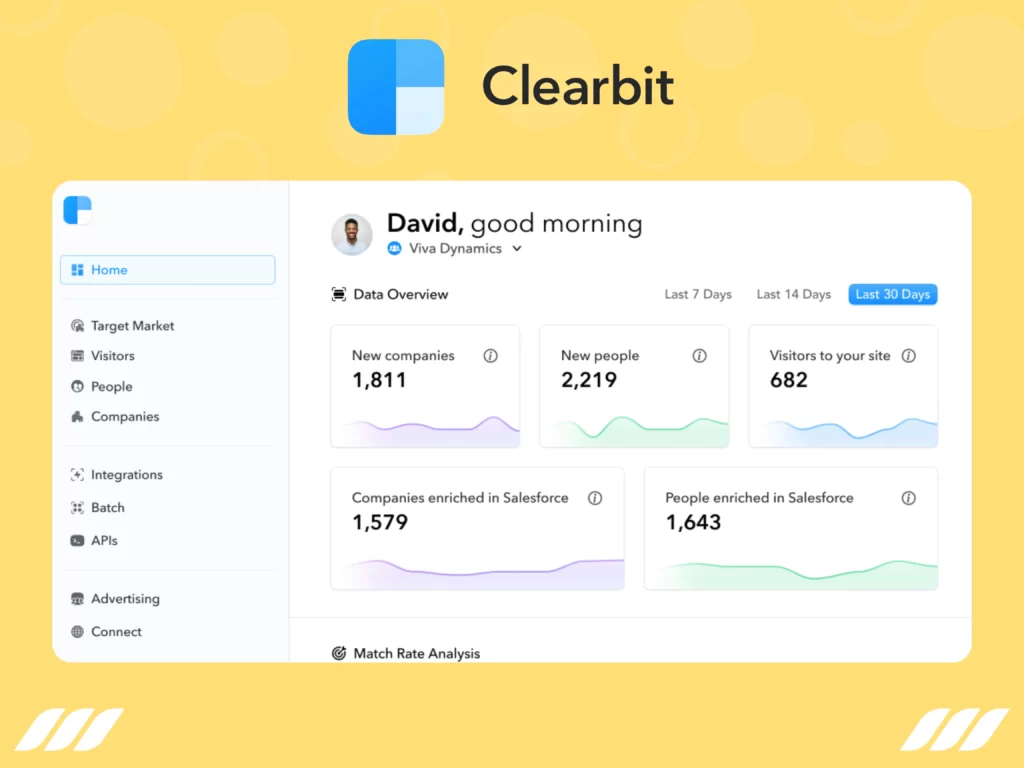 Ever wished you had a crystal ball that told you your leads' email addresses and other details in seconds? Well, meet Clearbit Connect – a Chrome extension designed to connect you with actual individuals within the right organizations. After installation, you can instantly find validated emails from reputable companies seamlessly integrated into Gmail or as you research your potential clients' websites.
Key Features
Find Email and Get Insights Uncover a treasure trove of information about your prospects, encompassing their geographical location, role within the organization, social media profiles, and of course, their invaluable email address.
Discover Comprehensive Company Details: Navigate to any company's website and unlock a wealth of information about the organization, from its geographical location and employee count to estimated yearly revenue, technology stack, and beyond.
Pricing
Clearbit Connect offers a free plan with basic features. The prices for more advanced options depend on your needs and business size.
Advantages of Using SDR Tools
Now that you're armed with the top SDR tools, let's talk about the sweet benefits they bring to the table:
Time Savings: Say goodbye to hours spent on manual tasks. These tools handle the hard work, allowing you to focus on interactions, building relationships, and closing deals.
Personalization at Scale: You'll be a personalization pro, sending tailored messages to each lead without burnout.
Efficiency Overload: SDR tools streamline your workflow and sales process, ensuring no lead falls through the cracks.
Data-Driven Decisions: Dive into analytics and insights to fine-tune your strategy and boost your success rate.
Choosing the Best SDR Tool
There you have it – your guide to the top SDR tools that will turbocharge your sales performance. Say goodbye to the old way of doing things and embrace the world of automation, efficiency, and jaw-dropping results.
But hold your horses before you dive in headfirst. Choosing the best SDR tools is like finding your sales soulmate. Consider the following factors to make an informed choice:
Your Sales Workflow: Does the tool align with your existing process?
Features: Do the features match your needs and growth plans?
Integration: Can the tool go along with your existing tech stack?
Budget: Is the pricing a good fit for your business?