Sales is the lifeblood of any business! But as your business and customer base grows, keeping track of every element in the sales process can be challenging. As such, sales reps require much support in their daily operations.
If your team uses spreadsheets to manage leads and track opportunities, you're putting them at risk of missing important leads or forgetting about follow-up tasks. Luckily, with the right tools, it can be much easier.
The best CRM software for sales will help your team stay organized and on top of every opportunity. Plus, it will make it easier for everyone to work together as a team with shared visibility into every account.
A good CRM system can save time and money for sales teams, enabling them to be more productive and see more leads through to completion – meaning more revenue for the company. Manage your sales team in a few clicks with Dripify.
But given the many different options available out there, it can be tricky to choose the best sales CRM for your sales team.
Each software comes with different features and functionalities. You want to choose a CRM software that meets your sales reps' needs, streamlines the sales process, and integrates with other collaborative tools.
We have compiled a list of the top CRM software for sales and marketing. These best sales management software are top-rated and are used by tens of thousands of businesses and startups for sales management. They are easy to use and help you manage your sales process, not just track contacts.
But before we introduce the best sales CRM softwares, let's discuss what CRM software for sales is and why you should use it for your business.
Read also: Best SAAS Management Platforms
What Is CRM Software for Sales?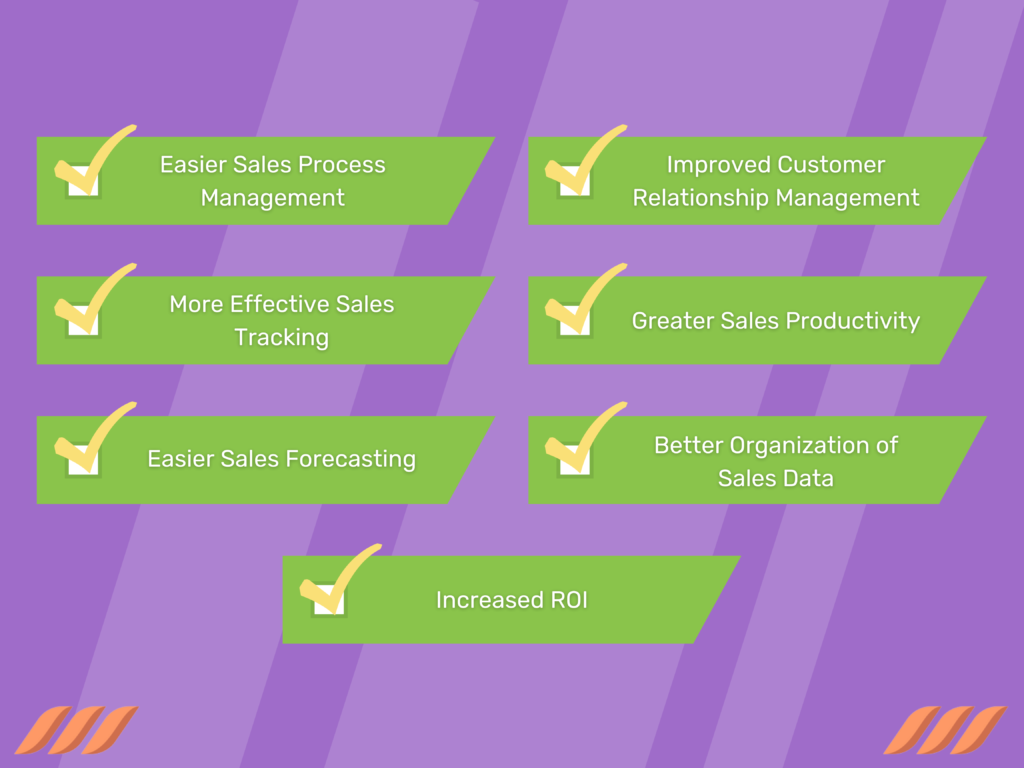 Customer relationship management software (CRM) for sales is a tool that helps businesses manage their sales process. It comes with many different features, including contact tracking, account management, customer data management, sales activities automation, results tracking, and much more.
A CRM for sales and marketing can help businesses keep track of their progress and make better decisions about their strategies. So it's important to choose the right sales management software for your SMB or large company.
Let's explore how sales teams can benefit from a sales CRM:
Why Use CRM Software for Sales: Top 7 Benefits
The best CRM for your sales team shall be intuitive, easy to navigate and cater specifically to sales reps and their needs. Your company and sales team can benefit from these features in multiple ways. Let's discuss the top 7 benefits of using CRM software for sales.
1. Easier Sales Process Management
CRM software helps businesses easily track and manage their sales and marketing processes. This can help you close more sales deals and improve your sales productivity.
2. Improved Customer Relationship Management
The right CRM software will allow you to effectively manage your customer relationship. You can provide better customer service and support by tracking customer data and interaction history. This will lead to improved customer relationship management.
3. More Effective Sales Tracking
Track your sales activities more effectively with the CRM tool. You can better understand your sales performance and identify areas for improvement, ultimately increasing your sales. If you're a startup, try choosing a small business sales tracking software that also offers CRM features.
4. Greater Sales Productivity
CRM software can boost sales productivity by automating common sales tasks and providing useful sales metrics and reports. It also reduces your sales team's workload.
5. Easier Sales Forecasting
The best CRM software will allow you to predict your future sales performance by tracking past sales data and trends. That's especially beneficial for seasonal businesses. This can help you make better inventory, staffing, and marketing decisions.
6. Better Organization of Sales Data
Organize your company's sales data effectively, making it easier to find and access information when needed. A good CRM software will streamline the process of creating sales reports and analyzing data.
7. Increased ROI
CRM software generally provides a higher return on investment (ROI) than other types of business software. And that is because it is directly linked with sales, profitability, and business growth.
Of course, not all CRM software is created equal; some are better than others. That's why you must choose the one that suits your business needs.
Top 13 Best CRM Software for Sales
When you look around, you'll find many different CRM software options in the market, each with its features and benefits. So, which one is the best CRM for sales reps, you ask?
We've rounded up the top 13 best CRM software for sales to make it easy for you to pick the most suitable one for your business. Keep reading!
1. Really Simple Systems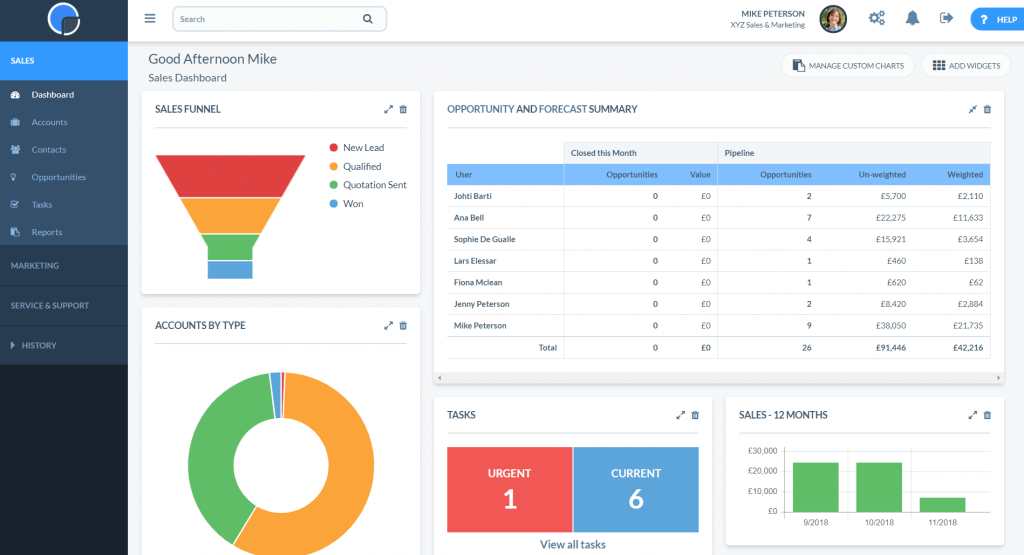 Nurture your leads, build strong relationships and close more sales with Really Simple Systems CRM. This software is perfect for growing teams in the B2B industry, so you can focus on what you do best and let the software take care of redundant and time-consuming sales activities.
The easy-to-use interface lets you track your entire sales pipeline from first contact to closing the deal. The valuable insights and reports will help you see where you're winning and where you need to improve.
We recommend it as one of the best sales management software for small businesses. It is also scalable, so you can adapt it to your needs as your business grows into a large company.
Pricing:
Really Simple Systems is free for two users and starts at $14 per user per month if billed annually. Furthermore, you can power up your CRM with add-ons like Simple Marketing, Advanced Marketing, and more.
2. Capsule CRM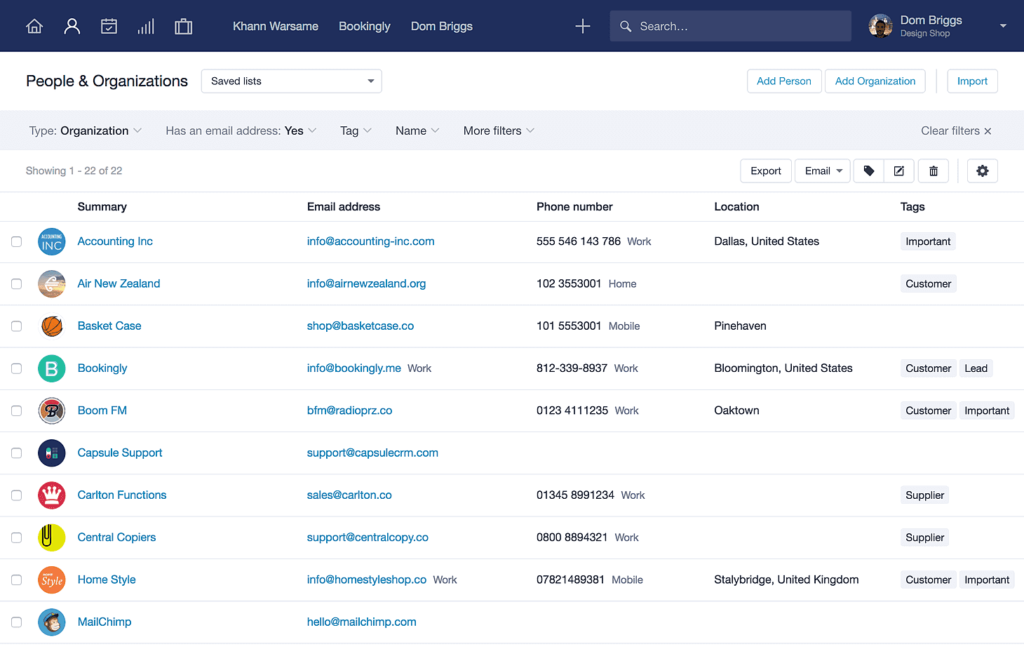 With Capsule CRM, you can easily store and share contacts with colleagues while keeping your data organized and tidy.
Plus, it allows you to generate reports on your sales pipeline, track activity between you and your leads, and manage to-do lists and calendars. And you can use the "tracks" feature to create a consistent selling process.
Capsule CRM integrates with Microsoft 365 and Google Workspace! It also includes a range of third-party integrations, such as Mailchimp, that make it easy to keep track of all of your contact data in one place.
It's not just about contacts; you can also manage your deals, tasks, and more. Overall, small and medium businesses can use a powerful CRM tool to stay organized and efficient.
Pricing:
Capsule CRM offers a variety of pricing plans to fit the needs of any business. The basic plan is free for up to 2 users and 250 contacts.
The professional plan costs $18/per user per month and includes 50,000 contacts and 10GB of storage per user with many features.
3. Apptivo CRM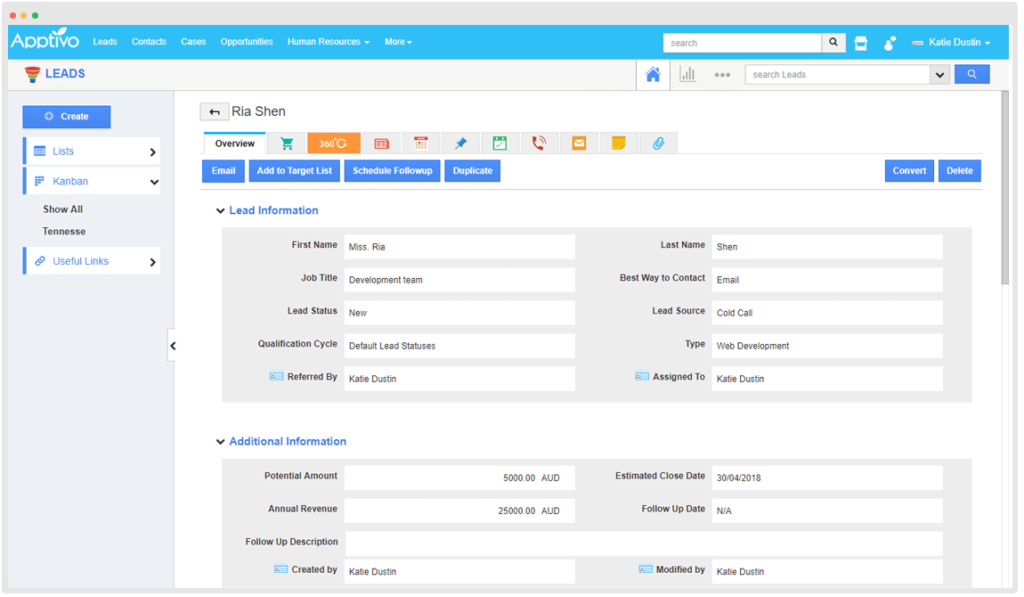 Apptivo CRM Software is a comprehensive tool that can help businesses of all sizes attract, engage, retain, and serve more customers. It offers a wide range of features like:
Contact management
Lead tracking
Task management
Project management, and more.
The software helps your business manage sales, email marketing, billing, offers, services, procurement, and other essential functions.
Apptivo CRM Software is also completely customizable, so businesses can create a system that fits their specific needs. This software is also very user-friendly, making it easy for employees to learn and use.
Sales Management: Apptivo CRM Software makes it super easy to track sales pipelines and manage customer relationships. You can create quotes, orders, and invoices, manage payments, and track expenses.
Email Marketing: Apptivo CRM includes powerful tools for creating and managing email campaigns. You can track email opens and clicks, as well as measure the effectiveness of your campaigns.
Billing and Invoicing: It is super easy to create invoices and manage payments in Apptivo CRM. Plus, you can also track expenses and revenue over time.
Offers Management: Creating and managing offers wasn't so easy. Apptivo CRM allows you to track leads, prospects, and customers, as well as measure the effectiveness of your offers.
Service Management: Track service requests and manage customer relationships. Create tickets, assign them to team members, and track the status of each request.
Procurement Management: Create purchase orders, receive goods and services, and track expenses.
Integration: The software integrates with various third-party applications, including Google Apps, QuickBooks, Salesforce CRM, and more.
Pricing:
The starter plan is free forever for one user with features like Contact, Lead List Management, Tasks, and more. The file storage allowed is 500MB per account.
The Lite plan starts for as low as $18 per user per month for using 18 apps and 25 workflows. Premium and Ultimate plans cost $12 and $20 per month per user, respectively.
4. Pipedrive CRM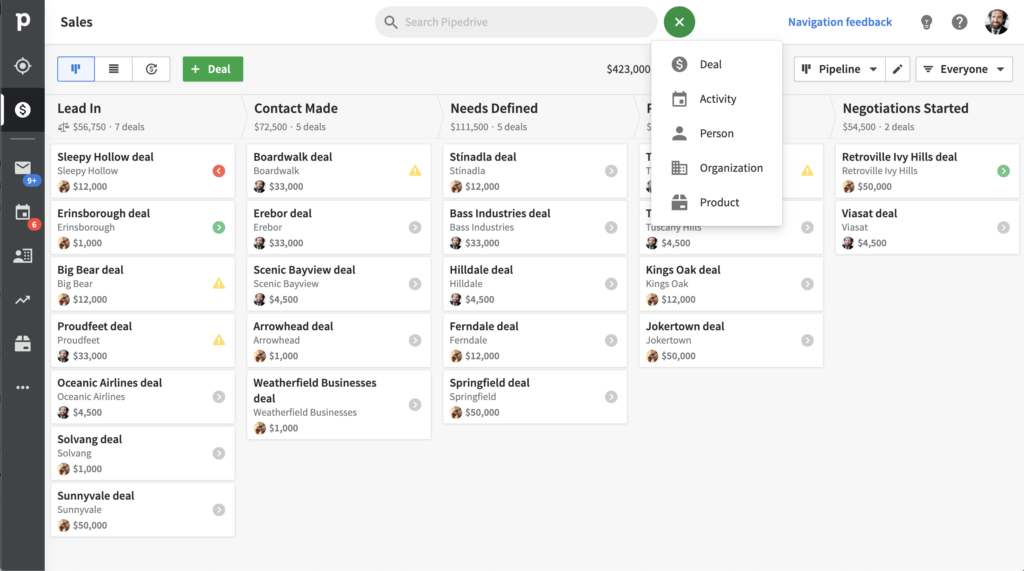 Pipedrive is a customer relationship management tool that helps businesses manage their sales pipeline. It offers a web and mobile app that allows users to create and manage sales deals, track progress, and collaborate with team members.
Here're the top features of Pipedrive CRM software now.
Deal Management: Create and manage sales deals, track progress, and collaborate with team members.
Pipeline View: Get an overview of your entire sales pipeline and see which deals are close to closing.
Email Integration: Sync your email account with Pipedrive to easily add new leads and contacts.
Reports: Generate reports on your sales activity and track your progress over time.
Pipedrive CRM Software for sales is an all-in-one solution that helps you manage your sales process from beginning to end.
The software offers powerful features like lead management, email marketing, integrations, and more to help you increase your sales productivity.
Pipedrive also offers a beautiful and user-friendly interface that makes it easy for you to track your progress and stay organized.
Pricing:
Pipedrive CRM doesn't offer a free plan but a free trial for 14 days without requiring your credit card. The starter "Essential" plan comes at $9.9 per user per month for 3000 active deals, 30 custom fields, and 15 reports.
5. Salesforce Sales Cloud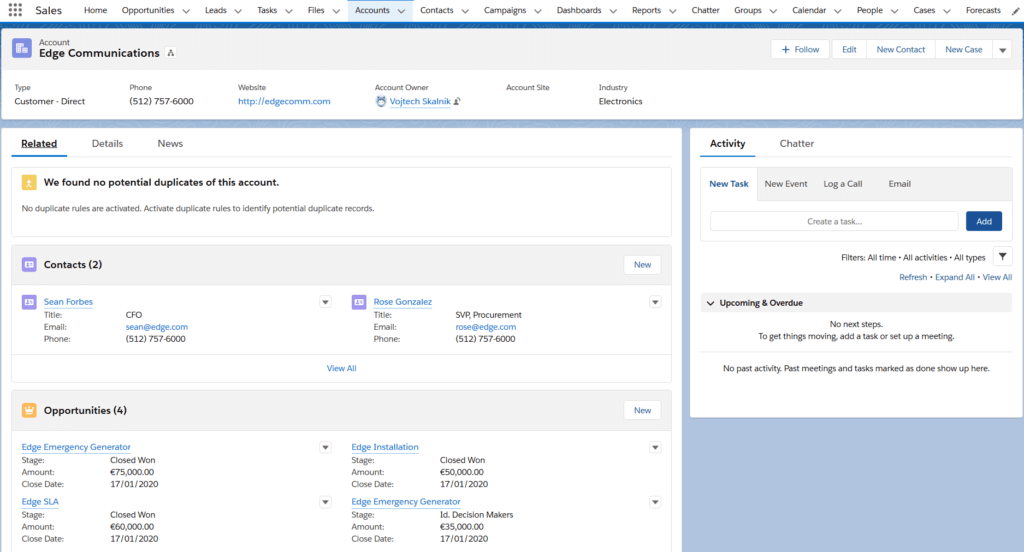 If you're looking for a powerful CRM to help you win more deals, try Sales Cloud from Salesforce. It is the perfect solution for sales teams of all sizes.
This tool provides everything you need to win more deals, including a powerful CRM, robust customer support tools, and integration with Slack.
With Sales Cloud, you can manage your pipeline and keep track of your customers' progress through every stage of the sales process.
Plus, you can also collaborate with your team members and get real-time updates on what's happening with each deal.
Salesforce Sales CRM Software helps you grow revenue confidently and make mobile and virtual your new normal. You'll get support every step of the way. It also helps you keep track of your leads and opportunities.
You can easily see which deals are most likely to close so that you can focus your efforts on the most promising opportunities.
Plus, with dashboards and reports, you can track your progress towards your goals and identify areas for improvement.
Salesforce Sales CRM Software also makes it easy to manage your customer relationships. You can easily view contact information, account details, and recent interactions. And with powerful search capabilities, you can quickly find the information you need.
Also, you can create proposals, track activity and outcomes, and send email reminders to keep your sales process on track.
And finally, you can collaborate with your team to complete the job faster with the right integration.
Pricing:
You can try Salesforce Sales Cloud CRM's free trial to determine if it fits your business well. The "Essential" plan starts at $25 per month per user with all-in-one sales features and support.
Professional, Enterprise and Unlimited plans are charged at $75, $150, and $300, respectively, per month per user.
6. Freshsales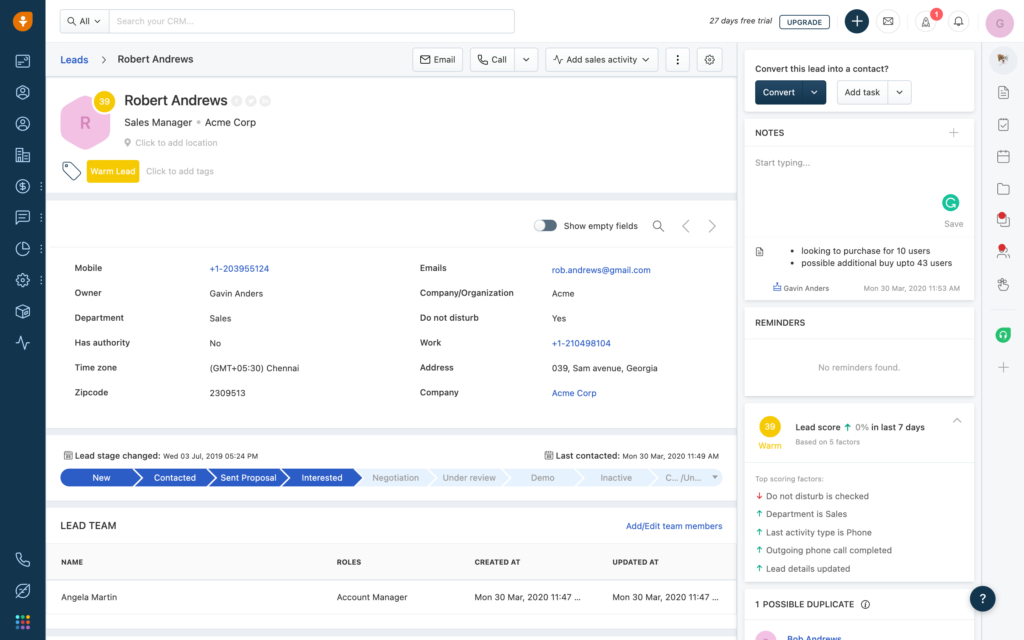 Freshsales is a comprehensive CRM software that helps businesses close deals faster and improves seller effectiveness. It provides a 360° view of customers, streamlines the sales process, and reduces IT complexity & cost.
The feature-packed software helps businesses personalize engagement, shorten the sales cycle, and boost revenues. It does this by providing context-driven sales capabilities, which give you a complete view of each customer and their needs. This allows you to create more targeted and effective sales engagements, leading to shorter sales cycles and more closed deals.
Freshsales has several other features, including lead management, pipeline management, and product management.
Some of the key features of Freshsales are listed below:
Lead Management: Manage leads effectively and convert them into customers. Record all contact information and track the progress of each lead.
Sales Tracking: Keep track of your pipeline and forecast future sales. Monitor the performance of your team and individual members.
Customer Relationship Management: Keep a record of all customer interactions and transactions. Build better relationships with your customers and increase sales conversions.
Email Marketing: Send personalized email marketing campaigns to your customers. Segment your customer list and target specific groups with relevant offers.
Reporting & Analysis: Analyze your sales data and get insights into how to improve your sales process. Generate customizable reports to make informed decisions.
Pricing:
Freshworks has a free-forever plan to organize sales teams and engage leads. The "Growth" plan offers more powerful features for $15 per month per user.
And the pricing for "Pro" and "Enterprise" is $39 and $69 per month per user, respectively.
7. Salesmate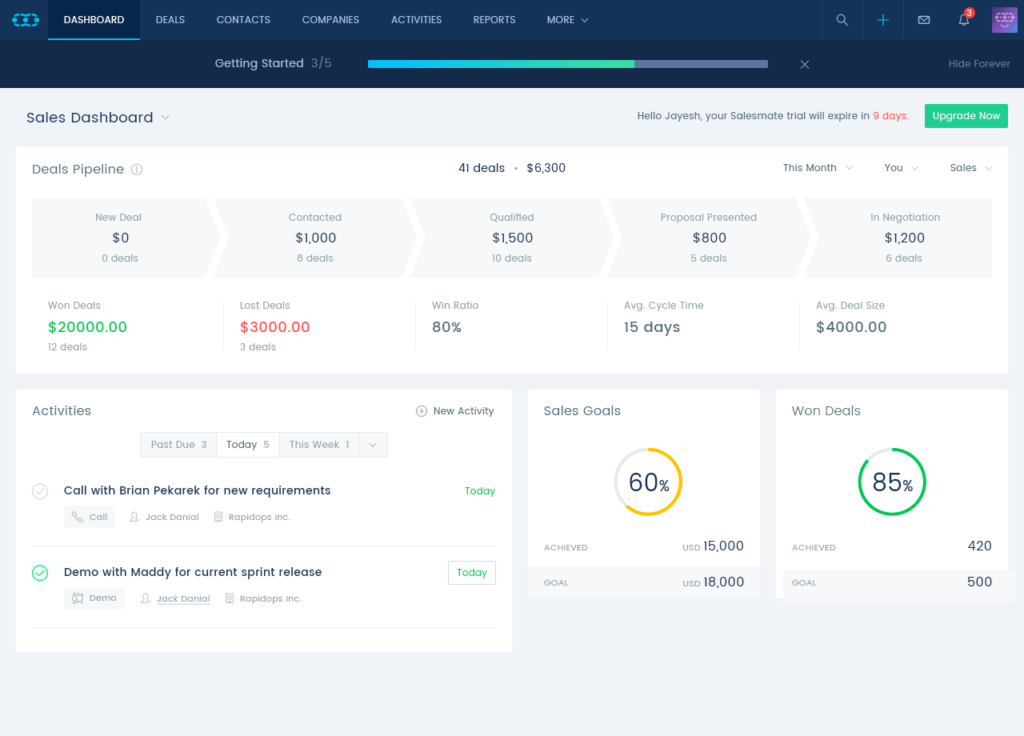 Salesmate is a CRM cum automation software that helps you grow your revenue and relationships by offering simple, personal, and productive experiences for your sales team and customers.
With Salesmate, you can easily manage your sales pipeline, track customer interactions, and automate your sales process.
Additionally, Salesmate offers powerful reporting and analytics tools that give insights into your sales performance.
This CRM software helps businesses in sales automation, lead management, contact management, and product management. It offers built-in calling, text messaging, power dialer, web forms, messenger, email builder, and sales pipeline management features.
Sales activity tracking and contact management are also some of its key features. Additionally, it has sales reports and forecasting capabilities to help businesses make better decisions. The best part? It has customization features so you can adapt it to your business and industry.
Pricing:
You can try Salesmate for free for 15 days without needing a credit card. Or maybe you'd want to get started at $12 per user per month, billed annually.
Other annual plans named "Growth" and "Boost" come at a monthly price of $24 and $40 per user.
8. Zoho CRM Software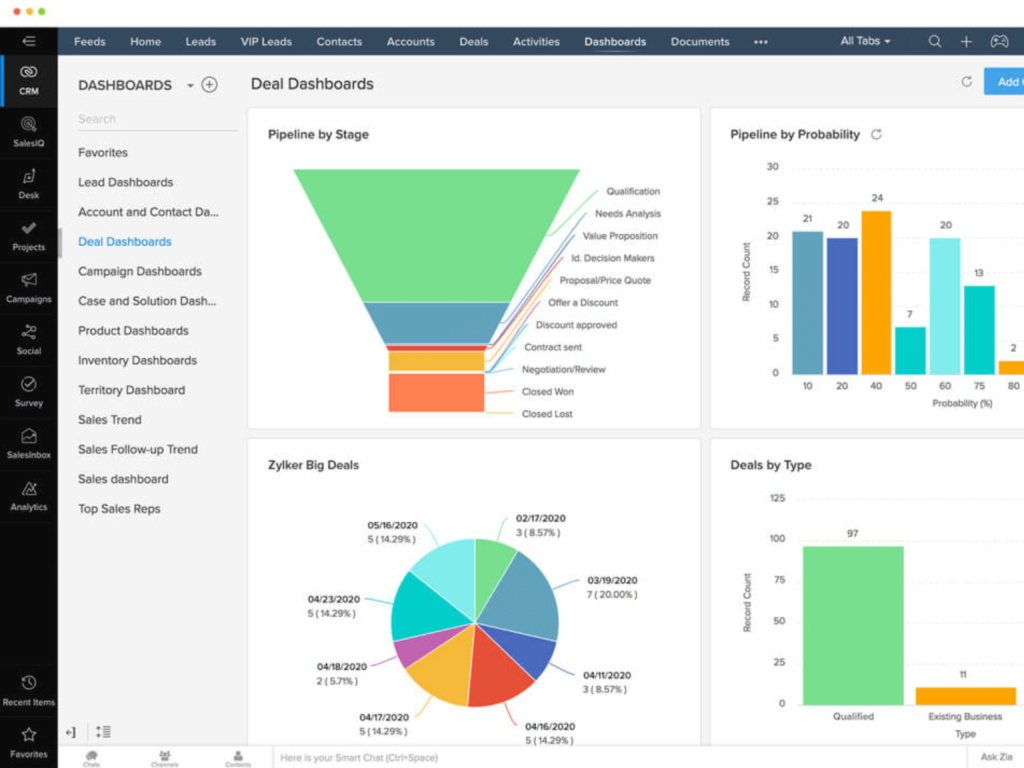 Zoho CRM Software is a comprehensive tool that helps businesses automate their sales and marketing processes and manage customer relationships more effectively.
The software offers a wide range of features and capabilities that can be customized to fit the specific needs of individual businesses.
Let us share some key features of Zoho CRM:
Process management: Easily create, manage, and track sales and marketing processes using Zoho CRM.
Journey orchestration: Create custom customer journeys and automate marketing processes.
Omnichannel: Interact with customers through multiple channels (including email, social media, and phone).
Analytics: Gain insights into their sales and marketing performance with the help of detailed analytics reports generated by Zoho CRM.
Sales enablement: Access all the information you need to close deals faster and more effectively.
Performance management: Track the progress of your sales and marketing efforts over time and identify areas for improvement with the help of performance metrics.
Predictive sales: Use the predictive analytics capabilities of Zoho CRM to identify high-value leads and prospects most likely to convert into customers.
Customization: Tailor the functionality of Zoho CRM to meet your company's specific needs.
Marketing automation: Automate your marketing tasks and processes using powerful automation features.
Team collaboration: Collaborate with other team members on tasks, projects, leads, and other data using the built-in collaboration features.
Remote work: Access Zoho CRM from anywhere worldwide, provided you have an internet connection.
Mobile: Access all the features of Zoho CRM on the go from your smartphone or tablet.
Security: Rest assured your data is safe and secure, thanks to the strong security features offered by Zoho CRM.
Developer platform: Build custom applications or integrations using the powerful developer platform.
Pricing:
Zoho CRM offers a free trial that you can try to check its viability for your business. The "Standard" plan comes at $14 per user per month annually. The pricing for "Professional," "Enterprise," and "Ultimate" plans is $23, $40, and $52 per month per user with all the features.
9. Salesflare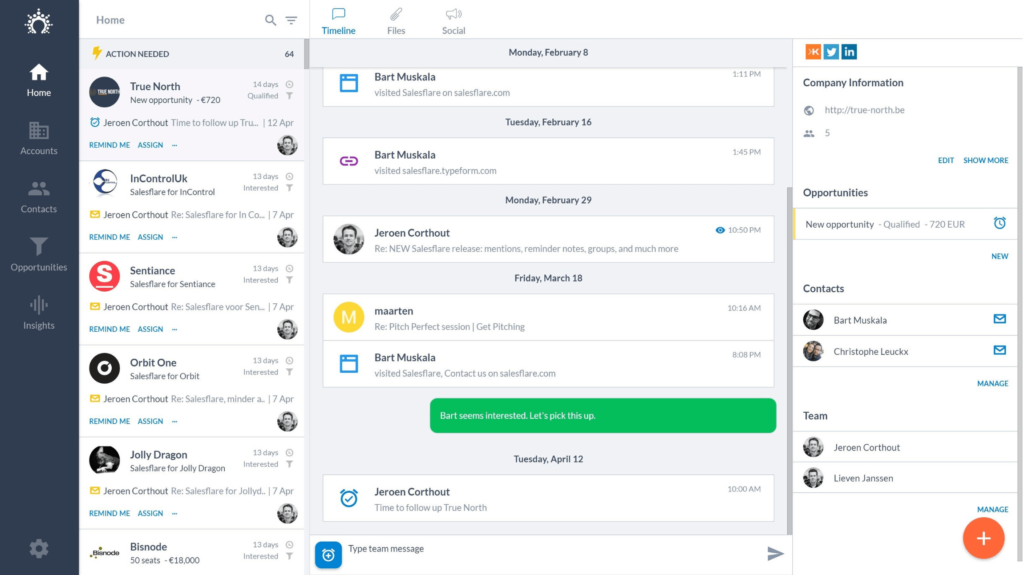 Salesflare is a simple yet powerful CRM software for small and medium-sized businesses in the B2B sector. It helps you manage your leads, customers, and sales pipeline so you can close more deals and grow your business.
Salesflare records all your customer interactions, so you can see your sales history and easily follow up with potential customers. Plus, it integrates with all your favorite business tools, including Google Apps, Zapier, and more.
This is the best sales CRM for small business as it offers multiple benefits.
Input less data
Make more sales
Never miss a follow-up again
Work together as a team
And integrate their sales toolset.
Salesflare automatically tracks your contacts, emails, and calendar so you can focus on interacting and building better relationships with your customers. It also integrates with all the top business tools, such as Mailchimp, Google Apps, Zapier, and more.
Pricing:
After a free trial, you can go for the "Growth" plan at $29 per user per month, billed annually. The "Pro" and "Enterprise" plans come at $49 and $99 per month per user.
10. EngageBay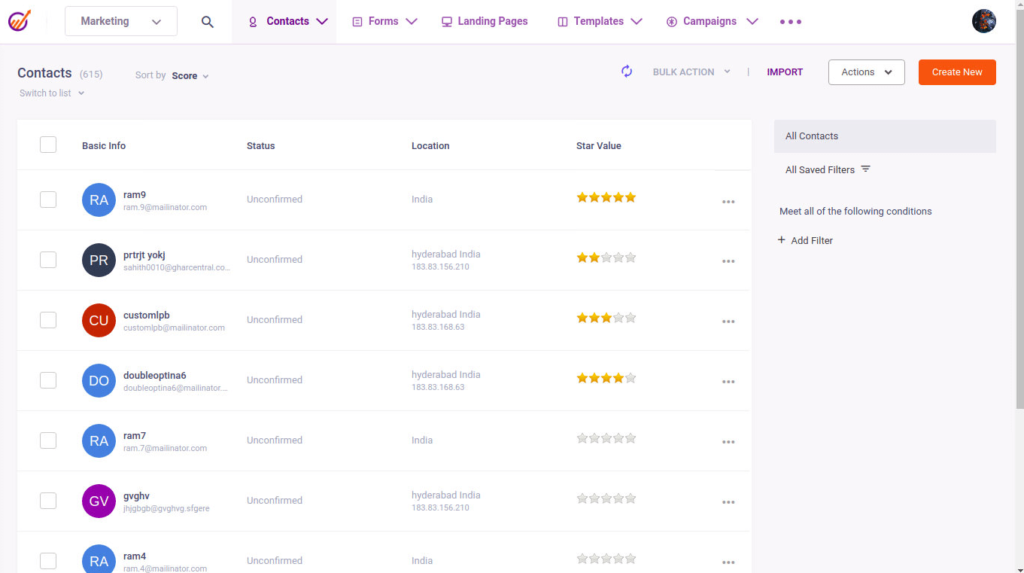 EngageBay CRM software is one powerful platform for all your sales, marketing, and support teams. It helps you to manage your leads, contacts, and customers.
It also allows you to create and send engaging email newsletters, track your website visitors, and get insights into your marketing performance.
EngageBay CRM is a comprehensive CRM software that helps you in:
Marketing automation
Email marketing
Landing pages
Web forms
360-degree customer view
Appointment scheduling software
Contact management software and more
The sales CRM module helps businesses track leads and customers through the sales process. It includes lead scoring and project management features. The employee engagement module helps managers keep employees informed and motivated.
The deal management module helps businesses manage and track deals. The CRM telephony module allows businesses to manage and track leads through phone calls. The helpdesk reports module provides detailed information on help desk activities.
Pricing:
EngageBay is free forever as far as you have 500 contacts. Going forward, you can upgrade to $13.49 per month per user for 1000 contacts, $44.99 per month per user for 10,000 contacts, and $89.99 for unlimited contacts.
11. HubSpot CRM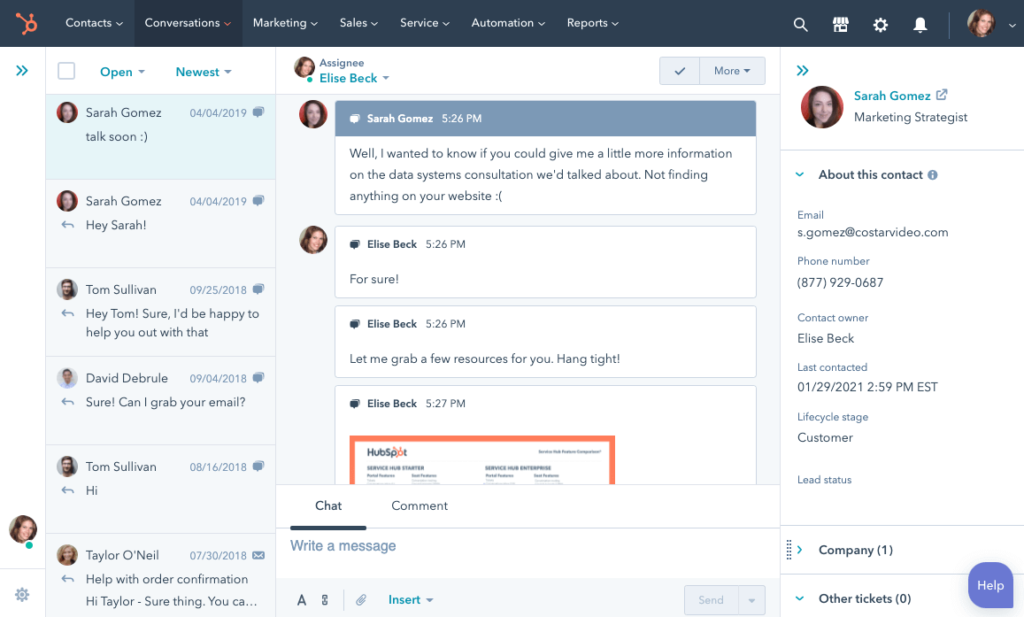 HubSpot CRM is a leading and comprehensive customer relationship management (CRM) system that helps businesses manage customer data, interactions, and sales processes.
HubSpot CRM is easy to use and can be customized to fit the needs of any business. It's perfect for small and medium businesses looking for a way to organize, streamline, and track their customer data and relationship.
Let's look at some of the top features of the HubSpot CRM toolset:
Contact management: Organize your contacts into lists, add notes and tags, and track interactions with them.
Lead management: Record information about potential customers, track their progress through the sales process, and send follow-up emails automatically.
Marketing automation: Create automated email campaigns, landing pages, and workflows to improve marketing efficiency.
Task and calendar integration: Integrate your HubSpot CRM tasks with your Google Calendar or Outlook Calendar to manage your time more effectively.
Reporting and analytics: Generate detailed reports on customer data, marketing performance, and sales pipeline activity.
Pricing:
HubSpot offers a lot of free tools, including a free CRM. The paid plans start at $45 per month for up to 1000 contacts and go up to $3200 per month for 10,000 contacts.
12. Copper CRM Software for Sales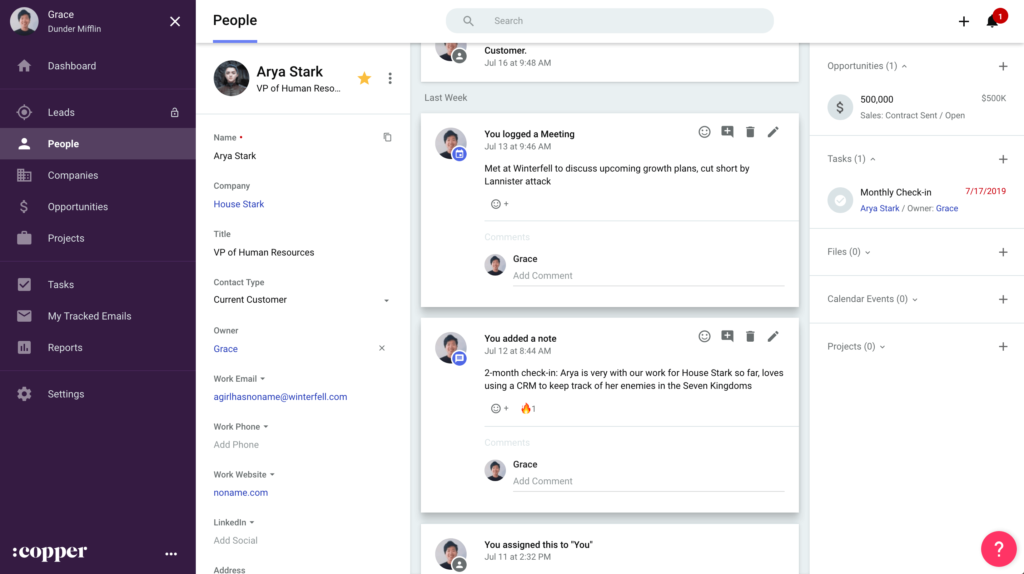 Copper may be the perfect fit if you're looking for a CRM solution to help you organize your contacts, automate tasks, and track deals.
With its easy-to-use interface and various features, Copper is a great choice for businesses of all sizes.
Organize Contacts: Keep all your important relationships in one central place! The software makes adding new contacts and managing your contact list easy. You can also create groups to make it easier to send targeted messages.
Automate Tasks: Once you've added your contacts, you can start automating tasks. With Copper, you can create recurring tasks and notifications to help you stay on top. And since the software integrates with popular apps and tools, you can automate even more tasks.
Email & Marketing Tools: Copper offers a variety of email and marketing tools to help you build and maintain personalized relationships at scale. You can create custom email templates, track email opens and clicks, and even set up drip campaigns.
Track Deals: One of the most important features of any CRM is the ability to track deals. With Copper, you can set up the pipeline that works for you and track the progress of each deal. You can also get reports on your business performance and make adjustments as needed.
Google Workspace CRM: Copper is a great choice for your CRM needs if you're already using Google Apps for Business. The software integrates seamlessly with Google Apps, making it easy to manage your contacts, deals, emails, and more in one place.
Manage Projects: After the deal is closed, it's important to keep track of your team's work. Thanks to Copper's project management features, you can assign tasks to team members, track progress, and create deadlines.
Integrations: Copper integrates with some of the most popular apps and tools out there. You can connect it to your email client, social media accounts, accounting software, and more.
Mobile App: Copper's mobile app can take your CRM with you wherever you go. You can access your contact list, schedule appointments, and check on the progress of your deals no matter where you are.
Pricing:
You can try Copper for free and start with the "Basic" plan for $25 per user per month for a year of billing. The good thing about this CRM software is that all the plans have unlimited seats.
13. SugarCRM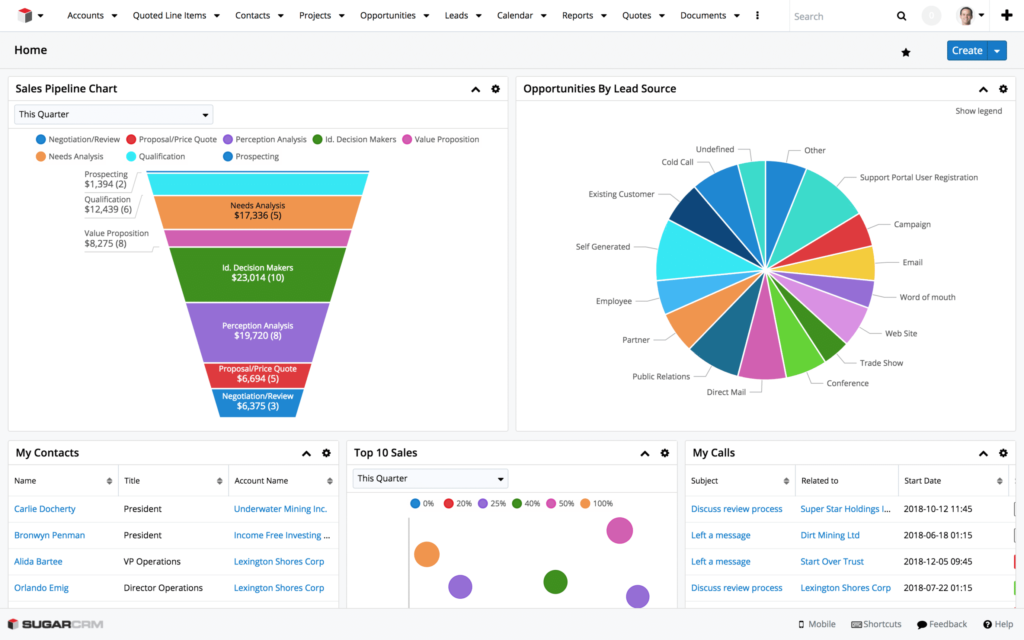 SugarCRM is the world's leading CRM software that helps businesses manage customer relationships and interact with them through marketing, sales, and customer service automation.
This CRM software has many customizable features to fit any business's needs. Let's look at some of its best features:
Marketing Automation: The Sugar Market all-in-one marketing automation platform allows businesses to create and send automated marketing campaigns, track results, and optimize processes to improve customer engagement.
Sales Automation: The Sugar Sell next-generation sales automation platform allows businesses to automate their sales process from lead capture to close, manage opportunities and forecasts, and more.
Customer Service Automation: The Sugar Serve superior customer service platform provides businesses with the tools they need to deliver exceptional customer service experiences. This includes a suite of tools for managing customer support cases, automating ticket routing and escalation, and more.
On-Premises CRM: Businesses can use Sugar Enterprise's flexible, highly tailored customer experience applications to create a custom CRM solution that meets their specific needs.
App Marketplace: The SugarCRM App Marketplace provides businesses with access to hundreds of apps that can be integrated into their SugarCRM solution to extend its functionality.
Pricing:
SugarCRM offers a "Sell" plan for $49 per month per user for three users, a "Serve" plan for $80, an "Enterprise" plan for $85, and a "Market" plan for $1000 per month per user.
Choosing The Right CRM Software for Sales
Sales CRM software is a must-have for any business, regardless of size. But with so many options on the market, how do you choose the right one for your company
Let us some factors to consider when choosing CRM software for sales:
Cost: How much will the software cost? Is there a free trial or free plan available? It's better to start for free and then upgrade as your needs grow.
Features: What features are important to you? Some softwares have more automation features than others. Others come with better integration options. Consider what's important to you and choose accordingly.
Ease of Use: Is the software user-friendly? Does it require a lot of training to get started? The last thing you want is something that will be difficult to use.
Support: What kind of support does the software offer? Is there a knowledge base or live chat available if you need help? You'll want to make sure that you can get help when you need it.
Integration: Can the software integrate with other tools, such as your eCommerce platform? It's important because you'll want all your data in one place.
Size of business: Does the software cater to businesses of all sizes, or is it aimed only at larger or smaller businesses? Ideally, it should be scalable and able to accommodate businesses of all sizes.
Choosing the right CRM software is important for any business. Consider the factors above to ensure you choose the best software for your needs.
Plus, it is always a good idea for B2B businesses to supplement their sales CRM with the top LinkedIn automation tools. This is where Dripify comes in handy! It's not a CRM but a cloud-based sales automation software that integrates with Zapier and HubSpot to supercharge your lead generation, sales, and business growth.
Dripify has many features that can be customized according to your business needs. It's easy to use, and customer support is always available to help you with any questions or problems.
The main advantage of using Dripify and marketing automation software is that you can automate your LinkedIn campaigns to their fullest potential. It allows you to automate your connection, invitations, and messages. Plus, you can use it to auto-view profiles and auto-endorse skills and manage your sales team in a few clicks.
The best part? You get access to a dedicated page where you can create drip campaigns and build funnels for LinkedIn lead generation. Moreover, Dripify`s LinkedIn Scraper tool allows you to export/import data (using CSV files) and withdraw pending connection requests in bulk.
Conclusion
It doesn't matter if you sell one product or a thousand; your sales team needs a way to manage leads, track customer information, keep accurate records, streamline the sales process, and stay organized.
Without the right CRM software, your sales team might fumble through spreadsheets and paper lists. But with the right software, they can streamline processes and be more effective in their roles.
Sales CRM software can help your business manage and track sales activities more effectively. They help boost your sales productivity, organize your sales data, make better sales forecasts, and increase your ROI.
There's an abundance of CRM software available on the market today. So how do you know which one is best for your business? You could test them individually using the free trial option and see which software fits your needs best.
Also, make sure to keep your company's and sales team's needs and requirements in mind when choosing a CRM for sales. And don't forget to pick software that you can customize and scale as your business and sales team grow.