In the fast-paced business world, having the right tools can mean the difference between success and failure. That's why choosing the right software as a service (SaaS) management platform is so important.
SaaS management platforms help you manage your day-to-day operations, streamline your workflow, and keep everything organized and running smoothly. But with so many options on the market, how do you know which platform is best for SaaS management?
In this article, we'll take a closer look at the top Software as a Service management platforms available today. From innovative up-and-comers to established industry leaders, we've got you covered.
So sit back and get ready to discover the best SaaS management platform for your business!
What Is SaaS Management?
Software as a Service (SaaS) management refers to the process of overseeing and coordinating the use of cloud-based software applications within an organization. This includes multiple tasks, such as purchasing, monitoring usage, tracking expenses, licensing, and data storage of all your SaaS apps.
It also includes ensuring data security, off-boarding of applications, compliance with company policies and government regulations, and much more. SaaS management is an essential part of digital transformation and helps companies maximize the benefits of cloud-based software while minimizing risks and costs.
Read also: Best Sales Automation Tools
What Is a SaaS Management Platform?
A SaaS management platform is a cloud-based solution designed to help organizations manage their use of SaaS applications. It provides a centralized interface for administrators to monitor and control access to SaaS applications, allocate and manage licenses, and enforce policies.
Software as a Service management platforms can also help organizations improve security, optimize costs, and increase productivity by automating routine tasks. They also provide real-time insights into software usage and help teams collaborate more effectively.
With the rise of cloud computing, SaaS management platforms have become an essential tool for businesses looking to streamline their technology operations and gain maximum value from their investments.
Read also: Best LinkedIn Automation Software
Key Characteristics of a SaaS Management Solution
Managing multiple SaaS applications within an organization can be a complex and time-consuming task. This is where SaaS software management platforms enter the scene.
But how do you know which platform is best for SaaS? Let's have a look at the key characteristics to look for in a SaaS management platform.
Centralized Management: A good SaaS management solution will provide a single, unified view for all of your SaaS applications. This means you'll find it easy to administer, monitor, and manage these applications. The result: more effectiveness, productivity, and security.
Automated Provisioning and Deprovisioning: SaaS management platforms should automate the process of provisioning and de-provisioning SaaS applications. These functions help reduce administrative overhead and minimize human error.
License and Subscription Management: It is a good idea to pick a SaaS management solution that allows administrators to allocate and manage licenses and subscriptions for SaaS applications. These features help optimize costs and ensure the effective use of licenses.
Policy Enforcement: Next, choose a SaaS management platform with built-in tools for the enforcement of policies and to ensure compliance with regulations and best practices. Such tools help minimize data security risks and improve your organization's overall cybersecurity posture.
Usage Tracking and Analytics: SaaS management solutions should ideally provide real-time insights into the usage of SaaS applications, including usage patterns and trends. This information can be valuable for organizations looking to improve their SaaS investments and boost productivity.
Integration With Other Tools: A good SaaS management platform will be easily integrated with other tools used by an organization, such as identity management and security solutions.
Overall, a reliable SaaS management solution will offer a centralized, automated, and secure way of managing SaaS applications. It should provide tools to help organizations optimize costs, improve security, and gain valuable insights into software usage.
Top 14 Software as a Service Management Platforms
The right SaaS software management platforms will help you maximize the value you get from SaaS investments and streamline your technology operations. But with so many software as a service management platforms out there, it can be challenging to know which one to choose.
Don't worry because we have brought you a rundown of the best SaaS management platforms available on the market. Read on to explore our list!
1. Keepit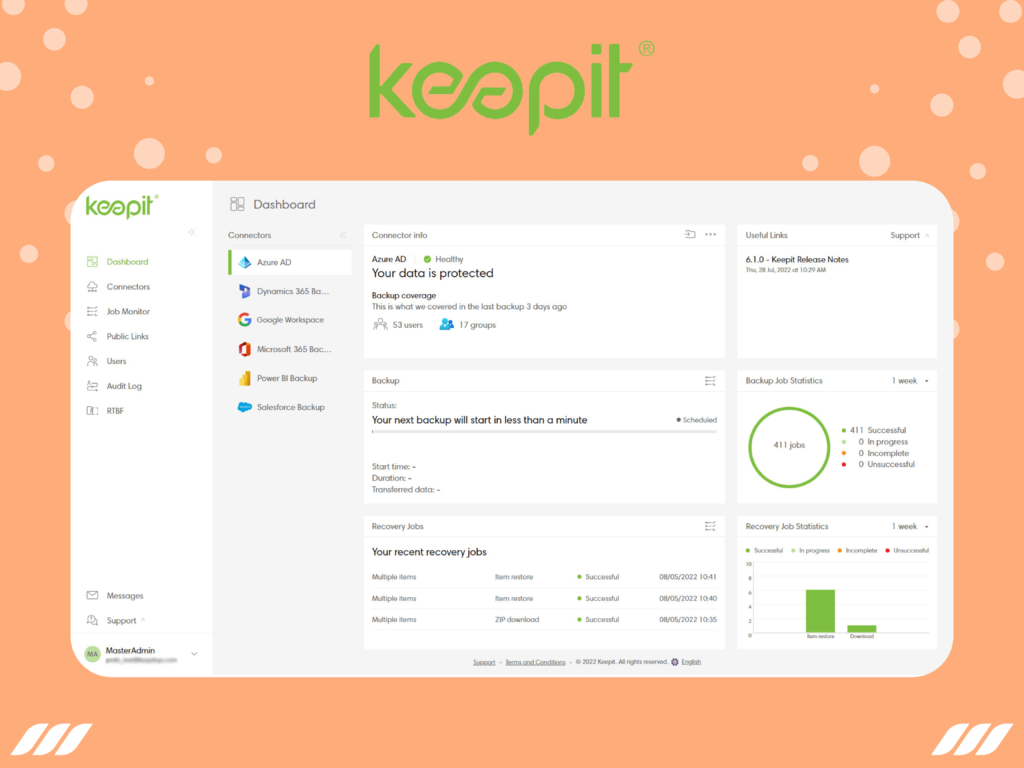 Keepit is a cloud-based SaaS management solution that helps businesses and individuals protect their important digital assets. The platform provides seamless and secure backup solutions for various applications and devices, including computers, laptops, mobile devices, and servers.
With Keepit, you can easily schedule backups, store and manage your data, and restore it in case of any loss or damage. The platform provides reliable and encrypted storage, protecting data from unauthorized access or theft. Other valuable features include data migration, disaster recovery, and data archiving.
This SaaS platform's user-friendly interface and robust infrastructure make it easy for users to manage their data. And since the platform is highly scalable, you can rest assured it will grow with your business as your data needs change over time.
Keepit has been recognized for its exceptional customer support, providing round-the-clock assistance to help customers resolve any issues.
2. CoreSuite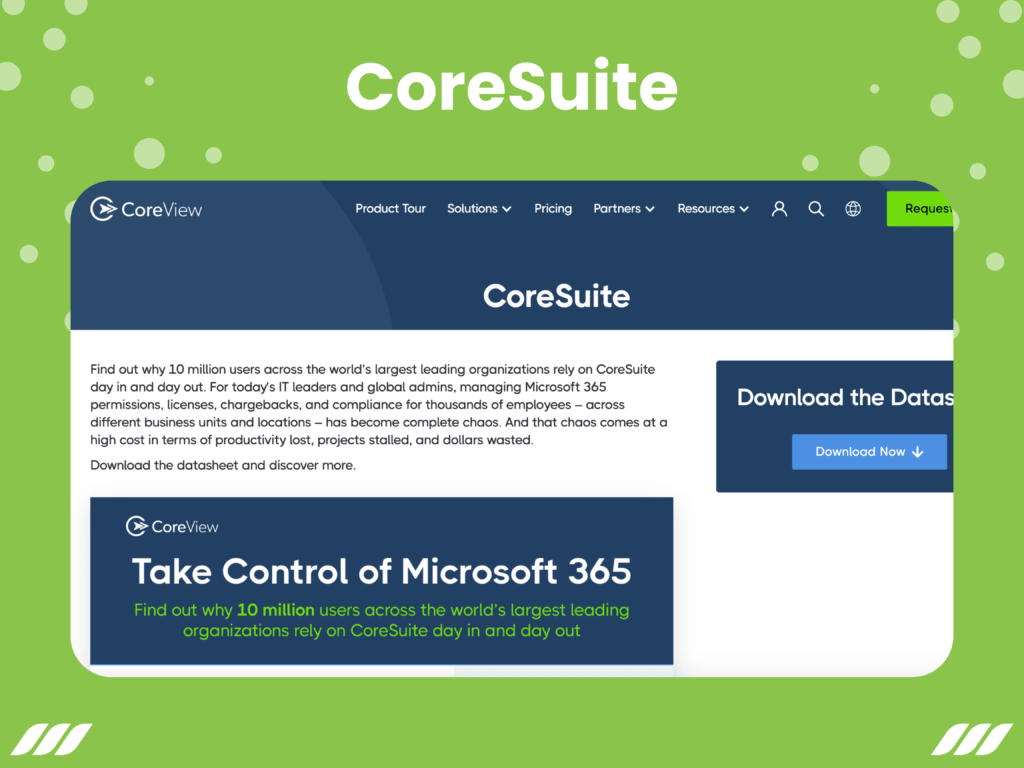 CoreSuite is a cloud-based software-as-a-service (SaaS) management platform designed specifically for Microsoft 365. This tool provides a centralized solution for managing and optimizing Microsoft 365 services, such as Exchange, SharePoint, OneDrive, Teams, and more.
What's more, this platform helps streamline your SaaS operations, improve productivity, and minimize downtime. It offers a range of features, including usage monitoring, cost optimization, license management, automation, and security & compliance management.
Plus, CoreSuite comes with real-time data, insights, and reporting capabilities. Whether you are a small business or a large enterprise, CoreSuite provides you with a comprehensive solution for managing your Microsoft 365 environment.
3. Ampliphae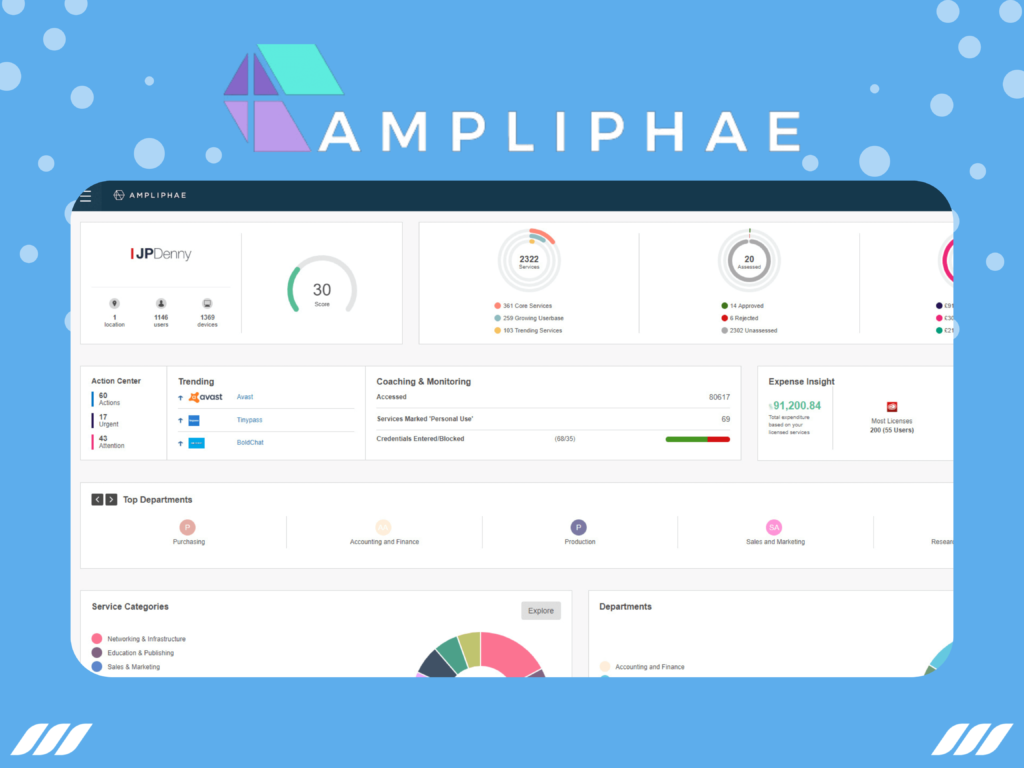 Ampliphae SaaSGuard is a cloud security solution offered by Ampliphae. This tool is designed to safeguard the use of Software-as-a-Service (SaaS) applications and ensure compliance with security policies.
With its user-centric design, SaaSGuard enables organizations to monitor and manage access to sensitive data and information. This helps reduce data breach risks and ensures compliance with regulations such as GDPR.
The platform is built on a unique combination of artificial intelligence and machine learning technologies to help protect against cyber threats. On top of that, Ampliphae provides a comprehensive approach to network security, using deep packet inspection and threat detection to identify and mitigate attacks in real time.
4. Coreview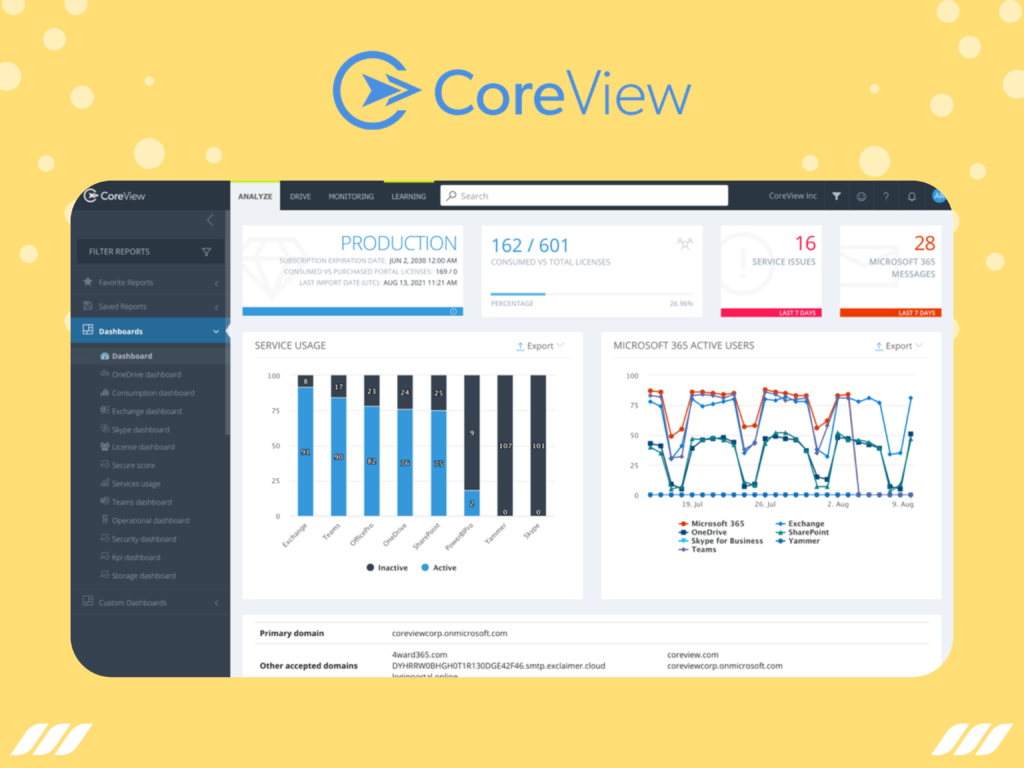 CoreView provides you with a unified view of your Microsoft 365 environment. It comes with advanced features for reporting, management, and optimization, allowing administrators to streamline processes and enhance user experience.
Some of CoreView's powerful features include real-time performance monitoring, automated license management, usage analytics, automation of boring tasks, and user provisioning.
5. NachoNacho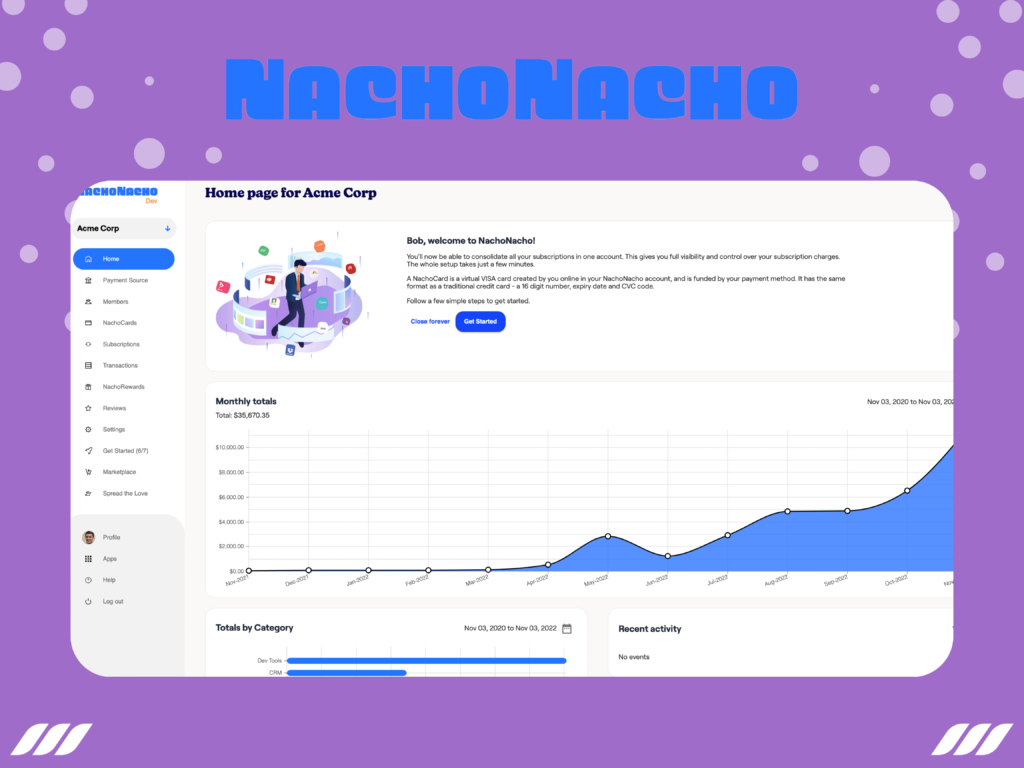 NachoNacho is a cutting-edge SaaS marketplace that connects businesses with the best software solution providers. The platform offers a wide range of applications, from productivity tools to marketing software, all in one convenient location.
This platform makes it easy for companies to find, compare and buy the software they need to run their SaaS operations effectively. The user-friendly interface and streamlined purchasing process ensure a seamless experience for both buyers and sellers. With its focus on quality, security, and affordability, NachoNacho is quickly becoming a go-to source for businesses looking to boost their technology stack.
6. Torii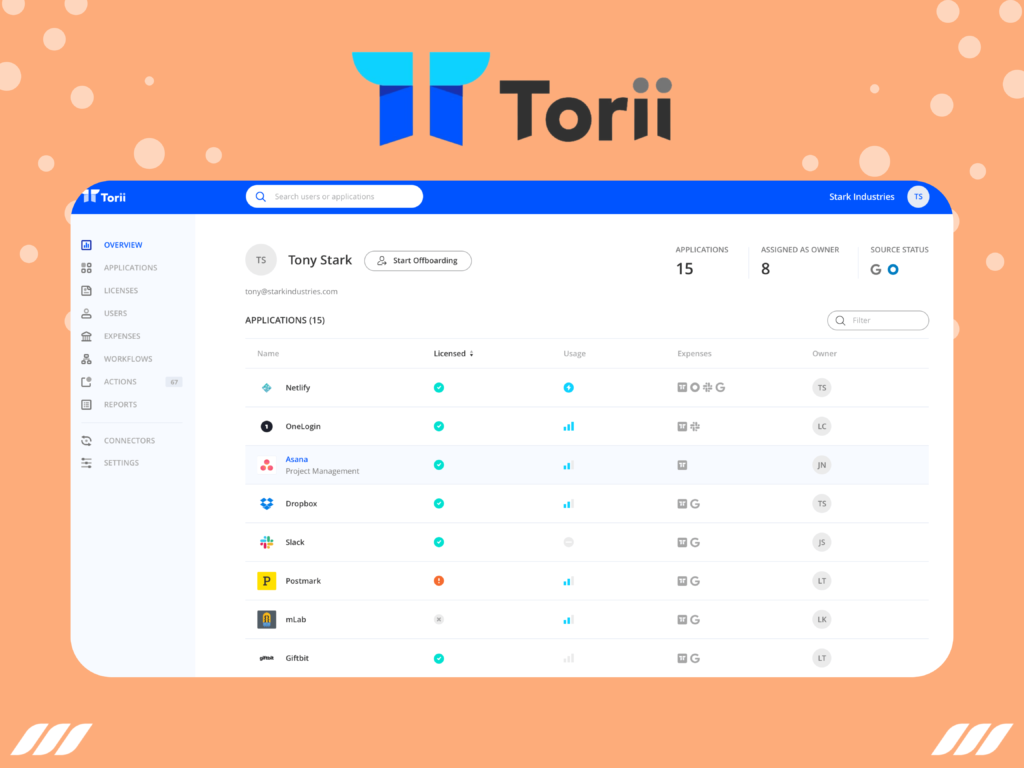 Torii helps modern IT organizations manage their software-as-a-service applications more efficiently. Its intuitive interface and powerful automation capabilities help streamline the entire SaaS lifecycle from discovery and procurement to optimization and beyond.
This tool offers rich features, such as real-time spend tracking, contract and renewal management, user provisioning and de-provisioning, and usage analysis. It helps reduce manual work, ensures compliance, and maximizes cost savings.
7. Basaas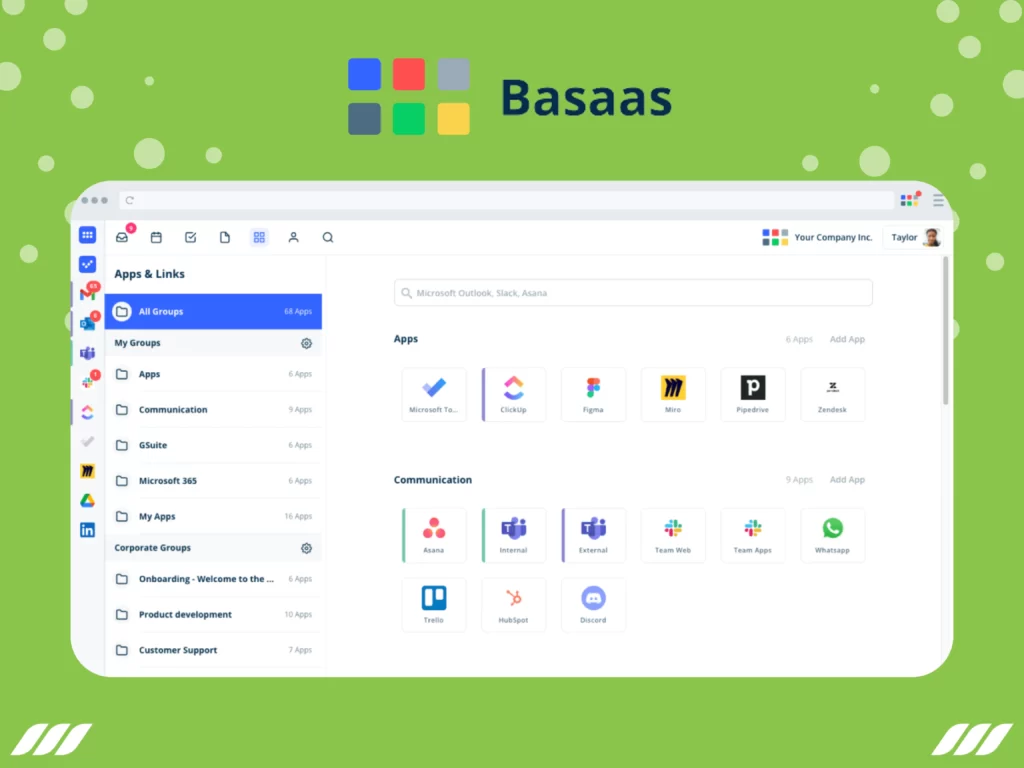 Basaas is yet another reliable digital hub for Microsoft 365. It helps boost productivity by allowing you to connect all your apps and optimize your daily workflow. This platform can help you streamline communication and collaborate with your team.
On top of that, you can access all your files and data from a single platform and automate repetitive tasks and processes. And combining Basaas with Microsoft 365 helps you get the most out of your productivity tools and enhance your overall workflow efficiency.
Basaas makes it easy to stay organized, collaborate effectively, and get more done in less time.
8. Productiv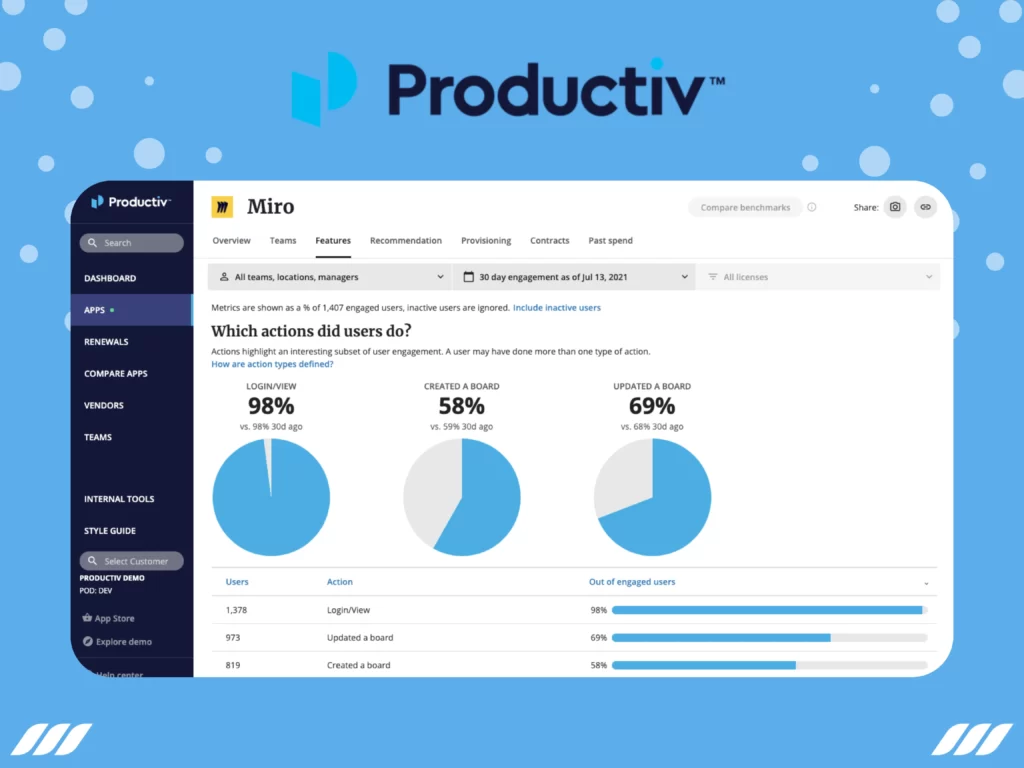 Productiv is a top rated SaaS intelligence platform that helps companies optimize their software spending. It does so by providing visibility into usage patterns, identifying areas for improvement, and offering recommendations for optimization.
The platform collects and analyzes data from various sources, including app logs, metadata, and integrations, to provide a comprehensive view of SaaS usage across an organization. The insights generated by Productiv help companies make data-driven decisions about their SaaS stack, including license optimization, vendor management, and risk mitigation.
Thanks to its user-friendly interface, customizable dashboards, and actionable insights, Productiv helps companies streamline their SaaS operations and maximize their return on investment.
9. Cledara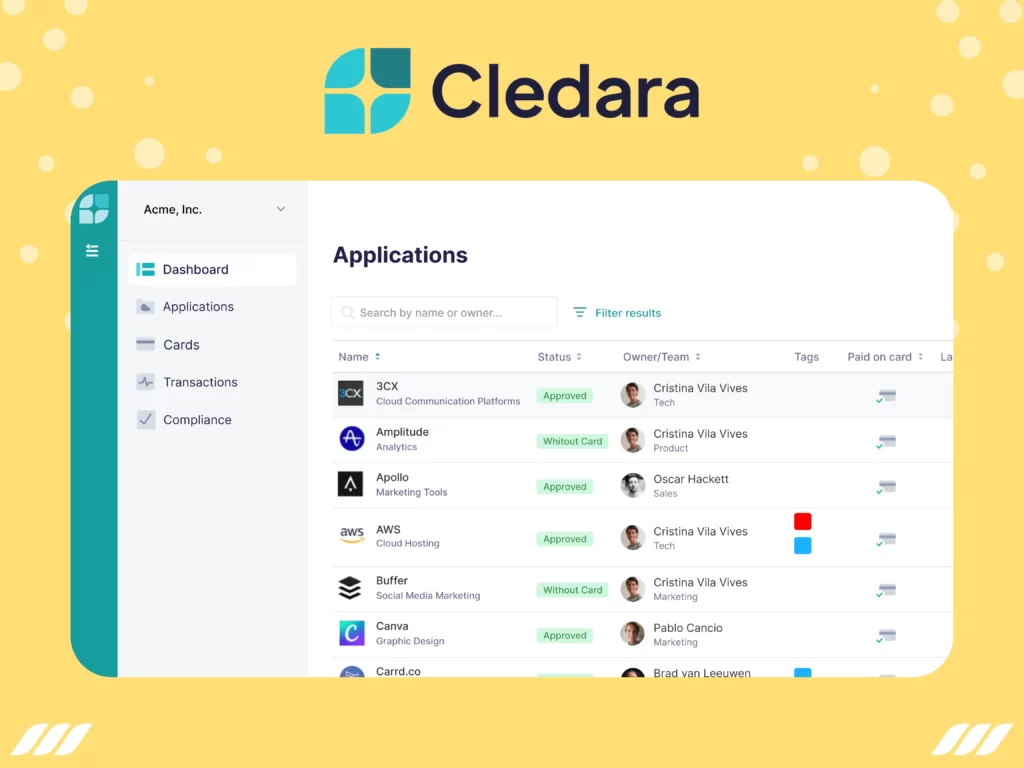 Cledara is a SaaS solutions company that provides a centralized platform for businesses to manage and track their software subscriptions.
The company simplifies the process of purchasing and managing software licenses by providing a one-stop shop for businesses to discover, buy, manage, and track their software needs. Cledara also helps you optimize your SaaS spending and ensure compliance with software licensing agreements.
10. Zluri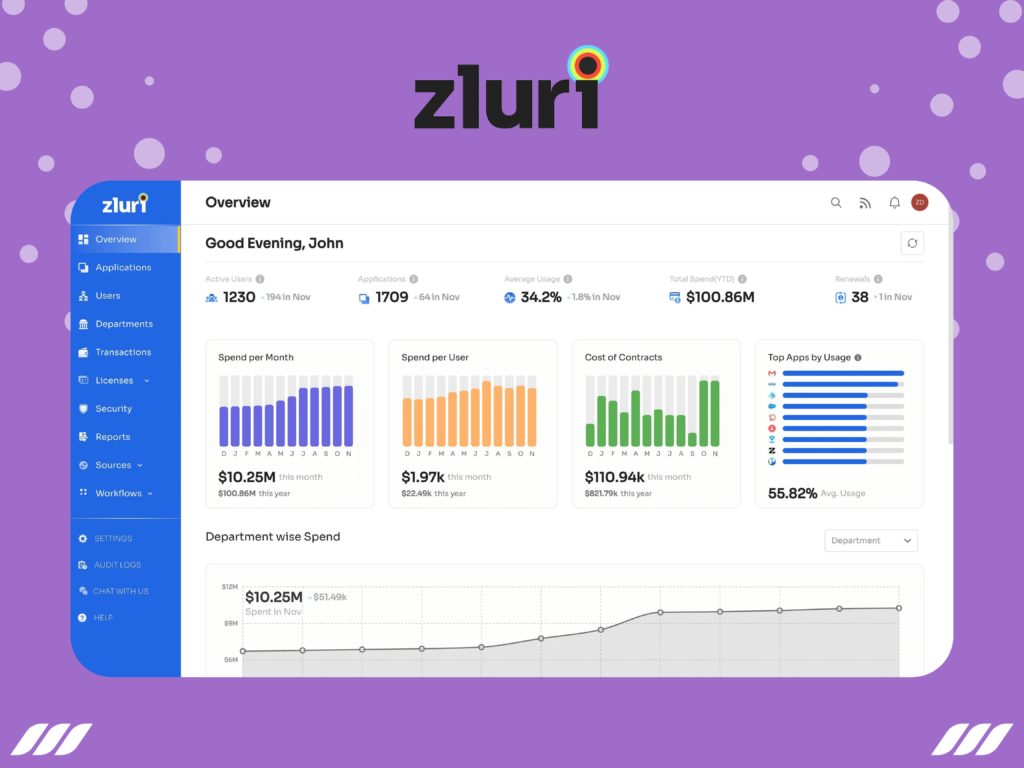 Zluri's SaaS management platform is designed to help businesses streamline their software operations, remove duplicate apps, automate IT tasks, and enhance overall productivity. The advanced automation capabilities and user-friendly interface of Zluri allow teams to manage their software licenses, deployments, and updates from a single dashboard.
Also, its powerful analytics tools allow organizations to track and monitor their SaaS usage, spending, and performance. Whether you are a small startup or a large enterprise, Zluri provides a comprehensive solution to manage all of your SaaS needs.
11. Bettercloud
BetterCloud is a cloud management platform that provides IT administrators with the tools to manage and optimize their organization's use of SaaS applications. It offers a range of features, such as monitoring, automation, and secure identity management.
The powerful functionalities can help you increase efficiency, enforce security policies, and gain visibility into your SaaS environment. Moreover, BetterCloud allows you to streamline processes, reduce manual effort, and ensure that all of your data is secure and compliant.
12. Vendr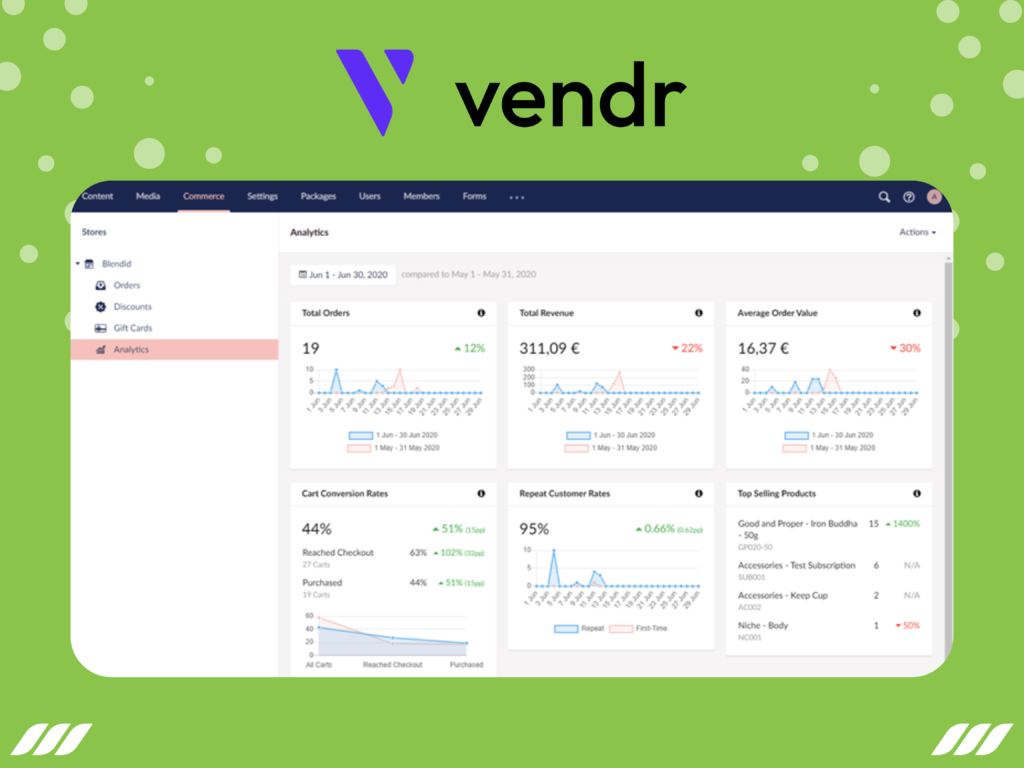 Vendr is a game-changing SaaS platform that claims to have revolutionized the way businesses purchase and manage their software and services. The platform helps organize the software buying process, allowing companies to search and compare products and negotiate prices and terms.
It also provides a centralized dashboard to keep track of expenses, usage, and renewals, saving businesses time and effort. Vendr helps companies focus on their core operations while streamlining their software procurement and management processes. The platform has received positive user feedback for its user-friendly interface, comprehensive features, and cost-saving capabilities.
13. Tropic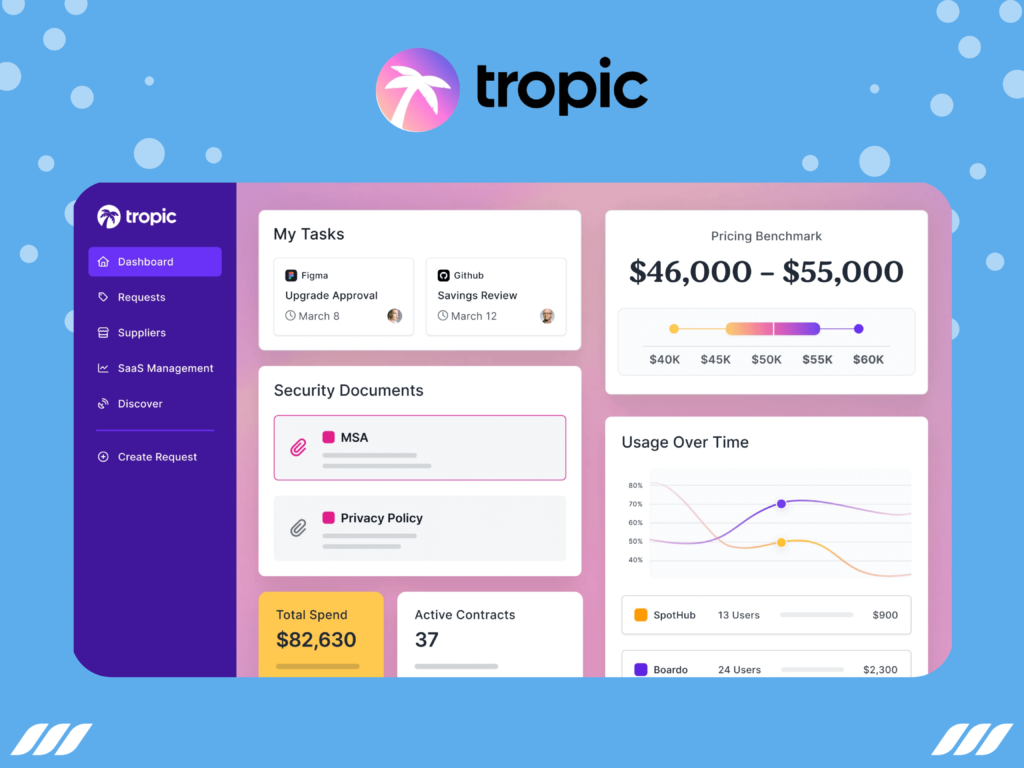 Tropic helps businesses easily buy software and manage their SaaS applications all in one place. In fact, it is your one-stop shop for a wide range of software tools. Furthermore, you can easily manage your applications through a unified dashboard.
With Tropic, businesses can save time and money by centralizing their SaaS spending. Plus, it will help you avoid the hassle of dealing with multiple vendors and invoices. The platform also provides detailed usage analytics, so businesses can get a better understanding of how their software tools are being used and optimize their investments.
You can use Tropic to free up resources and focus on your core operations. And rest assured that you have the right tools in place to drive growth and success and secure your data.
14. Zylo
Zylo helps organizations effectively manage their software-as-a-service (SaaS) investments. You can use this SaaS solution to discover, optimize, and manage all of your SaaS applications in one centralized location.
The platform offers a range of features, including cost optimization, contract management, license optimization, and usage tracking. These features make it easy for organizations to keep their SaaS spending under control.
Conclusion
The best SaaS management platforms listed in this article provide a range of options for businesses of different sizes and needs. From robust project management and task tracking tools to the best email marketing automation tools and financial management, these platforms are packed with amazing features and integrations to help businesses modernize their operations and improve efficiency.
When choosing a SAAS management platform, it is important to consider your specific business requirements and choose a platform that aligns with your goals and budget. By doing so, you can ensure a successful implementation and make the most of your investment in technology.