The free version of LinkedIn contains ten results per page, translating to a limit of 1000 results (100 pages) per search query. In contrast, Sales Navigator has a search limit of 2500 results.
This means that if your search returns thousands of profiles, you can only access the first 1000 results. And unfortunately, search results found beyond these limits would be out-of-bounds.
So, is there a way to overcome this limit, you ask! Or how to work around the LinkedIn limit? Let's have a look!
Steps to Get Around LinkedIn Search Limit?
The good news is that you can use a few workarounds to overcome the LinkedIn search limits and view more profiles. Let's uncover some methods so you can harness the full potential LinkedIn search bar.
1. Using Exclusive Filters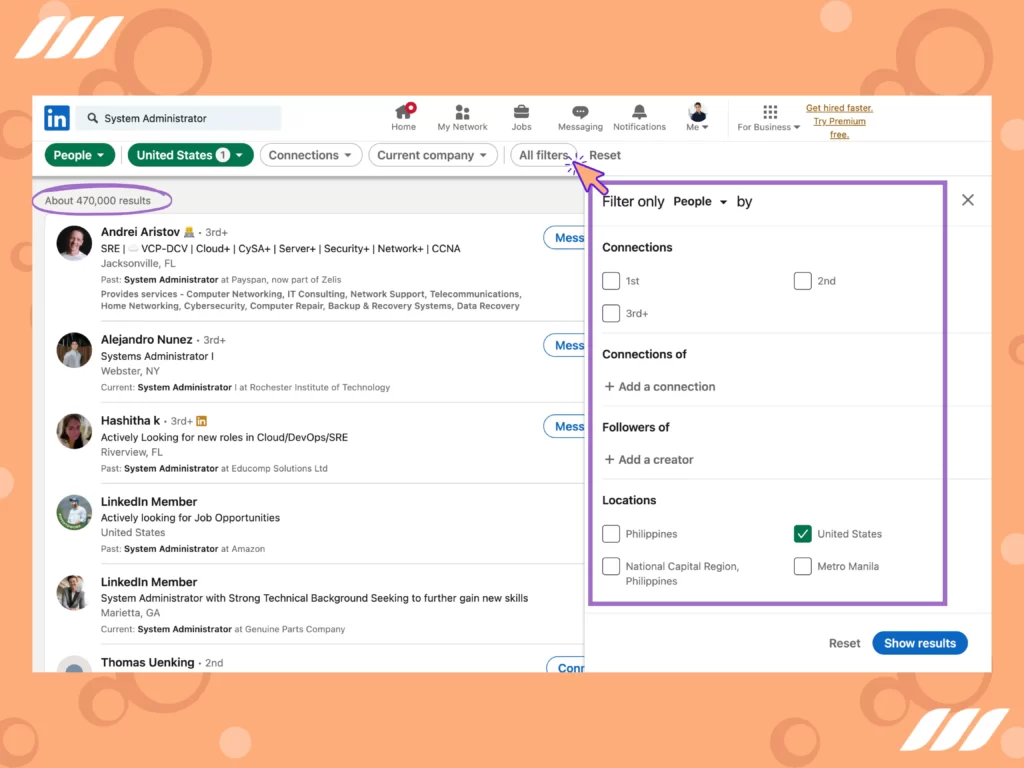 One way to avoid the LinkedIn search limit is to split the search results into smaller chunks through exclusive filters. The idea is to narrow down search criteria so that it yields fewer but targeted results per search. Let's understand this technique with a hypothetical case.
Say you want to look up a System Administrator in England. You start by entering "System Administrator" in the LinkedIn search bar, which gives you 100,000 results. However, this is not an effective search strategy because LinkedIn would show loosely-matched results.
A better way is to specify your search by opening filters and entering "Title" and then using the additional filter to fill up a country name in "Location." By doing this, you have narrowed down search results from 100,000 to 50,000.
That said, accessing 1000 of 50,000 results equates to just 2% of the total figure. So, the next move is to use city names in place of the country. Factoring in a city's name now returns only 4000 results — giving you access to 25% of the results!
Now, you can use "All filters" and keep checking/unchecking "Additional filters" to generate bigger and bigger proportions of the results. And, if you're in luck, you might even bring the search count under 1000.
Similarly, you can apply this method to Sales Navigator. This time, use "Exclusive filters" and note down the searches you already did to remember your progress.
2. Using Other Filters
The above-explained method works for searches that have no other basic filters. But here's the catch — you've already searched for "System Administrator" in "Manchester" in the "IT Services and IT Consulting" industry, and LinkedIn still returns more than 1000 results. What do you do in this case?
Go on to use exclusive filters in this scenario. For instance, you can apply filters like the prospect's school, level of relationship, previous company, services offered, etc. There's no guarantee you'd get less than 1000 results every time with this technique. But one thing is for sure: you'll get very relevant and targeted search profiles.
3. Using LinkedIn Sales Navigator
Unlike the free LinkedIn account, a Sales Navigator costs $79.99 per month, but the benefits are worth the cost. With a Sales Navigator, you'll get 2500 results (25 per page) instead of 1000! But even this option requires the use of tricks to get around the LinkedIn search limit.
The best part is that Sales Navigator comes with some convenient filters like "Company Headcount," "Seniority Level," "Function," and more. Using these filters, you can split your LinkedIn search results into more focused and relevant chunks.
If you access more results on LinkedIn, you can use all the filters to segment your search into smaller bits. The problem is that sometimes some of the searches are omitted as the results are narrowed down.
Fortunately, there's a slow yet effective method for extracting all the results of a specific search query. Follow these steps to get the maximum out of the search data:
Step 1: Create several custom lists, for example, CTOs 1, CTOs 2, CTOs 3, etc.
Step 2: Go page by page, click "Select All," and "Save to list." After that, select any available list.
Step 3: Once you've saved many profiles under different lists, click "Past Lead and Account Activity" and select "Remove Saved Leads from search."
This way, you can remove the 1000 results you've already seen and gain access to a new set of 1000 contacts.
4. Using a LinkedIn Recruiter and Recruiter Lite Account
Although LinkedIn Recruiter Lite comes with a monthly price tag of $99, it still displays 1000 profiles on the search page. However, Recruiter Lite users can view up to 2,000 unique candidate profiles per day. Besides, it includes some powerful filter options like "Company," "Sizes," "Industries," "Seniority," and more.
Recruiter Lite also features filters specific to recruiting, such as "Years of experience," making it more granular than Sales Navigator.
That said, the only downside to the Recruiter Lite is that you can't filter by Projects/Lists, because of which you can't include or exclude results from lists.
Finally, LinkedIn Recruiter is the most powerful yet the most expensive option (costing $6000 per seat per year). Besides featuring various filters, a Recruiter account allows you to exclude and include profiles from the search results. Plus, you can filter by "Years of experience," "Years in the current company," "Years in current position," and more parameters.
Related article: Get the Best Out of Your Search With LinkedIn Xray Search
Conclusion
LinkedIn is a powerful platform used by millions of people today. It offers an extensive opportunity to connect with people worldwide. However, the search query limits set by LinkedIn can hinder your access to all those profiles that can be potential leads for your business.
Personalized search is an effective way to get custom and more granular results. Using several exclusive filters, you can break down your search and get targeted profiles on the search result page. So, instead of relying on the traditional approach, you can use the above mentioned techniques to increase your output.
In addition, LinkedIn offers tools like the Sales Navigator, Recruiter, and Recruiter Lite. Even though these tools come with a price, their specialized filters and other benefits make them worth the cost. Hence, these methods can help you surpass LinkedIn limits and enhance your business reach and growth.
There are other automation tools, too, that can help you enhance your business reach. One such tool is Dripify. Try Dripify free trial to increase your profile visibility,  brand awareness and generate potential clients.