The recruitment world has changed. Gone are the days of job boards and dozens of emails. Today, LinkedIn is one of the most popular platforms for recruiting employees or finding jobs. In fact, approximately 40 million people hunt for jobs every week on LinkedIn.
But with millions of people searching for jobs on LinkedIn, finding the most suitable candidates with a basic LinkedIn account can be a challenge for recruitment firms and employers. Luckily, you can overcome this problem to a greater extent by upgrading to a recruiter account on the professional networking site. Thanks to LinkedIn Recruiter, connecting with the right resources has never been easier, practical, and time-saving.
LinkedIn offers two versions of recruiter accounts: LinkedIn Recruiter and Recruiter Lite. But which of these is the most suitable option, you ask! In this post, we'll do recruiter lite vs. recruiter comparison.
Read on to learn everything you want to know about the two types of recruiter accounts on LinkedIn so you can make an informed decision.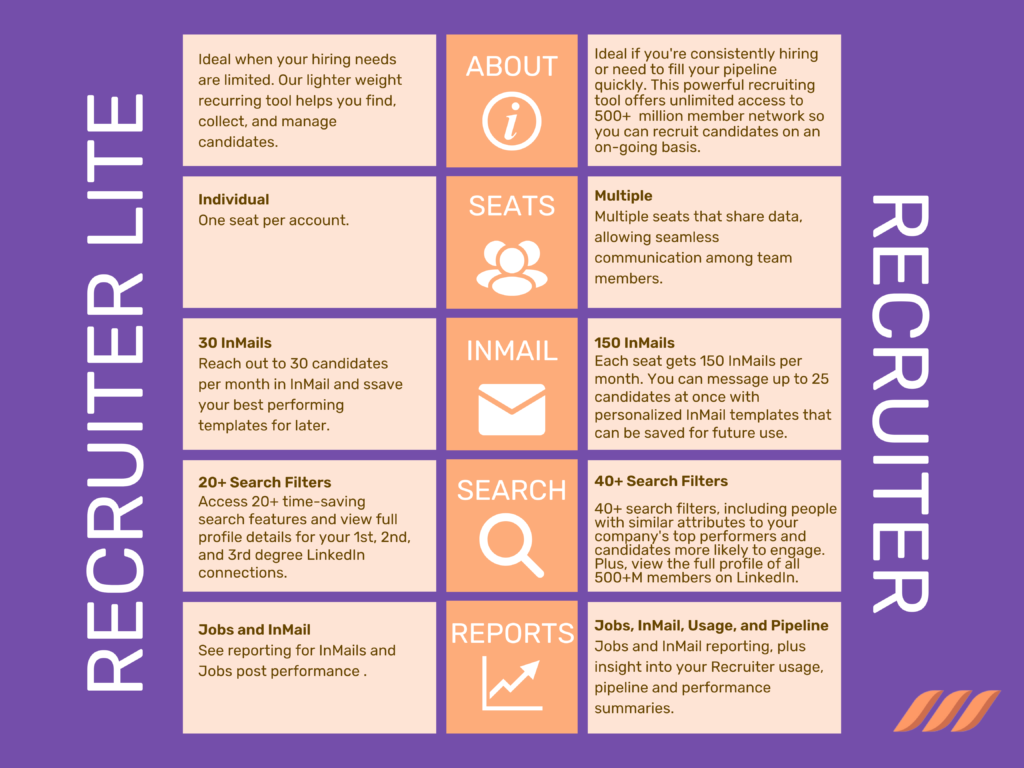 What is LinkedIn Recruiter?
LinkedIn Recruiter is a top-notch offering from LinkedIn that allows recruiters to find and manage the right additions to their teams in the most effective way possible. In addition to the options to save searches and create and manage project pipeline, a LinkedIn Recruiter account comes with:
150 InMails per month
Additional search filters
Enhanced insights and reporting
Unlimited monthly searches
Recruiter is undeniably a flagship package from LinkedIn. It is helpful for enterprises, companies, and agencies having extensive recruitment needs or many roles to fill. But, for small or medium businesses, the high-end collaborative tool would be overkill. That's where an entry-level recruitment tool — coming at a lower cost than LinkedIn Recruiter — comes into play. Yes, we're talking about LinkedIn Recruiter Lite.
But before we discuss recruiter lite, let's look at the features and usefulness of a LinkedIn Recruiter account.
LinkedIn Recruiter Account Features
Multiple Seats
Unlike Recruiter Lite, a LinkedIn Recruiter account allows multiple users to use one account and exchange data for collaboration purposes.
Advanced Keyword Search
Booleans and advanced search filters allow you to find the right fit for open positions. The search is optimized for candidates' advanced details, including their field of study, experience duration at the present organization, and years holding the current position. The AI-based intelligent recommendations feature further plays its part in finding profiles that best suit your requirements. These may include Similar Profiles, People Also Viewed, and Suggested Profiles.
InMail
Once you get profiles sorted using advanced filters, you can use the LinkedIn InMail feature to contact the candidates. This way, you can even send messages to individuals that are not your first-degree contacts on the network. Each recruiter seat gets 150 InMails per month.
Bulk Messaging
As a recruiter, you can send up to 25 messages at once to the candidates with personalized templates that you could save for future use.
Use the Dripify automation tool for recruiters for mass messaging to candidates.
Diverse Reporting
In addition to Jobs and InMail analytics reports, you also get monthly usage reports, cross-contact reporting, insights into recruiter pipeline, and performance summaries.
Update Me
This feature allows recruiters to keep tabs on the changes that candidates make to their profiles. The updates could be changes in experience, education or skill, and contact information.
Pros and Cons
Is LinkedIn recruiter legit? This is a common question many people ask, and there's no doubt it is legit and useful. While LinkedIn is seen as a mainstream recruitment platform, some argue that LinkedIn is more of a professional social network. They often assert that most people use LinkedIn to network with others instead of using it to find jobs.
But when we look at the number of people actively searching for jobs on the network, it makes sense for recruiters to tap into this opportunity.
But how useful is LinkedIn recruiter? Let's discuss.
Advanced keyword search, smart recommendations, and prioritizing candidates make it highly effective to find suitable candidates.
Contact your second-degree connections with LinkedIn InMails.
Save time by saving searches and later getting alerts on candidates who meet the criteria instead of re-creating searches.
Enable multiple seats in an account and collaborate with your team.
Manage and track your recruitment strategies with Reports.
How do I Cancel a Recruiter Account?
Here're the steps to cancel a Recruiter Account on LinkedIn:
Log in to your Recruiter account.
On the home page, hover your cursor over More at the top and select Admin Settings.
Click Cancel Subscription in the Manage Your Account box on the left.
Upon completing these steps, you will be guided through the cancellation process.
In contrast, if you purchased the Recruiter account through the sales team, you will need to contact your LinkedIn account manager for further details or review your contract terms. In case of any confusion, you can find help here.
LinkedIn Recruiter Lite Account Features
InMails
Recruiter Lite allows you to send 30 InMails monthly to engage with top talent.
Advanced Search Feature
You can base your search on what industry the candidates are employed in, their field of study, time spent at a recent position, and more filters. The 20+ advanced filters allow you to search extensively on Recruiter Lite and narrow down your potential candidate in the most effective way.
3rd Degree Connection Profile Views
Get access to 1st, 2nd, and 3rd degree LinkedIn connections with the full profile view option. Unlike the free version, which restricts you to a certain number of profile views, Recruiter Lite allows you to view unlimited profiles.
Reports
Get insights and reports about InMails and Jobs post performances.
Candidate Pipeline
A dedicated project for each position enables users to see the talent pool and keep the best ones organized using easy management tools such as follow-up reminders.
So, if you're impressed by these features, you may want to upgrade to Recruiter Lite. But how much is recruiter Lite monthly? Well, it would cost you $99.95 a month — a significant price reduction if we draw a pricing comparison with its premium version (costing $825 a month).
The Downsides
A significant reduction in InMails compared to LinkedIn Recruiter.
Since Recruiter Lite only permits 1 seat per account, multiple users cannot collaborate like in the case of the Recruiter version.
Except for InMail and job post performance reports, you don't get recruiter usage, pipeline, and summary data with the light version.
How Do I Cancel Recruiter Lite?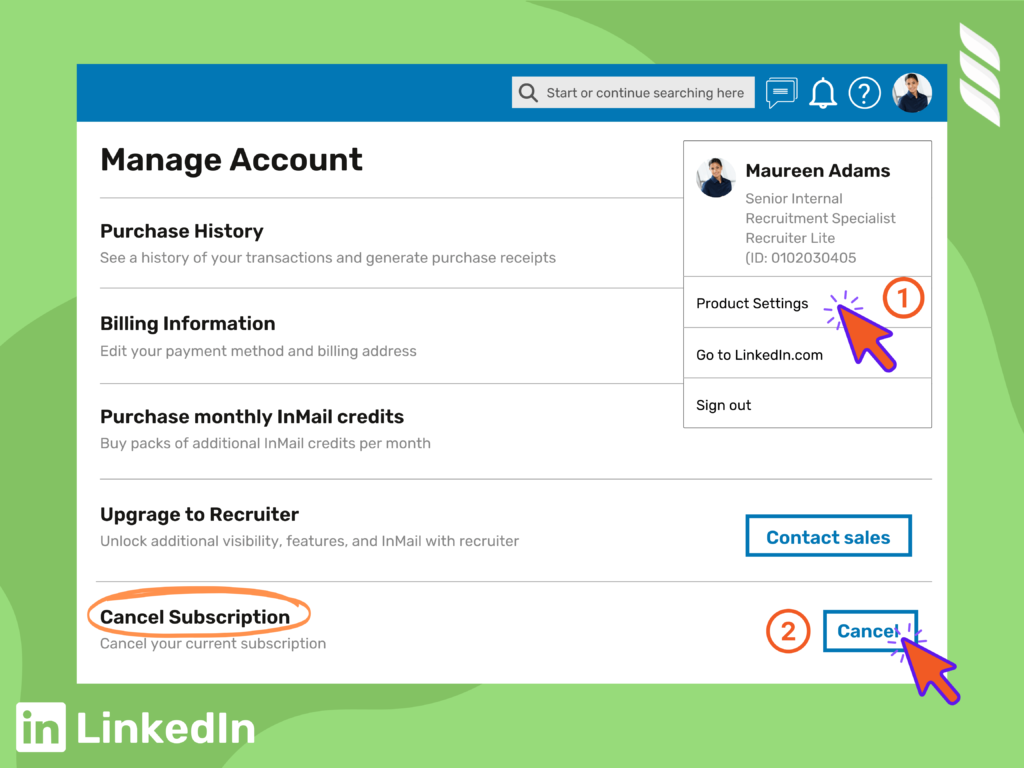 Follow the steps listed below to cancel your Recruiter Lite account:
Log in to your Recruiter Lite account.
On the homepage, move your cursor over your Profile icon in the top right corner, then select Product Settings.
Click Manage Account and then Cancel Subscription.
Follow the on-screen instructions to complete the cancellation process.
Conclusion
LinkedIn Recruiter and Recruiter lite tools help you find the most suitable candidates for your company. Both tools help you reach and connect with the right resources to fulfill your recruitment requirements.
The LinkedIn Recruiter offers unlimited access to a 900+ million member network, while the Recruiter Lite is ideal if your recruitment needs are limited. The Recruiter lite is ideal for small businesses, while the Recruiter is suitable for large companies.
The recruiter offers you access to 900+ million members and people with similar skills and attributes to your company's top performers, while the lighter version offers you access to your 1st, 2nd, and 3rd-degree connections.
Both tools offer highly useful features to fulfill your recruitment needs and help you find the right talent for your organization.
Read also: How to Search for LinkedIn Premium Members
Regardless of whether your profile is created through Recruiter or Recruiter Lite, each one requires some optimization to work to its full potential. Manual optimization can be an option if you dedicate a considerable chunk of your energy to this process. Or, if you want to do clever work, get your hands on LinkedIn automation tools. Tools like Dripify cut short the time and effort required and make the process a lot more streamlined.
Click the link to try Dripify for free!