In today's competitive job market, where the demand for top-tier talent exceeds the available supply, the ability to identify and attract highly skilled individuals has become paramount for the success of any organization. And while LinkedIn has emerged as a go-to platform for recruiters and HR professionals to identify and connect with potential candidates, this platform, too, is not immune to the competition for top talent acquisition.
In order to truly harness LinkedIn's potential to discover the best talent, it is essential to use the right strategies and follow a carefully curated set of steps. In this comprehensive guide, we'll show you how to make a splash on LinkedIn and reel in top talent like a pro.
Related article: Best Recruitment Automation Tools
Read on for the crucial steps and prospecting tips for recruiters to find candidates on LinkedIn!
How to Find Candidates on LinkedIn For Free
So, are you ready to dive into the vast talent pool of LinkedIn without spending a dime? In this section, we'll share with you some savvy strategies and steps to find candidates on LinkedIn without breaking the bank.
1. Optimize Your Profile
Before embarking on your candidate hunt, make sure your LinkedIn profile shines brighter than a disco ball. Don't forget to fill out all the necessary details, including your professional experience, skills, and education. Plus, use a high-quality, friendly photo that exudes confidence and approachability.
Discover how to SEO optimize your LinkedIn profile and increase views.
Remember, a killer profile attracts killer candidates. So, don't forget to customize your LinkedIn URL to make it easy for others to find you. What's more, your summary is like the trailer for your professional journey. So use this section to tell your story, highlight your expertise, and convey your passion for your work. Be concise, engaging, and authentic.
It is also a good idea to request recommendations and endorsements from colleagues, managers, or clients who can vouch for your skills and work ethic. These testimonials act as social proof and can build trust with candidates who are considering working with you.
2. Use Advanced Search
LinkedIn's search bar is your secret weapon for candidate sourcing. As such, you should use it wisely by leveraging the advanced search filters. You can narrow down your search by location, industry, job title, and more. It's like having an X-ray vision for finding the perfect candidates.
Here's how you can use advanced LinkedIn searches to find the best candidates for free:
Refine Your Search Filters: Start by using the basic search bar to enter keywords related to the type of candidate you're looking for. Once the search results appear, click on "All Filters" to access advanced search options. Here, you can refine your search by specifying criteria like location, current company, past companies, industry, school, language proficiency, and more.
Combine Search Terms: To create a more targeted search, use combined search terms. For example, if you're looking for a software engineer with expertise in both Python and Java, you can search for "software engineer AND Python AND Java". This will narrow down the results to candidates who possess skills in both programming languages.
Save and Manage Your Searches: LinkedIn allows you to save your search criteria and receive email notifications when new candidates match your requirements. This saves you time by automating the candidate discovery process. You can also manage your saved searches and edit them as needed.
3. Join Relevant Groups
LinkedIn groups are vibrant communities where professionals gather to discuss industry trends, share insights, and network. Joining relevant groups can be a goldmine for finding potential candidates who are actively engaged in conversations related to your field.
Here're some tips to make the most out of LinkedIn groups:
Search, find, evaluate, and join relevant groups.
Participate in group discussions to project yourself as a knowledgeable and helpful member.
Connect with group members by sending personalized connection requests. In doing so, be sure to keep the weekly LinkedIn invitation limit in mind.
Start your own conversations to position yourself as a leader and create opportunities for engagement with potential candidates who have valuable insights to contribute.
Use the group filters within the LinkedIn search bar to narrow down your search.
4. Leverage Connections
Your existing network of connections is a treasure trove of potential candidate referrals and introductions. As such, it is a good idea to reach out to colleagues, industry friends, and former coworkers. Let them know you're on the lookout for exceptional talent. They might refer suitable candidates or introduce you to professionals in their networks.
Remember, word of mouth travels faster than a rumor at a high school prom. Ask for referrals directly or use LinkedIn's "Ask for a referral" feature to make it easy for your connections to recommend candidates. Also, you can reach out to alumni who are working in fields relevant to your hiring needs and seek their advice or potential candidate recommendations.
5. Engage With Content
Keep your finger on the pulse of your industry by engaging with relevant content on LinkedIn. For example, you may want to comment on posts, share insightful articles, and showcase your expertise. By doing so, you'll attract candidates who admire your knowledge and want to be a part of your network.
What's more, engaging with content increases your visibility and establishes you as an industry influencer. Sharing content, such as blog posts, industry updates, or tips for professionals in your field, will help attract candidates. It is also good to engage with others' content by asking thoughtful questions and providing meaningful insights.
Are you looking for a job on LinkedIn and want to get in touch with a recruiter? Check out our article on how to reach out to a recruiter on LinkedIn.
How to Find Candidates on LinkedIn
Let's have a look at more ways to find and attract more candidates on LinkedIn:
1. Use Boolean Operators on LinkedIn
LinkedIn allows you to use Boolean operators (AND, OR, NOT) to refine your search. This means you can combine keywords, job titles, and locations to create targeted searches.
For example, if you're looking for a "marketing manager" in "New York" with experience in "digital advertising," you can search for "marketing manager AND New York AND digital advertising". It's like solving a recruitment puzzle! Experiment with different combinations to get the best results.
2. Use Dripify for Recruiters
Dripify makes it super easy for recruiters to know if someone has opened and clicked on the emails they sent using the platform. This helps recruiters understand how interested their contacts are and enables them to follow up accordingly.
Read also: Why You Need Dripify for Recruiters
3. Create a Killer Job Posting
Your job postings should be like a siren's song, luring in top talent. Craft a captivating and concise job description that showcases your company's culture, values, and exciting opportunities. Clearly outline the responsibilities, qualifications, and benefits of the position.
Make candidates drool with anticipation, and include keywords that candidates might search for in their job hunt. Use storytelling techniques to bring the role to life and highlight the impact they can make by joining your team.
Example:
Creative Web Designer Wanted to Transform Digital Experiences
We're seeking a visionary web designer to join our dynamic team and revolutionize digital experiences for our global client base. If you're a creative genius with an eye for stunning visuals and a passion for pushing the boundaries of design, we want to hear from you!
Responsibilities
Collaborate with cross-functional teams to develop innovative website designs that align with client objectives
Create wireframes, mock-ups, and prototypes to visualize design concepts
Design user-friendly interfaces that enhance user experience and drive engagement
Stay on top of industry trends, insights, and best practices to deliver cutting-edge designs
Ensure consistency and brand alignment across all digital platforms
Required Skills
Proficiency in Adobe Creative Suite, including Photoshop, Illustrator, and XD
Strong understanding of user experience principles and web design best practices
Proficient in HTML, CSS, and responsive design
Excellent visual and typographic skills with keen attention to detail
Ability to collaborate effectively with cross-functional teams and clients
Why Join Our Team?
Be part of an innovative company that values creativity and fosters professional growth
Work with a team of designers and developers in a collaborative and supportive environment
Enjoy flexible work arrangements and competitive compensation packages
Access to growth and development opportunities to improve your skills and stay at the forefront of design trends
To apply, send your resume and portfolio to [email protected].
Join us in transforming digital experiences and creating design masterpieces that leave a lasting impact. Apply now and let your creativity soar!
Related article: Top Prospecting Tips for Recruiters
4. Engage With Candidates
Don't be a wallflower; instead, dance your way into the hearts of potential candidates. Reach out to them via LinkedIn messages or InMail. Personalize your messages by mentioning their skills, experience, or achievements. Show genuine interest in their background and potential fit for your organization.
By treating the potential candidates like the rockstars they are, you'll create meaningful connections and increase your chances of securing their interest. Don't make it all about you — focus on how the opportunity aligns with their career goals and aspirations.
5. Use LinkedIn Recruiter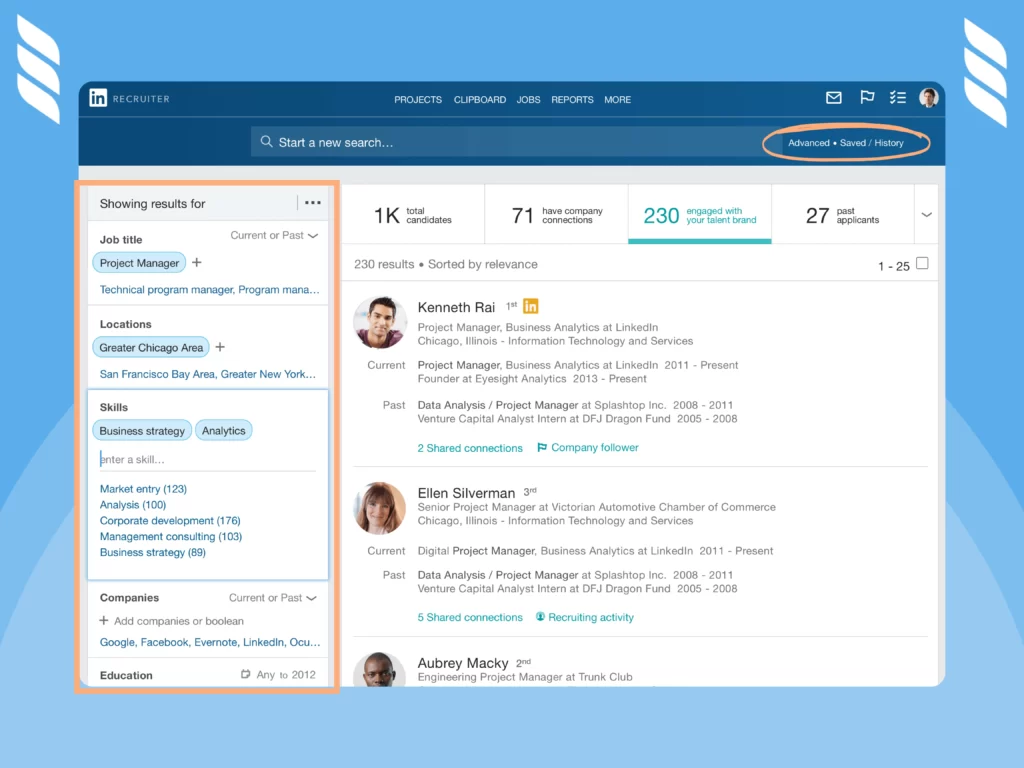 If you're serious about finding the crème de la crème, consider using LinkedIn Recruiter. This paid feature provides advanced search options, personalized messaging, and in-depth candidate insights.
LinkedIn Recruiter gives you access to additional search filters, such as years of experience, seniority level, and company size. It also allows you to see who's open to work on LinkedIn and even see a resume on LinkedIn of your potential candidate. It's like having your own personal recruitment genie.
6. Attend Virtual Events
Explore LinkedIn Events or external platforms hosting industry-specific conferences, webinars, and networking sessions. This provides you with the chance to engage with participants, exchange ideas, and build relationships.
Remember, virtual events provide an opportunity to identify potential candidates who are actively participating in the industry conversations you care about. You can also leverage the chat feature or connect with attendees afterward to continue the conversation and find the right candidates for your company.
7. Post-Engaging Content
Showcase your company's unique culture, projects, and success stories by regularly posting engaging content on LinkedIn. For instance, you could share behind-the-scenes glimpses, employee spotlights, or thought-provoking industry insights on your LinkedIn company page and even through your own LinkedIn account.
Consistently providing valuable content will help attract like-minded professionals who resonate with your brand and might be interested in joining your team. It is also good to encourage your employees to share their experiences and contribute to your content strategy, creating a diverse and authentic representation of your organization.
8. Use LinkedIn's Talent Solutions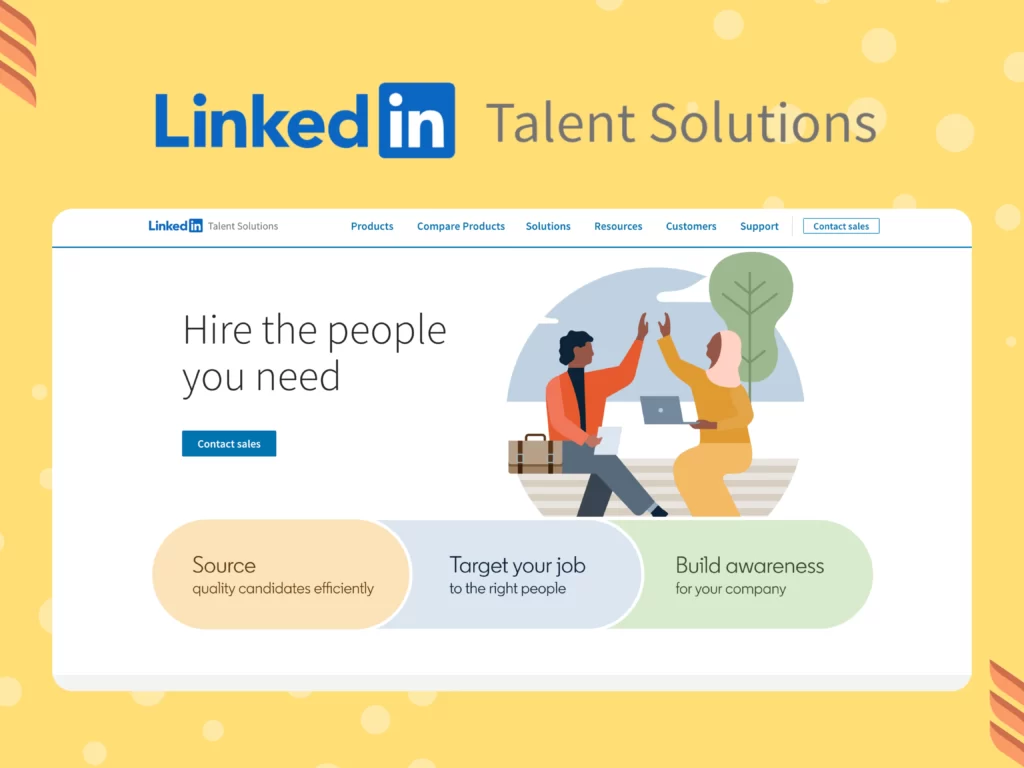 LinkedIn offers a range of talent solutions designed to help you find and attract candidates.
For example, the LinkedIn Jobs feature allows you to post job openings and reach a wide audience. And LinkedIn Recruiter Lite provides additional search capabilities, while Career Pages enable you to showcase your company's culture and values.
You may want to evaluate LinkedIn Recruiter Lite vs. LinkedIn Recruiter to choose the best option for your recruitment drive. Some companies even invest in LinkedIn Ads as a talent solution to draw the best latent to their organizations.
Conclusion
Congratulations, recruitment maestro! You've reached the end of our guide "How to Find Candidates on LinkedIn". By following these tips and strategies, you'll be able to navigate LinkedIn with ease, netting top-notch talent for your organization. Remember, recruitment is an art, and LinkedIn is your canvas. So go forth and build the dream team that will propel your business to the height of growth and success.