Recruitment via LinkedIn is effective, but keeping track of all the conversations and connections with potential employees can take time and effort. Many recruiters are increasingly resorting to tools and techniques that can streamline the recruiting process and save time.
Dripify is one of the leading LinkedIn automation tools on the market that can help streamline the recruitment process. This advanced LinkedIn automation tool helps recruiters find and connect with potential candidates with a few clicks.
Read on for everything you want to learn about Dripify for recruiters.
What Is LinkedIn Automation?
LinkedIn automation involves using software to automate specific tasks on LinkedIn. You can use automation software to automatically send connection requests, messages, and invitations to LinkedIn users.
Plus, LinkedIn automation allows you to post updates on LinkedIn, as well as to join and leave groups. However, to reap these benefits, you must use LinkedIn automation responsibly, adhering to LinkedIn's terms of service. Otherwise, you risk having your account suspended or even banned from the site.
Importance of LinkedIn Automation for Recruiters
LinkedIn automation has become an essential tool in today's recruitment landscape. By automating repetitive tasks like sending messages in bulk and sending invitations, recruiters can save significant time while maintaining a high level of activity on the site.
Also, a well-devised automation process can help ensure your messages are customized and personalized for each recipient, increasing the likelihood of a positive response. And since you can schedule automated messages, staying in touch with potential candidates even when they are away from their desks is easier.
When used correctly, LinkedIn automation can be a powerful tool for any recruiter.
Here are five benefits of automating your LinkedIn recruiting process:
1. Time-Saving
Automating your process can help you quickly identify and connect with potential candidates that match your desired criteria. For example, you can use a sourcing tool to build custom Boolean search strings that will do the hard work of scouring LinkedIn for you. This means that you can spend less time looking for candidates and more time interacting with them.
2. Increased Productivity
Besides saving time, automating your LinkedIn recruiting process can help you be more productive by allowing you to multitask. For example, while searching for candidates that match your desired criteria, you can work on other tasks such as reviewing resumes or scheduling interviews. That's the difference LinkedIn automation brings for recruiters.
Related article: Best Recruitment Automation Tools
3. More Qualified Candidates
Using a savvy sourcing tool, you can target specific criteria when searching for potential candidates, leading to increased hire quality. These automation tools let you search for "people who have worked at Google AND Facebook" or "people who have a degree from Harvard AND experience in marketing." This is just one example of how systematizing your LinkedIn recruitment brings big changes to your business.
Related article: Best Prospecting Tips for Recruiters
4. Greater Access to Passive Candidates
Many times the best candidates are not actively searching for a job but would be open to hearing about new opportunities if presented to them.
Sourcing tools help you reach out to these potential candidates by sending them a personalized message through LinkedIn InMail (a feature that allows users to send messages directly to users they are not connected with).
5. Better Candidate Experience
The recruitment process can be confusing and frustrating for job seekers, so we must do everything possible to make their experience as smooth as possible. And, to that regard, automating your process allows you to respond quickly to candidates, offering a better overall experience and increasing the chances of them accepting an offer if one is extended to them.
Related article: LinkedIn Recruiter vs Recruiter Lite
What is the Dripify LinkedIn Automation Tool Used For?
If you're a recruiter, you'd know that finding and connecting with suitable candidates is a time-consuming process. And when you don't have an automation tool to help you with your LinkedIn recruiting, you'll fall behind the times.
But don't worry because Dripify has your back. Dripify is an automation tool that makes it easy to find, connect, and engage with potential candidates.
Here's everything you need to know about how Dripify can help you find the best candidates for your open positions.
How Dripify Works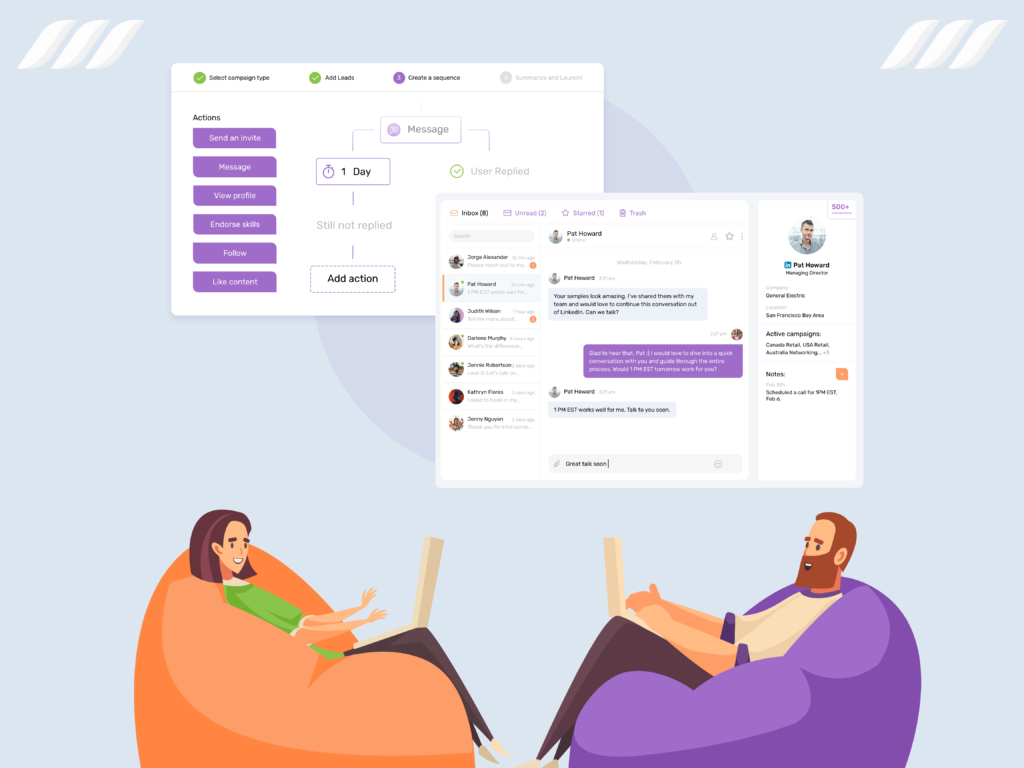 Dripify is an advanced automated software that integrates with your LinkedIn account.
Once you purchase a Dripify plan and log into your account, you'll be able to access all of Dripify's features directly from your LinkedIn account. That means you can find, connect with, and message potential candidates without leaving LinkedIn.
One of the best things about Dripify is that it's completely customizable, as you can create different search queries based on criteria like job title, location, or company size. It also allows you to set up automated messages that will be sent to new potential candidates as soon as they match your search criteria.
What's more, if you're worried about being too "sales-y," don't be. Dripify comes with message templates that strike the perfect balance between helpful and pushy.
Here are just a few of the ways that Dripify can help you streamline your recruiting process:
You'll be able to connect with more potential candidates in less time.
You can customize your searches to find candidates that match your specific criteria.
The automated messages make it easy to stay in touch with potential candidates without manually sending individual messages.
You can track which messages get the best response rate to optimize your message strategy.
It's a desktop application, so you won't have to switch back and forth between different tabs or windows while working.
The Benefits of Using Dripify LinkedIn Automation Tool for Recruiters
Here're some reasons why you should use Dripify for recruiters:
1. Automatically Add Candidates to Your Drip Account
Dripify makes it easy to add candidates to your drip account. You can add someone's name, contact information, and other relevant details to your account with just a few clicks.
This saves you the valuable time you would otherwise spend manually inputting this information. Furthermore, Dripify ensures that you always remember to add someone to your account and don't miss an opportunity to reach out to a potential candidate.
2. Send Automated Emails Based On Triggers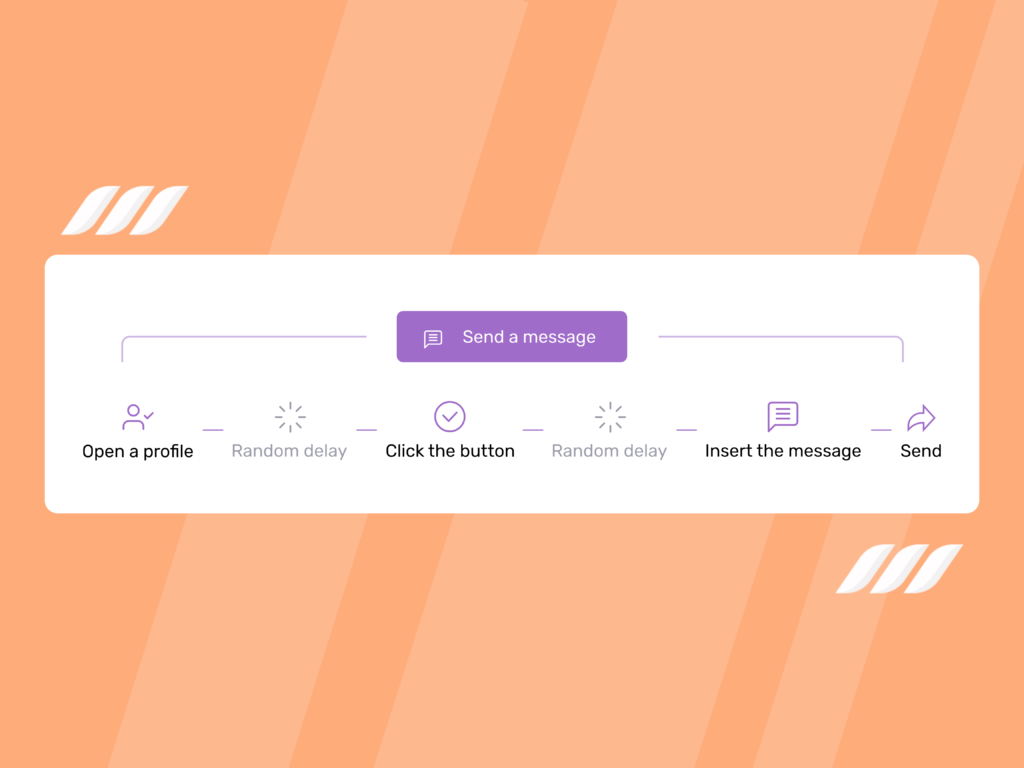 Another great feature of Dripify is that it allows you to send automated emails based on certain triggers. For example, you can set up an email campaign that will automatically send a message to candidates after they've been added to your account.
This allows you to stay in touch with candidates and keep them updated on the status of their applications. You can also use Dripify's email automation feature to send reminders about upcoming events or deadlines. With this feature, you can rest assured no candidate falls through the cracks and that every interaction is timely and professional.
3. Track Email Opens And Clicks
Dripify allows recruiters to see who has opened and clicked on the emails they've sent through the platform. This information is valuable because it allows recruiters to gauge the engagement of their contacts and follow up accordingly.
Consider this example. If a recruiter sees that a high percentage of their contacts have opened an email, but few have clicked on any links, they may want to follow up with a phone call or personal message to encourage further engagement.
Conversely, if few people have opened an email, the email's content may be particularly relevant or interesting to that group. This gives you a chance to plan your email marketing accordingly.
Related articles: Email Outreach Tracking and Best Email Marketing Automation Tools
4. See Who's Engaged With Your Content
In addition to tracking email opens and clicks, Dripify allows recruiters to see which contacts engage with their content most frequently. This allows recruiters to focus on the individuals who are already interested in what they have to say instead of spending time on individuals who are less likely to convert.
Suppose a recruiter sees that one contact has viewed their profile multiple times, visited their website, and engaged with several of their posts; that contact is likely a prime candidate for a personal message or phone call.
On the other hand, if a contact has only visited the recruiter's profile once or twice and hasn't interacted with any content, they may be less interested, and the recruiter can prioritize other contacts accordingly.
5. Measure the Success of Your Recruitment Campaigns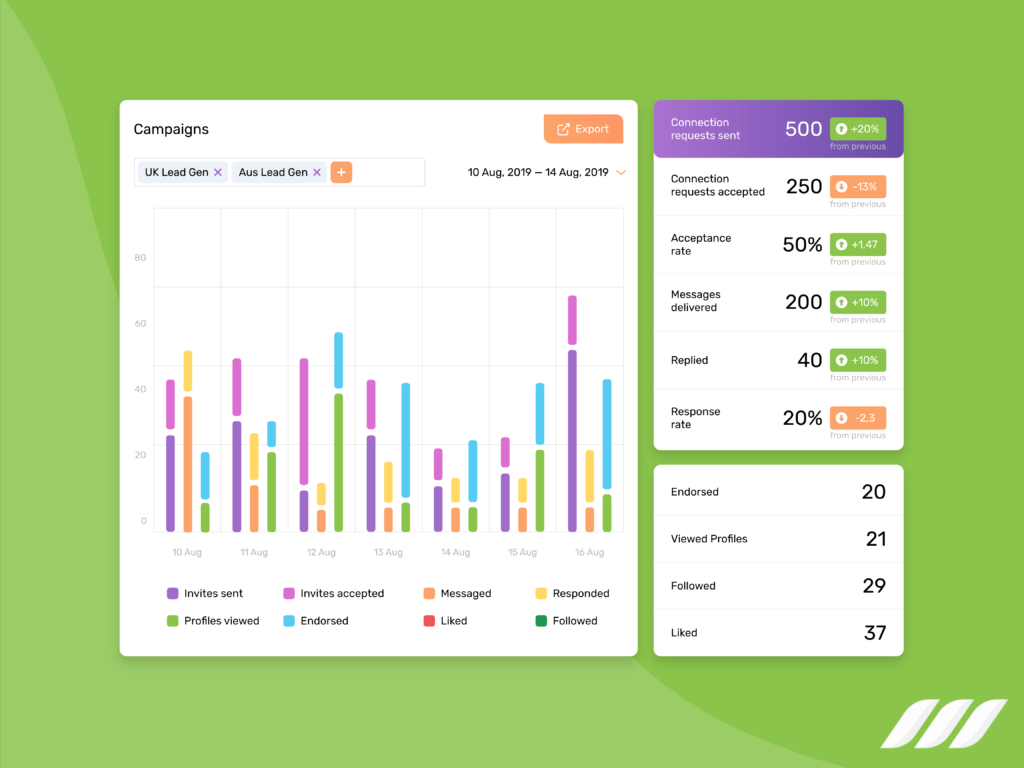 Successful campaigns require clear goals, and your recruitment campaigns are no different. With measurable goals, you can tell if your campaign is successful. This is where Dripify's automation tool comes in handy.
Dripify allows you to track the results of your recruitment campaigns to see which ones are performing well and which ones need improvement. For each campaign, you can see generated leads, received applications, and hired candidates. This data is invaluable for understanding what works and what doesn't work in your recruitment process.
Using Dripify's automation tool, you can also A/B test different campaign strategies to see which are most effective. This way, you can continually improve your campaigns and get the best results possible.
What are the Different Types of LinkedIn Automation Tools?
In a world where nearly 90% of B2B marketers use LinkedIn to distribute content, it's no wonder that automation tools for this popular platform are on the rise. But with so many different automation tools available, it can be difficult to know which ones are right for you and your business.
Let's now break down the most popular types of LinkedIn automation tools you can use:
Content Sharing Tools
As the name indicates, content-sharing software lets you share your content more effectively on LinkedIn. These tools can help you share your original content and content from other sources relevant to your audience. Many content-sharing tools also allow you to schedule your content in advance, so it is published at the best times for maximum engagement.
Prospecting Tools
Prospecting tools help you find and connect with potential customers on LinkedIn. These tools can help you target specific industries, job titles, or companies so that you can connect with only the most relevant prospects.
Prospecting tools can also help you automate messages so you can save time while still making a personal connection with each prospect.
Analytics Tools
Analytics automation software helps you track your progress and measure the success of your LinkedIn marketing efforts. These analytics can include information about your post reach, engagement rates, website traffic, and more.
Further, these tools can provide insights into which types of content are performing well, who is engaging with your content, and how often people visit your profile. Analytics tools can also help you identify any potential areas for improvement so that you can adjust your strategy accordingly.
Why You Should Pick Dripify LinkedIn Automation Tool for Recruiters
As a busy recruiter, you need a tool to help you streamline your process and automate some of the more time-consuming tasks, like sending connection requests and messages. Enter Dripify!
Dripify includes all the features you need to source and connect with candidates on LinkedIn efficiently. Plus, it's easy to use and reliable – two things that are essential in a good automation tool.
Here are some reasons why you should pick Dripify as your LinkedIn automation tool of choice:
1. User-Friendly
The last thing you want is to spend hours figuring out how to use a complicated software system. With Dripify, you can start using the tool immediately – no training is required.
The intuitive interface makes it easy to navigate, and the step-by-step instructions make it simple to set up your account and start using the features.
2. Fast and Efficient
When you're searching for candidates on LinkedIn, time is of the essence. You need a tool to help you quickly source potential candidates and reach out to them efficiently. 
Dripify's search functions allow you to quickly find the profiles of potential candidates that match your criteria. And once you've found a candidate you're interested in, you can use the built-in messaging function to reach out right away – no more fumbling around with LinkedIn's interface!
3. Affordable
As a recruiter, you need a tool that gives you the most bang for your buck – and that's exactly what Dripify does.
For just $39/month, you get access to all of Dripify's features, including unlimited searches, message templates, automated follow-ups, and more. That's a small price to pay for such a powerful recruiting tool!
4. Dripify Comes With Great Customer Support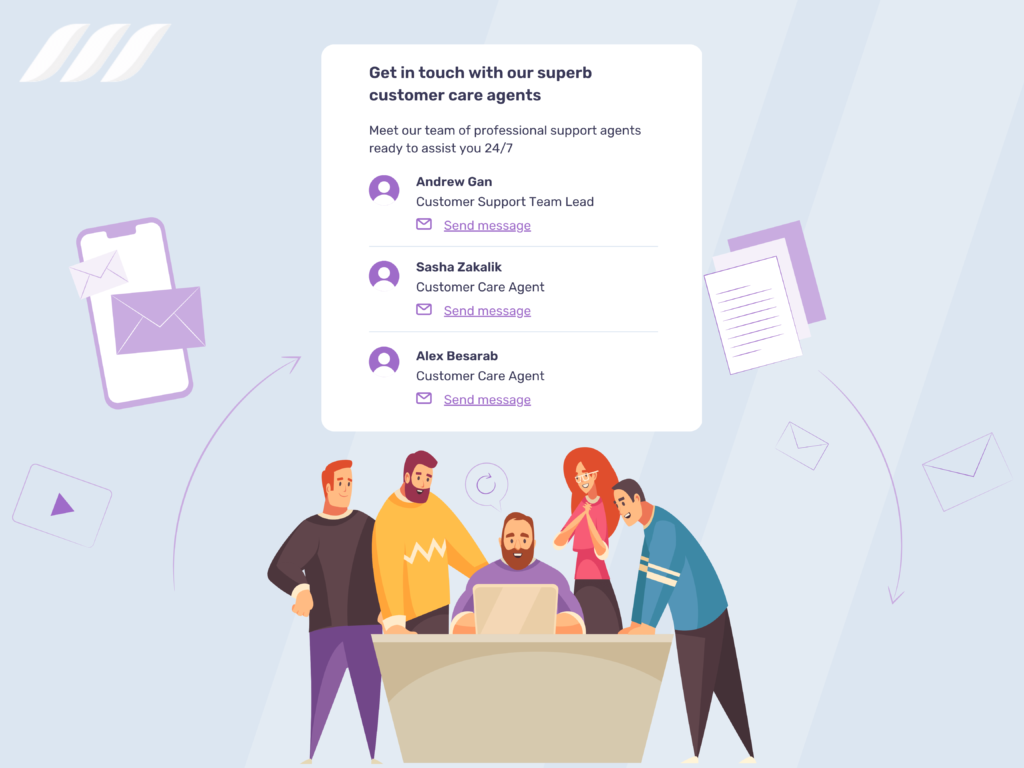 When you're using an automation tool, there's always a chance something could go wrong. That's why it's crucial to have access to excellent customer support in case you need help troubleshooting an issue or have questions about how to use the tool.
With Dripify, you can rest assured that our team is here to help 24/7/365. We're always just a phone call or email away.
Conclusion
With the war for talent hunting getting more expensive, companies can only afford to save time and money on efficient recruitment processes. Dripify for recruiters focuses on helping you recruit top talent more efficiently.
With Dripify on your side, you can quickly identify and connect with potential candidates, saving you time and money. In addition, this automation tool's advanced features allow you to track your recruiting efforts and analyze your results. It continuously improves your recruitment process and increases your chances of successful hiring.