It's no secret that the complexity of recruitment has noticeably increased over the past few years. On the one hand, candidate profiles and resumes have become richer and more dynamic than ever. At the same time, talent acquisition has become sophisticated in terms of responding to hyper-competition.
Lately, many employers have been using a recruitment automation tool to make the hiring process smarter and less time-consuming. The modern recruiters are now focusing more on judgment and expertise than handling monotonous work like organizing CVs or scheduling interviews.
Related article: Top 10 Prospecting Tips for Recruiters
This article will discuss the recruitment automation tool, its benefits, and how to use it for optimum outcomes. And finally, we'll introduce the best recruitment automation tools. Keep reading!
What is Recruitment Automation Software?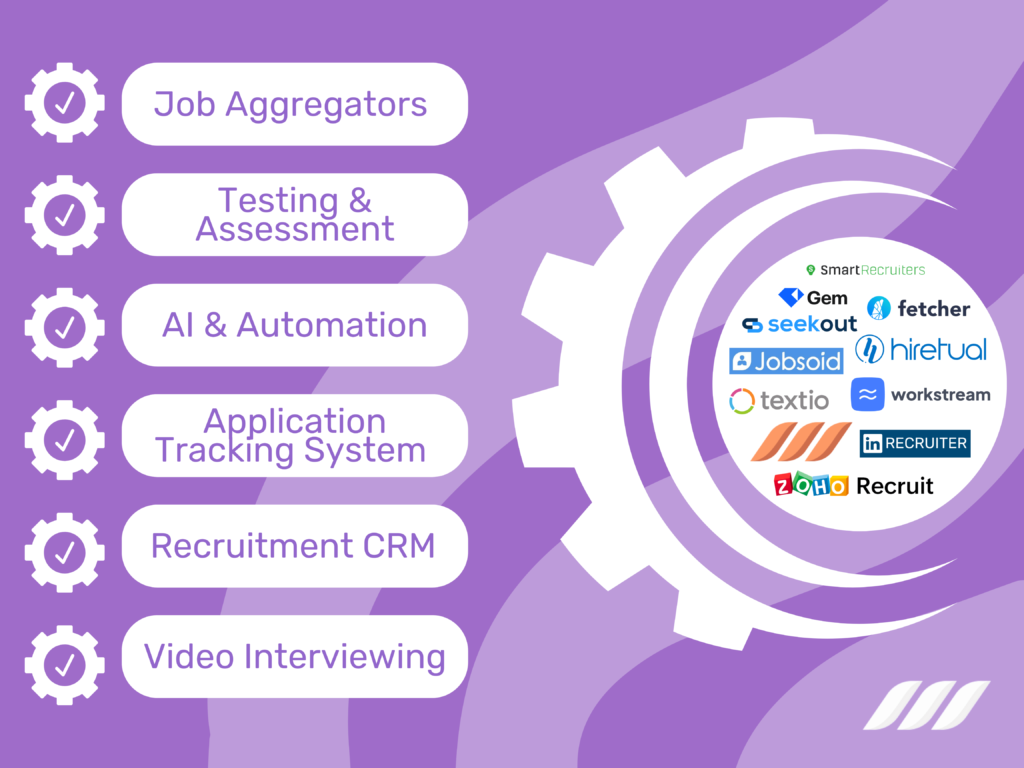 Recruitment automation tools or software allows companies to automate their recruiting cycles and workflows that are otherwise done manually by HR.
Some of the types of recruitment tools include:
Job Aggregators
Testing & Assessment
AI and Automation
Application Tracking System
Recruitment CRM
Video Interviewing
Recruitment automation plays dynamic roles in the hiring process, such as job sourcing, advertisement, tracking, engagement, hiring, and onboarding. But in a nutshell, it assists you in attracting, hiring, and securing the top talent in the industry. These tools allow you to put the many repetitive and time-consuming recruitment tasks and steps on autopilot.
Why Use Recruitment Automation Tools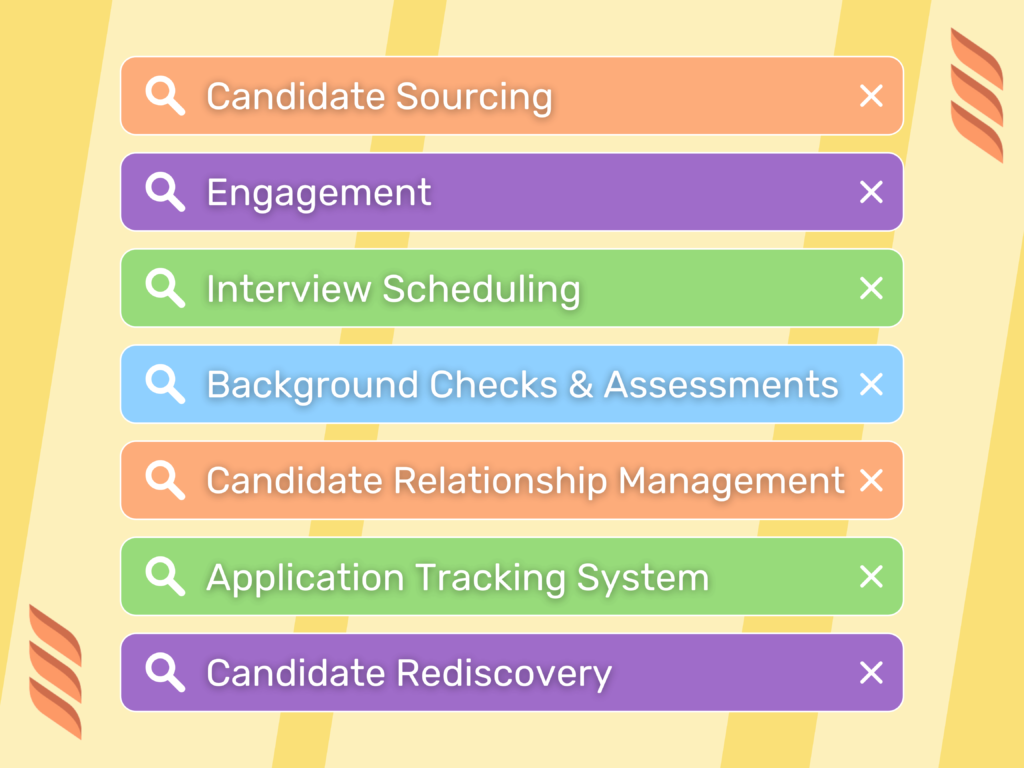 A recruitment automation tool provides hiring managers and businesses a competitive edge by connecting them with top-tier talent faster and at a fraction of the cost. It scales your productivity and boosts your hiring efficiency by automatically handling the otherwise manually laborious steps. This allows you to shift your focus toward the more important interpersonal facets of hiring.
Here are some of the ways recruiting tools make hiring easy:
Candidate Sourcing – Match candidates' skills and experience with job requirements to find the best ones.
Engagement – Keep the shortlisted candidates up-to-date with follow-ups and guide them at every stage of the recruitment cycle.
Interview Scheduling – Find convenient interview slots for both parties and set up 1:1, panel, group, or sequential interviews.
Background Checks & Assessments – Evaluate candidates' profiles to see if they're good enough for the position.
Candidate Relationship Management (CRM) – Maintain long-term relationships with candidates using built-in CRM or CRM integrations.
Application Tracking System (ATS) – Organize candidates by collecting their information, categorize them according to skill sets, and predict success factors using AI and machine learning.
Candidate Rediscovery – Discover candidates that might already be present in your current CRM/ATS.
The Benefits of Recruitment Automation Tools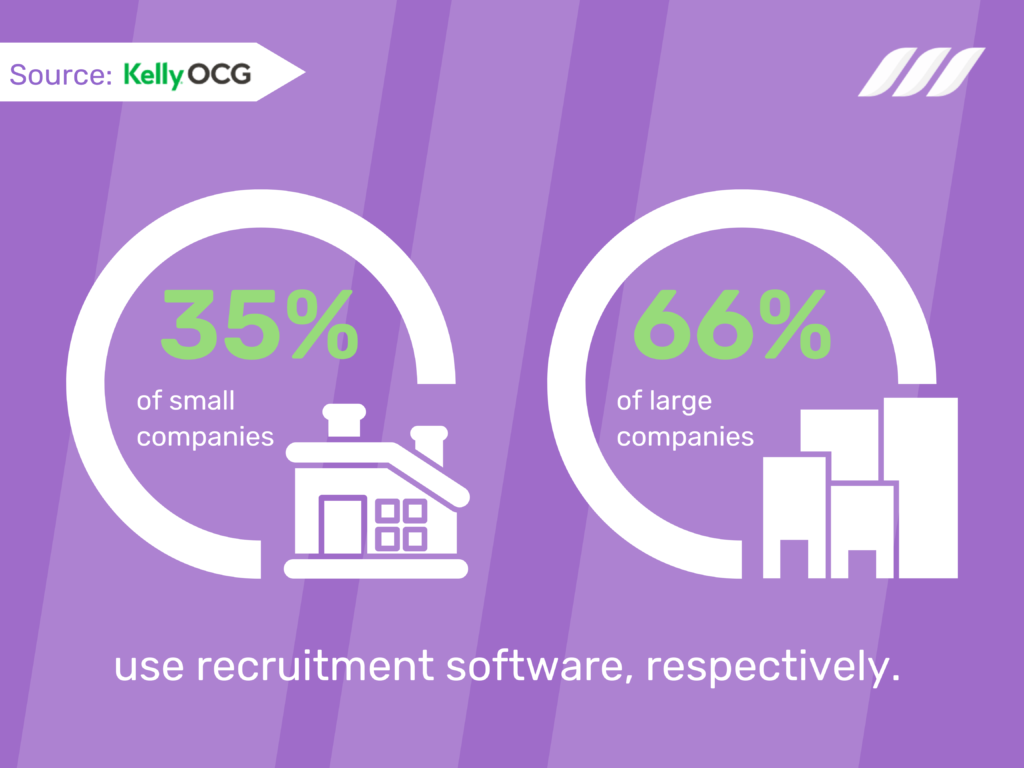 A Kelly OGC survey found that 66% of large and 35% of small companies use recruitment software, respectively. Here's why many businesses and recruiters are shifting to recruitment automation tools.
Better Consistency
Automation tool for recruiters offer perfect consistency because it does not involve the human element. By contrast, a human counterpart could make errors out of impulses, focus and mood shifts, and lesser attention to detail. Plus, manual hiring can be subconsciously biased. Hiring tools keep the process free from biases and use scientific variables to find the best talent.
Reduced Hiring Time
Recruiting software streamlines the hiring journey and shortens the time taken from sourcing to onboarding candidates. This could include monitoring applicants' progress, scheduling interviews according to availability, screening candidates closest to job requirements, and more.
You achieve two important outcomes: cutting the downtime on elements like pre-screening, engagement, and tracking cut down time.
1) You can spend more time connecting with candidates on a more personal level.
2) You minimize the risk of losing the perfect candidates to your corporate rivals.
Better Quality of Hires
For starters, an automation tool for recruiters handles the accuracy and consistency of the administrative components. Consequently, hiring managers are freed to devise strategies for optimal performance instead of wasting time and resources on repetitive tasks.
Thanks to automation tools, more applicants can be screened, and that too on a deeper level and without spending much time.
The tools allow you to perform tasks like pre-screening, resume checking, and background checking at scale. Plus, you can thoroughly handle a high volume of applicants, so your odds of finding good candidates are higher.
Collaboration Features
Most recruitment automation tools can be integrated with other software, such as CRM or ATS. Not just that, you can import or export data in CSV files. This enables easy data handling from one portal instead of switching between software and maintaining records separately.
Automation tools also improve internal communication by bringing teams to one place. As a result, you can pass candidate information, restrict sensitive information, and make collaborative decisions under one roof.
Optimized Hiring
Automation tools combine your team efforts and enable you to assess performance. This way, you can measure your hiring efforts' success and pinpoint your shortcomings.
But that is just the tip of the iceberg.
Hiring tools transform the data collected at different stages into a visual form. This makes it easier to process information and make informed decisions.
Lastly, by putting metrics up against quantifiable data, you can analyze your campaigns' performances and see if changes are required.
Improved Applicant Experience
Recruitment tools speed up communication with candidates regarding follow-ups, updates, and responses. This maintains the efforts and interests of applicants and ensures they feel valued and respected.
Quicker Offer Letter and Onboarding
Recruiting technology revamps the way final formalities are done. The traditional way of manually filling out forms, signing, and preparing agreements takes considerable time. Recruitment tools automate offer emails, secure sign-offs, and allow for contact signing online.
How to Automate the Recruitment Process [Tips]
There are multiple ways you can automate your recruitment process. Let's look at the most important touchpoints where automation can be invaluable.
1. Pre-Screen Candidates
Minimize unnecessary interview rounds by having pre-recorded video interviews or text-based questionnaires. Prepare a set of questions and upload it to your online system for candidates to answer at their pace. Then, set aside time to review answers and screen unqualified applicants.
2. Automate Outcomes
Feed correct answers in your hiring tool to score and rank the pre-screenings automatically. Besides, there is a possibility to specify screening criteria so automated decisions could be taken on your behalf.
3. Simplify Scheduling
Let the candidates schedule themselves for the interview in your hiring system based on the available time slots. This removes you and your team from the other tedious, back-and-forth manual process.
4. Conduct Video Profiling
Some of the next-gen recruitment tools feature AI for analyzing video interviews. They factor in facial recognition, NLP, and speech analytics, to create a candidate profile. As a result, recruiters can probe into subtle details for highly accurate results.
For example, it allows you to determine whether candidate A or candidate B is more confident/ambitious/sensitive for a particular role.
5. Set Message Triggers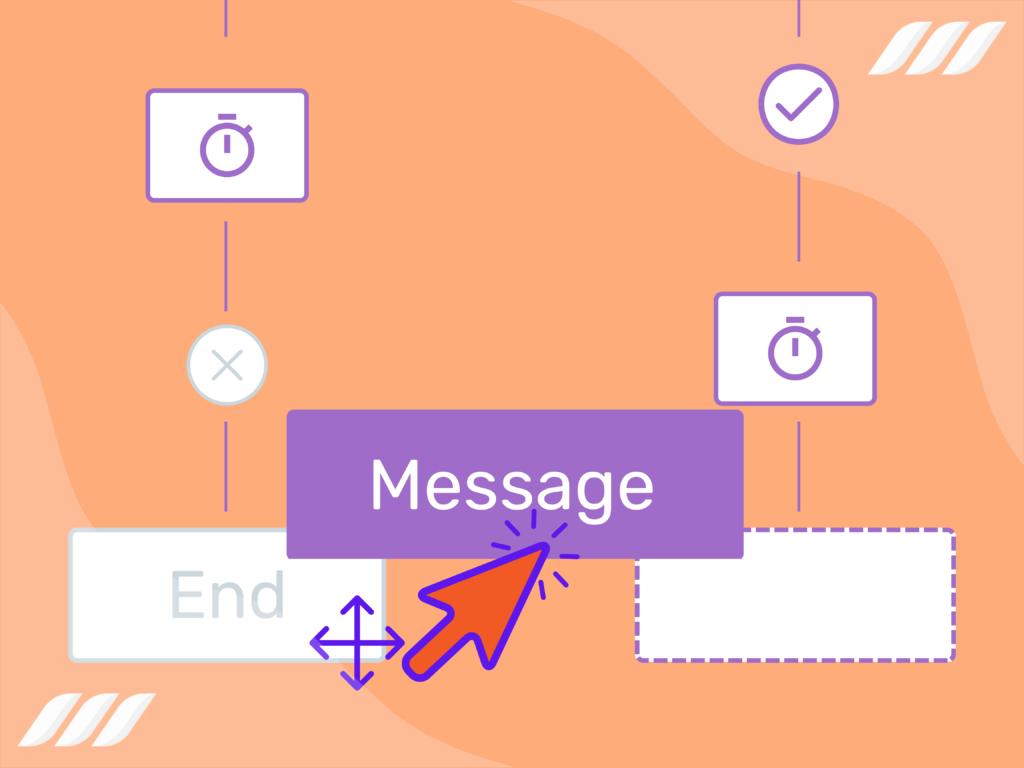 Automating certain messages can save you from sending the same messages a thousand times over. Using automation tools, you just use templates and compose a few sets of messages. Then, activate them to be automatically sent at the right time to the right people.
6. Create and Post Job Adverts
There's no need to post job ads to hundreds of job boards when you can use recruitment technology. Just populate job description templates once and then use automation tools to post them to hundreds of job boards.
7. Set Up Workflows
Workflows bridge the gap between hiring steps, cutting down time and errors. For instance, you can reduce the time to get the interviewer's feedback, set follow-up reminders to interviewers, or prompt managers to review shortlists.
8. Automate Reporting
Here's what the usual reporting loop looks like — reviewing data, spotting obstacles, tweaking strategies, etc. Automated reporting does the hard part for you. It processes complex data into a simplified form so you can analyze situations and make decisions with just one look.
Now that you've learned how to automate the recruitment process, let's look at some recruitment automation tools you might want to use.
Top 12 Recruiting Automation Tools
Below are the next-generation recruiting automation tools that offer the best value for money.
Dripify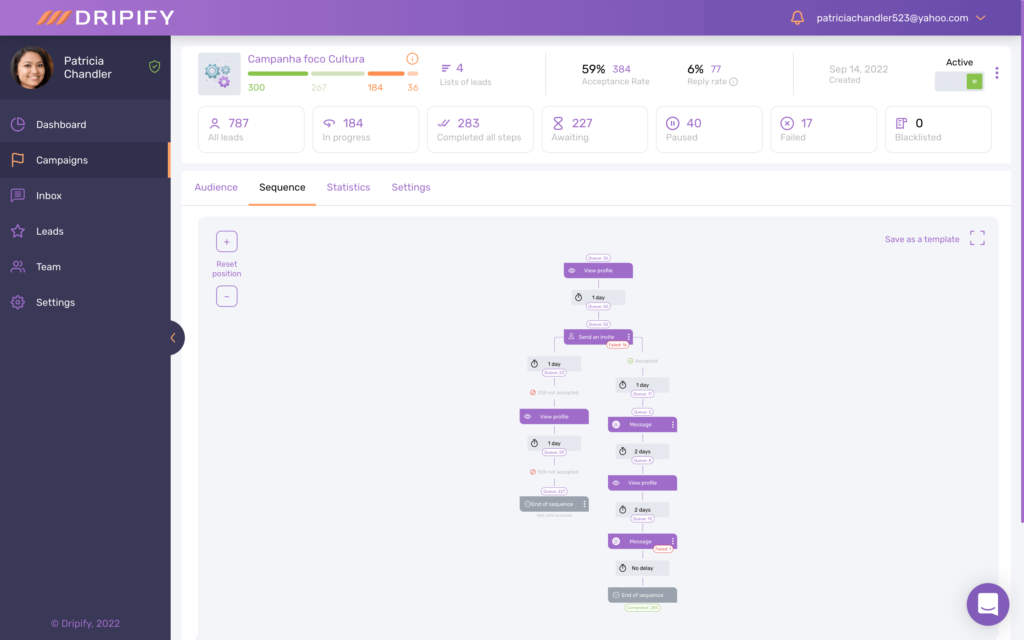 Dripify is a modern, versatile LinkedIn automation tool that simultaneously fulfills your hiring needs and sales prospecting. It is best for engaging candidates, managing teams, organizing data, and analyzing stats.
Key Features
Drip Campaigns: Create personalized funnels by inputting candidate data to keep the best ones warm and engaged.
Team Management: Onboard your teams, assign roles, and track performances from just one panel.
Advanced Analytics: Track and analyze your campaign performance, recent LinkedIn activity, and engagement stats.
Smart Inbox: Manage your conversation with job candidates using LinkedIn messenger's advanced version. Respond to questions, add notes to profiles, and mark conversations as important.
Pricing
Basic: $59/month (monthly billing), $39/month (annual billing).
Pro: $79/month (monthly billing), $59/month (annual billing).
Advanced: $99/month (monthly billing), $79/month (annual billing).
LinkedIn Recruiter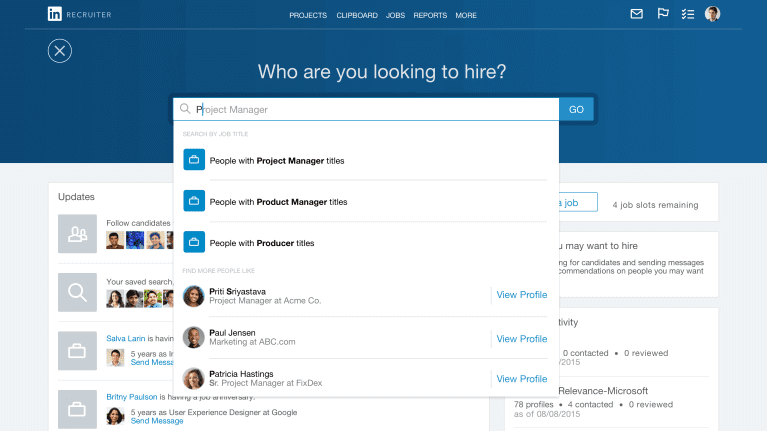 LinkedIn Recruiter is yet another comprehensive hiring solution. Packed with powerful features, this tool simplifies the process of hiring and managing job candidates.
Key Features
Advanced Search: AI-based recommendations and 40+ advanced search filters let you play with fine details and get profile recommendations based on your requirements.
InMails: Conduct candidate outreach and find the right talent with 100-150 InMails (per seat) to contact individuals not part of your network.
Candidate Pipeline: This enables the creation of a dedicated recruiter project for each position. By doing so, you can track and manage the shortlisted candidates through management features.
Pricing
LinkedIn Recruiter Lite (basic version): $170/month or $1680/year.
For advanced requirements, the sales team provides quotes after factoring in company size, location, length of service, etc.
Related article: Differences Between LinkedIn Recruiter and Recruiter Lite
Octopus CRM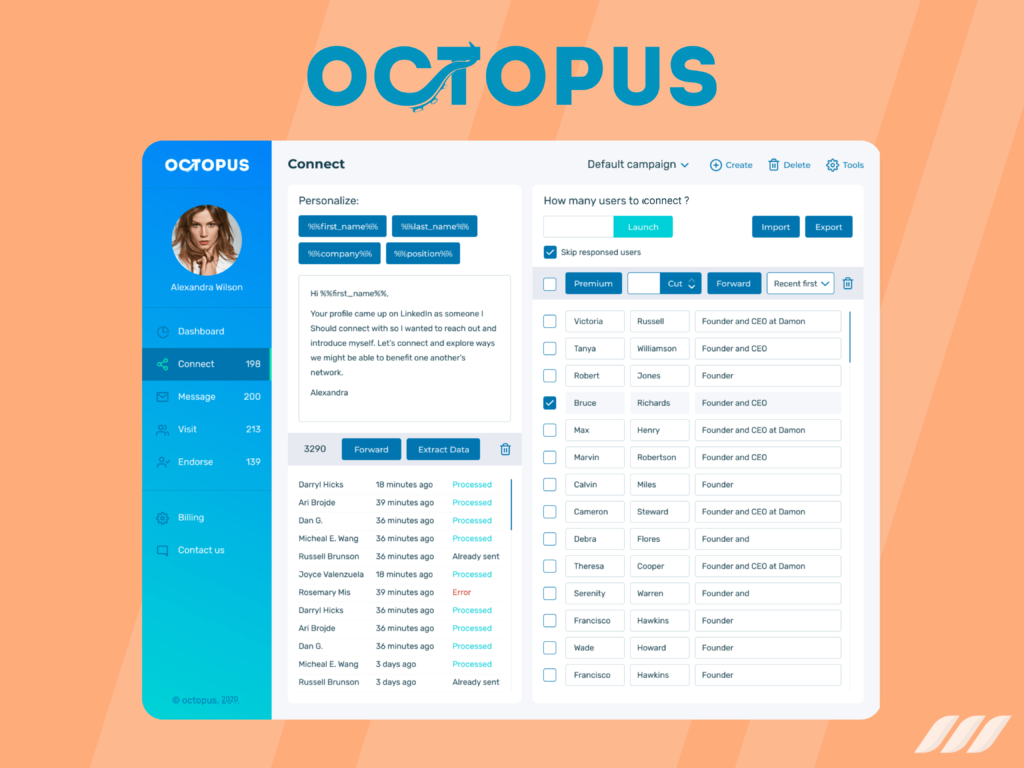 Octopus CRM is a futuristic LinkedIn automation software that serves many sales, marketing, and hiring needs. As a recruitment solution, it helps you with various functions — funnel setups, performance assessment, email connectivity, activity control, and much more.
Key Features
Funnels: Create and automate actions to warm up appropriate candidates for job roles.
Advanced Analytics: Gauge your recruiting efforts with important metrics and find out areas for improvement.
Zapier/HubSpot Integration: Streamline your campaigns by flowing candidates' data across Zapier, Hubspot, Google Docs, and other platforms.
LinkedIn Recruiter Integration: Magnify your recruitment possibilities by combining Octopus CRM functions with LinkedIn Recruiter.
Pricing
Starter: $9.99/month (monthly billing), $6.99/month (annual billing).
Pro: $14.99/month (monthly billing), $9.99/month (annual billing).
Advanced: $21.99/month (monthly billing), $14.99/month (annual billing).
Octopus CRM LinkedIn automation software provides special pricing for businesses handling 20+ accounts.
Zoho Recruit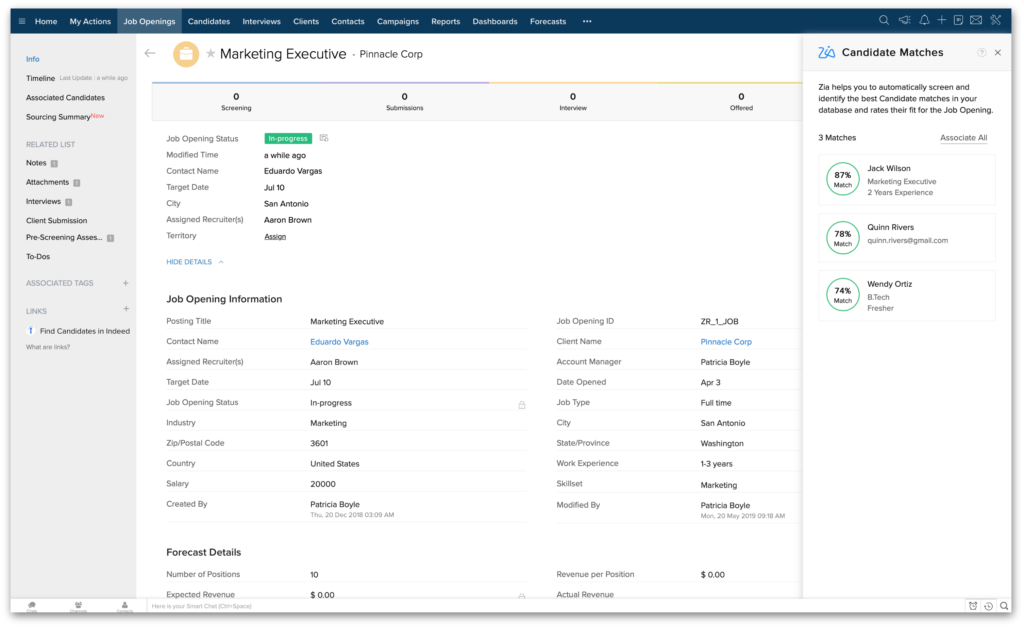 Offering both ATS and CRM in one platform, Zoho hosts AI-powered solutions for staffing agencies and corporate HRs. It features various tools facilitating recruitment at every step — sourcing, tracking, engaging, automation, and hiring.
Key Features
Custom Career Page: With Zoho's built-in layout and themes, you can create a compelling career page with a customized web address and a smooth mobile experience.
Social Recruiting: Write your job description once and post it automatically to the top job boards in Zoho's range.
Hiring Pipeline: Get a bird's-eye view of the hiring process. Zoho Recruit provides a breakdown of recruitment stages to help you track candidates for every open position.
Hiring Analytics: Track key recruiting performance indicators such as time-to-fill, time-to-hire, offer acceptance rate, and more.
Pricing
Forever Free: Basic plan with limited features and zero cost.
Standard: $25/month (annual billing), $30/month (monthly billing).
Professional: $50/month (annual billing), $60/month (monthly billing).
Enterprise: $75/month (annual billing), $90/month (monthly billing).
Textio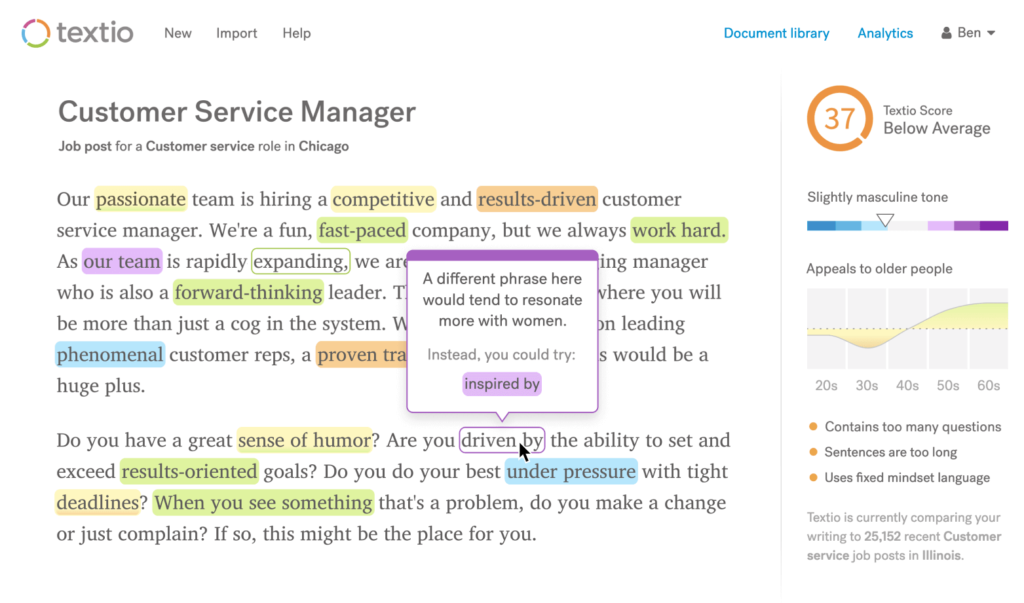 Textio is centered around Augment Writing technology. It eases you up on the writing part of a job posting. If you want to automate and improve your job post or InMail writing process, Textico is your go-to tool.
Key Features
Textio Flow: Supports you in crafting a new job post and creating custom job post templates.
Textio Browser Extension: Helps you write more inclusive, comprehensive, and impactful sentences to maximize candidate response rate.
Integrability With Other Tools: Can be integrated with other ATS and recruiting tools to combine the features of various platforms and multiply your productivity.
Pricing
Payment plans for Textio are not officially specified. It depends on the number of open job postings while subscribing.
There is no free trial, but you can request a live demo by filling up a form.
Jobsoid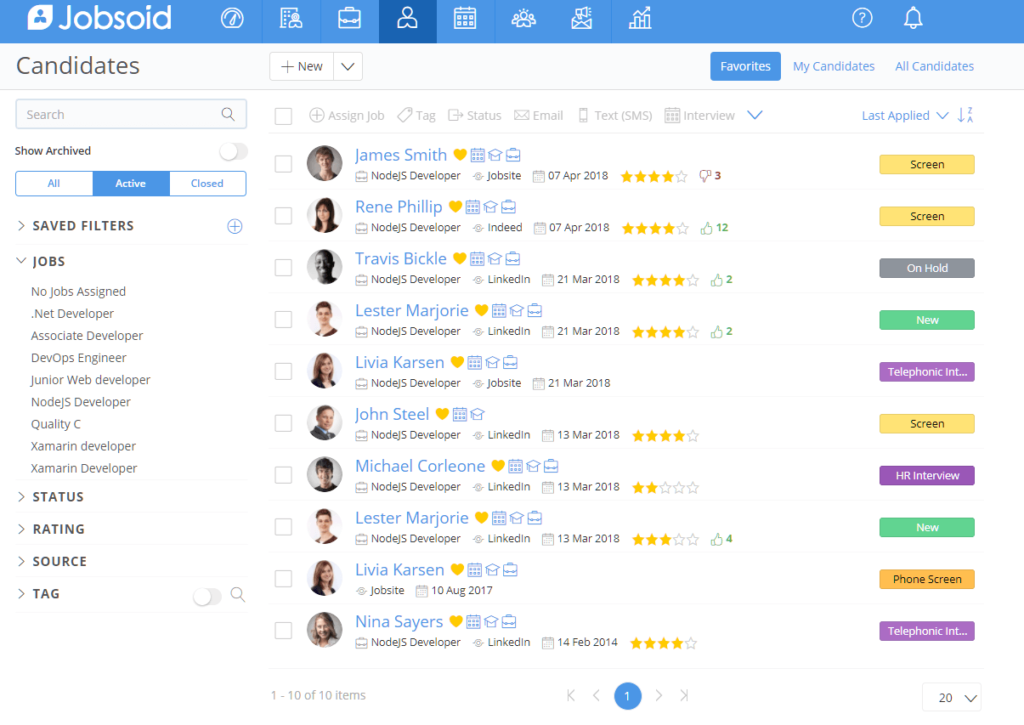 Jobsoid is packed with diverse recruiting features, which enable sourcing, engaging, hiring, and managing the best talent. The best part? It comes with a free version.
Key Features
Job Sourcing: Jobsoid has a Centralized Talent Pool where candidate applications from multiple platforms are rounded up. Besides that, you get features like LinkedIn Sourcing with Chrome plugin, bulk candidate imports, and a customized candidate application form.
Candidate Tracking: With this feature, you can set up candidate pipelines and track candidate progress across different pipeline stages.
Collaboration: Share candidates with your team and coordinate your efforts to boost the efficiency and accuracy of the hiring process.
Interview Scheduling: Simplifies the process of setting up interviews, including time slot allocation.
Analytics: Evaluate your recruitment campaign performance and find bottlenecks with data visualization and intelligent reports.
Pricing
Beginner (best for startup companies): Free
Lite (best for small teams): $49/month (annual billing), $59/month (monthly billing).
Standard (best for emerging teams): $99/month (annual billing), $119/month (monthly billing).
Pro (best for large teams): $249/month (annual billing), $299/month (monthly billing).
Hiretual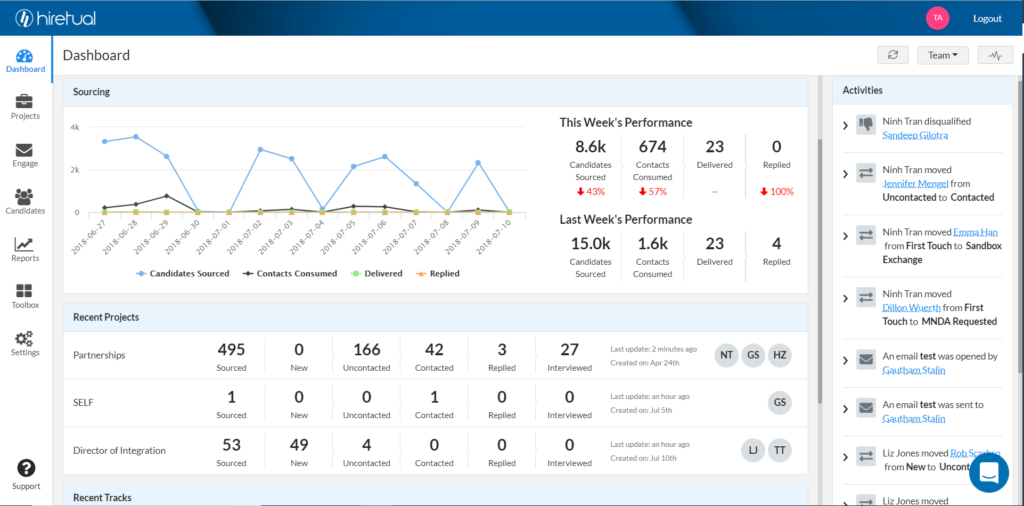 HireEZ (formerly known as Hiretual) gives wings to your recruitment process with its advanced sourcing, engagement, integration, and collaboration features. Offering 360° coverage on the recruitment cycle, HireEZ brings you the most suitable employees effortlessly.
Key Features
EZ Sourcing: Offers top-notch market visibility by tapping into 45 web platforms having 800 million candidates.
EZ Engagement: A built-in email marketing and automatic scheduling feature where you can engage and track your candidates.
EZ Integration: You can integrate Hiretual with your CRM/ATS and source qualified candidates within your database.
EZ Collaboration: Saves your effort by streamlining teamwork and talent management.
Pricing
Startups, Individuals, and Small-to-Medium Businesses: $169 per month or $1428 per year.
Enterprise Customers: Contact HireEZ for flexible payment plans based on several variables.
You can get a 7-day free trial before purchasing your plan.
Workstream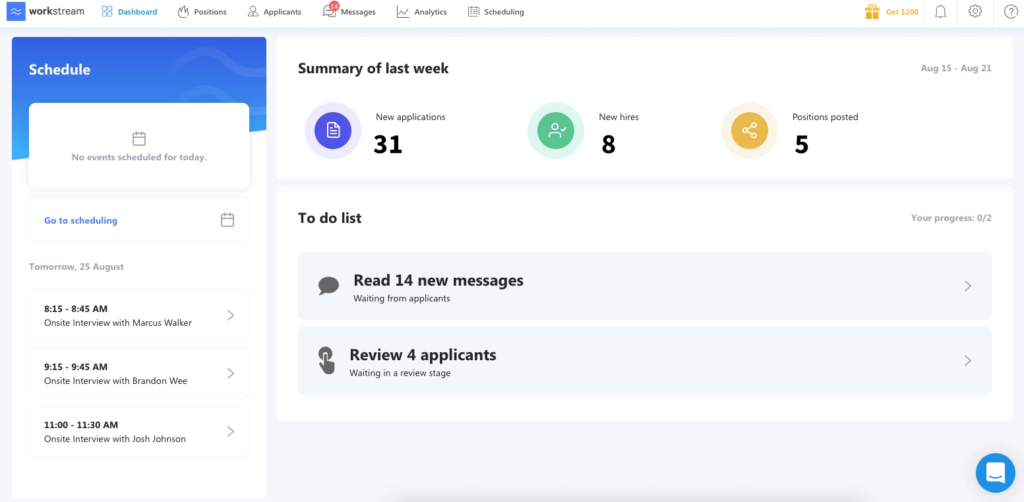 Workstream makes recruitment easy with advanced text and automation technology. Do the hiring, onboarding, and integration smartly while reducing your recruiting times by up to 70%.
Key Features
Hiring: Source thousands of quality candidates, screen the best ones, and schedule interviews with automation.
Onboarding: Access digital templates (offer letters, W-4s, and more) and automate your onboarding flows with data validation, auto-filled fields, and more.
Integrations: Workstream integrates with recognized job boards, background checkers, and payroll systems.
Pricing
Two plans are offered: Basic and Plus (with customization options). Contact the sales team to get your quote.
Gem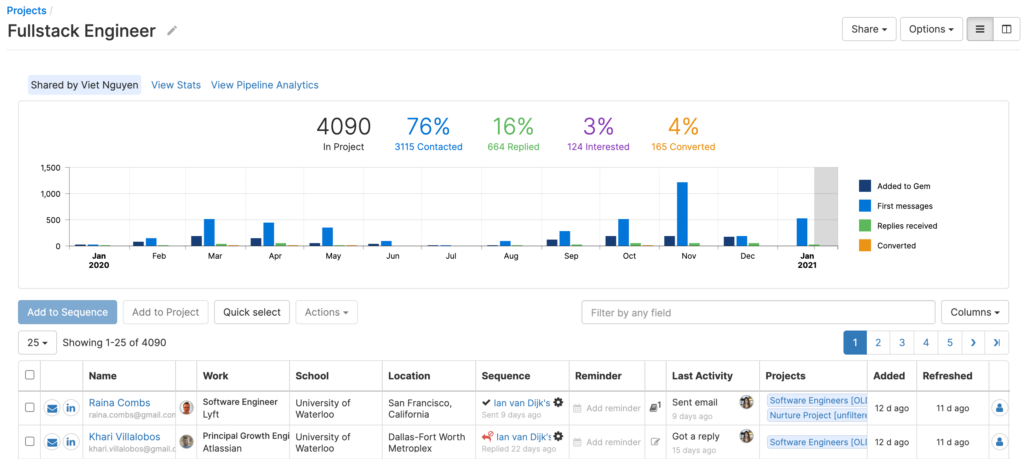 Gem provides a one-stop-shop solution for modern hiring needs. This includes candidate sourcing, tracking and outreach, other software integration, and performance analysis analytics.
Key Features
Talent Sourcing: Uncover the top talent across different channels — social, tracking systems, job boards, communities, and more.
Candidate Outreach: Keep your applicants in the loop with automatic reminders, follow-ups, and tracking InMails.
In-Depth Analytics: Besides reporting, you get visual data that helps you analyze funnels, measure performance, set benchmarks, and strategize your future goals.
Integration: Connects you with candidate databases, syncs with your ATS, and supports CSV import/export.
Pricing
GEM cost depends on your work nature and team size. Get your estimate by reaching out to the sales team.
There is a two-year free plan if you're a startup and want to try it out first.
Fetcher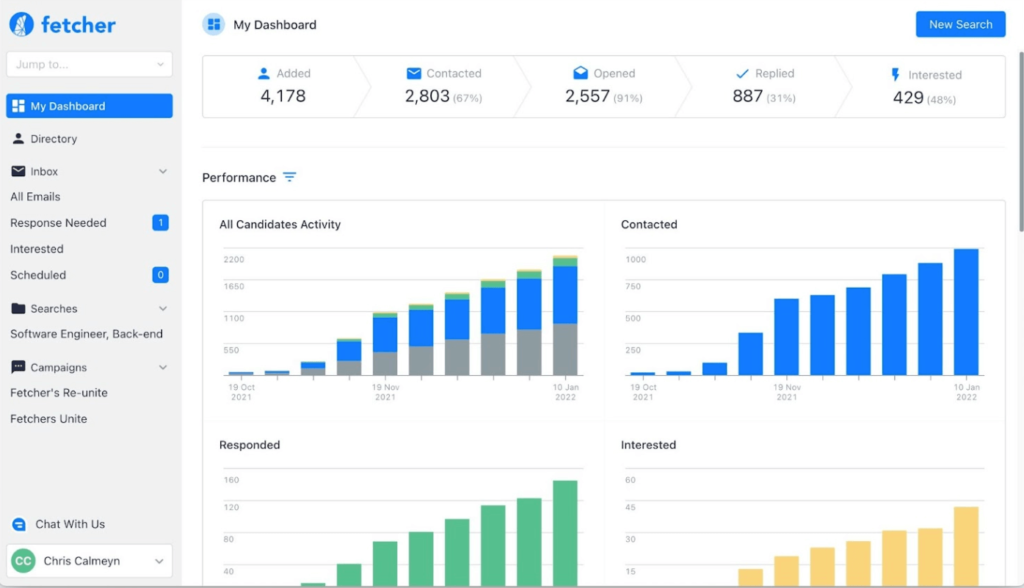 Fetcher frees you from the administrative side of recruiting so you can focus more on the "human" aspects. Get expert-level sourcing of candidates, send automated email campaigns, and track candidate pipelines.
Key Features
Smart Sourcing: Supports customized sourcing to filter out the best candidates, supported by machine learning to ensure a human touch is provided.
Engagement: Schedule separate email sequences for job roles, keep in touch with sourced candidates with specialized CRM, and schedule hassle-free interviews.
Analytics: Brings you data illustration so you can make informed decisions. Email and diversity stats give you insight into your email campaign performance and talent demographics, respectively.
Pricing
No pricing information is provided on Fetcher's official channels. For cost-related details, reach out to their support team.
SeekOut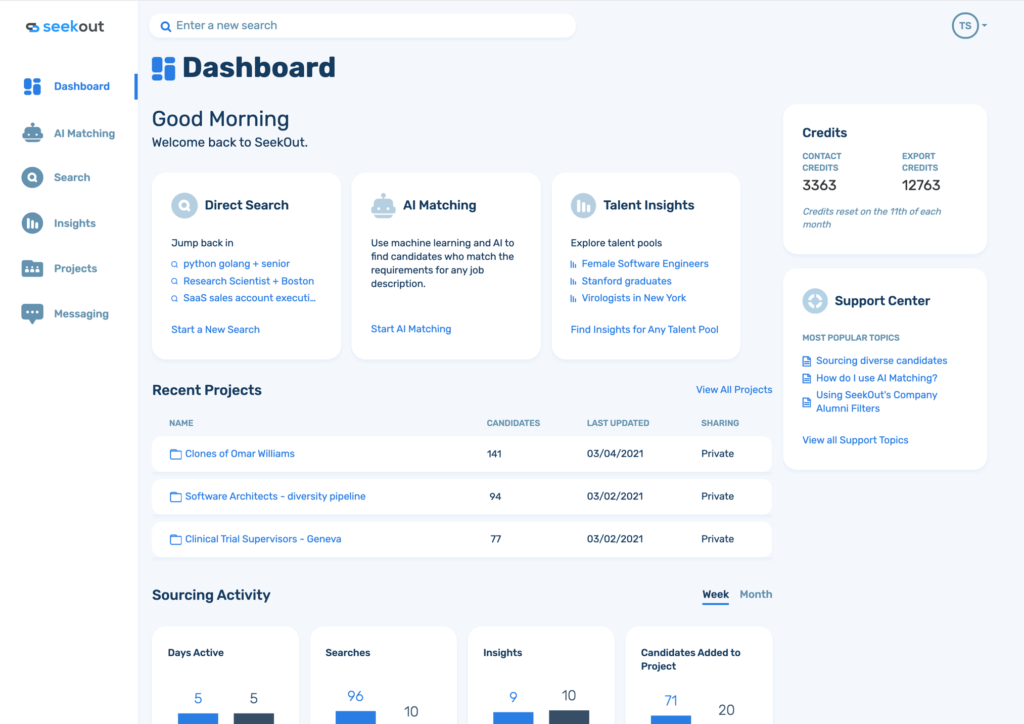 SeekOut is an AI-supported recruitment platform featuring powerful search, easy-to-interpret analytics, and talent optimization techniques. What sets it apart are unique features such as Career Hub and Unified Profiles.
Key Features
AI Search: Source the right job candidates with powerful AI and Machine Learning techniques, coupled with Boolean filters.
Unified Profiles: Discover untouched talent pools lurking in public profiles, GitHub, company alumni, and more.
Talent Analytics: Take a deeper look into talent pools and devise suitable strategies for increased productivity.
Candidate Engagement: Elevate company-candidate engagement levels with super personalized content and automated email campaigns.
Career Hub: Helps retain your employees with a strong career path, involving skill gap assessment, tailored job descriptions, and appropriate connections.
Pricing
No pricing information is mentioned on the SeekOut website; contact the support team for plans or live demo requests.
SmartRecruiters
Operating under three categories — attract, select, and hire — SmartRecruiters is enterprise-level software that facilitates recruitment from sourcing to hiring. With the SmartRecruiters suite, you can get native collaboration, assessments, and AI-powered features.
Key Features
Job Sourcing: With SmartRecruiters, your hiring teams can efficiently organize recruiting campaigns, leverage integrated campaigns to save time, and track potential employees from career events.
Outreach and Tracking: Generate automatic email campaigns, provide continuous support with a chatbot, and steer clear of bottlenecks with the tracking functionality.
Offer Management: This software comes with digital offer management, real-time offer approval, and one-click acceptance. As a result, sign-off delays are avoided through the native e-signature option.
Pricing
SmartRecruiters come with a free trial and basic annual plan for $10,000/year.
Depending on your company size and needs, flexible pricings are offered upon contact.
Choosing The Right Recruitment Automation Software
You've gained insight into the best recruitment automation software. Now comes the real question: which one is your perfect fit?
That depends on your budget and goals.
What are the features you can't compromise on? Can you afford pro features like Smart Inbox by Dripify? Do you have a small-to-medium-sized business or a large enterprise?
Remember that recruitment done wrong means a dent in your company's reputation. And how well that goes depends greatly on the kind of automation software you choose.
Use this post as your guide to picking the right tool for your recruiting needs.
Conclusion
Do you fear artificial intelligence replacing human beings in the industry? Don't worry! The benefits of recruitment technology are clear and distinct. However, we're far from relying on automation tools for single-handedly hiring and firing employees.
That means the hiring managers are not going anywhere!
Companies that invest in recruitment automation can add more value to their recruitment strategy and human resource management. With the right recruiting tools, organizations can augment the hiring process's consistency, efficiency, and effectiveness.