Are you looking for the best prospecting tool?
It's understood that using prospecting tools for sales can vastly improve sales results and increase revenue. But, which so many to choose from, how do you know which is best?
Here are the best tools for prospecting to use in your business:
Why Do You Need Tools for B2B Sales Prospecting
Sales prospecting can be a monotonous and frustrating stage in every sales cycle. That's because B2B sales prospects are not as easy to find as B2C prospects. You'll have to go through a lot of preparation before finding B2B sales prospects. Also, you need to be able to qualify or filter out your candidates. And this is where B2B sales prospecting tools enter the scene.
There are many reasons why using tools in the prospecting process can make all the difference. For one, prospecting tools allow you to automate your sales flow and scale your productivity.
Here are more reasons you must use the right B2B prospecting tools.
Related article: B2B Sales Strategies to Grow Your Business
Save Time
Sales representatives spend a big chunk of time in routine administrative tasks, such as:
Writing sales email templates
Creating prospect lists
Editing a contract.
Since they're not left with much time to engage with people, they end up automating sales calls.
The result? A stiff and robotic sales interaction.
Having sales tools means liberating sales reps from repetitive and hectic tasks. This way, you can focus on adding a personalized, human touch to your interaction with prospects, leading to high-quality lead generation in a shorter time.
Getting Qualified Leads
Traditionally, sales representatives use the cold calling approach to reach out to a huge list of leads only to find a handful of potential customers. It wastes a lot of time and annoys irrelevant business leads.
You get complete customer data at your fingertips with the right prospecting tools. This helps you assess prospects' intent and capacity and decide if they're the right fit for your offer.
Related article: Lead Qualification With Dripify
Improved Customer Service
You can integrate sales prospecting tools with other tools, such as CRMs and email platforms. This allows you to onboard your prospects seamlessly via welcome emails and follow up with other messages. Since you'd have customer data readily available, your support team could easily tackle customers' concerns.
Prospecting Tools for Lead Capture
Dripify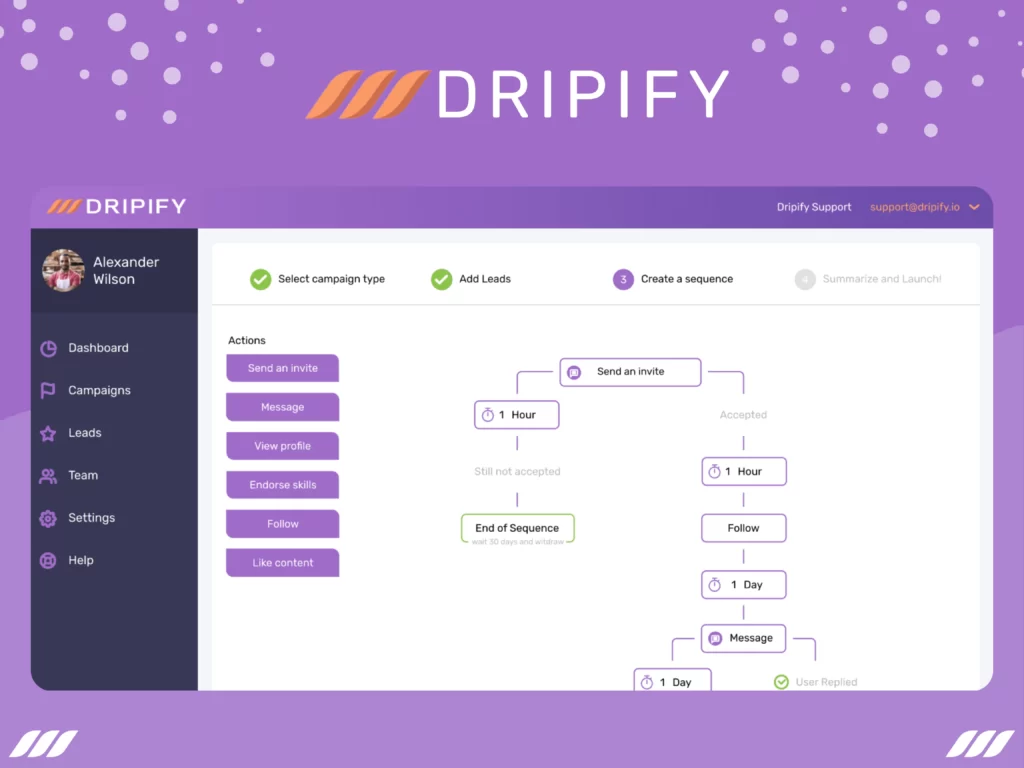 Dripify is another sales automation tool for prospecting that you can use alongside LinkedIn. This advanced tool can be used to automate many LinkedIn sales processes, including prospecting and lead generation.
One of its key features is the ability to build customized drip campaigns by importing leads from LinkedIn and creating a sequence with different triggers and delays.
G2 Ranking: 4.6/5 out of 136 reviews
Pricing starts from: $39/month
LinkedIn Sales Navigator
LinkedIn Sales Navigator is one of the best sales prospecting tools, allowing users to build and grow relationships with prospects more easily.
With this tool, you can stay up-to-date at all times whilst focusing your time on connecting with the best prospects, even without their contact information. Discover how to use LinkedIn Sales Navigator.
G2 ranking: 4.2/5 out of 1,103 reviews
Pricing starts from: $79.99/month
Cognism
Cognism Prospector is a global B2B database with company and contact information, including compliant B2B emails and 98% accurate mobile phone numbers. It has easy-to-use filtering options (including sales triggers) and intent data to reach prospects at the right time.
Cognism integrates with major CRMs and sales engagement tools (two-way integration with Salesforce, Outreach, and HubSpot), cutting admin and manual work when exporting the data. Cognism Chrome extension works over LinkedIn and LinkedIn Sales Nav to enrich prospect lists.
G2 ranking: 4.7/5 out of 399 reviews
Pricing: Cognism offers custom pricing packages with unrestricted access to company and contact data.
AeroLeads
Finding it hard to acquire potential prospects this pandemic year…? What if there's a snappy tool to do all your work with just a click… That's what AeroLeads lets you do to grow your business gradually.
Allowing to gather your business beneficial lead's information right from their contact number to their Email Id's, AeroLeads lets you add prospects directly from LinkedIn making it easy for B2B prospecting tasks.
Integrate them with Salesforce, Mail chimp, Zoho CRM, and more platforms effortlessly with a curated CSV file to work with.
G2 rankling: 4.2/5 out of 55 reviews
Pricing: AeroLeads has various business and enterprise plans ranging from $49 to $499 giving you the power to customize the pricing according to your prospecting needs.
Gramto
If your business uses Instagram, Gramto can automate many activities and put your account on complete autopilot.
This tool can manage various functions, including auto-comments and likes, direct messages, automatic follow and unfollow, and automated posting schedules.
Pricing starts from: Free
G2
For SaaS businesses, G2.com is an awesome lead generation platform. G2 is the largest B2B tech marketplace, and it is a trusted review website.
This means you can use it to publish your software, which can help you get more leads and interest in your business services.
G2 Ranking: 4.6/5 out of 632 reviews
Pricing starts from: Free
Lead Nurturing
Active Campaign
Active Campaign sales prospecting tools has superb features for creating and sending out custom email marketing sequences. The platform allows businesses to create automated marketing campaigns on email, messaging, chat, text, and social media.
It can be integrated with over 300 platforms, including Shopify, WordPress, Eventbrite, Square, Salesforce, and Facebook.
G2 Ranking: 4.6/5 out of 4,765 reviews
Pricing starts from: $9/month
Pipedrive
Pipedrive is a business to business prospecting tool that's perfect for small businesses. It's fantastic for managing leads and automating repetitive tasks.
This tool has lots of features including managing leads and deals from a custom chat bot and web forms, communication tracking, and insights and reporting to monitor performance.
G2 Ranking: 4.3/5 out of 1,270 reviews
Pricing starts from: $15/month
Engagebay
This is another awesome tool for lead nurturing. Engagebay uses top-notch marketing automation to nurture your audience while building customer relationships.
WIth Engagebay, you can automate lots of manual processes including email sequences. Also, it makes it easier to organize email contacts and track deals for better sales growth.
G2 Ranking: 4.6/5 out of 68 reviews
Pricing starts from: Free
Close
Close CRM is a multichannel platform that optimizes sales workflows. Among its prospecting tools for sales, tools is automatically tracked touchpoints on a visual timeline.
In addition, it provides productivity tools like task reminders, as well as the ability to contact prospects and close email, text and call sales deals from your desktop.
G2 Ranking: 4.3/5 out of 92 reviews
Pricing starts from: $35/month
Lusha
Lusha is a lead management tool designed for businesses of all sizes. It works very well for small to medium B2B businesses, and is simple to use and highly effective.
This tool is great for building and nurturing your database and increasing conversions using various features like automated saving of data onto your CRM and data-enriched forms.
G2 Ranking: 4.3/5 out of 1,009 reviews
Pricing starts from: $39/month
Sales Acceleration
Gong
If you want to increase revenue, Gong is an intelligence platform that provides real-time updates on sales conversions and how customers are reacting to changes. It also gives insights into how to adapt your sales strategies to improve sales.
This allows businesses to gain a better understanding into customer behavior and make decisions based on up-to-date, accurate data/
G2 Ranking: 4.7/5 out of 2,223 reviews
Pricing starts from: Custom pricing plans
Chorus
The next tool on our list for accelerating sales is Chorus. This platform is ideal for helping sales teams improve performance and sales figures.
It uses AI-based to track sales cycles, provide insights, and automate note-taking, CRM population, and more. Large companies like Zoom and Abobe use this platform, but it also works well for small businesses.
G2 Ranking: 4.5/5 out of 2,029 reviews
Pricing starts from: Custom pricing plans
CallTrackingMetrics
If you are trying to scale your business, CallTrackingMetrics provides automation tools to boost productivity and understand which campaigns are driving sales in your business.
It offers conversion tracking, which allows you to identify trends in conversions, as well as automated, customized actions based on your customers' responses.
G2 Ranking: 4.5/5 out of 504 reviews
Pricing starts from: $39/month
Dialog Tech
Dialog Tech is a highly beneficial tool for small businesses. It provides AI conversation intelligence and reliable features that provide accurate, actionable analytics about inbound communication from customers.
This information can be used to provide customized customer experiences over the phone and online and can be used to boost marketing efforts and increase sales conversions.
G2 Ranking: 4.3/5 out of 336 reviews
Pricing starts from: Free
SalesLoft
SalesLoft is an excellent sales engagement platform that helps you deliver the best customer experience throughout the customer lifestyle, boosting revenue.
This tool lets you build a custom pipeline, manage deals more efficiently, create more opportunities to close deals, and connect and engage more easily with customers.
G2 Ranking: 4.4/5 out of 1,902 reviews
Pricing starts from: Custom pricing
Other Business Prospecting Tools
Coupler.io
It's a universal tool designed to connect different apps (some of them are even present on this list) to Google Sheets, Excel, and BigQuery. Coupler.io is mostly used for analytics and reporting since it allows you to automate data exports from your sources on a custom schedule.
For example, you can connect Salesforce to Google Sheets with Coupler.io and build a self-updating dashboard based on the data exported, let's say, every hour. You can go beyond the supported destinations and create your dashboard in Google Data Studio, Tableau, or other data visualization tools.
Another use case offered by Coupler.io is data backup. Since some tools offer limited backup functionality, you can schedule periodic exports of your data to create a self-updating backup copy.
Pricing starts from: Free
DocSend
DocSend is a handy tool that helps business share documents. Being able to share content quickly and securely means you can grow your business more easily.
The incredibly powerful link-based sharing system lets you set unique security preferences for each user. You also receive instant notifications when a file is viewed. Plus, you can analyze all your content and overall performance.
G2 Ranking: 4.7/5 out of 193 reviews
Pricing starts from: $10/month
Grammarly
Grammarly is the world's most popular writing checker. If you're sending out business communication, this tool will check for spelling and grammar mistakes, advise tone and word choice, and help you make sentences clearer.
You can use Grammarly for simple emails and messages. Similarly, it is useful for writing longer pieces. This is available as a free version or paid one, which is a popular choice for businesses.
G2 Ranking: 4.6/5 out of 887 reviews
Pricing starts from: Free
Canva
If your business needs visual content, such as social media posts, presentations, posters, Canva can help you produce high-quality, professional designs extremely easily.
The simple drag-and-drop interface includes different fonts, photography, videos, audio content, and illustrations to create outstanding content.
G2 Ranking: 4.7/5 out of 2,633 reviews
Pricing starts from: Free
Calendly
Calendy is an awesome tool that automatically schedules meetings and emails, saving you time and ensuring your schedule is always in order.
You can set your own preferences, including buffer time between meetings. This tool can be integrated with your Google, Outlook, Office 365, or iCloud calendar.
Pricing starts from: Free
GoToMeeting
GoToMeeting is a leading tool that helps businesses manage virtual communication with customers and collaboration between team members.
Some of its features include presentation sharing, one-click meetings, face-to-face meetings and webinars, and more. The service is fast, reliable and easy-to-use and boosts productivity and effectiveness.
G2 Ranking: 4.2/5 out of 11,274 reviews
Pricing starts from: $12/month
Voila Norbert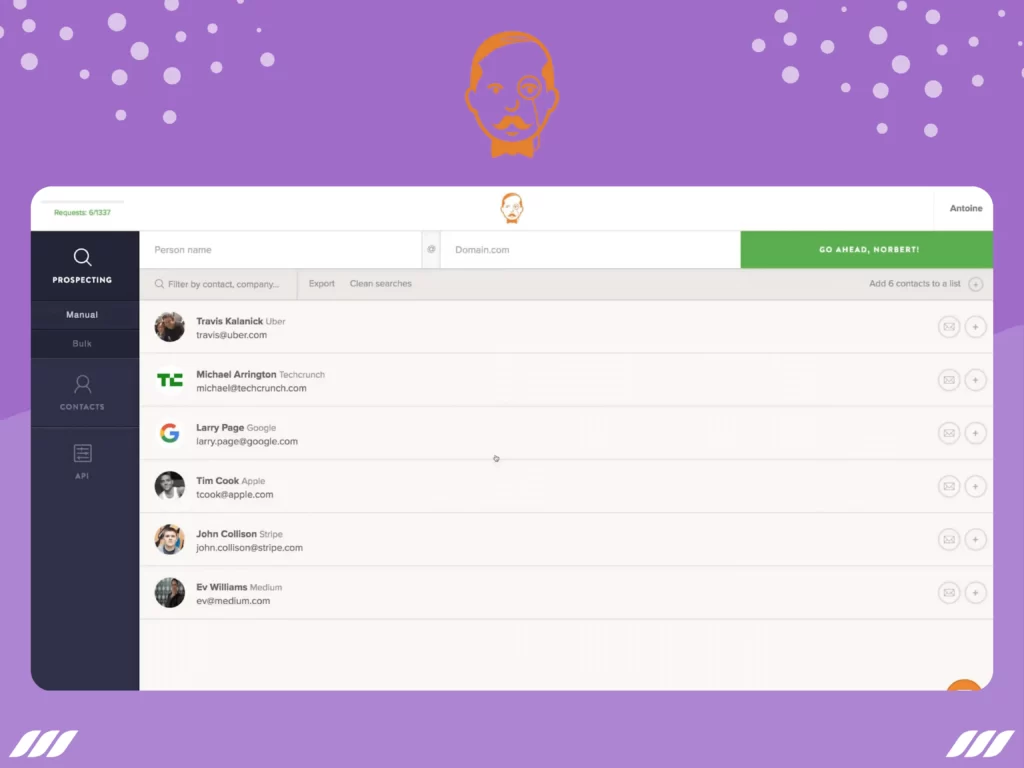 Voila Norbert is one of the best email finders that provides any email address against:
First name
Last name
Company name/website
This prospecting tool allows you to verify emails through its 8-step verification process. This ensures that emails are sent to accurate addresses and that the sender's reputation is maintained.
Voila Norbert also enriches your list for additional data, such as job roles, locations, social media profiles, and more.
Hunter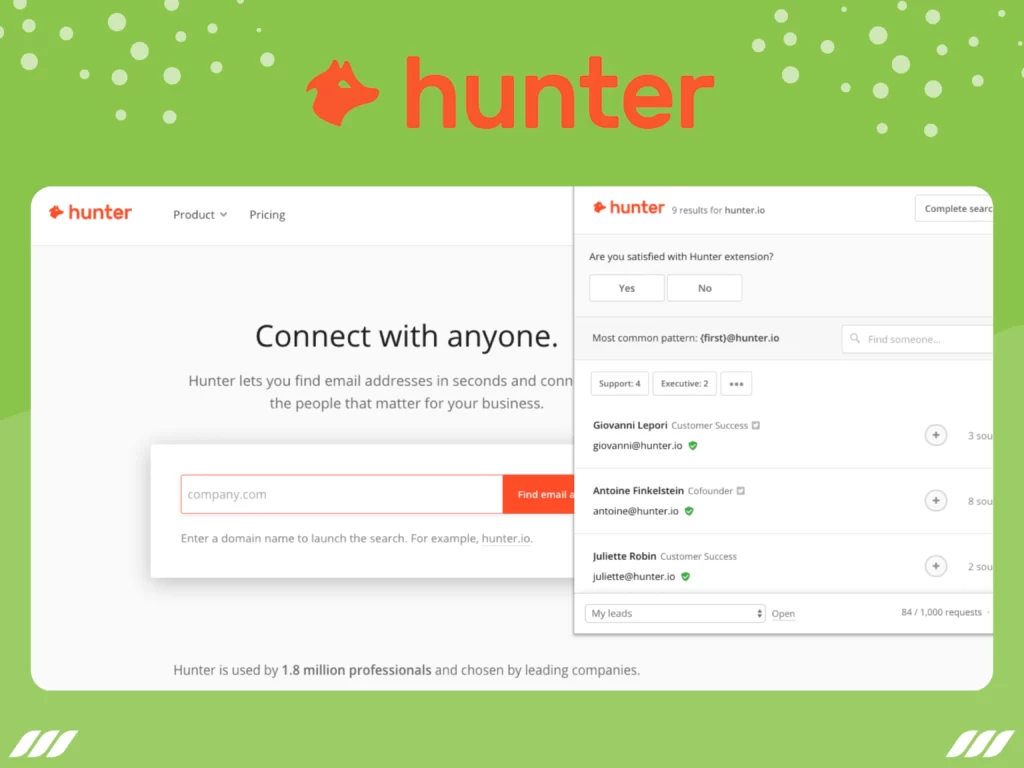 On this platform, you can find a company's employees' email addresses and names by entering a domain name. The indexing of 100+ million emails and useful search features makes Hunter a powerful email finder.
For instance, there's a feature that gives you the email formats of a company. So, if you're not sure about the email address of any person, you can guess it easily using this feature.
FindThatLead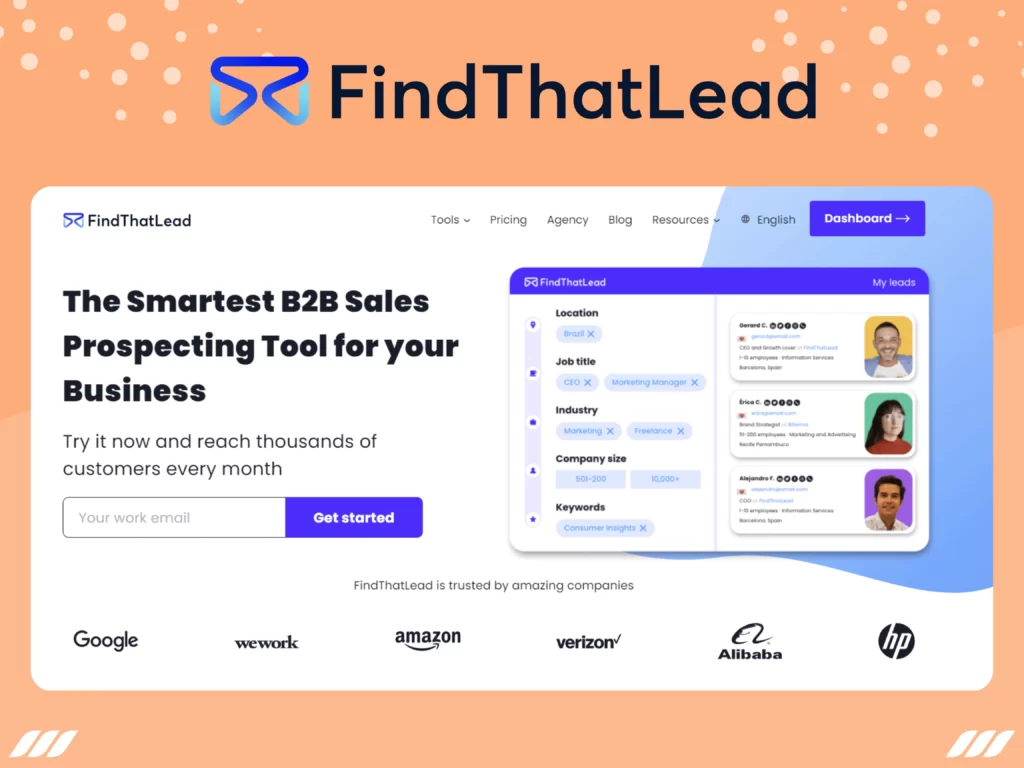 FindThatLead is yet another email finder that generates a list of verified email addresses against domain names.
You can automate and customize your email campaigns on this B2B prospecting tool and use analytics to optimize your campaigns' performance.
What's more, FindThatLead provides a one-click solution to validate email addresses, find location-based prospects, and enrich the database with qualified leads.
Overloop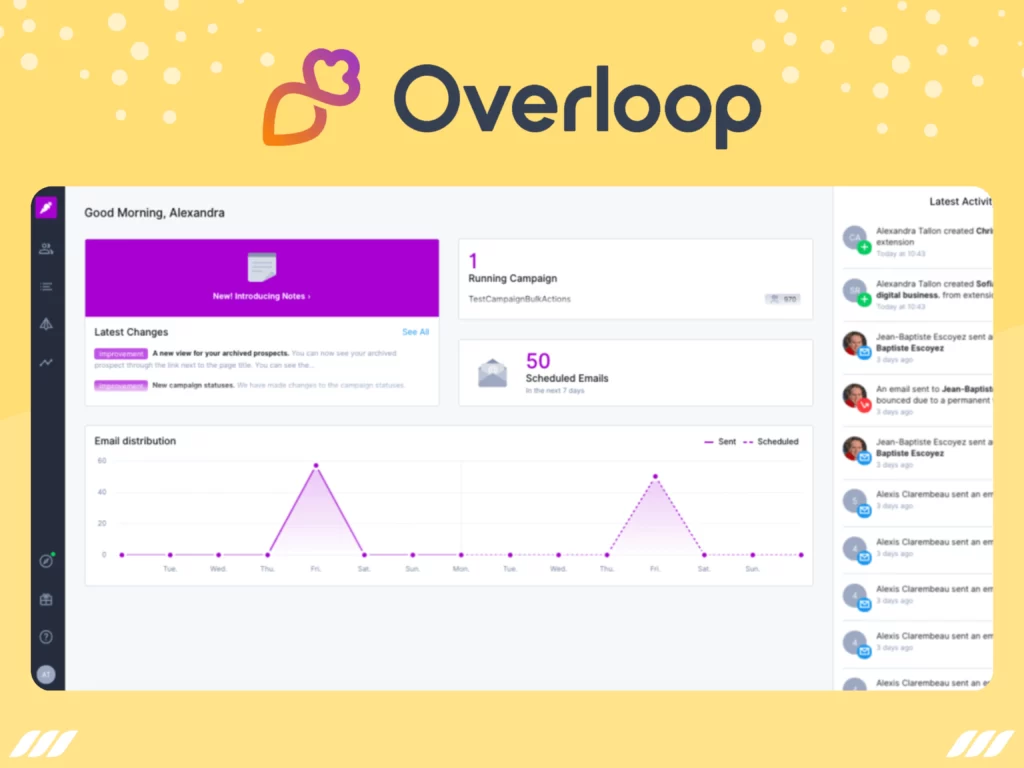 Besides being a powerful email lookup tool and verifier, what makes Prospect.io (Overloop) different is its ability to integrate with major CRMs like Hubspot and Salesforce. What else?
Cold email campaigns allow you to send personalized emails, automate follow-ups and engage with leads.
Live chats let you chat with visitors and leads by adding a live chat widget on your website.
Workflows allow you to set up automated workflows for repetitive tasks with a simple user interface.
MailTester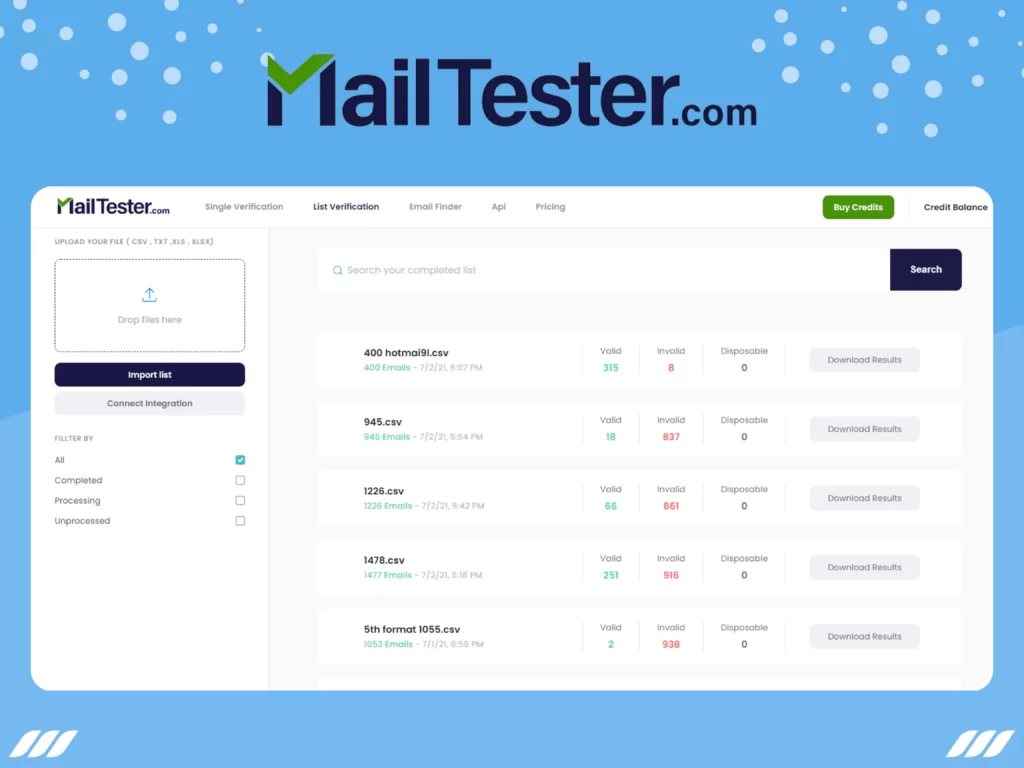 As the name implies, MailTester validates the accuracy of the email addresses. The good thing is you don't need to upload any list to verify a single email address.
But, the platform offers bulk email verification, where you can upload emails in bulk directly from the dashboard. This ensures you get a list free of hard bounces, spam traps, and abandoned emails.
Above all, MailTester offers easy-to-integrate APIs that block invalid emails from entering the system.
Skrapp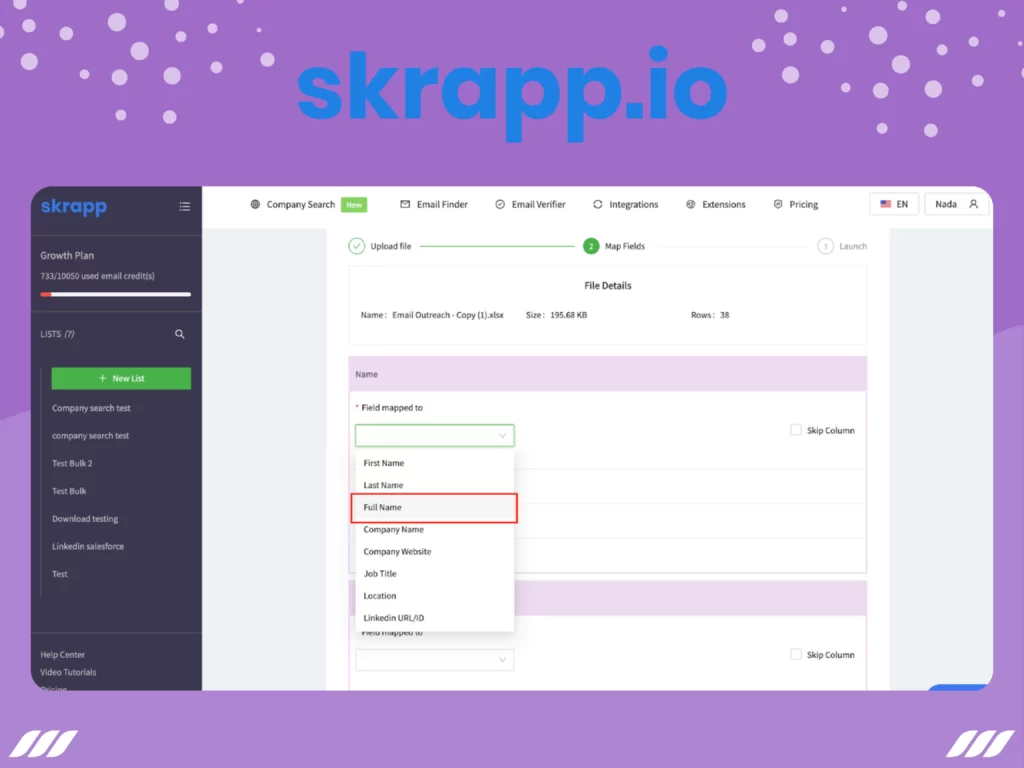 Skrapp is different from the average email finder, thanks to its ability to lookup emails associated with LinkedIn accounts.
First, you download Skrapp's google chrome extension. Then all you need to do is visit someone's LinkedIn profile and find the email they used to sign in.
Another benefit of this prospecting tool? It stores sales leads directly into lists, saving you a lot of time.
Datanyze Insider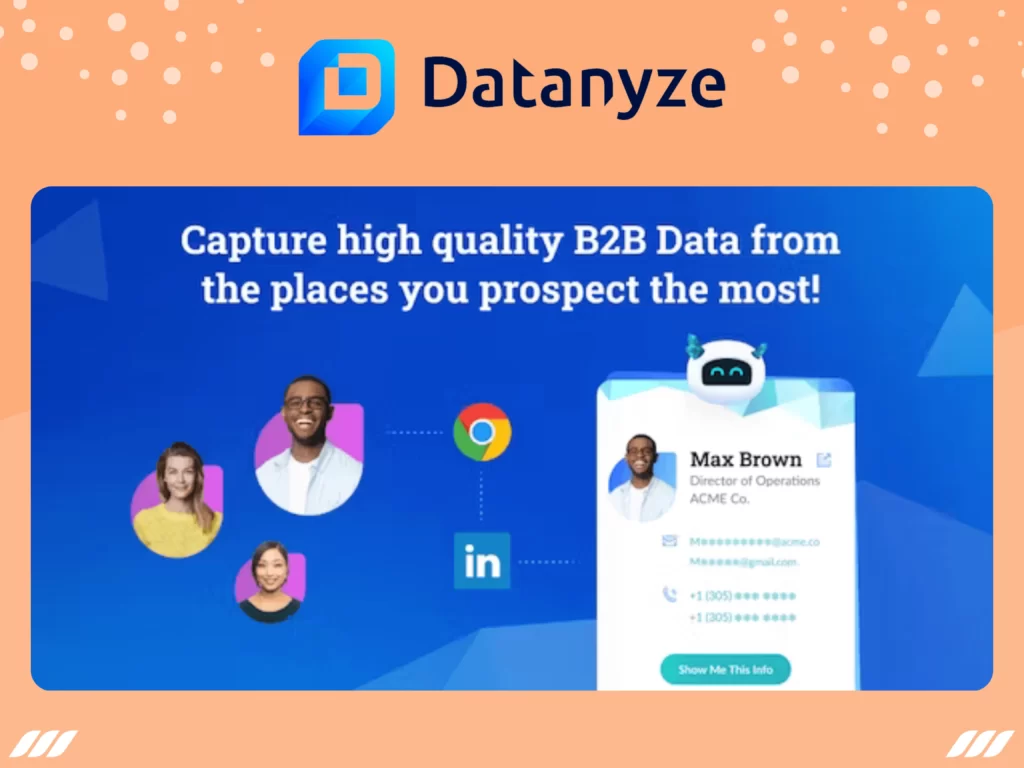 Using Datanyze's Google Chrome extension, you can get up-to-date contact details like your prospects' email addresses, direct dial, and mobile numbers.
Plus, Datanyze provides market share reports containing information on trending topics, industry news, and key competitors. You can use it to break the ice with your prospects with hot topics and get better engagement.
Mention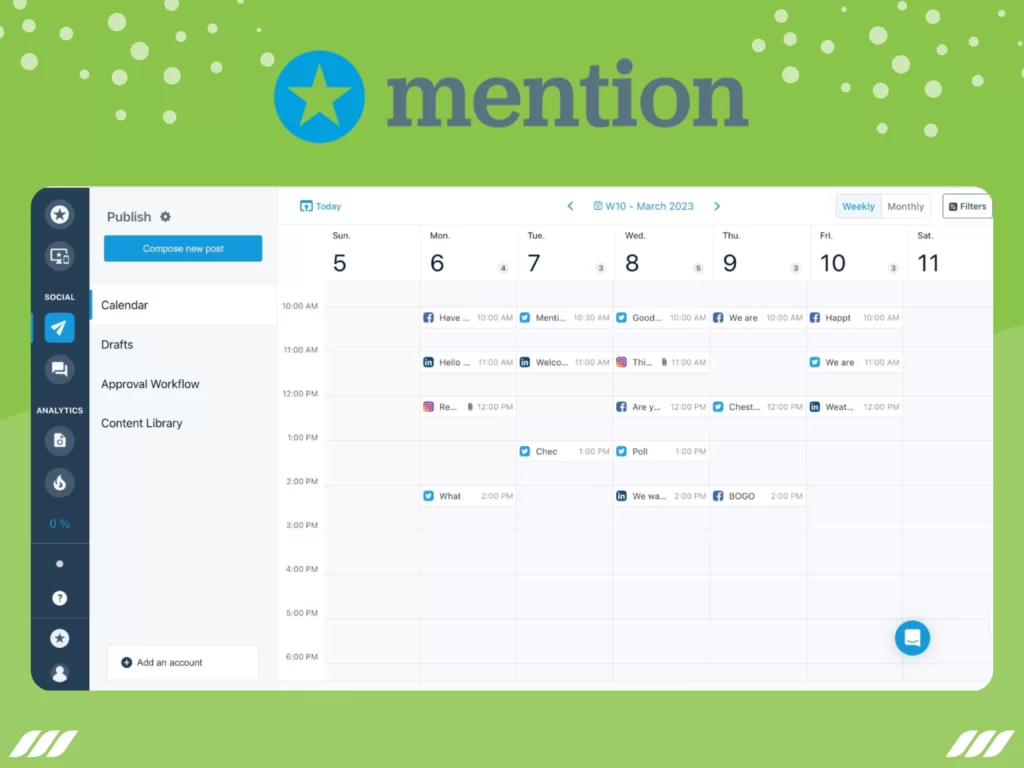 Mention is an excellent tool for optimizing social media strategies and handling accounts.
With basic alerts, you can specify keywords and monitor what topics audiences discuss and what they're saying about a brand.
This tool also filters out noises to give you clean alerts whenever there's a relevant mention. And once you analyze data across multiple channels, you can create content your audience is most interested in.
Zoominfo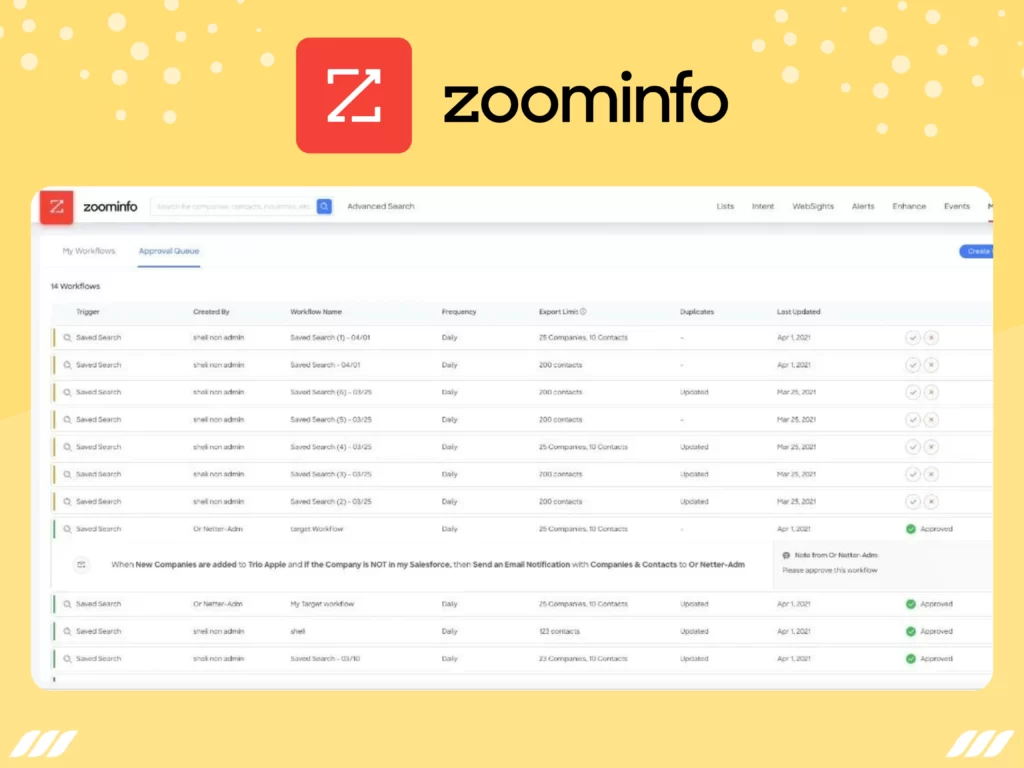 Zooninfo provides a complete solution for identifying, engaging, and converting customers.
Intelligence — the platform's first category — entails defining the market, discovering prospects, and tracking page viewers for information like name, email addresses, and contact number.
The second category, Engagement, involves actions like:
sales automation
analyzing interactions
engaging website visitors
Orchestration, the third category, is about creating workflows, enriching data in real-time, and automating data management.
Vainu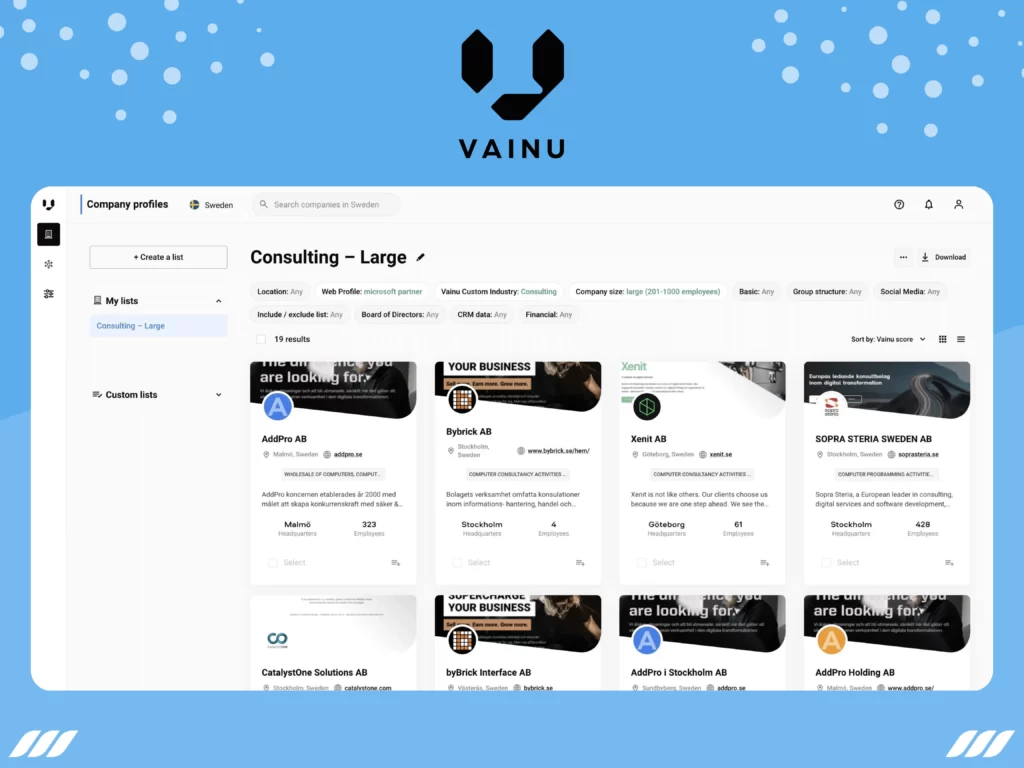 You can use Vainu to find companies complementing your ideal customer profile. It gives you 100+ filters to look up promising prospects from a real-time company database.
Vainu allows you to clean your CRM's data by identifying and fixing outdated data and enriching records with missing data points. Besides, you can improve marketing workflows automatically and maintain a reliable database using other powerful features.
Detective by Charlie App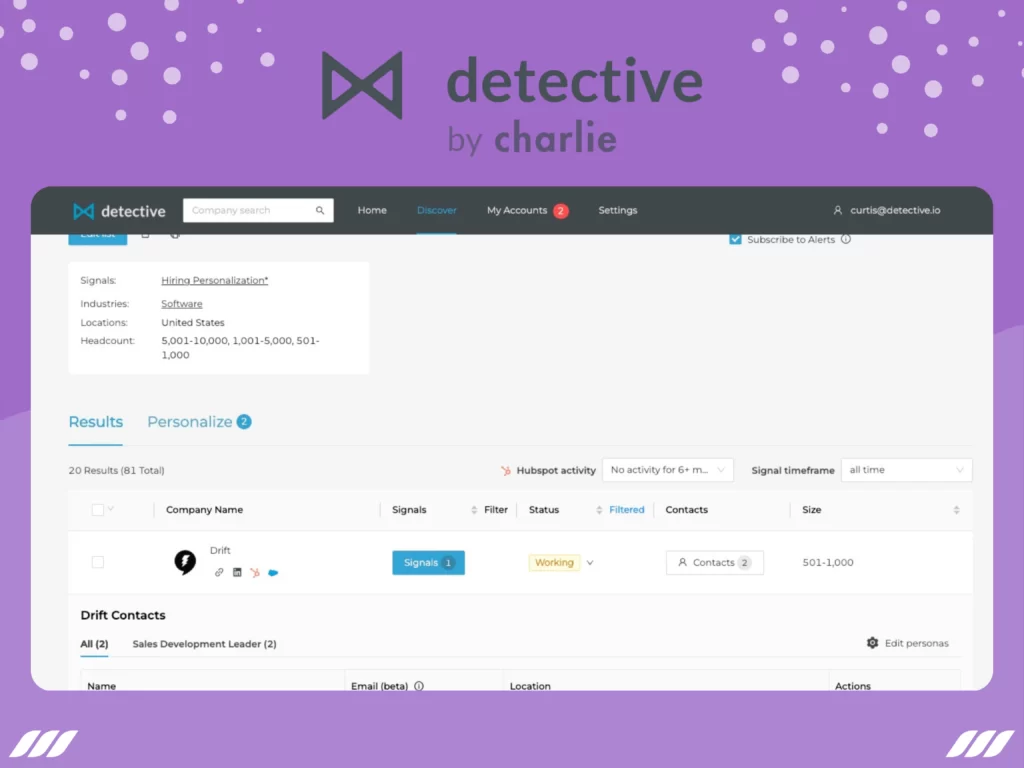 Detective by Charlie App lets you get the data required to scale outreach, personalize contact, and improve cold email conversion.
Whenever your company is mentioned across your prospects, it gives you the news. Plus, using this prospecting tool, you can keep tabs on your biggest competitors and their initiatives.
CrystalKnows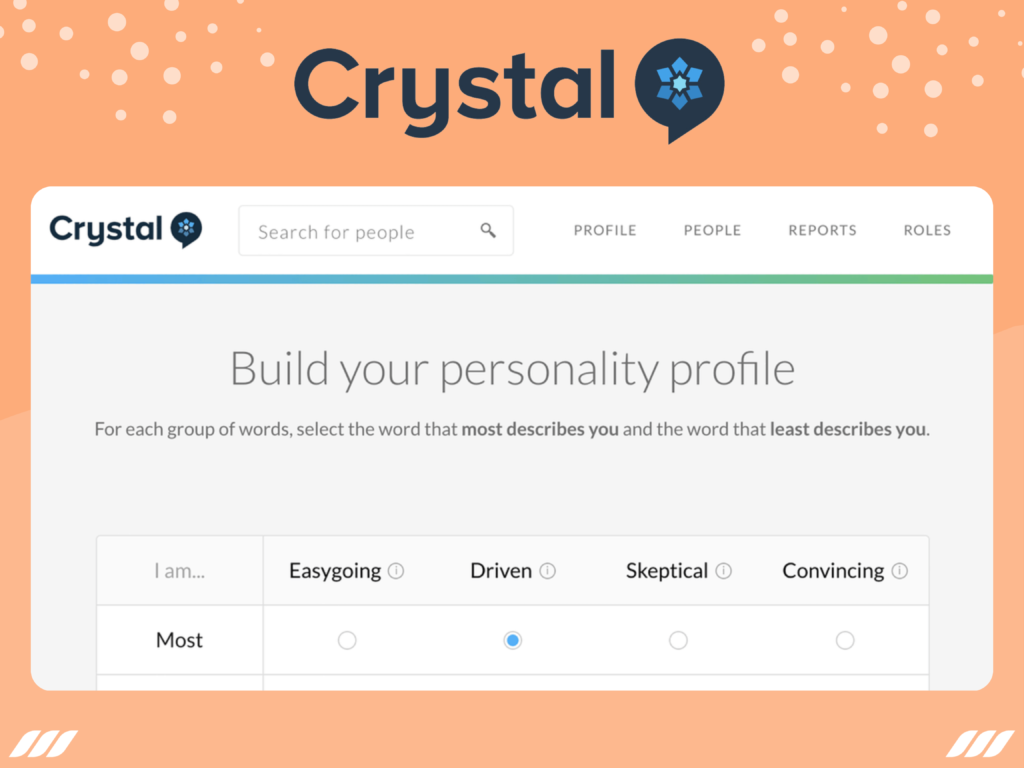 CrystalKnows scours publicly-available data and encapsulates prospects' personalities into a unique DISC model, which stands for "Dominant, Influential, Steady, and Conscientious."
This gives you an insight into the decision-making habits and preferences of your prospects. This way, you could optimize your sales calls for better results.
What's more, CrystalKnows offers a Gmail plugin, which communicates buyer persona directly on Gmail.
Owler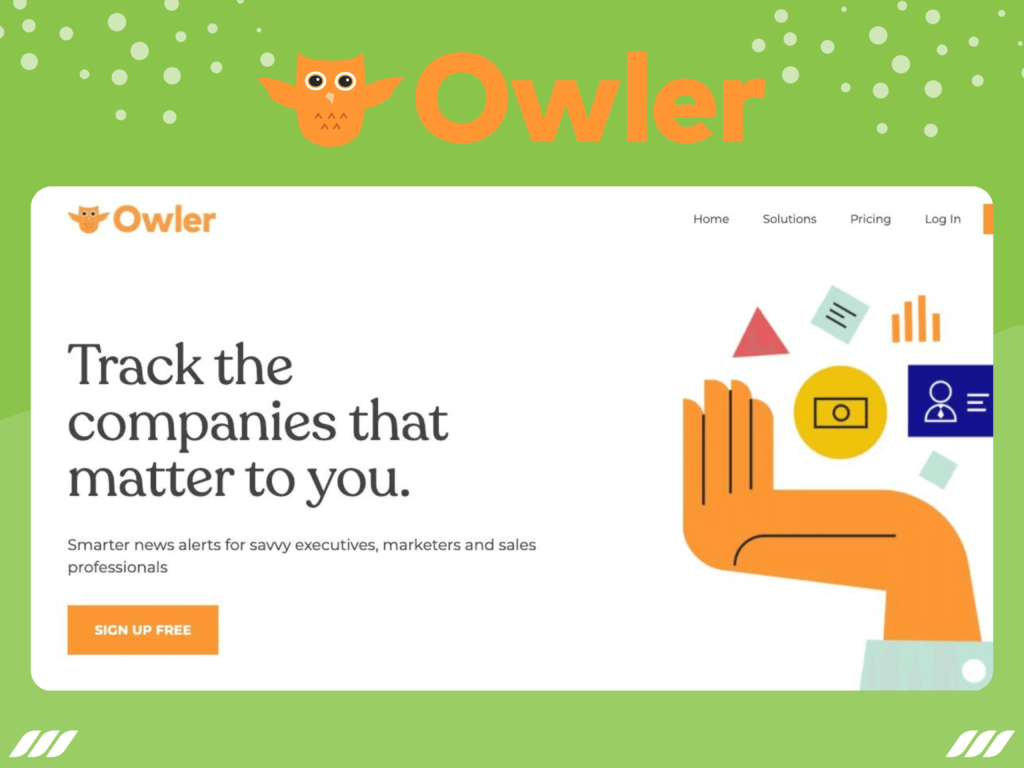 Owler enables you to track data of interest or discover new opportunities using advanced search filters. It gives access to exclusive company information such as:
Recent acquisitions
Revenue
Company size
Employee count
The data you get through Owler results from 5M+ business professionals sharing classified insights into organizations.
Moreover, you can leverage the platform's competitive intelligence, which spotlights competitors and presents what is said about your brand.
Demodesk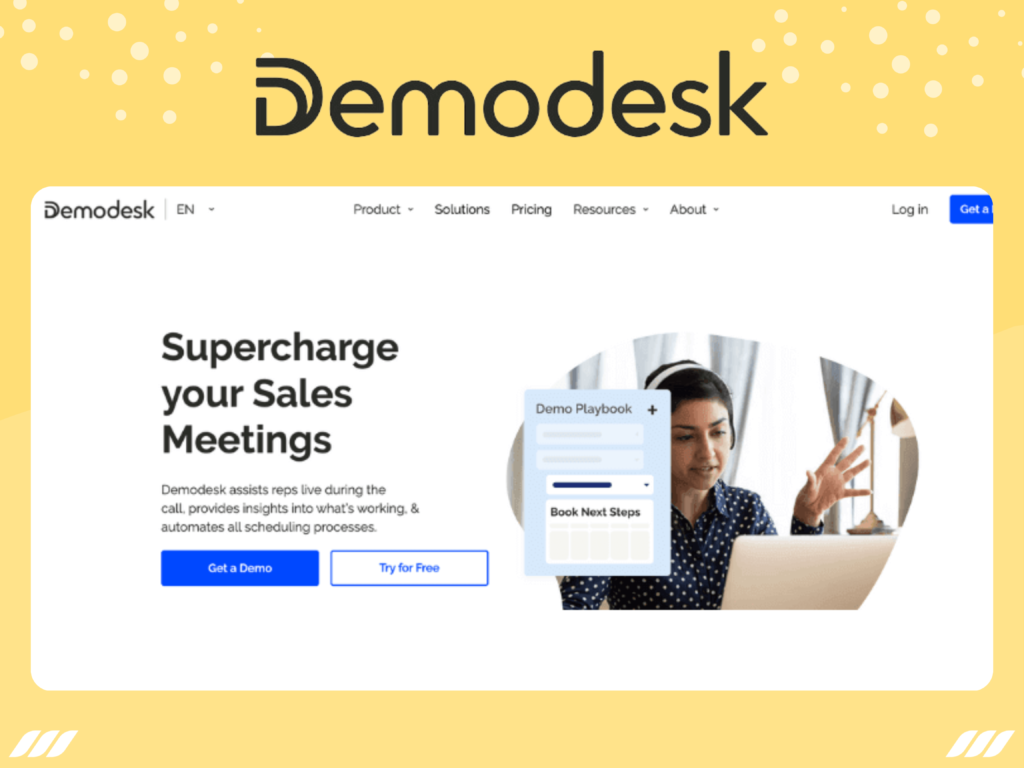 Demodesk is a web-based screen sharing and video conferencing tool that creates web-based virtual displays.
It comes with features that allow you to create meeting templates, add notes, and upload content like:
Websites
Documents
Presentations
Other features of Demodesk include a meeting scheduler, pre-built presentation flows, calendars, and CRM integration.
Demodesk doesn't require any browser extension or downloads. Instead, it takes a click on a link to access this prospecting tool.
Doodle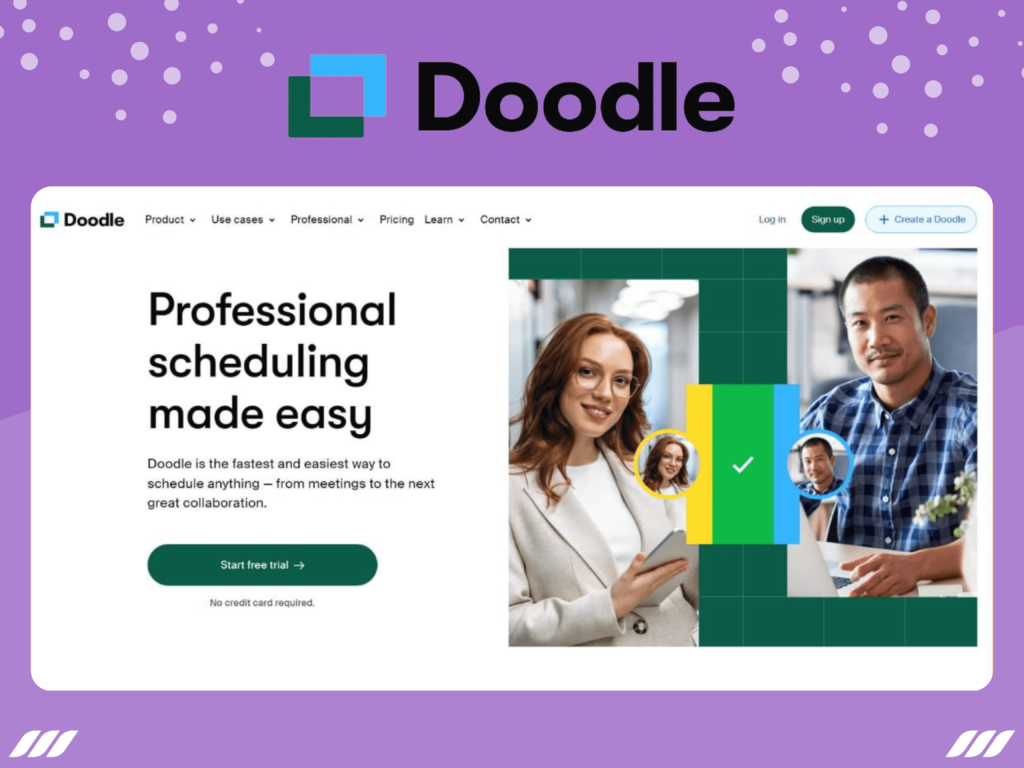 Doodle provides a simple way to schedule meetings with team members, project collaborators, or external suppliers.
It eliminates the back-and-forth emails about availability. All you have to do is specify your best times and the guests narrow it down. As a result, the platform efficiently concludes the time and date that works for everybody.
The premium version offers additional features like adding a custom brand name, automating reminders, and conducting customized polls.
ClaraLabs
As much as ClaraLabs comes in handy at managing and scheduling job interviews, it's equally valuable for sales teams to schedule meetings.
Once you set your preferred date, time, and location, ClaraLabs coordinates with prospects and works out a feasible meeting time and place.
The three key features of ClaraLabs:
Automatic follow-ups
Natural language
24/7 response
Clara's machine intelligence involves complete human support to ensure an effortless and pleasant user experience.
Boomerang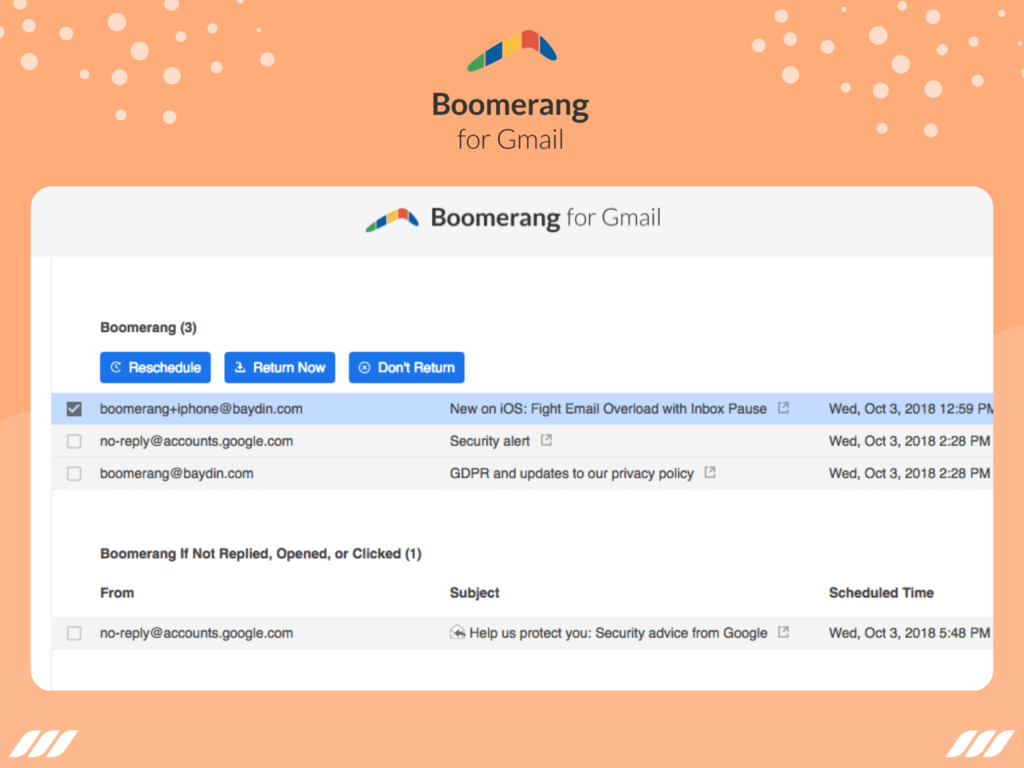 Schedule an email with Boomerang to be sent automatically at the right time.
Apart from giving you control of when you receive and send emails, it helps you with the best follow-up reminders. Boomerang cleans your inbox by removing messages you don't need and bringing them back at your desired time.
Besides sending out automatic reminders, Boomerang reminds you if you don't respond within a timeframe.
Rebump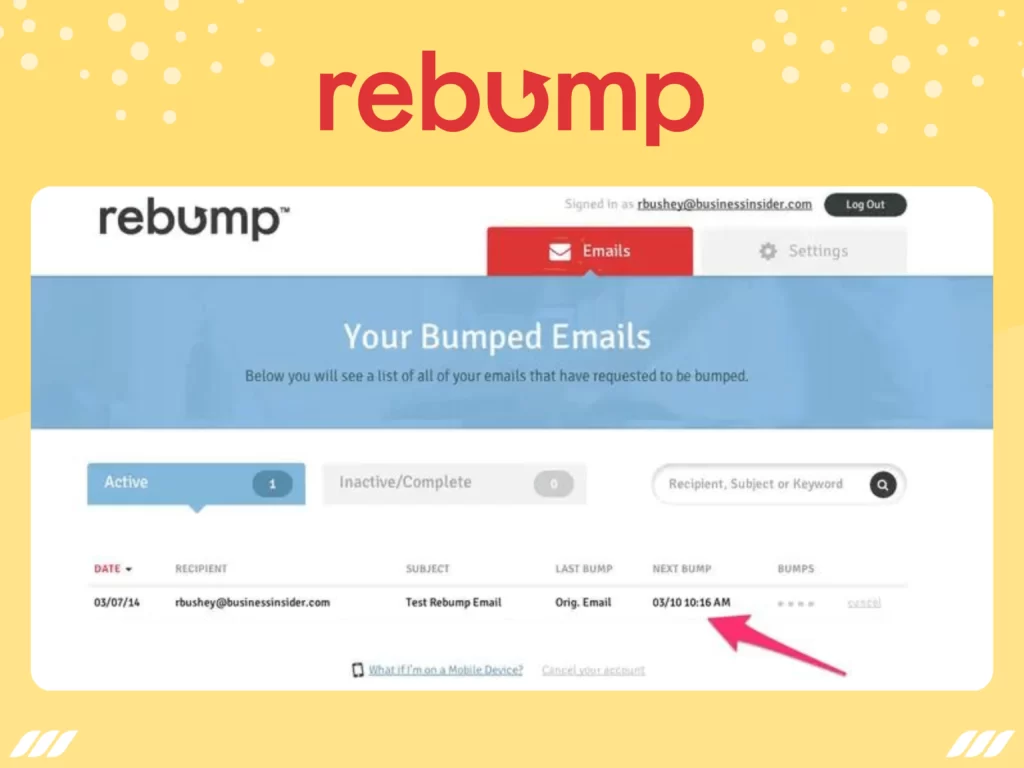 Creating an email follow-up sequencing can be tricky. Some prospects take as many as five emails to respond to, while others could be annoyed with that many emails.
On Rebump, you can specify the number of emails, the duration between each email and monitor the progress of emails. You can integrate Rebump with your Gmail and activate it to initiate follow-up emails.
Bananatag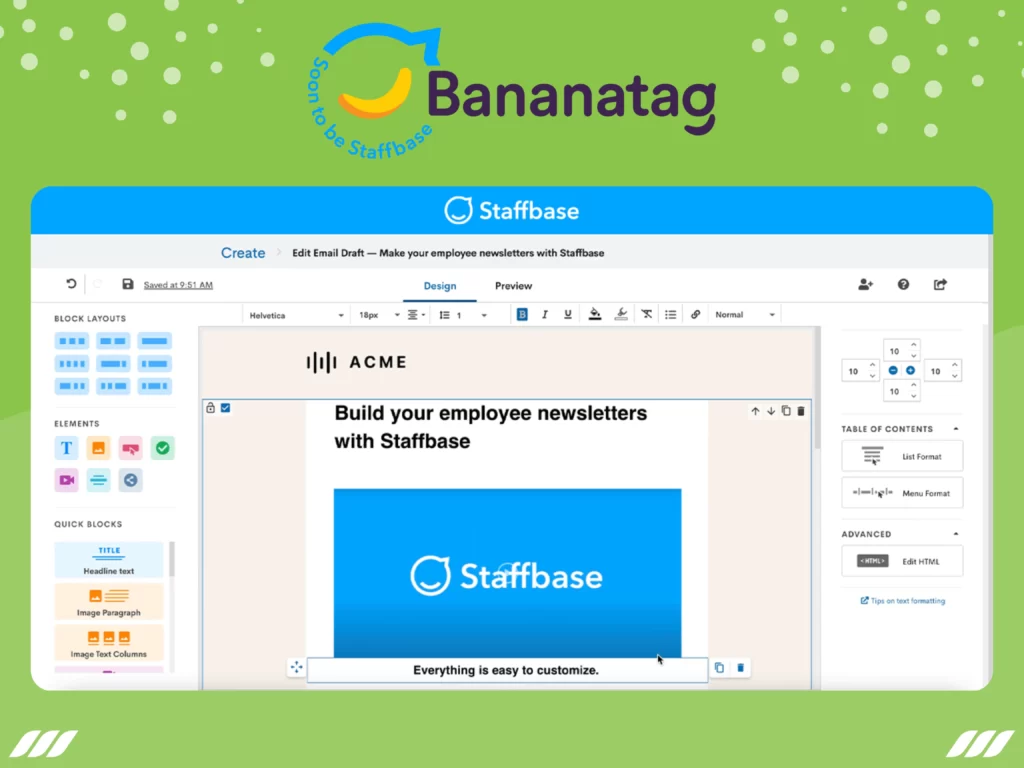 Bananatag saves time, reduces email workloads, and improves audience engagement with next-gen newsletter software.
At first, it lets you collaborate with your team in real-time to build engaging employee emails. Next, it sends your emails to the right employees. Finally, it gives you feedback to evaluate and adjust your email strategy.
Some notable features of this tool include email templates, a drag-and-drop editor, and email distribution list management.
HubSpot Sales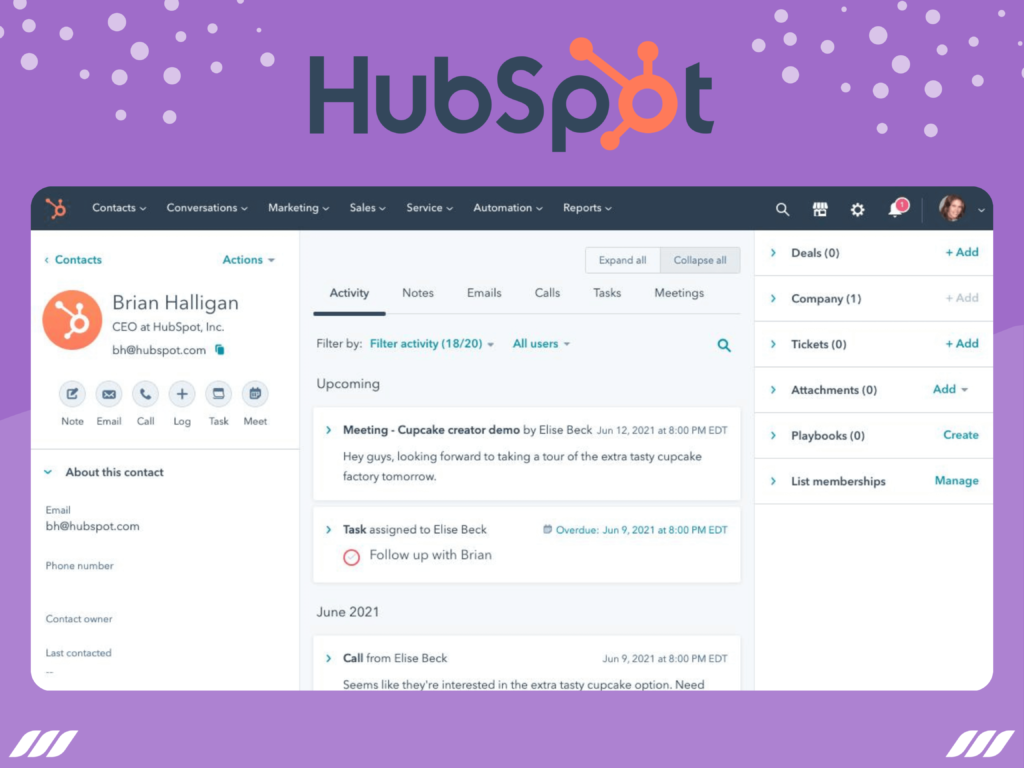 HubSpot Sales hosts a fully-loaded CRM that helps you manage the sales pipeline and close more deals.
The Email Tracking feature sends you a notification when your lead opens your email. It saves you time by giving you the option to turn your best emails into templates.
Other handy features include Document Management & Tracking, Conversation Intelligence, Call Tracking, and Sales Automation.
Yet Another Mail Merge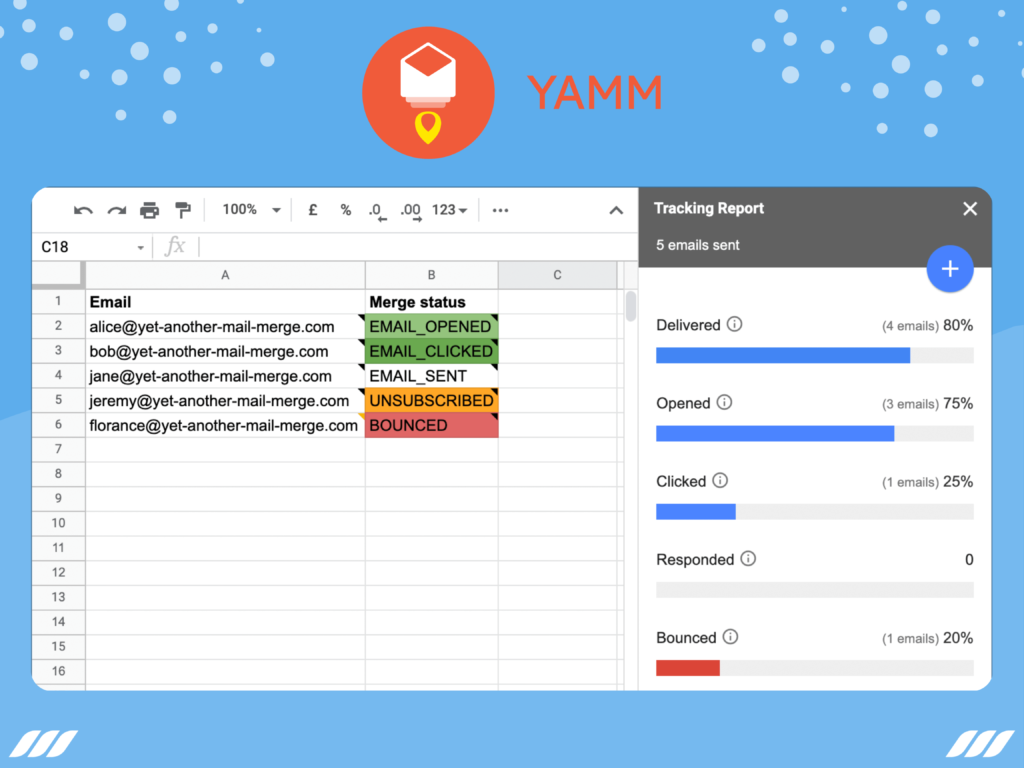 Why waste time sending individual emails when you send bulk emails using this prospecting tool?
Create your mail merge campaigns in just three steps:
Populate your google sheet with the mailing list
Create an email template in Gmail
Return to Google Sheets, open YAMM, and send.
Plus, you can track click count, replies, and bounce rates through this prospecting tool.
Ring.io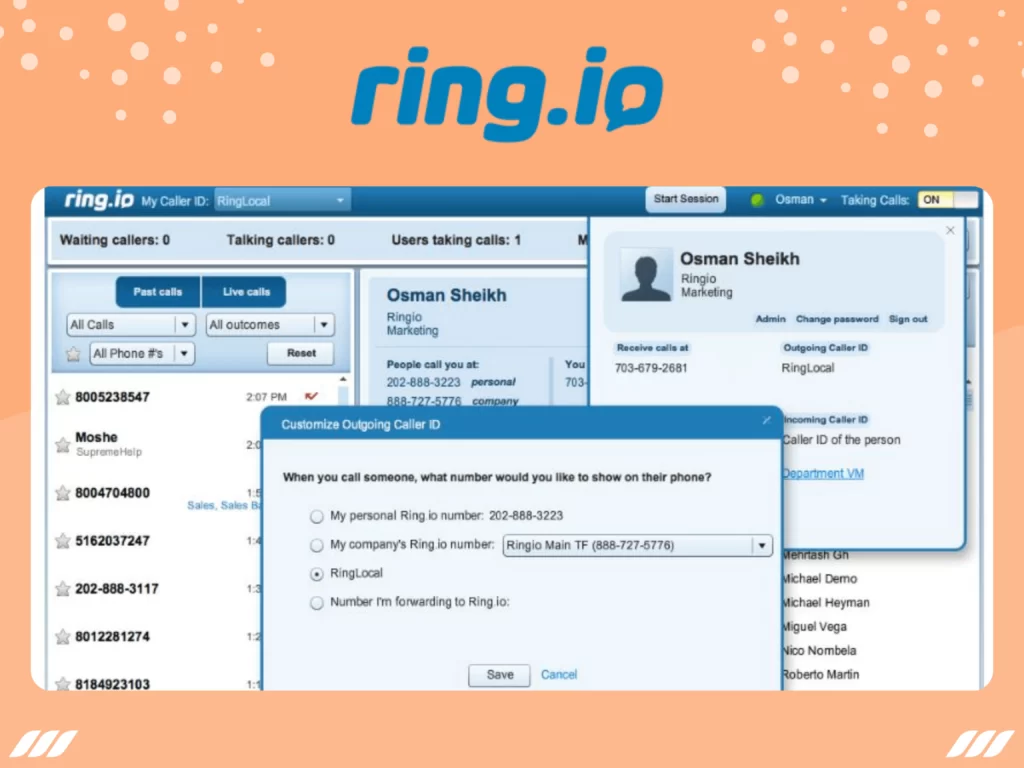 What makes Ring.io unique is the Salesforce Dialer, which could give your reps' productivity a big boost.
By integrating Ring.io with major CRM software, you get access to exciting features like click-to-call, automatic activity logging, and voicemail automation. This can help your sales reps make more phone calls while conveying the conversion ratios in percentages.
Skype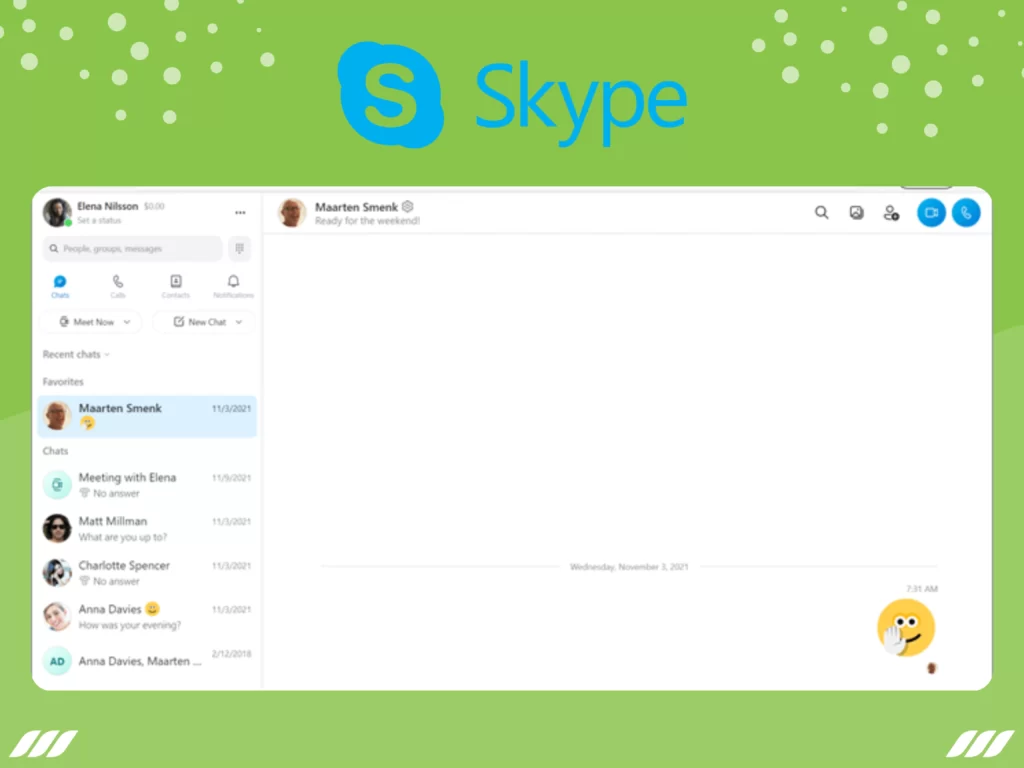 Skype is a renowned video and chat platform most professionals use every day for messaging, calling, and hosting meetings.
With the free version, you can host video-conferencing and get access to skype-to-skype calls. On upgrading to a premium account, you can make skype-to-phone calls worldwide.
Skype also allows you to record calls for future reference or share screens to show presentations and photos during a skype call.
GlobalMeet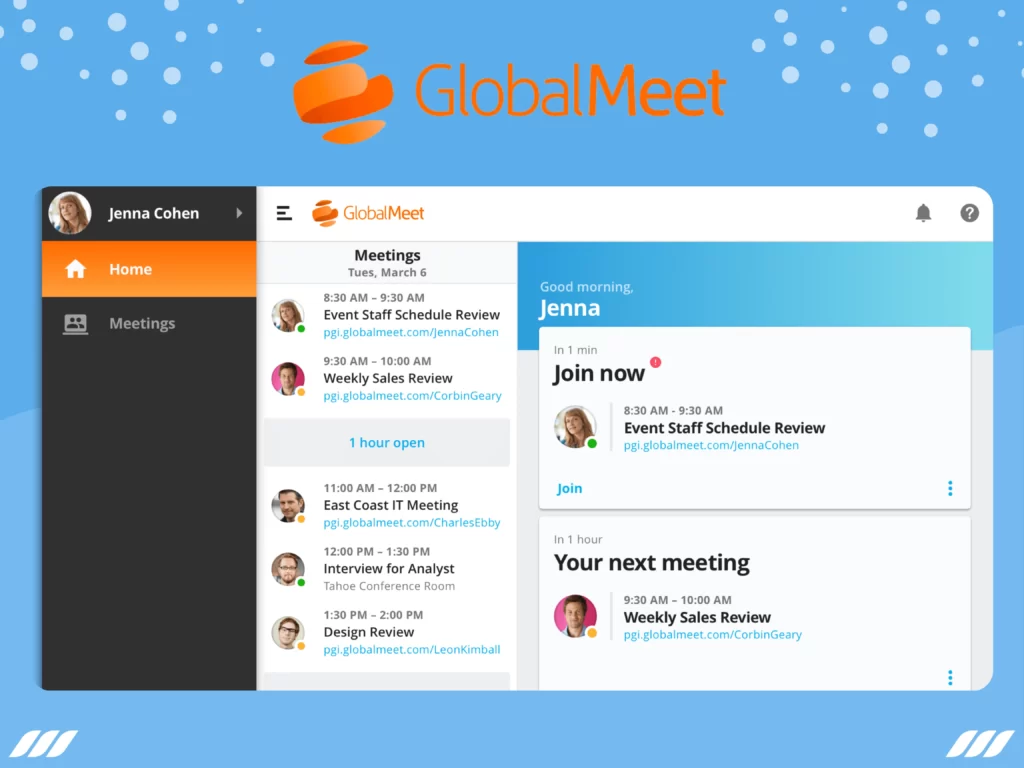 Like Skype, GlobalMeet is another video-conferencing tool. The best thing is that GlobalMeet doesn't require any downloading since it runs on a cloud-based platform. Simply provide the link to the meeting room, and your leads could join with just one click.
You can conduct webcasts, operator-assisted meetings, or conference calls through this versatile tool. You get a wide array of features like Q/A, surveys and polls, analytics, managed services, integrations, and more based on the type of plan.
Dialpad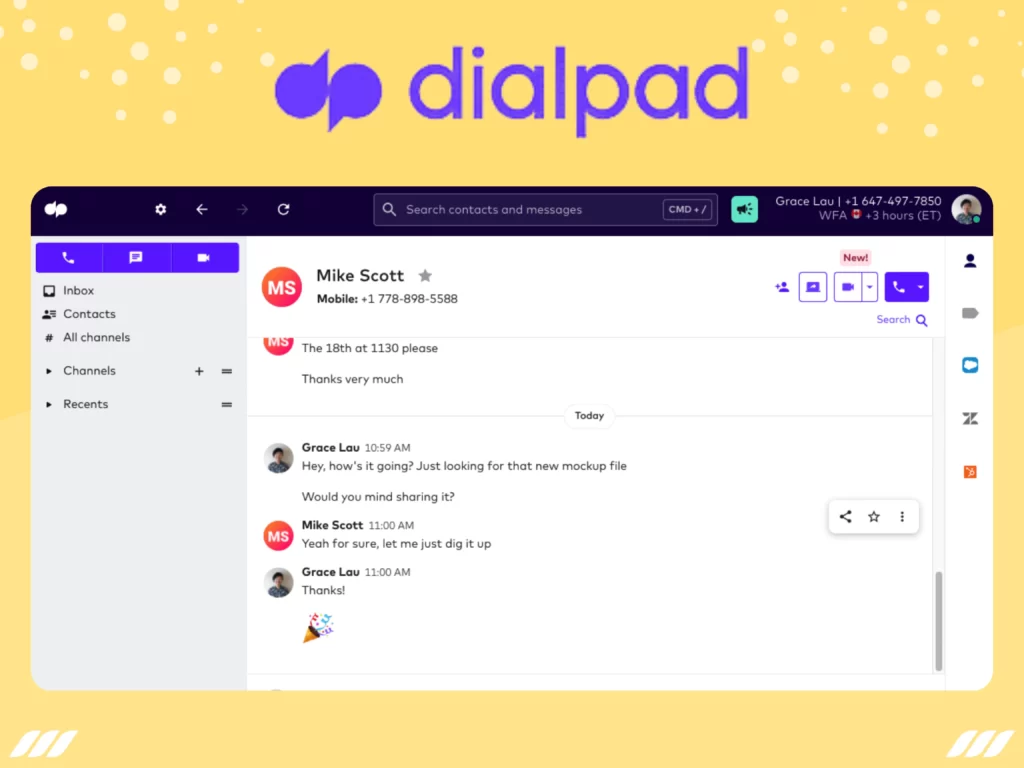 Dialpad is a video meeting software and messaging tool. The use cases range from video meetings and contact center management to outbound sales dialing.
Dialpad's AI assistance helps transcribe meetings, take notes, and analyze caller sentiment. Besides providing business communication needs, Dialpad takes care of customer engagement using features like an AI-powered contact center, sales, and virtual agents.
Conclusion
While prospecting, you will encounter a number of tasks that not just demand a lot of effort but are also repetitive. This scenario calls for tools that can save the time and effort you put in to perform the LinkedIn chores that are constantly repeated.
Sales prospecting tools like Dripify, allow you to establish connections with more prospects within a small time period. Try Dripify free trial today! With Dripify automation tools you will surely attract more audience, resulting in improved sales.
Additionally, the sales executives are not required to spend hours filtering out potential leads. The tools have the capability to automate the process of selection of qualified leads. This saves a lot of time and prevents the sales executives from getting exhausted mentally.
These prospecting instruments can also easily be integrated with other email platforms and CRM tools. Their ability to get coupled with others provides you with better and improved customer service.
When the effectiveness of the tools is combined with your impactful strategies can provide you with the results you crave for. So, what's the delay? Go through the list we mentioned above and make up your mind about which one will work best for you.