A sense of belonging is an innate part of human desire, and LinkedIn groups are a good example of executing this philosophy. But belongingness is not the only purpose of LinkedIn groups; they serve as a place where like-minded individuals and businesses connect to reinforce their brand or build a community together.
Collaboration on LinkedIn can lead to networking opportunities, exchange of information, better opportunities, and business growth. In this article, we'll have a 360° look at groups on LinkedIn. We'll cover topics like how to join/create LinkedIn groups, the benefits of groups on the professional network, the best LinkedIn groups to join, and much more. Read on!
What are LinkedIn Groups?
LinkedIn Groups provide an exclusive space for individuals or businesses with similar interests to share their expertise, ask questions and build meaningful connections.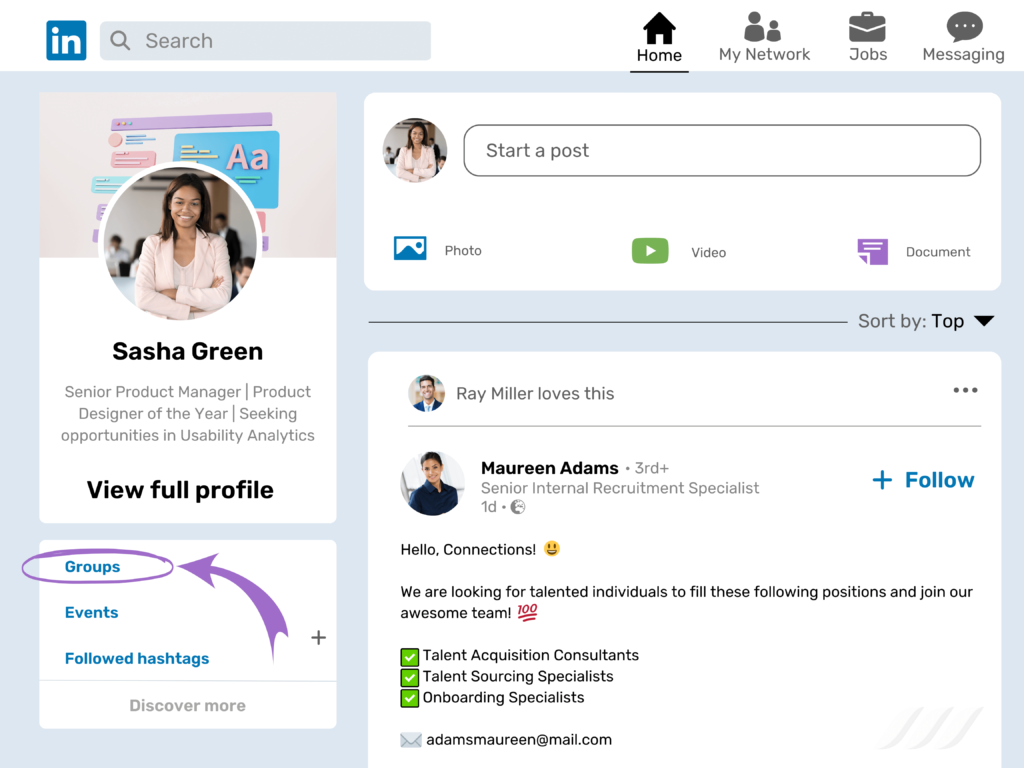 You can join groups of your choice by looking them up in the LinkedIn search bar. And while you're there, you can join discussions, find answers, and send message requests to the relevant group members.
Why Use LinkedIn Groups?
Social media dynamics and marketing have gone through a paradigm shift. Instead of aimlessly throwing promotional content, businesses are now interested in building and nurturing an industry-specific audience. From the consumer perspective, a self-selected, tight-knit community is an excellent way to engage in meaningful interactions instead of self-promotions and spam.
Given the extraordinary number of businesses on LinkedIn, LinkedIn Groups have become a powerful tool for B2B companies. LinkedIn private groups allow you to expand your network, grow your brand, and showcase your expertise.
Plus, among other features, a daily/weekly digest of group activities helps keep members updated. You also get one weekly admin announcement email to alert your group members.
How to Find Groups on LinkedIn
For starters, you can search for LinkedIn groups in the search field. Simply type in the main title/keywords of your potential group. This is similar to finding businesses, people, or jobs on the platform. Once you get the results, select "Groups" from the filters.
If you can't land an appropriate group, consider using the LinkedIn group recommendation feature. Click the "Work" icon on the top-right corner of your homepage, followed by "Groups." This will display a directory of suggested groups based on your search history, connections' profiles, and your interests.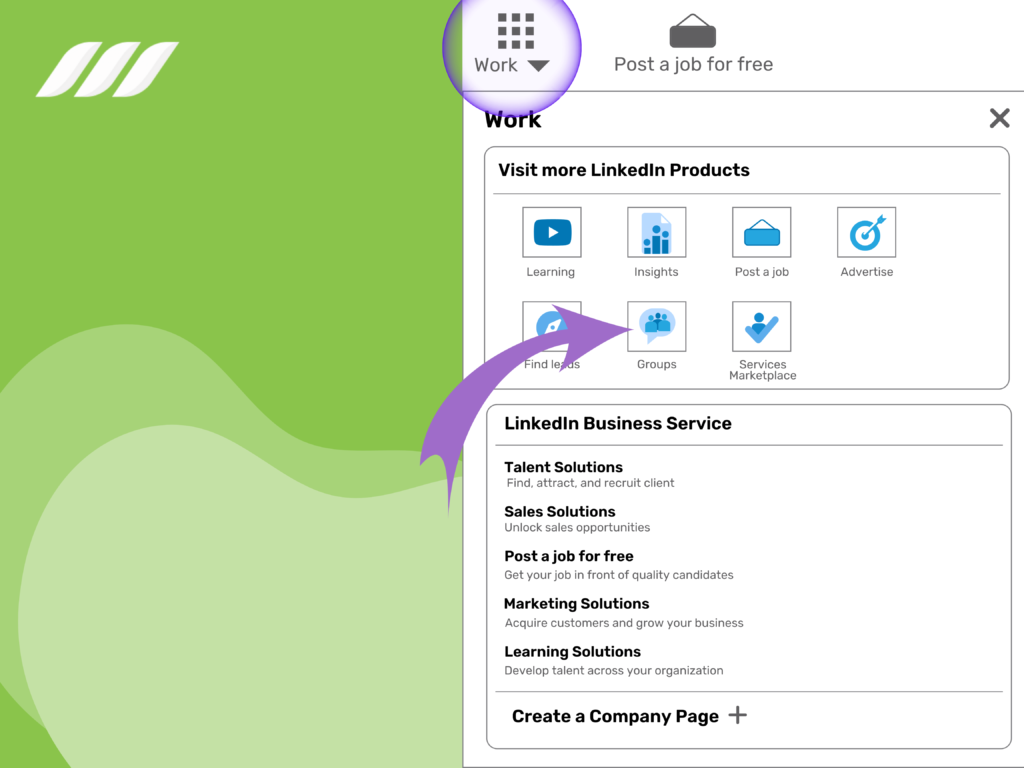 But remember that you can't filter groups in terms of industry or any other preferences through the recommendations feature. Still, it gives you reasonably accurate suggestions to hit the ground running with.
You can learn more about a group's objective and industry by clicking "About this group" on the group's homepage. This will help you find groups on LinkedIn that match your goals.
How to Join Groups on LinkedIn
Closing in on the right group can be tedious and time-taking. If you've arrived at it, you've done the hard part; what follows is fairly straightforward.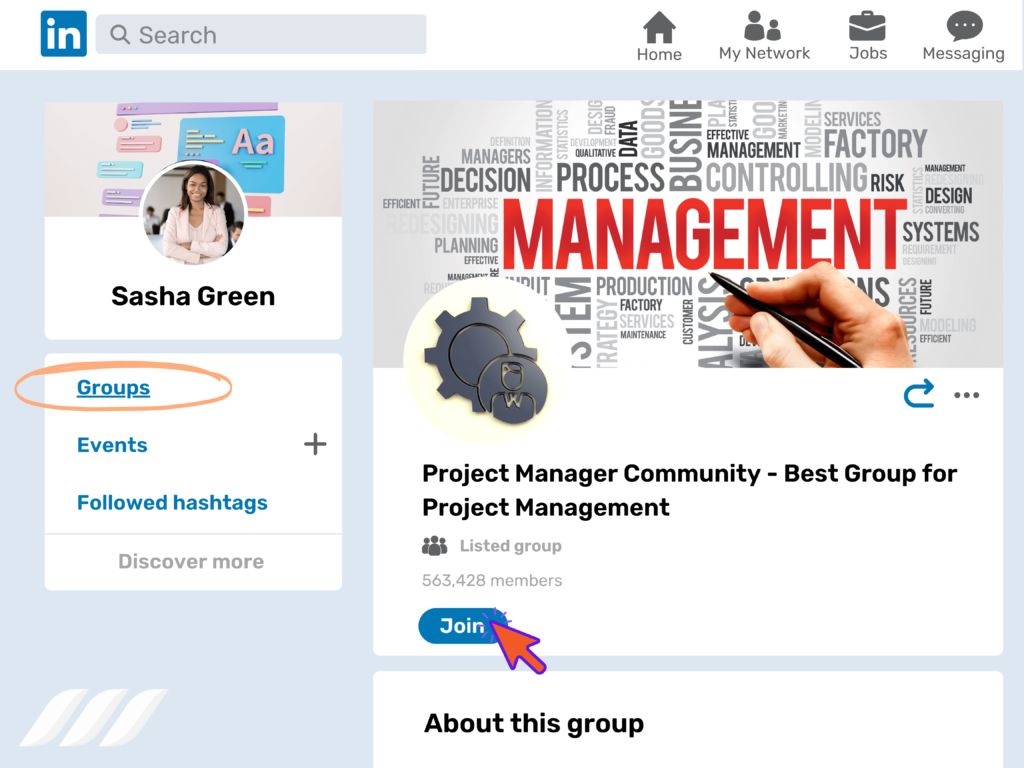 Click the group of your liking and click the "Request to join" button underneath the group name. Doing so will send your request to the group admin, who will evaluate if you're the right fit for the group. If everything's good, you'll get a notification of your acceptance. If not, find a different group (there are hundreds of them, literally!).
Sending a request is not the only way to join groups. You can also receive a group invite from your connection. If that's the case, just click the "Accept" button from your notification panel, and you're good to go!
How to Create a Successful LinkedIn Group
Creating a Linkedin group is trickier than joining one. The following steps can help you start a LinkedIn group on cruise control.
Pick the right topic
If you're a business owner, chances are you have a LinkedIn Company Page already. For more fine-tuned experiences, there are showcase pages and product pages with promotional content and deeper, dedicated insight into your offerings.
But it is always a good idea to build a community around your brand, and LinkedIn groups for business are the best way to go about it. With LinkedIn groups, you don't talk about your brand. Instead, you start conversations that draw the interest of your target audience.
The topics and discussions should center around something that can help your target audience or customers improve their professional journey. And after you build a thriving community, it will automatically give your brand more exposure.
Create your group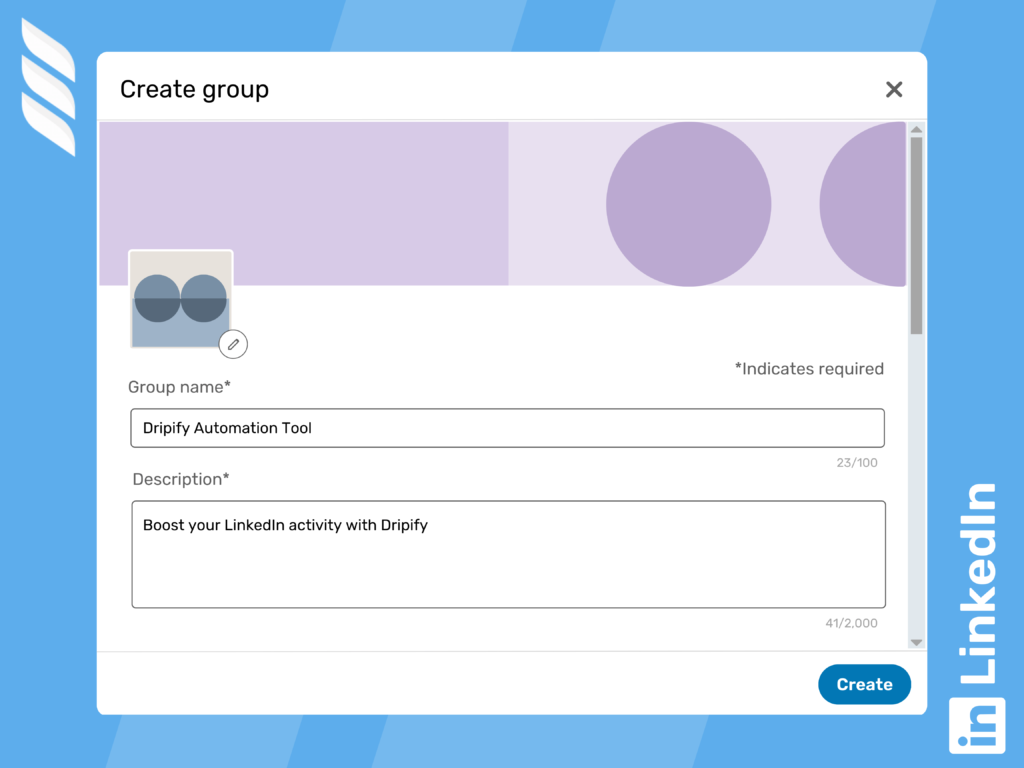 Now that you know your group topic, it's time for the execution.
First, click on the "Work" icon on the top-right side and then navigate to "Groups." Next, click on "Create group" from the new window.
Fill out the mandatory fields and optional fields, including the following:
Group name (100 characters)
Description (2000 characters)
Industry (up to 3)
Location
Group rules
Discoverability (Linkedin private groups)
Permissions (Admin approval for posts)
Group logo
Cover photo
Pay attention to the group rules, which will help you moderate and manage LinkedIn groups much better.
Create messaging template
The first interaction you'll have with your members is not in the group. It's with your automated message. This is your chance to convey your brand personality and nail your first impression.
The best way to do this is by crafting a personalized message using Dripify LinkedIn outreach automation instead of keeping to LinkedIn's off-the-shelf text.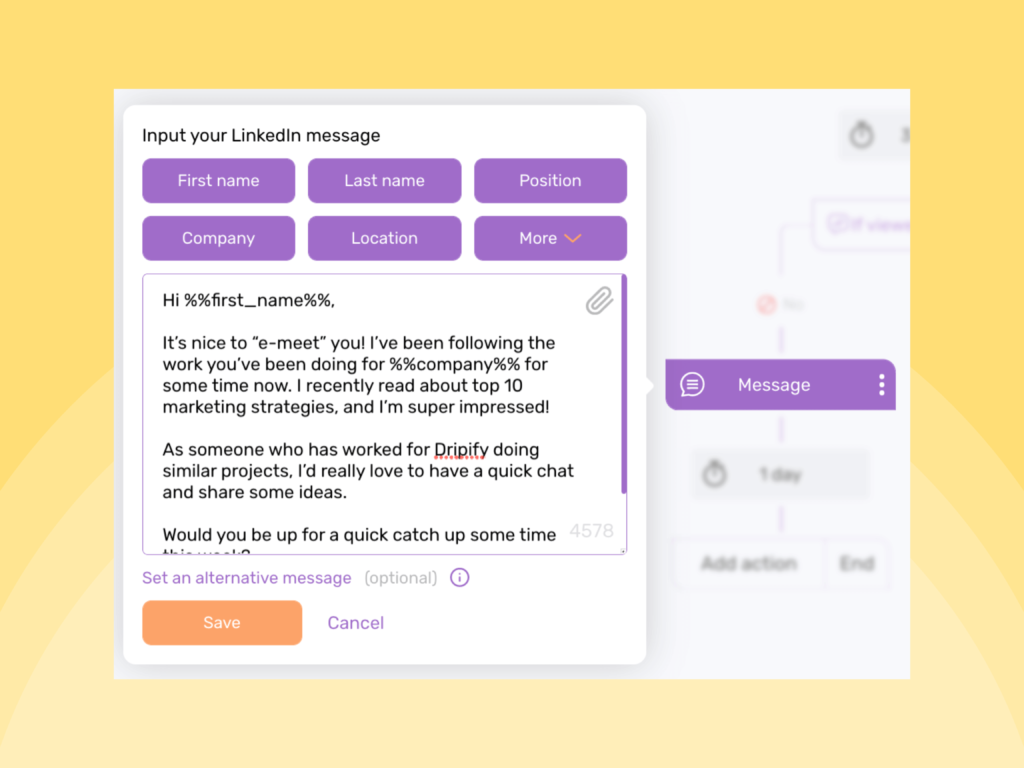 Here's the list of message types fitting different scenarios:
Request-to-join Message
Sent in response to a group joining request.
Welcome Message
Once group membership is approved for a LinkedIn user.
Decline Message
When you decline a group joining request.
Decline and Block Message
When you decline a group joining request, as well as block them from further requests.
But how to set up a message template?
Click "Manage" on your LinkedIn Group homepage and then select "Templates" on the left. Choose from different templates, type in your message, and select "Save Template".
Invite your connections
Having your group appear in the search results and achieving footfall can take time. But you can help grow your group by inviting your LinkedIn connections to join in. To do that, click "Manage" on your group's homepage and select "Invited Users" on the left.
Here are more ways to invite members:
Promote your group on social media profiles, your website, and your LinkedIn page.
Encourage group members to promote your group in their network.
Use paid promotion (LinkedIn Ads) to speed up the advertising part.
Start discussions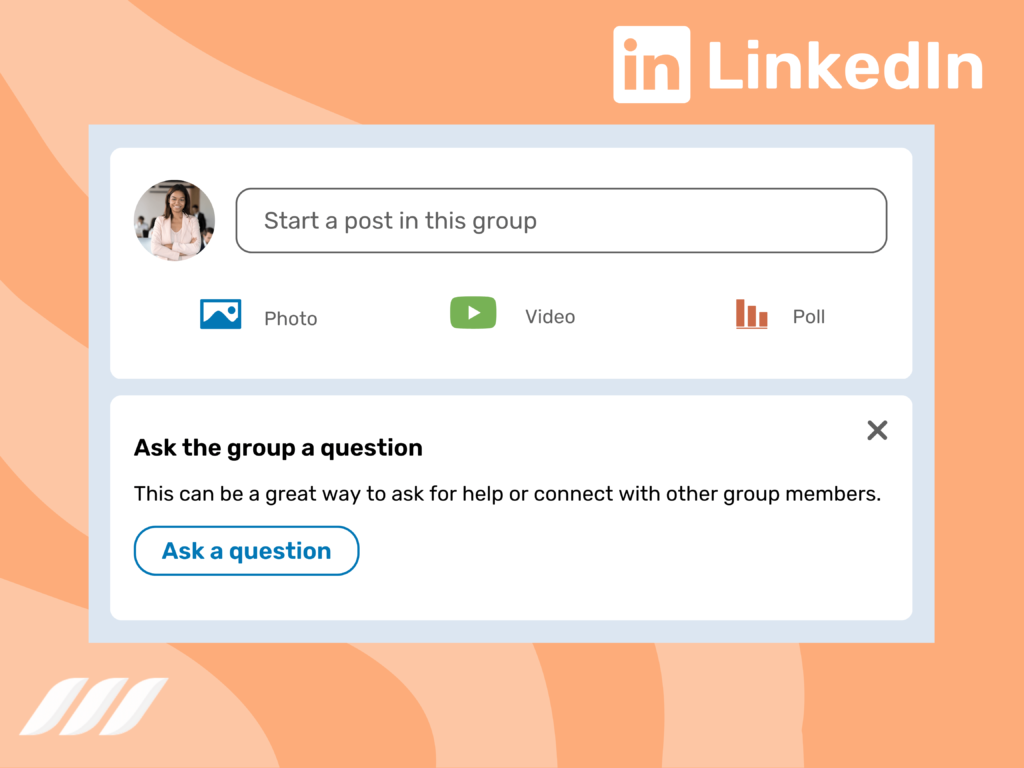 You might have gathered some members at this point. But they're probably clueless about what to discuss. As such, it is good to start discussions in the group by posting a few contents. Not only will this pave the way for more posts, but it will also help determine the types of posts that generate responses.
A welcome post that encourages members to read group rules and highlights the group's importance is a good starting point.
Also, make sure to get in the habit of interacting with existing conversations. This includes sharing your two cents, liking posts, and answering questions. This will do two things: position you as an industry expert and encourage members to post more often.
Moderate all posts
You don't want people to exit your group soon as it's set in motion, right? There's one promising way to keep that from happening — moderation.
Spam is the top reason people leave groups or become inactive. So, be sure to maintain a no-spam policy. This means taking action against promotional content and clickable links by deleting them or removing the concerned member.
You can either manually delete posts or comments or encourage members to flag inappropriate content and then moderate it by visiting the "Moderation Queue" and "Classifier Queue" on the group management page.
LinkedIn Groups: Best Examples
Here're examples of some of the best and most well-established LinkedIn groups:
Startup Specialist Network
With close to 900,000 members, the Startup Specialist Network is one of the largest communities for startups, investors, founders, and mentors. Whether your goals are business scaling, crowdfunding, or networking, you can find complete support from this LinkedIn group for business.
OutBüro – LGBTQ+ Community
OutBüro is one of the few groups on LinkedIn aimed at empowering the professional growth of the LGBTQ+ community. It provides a common platform while catering to their professional needs, whether job hunt or business growth. OutBüro is a testimony to how powerful LinkedIn groups can be at getting together and nurturing distinct communities.
Chief Marketing Officer (CMO) Network
Managed and moderated by Recruiter.com, CMO Network is an executive-level group for recruiters and employers. It connects enterprises with a network of recruiters to help hire and retain top talent for the right positions.
Digital Marketing
Chalking up over 2 million members, Digital Marketing is one of the biggest groups on LinkedIn. As the name suggests, this group encompasses the digital marketing field, covering topics like SEO, social media marketing, search engine marketing, and more. Bringing digital marketing experts and aspirants to one place enables an exchange of ideas, the latest trends, and best practices. 
Leadership Think Tank
Leadership Think Tank aims to connect aspiring business leaders with seasoned entrepreneurs and executives. With around half a million members, it makes an excellent resource for business amateurs to acquire leadership tips and get their questions answered firsthand.
Social Media Marketing Group by Connect365.io
A group with close to 2 million members, it provides a dedicated space for social media marketing professionals. As one of the most active LinkedIn groups, Social Media Marketing Group meets diverse purposes—for example, allowing for interactive discussions on social media marketing topics or helping businesses boost their productivity, growth, and opportunities through social media.
On Startups
On Startups is a place where small business owners and entrepreneurs connect for a flow of useful content. On Startups is a profound tech-startup ecosystem on LinkedIn that covers topics like funding, scaling, managing, and marketing.
The Benefits of LinkedIn Groups
LinkedIn groups allow you to expand your circle and connect with other individuals and businesses specific to your field. What other benefits would you get by creating or joining a LinkedIn group? Find out next.
Expand your content reach
In addition to your blog and social media pages, LinkedIn groups are a go-to for sharing content. Why? Because these are the people who have expressed a clear interest in your topic by joining your group.
Demonstrate your credibility
You could demonstrate your expertise by posting regular content on a relevant topic and participating in discussions. This can help you establish your authority in your field. This may even attract venture capitalists to fund your startup, or you may find a potential business partner.
Generate Leads
LinkedIn groups make a niche-specific place where individuals and businesses gather for guidance, insight, and industry changes. This gives you the best place to find leads. But this doesn't mean you should post salesy content. Instead, you can earn your leads by providing value and letting them come to you by choice.
Conclusion
Whether you're a business owner or a job seeker, there's no shortage of LinkedIn groups that will maximize your reach and supercharge your professional networking. It's only a matter of a few smart searches to find the groups you'd love to join.
While you're at it, make sure to stick with best practices to become a valued member. These include contributing from your end, encouraging discussions, keeping your tone polite and respectful, and adhering to group rules diligently.