The default LinkedIn profile URL can be extremely long and annoying to include in your CV or resume or share with potential employers. Also, they don't leave quite an impression either. But, did you know LinkedIn offers you the option to shorten your profile URLs as per your desires? Yes, that's true; and it's super easy to do! 
Continue reading to learn about the benefits of a LinkedIn profile short link, how to make a short LinkedIn URL, and much more.
Customize Your Links on LinkedIn
There are many ways to customize your LinkedIn URL. You can do it manually by going to your LinkedIn profile or using many tools specifically designed to perform the job for you. You may want to use a LinkedIn short URL generator like Bitly to shorten your LinkedIn URL.
Bitly is the most renowned tool that allows you to give your links a more 'personal' touch and leave a good impression. With Bitly, you can personalize, shorten, and simplify your LinkedIn URL. It works similarly for YouTube, Facebook, Twitter, and other social media.
This tool is undoubtedly a treat for people who want to build strikingly impressive resumes and customize the links of their landing pages. If you are not willing to use a tool, you can customize your link through your LinkedIn profile. Keep reading to learn how!
Why Do You Need a LinkedIn Short URL?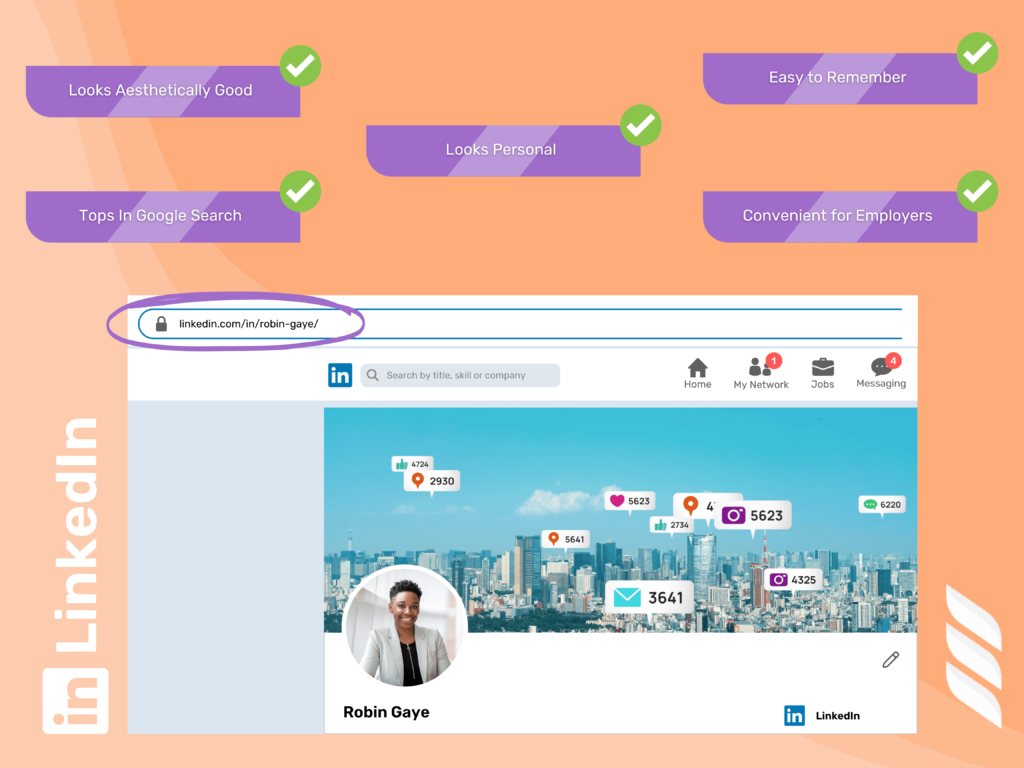 Here are a few advantages of having a short LinkedIn URL:
1. Looks Aesthetically Good
Having a customized and short LinkedIn URL will instantly look good and be aesthetically more appealing, no matter what media you want to use.
2. Tops In Google Search
A LinkedIn short link and URL can help promote your profile to the top in Google search and the LinkedIn website! Remember, short and simple always wins!
3. Looks Personal
A short LinkedIn URL will give a personal touch to your link and profile. You can see the difference yourself:
https://www.linkedin.com/in/your-name-a012831b2/ or https://www.linkedin.com/in/your-name
Which one looks better and more personal?
4. Easy to Remember
A short LinkedIn URL will be easy to remember for you and your potential employers. Also, you won't have to search it up if someone asks about your LinkedIn profile!
5. Convenient for Employers
Some employers might be watching a digital version of your resume. They can simply copy-paste the long LinkedIn URL without any hassle. But, if an employer has a hard form of your resume, a short link for LinkedIn will be convenient for them to look up.
How to Create a Short Link for LinkedIn?
Here's a step-by-step guide on how to create a short link for LinkedIn on a web browser:
Step 1. Go to Your LinkedIn Profile
First, go to the LinkedIn website and log into your account. Next, head over to the top of the screen and click on "profile" from the menu tab.
Step 2. Go to Profile Settings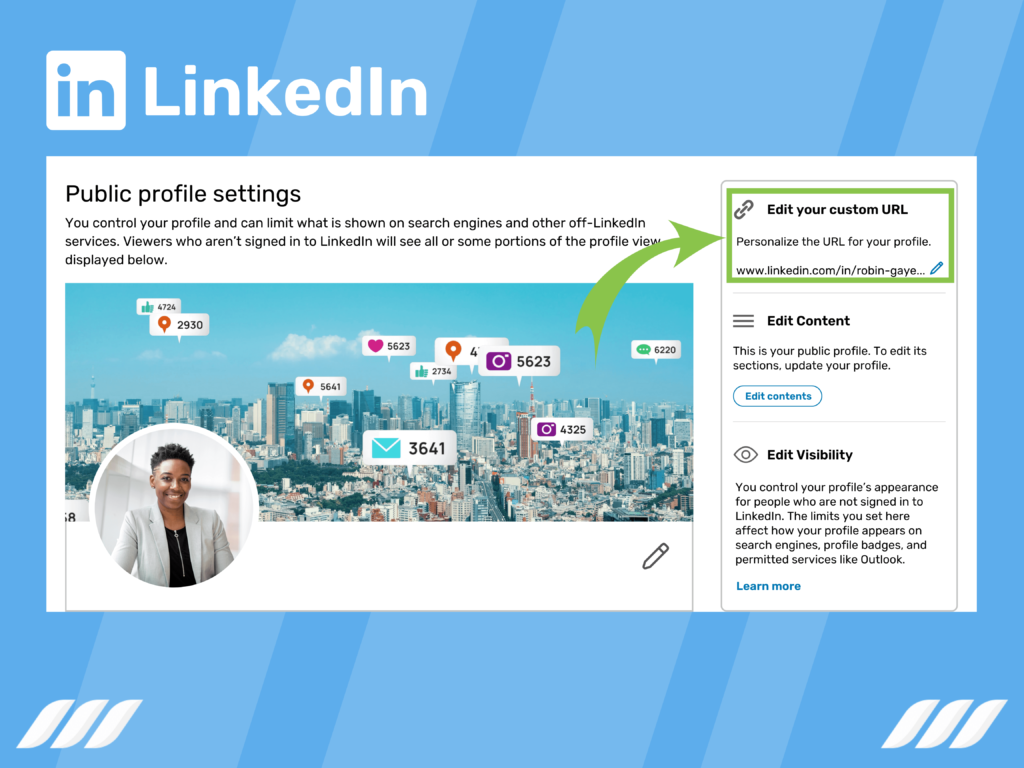 After opening your profile, go to the bottom left of the screen and hover your cursor over the URL.
At that time, it will be something long like https://www.linkedin.com/in/your-name-245b5b42. Click on the little clog beside that URL to open a new page.
Step 3. Edit Your LinkedIn URL
You will see a box on the right side of the screen with the text "Your Public Profile URL". Click on the pencil icon right next to that box. You will get the option to customize your LinkedIn URL from there. You'll see a default URL starting with www.linkedin.com/in/; simply fill up the rest.
We recommend you use only your first and last name for a more professional and personal look. For example, www.linkedin.com/in/your-name.
Step 4. Save Changes
After customizing your LinkedIn URL, click the save changes button, and you are done!
How to Make a Short LinkedIn URL in a Mobile Browser?
Want to change your LinkedIn URL into a short URL on your mobile browser? Follow these simple steps:
Log in to your account and tap on your profile picture
Go to the "Contact and Personal Info" tab and click on "Edit"
Click on your default LinkedIn URL to open the "Edit URL Page"
Type your new and personalized URL by following the steps above and click save!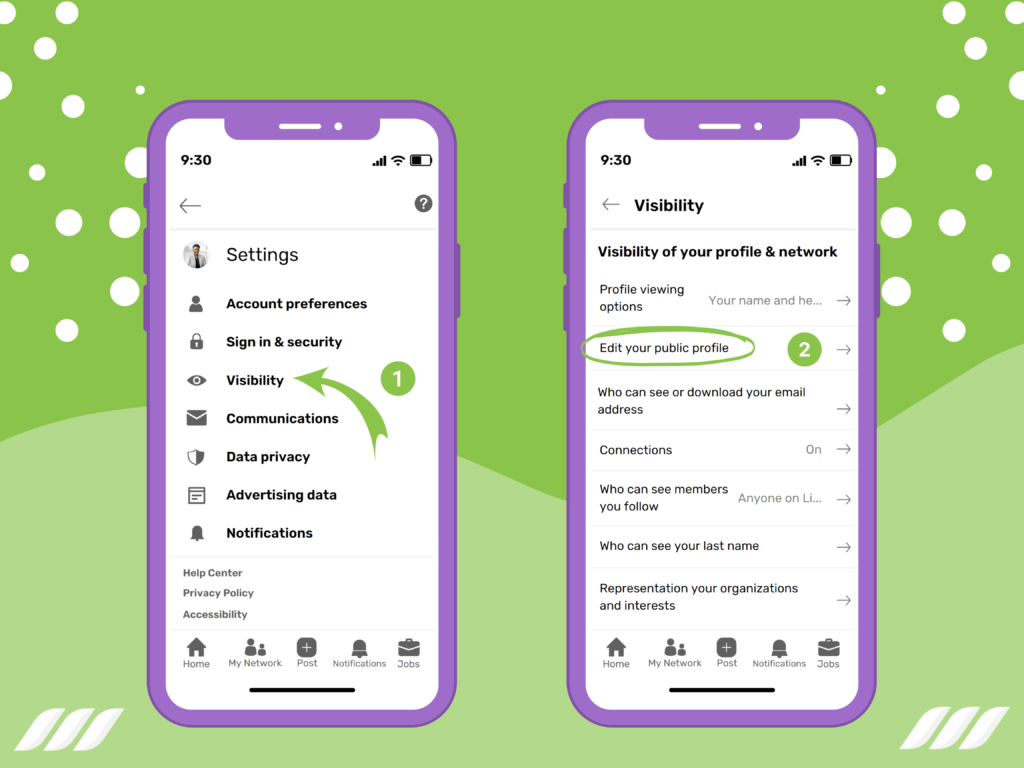 Conclusion
Now that you have gone through our detailed guide, what are you waiting for? Go and shorten your LinkedIn URL as per your desires! After you are done, use your new URL on business cards, social media profiles, and resumes.
We highly recommend using your short LinkedIn URL on your resume; it will leave a personal and professional impression on your potential employer. In addition, your potential employers will be able to see your employment and career history most conveniently!