Do you worry about your cold website visitor conversion rate?
In a survey, 68% of B2B marketers said increasing quality leads is their number one priority, followed by increasing lead volume, at 55%.
But what about how to respond to leads on your website? How many marketing leads are turning cold?
When growing your marketing leads and improving ROI, it's important to consider how long it takes to respond to sales queries and how quickly they can become cold if you don't.
Failing to do this can have serious consequences for your business.
In this blog post, we will discuss online sales lead time and how to stop a cold from happening.
What Is a Cold Lead in Marketing?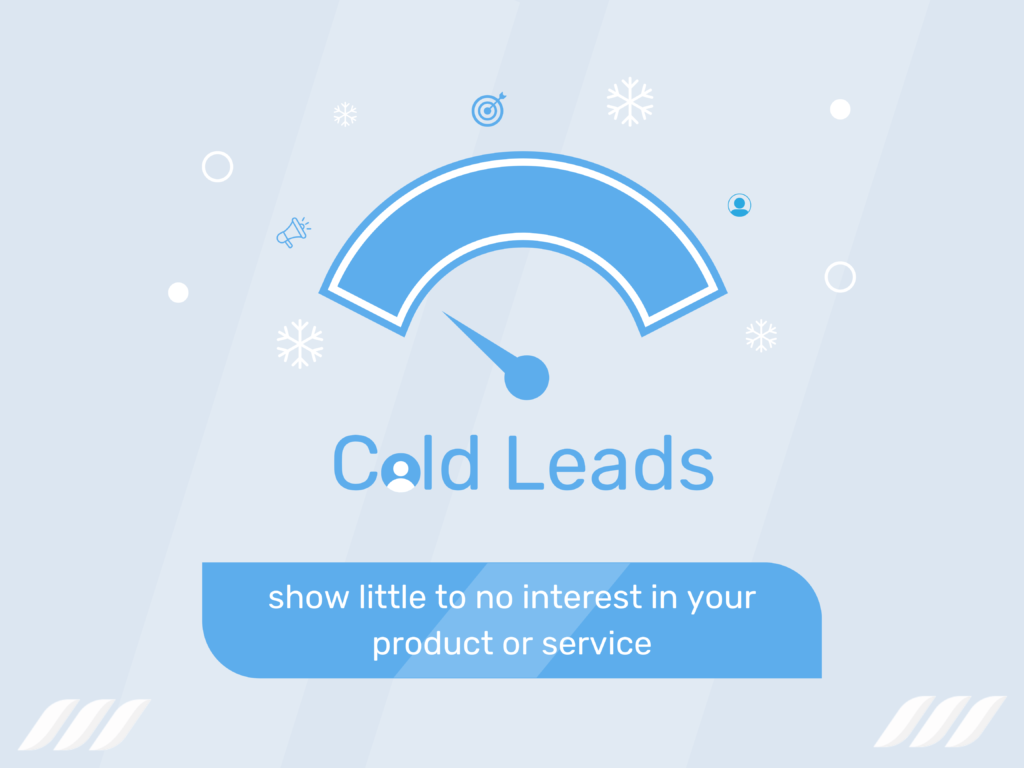 You must've been on the receiving end of a cold call at least once in your life. This is when a sales representative calls you out of the blue and tries to get you to sign up for their offers. Receiving a cold call can catch you off guard since you never contacted them or took an interest in their products or services.
Cold leads are people who show little to no interest in your product or service. And neither do they have an awareness of your brand. They probably have their numbers scraped from social media profiles, or maybe they signed up for an email list.
Before you can generate leads for your business, you need to ensure that your marketing efforts aren't resulting in already cold leads. Plus, to grab a cold lead's attention, you reach out to them and convince them that you have the solutions to their problems.
Cold leads require careful nurturing for some time before transforming them into your regular customers.
What is Fast Response
In your engagement with sales leads, a fast response largely dictates the quality of interaction. Is your company responding fast enough to potential customers? How do you handle customers' online queries? And what response time exactly qualifies as a fast response?
A study by Harvard Business Review (HBR) measured the response times of businesses. The researchers tested 2,241 U.S. companies using web-generated leads. The study found that 37% of leads responded within an hour, 16% within 24 hours, 24% took more than 24 hours, and 23% never responded.
A response time of 24 hours might not sound too much. But, a separate HBR study suggests that brands that respond to their leads within the first two hours have a 60x chance of turning them into prospects compared to those who take 24 hours or more.
The sooner, the better; you're in the safe zone if your response time is under one hour.
Why is Fast Response Important
Speedy customer service gives you a competitive advantage!
If you're putting your sales leads on hold, remember a competitor out there can tap into the opportunity faster than you. The quicker and more fulfilling your responses, the higher your chances of making a sale.
This is what makes response time a make or break in any marketing campaign. Conversion rates optimization and advertisements won't do much if you can do the bare minimum, such as addressing queries on time.
Why Do Leads Turn Cold So Fast?
Keeping marketing leads warm is so vital to increasing sales and getting good ROI. But why do these leads turn cold so quickly? Simply put, they get bored of waiting.
In the digital age, competition is tough. Consumers expect immediate results and lose interest quickly – especially if they have many other options. Cold times are harsh right now.
Many businesses have invested vast sums of money into online lead generation, and consumers are inundated with so many adverts and sales pitches. By implication, if you want to improve your chances of gaining and keeping customers, you need to respond quickly as a matter of urgency.
When it comes to responding to leads, 24 hours doesn't sound that long, does it?
However, according to a Harvard Business Review, online businesses need to respond to marketing leads in an hour or less if they want to win the customer's business.
The researchers found that those that followed this rule were almost seven times more likely to convert that marketing lead than those that waited over an hour – even if it was only slightly.
Furthermore, statistics show that marketers that follow up within five minutes are nine times more likely to get a conversion. 
Interestingly, Websites like the Harvard Business Review clearly show us this is one of the most effective ways to avoid your digital marketing leads losing interest and increase your conversion rate.
To implement this in your business, you need to take steps to ensure you don't wait too long when responding to queries.
Some of the ways you can do this are:
Retrieving your leads from your CRM software continuously, rather than at set times
Responding to customer-driven leads first,
Using automation software to your advantage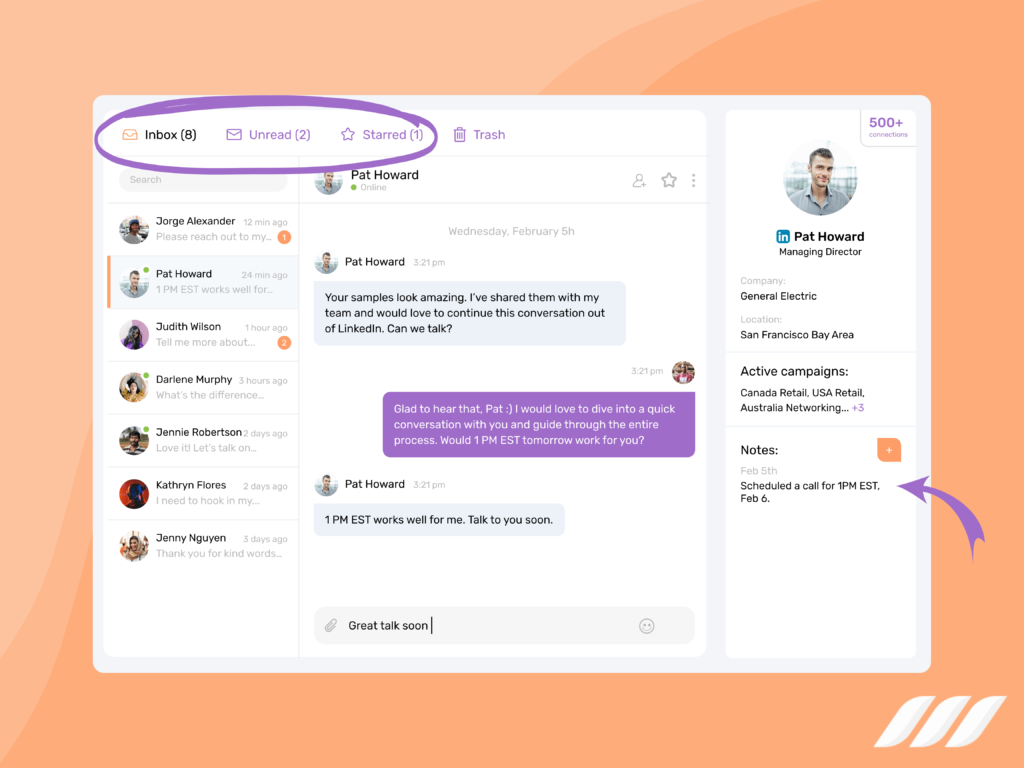 Choosing quality automation software can help you stay up-to-date with your sales leads and keep your response times down.
With Dripify automation tool, you can quickly improve your conversion rates on LinkedIn, as it lets you prospect 24/7, even when your laptop is switched off.
You can implement automated actions, and delays using the customizable sales funnel and track your results with daily stats, activity, and campaign conversion rates.
Plus, you and your team members can easily manage conversations in your inboxes. You can check and respond to priority messages, add reminders, and stay super-organized.
How to Keep Leads Hot With Automation
Once you've built a flow of leads with outreach campaigns, the next task is to pique their interest and keep them hooked. If you fail to answer a hot lead on time, they'd lose interest and disengage from your business.
But here's the thing — responding to sales leads is time- and resource-intensive. It isn't easy to promptly follow up when many people bombard your inbox with queries.
Here's how you can keep your leads hooked through an automatic lead management system:
Boost your efficiency
You can shed the burden of your team through system-generated messages.
Besides being quicker, automated responses are efficient as well. You can't expect a computer program to make errors like skipping emails or sending repetitive messages. This translates into pushing your leads down the sales funnel and closing the deals more often.
Save your time
Despite being quicker, automatic emails can be a turn-off for some people. These are the ones who prefer to have a human touch in conversations.
Lead management tools free you from repetitive administrative tasks like scheduling, tracking, and doing monotonous activities. This way, you can spend more time personally interacting with your leads.
Focus on marketing qualified leads
A fully-automated lead management system generates leads on its own, sorts them in terms of interest and relevance, and enriches them on integrated CRM platforms.
Once you get marketing qualified leads, you can prioritize them and start quality interactions. You won't be sidelining your qualified leads anymore because you can spend your valuable time nurturing relationships with them.
Tips for Keeping Your Leads Warm
As we've seen, responding to leads faster is a top way to stop leads from turning cold.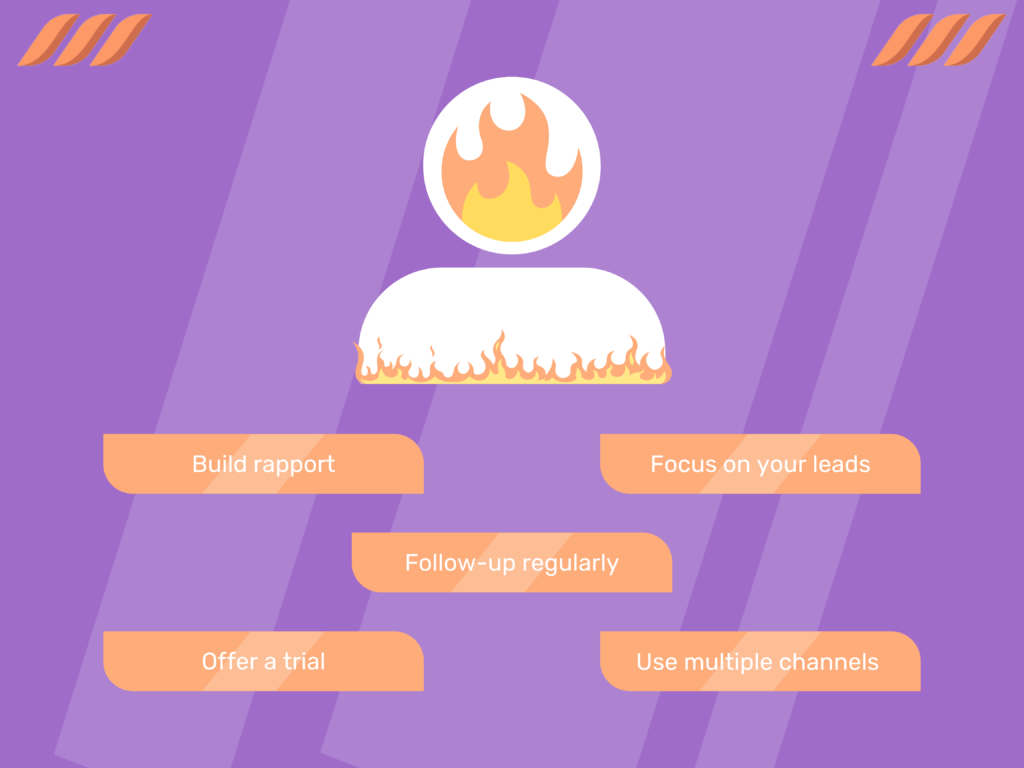 So, how else can you keep your online marketing leads warm?
First, it's important to understand what we mean by a "warm lead".
Hot leads are prospects that are ready to buy. They know the product, they know you, and it's very easy to close these sales.
A cold lead is someone you don't know, and who doesn't know you, the company, or the products or services you're offering. These tend to have a low response rate.
Warm leads are in between these two. They have expressed some interest but may need some persuading to make the buying decision. These types of digital marketing leads need a lot of nurturing if you're going to convert them to a sale.
Here are some of the best ways to do this:
Build rapport
One of the best ways to nurture a warm marketing lead is to build rapport with them. This is highly important. In fact, marketers recommend that this is the main focus of every sales interaction you have – regardless of the type of lead they are.
It's essential to be patient with this. A lot of prospects are reluctant to buy something from someone they don't know that well. This is why it's crucial to get to know them.
Even though you may not gain a sale straight away, over time, you will start to reap the rewards of this technique – although it may be weeks, months, or even years later.
Focus on your leads
This tip is essential and strongly tied to the previous one. To build rapport effectively, focusing on the prospective lead is a must.
Always aim to listen more than you talk. Rather than just spinning off a sales pitch, make sure you listen to their concerns and what they're looking for. Doing this lets you learn much more about them and gain their trust.
The common question is, "should you research cold leads?" Doing so makes it easier to personalize targeted marketing material, and it makes it much easier to close the sale.
Follow-up regularly
Follow-ups can be tricky to maneuver. You don't want to be too pushy, but at the same time, you don't want to be silent – this gives the impression you don't really care.
You should be following up on your digital marketing leads regularly, and it's essential to strike the right balance. Don't be too salesy, but make sure you're enthusiastic enough, so they don't just forget about you and move on.
The best way to do this is to check that each follow up is purposeful and adds extra value. For example, you can provide insightful tips that might be of interest, and give information about updates, changes, or a new offer of service/product.
Offer a trial
There will be lots of prospects who aren't quite sure. And for many of them, having a way to test out the product or service before buying is key.
If leads want to try it out before fully committing, you should have a way to accommodate for this. If you don't provide this option, you will likely lose out on their business.
Use multiple channels
Lastly, in the age of social media and digital marketing, it's important to be able to connect in multiple ways with your leads.
Taking a cross-platform approach is a great way to stay in touch and remain relevant. Make sure you connect with your marketing leads on as many platforms as possible. This includes LinkedIn, Twitter, Facebook, Instagram, YouTube, and more.
The Difference Between Cold, Warm, and Hot Sales Leads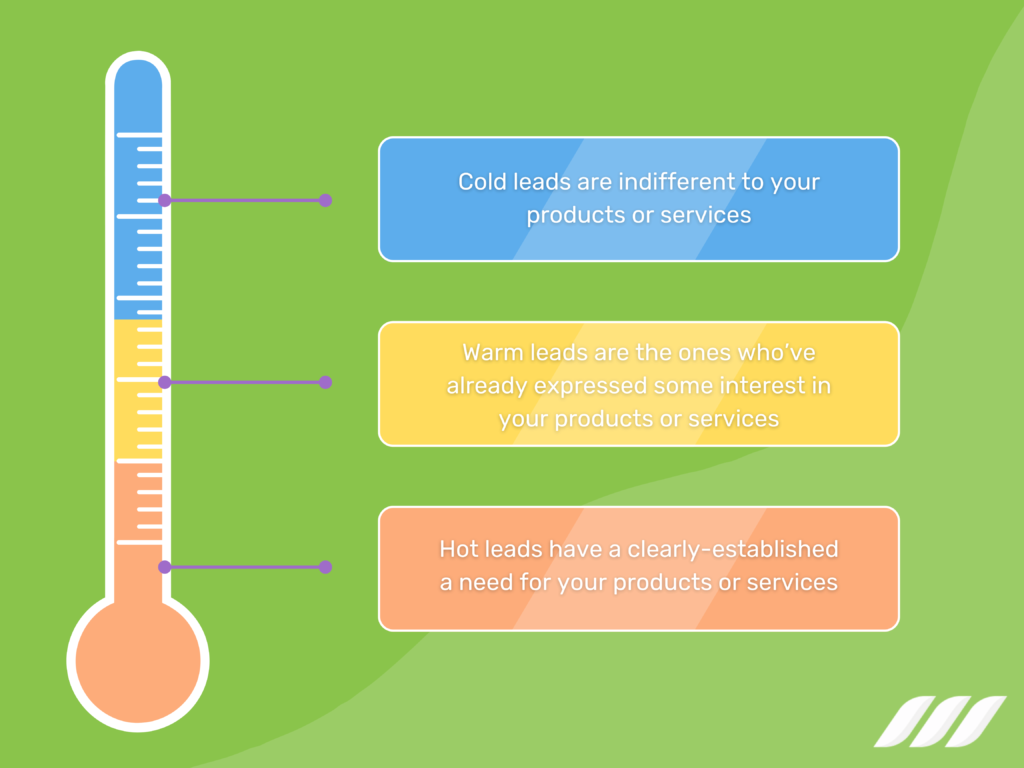 Cold leads are indifferent to your products/services, and they're unlikely to respond to your outreach campaigns or engage with your marketing initiatives. Besides, they don't have any identified need for what you have to offer them. Because of this, you have lower chances of converting them into buying customers.
But that doesn't mean you have zero chances of closing deals with cold leads. The process involves warming them over time by proving that you have the best solutions to their needs.
While cold leads have no interest in your business, warm sales leads are the ones who've already expressed some interest in your products or services. They might have visited your social media page, filled up a contact form, or signed up for your email newsletter.
Since warm leads have some awareness of your offerings, you're likely to convert them into your customers with a bit of nurturing.
Hot leads are the marketing qualified leads. In other words, they're nearing the end of a sales funnel. For instance, a person searching for a product on google is probably a qualified lead since they have a clearly-established need for that product. Plus, a hot lead has the required budget that aligns with your selling price and the authority to say a yes or no to your offer.
Conclusion
Right now, so many industries are more competitive than ever. The world of online sales is tough, and consumers can become bored and lose interest extremely quickly.
Because of this, you need to ensure you keep your response times low and keep all your communications value-packed, interesting, and persuasive.
By following the above tips, you will start to see rapid improvements in your conversion rates, boosting sales and ROI – not just now but in the long term as well.
Dripify LinkedIn automation can help you manage this more easily and automate a lot of these processes. This frees up more time to grow your business and find the highest-quality digital marketing leads.