It's no secret that job hunting can be a challenging and nerve-wracking experience for many people. There are so many qualified applicants, and it can be overwhelming to stand out and get hired. That's why it's so important to make yourself more marketable. LinkedIn provides a great way to market yourself for employment opportunities and even apply for jobs.
While scanning through jobs on LinkedIn, you might not want to apply right away and instead want to access the opportunities later. But what if you lose sight of the jobs or don't remember the keywords that led you to those jobs? This is where the LinkedIn Saved Jobs feature comes to your help.
LinkedIn introduced the Saved Jobs feature to make it easy to find and manage jobs you're interested in. This feature allows you to save jobs of your interest and go back to them later. This saves your time since you don't need to search for those jobs all over again. Instead, you can simply visit a separate tab and take quick actions on saved jobs.
This article will discuss how you can save and manage jobs on LinkedIn. Plus, we'll provide you with tips to optimize your profile and attract the right opportunities.
How to Save a Job Search on LinkedIn
Follow these steps to save your job searches for later use:
Step 1: Log into your LinkedIn account and click on the "Jobs" tab from the top menu. Alternatively, you can enter the job's title in LinkedIn's main search bar and click enter. Then, click on "Jobs" from the list of tabs underneath the search bar.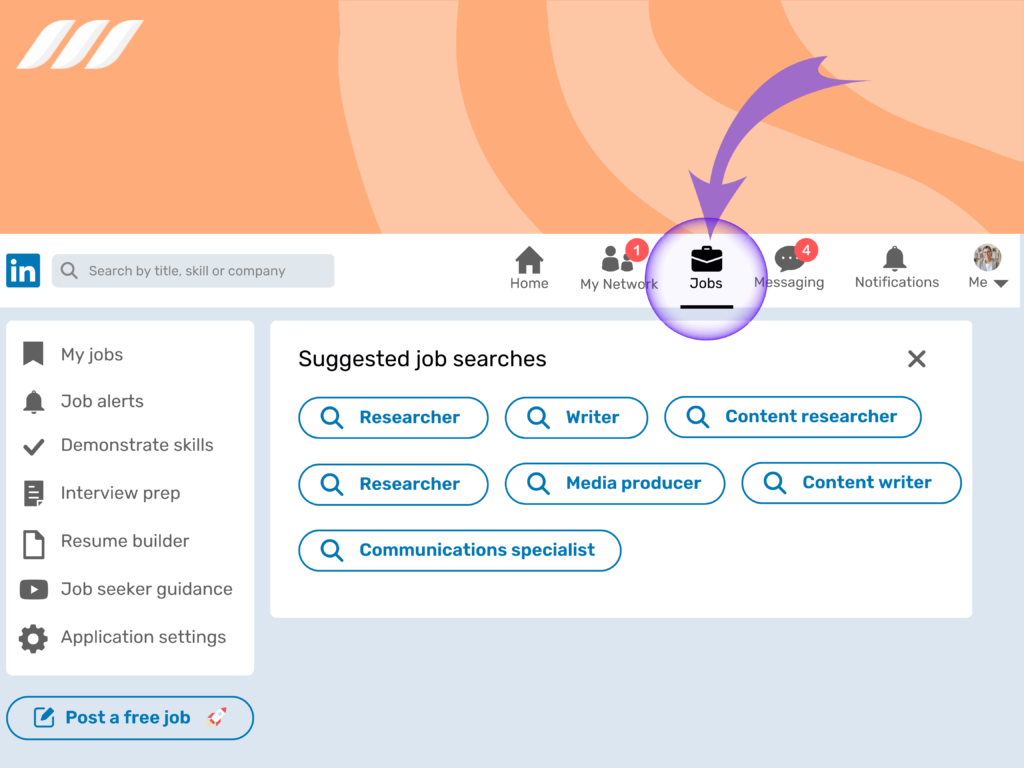 Step 2: To perform your search, enter your preferred job's title and location in the top search bars and click "Search." Select "All filters" and highlight specific requirements to narrow your searches.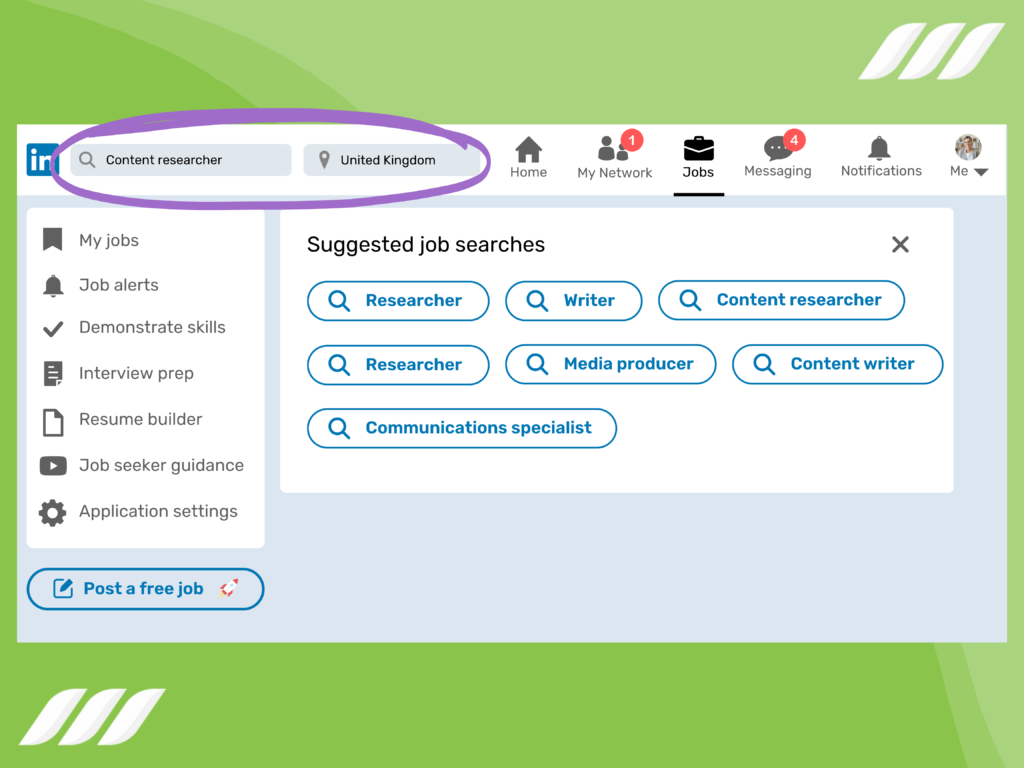 Step 3: Open the job of your liking from the displayed list and click "Save" from the right window.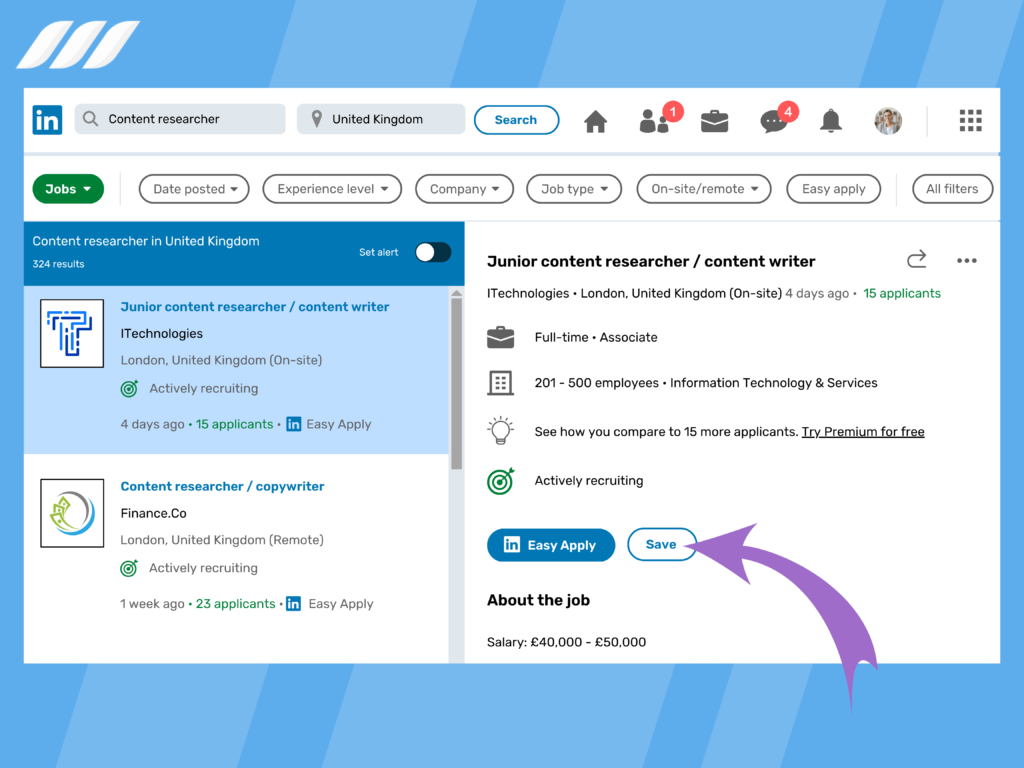 You've now saved a job. That was super easy, wasn't it?
Manage Jobs You Saved on LinkedIn
Once you've saved a job, LinkedIn allows you to return to them and take a range of actions.
Here's how you can manage your saved jobs on the social media platform:
Step 1: Log on to your LinkedIn account and click on "Jobs" from the top menu.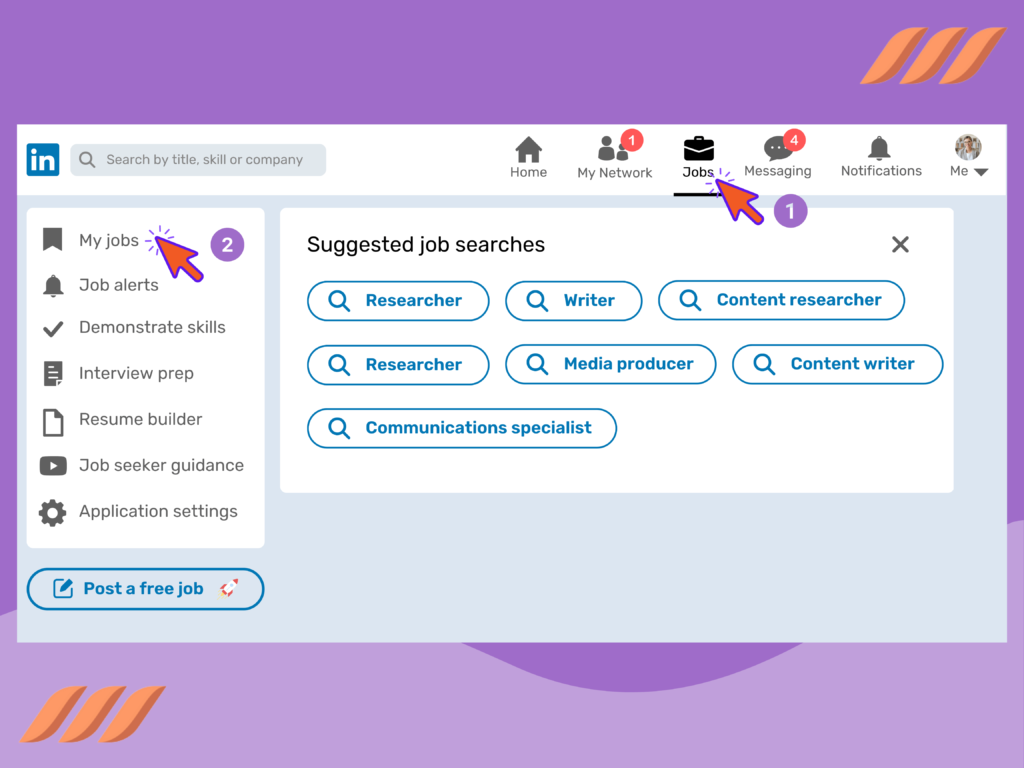 Step 2: Click "Saved jobs" from the top left corner of your screen. This will display the jobs under the "Saved" and "Applied" labels.
Step 3: You'll see a "…" icon next to every displayed job. Here are the actions you can take, together with their respective functions.
"Apply" to apply for the job.
"Send in a message" to share the job in your network.
"Copy link" to copy a shareable URL to the job.
"Unsave" to remove the job from your "Saved jobs" list.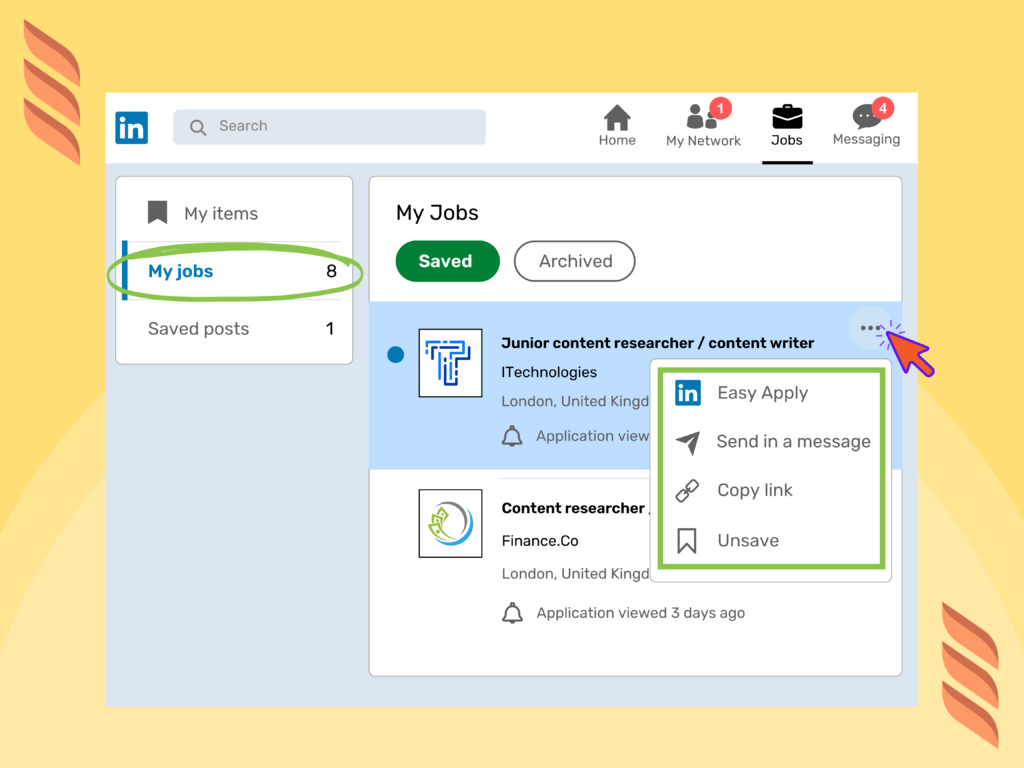 How to View Saved Jobs on LinkedIn?
You can access your saved jobs anytime you want. The process is pretty simple. Follow the steps listed below to view your saved jobs on LinkedIn:
Log into your LinkedIn account and click on the jobs tab at the top of the homepage
Select Saved Jobs from the field above the search bar
Select More and then choose the action you want to perform

Choose Apply to apply for a specific job
Select Send in a Message to send the job details to a LinkedIn connection
Click on Copy Link to copy the job's link
Click Unsave to remove the job from your list.
How to Find a Job on LinkedIn
More and more recruiters are using LinkedIn to hire employees, and we've seen many companies directly post job openings on LinkedIn. As such, it makes sense to learn how to use the job search feature on the social network. Here is a comprehencive article about how to use LinkedIn to find a job.
Your search for a job will start from the Jobs icon on the LinkedIn homepage. Simply click the Jobs tab, type a job title in the search box, and click the search icon. LinkedIn will display the results in seconds.
You can narrow your search by applying advanced filters, such as company name, experience level, skills, recent posts, etc.
Tips For Finding a Job on LinkedIn
Make sure your profile is complete and up to date
Mention your skills and objects on your profile
Underscore your recent experiences and how you added value to your previous jobs
Be yourself and always look authentic
Update your headline
Let your network know you're open to opportunities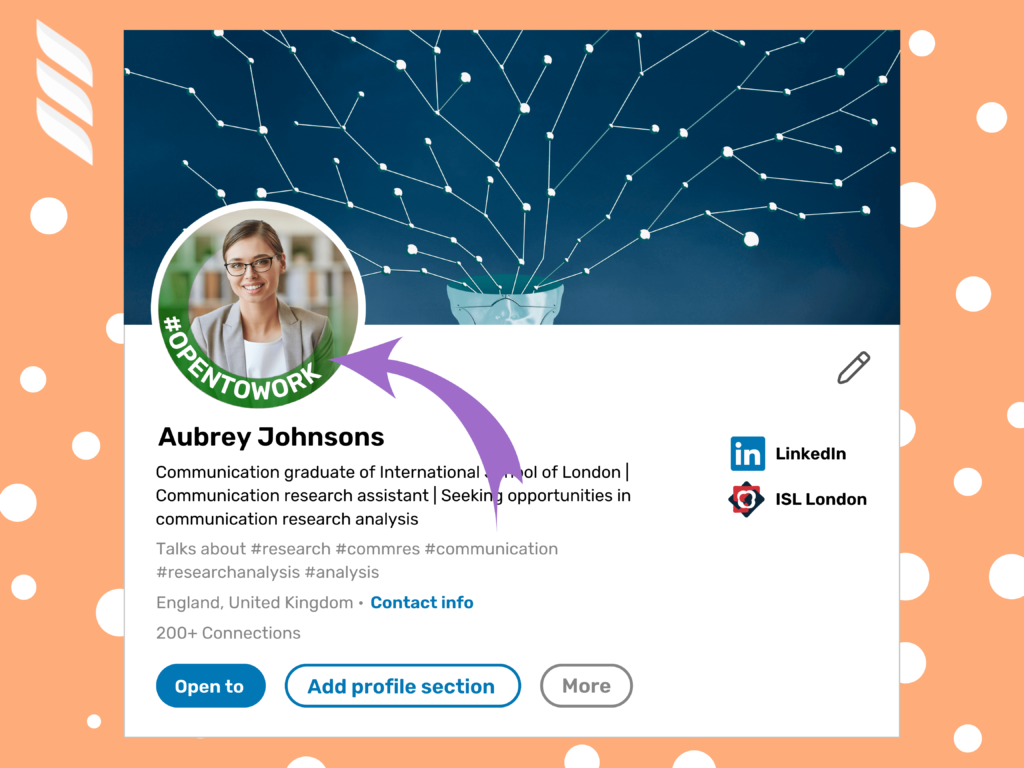 Follow companies you're interested in
Connect with people who work in companies you wish to join
Use the Saved Jobs feature
Tap into the advanced search features of LinkedIn
Get endorsed and provide endorsements
Use the recommendations feature to your advantage
Join LinkedIn groups relevant to your niche or industry and start interacting
Related article: Create the Best Job Search Post on LinkedIn
LinkedIn SEO for Your LinkedIn Profile
What can you do to increase your visibility on LinkedIn, appear more often on LinkedIn/google searches, and attract relevant positions? Here're some LinkedIn SEO tips to get you started:
1. Complete your profile
Fill out every field on your LinkedIn profile and naturally use descriptive, targeted keywords in your profile sections. The right keywords and sufficient information will increase the odds of your profile appearing in relevant searches on the network, this is how LinkedIn algorithm works.
2. Use keyword-rich job titles
While this might sound pretty obvious, keyword-rich job titles give you a clear advantage over those who don't use them. If you play clever, you can even adjust your job title to include more than one keyword. But make sure to use relevant and targeted keywords.
3. Expand your network
Thanks to LinkedIn's algorithm, the people in your network can also affect whether your profile appears in searches and how often. The wider your network, the higher the chances of your profile appearing in the search results of your 2nd- and 3rd-degree connections or group connections.
Related article: How to Network on LinkedIn
4. Join relevant groups
LinkedIn recognizes the search terms important to you when you engage in groups by asking questions and sharing your thoughts. The algorithms then act to push your profile out for targeted keywords. Besides, groups offer a great way to engage with industry professionals and get noticed.
5. Pay attention to the profile picture
Your profile picture plays a significant role in increasing your reach on LinkedIn, especially if you have a mainstream name. Make sure to have a good-quality, professional photo with a neutral background.
6. Optimize your job descriptions
The description field is where you have the chance to use many relevant keywords. However, cut the fluff and write a concise description, preferably in 3-5 sentences.
Take advantage of bullets and lists to make it write to the point. Also, don't place random keywords here or do keyword stuffing. Instead, research and use relevant and targeted keywords naturally through the description.
7. Get recommendations and endorsements
Recommendations and endorsements serve as social proof, adding credibility to your profile. These would be a bonus to your profile and amplify your chances of landing your desired opportunities.
8. Share more content
Sharing content is an excellent way to drive traffic to your LinkedIn profile, blog posts, web content, projects, etc. It also helps you establish yourself as an authority in your niche or industry. As such, consider writing and sharing articles, LinkedIn posts, and other types of content on the network.
Bonus tip:
Don't wait for companies to ask for your resume. Instead, upload it to your LinkedIn profile. Second, keep your job alerts on to get notified every time a job matches your profile. Finally, use the SEO tips given above to make your LinkedIn more discoverable and expand your reach.
Conclusion
Now that you know how to save and manage jobs on LinkedIn, you can rest assured that the promising opportunities are not going anywhere. You can always return to the jobs you saw and start your application. Make the most of the LinkedIn Job Save feature, and don't let your career opportunities slip away.