The jobs section on LinkedIn is an excellent place to begin your search for your dream job. But did you know that you can also create a job search post, letting the right people know about it through their feed? In fact, a job search post is a perfect way to stand out in front of recruiters and potential employers.
But how to post on LinkedIn for job search, you ask! Read on for tips to create an effective job search post, learn to optimize your profile for a job search, and much more.
Write a Good Job Posting on Linkedin [Tips]
So, what does it take to craft a compelling job search post on LinkedIn? Here're some best practices for creating a LinkedIn post announcing your job search:
Be clear – Before going into details, explicitly state your requirements, such as job type, job title, industry, etc.
Leverage visuals – Visual content is much more engaging than text-based content. You might want to use carousels to underscore your achievements or skills. Alternatively, a short video can help you break through the noise and get noticed!
Highlight your accomplishments – Include your career achievements without going into too much detail. There's no point in putting down everything here since people can visit your profile for a deeper insight.
Add value – State what you'll bring to the table using your experience and skillset. In other words, how your employer will benefit from having you.
Optimize Your LinkedIn Profile for Your Job Search
Besides writing job posts, tweak your LinkedIn profile to find the right job quickly. Here's how to go about it:
Optimize Your Headline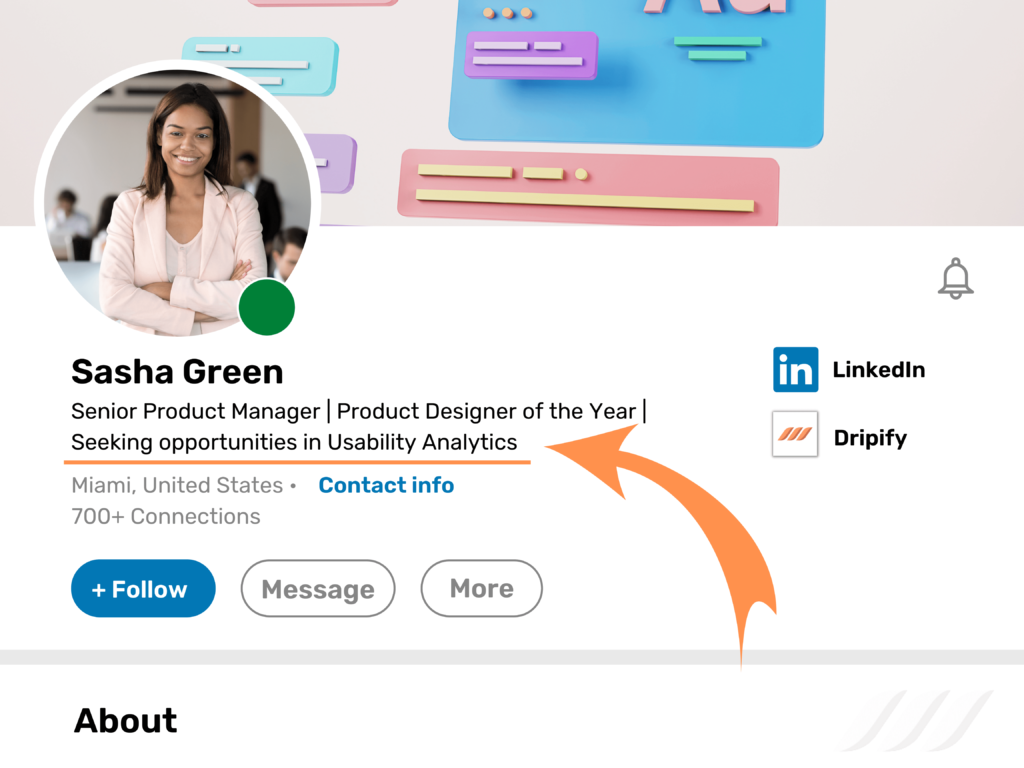 First, let your network know you're seeking new opportunities. Consider including an appropriate phrase in your LinkedIn headline indicating you're looking for opportunities. Even better, make it more specific with the industry name next to it. For example, seeking opportunities in [industry name].
Related article: Optimize Your LinkedIn Profile Using LinkedIn SEO
Get Endorsements & Recommendations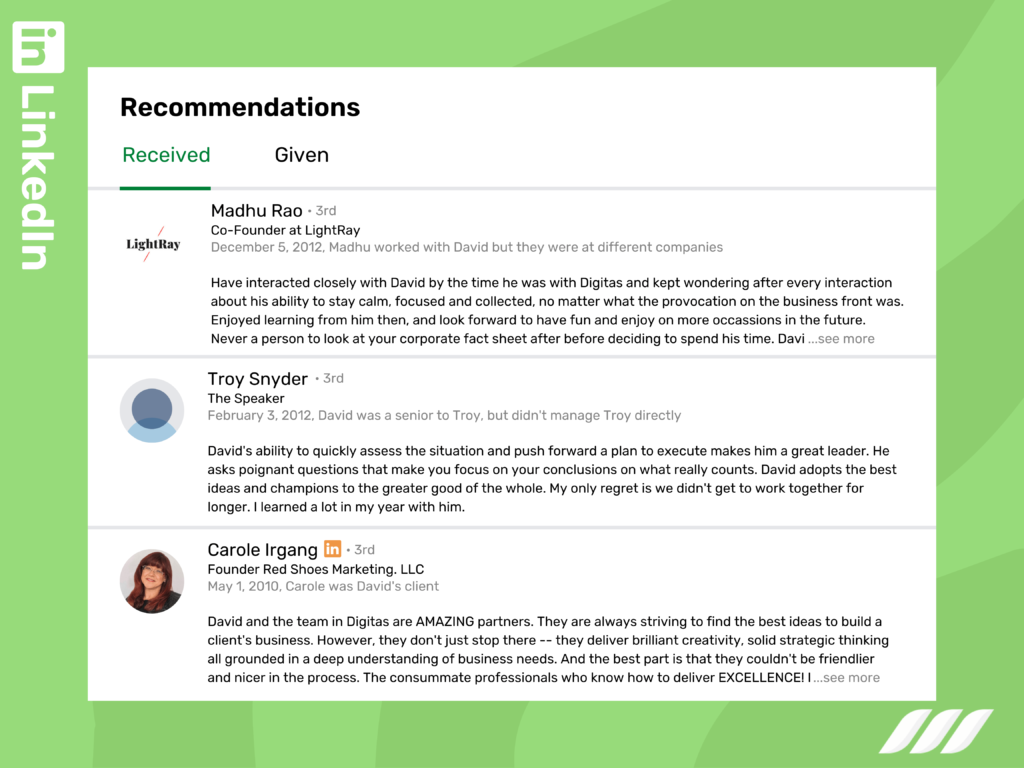 Needless to say, skill endorsements and recommendations can go a long way toward helping you land the right opportunity. They add credibility and trustworthiness to your profile.
Enable LinkedIn #OpenToWork Feature
The Open to Work feature exposes your job search to recruiters or the general public (or both). You might want to add a green banner around your profile picture, which features #OpenToWork text.
LinkedIn Job Search Post [Examples]
Let's look at some LinkedIn job search post examples to see how we can implement the best practices.
Linkedin Job Search Post Example 1
Hi everyone!
Let me announce that I'm looking for an opportunity in Digital Marketing San Francisco Bay Area. I have 5 years of experience as a Digital Marketing Manager and 3 years as a Content Lead.
In my previous job, I helped secure the year's biggest project for my company [company name]. Besides, I was in charge of a Sales Practice training campaign, which resulted in a 25% decline in negative customer reviews.
I can comfortably set up, execute, and monitor digital marketing campaigns.
If you come across an appropriate job opportunity, please let me know. Also, if you have connections working in this industry, I'd be grateful if you could connect them to me.
Linkedin Job Search Post Example 2
Hello everyone,
I wanted to let you all know that I'm looking for a full-time job. More specifically, in the area of sales.
My notable achievements:
Exceeded department's KPIs by 30% for 4 back-to-back months.
Cold-called 25+ leads per day, with a 10%-15% closing rate.
Designed cold email campaigns and ensured 150+ emails were being sent daily.
What will I provide you with?
A solid closing rate, leading to higher sales.
Email campaigns with a high open-rate.
An increase in the sales-qualified leads, and much more!
I would appreciate it if you could share this post with relevant people in your network. Also, let me know if you have a suitable opportunity.
Conclusion
A LinkedIn job search post is a direct way to let your connections know you're looking for a job. And there's no reason why you shouldn't do that! While you create a post, make sure it contains essential job details, your achievements, and the benefits of hiring you.
Lastly, a good job search post goes hand-in-hand with an optimized profile for job search. Optimize your headline, get endorsements and recommendations, and leverage the Open to Work feature.