An attention-grabbing, unique, and descriptive LinkedIn job title is critical for uncovering incredible job opportunities.
This blog post will discuss how you can capture employers by learning about LinkedIn's Job Title. Here's what we'll go over:
· How can I change my job title on LinkedIn?
· What does the perfect LinkedIn job title look like?
· How to create a LinkedIn job title if you're a fresh graduate or unemployed
· Most importantly, the benefits of adding a LinkedIn job title
Let's get started!
Understanding What' Job Title' Means for LinkedIn Users
LinkedIn's job title communicates your specific job position or role to other LinkedIn users. Creating a unique and standout LinkedIn title can help you discover new job opportunities.
Moreover, it helps you captivate recruiters and hiring managers by highlighting your primary qualities and skillset.
Related article: Top Skills to List on LinkedIn Profile
Step-by-Step Guide to Changing Your Job Title on LinkedIn
We've covered that an attention-grabbing LinkedIn job title is key to attracting prospects. But do you know how you can transform your old job title into a dynamic, eye-catching one?
To help you out, we've added the steps to changing or adding a LinkedIn job title:
How Can I Add a Compelling Job Title on LinkedIn?
Let's discuss the steps to adding a job title on LinkedIn:
Adding a Job Title on LinkedIn on the Web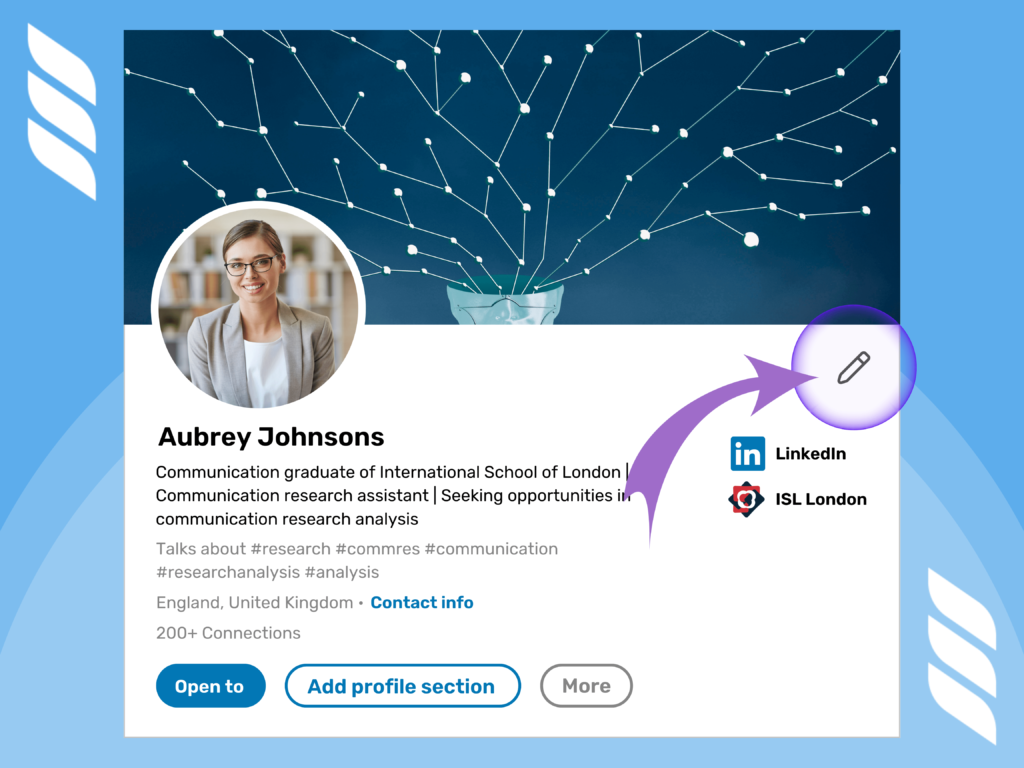 Follow these steps to add a LinkedIn job title while using it on the web:
· Open LinkedIn.com and enter your username and password
· Click on the 'View My Profile' button
· Locate the 'Editing Pen' icon present on the right side of the page
· In the pop-up window, select the 'Profile Title' option
· Create a LinkedIn job title according to what best describes your job role and skillset
· Confirm your new LinkedIn and click on the 'Save.'
Adding a Job Title on LinkedIn on Android or iOS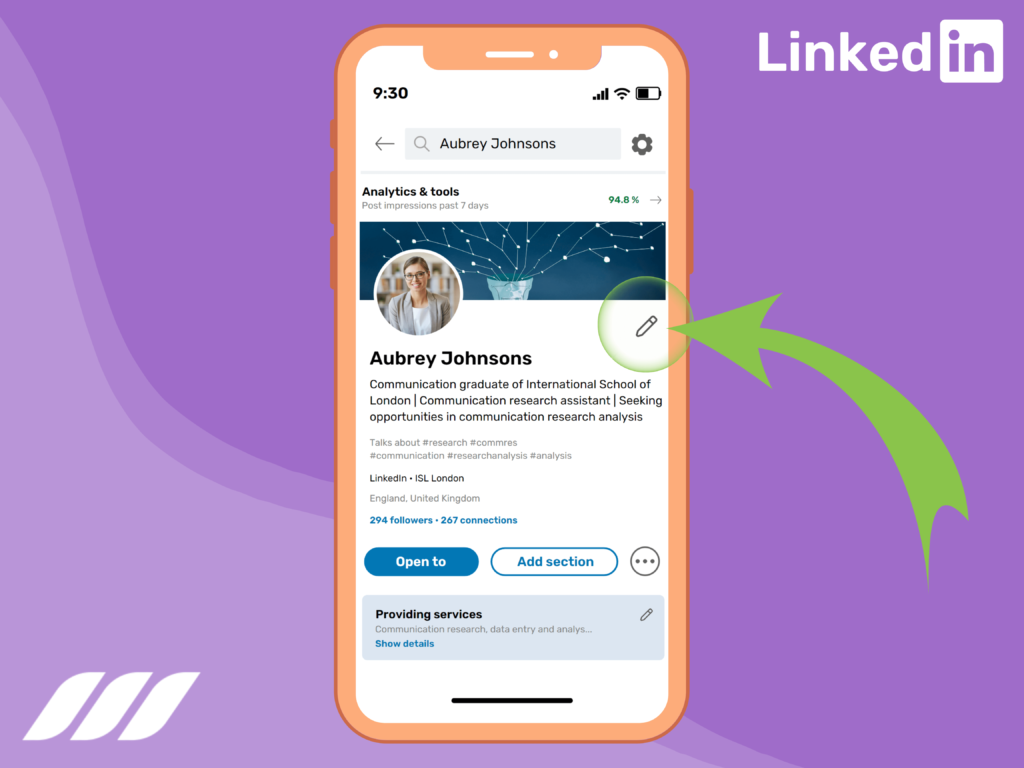 If you're scrolling LinkedIn on your mobile, follow these steps to add a new LinkedIn job title:
· Launch LinkedIn's mobile app on your Android or iOS
· Click on the 'Profile' button located at the top-left of your mobile screen
· Choose the 'Pen' icon present at the top-left of your screen
· After that, select the pen icon
· In the pop window that appears, choose the 'Profile Title' button
· Create a LinkedIn job title that bespoke your best qualities
· Choose the 'Confirm' button to save your new LinkedIn job title
How Can I Update My Old LinkedIn Job Title?
We recommend updating your LinkedIn job title every year to two to attract new job opportunities and further your career.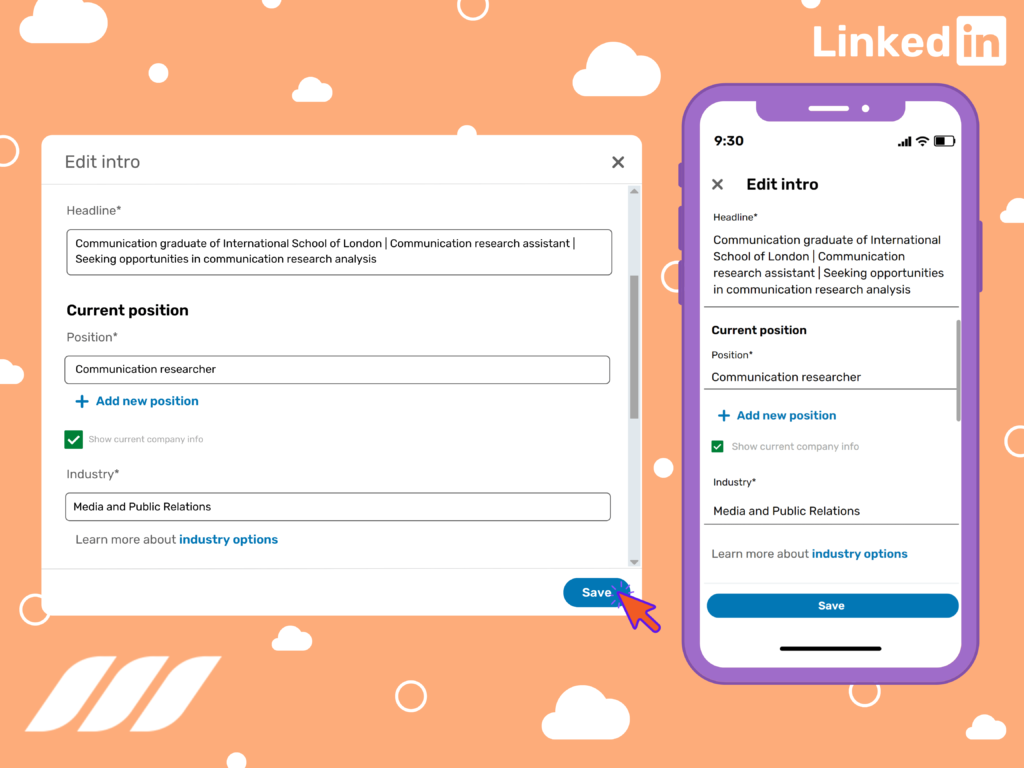 Let's now discuss how you can refresh your LinkedIn job title:
Updating a Job Title on the Web
Here are the steps to changing your LinkedIn job title on the web:
· Log in to your LinkedIn profile and select the 'Me' icon located on the top-right
· Click on the 'View my Profile' button
· Choose the 'Pencil' icon located in the introduction section
· A window will appear where you can edit your headline
· Remove your old headline and replace it with a new, enthralling one
· After that, click on the 'Save' button
Updating a Job Title on Android or iOS
When using LinkedIn on your mobile, you'll have to follow slightly different steps:
· Launch LinkedIn's mobile app on your Android or iPhone
· Tap on your profile picture and click on the 'View my Profile' option
· Choose the edit pencil icon on the right-hand
· Make the changes you want in the title field
· Click on the 'Save' button and confirm your new LinkedIn job title
Bonus Tip: Keep Updating Your LinkedIn Job Headline
Don't leave LinkedIn's default value on your profile. It's not attention-grabbing or descriptive and can discourage employers from reaching out.
Instead, tap into your creativity and curate an eye-catching headline that reflects your skill set and helps you rank better.
What are the Most Popular LinkedIn Job Titles
Rank high on Google Search and LinkedIn's search results by learning about its top job titles. Here we discuss the top thirteen LinkedIn headlines:
· Artificial Intelligence Engineer
· Data Engineer
· Community Manager
· Customer Success Specialist
· Cybersecurity Specialist
· Big Data Developer
· Dev Ops Engineer
· Site Reliability Engineer
· Private Equity Analyst
· IT Recruiter
· Data Consultant
· Data Protestation Officer
· Real Estate Agent
· Data Scientist
· Recruitment Manager
Now that we've covered the top thirteen, let's dig a little deeper:
Tech, Web, and Telecom Job Titles
If you're working in the tech and engineering sphere, try combining the following job titles in catchy headlines:
· Business Analyst
· Technical Sales Engineer
· Cybersecurity Engineer
· Database Administrator
· Information System Architect
· IT Project Manager
· Io IT Network Engineer
· Front End Developer
· Community Manager
· Industrial Computer Technician
· Data Scientist
· Security Engineer
· Motion Designer
· Network Engineer
· SEO Consultant
· UX Designer
· Web Designer
· Telecommunications Technician
Communication, Marketing Jobs
Show off your marketing skills to attract recruiters by utilizing one of the following top job titles:
· Advertising Manager
· Art Director
· Corporate Journalist
· Direct Marketing Manager
· Creative Director
· Press Attaché
· Communication Assistant
· Sales Manager
· Account Manager
· Marketing Research Manager
· Communication Officer
· Director of Communication
Sales and Distribution on LinkedIn
Captivate hiring managers and recruiters by communicating your unique role in the sales sector:
· Business Manager
· Store manager
· Export Assistant
· Sales Representative
· Head of Department
· Profit Center Manager
· Sales Agent
How Can I Find LinkedIn Users by Using Their Job Titles
If you're suffering from writer's block and can't develop a creative LinkedIn job title, consider taking inspiration from users within your industry.
You can find LinkedIn profiles with titles similar to the job role you're targeting, analyze their headlines, and create a new job title that represents your skillset.
Let's discuss how you can find LinkedIn profiles by using job titles:
Step 1: Set a Couple of Target Job Titles
Start by opening your LinkedIn profile. After that, scroll down and locate the LinkedIn job title field at the bottom of the page.
Select the tab and add one to three relevant entries. Tap on the 'Save' button to get started.
Step 2: See Relevant Results
LinkedIn provides you with an extensive list of user-profiles with job titles that match your keyword(s).
Here, your goal is to find ten to fifteen LinkedIn profiles that match your skillset and dream job position.
Step 3: Collate Information and Create a Brand New LinkedIn Job Title
From the LinkedIn profile you opened, copy-paste their LinkedIn job titles to a Google Docs or Microsoft Word document.
Brainstorm a potential job title and get your creative juice churning.
Can You Create a Job Headline If You Don't Have a Job?
Don't let unemployment stop you from writing a spellbinding job headline! Instead, utilize the one hundred characters LinkedIn offers you to attract employers and recruit.
Here we've added a few secret tips to creating a compelling job title when you're unemployed (or a fresh graduate):
Talk About Your Future Goals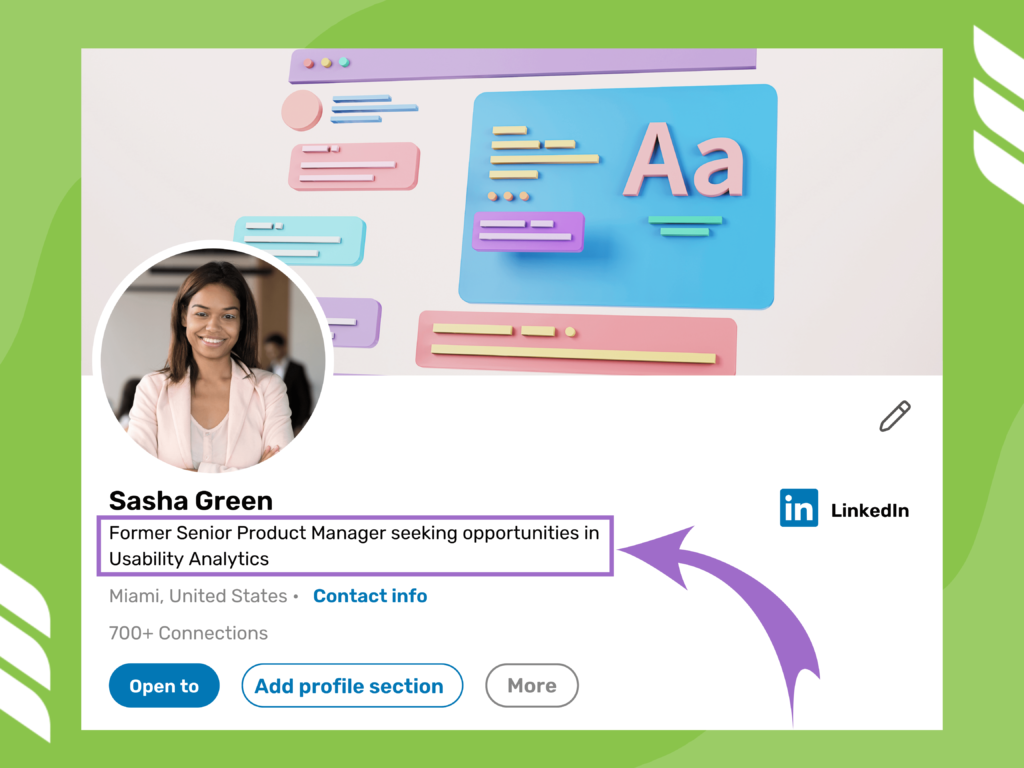 Focus on your goals instead of using words like 'unemployed,' 'fired,' or 'laid off' that turn off employers and hiring managers.
Talk about how motivated and skilled you are and what value you bring to the table. That way, prospects will view you as a strong candidate and an excellent employee for their company.
For instance, you can create a LinkedIn job title that says, 'Content Writer Seeking New Job Opportunities' or 'Graphic Designer Seeking Opportunities to Unleash My Inner Creativity.'
Never Use Non-Activity as a Placeholder
Here's a tip: never use non-profit, volunteer, or non-activities in your 'Current Job' bar.
Why? Not only will your profile not rank in the right search results, but employers may believe you're working for that organization.
Consequently, they'll wonder why you're applying for an unrelated job position and scroll past your profile.
What Are Some Job Titles if You're Unemployed?
Take inspiration from these examples to create an enticing headline for your LinkedIn profile:
· Actively Seeking Jobs
· Available for Employment
· Available for New Opportunities
· Operations Logistic Professional Seeking Options
· Experienced Retail Manager Available for New Opportunity
· Senior Graphic Designer Seeking Better Options
· Marketing Professional in Transition
· Marketing Professional Hunting for the Next Best Opportunity
· Seeking a New Opportunity to Channel my Inner Potential
· Pharmaceutical Sales Representative Currently Exploring Options
· Expert Content Writer on the Lookout for New Opportunities
Steps to Creating an Attention-Grabbing LinkedIn Job Title
Creating a high-quality and unique title is crucial for fostering more clicks and views on your LinkedIn profile. It can also help you land job interviews at your dream company.
Today, over 90% of recruiters use LinkedIn to find potential employees. So, if you're seeking a fantastic job opportunity, you must create an equally incredible job title.
We make this task easier with our step-to-step guide:
· Tailor your LinkedIn job title according to your audience
· Integrate the appropriate keywords to rank better
· Include your value proposition
· Avoid turning off employers by using hyperbole and replacing it with power-words
What is the Perfect LinkedIn Job Title?
The dull and overused X-owner, X-founder, X-consultant, and X-creative manager titles tell employers nothing about your job role and expertise. They only stop you from discovering new job opportunities.
But once you replace that with a fascinating LinkedIn job title that communicates your top skills, you'll notice better engagement.
For this, your LinkedIn job title should:
· Discuss a specific achievement to put your skillset in the limelight
· Combine your years of experience with a funny phrase to show employers that you're fun to work with
· Add keywords that show off the unique value you bring to brands
Top Five Examples of Eye-Catching LinkedIn Job Titles
We went the extra mile to help you create a captivating LinkedIn job title by adding a few examples:
Capture Prospects by Talking About Your Experience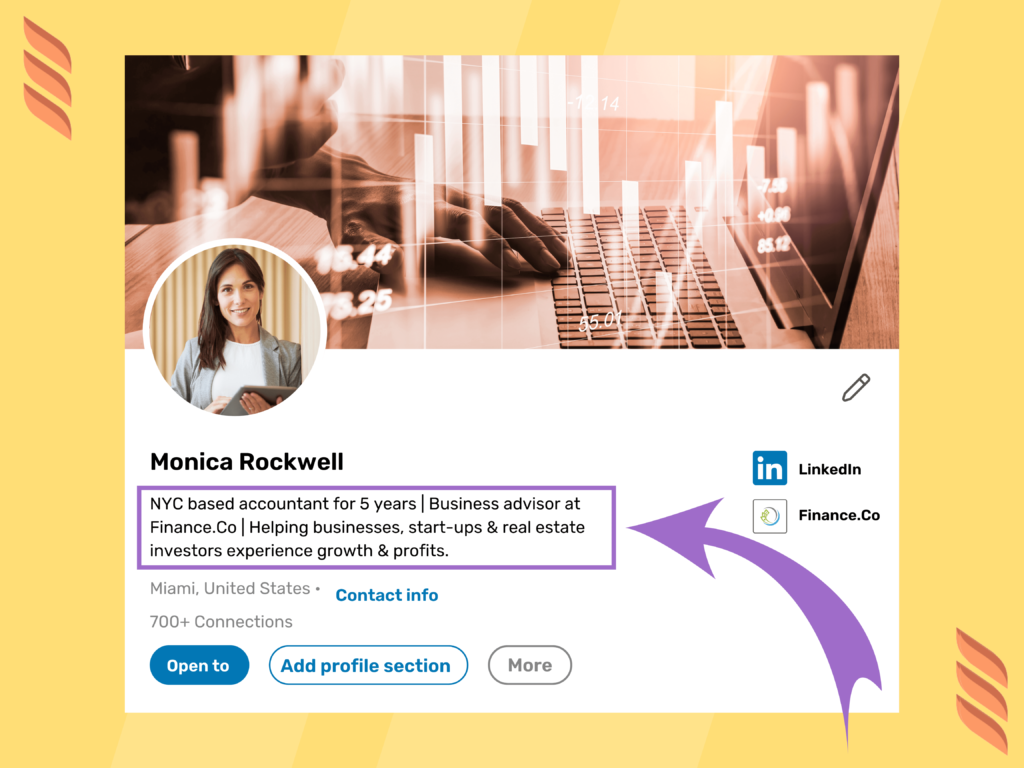 Show employers that you're talented and experienced by using this example:
Expert in _________|I boast ________ years of experience in ________ |Helping companies in _________ (your industry) hit their goals.
Discuss Your Goals and Value
Refrain from talking about your unemployment and highlight your goals and skillset by creating a LinkedIn job title that looks like this:
Obsessed with ____________|I offer my skillset and ____________ expertise to help brands succeed.
Add Meaningful Keywords
Show off your job role and skillset by using power words, such as:
Senior ___________ (job role) | I offer robust ________ solutions to __________ (current company) | Get practical and creative ideas today
Talk About Your Flexibility at Job
If you enjoy switching your job every few years, try writing a LinkedIn job title that communicates that:
Swiss Knife in _______________ (area of expertise) | I have over ______ years of experience working at a diverse range of business.
Discuss Opportunities You're Seeking
Use LinkedIn's job headline to find new internships or job opportunities by using a job title that looks something like this:
Graphic Designer |____________ artist (your area of expertise) | Seeking _______ Opportunities
Uncover Incredible Job Opportunities by Creating a Stand Out LinkedIn Job Title with Dripify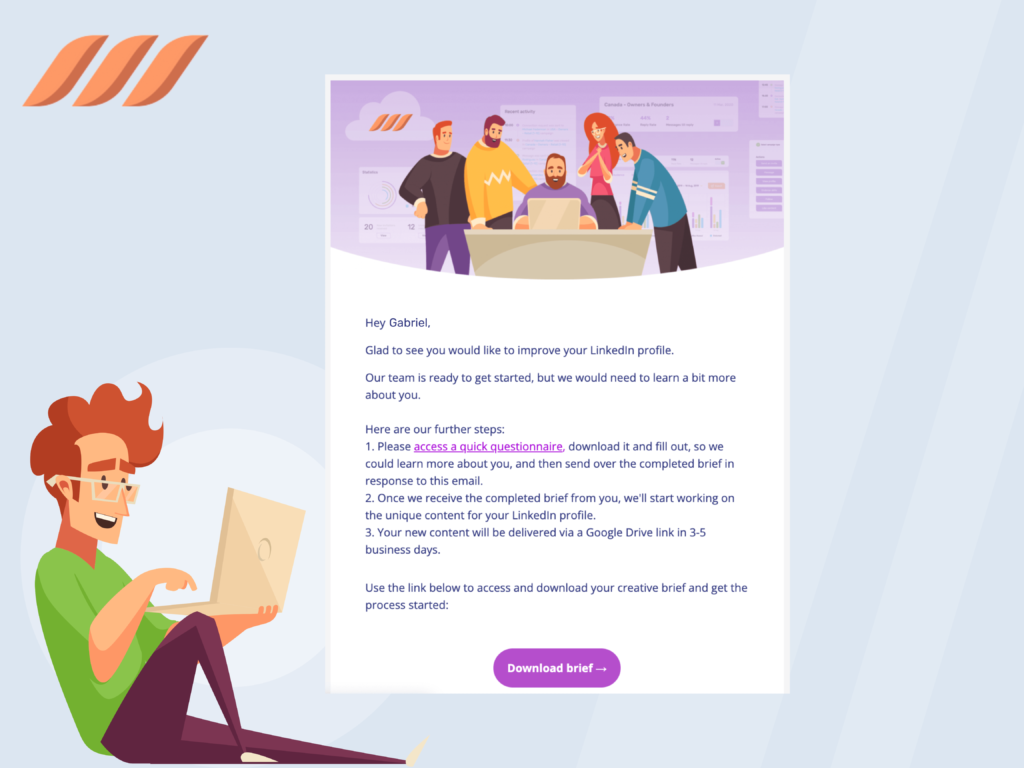 If you're still struggling to come up with a compelling LinkedIn job title, you have one more option: hiring a team of skilled resume writers.
That's where Dripify LinkedIn Profile Writing Service comes into the picture! On a mission to help you differentiate from the crowd, our dedicated professionals help you create killer LinkedIn job titles.
Sit back and relax as our resume service providers use the perfect mix of creativity and writing skills to help you captivate employers.
We help you discover fantastic job opportunities by attracting hiring and recruiters with killer job titles. Moreover, we transform your LinkedIn profile, starting from your description to your job keywords.
That way, we help you land interviews at your target companies, boost LinkedIn profile views, and find new job opportunities.
The best part? You can enjoy your LinkedIn profile makeover at an affordable price!
Conclusion
Overused job titles like 'Senior Consultant' or 'Former VP' can turn off employers and hiring managers and cause them to seek other candidates.
As a result, you miss out on excellent job opportunities. Use the examples discussed above as inspiration to create a spellbinding job title.
Or, you can connect with our professionals at Dripify to gain a killer LinkedIn profile alongside a compelling job title!