Congratulations on starting your business! You have a product or service you believe in, and now it's time to find customers who will believe in it too. But where do you start? How do you get people interested in your product or service? The answer is simple – by generating leads!
But how to get leads? And where to find leads for your business, you ask?
We'll talk about sales leads, the difference between leads and prospects, and the top nine sources you can use to find leads for your business. So, let's get started with where to find leads!
What Is a Sales Lead?
Before diving into where and how to find leads, let's first define a sales lead.
Simply, a sales lead is a potential customer interested in your product or service. They have given you their contact information or engaged with you somehow, indicating that they may be interested in learning more about your product, service, or solution. Not all leads will convert into customers, but the goal is to cultivate these leads and guide them toward the next stage of the purchasing process.
The Difference Between Leads vs. Prospects
Many people use the terms "leads" and "prospects" interchangeably, but there is a difference between the two. Understanding the difference between a lead and a prospect before exploring how to get leads through different sources is a good idea.
A lead is interested in your product or service but may not be ready to buy yet. On the other hand, a prospect is a lead who has moved further down the sales funnel and is more likely to make a purchase. Prospects have been qualified through a sales prospecting process and have shown a higher level of interest in your offer.
Read also: Best Sales Prospecting Tools
Top 9 Sources to Find Leads for Your Business
Now that you know the difference between a lead and a prospect, let's discuss where to find leads for your business.
1. Social Media
Social media marketing provides you with the best way to get leads. It is a great place to connect with potential clients online and engage with them more personally. 
But remember that it's important to identify the platforms your target audience actively uses. This might include Facebook, Instagram, Twitter, LinkedIn, or other platforms, depending on your niche or industry.
Once you've identified the right social media platforms to focus on, you must create a strong profile that reflects your brand and message. This might include creating engaging content, optimizing your profile for search engines, and engaging with your audience through comments and messages.
You can also use paid social media advertising to target specific demographics or interests and reach a wider audience. Below are some ways you can use social media to find leads for your business:
Post engaging content that your target audience will find interesting and shareable.
Tap into hashtags to expand your content's reach.
Engage with your followers by responding to their comments, questions, and messages.
Use social media advertising to target specific audiences based on geography, demography, and other metrics.
Read also: Cross-Posting on Social Media
2. LinkedIn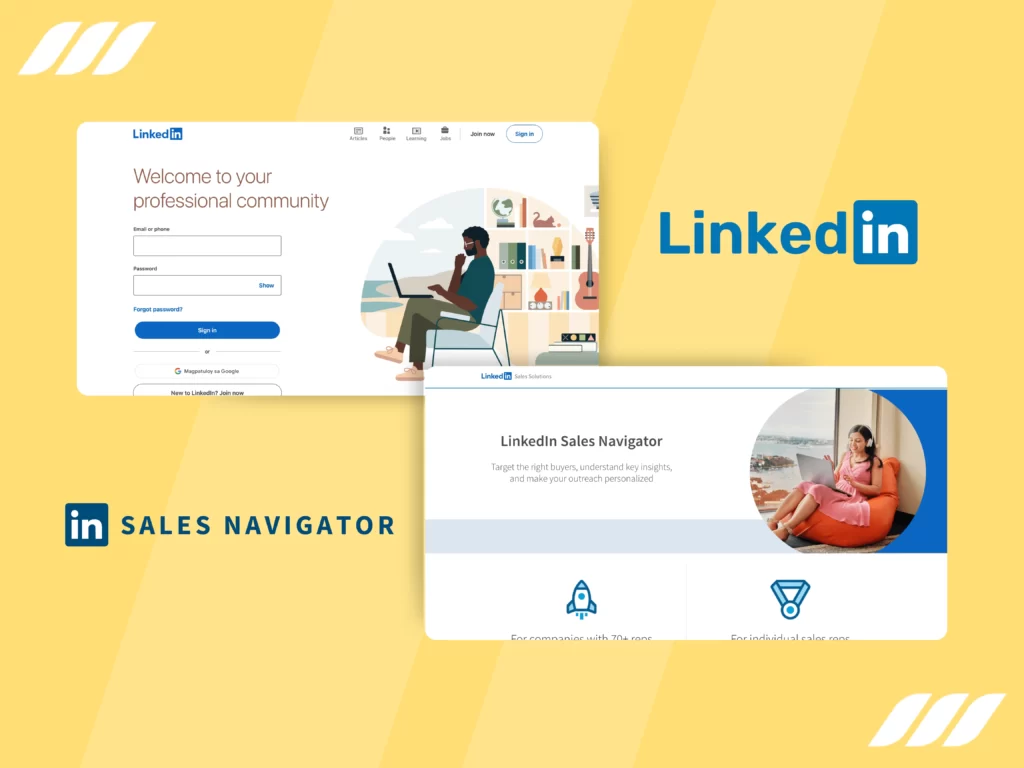 LinkedIn is the top place to get B2B leads because it is specifically designed for professionals and businesses. But how can I get leads for my business with LinkedIn, you ask?
Here are some tips on how to get leads on LinkedIn:
Use LinkedIn's advanced search to find people who fit your target audience.
Join and participate in LinkedIn groups relevant to your industry or niche.
Post content that showcases your expertise and offers value to your target audience.
Use the best LinkedIn lead generation tools to create ads that target specific audiences.
One of the key advantages of LinkedIn for B2B lead generation is the ability to target specific industries, job titles, and locations. This makes it easier to identify and connect with decision-makers most likely to be interested in your products or services. Additionally, LinkedIn provides a range of tools and features that can help you optimize your profile, connect with your audience, and track your results.
To get started using LinkedIn for B2B marketing, it's important first to create a strong profile that reflects your brand and message. This might include optimizing your profile for search engines, highlighting your expertise and experience, and using multimedia content to engage your audience.
The best part? LinkedIn Sales Navigator is an excellent tool for B2B lead generation, as it provides a range of features and tools to help you find and connect with new leads.
For example, this LinkedIn lead generation tool allows you to use advanced search filters to find decision-makers and influencers in your target market. You can search for leads by industry, company size, job title, and more, which makes it easier to identify and connect with the right people.
In addition to search filters, Sales Navigator provides a range of other features to help you find new leads. For example, you can set up alerts to receive notifications when new leads match your search criteria, or you can use the "TeamLink" feature to leverage your team's connections and expand your network. To boost your profile, you may want to buy LinkedIn followers and connections.
What's more? You can tap into LinkedIn InMail, a direct messaging feature allowing you to send personalized messages to potential leads outside your network or connections. By using Sales Navigator and InMail together, you can reach out to new leads in a personalized and targeted way, leading to new business opportunities and increased revenue.
Read also: LinkedIn Sales Navigator vs. LinkedIn Premium
3. Affiliate Marketing
Affiliate marketing is a powerful way to find new leads for your business. By partnering with other businesses or individuals with a similar target audience, you can leverage their existing network to generate new leads and sales.
The best way to generate leads with affiliate marketing is first to identify potential partners who have a complementary product or service to your own. Look for businesses or individuals with a strong online presence and an engaged following.
Once you've identified potential affiliate partners, you can contact them to discuss the possibility of working together. Be sure to highlight the benefits of your product or service and how it can add value to the affiliate marketer's audience.
You can offer your affiliate partners a commission or other incentive for every new lead or sale they refer to your business. This can be a win-win for both parties, as your affiliate partner can earn additional income while providing value to their audience.
4. Email Marketing
It's no secret that email marketing is one of the best ways to reach potential customers and generate leads. Wondering, "how to get more leads for my business through email marketing?"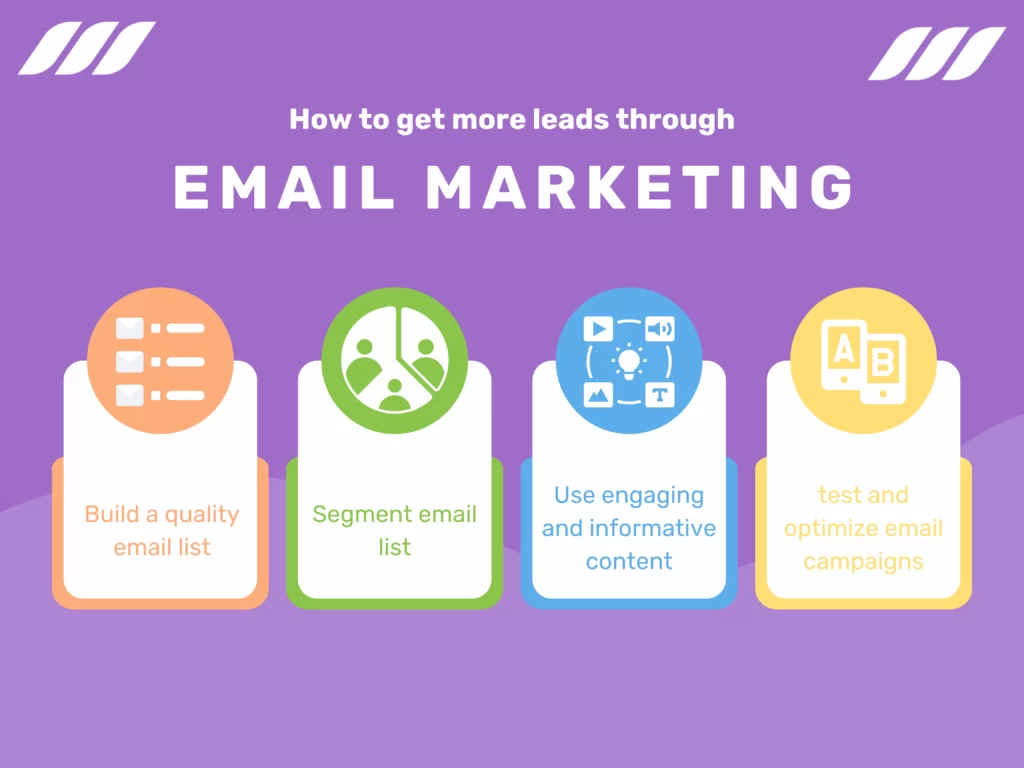 Well, to get started, you'll need to build a quality email list. You can achieve this by collecting email addresses at events, through sign-up forms on your website, and on social media pages. You can offer something of value, such as a free e-book or a discount, in return for their email address.
Once you've built your list, it's important to segment it based on demographics, interests, and behaviors. This will allow you to craft personalized messages that resonate with your target audience. Also, remember to use engaging and informative content, along with clear calls to action, to encourage your audience to take action.
Finally, you must test and optimize your email campaigns for optimum performance. You can try out different versions of subject lines, content, and CTAs to determine the best approach for email marketing.
Read also: How to Announce New Product Features Release by Email
5. Networking Events
Networking events can be a valuable tool for lead generation, as they provide an opportunity to meet new people and build relationships that can lead to new business opportunities.
To get started, look for events in your industry or niche that attract a similar audience to your target market. This can include trade shows, conferences, meetups, and other events.
When attending networking events, it's crucial to have a clear goal for what you want to achieve. This might include identifying potential new customers, connecting with industry influencers, or building relationships with other professionals in your field. Be sure to come prepared with business cards, a clear elevator pitch, and a genuine interest in getting to know the people you meet.
Also, follow up promptly with the people you meet after the event. This can include sending personalized LinkedIn messages or emails to connect and continue the conversation. Staying engaged and active in your industry community can help you build long-term relationships, leading to new business opportunities over time.
6. Content Marketing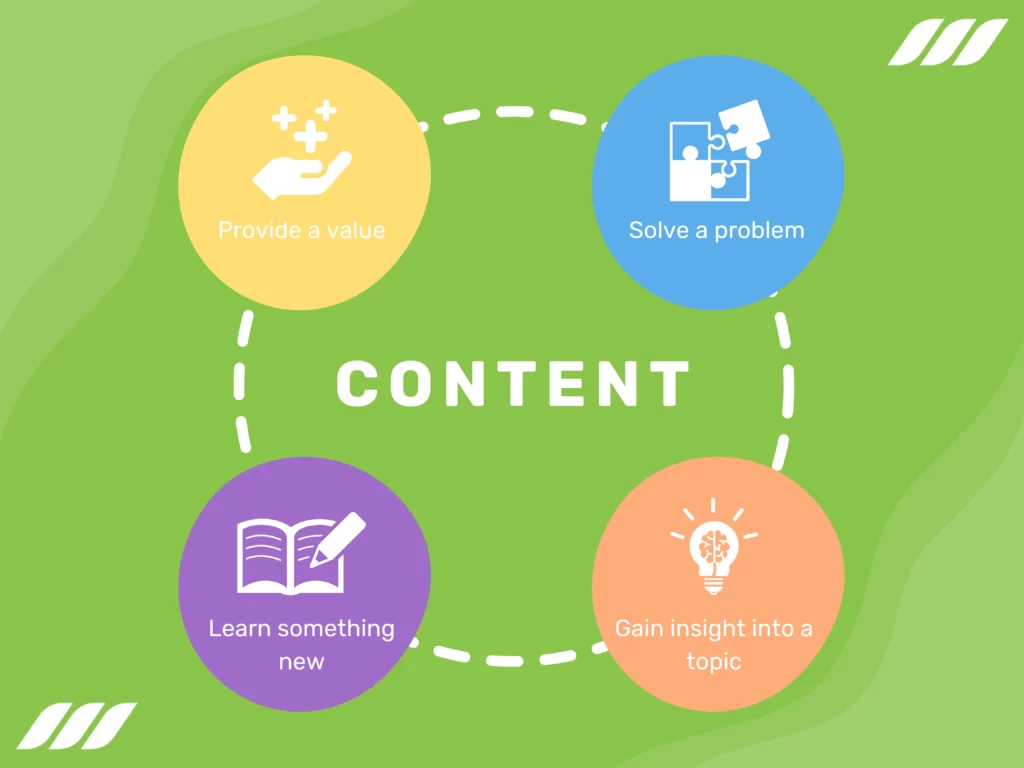 Content marketing involves creating valuable content with the goal of attracting and engaging your target audience. It is a great way to find leads online and grow your sales.
To get leads with content marketing, you'll need to create content that is both informative and engaging. Your content should provide value to your audience and help them solve a problem, learn something new, or gain insight into a topic they're interested in. You can achieve this through blog posts, social media updates, videos, podcasts, infographics, and other types of content.
Second, make sure your content is optimized for search engines. Use relevant keywords and phrases in your content to help it rank higher in search engine results pages (SERPs). This will help you reach a wider audience and attract more leads to your website.
While valuable content is important, including a call to action (CTA) in your content is crucial to encourage your audience to take action. Your CTA should be clear, concise, and relevant to your content. It could be a link to a landing page, an invitation to sign up for a newsletter, or an offer for a free trial or consultation.
7. Webinars
Webinars are an excellent way to educate your target audience and generate leads. They allow you to showcase your expertise and educate your target audience on topics that are relevant to them. Further, you can build trust and credibility with your audience and move them further down the sales funnel by providing valuable information.
Creating a webinar that offers value to your target audience is essential. This can be anything from a how-to guide to an in-depth discussion on industry trends. Once you've created your webinar, you can promote it through social media, email marketing, and other channels. 
Be sure to include a call-to-action at the end of your webinar that encourages attendees to take the next step, such as scheduling a consultation or signing up for your email list.
8. Trade Shows
Trade shows allow you to showcase your product or service and meet potential customers in person.
Here are some tips for making the most of trade shows:
Have a clear goal for what you want to achieve at the trade show, such as generating 50 leads or setting up a certain number of consultations.
Prepare an engaging booth that showcases your product or service in a way that attracts attention and draws visitors in.
Collect contact information from potential customers who visit your booth, including their name, email address, and phone number.
Follow up with your new leads promptly after the trade show, preferably within 24-48 hours, to maintain their interest and capitalize on the event's momentum.
Provide exceptional customer service to your new leads, whether through personalized emails or consultations. This will help build trust and nurture the relationship for future business opportunities.
9. Customer Referral Programs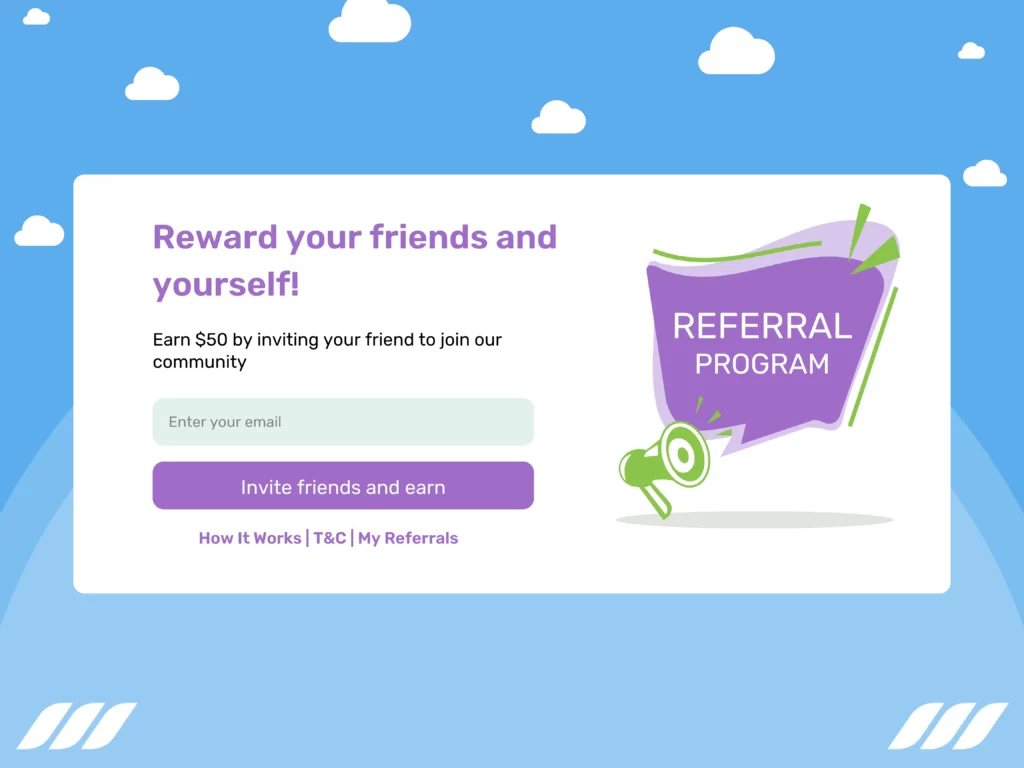 A customer referral program is a marketing strategy that provides incentives to your current customers so they can refer new customers to your business. In fact, referral programs are the best way to get free leads because this strategy relies on the trust and enthusiasm of your current customers to spread the word about your product or service.
To create an effective customer referral program, you'll need to start by defining the incentive you'll offer to customers who refer new business to you. This can be anything from a discount on their next purchase to a cash reward or gift card.
Once you've established your incentive, you can promote your referral program to your existing customer base through email marketing, social media, and other channels.
One of the key benefits of customer referral programs is that they allow you to tap into your existing customer base to generate new business. Since your current customers already know and trust your brand, they are more likely to refer their friends and family to your business.
What's more, referral programs can be a cost-effective way to acquire new customers, as the incentive cost is typically lower than traditional advertising or marketing campaigns.
To maximize the impact of your customer referral program, it's important to track and measure the results of your program. This will help you identify which incentives and promotional channels are most effective and allow you to adjust your program as needed.
Conclusion
As a business owner, you know that leads are the lifeblood of your business. The good news is that you can use multiple channels and strategies to have a constant flow of new leads for your business.
The nine unique ways to find new business leads outlined in this article are among our tried and tested strategies to find potential customers and move them further down the sales funnel.
Remember to focus on building relationships with your leads and providing them value at every stage of the sales process. With dedication and persistence, you can turn your leads into loyal customers who will help your business grow for years to come.