A newsletter is one of the most cost-effective content marketing strategies to connect with customers. Modern businesses capitalize on this marketing tool to stay current and reach new audiences.
An ideal company newsletter is an opportunity to share information about your brand and products and link back to your website and drive traffic. So if you're not using LinkedIn's Newsletter feature, you're missing out on an incredible tool.
A LinkedIn company page combined with a regular newsletter can give you the best of both worlds, creating an effective combination for promoting your business. This latest addition to LinkedIn's arsenal lets users send content to their subscribers and maintain visibility.
However, since this feature is relatively new and most users don't know how to create LinkedIn newsletters, leveraging its power is a tricky business. But don't worry because we're here to help you take advantage of this marketing tool.
In this comprehensive LinkedIn newsletter guide, we'll answer your queries about LinkedIn newsletters and help give your content strategy a quick facelift with this feature.
So if you want to be an authority on this platform, read on for everything you need to know about creating and sending a LinkedIn newsletter!
What Are Newsletters on LinkedIn?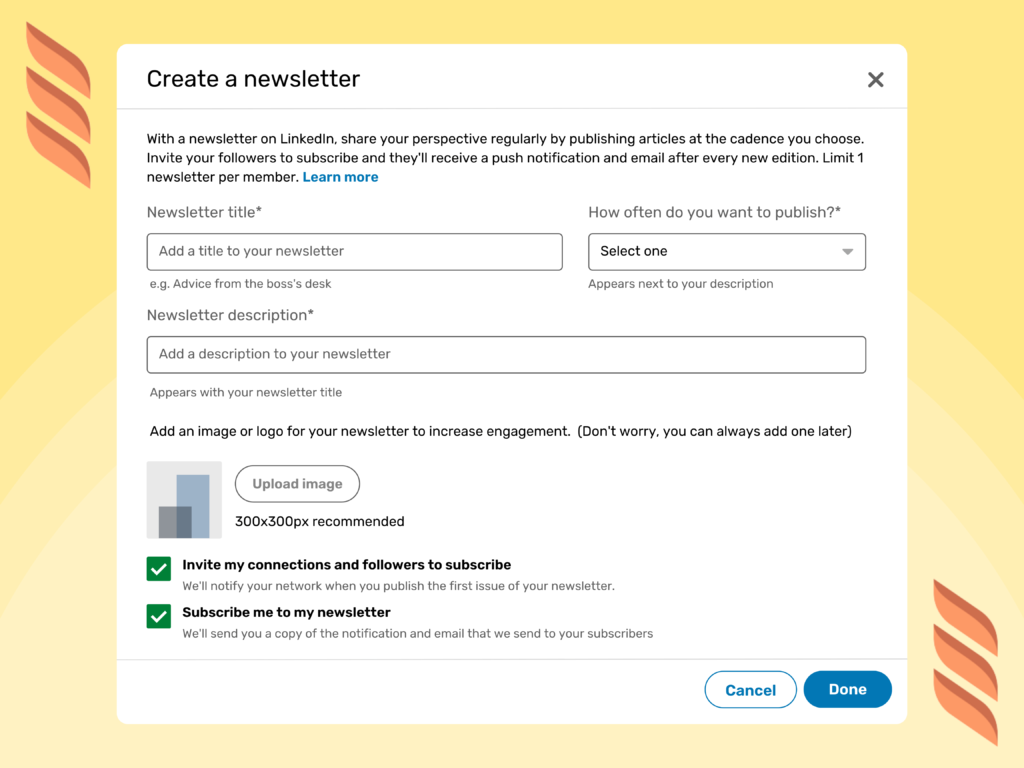 You might be familiar with newsletters in your personal inbox, but did you know that LinkedIn has a feature called Newsletters? LinkedIn Newsletters allow businesses to share timely content with their followers on the platform.
Just like a personal newsletter, LinkedIn newsletters come out regularly and contain a mix of text, images, and links. But, unlike personal newsletters, LinkedIn Newsletters can only be created by LinkedIn members with their creator mode enabled.
But how can I write a newsletter on LinkedIn, you ask? No sweat because it's not so complex. Creating a newsletter on LinkedIn requires the following simple steps:
Log into your LinkedIn account and click on the "Create content" button in the top right-hand corner of your homepage.
From there, select "Newsletters" from the drop-down menu.
Next, give your newsletter a title and choose whether you want it to be public or private.
If you choose to make it public, anyone on LinkedIn will be able to see it; if you make it private, only people connected to you on LinkedIn will be able to view it.
Once you've decided on the visibility of your newsletter, it's time to start creating content. You can add articles, videos, and audio files to your LinkedIn newsletter.
Simply click the "Add" button in the top left-hand corner of the screen and select the type of content you want to add.
You can also rearrange the order of your content by dragging and dropping each piece into place.
When you finish adding content, hit the "Publish" button in the top right-hand corner of the screen, and voila — your first LinkedIn newsletter is live.
Why Create a LinkedIn Newsletter?
A LinkedIn newsletter is a great way to share your content with LinkedIn users or your target audience on the network. By sharing your content via a newsletter, you can provide value to your readers while also promoting your brand.
Here are six benefits of creating a LinkedIn newsletter:
1. Increase Your Visibility
You can increase your visibility on LinkedIn when you share your content via a LinkedIn newsletter. This means more people will see your content and be exposed to your brand.
If you create valuable and engaging content, you can build a following of engaged readers who will appreciate your content regularly.
2. Gain Insights Into Your Audience
A LinkedIn newsletter can help you gain insights into your audience and the type of content they want to read. You can use this information to tailor your future content to be even more relevant and engaging for your readers. Additionally, it can help you identify new opportunities for marketing and promotions.
3. Generate Leads and Sales
By adding backlinks to your products or service pages, you can generate leads and sales through a LinkedIn newsletter.
However, it is important to ensure that the products and services you promote are relevant to your audience and that you are not coming across as too salesy in your newsletters. The best way to promote your products and services is to provide value and include a call-to-action at the end of each newsletter.
4. Stay Top of Mind With Your Readers
By sending out regular newsletters, you will stay top of mind with your readers. This is especially important if you sell products or services requiring repeat business or have a long sales cycle.
With your proactive approach, you will increase the likelihood that people will think of you when they need what you have to offer. Additionally, staying top of mind will help build trust and credibility with your audience over time.
5. Stand Out From the Competition
In today's competitive marketplace, it is crucial to cut through the noise. One way to do this is by creating a LinkedIn newsletter.
You can differentiate yourself from the competition by sharing valuable and interesting newsletter content with your audience. This can help attract new customers and clients who may not have considered doing business with you.
6. Enhance Your PR and Niche Authority
Lastly, creating quality content for your LinkedIn newsletter will enhance your image as an expert in your industry or field. This can help attract new business opportunities, speaking engagements, and other forms of publicity.
How to Create and Grow Your LinkedIn Newsletter – Tips
Thankfully, creating LinkedIn Newsletters is super easy if you follow the steps we have listed above. Once you understand the process of sending out a LinkedIn article via the newsletter feature, follow these savvy tips to garner amazing success:
Keep it Short And Sweet
The average person's attention span is shorter than that of a goldfish, so your newsletter should be concise and to the point. This means you must write clear and catchy headlines and get straight to the point in the body of your newsletter. Consider linking to a blog post or website article if you have something longer to say.
Remember, your headline will grab people's attention and encourage them to read your newsletter. As such, write a clear, interesting headline that speaks directly to your target audience.
If you can't think of a good headline, use a free online headline generator like Portent's Content Idea Generator.
Use Images, Graphics, And Videos
People are visual creatures, so incorporating visuals into your newsletter is a great way to grab attention and keep people engaged. Try using infographics, images, and videos wherever possible. 
Make sure any visuals you use are high-quality and relevant to your newsletter's content. Also, remember to keep your visuals original and on-brand so that they reinforce your message and help you get recognition.
Write For Your Audience
It's important to remember who you're writing for when creating a newsletter. Write in a style that appeals to your target audience, and ensure the content is relevant to their interests.
If you're unsure what kind of content your audience wants, try surveying them or take a look at what similar companies are putting in their newsletters.
Make it Easy to Subscribe and Unsubscribe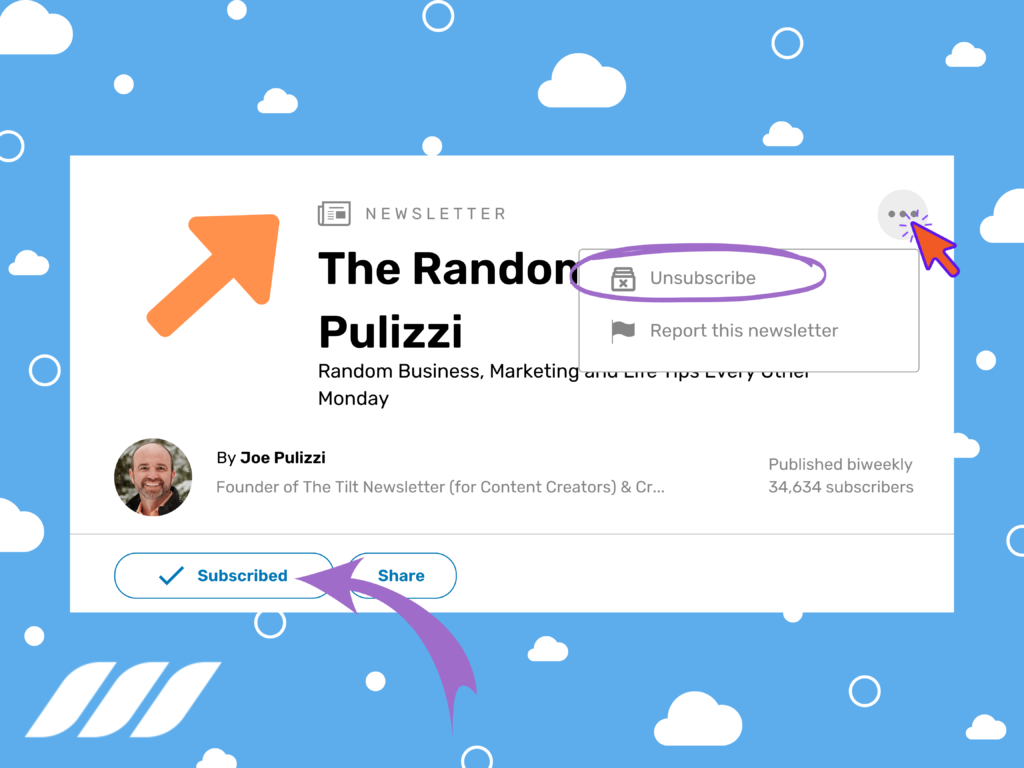 No one likes feeling trapped, so make sure it's easy for people to subscribe and unsubscribe from your newsletter. Include prominently placed subscribe and unsubscribe buttons in every newsletter, and make sure they work!
Remember, nothing will kill your reader engagement faster than broken links or buttons that don't work properly.
Prefer Quality Over Quantity
It's better to have fewer readers who read and engage with your newsletter than many subscribers who never open it or delete it as soon as they see it in their inboxes.
Focus on producing quality content that will appeal to your target audience instead of chasing after numbers. In addition, consider segmenting your list so you can send different kinds of content to different groups of people based on their interests. Segmentation can help ensure everyone gets the content they want to read instead of mass emailing everyone with the same generic message.
Once you have an attention-grabbing headline, it's time to start writing content that will engage and inform your readers. Write about topics relevant to your target audience and offer value.
Include a Call-to-Action
Your LinkedIn newsletter should always have a call-to-action (CTA), telling people what they should do after reading the content. Your CTA could be something as simple as inviting people to sign up for your email list or download a white paper or e-book that you've written.
Whatever you choose, make sure that your CTA is clear and easy to follow.
Top 5 LinkedIn Newsletters to Sign Up For
Sure, you're already overwhelmed with emails! But hear us out on this: LinkedIn newsletters can be helpful and informative, provided you choose the right ones.
Here are the best LinkedIn newsletters that you may want to sign up for:
1. Gary Vaynerchuk: LinkedIn 5
To get ahead in your career, you need to start thinking like an entrepreneur. That's what Gary Vaynerchuk excels at. As CEO and founder of VaynerMedia, he knows a thing or two about building a successful business.
In his LinkedIn newsletter, Gary regularly curates the top 5 articles he's read and shares them with his subscribers.
2. Arianna Huffington: My Weekly Thoughts
Being the founder of HuffPost and Thrive Global, Arianna Huffington is one of the most successful businesswomen in the world. She shares her thoughts on the latest news and current affairs in her weekly newsletter, focusing on business and entrepreneurship.
Her insights are always fresh and thought-provoking, making this newsletter a must-read for any business professional.
3. Victoria Taylor: Top Picks
Victoria Taylor is the senior editor at LinkedIn. In her newsletter, she handpicks the best articles she's read on LinkedIn each week and shares them with her subscribers.
Since she has an excellent eye for finding interesting content, you can be sure that whatever she shares will be worth your time.
4. Bob Glazer: Elevate
Robert Glazer is an entrepreneur, keynote speaker, host of the Elevate Podcast, and creator of Friday Forward. His LinkedIn newsletter is worth a read!
5. Joseph Milord: The Hustle
Joseph Milord is the senior editor at LinkedIn News, and his newsletter accurately depicts the hottest industry buzz.
In his weekly newsletter, Joseph shares his thoughts on the latest business news and trends, mainly startups and entrepreneurship.
Is it Worth Creating Your Own LinkedIn Newsletter?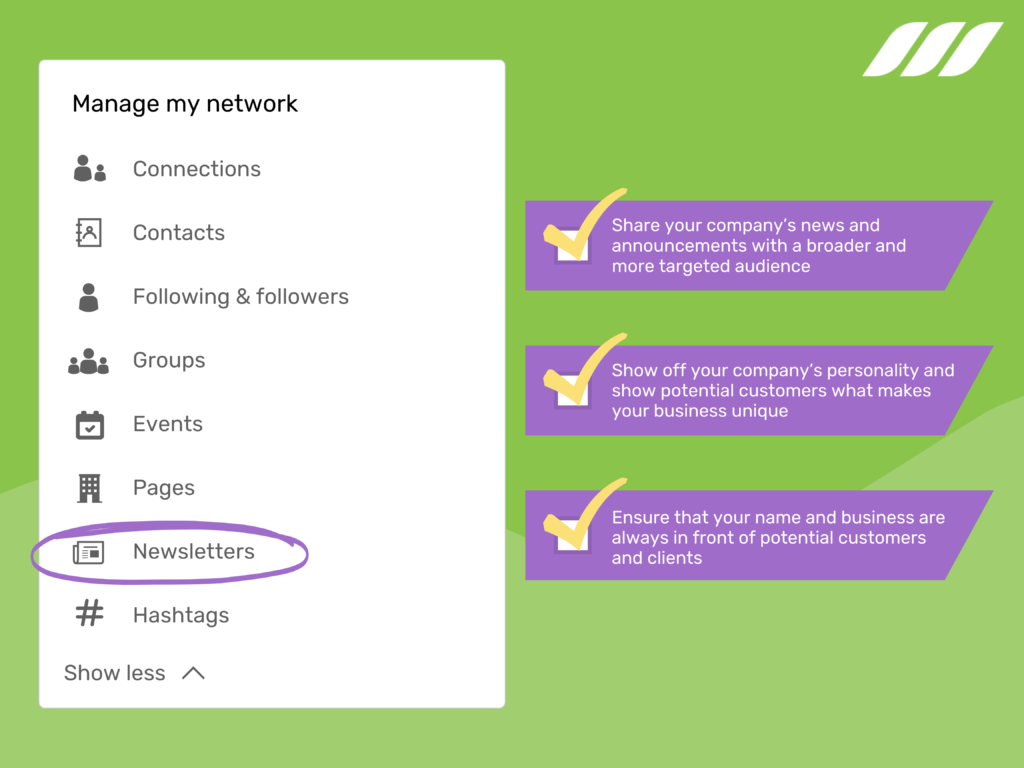 LinkedIn has always been a powerful tool for networking and connecting with other professionals in your field. But did you know that LinkedIn can also be a great way to promote your business? One way to do this is by creating your own LinkedIn newsletter.
Here's why it's worth creating a LinkedIn newsletter:
Creating your own LinkedIn newsletter allows you to share your company's news and announcements with a broader and more targeted audience. By sharing your company's news on LinkedIn, you can reach out to potential customers, clients, and partners who may not be familiar with your business.
A LinkedIn newsletter allows you to show off your company's personality. It will help you share your company culture with the world and show potential customers what makes your business unique.
By publishing regular newsletters, you can ensure that your name and business are always in front of potential customers and clients.
Conclusion
There's no better platform than LinkedIn to strengthen your professional brand and network. And one of the best ways to take advantage of LinkedIn is to start a LinkedIn newsletter. Not only does it provide a platform to share your thoughts and ideas with your target audience, but it also helps to build relationships with other professionals.
Plus, a LinkedIn newsletter can drive more traffic to your website or blog. You can encourage readers to engage with your content and learn more about your offers by including links to your latest articles or blog posts.
Starting a LinkedIn newsletter is an easy and effective way to promote yourself and your business. And with so many potential benefits, there's no reason not to start your newsletter today. Simply follow the tips in this guide, and you'll start and grow a successful LinkedIn Newsletter. And for your inspiration, it is always a good idea to follow and read the best newsletters on LinkedIn. Doing so will give you plenty of ideas about how to grow your newsletter.